Nothing is more fun than a game of pool with friends and family on lazy weekends. Since this game can be enjoyed by people of all ages, you can be sure that no one gets left out of the fun. While most people envision a smoky indoor setting when they think about playing pool, you can also play outdoors. Stick around if you're looking for the best outdoor pool table for your home.
If you plan to put a pool table outside or on a patio, why not buy one specifically made to withstand the weather? We have spent some time analyzing various pool tables on the market and have come up with the best of the lot. Stick around to find the most suitable option based on your needs.
1. Hathaway Games Alpine Waterproof 8ft Outdoor Pool Table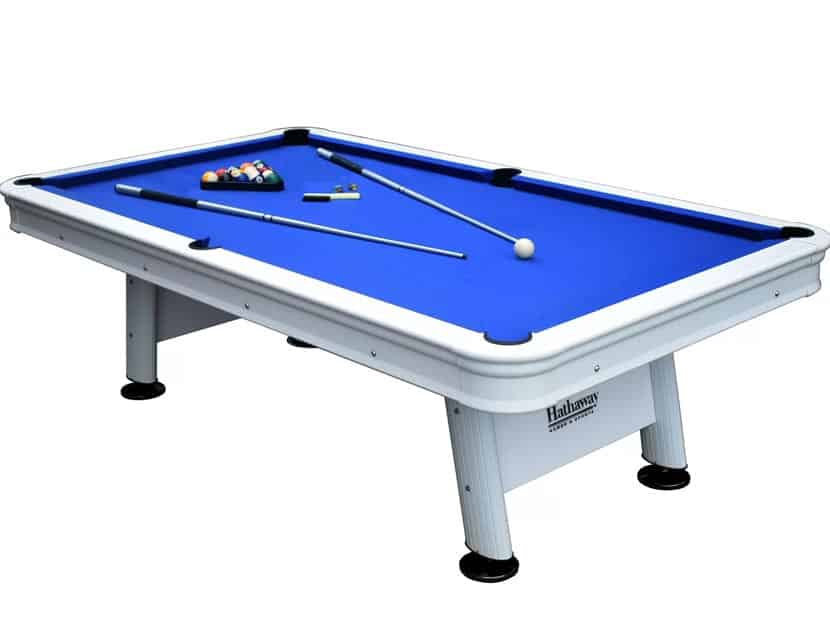 Editor's Choice #1: Outdoor pool tables don't come better than this Hathaway Games Alpine model. This nicely designed pool table is made from high grade materials, which guarantees durability and makes it perfect for play outdoors. This pool table is a favorite among many players and the best part is you can get it without breaking the bank.
This unit comes complete with all the accessories required for various pool gameroom concepts. The included billiard balls in the set allow you to practice or instantly enjoy games with friends. The pool table is also pretty easy to assemble. It is equipped with bolt-on legs, which you can attach to the frame and there are levelers to provide balance.
You'll have no concerns about this pool table's durability as it comes with a UV-resistant aluminum frame that protects it from sun and rain exposure. You get to enjoy a game with your friends, regardless of the weather, as the table always remains level. Another useful addition is a nylon table cover that you can use to shield the table from rain when it's not in use.
Even though most outdoor pool tables are built for durability, this is one of the most visually appealing tables you'll come across. It features a white powder-coated frame color, which gives it a luxurious appearance. The surface fabric is equally impressive, with a bright blue-colored finish. Hathaway backs this table with a 1-year warranty to display the trust in this product.
2. Playcraft Extera 8.3ft Pool Table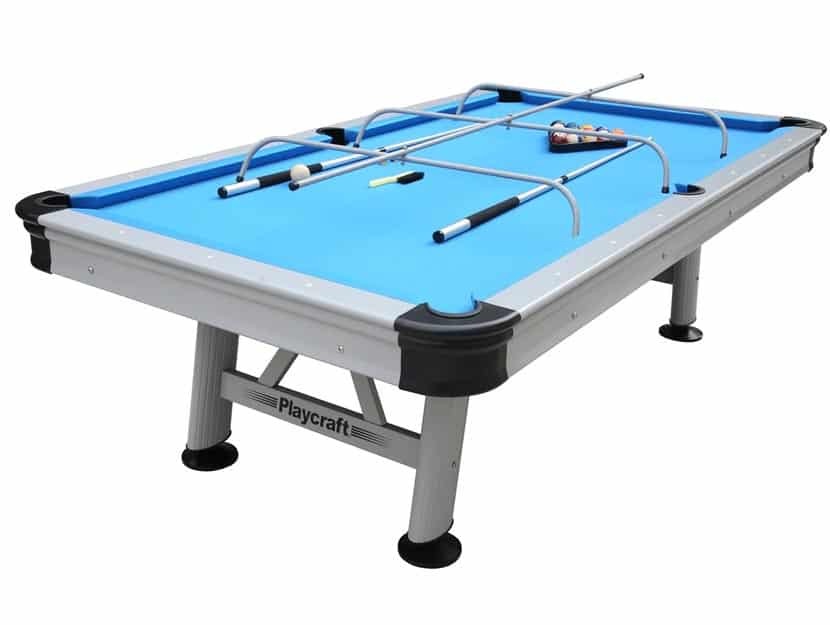 Editor's Choice #2: One look at the Playcraft Extera and you'll have no doubt about it being one of the best outdoor pool tables. If you intend to leave your pool table outside, you have to ensure that it is built to withstand the harmful elements. This pool table is a worthy investment as it guarantees durability, thanks to its high-quality manufacturing materials.
One of the standout features of the Playcraft Extera is its weatherproof aluminum frame, which has been treated with an anti-rust coating. This allows the pool table to be completely resistant to moisture. Its billiard fabric has also been weatherproofed to ensure sunlight resistance. What's more, the upper part is supported by sturdy legs and a tubular subframe, creating a level playing field, free of wind disturbance.
This nicely designed unit has an 8.3′ (2.4 m) surface, meeting the standard for outdoor pool tables. It comes with leg levelers that allow it to be placed on uneven terrain. Like our prime pick, this table is pretty easy to install, but you may need assistance from 2 people. Playcraft includes a cover that you can use for protection from debris.
The thoughtful design of this Extera pool table makes it suitable for games with adults and kids. It comes equipped complete with accessories so you can start playing immediately after setting it up. Additionally, the table is made from aluminum which makes it easy to maintain, a vital factor for outdoor pool tables.
3. Imperial International Esterno 7ft Outdoor Pool Table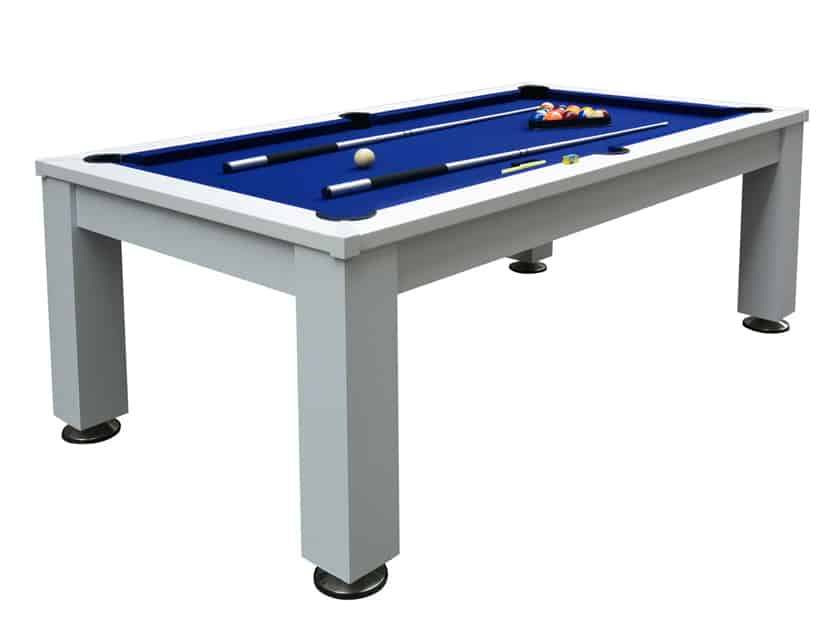 Our next pick comes from one of the most trusted makers of outdoor pool tables – Imperial. This 7-feet (2.1 m) pool table is one you'll enjoy using for a long time. The table has a futuristic design which will certainly make your front porch look modern. Despite its modern style and sleekness, this table is pretty sturdy due to its solid aluminum framing. Imperial tops it off with anodized aluminum rails and legs, ensuring all-around durability.
Setup & Gaming Experience
Like any other pool player, you'll probably want to set this table up quickly so you can start playing asap. The manufacturers have got you covered, as installation is included but it's easy to assemble it on your own too. All you need to do is attach the legs onto the platform to make it game-ready. The package comes with a leg leveler to ensure stability. This simple addition helps you avoid interruptions of a shaky table outdoors.
Enjoy a premium gaming experience on the stylish game board. This pool table comes with a playing surface cushioned with a K66 rubber. The board is further layered with polyester and Formica sheets, making it last longer than most outdoor pool tables. On top of that, this game table rapidly converts into a table tennis or a dining surface, allowing you to maximize a small room size.
4. Imperial 8ft Outdoor Pool Table All Weather With Accessories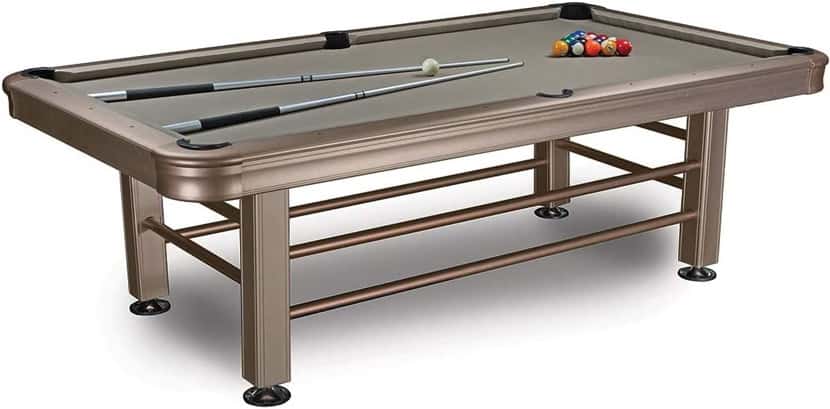 If you like all the features of the Imperial International Esterno 7′ (2.1 m) but want something bigger, you should check out this 8ft (2.4 m) game table. Imperial displays its mastery of creating top-quality outdoor pool tables. This particular game table is built to withstand the elements without breaking a sweat. This should be one of your top picks if you're looking for durable outdoor pool tables.
The bed board of this game table is made up of 140 layers of Formica sheets and polyester, making it one of the most durable bases. This table is equipped with anodized aluminum rails, corners and legs for maximum outdoor performance. The pool table also comes with a waterproof Teflon cloth, which can be used to cover its bed when not in use. Another plus point with this outdoor pool table is its sleek design. It has a tan coating that gives it an elegant style, while the rails accentuate the design that will fit in well with your outdoor decor.
As you'd expect from one of the best outdoor pool tables, the Imperial 8′ comes with all essential accessories, including polyester balls, chalk, triangle rack and some of the best pool cues. The pool table package also includes a cover that you can use to shield it from direct sunlight and rainfall when playtime is over. Overall, the Imperial 8ft Outdoor Pool Table provides excellent value for anyone looking for a lifelong table for play outdoors.
5. SereneLife 6ft Foldable Pool Table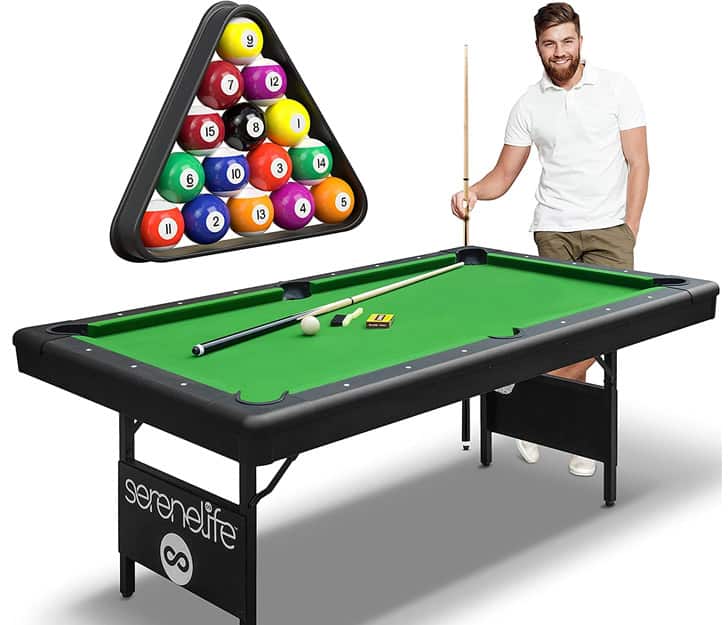 Most outdoor pool tables we have reviewed so far have one main disadvantage – they are heavy. If you're interested in portable outdoor pool tables, you should check out this 6-ft (1.8 m) foldable table from SereneLife. This game table's folding mechanism makes it great for anyone who has a small room size. One of the main advantages of this table is the ease with which you can put it together.
This SereneLife pool table has a low friction playfield, while the soft rope drop pockets will make your gaming time enjoyable. The game table also comes with an eye-catching table felt, which combines with the black wooden construction to spruce up your outdoor backyard or patio decor. However, this sleek table isn't just good looking: it has several other practical features such as leg level balancing and enhanced safety features.
While this outdoor pool table isn't the most weather-resistant on our list, its portable foldable design offers an added layer of protection. Along with the game table, you get an array of pool accessories, including balls, chalk, cues, brushes and a table rack. Overall, this game table is perfect for beginners, intermediate players or a family looking to have fun.
6. Imperial International Pool Table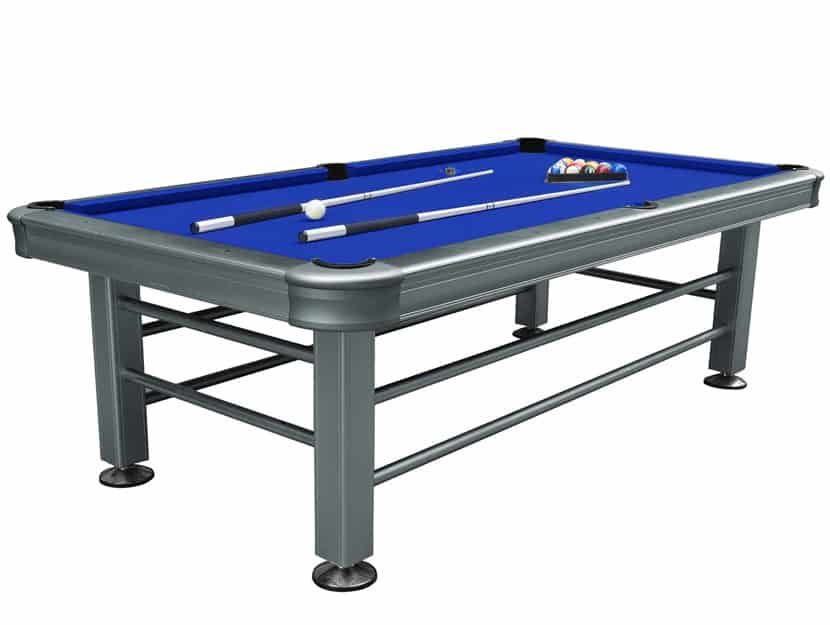 Imperial outdoor pool tables are well-known for their excellent quality and durability and this one is no different. This game table has your name on it if you want to take your outdoor living space up a notch. It boasts a durable metal frame and comes in three classic colors: champagne, gray and silver. You can also choose between a camel and blue felt to match your patio or outdoor space color and style.
While this is one of the most expensive outdoor pool tables on our list, the high quality makes it value for money. Like other Imperial outdoor pool tables in this review, this unit is designed with aluminum rails and corners. Its sturdy construction guarantees longevity even in the harshest weather conditions, while there's also a cover to keep the camel-colored Taclon cloth protected. Even the cloth is waterproof, ensuring your outdoor pool table remains intact when you accidentally spill drinks or water on it.
The simple design allows you to assemble the table quickly as it only takes a few minutes to attach the legs. Moreover, you can adjust the legs to fix the issue of uneven surfaces, which is a common issue with outdoor surfaces. In addition to the pool table, you get several other essential accessories such as drop pockets, pool balls and cues to make the most of your play outdoors.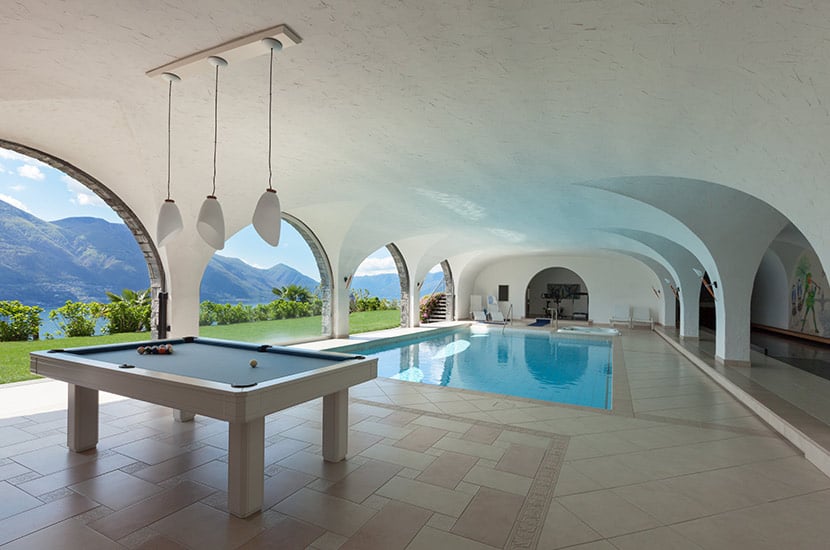 Are you shopping for outdoor pool tables? Knowing what to look for among all the premium products can be difficult. Our buyer's guide comes with all the information you need to know to make a top choice.
How To Choose The Best Outdoor Pool Table
Outdoor pool tables are usually big-ticket purchases and you can't afford to get it wrong when selecting one. We've put together some tips that you can follow to choose the best game table for you.
As you'd have guessed, your budget is the most important thing to consider when shopping for outdoor pool tables. You need to set your budget and determine how much you're willing to spend on the game table. Outdoor pool tables can range from $2,000 for low-end products to over $10,000 for more durable and sophisticated outdoor tables.
Determine how much you're willing to spend on a game table and consider and compare all the features you want in the table for your play outdoors. It's worth noting that you may have to spend a considerable amount of money to get an outdoor pool table with solid construction and sleek design.
Need more options? Click here to learn about the best pool tables.
Another important factor you'll have to consider before selecting a table is the location. You'll want to determine the location for the outdoor pool table and if you will be able to accommodate it outdoors. Outdoor pool tables come in various sizes, so pick the one that can comfortably fit into the room size of your outdoor space.
Note: In addition to the space occupied by the game table, ensure that you consider the space required to make shots.
You should also consider the size of the outdoor pool table before making a purchase. Outdoor pool tables come in various dimensions, so think of a size that suits you and allows you to play outdoors without restrictions. Typical sizes of outdoor pool tables include:
6-foot (1.8 m) outdoor pool tables: This is the smallest outdoor pool table size. This option is worth considering if you have a small room size.
8-foot (2.4 m) outdoor pool tables: This is the most common choice among homeowners. These tables are 233.7 cm x 111.8 cm, so you can measure the outdoor room size to see if it will accommodate it.
8-foot plus outdoor pool tables: 8-foot plus outdoor pool tables are considered the standard for pros. These tables are the same length as 8-foot tables but with a 116.8 cm width.
9-foot (2.7 m) outdoor pool tables: These are regulation size, making them perfect for anyone who wants to practice on a tournament standard table size.
12-foot (3.6 m) outdoor pool tables: Consider getting a 12-foot pool table if you want the biggest size for your play outdoors. Just be sure to consider your room size.
How much room do you need for a pool table? Visit our blog post to find out.
You may also want to pay attention to the design of the outdoor pool table to ensure that it matches your style. Pay attention to the color and frame material to see if it fits with the style of your outdoor space.
Not a very good player? Visit our blog post to learn how to play pool.
Weather resistance is another important factor that will influence your selection of the outdoor pool table from the numerous outdoor pool tables available. If it rains frequently or the weather is extremely harsh, you'd want to invest in a table that is durable. Check the construction and weather protection options available before choosing one.
Tip: Most outdoor pool tables come with a cover. Use the cover for extra protection when the table is not in use.
Material is just as important as durability and your room size. You need to pay attention to the quality of materials of the outdoor pool table. Check the quality of cloth, rubber and railings to be sure that they are suitable for your play outdoors. For instance, some outdoor pool tables come with cheap felt that affect the precision of your shot.
How To Clean An Outdoor Pool Table
You can clean an outdoor pool table by brushing the felt anytime it gets dirty or after a game. Follow these steps to clean your pool table:
Use a pool table felt brush to remove chalk, dust and lint from the felt after playing. Avoid brushing vigorously to avoid tears.
Use a lint-free microfiber cloth to remove liquid spills. Press the microfiber cloth over the area to absorb the liquid.
You should occasionally clean the frame of outdoor pool tables as well. All you need for this is a soft cloth and a mild detergent.
Frequently Asked Questions
Pool tables are not meant for indoors alone. We hope this review has provided answers to your search for the best outdoor pool table. The Hathaway Alpine Waterproof 8ft Outdoor Pool Table is our prime pick among the lot as it is durable and will fit in well with the style of your outdoor decor. However, feel free to choose any of the other top options in this review.