What better way to have fun and cool off in the summer months than in your very own pool? Above ground pools offer a great alternative to in-ground pools – they are more affordable, quick to install and can be packed up and taken with you when you move house.
But the tough part is deciding which pool to buy! Luckily, we have done the hard work for you and compiled a guide listing eight of the best above ground pools on the market. Whether you want a large pool for swimming laps or an inflatable one for the kiddies to play in, discover the best above ground pool for your needs right here.
Bestway 157in X 79in X 48in Above Ground Rectangular Swimming Pool Set with Sand Filter Pump
Read Full Review
Intex 12ft/15ft Above Ground Pool Frame Swimming Pool Set with Filter Pump and Cover
Read Full Review
1. Intex 24ft x 12ft x 52in Ultra XTR Frame Above Ground Swimming Pool Set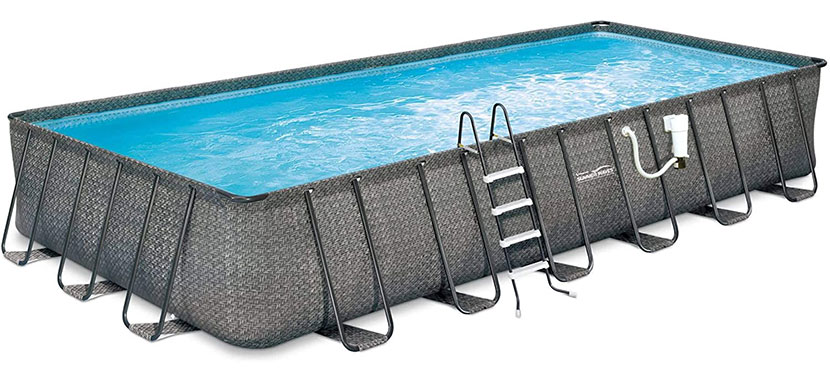 Editor's Choice #1: Our number one pick is the Intex Ultra XTR rectangular frame above ground pool set. This is a proper pool – it is large and deep enough to swim laps in or even host a pool party! Plus, every component is top quality, down to the easy to maintain filtration system. This pool will give your family many years of summer fun!
If you have a lot of space and you want to invest in a top-quality pool, the Intex Ultra XTR rectangular pool is a fantastic choice. This pool boasts a galvanized steel frame with a corrosion resistant coating, and triple-layer PVC siding that is laminated for UV protection. There is zero skimping on quality – this means the pool is an investment, and also that it requires some time to set up.
Although the Intex Ultra XTR takes time to install, once done it is super easy to maintain. Apart from basic upkeep, all you need to do is routine backwashing and replacing the sand in the filtration system every five years. The sand filter pump includes hydro aeration technology in the pump to ensure crystal clear water and a good chemical balance at all times. Plus, the saltwater system is great for those with sensitive skin.
At 24ft x 12ft x 52" (7.3×3.7×1.3 meters), this pool is comparable in size to in-ground models. You will need a large yard to accommodate this pool, but the shape of this rectangular above ground pool means it takes up less space than a round pool. This pool is on the pricey side, but think about what you are getting – aside from a fantastic, very large pool, the set also includes a filter pump, ground cloth, protective canopy, pool cover and removable ladder.
2. Bestway 157in x 79in x 48in Above Ground Rectangular Swimming Pool Set with Sand Filter Pump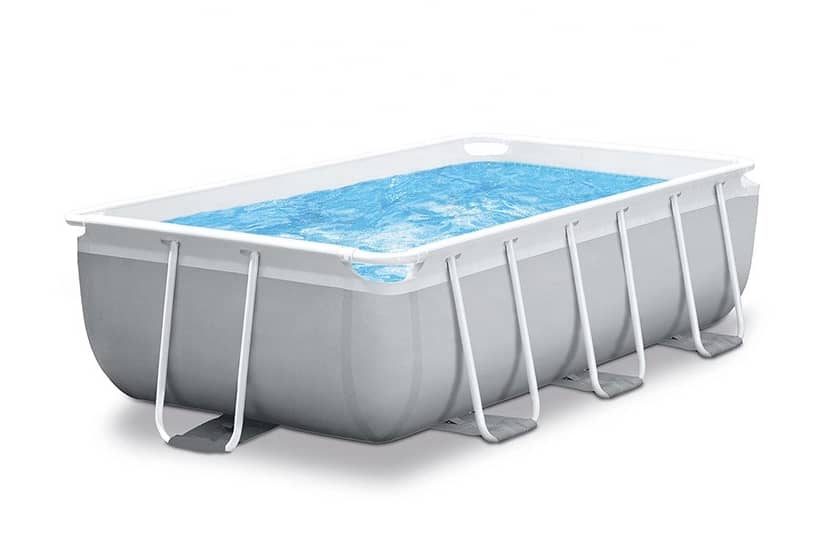 Editor's Choice #2: If you like the idea of the Ultra XTR but want something a little more modest, the Bestway above ground rectangular pool set is perfect. It is also rectangular, with a sand filter pump and hydro aeration technology, but is a little smaller and more budget friendly. It is still one of the best above ground pools you can buy!
With its sturdy steel frame and triple-layer PVC construction, this Bestway pool is very durable, and affordable for the quality. The frame is designed to provide leaning support, so it has fantastic stability. This pool will definitely last you a good many seasons of fun! It also has a sleek and classy design that will look great in any yard.
This Bestway rectangular pool set is also equipped with hydro aeration technology for enhanced circulation and water clarity. It features a highly efficient pump and a sand filter which is simple but very effective. You can decide whether you want a chlorine system or saltwater chlorinator. Cleaning is also easy, and the pool can accommodate a robotic pool vacuum for extra convenience.
With its dimensions of 157"x79"x48" (4x2x1.2m), this pool can accommodate several people. However, its narrow rectangular shape means it can slot neatly into narrow spaces. Due to its length and depth, it is ideal for swimming laps. Plus, it is easy to set up and doesn't require any tools. Don't forget to add paving stones underneath the frame uprights to prevent them sinking into the soil. This pool comes equipped with a filtration system and pool ladder, but you'll need to buy a debris cover separately.
3. Intex 12ft/15ft Above Ground Pool Frame Swimming Pool Set with Filter Pump and Cover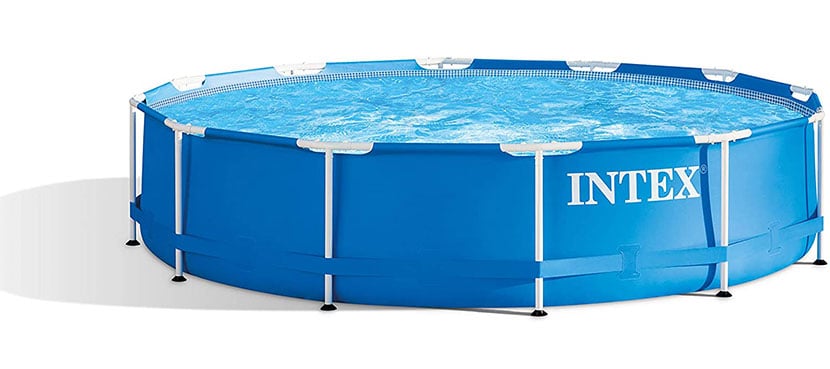 If you prefer a round above ground pool to a rectangular one, this option from Intex is a fantastic alternative. It also features a galvanized steel frame for durability, and its sides are made from a triple-layer polyester mesh and PVC material. The only thing that may deteriorate is the pool liner, which sometimes fades in color after a few months. This won't affect the functioning, but may make it look a little shabby.
Like the Intex Ultra XTR, this model also features hydro aeration technology in the filter pump to keep the water sparkling clear. Plus, the pool is equipped with dual suction outlet fittings which enhance water circulation. When you want to remove the water, all you have to do is attach a garden hose to the drain plug. The only other potential issue is the ground cloth, which is a little thin. But as long as you make sure all debris is cleared before you lay it down, you shouldn't have a problem.
According to Intex, this pool can be ready for water in 45 minutes, but we recommend setting aside a few hours to be safe! Nevertheless, installation is simple and the included instructional DVD is easy to follow. You'll find that this pool has good depth and size, without being quite as massive as the Intex Ultra XTR. It is also very affordable for such a high quality pool!
4. Intex Ultra XTR 16Ft X 48In Outdoor Frame Above Ground Swimming Pool Set W/ Pump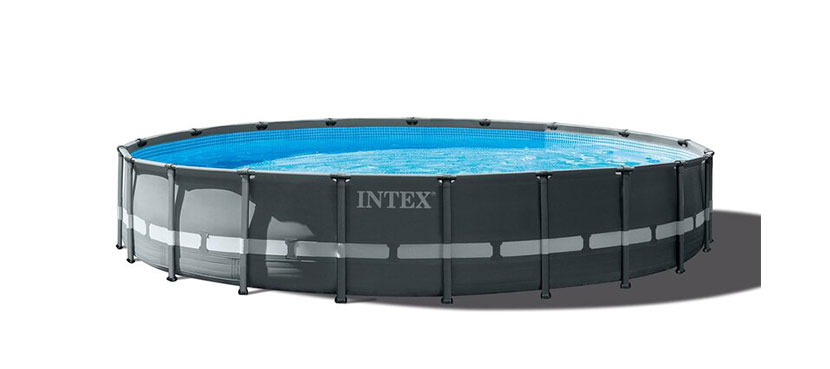 The Intex Ultra XTR 16ft x 48 inch pool is just like the rectangular version, and is perfect if you prefer a round pool. Like the rectangular pool, it features a powder-coated steel frame that is rust and corrosion resistant. The size of the pool and quality of the materials means it takes some time to assemble. However, the push-button connectors make it much easier. As long as you know how to level the ground, you should be able to install this pool without professional assistance!
Just like the Intex Ultra XTR rectangular pool, the round pool also features hydro aeration  technology and a highly efficient sand filtration system. All you need to do to maintain this pool is routine backwashing and replacing the sand every five years. If you are looking for the best quality on all counts, here it is! Plus, all the necessary accessories, such as removable ladder, pool cover and ground cloth are included in the package.
If you like larger pools you can really swim in, this is a fantastic choice. With a 16 foot diameter, it is big enough to accommodate several kids or adults, and its generous 48 inch depth allows for great fun all swimming season. This pool is ideal for those who want to invest in a proper pool that will last for many years, but who cannot get an in-ground model for whatever reason.
5. Bestway Ground Swimming Frame Set Pool with Pump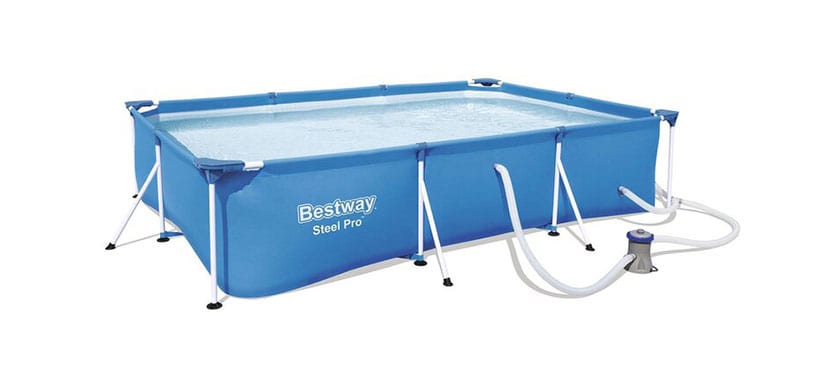 This rectangular frame pool set from Bestway is a fantastic buy. Like all the best above ground swimming pools, it features a corrosion-resistant steel frame and PVC walls with an inner polyester mesh layer. Plus, a reinforced 3-ply band wraps around the bottom of the pool liner to provide additional support. The only area where the quality is not the best is in the plastic pump tubes, but these are easily replaceable. This is another pool that will last you many summers to come!
The filtration system on this Bestway pool may not be quite as advanced as some of the models on this list, but the air pump works decently. Plus, we like that the pump is quiet for when you are relaxing in the pool. The filter pump is included in the package, but you will need to buy extra accessories separately. At 118 x 79 x 26 inches (3 x 2 x 0.7m), this pool is decently sized but fairly shallow. This is ideal if you have younger kids or like to sit in your pool and relax.
Unlike some frame pools, this one is easy to set up and to take down. The diagrams on the included instructions are a little small, but there are instructions available online that are easier to follow. Drainage is also super simple through the flow control drain valve that you can attach to a garden hose. Plus, there is little maintenance besides keeping it supplied with chlorine tablets.
6. Intex 12Ft X 30In Easy Set Above Ground Swimming Pool And Filter Cartridge Pump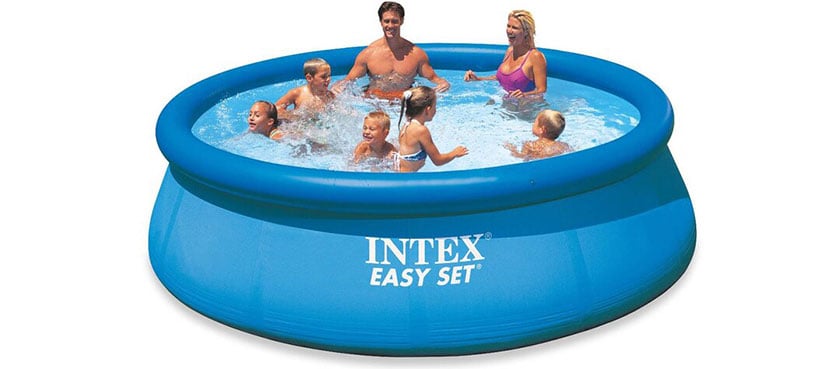 This inflatable above ground pool from Intex is way ahead of the pack when it comes to inflatable swimming pools. It is made from 3-ply puncture-resistant PVC and can withstand pretty much anything, from sunlight to abrasion to crazy kids. You still can't expect it to last quite as long as a frame pool, but it is almost there! It is only 23 inches high (0.6m), so it is best for lounging in or for young kids. But with a 15 foot (4.6m) diameter, it can accommodate several kids or a few adults.
Safe And Efficient Filtration
When you buy this pool, you will also get a filter pump that can pump 530 gallons per hour. This comes with a GFCI (Ground Fault Circuit Interrupter) safety plug feature so you don't have to worry about any short-circuiting. This pool is easy to maintain and can handle a saltwater system if you prefer.
Like most inflatable pools, you can have this pool installed and ready for water in minutes. It also comes with an instructional DVD if you need guidance. On top of that, everything you need for basic pool use and maintenance comes with the package, including ladder, ground cloth and debris cover! If you don't have the space for a larger frame pool but still want something of decent size and quality, the Intex Easy Set is the way to go.
7. Summer Waves 10Ft X 2.5Ft Above Ground Inflatable Swimming Pool With Pump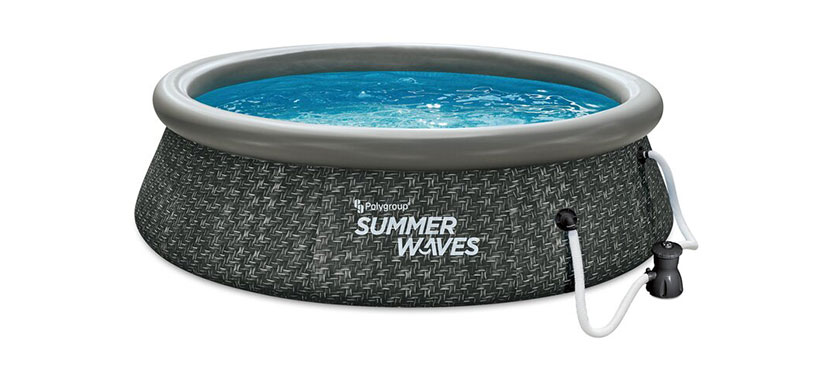 This Summer Waves above ground pool may be a little pricier than some inflatable pools, but its quality is far superior! It won't last you as long as a frame pool, but its triple-layer polylaminate polyester and PVC construction is puncture, corrosion, and UV resistant. If you aren't ready to commit to a larger pool or an in-ground pool, this one is still super high quality.
Easy Setup And Maintenance
The great thing about an inflatable pool is that you can set it up in minutes. The drain plug also has a garden hose connection for easy drainage. Plus, the maintenance for this Summer Waves pool is very low. It comes with a filter pump so you can keep the pool set up all season long without worrying about algae growth.
The Summer Waves above ground inflatable pool is a great affordable pool, but it does not come with any accessories apart from the filter pump. We recommend buying a ground cloth and debris cover to keep the pool in top condition. The pool's size is a happy medium – it is big enough for a few kids to play in or a couple of adults to lounge in the water, but will still fit in a smaller yard. Plus, the Summer Waves gray imitation-wicker design is a refreshing change from the classic blue.
8. Intex 12 Foot X 30 Inch Greywood Prism Steel Frame Premium Pool Set With Filter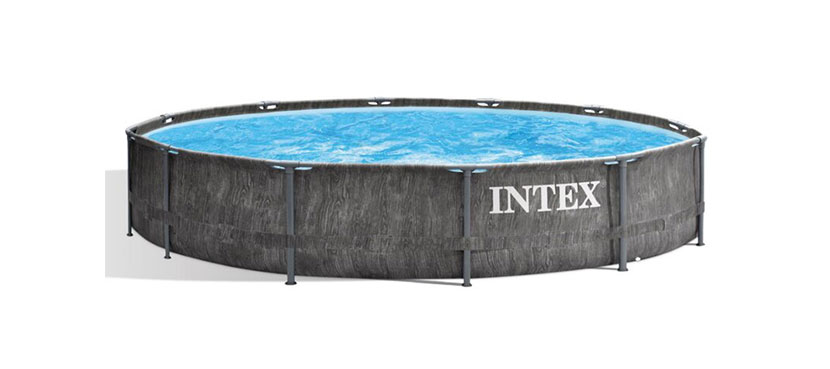 If you want something on the smaller side but more sturdy than an inflatable pool, the Intex Greywood Prism steel frame pool set is a fantastic choice. This round above ground pool features a 3-ply liner, and its steel frame is powder-coated for corrosion and rust resistance. Plus, it is simple to set up if you follow the instructional DVD. The liner is a little stiff when just out of the box, but if you leave it in the sun for a bit it will become more flexible.
This pool also features hydro aeration technology for sparkling clear waters, and the included filter pump is saltwater compatible. It is a little on the small side, but you can always upgrade to a larger pump if need be. You will also have to buy a ground cloth and debris cover separately – don't be tempted to skimp on the ground cloth, especially if you are putting the pool on a hard surface!
With a 12 foot diameter and 30 inch depth, this is one of the smaller pools on this list. However, this is perfect for those with a smaller yard or young kids. Plus, the gray wood grain design adds a touch of class to your yard. Not everyone wants a gigantic pool, and with the Intex Greywood Prism, you don't have to skimp on quality.
Here to help you sort through the best above ground pools out there and choose the one for you!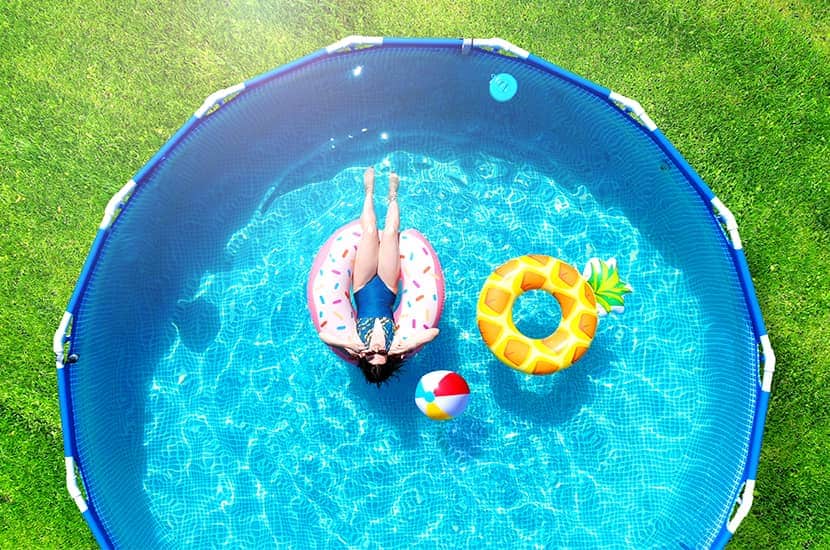 What To Consider When Choosing Your Above Ground Pool
When looking at the wide range of products on offer, it can be difficult to figure out which pool is best for you. Here is a list of things to consider before making your purchase.
Durability is one of the most important factors to consider when choosing your above ground pool. The longest-lasting pools are made with a steel frame, followed by resin and plastic. Inflatable pools are the weakest, and some only last one or two seasons. You should also consider the pool liner, as this can get damaged without a good-quality coating. PVC or vinyl tends to provide the best protection against the elements.
Unless you plan to use your pool for a day and then empty it and pack it away, you will need some kind of filtration system. If the water sits for a long period of time without circulation, it is likely to stagnate and become green and smelly. No thanks!
Most of the pools on our list come with a sand filter pump system included. However, you can also buy the equipment separately – just make sure the pump you buy is compatible with your pool. Also, think about whether you want a saltwater or chlorine-based system. Saltwater systems tend to be easier to maintain, and are better for people with sensitive skin or asthma. However, they are a bit pricier than chlorine.
When choosing your pool's size and shape, it's important to consider the space you have. Before choosing your pool, decide where you want to put it and measure the space. It is no use buying a beautiful pool and finding that it doesn't fit in your yard!
Also, think about how many people will be using the pool at a time and what you plan to do in there – if you want to do laps, a deep, long and narrow pool is probably best, while you'll want a shallower pool if it's for young children.
Make sure to leave ample room around the pool for the pump and pipes, and to provide access.
Extra pool features include things like ladders, pool covers, and maintenance equipment. They shouldn't be the be-all and end-all of your decision, as you can buy these items separately. However, getting good-quality accessories included in your purchase is definitely a plus.
What You Need To Know About Getting An Above Ground Pool
Getting an above ground pool is quite a commitment – here are a few things to consider before making the leap.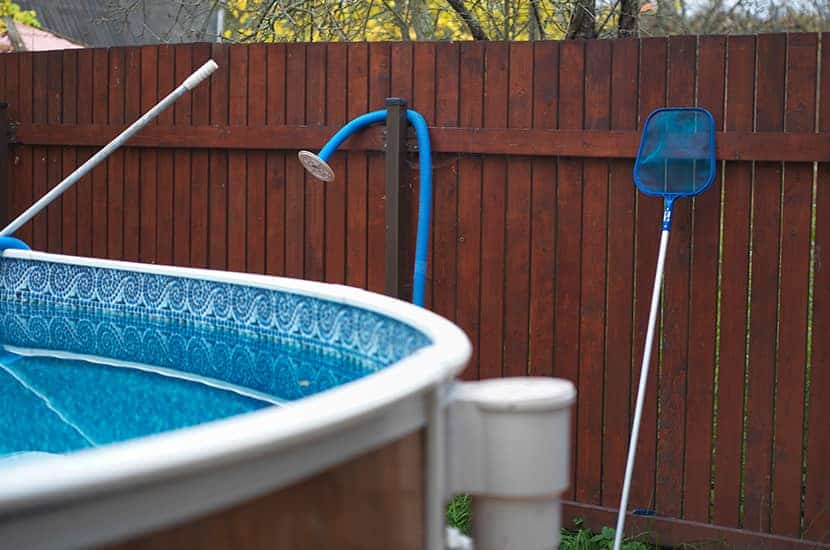 Understanding The Maintenance Needs
Besides tiny paddling pools that you deflate after use, all above ground pools require ongoing care to prevent algae growth. As well as the filtration system, you will need to add tabs of chlorine or bags of salt at regular intervals. You may also need to put in some effort to keep the pool clean. We recommend investing in some test strips so you can test the chemical makeup of the water to see whether it needs a boost or not. Other important maintenance accessories include a net to scoop out leaves and insects, and a pool cover.
If you do end up battling algae, you will need shock treatment to get rid of it.
Above ground pools can range from $100 dollars for a cheap kiddie pool, to several thousand for a top-of-the-line product. Only you can determine how much you are willing to pay. However, note that the price of the pool is not the end of the story. Cheap pools usually don't last very long – you might end up replacing it every year or two, in which case the cost will add up very quickly! Also take note of whether the accessories you need are included.
When selecting from the best above ground pools on't forget about all those little maintenance, repairing and utilities costs!
In many areas, all pools must meet certain safety requirements in order to be allowed. For example, your municipality or homeowner's association may have rules regarding fences, distance to property limits, and more. Check this guide from the U.S. Consumer Product Safety Commission to ensure safety.
Getting Ready To Install Your Above Ground Pool
Above ground pool set up can take anywhere from 15 minutes to several hours. Inflatable pools tend to be quick – clear your space, pump it up and just add water. But larger pools require much more preparation and time, and they can be quite complicated.
Before beginning the installation, you must level your ground. The pool needs a level surface to sit on or it will be lopsided, with more water on one side than the other. Ensure that there are no stones or roots just below the surface, and then pack the soil using a leveling machine.
After leveling, follow the manufacturer's instructions for setting up your pool. Some instructions are easy to follow, while others can be confusing. It might be a good idea to enlist professional help, so you can make sure everything is done properly. Even if you plan to do it yourself, have a buddy or two to help you – especially if it is a large pool, struggling by yourself is a recipe for disaster.
It's a good idea to place a patio stone underneath each of the sturdy metal frame uprights to ensure they do not sink into the ground.
Most above ground pools come with a filter pump, which requires a power supply. Call an electrician to wire your pool up to your home's electricity. Sure, it's another expense, but your family's safety is priceless.
Do not use an extension cord, as this is a safety hazard around water.
Frequently Asked Questions
After careful consideration, we have determined that the best above ground pool is the Intex Ultra XTR rectangular pool. It is made from top quality materials, has an impeccable filtration system, and is enormous! But if you want a slightly smaller and more affordable pool, we have lots of other great options on this list. Any one of these pools will improve your summers a hundred fold!