If you constantly struggle with too-tight skating boots that pinch the sides of your feet, this article is for you. People whose feet are on the wide side often struggle to find a well fitting boot, which is crucial to comfort and optimal performance on the ice. Sometimes, even the skates marked "wide" by a particular brand are not wide enough.
On the flipside, some skates' regular sizes are actually ideal for wide footed skaters. To help you wade through these confusing waters, we have compiled a list of the 6 best figure skates for wide feet. All the figure skates on this list are wider than average, though they differ slightly in shape. You might want to skip ahead to our buyers guide to learn how to measure your feet for skates and choose the best skates for you.
1. Jackson Ultima JS1490 Mystique Womens Figure Ice Skates
Editor's Choice #1: These figure skates from Jackson Ultima take our number one spot because of their impressive durability and construction quality, as well as their unrivaled combination of support, flexibility and comfort. We also love that they have a narrower heel but wider toe area, a shape which is hard to find.
Our feet don't come in absolute sizes, from narrow to wide. If you have a narrow heel, but wider ball and toes, chances are you have struggled to find skating boots that fit. Luckily, the Jackson Ultima JS1490 Mystique may be the perfect skate for you! These skates are labelled as "C-width" but are often described as "split-width" because they are one standard size lower at the heel than at the toe.
Quality Comfort, Flexibility And Support
You would be hard pressed to find figure skates of better quality than the Mystique. Made from leather with a polyurethane coating and a solid PVC outsole, these boots are waterproof and easy to clean. They are also highly durable and can withstand active and frequent skating. These skates are designed for intermediate skaters, meaning they are stiffer than beginner's skates. We love that they provide decent ankle support, but also have a flex notch in the upper for added flexibility. With strategically placed padding and a comfort tongue, these are also super comfortable figure skates.
2. BOTAS Dagmar Women's And Girls White Ice Skates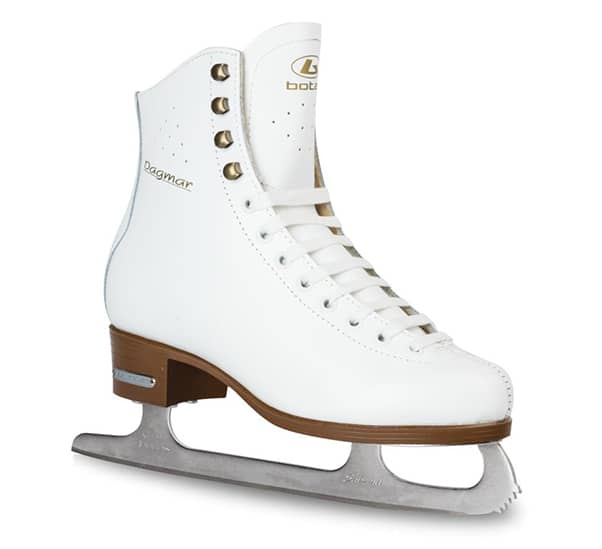 Editor's Choice #2: For sheer quality and versatility, these skates undoubtedly take the number two spot. The craftsmanship and attention to detail on the Botas Dagmar is incredible, and it will support you through beginner and intermediate skill levels. As C-width boots, these are perfect if your feet are slightly wider than average.
High Quality Construction
Botas is known for their top quality, handmade boots, and the Dagmar is their best beginner model. Made from layers of split leather with a PVC outsole, these skates are exquisite and will last for years. Plus, the blade has the coveted TUV SG European certification for quality. These skates are best if your feet are a little wider than average, but may be too tight if they are extra wide. The only weak point is that the laces are a little flimsy.
One of the best things about the Dagmar is that although it is a skate for beginners, it can handle pretty active skating too due to the ankle support provided by the long collar. This is the ideal skate for the ambitious beginner, and will support you as you reach an intermediate skill level. These skates are universally praised for their comfort on the ice. The felt tongue protects you from lace bite, and the soft interior lining and extra padding on the ankle make these a dream to wear. Plus, the thermal technology helps your feet stay warm!
3. BOTAS Stella Women's And Girls Ice Figure Skates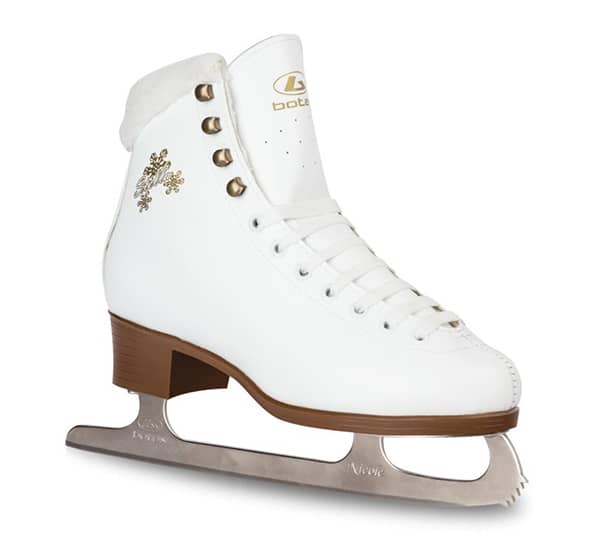 Great Quality And Value For Money
The Botas Stella is more budget friendly than the Dagmar, mostly because it is made from synthetic materials rather than leather. However, for recreational figure skaters, it is still fantastic quality. Durable and waterproof, the quality rivals that of much more expensive skates. These skating boots are specifically designed with a wider base, making them perfect for skaters with wide or flat feet. They are still not the widest you can get, but are perfect for skaters with slightly wider than average feet.
Because they are so comfortable and provide a lot of stability, these skates are great for beginners and casual skaters. As well as the inner lining and ankle padding, the Stella also has a fleece lining on the collar, which provides a buffer against your calf as well as a soft aesthetic. Note that these skates won't work for intermediate or advanced skaters as they cannot handle a lot of jumps and spins.
4. Riedell Skates - 119 Emerald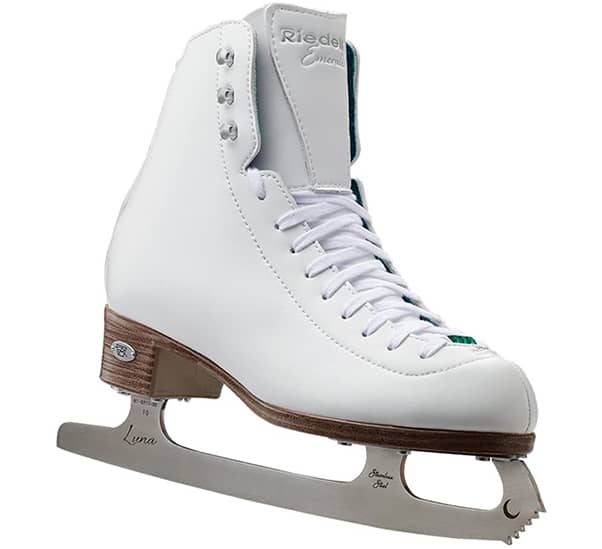 These Riedell skates are designed to suit beginners, but also to handle more advanced moves as your skill level progresses. The skates are designed specifically with wide-footed skaters in mind. The higher toe box frees up room for your entire foot, and the open-throat and flex notch lacing system allows for a high degree of customizability. You can also choose either a medium or wide width boot, depending on whether your feet are wide or extra wide.
Versatile And Ultra Durable
With a stiffness rating of 30, you will need stiffer boots as you become very experienced – but these should last you a good distance into your skill progression. It would be difficult to find more durable skates than the 119 Emerald. With ankle reinforcement, durable microfiber materials, PVC sole and waterproof lining, these skates will last for years of pretty intensive use. Nevertheless, they still allow good freedom of movement and their padded collar protects your Achilles tendon.
5. Jackson Ultima Fusion Elle And Freestyle Figure Ice Skates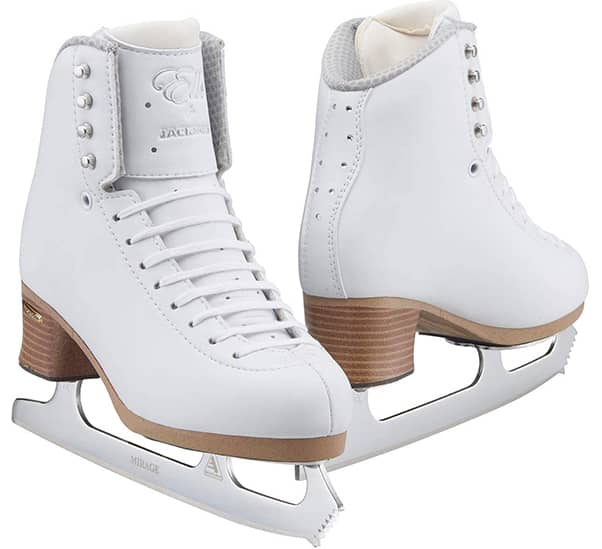 Like the Mystique, the Jackson Ultima Fusion Elle Freestyle figure skates are perfect for skaters with a narrower heel and wider football. In fact, you'd be hard pressed to find a skate with a roomier toe box! But if you have wide heels too, it's probably not the one for you. Like most Jackson skates, these are incredibly well made from quality materials. What sets these skates apart is that they are highly durable yet also lightweight. The torque-resistant sole and reinforced heel provides great shock absorption, the blade is very strong and the boot provides both flexibility and support.
Great For The Advancing Skater
The Fusion Elle is the perfect skate for intermediate to advanced figure skaters who are beginning to subject their skates to more jumps and spins. They are not competitive skates, but they can support you through fairly intensive skating. Although they are pretty stiff before you break them in, the U-shaped cuff and rolled lining reduce pressure on sensitive points.
6. Riedell Skates - 110 Opal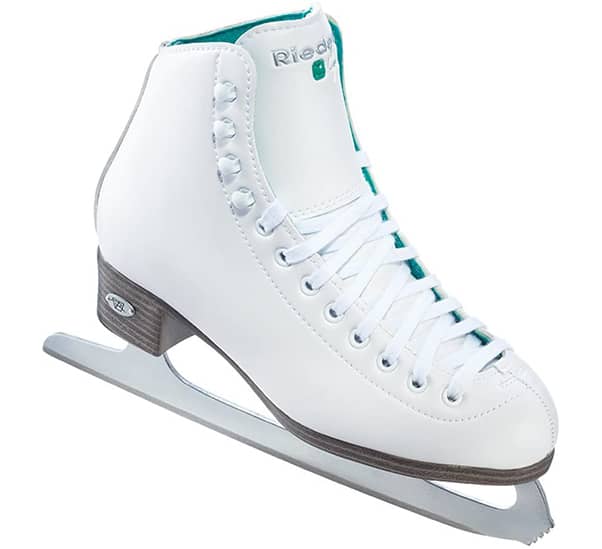 These skates from Riedell are the cheapest skates on this list. Nevertheless, they are made from high quality vinyl that should last you long enough. The added reinforcements and PVC sole are all constructed with durability in mind. They are beginner skates, meaning you will likely grow out of them in terms of skill before you face any durability issues.
The 110 Opal is definitely a beginner's skate. With a stiffness rating of 20 out of 100, it does not provide much support, but if you are still learning the basics you will not notice that. The split tongue design also enhances both comfort and stability for a beginner skill level. Although these boots only come in one skate width, it has been noted that they work best for skaters with a wide foot. They also complement high arches well. With foam quarter padding and quilted lining, these skates feel super comfortable on the ice.
There's a lot to think about when searching for the best fitting skates for your feet. This guide should help clear things up.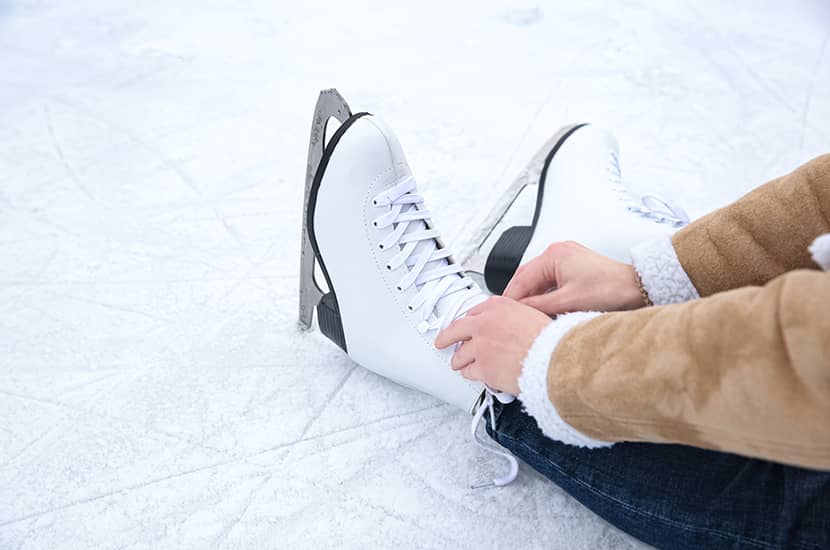 In figure skating, there are four main different foot types. You may have:
Narrow feet
Regular-width feet
Wide feet
Or extra wide feet
In addition, you may have a high arch, a normal arch or a flat foot, and you may also have feet that are narrow at the heel and wider at the ball. Knowing your foot type is essential to picking the right figure skates. However, it's not as simple as buying "wide" skating boots – some "regular" boots are wider than usual, and some "wide" boots are actually narrower than the regular skates of a different brand!
How To Measure Your Feet For Skates At Home – Step By Step
In order to ensure you get perfectly fitting boots, you need to know the correct way to measure your feet (you can also use these steps to measure for a hockey skate).
Prepare your surface: Get a blank piece of paper and put it on a firm, hard floor, with its edge against a wall.
Put on socks: Whatever you normally wear under your skating boots. This will enhance the accuracy of the measurements.
Step on the paper: Stand straight up with your foot on the paper and your heel touching the wall.
Measure your foot length: Using a ruler, draw a straight line parallel to the wall, touching the tip of your longest toe. Using a ruler, measure the length from the wall to the line.
Measure your foot width: Wrap either measuring tape or string around the widest point of your foot, typically the ball. If using string, measure its length against a ruler.
Repeat the process for the other foot: Not everyone's feet are exactly the same size!
Use a reliable foot size chart: Now it's time to match up your measurements with the manufacturer's foot size charts. This way, you should know which skating boots to buy. Note that not all foot size charts are reliable, so make sure you pick a trusted brand.
Choosing The Best Figure Skates For Wide Feet
Although the fit is crucial when choosing figure skates, there are other aspects to consider.
There are a number of factors that influence durability, such as solidity of the outsole, quality of the materials, and protective features. Durability is important for everyone, but to different degrees. For example, if you only skate recreationally every few weeks, you won't need the same durability as a competitive skater.
Skaters with different levels of experience need boots with different stiffness levels. Beginner figure skates are quite soft, as it is hard to master the basics with a stiff boot. But as you start to learn more advanced moves, your boots will need to be stiffer to endure the pressure and to support your ankles.
If your skates are primarily for recreational use, you can prioritize comfort – you won't need the most durable or top performing skates. But if you are serious about figure skating and aim to master advanced moves, you'll need more advanced skates to match.
As we said above, how often you use your skates affects the importance of factors like durability and stiffness. It goes without saying that skates wear out the more you use them. So if you are going to use them very frequently, you'll need very durable skates.
Whether you are a beginner, advanced or intermediate skater plays a huge role in the type of skates you should buy. The more advanced you are, the stiffer your boots should be. As you progress in your skills, you may also consider buying the boots and blades separately.
In figure skating, appearance is not a throwaway factor. In fact, a poor aesthetic can cost you points in competitions. If you are a recreational skater, it's up to you how much value you put on appearance.
Troubleshooting Common Problems
Let's get into the detail of issues that wide footed skaters commonly face.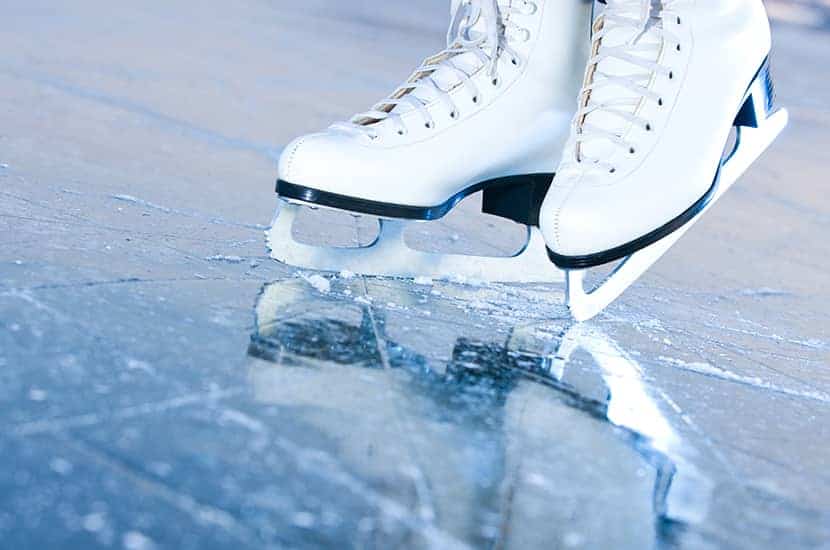 How Snug Should Figure Skates Be
Figure skates should fit very snugly, as if they are molded to your feet. You should not be able to move your heel, and your toes should graze the inside of the boot. At the same time, you should be able to wiggle your toes. If buying for a child, it's okay to leave some room for growth, but the boot should still feel snug.
My Feet Are Extremely Wide
If your feet are way over on the extremely wide side of the spectrum, the bad news is that it will take extra effort to find skating boots that fit. The good news is that it is possible! Some brands do offer skates specifically for feet that are extremely wide. If even these are too tight, you might need to get your boots custom made. It will cost extra, but you'll be sure to get skates that fit perfectly.
Yes, most skates can be made wider to a certain extent. If there is a skate-fitting pro at your local skate shop, they should be able to bump out painful pressure points or widen the inside of the boot. Whether this will work for you depends on your foot shape and which parts of the boot are too tight. For example, punching out a tight-fitting toe box can be an easy fix. However, you'll need to consult an expert to see if this is a feasible solution.
It's possible that the reason your boots feel too tight is because you have not broken them in yet. Here are some tips for breaking in your skates:
Most skating boots will take about six hours to be broken in. However, it's best to do this in 30 minute intervals to avoid sore feet and blisters.
The first time you wear your skating boots, keep them loosely laced, and don't lace them all the way to the top. You should be able to flex your ankles without pain.
Don't wear thick socks when breaking in your skates – wear what you would normally skate in. You can use bandages or gel pads to cushion sensitive areas.
Wear your skates around the house – just remember to use blade guards.
My Wide Skates Still Hurt
If your skates still hurt even if you are sure they are the correct width and they are fully broken in, the issue could be a poorly-fitting foot bed. For example, if you have a high arch, generic insoles probably will not work for you. We recommend getting some high-quality inserts that complement your arch type.
Frequently Asked Questions
To conclude, our pick for the best figure skates for wide feet is the JS1490 Mystique women's figure skates from Jackson Ultima. However, which skating boots are best for you depends on a wide range of factors, such as skill level, frequency of use and the exact shape of your feet. Whichever product you choose, do not compromise on comfort and fit! Whether it's a figure or hockey skate you are searching for, finding the right fit is essential to optimal performance on the ice and enjoying this wonderful sport.