For beginners and competitive figure skaters alike, choosing a new pair of skates is no easy thing. The wrong skates can hamper your ability to learn, and can cause painful blisters or even injury. That's why finding good skates that fit your feet and skill level perfectly should be a top priority. Read our buyer's guide below to learn more about choosing the best figure skates for you.
After extensive research, we have picked 10 of the best figure skates on the market. Most of them are designed for beginners or skaters just starting to learn more advanced moves. Make sure to keep in mind what you are looking for in a figure skate as you read.
1. BOTAS Dagmar White Ice Skates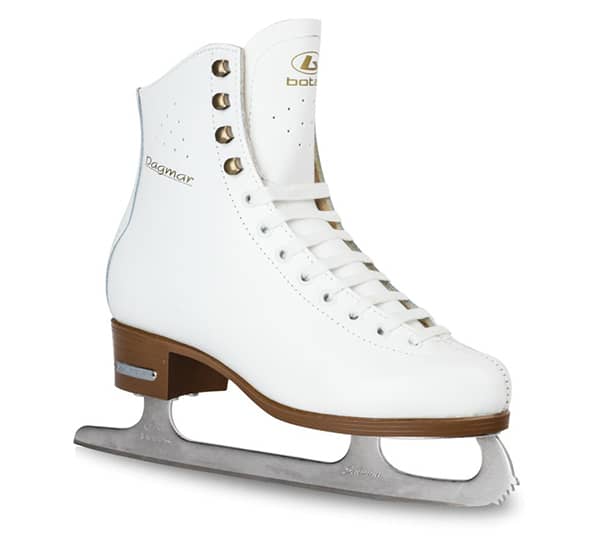 Editor's Choice #1: The Botas Dagmar skates for women and girls are the best figure skates for those ready to move up from an entry level skate. They will provide all the support, comfort and freedom of movement you need when beginning to learn some more advanced moves. Plus, their craftsmanship is unrivaled.
Botas is one of the best figure skating brands in the world. All their skates are handmade and the blades have a TUV GS European certification, ensuring a high standard of quality. The Dagmar is made from layers of split leather, with a PVC outsole for enhanced durability. Not only are these skates beautiful, they will stay in good condition for years.
The Dagmar skates are incredibly comfortable, with a soft interior lining and extra ankle padding. We especially love the long yet flexible collar that supports the ankle for jumps and spins, while still providing comfort and ease of movement. Plus, the boots include layered thermal technology to keep your feet warm!
The Dagmar is designed for ease of movement while still providing enough support for the active skater. They are perfect for the intermediate skater, the active recreational skater, as well as kids just moving into competitive figure skating.
2. BOTAS Diana Leather Ice Skates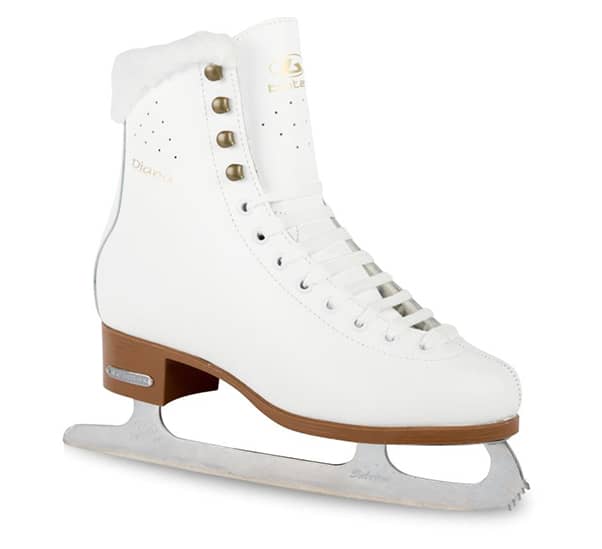 Editor's Choice #2: The Diana comes with many of the same benefits of the Dagmar, except that it is designed specifically with beginners in mind. Soft and comfortable, this is a fantastic figure skate if you are just starting out but still want something that can handle taking on frequent ice skating sessions.
Like the Dagmar, the Diana is made from layers of split leather, but with a fleece-lined collar for an extra luxurious look and feel. These skates are actually very similar to the Dagmar, and use the same blade. Apart from the collar, the main difference is that the Diana is more suited to beginning skaters.
What makes the Diana perfect for adults and younger skaters alike is how comfortable it is. These skating boots are lined with a laminated synthetic suede lining, with a plush collar and extra felt lining on the tongue. Many customers swear by them after experiencing pain and discomfort from other skates.
Great For Beginner Skaters
More advanced skaters will want something stiffer, but the Diana is perfect for the beginner skater. However, unlike most beginner skates, these will still support you as you progress somewhat in your skills. Like the Dagmar, it is also made with thermal technology for temperature regulation.
3. BOTAS Cindy Ice Skates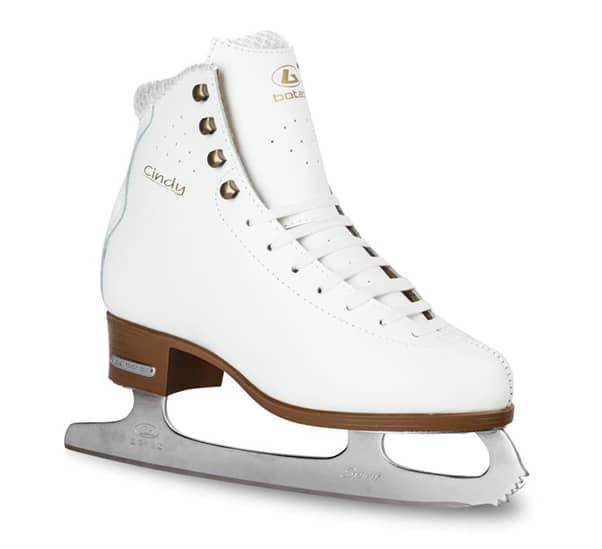 At this point, this article must be starting to sound like a stuck record! All Botas figure skates are well-made from high quality materials, and provide amazing comfort. However, rather than split leather, the Cindy is made from layers of thick coated leather with a waterproof finish. This makes for an incredibly durable and highly supportive skate.
The design of the Cindy ensures that it provides both support and comfort. The lining of these skates is not quite as soft as the Diana or Dagmar, but they do have a padded lining with extra padding on the ankle. In addition, the thermal technology keeps your feet toasty.
Perfect For Intermediate Skaters
The Cindy figure skates offer a similar stiffness level to the Dagmar, making them another fantastic option for an intermediate figure skating level. They also offer a great balance of flexibility and support around the ankle. If you prefer a shorter collar, these may be the ones for you.
4. BOTAS Regina Ice Figure Skates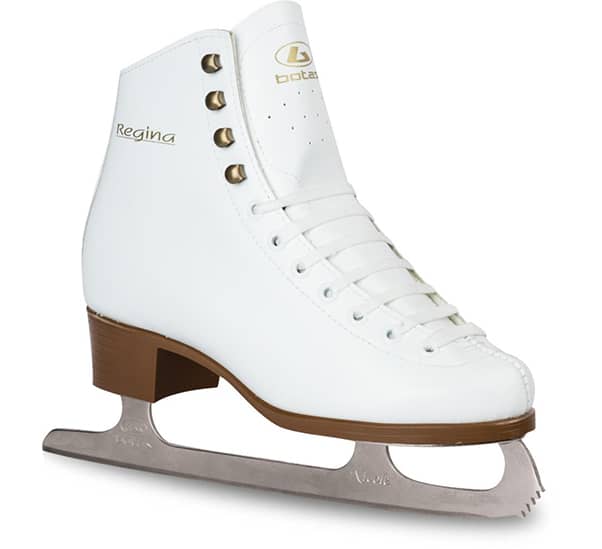 The Regina model of women's figure skates is ideal if you want something more budget friendly but still high quality. This model cuts some of the cost through using synthetic materials rather than leather. Nevertheless, they are still well made, durable skates. And like all Botas skates, the blade holds the coveted TUV SG European certificate.
Almost everyone who tries these figure skates finds them much more comfortable than any they have worn before. With a soft inner felt lining and added foam padding on the upper and ankle, the Regina will make you feel both comfortable and supported.
Perfect For Casual Skaters
Because the boots are not made from leather, these skates are not ideal for the more advanced skater. They will not mold to your foot like leather or stand up to the pressure of intense skating sessions. But for the recreational skater, they will help you improve your figure skating skills in style.
5. BOTAS Robin Black Ice Skates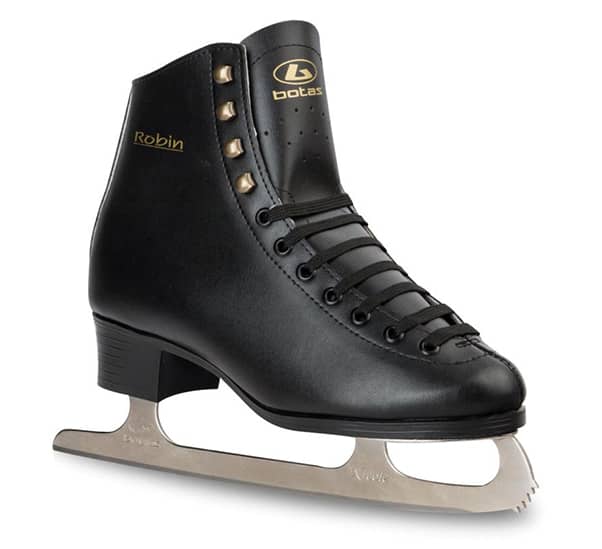 So far we have only been talking about women's figure skates, but Botas makes great models for male skaters too. The Robin is the men's counterpoint to the Regina – made from high-quality synthetic materials with the same quality blade.
The Robin figure skate features a newly high and wide cut designed to provide the utmost comfort for men's feet. It also has a laminated synthetic suede inner lining, felt lining on the tongue, and reinforced padding at the upper and ankle for enhanced comfort.
Perfect For Casual Figure Skating
The materials and padding of this boot provide the perfect level of comfort and support for the recreational skater. Like the Regina, the Botas Robin skates are probably not right for pro figure skaters, but that doesn't mean you won't be able to spend hours on the ice!
6. BOTAS Stella Women's and Girls Ice Figure Skates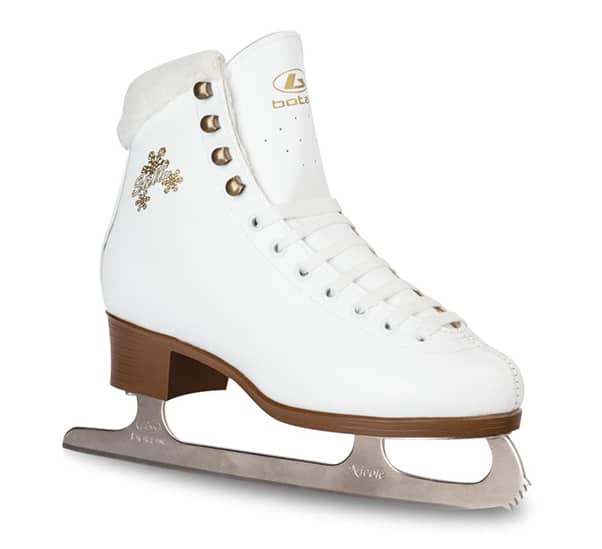 Quality, Waterproof Construction
The Stella is another budget-friendly model from Botas. Like the Regina and the Robin, the Stella is made from synthetic materials, although the new and improved Stella is much more waterproof than previous models.
Just like the other Botas skates, these will keep you warm and comfortable for hours on the ice. Plus, the fleece cuff around the upper is not just for looks – many customers found it provided a comfortable buffer against their calves. The laminated synthetic lining and ankle padding makes for a soft fit and the wider base provides extra stability.
Great For Kids And Beginners
The flexibility, padding and stability of these skates make them ideal for both kids and beginner skaters. You are likely to grow out of them as your skills progress, but they are a great choice for an entry level skate.
7. Jackson Ultima Mystique Figure Ice Skates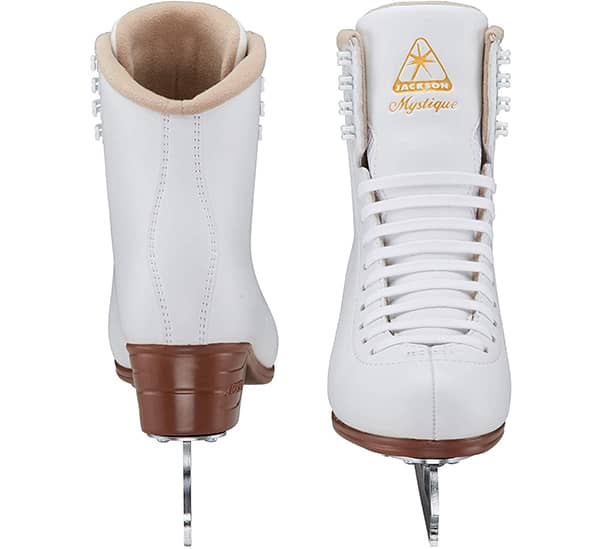 Jackson Ultima is also one of the best figure skating brands out there, and their Mystique figure skates are very well constructed. Made from leather with a polyurethane coating and PVC outsole, these skates perform well and are also easy to clean. Plus, they come in versions for women, men and kids.
With a flex notch in the upper for added flexibility, these skates provide both ease of movement and support. Plus, the full quarter padding and vinyl/mesh comfort tongue mean you can skate comfortably for hours. However, these skates are on the narrow side, so we recommend getting the wide version if your feet are average width.
Great For Intermediate Skaters
The Mystique figure skates are perfect for an intermediate figure skating level. They are stiff enough to support basic jumps and spins, but still soft enough for comfort. They are also designed to take a beating, so can handle long and frequent skating sessions!
8. Jackson Ultima Excel White Figure Ice Skates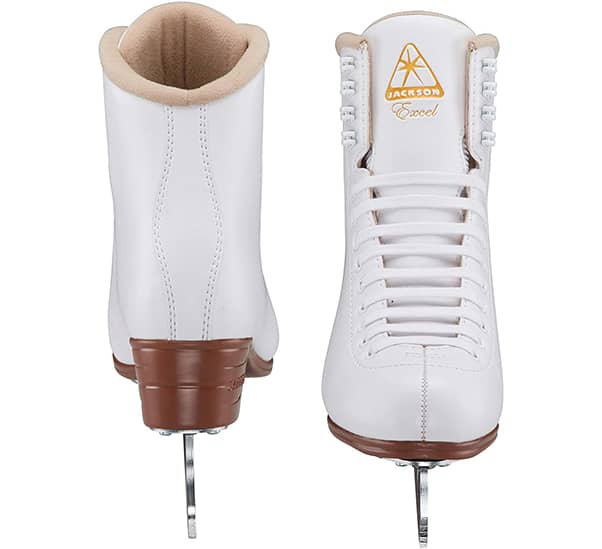 The Excel skates are another pair of Jackson skates, and are some of the best women's figure skates you can buy. Made from leather with a vinyl coated upper for easy cleaning, they also have a durable PVC outsole and high quality blade.
The soft lining, foam-backed tongue and extra padding on the ankle makes for a very comfortable figure skate. At the same time, these skates provide good support for the ankles. As a beginner, they will probably feel too stiff at the beginning, but after breaking them in they will soon fit like a glove.
Jackson Ultima provides a handy stiffness rating that lets you know the skill level each model is designed for. With a stiffness rating of 5, the Excel is ideal for those learning figure skating for the first time. They are also great for casual ice skaters who don't plan to learn advanced moves.
9. Riedell 110 Opal Recreational Ice Skates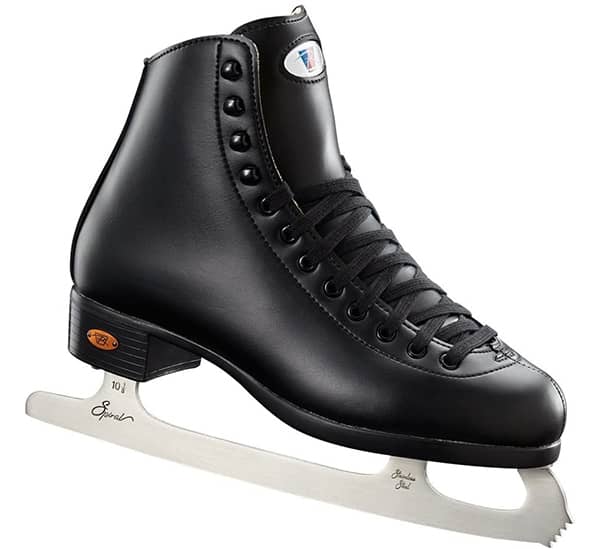 Riedell is another one of the most trusted figure skate brands. The 110 Opal does not have a lot of bells and whistles, but is a fantastic budget model for recreational ice skating. Made from high quality vinyl, these skates are highly durable, and the PVC sole will prevent any moisture entering from below.
With a quilted lining and foam quarter padding, the Opal remains comfortable for hours. The split tongue is designed to enhance balance for those still new to figure skating. The ankle support is enough for complete beginners, but after learning the basics may start to feel too soft.
These Riedell skates are perfect for beginners who are still learning how to skate. Because they are not leather skates, as you advance in your skills you will likely outgrow them. Nevertheless, this is a great entry skate, and is also ideal for casual skaters or parents wanting to join their kids on the ice.
10. Jackson Ultima GS180 SoftSkate Womens Ice Skates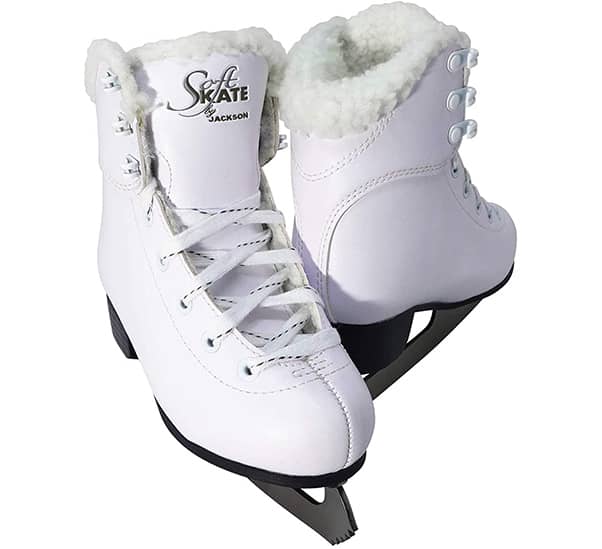 Despite being affordable, like all Jackson skates these are good quality skates. They are not the most durable skates you can buy, but for casual skaters they should last a long time. They are also low maintenance as they are super easy to clean and dry.
You can tell by looking at their fleecy insides – these are incredibly soft skates. As one reviewer said, skating on these is like skating on a cloud! Nevertheless, they still have decent ankle support, with a small flex notch to enhance flexibility. As a bonus, the fleece makes them luxuriously warm.
These budget skates are not designed for competitive figure skating or very frequent prolonged use. However, they are very stable due to their low profile, making them good for beginners or kids. If you are just starting out or only plan to skate every few weeks, these are a good choice.
We will help you to understand how to choose the perfect figure skates for you.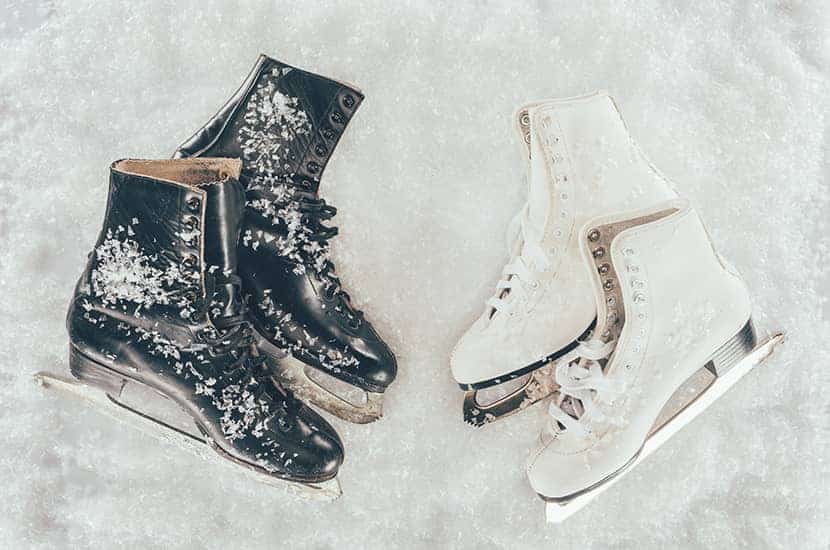 Over the years, figure skates have been refined to be the perfect tools for figure skating. These are some of the most important parts of your figure skate:
Boots: most figure skates are designed to look like real boots with a blade attached to the bottom; as such, they have laces, a sole, and a heel
Heel and toe plate: these attach the blade to the boot and add stability
Stanchions: the post-like structures connecting the blade to the plates
Toe pick: the serrated edge at the tip of the blade that assists figure skaters perform jumps and other tricks
Sweet spot: the area of the blade behind the toe pick and below the ball of the foot – this spot is best for performing spins
Rocker: the center section of the blade, shaped in a gentle curve
Edge: the sharpened part of the blade that makes contact with the ice
What To Consider When Choosing Your Figure Skates
There are several factors to keep in mind when choosing your new skates.
The level of stiffness you should look for in a figure skate depends on your skill level. Generally, it is recommended that beginners go for softer skates as they are more comfortable. More experienced skaters prefer stiffer skates that can handle the pressure exerted by frequent skating and advanced moves.
Support is generally a function of the stiffness rating. As a beginner, it is much harder to master the fundamentals and get accustomed to figure skating if your boot is too stiff.
Comfort and flexibility is key in the beginning; this is less important for intermediate and advanced skaters.
As we have said, more intermediate and advanced skaters require stiffer boots than beginning skaters. Those at an intermediate level should go for something in between. In addition, while more advanced skaters often buy their boots and blades separately, pre-assembled skates are better for those still learning the ropes. Lastly, the high level of durability that advanced and professional skaters need from their skates is not necessary for newbies.
Getting the right size is crucial for choosing figure skates that will allow you to perform your best without developing painful blisters. When it comes to sizing, figure skates skew smaller than normal shoes. However, that does not mean you should simply buy a size larger, as sizes vary considerably among different figure skate brands. It is important to consult a sizing chart provided by the manufacturer before making your decision.
As you are reading this article, we'll assume you want skates for figure skating rather than hockey skates or speed skates. That said, if you are a complete beginner or buying for a child, you might consider starting with double runners before graduating to proper figure skates. If you are a fan of hockey and would like to get properly equipped, read our posts about Best Hockey Sticks, Best Hockey Pucks and Best Hockey Rebounders to help you with that.
Ice Skating Tips For Beginners
While you can't learn to skate from an article, hopefully these tips will give you the confidence you need to get practicing! If you're a beginner, read our dedicated article about Best Hockey Skates For Beginners here.
Get skates that fit you well: Ill-fitting skates can seriously hamper your ability to learn.
Don't be afraid of falling: You are likely to fall a few times while you are learning! Getting over this fear is an important step.
Keep your knees bent and weight forward: This will give you the support you need to stay upright.
Try the 'penguin' method: Start with your feet shoulder width apart. Move your body weight from one foot to the other using very slight movements.
Try the 'scooter' method: Try moving a bit faster by 'scooting' with one foot while the other stays in contact with the ice. Then, try to switch the 'scooting' foot. Voila, you are ice skating! 
Try not to lean back whilst skating as this could unbalance you.
How To Break In Your New Figure Skates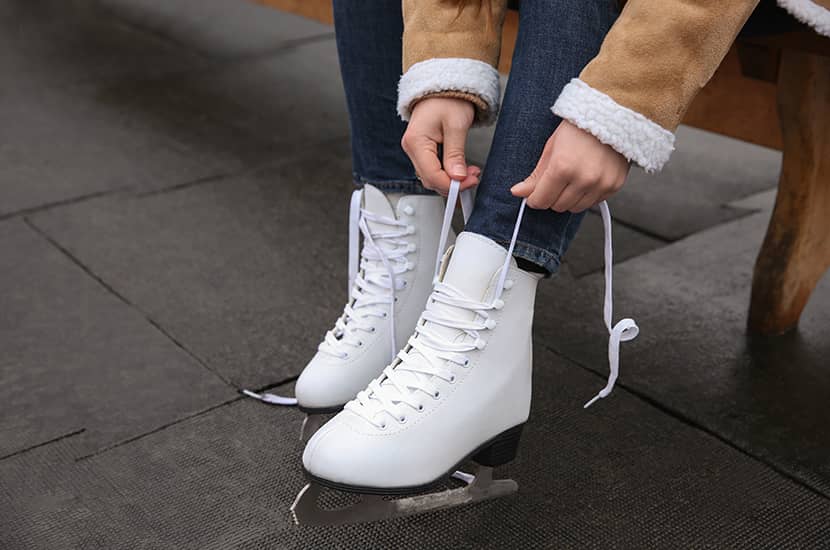 New figure skates are likely to feel stiff and uncomfortable at first. That's because you need to break them in, which helps the leather soften and mold around your foot.
Most skating boots will take about six hours to be broken in. However, do not try to do this all at once! Rather, break it up into 30 minute intervals. Hours on the ice in new skates is a recipe for blisters.
The first time you wear your skates, keep them loosely laced, and don't lace them all the way to the top. This will allow you to flex your ankles, helping you break in your skates painlessly.
Don't wear thick socks when breaking in your skates – wear what you would normally skate in. Rather use bandages or gel pads to cushion sensitive areas.
Wear your skates around the house – just remember to use blade guards.
Looking After Your Skates – And How Long Should They Last
Whichever figure skates you choose, proper maintenance is crucial in keeping them in good condition.
Firstly, it is important to treat your figure skates well after practice. When you get off the ice, dry your blades thoroughly, and take them out of the bag to dry fully at home. Always carry your skates in a bag and protect the blades with blade soakers.
 Remember not to walk on your blades unless you are wearing skate guards.
You will also need to sharpen your blades regularly. If you are a frequent skater, you should sharpen your blades every few weeks. For casual ice skaters, every few months should be sufficient.
Any decent pair of skates should last at least two years, while some last up to 15. However, this depends on maintenance – for example, failure to dry your blades can result in rust.
Frequently Asked Questions
After reviewing many different skates, our contender for the best figure skates are the Botas Dagmar skates. Their comfort, support, and durability make them ideal for a wide range of intermediate skaters. But if you're a beginner or prefer a different style, one of the other products may be perfect for you. Whether you are perfecting your double jumps or still learning the basics, you deserve good, comfortable figure skates!