Looking to add some interest to your living room? A foosball coffee table will make a great conversation piece! The tables in our guide below offer the perfect combination of utility, fun, and entertainment. Each table can be used as a normal coffee table, but you can also enjoy the classic game of foosball with family and friends whenever you please! And since the worst part of choosing a foosball table is trying to compare all of the different products on the market, we've done the difficult part for you by putting together a comprehensive guide to the top products available. Find the best foosball coffee table for your home below!
1. Berner 2 in 1 Foosball & Coffee Table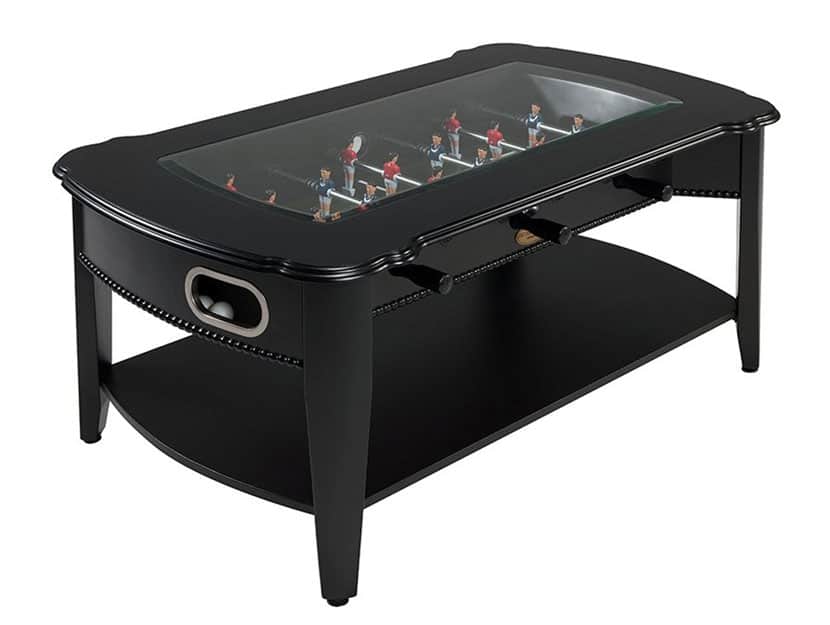 Editor's Choice #1: The quality construction and attention to detail of this Berner Billiards foosball coffee table is unrivaled, and the well-designed rods and handles make it super fun to play. Plus, it has lots of convenient features like a removable top and adjustable legs. It comes in two different finish options: a rich antique walnut or a sleek black.
This coffee foosball table from Berner Billiards is a true winner that will give you many years of fun. It is constructed from antique walnut hardwood with octagonal solid wood handles and solid stainless steel rods. Not only will this table last you a long time, but every detail is elegant and high-quality, down to the stainless steel ball!
This is truly a table that will meet all your foosball playing and coffee table needs. The height is adjustable with leveling boots included, so you can find the height that works best for you. The handles are telescopic, so they won't hit anyone's shins or the players on the other side. They are also grippy with an octagonal shape designed for total control during gameplay.
As well as being a high quality foosball table, the Berner 2 in 1 is also very stylish as a coffee table. Its classic shape and sleek black finish with hand carving detail will fit right in with almost any home decor. The hand-painted men are a classy touch, as is the stainless steel ball return. The shelf underneath will store your coffee table books or anything you want to move when it's game time! On top of everything, this table features a removable sleek glass top so you can clean the playing field or access it if you need to.
2. Barrington Collection Foosball Table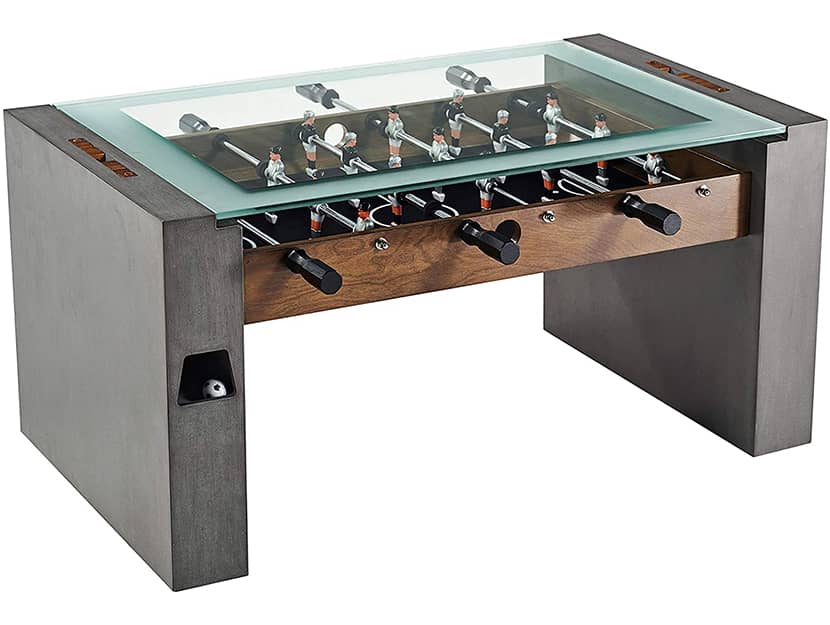 Editor's Choice #2: This Barrington Collection table is a slightly more affordable option, but is still one of the best foosball coffee tables available! With its sleek design, beaded scoring system and sturdy construction including tempered glass surface, this product is sure to be a great addition to your game room. The counterbalanced players and telescopic rods make for a fantastic playing experience.
If you prefer more of a modern design style, this Barrington foosball coffee table is a great option. It is very well made from solid hardwood, with a surface of tempered glass. Heat-treated tempered glass comes with tons of benefits: it's safer and stronger than regular glass, is scratch- and damage-resistant, and it has great clarity too. Plus, the electroplated steel rods are built to handle intense play.
Some foosball coffee tables are designed to be not much more than conversation starters. The Barrington foosball coffee table will start conversations all right, but it is also a top quality foosball table! It features counterbalanced foosball men, meaning that the weight is evenly balanced between the players' head and feet. This offers you better control and more power behind each shot, and is a feature of pro foosball tables!
With its faux-concrete finish on the legs and robot-style foosball players, the Barrington foosball coffee table fits right into a modern home. The legs are very sturdy, and the finish also hides leg levelers. The rods are telescopic, so they don't get in the way when using it as a coffee table. The table also includes a solid wood bead scorer to keep track of team scores.
3. Chicago Gaming Signature Foosball Coffee Table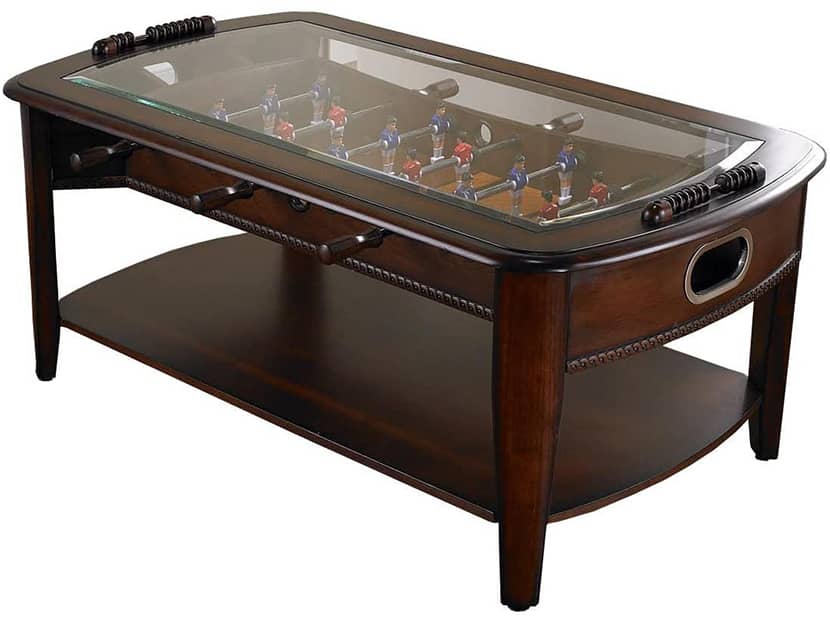 If you want a decent foosball coffee table that will add a touch of old-world class to your living room or game room, go for the Chicago Gaming signature table. The table is made from solid hardwood with veneer finish, and features hand carved wooden accents and hand painted foosball men. It's clear that a lot of craftsmanship went into this foosball game table!
If you find some foosball playing fields a little tacky for your living room, you'll like the Chicago Gaming signature table. It features a furniture grade playfield with inlaid wood veneers, so the markings will never deteriorate. Like the best foosball coffee tables, it also has quality stainless steel telescoping rods. Its wooden handles are octagonal and it features adjustable leg levelers.
This coffee table has some neat extra features. One of these is its solid wood scoring beads that enhance the table's classic look and are handy for keeping score when playing foosball. The table also has a shelf for extra storage space. It has a nice sleek surface, made of tempered glass so you don't have to worry about cracks or scratches.
4. Hanover Foosball Coffee Table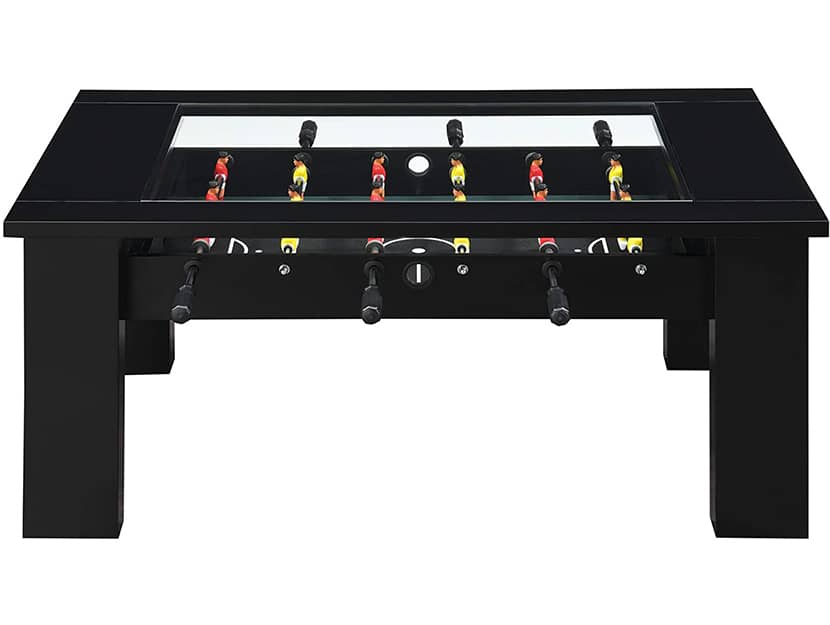 Despite being pretty affordable, the Hanover foosball coffee table is engineered for durability and well constructed of solid wood, with a sleek black finish. Plus, the thick legs ensure stability. The laminate playing field is also black and the glass surface is tempered. This foosball table can handle vigorous play!
The Hanover foosball coffee table has great grip on its handles and telescopic rods. But the best thing about this game table is the counterbalanced players. A feature of pro foosball tables, this allows you more control and power when you make a shot. It will really enhance the experience when you play foosball!
Unlike most of the tables on this list, the Hanover foosball coffee table has more of a square, modern design, so it's perfect if your games room has more of a modern style. You can also get the table in red if you want something more colorful! One last reason we love this table is how easy it is to assemble – the instructions are clear and easy to follow.
5. Steve Silver Diletta Foosball Game Coffee Table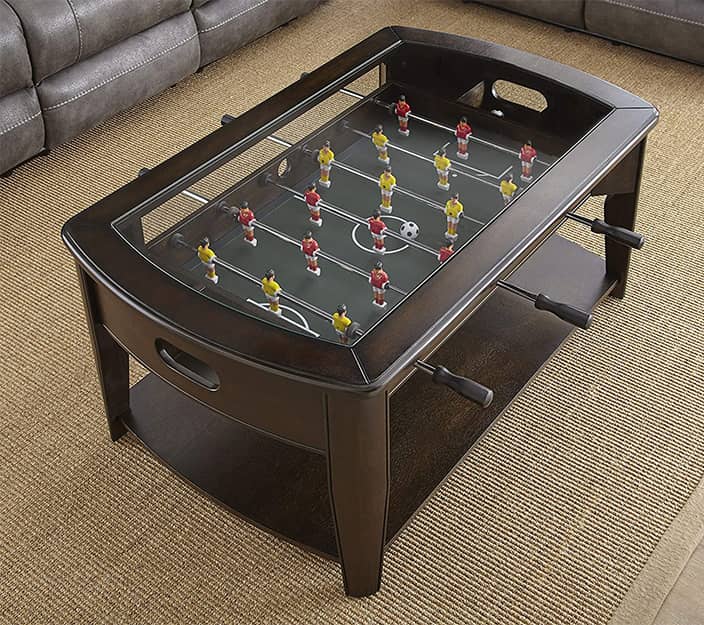 The Steve Silver Diletta coffee table has everything you need in a foosball coffee table in a simple, elegant design! It is made from solid wood with a beautiful, dark walnut finish and tapered legs. It features a tempered glass top for added safety and durability. The product comes with a one year limited warranty.
This Steve Silver cocktail table also works great for actually playing foosball! The playing surface is bigger than expected based on the table size. Most reviewers found that the table plays well. The ball returns on either side of the table are nice and wide, making it easy to retrieve the ball when a goal is scored.
One great thing about this coffee table is that it comes with five removable casters that make it very easy to move around, if you want to clear the space or move the 85lb (39kg) table to another room. Two of these lock so it will still be entirely stable when in place. The table also has a bottom shelf for storage. The Steve Silver cocktail table is a little smaller than the other tables on this list, making it ideal if you don't have enough room for something large.
6. Picket House Furnishings Rebel Foosball Gaming Table
If you like the design of the Hanover but are looking for more of a cheap foosball coffee table, the Picket House Furnishings Rebel foosball gaming table is a good option. It is made of MDF with a PVC laminate, which is not quite as durable as hardwood, but still decent. Its top is made of tempered glass and its legs are square and sturdy.
For folks who enjoy controlling lots of players in foosball, this table is a good choice. Each team controls 9 players on 3 rods. Plus, the table comes with two foosballs so you have a replacement if you lose one of them! The playing experience is good and the handles have suitable traction – this table will definitely give you some family fun.
It may not have all the bells and whistles of some of the coffee tables on this list, but the Rebel foosball gaming table will fit right into a modern, minimalist style room. Plus, you can choose from black to a range of bright colors. For a more affordable option of a foosball game coffee table, this is a great choice.
What To Consider When Choosing A Foosball Coffee Table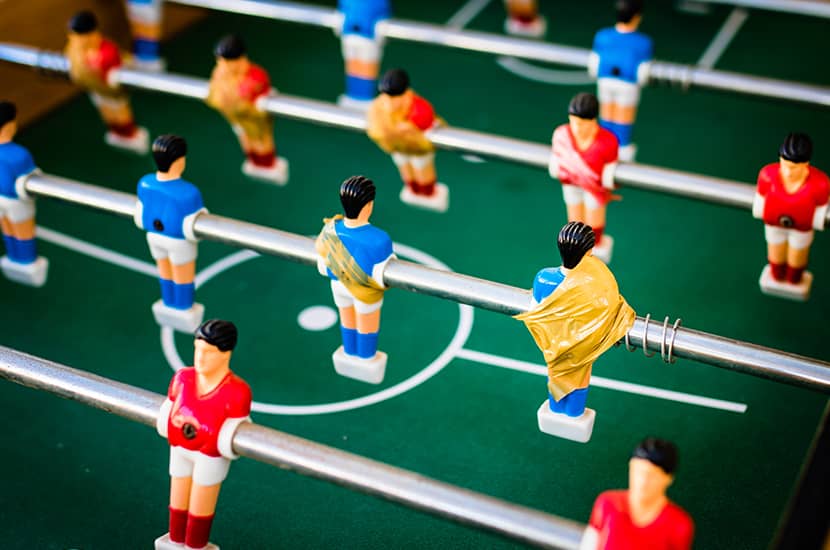 There is a lot to think about when buying a foosball table and a coffee table in one–we provide some handy tips for when you are browsing for your new table.
Foosball coffee tables are ideal for when you don't have space for a full-sized Foosball table like these, but be sure to measure the area where you are planning to put your new coffee table, and match these measurements up with the dimensions listed on each of the foosball coffee tables' product description pages.
Don't forget to account for a little extra space to make sure players can comfortably sit and play around the table.
The material the foosball coffee tables are made from is also extremely important when making your decision. Solid wood is typically the best choice, closely followed by medium density fiberboard or MDF, a type of manufactured wood. Both solid wood and MDF are known for their strength and durability.
It is important to consider the quality of the glass – you don't want something that is going to crack, especially if kids are going to be playing it!
Think about how much use you want to get out of your foosball coffee table – if you want it to last a long time, it is essential to get something made of quality materials.
Be sure to consider your budget as you get ready to buy a new coffee table. Coffee foosball tables understandably run a bit more expensive than regular coffee tables – they are two items in one after all! That said, there are some very decent, affordable foosball coffee tables out there. But if you fork out a bit more, you will likely get a product that is more ergonomic, more stylish and will last you longer.
Good playing rods and handles are essential for getting a foosball table that will give you many years of fun. When assessing the rods and handles, it is important to think both about materials and function. The materials used must be strong enough for the rods to withstand vigorous movements! Steel is the most durable, especially if it has a chrome coating to prevent corrosion. Also, solid rods will last longer than hollow ones as these can bend and hinder your movements when playing.
Telescopic handles are great because they allow you freedom of movement when playing, but can retract out of the way when you are not.
Some people value style more than others, but don't forget that when you buy one of these products, you are buying a coffee table as well as a foosball table! Think about your own style and the decor in your sitting room or games room. The table you buy needs to be something you are happy to have as part of the furniture.
Frequently Asked Questions
A foosball coffee table is a combination of a foosball table and a coffee table. Just as you might expect from the name! It features a small foosball playing field covered by a glass top which can be used as a typical coffee table. A foosball coffee table is a wonderful blend of fun and utility that can liven up your living room!
You can remove the top of a foosball coffee table in most cases, but some tables do not have a removable tabletop. You can easily figure out whether or not a table's top can be removed by taking a look at the product description. Tables with removable tops make it much easier to clean the inside and retrieve the ball if it gets stuck.
The top of a foosball coffee table can take quite a bit of weight, but the exact amount is dependent on a few different factors. In order to figure out how much weight the top of your particular foosball coffee table can take, you'll need to know the dimensions and thickness of the glass, as well as the distance between supports under the glass. Then, enter the values into this calculator to get an exact answer.
Out of all of the wonderful products we chose for our buyer's guide, the best foosball coffee table is the Berner Billiards 2-in-1 48" Wood Foosball Table. Its height is adjustable, and it features two different finish options, as well as a convenient removable top. Our second Editor's Choice item is more budget-friendly but doesn't skimp on quality: the Barrington Urban Collection 39.75″ Wood Foosball Table. With its modern design, counterbalanced foosball players, and tempered glass tabletop, the Barrington table would make a great addition to your home.