As a chill enters the air, a new hockey season is upon us! If you are in the market for a new stick, now is the time to snatch one on the cutting edge. This season's newest hockey sticks are lighter and more enhanced for performance than ever before. Any experienced hockey player will tell you that the stick you use really affects your performance on the ice – it could be the difference between winning or losing a game! And while hockey sticks are a matter of personal preference, the sheer number of sticks available can be overwhelming. That's why we have compiled a list of the 10 best hockey sticks on the market today – so you can peruse them, do more research into the ones that interest you and ultimately find the best hockey stick for you.
1. BAUER Vapor HyperLite Grip Stick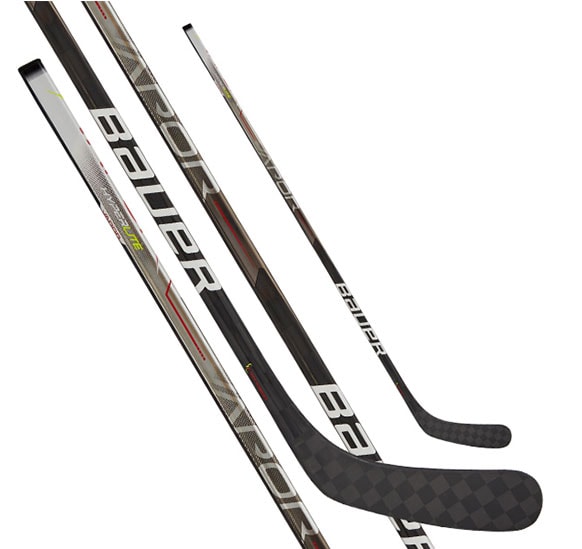 Editor's Choice #1: None of the other lightweight sticks are as durable or stable as the Bauer Vapor Hyperlite, and none of the other low-kick sticks have the same balance of speed, accuracy and power. This pro hockey stick ticks all the boxes and performs consistently – so we had to put it at number one!
At 385g (13.6oz), the Bauer Vapor HyperLite is a remarkably light stick. This is achieved by its Advanced Carbon Layering technology as well as its rounded, tapered design. You might think that such a light stick would sacrifice on durability – but thanks to the Duraflex resin system and carbon fiber core, it is highly durable! Of course, all sticks break eventually, but what is great about this pro hockey stick is that it will maintain its high performance level right until that moment.
As well as reducing weight, the tapered design of this Bauer stick also provides more stability for hard shots. The asymmetrical Textreme shaft technology provides a more rectangular shape which allows your energy to flow smoothly down the stick when shooting. This means you can lean more heavily into one timers without worrying about your stick blowing up. At the same time, it provides great feel and responsiveness.
The Bauer Vapor HyperLite is designed with a low quick point for players who value a quick release over power. At the same time, the DuraFlex technology gives the stick a strong and powerful feel. For the best accuracy without sacrificing shot power and stability, go for this hockey stick!
2. WARRIOR Covert QRE 20 Pro Grip Hockey Stick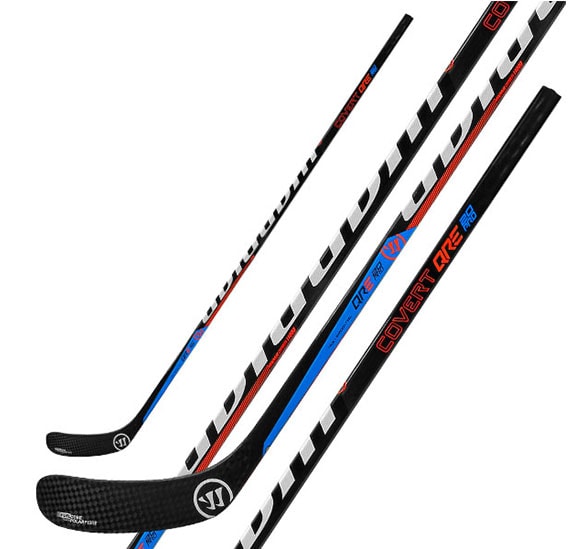 Editor's Choice #2: For a more affordable stick that still performs beautifully, you could do a lot worse than the Warrior Covert QRE 20. Our second editor's choice also has a great balance of power, speed and accuracy. Both lightweight and durable, with enhanced response and accuracy, this particular stick will last you a long time!
The Warrior Covert QRE 20 Pro Grip hockey stick is stable and strong due to its angular edge construction and Minimus Carbon 1100D shaft. It is durable with strong impact resistance, despite weighing only 414g (14.6oz). If you buy it, you will have a reliable stick that will last you a long time, for a very affordable price.
The polymer blade of the QRE 20 Pro provides a nice pop when shooting and is also great for puck feel. On top of that, the shaft features a textured soft grip that improves your control when stick handling. The angular edge taper also improves response, while at the same time enhancing stability. Scoring goals has never been easier!
Maximum Power And Release
This is another stick designed for those who like a quick release. It loads easily and whips back super fast. However, thanks to the tapered design, you can still get a lot of power out of this Warrior stick as it allows you to drive more energy down the blade. You would be hard pressed to find a more balanced stick, though some reviewers did not like that it is less flexible than previous Warrior QRE Pro sticks.
3. WARRIOR Alpha LX 20 Grip Hockey Stick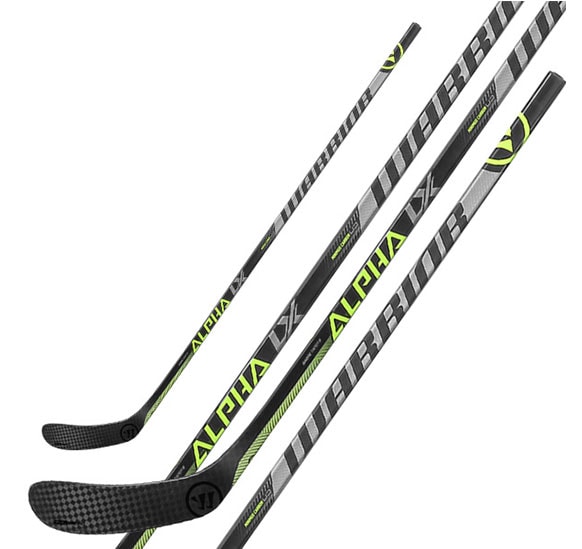 It's not the lightest stick on this list, but at 405g (14.3oz), the Warrior Alpha LX 20 is impressively lightweight for how durable it is. Constructed from an elongated carbon fiber reinforced with toughened resins, this stick can withstand a lot of impact. As this stick is not even that expensive to begin with, its value for money is through the roof.
The performance of the Alpha LZ 20 Grip is also on par with a more expensive stick. The polymer blade core enhances puck feel, and the Sabre Taper makes for a very accurate release. Combine that with a low kick point, and you have a high performance stick for shooting in tight situations.
This stick includes the word "grip" in the name for a reason! The shaft is ergonomically shaped so that it fits perfectly in your hands, which also enhances the feel and touch. Plus, the Apex grip allows for better control over the stick and puck. It's hard to say which is better between this one and the QRE 20 Pro Grip  – it probably comes down to whether you'd like a bit more power or you prefer the shaved down weight of the LX 20 Grip.
4. CCM Ribcor Trigger 6 Hockey Stick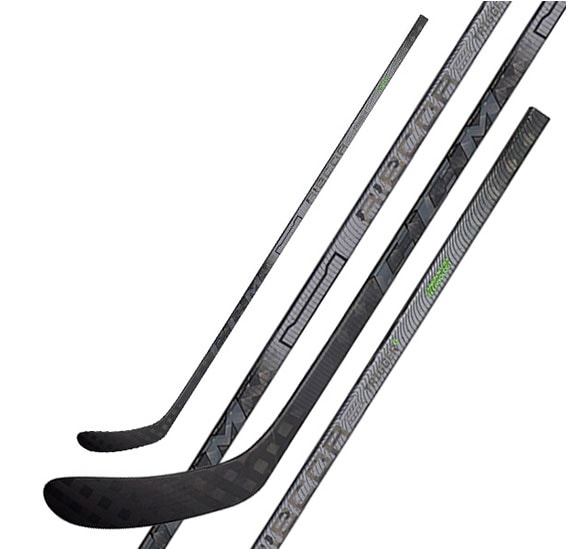 The Ribcor Trigger 6 is the newest hockey stick from CCM, and is basically an improved version of the Trigger 4. The thinned out blade and improved asymmetric taper gives this stick a softer feel than previous versions, providing greater control over the puck for stick handling and passing. The design of the shaft also makes it very comfortable to hold.
Another great feature of this ice hockey stick is the stiff flex in the middle of the shaft that decreases in stiffness as it goes down. This creates a "slingshot effect" which marries speed and power, true to the name of "Trigger". This way, you can release wrist shots super quickly but still load energy easily for power shots. Of course, the power is not comparable to sticks with a higher kick point, but it offers impressive power for an accuracy-focused stick.
At 415g (14.6oz), the Ribcor Trigger 6 is slightly heavier than its predecessors. However, it is still a very lightweight stick, and the extra weight is well worth it for the improved durability. It is also constructed with patented Skeleton+ technology, which uses a carbon fiber weave for a stronger, more durable stick. This is certainly one of the best hockey sticks on the market!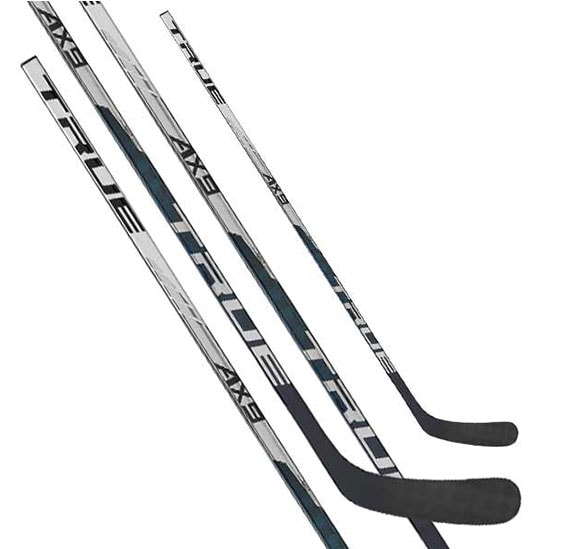 The AX9 is True's most durable stick yet and is generally a massive upgrade on their earlier sticks. The BRT+ technology extends a braided rib pattern into the heel of the stick, which allows for great responsiveness and durability. Plus, the FiberShield technology utilizes low-density nanoparticles throughout the blade and shaft to increase impact resistance while keeping the stick incredibly lightweight at 393g (13.9oz). However, it is not quite as durable as heavier sticks in the same price range.
Great Responsiveness And Control
We have already mentioned the responsiveness provided by the BRT+ technology in the blade. On top of that, this stick is designed to be perfectly balanced in stiffness and weight, which improves feel and control over the puck hugely. This is a great hockey stick for players who like a snap shot, as the release speed is super fast and it is easy to load.
The combination of accuracy and power makes this an incredibly versatile stick. It utilizes a varying flex profile to minimize energy losses, thus transferring more power to your shot. The multilayer carbon fiber construction also enhances power without adding too much weight. This is truly a pro hockey stick featuring some cutting edge enhancements, and is the best that True has to offer.
6. BAUER Nexus Geo Grip Stick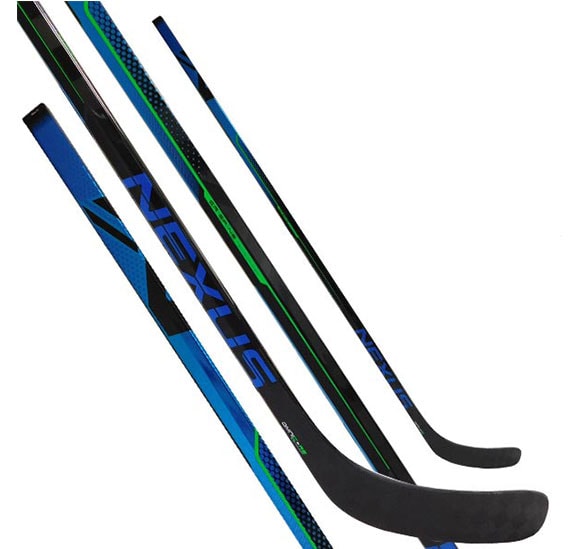 The Bauer Nexus Geo Grip stick is another super lightweight stick that does not compromise on power, partly thanks to its mid kick-point. It is the perfect hockey stick for those who do not want to limit themselves to only heavy shots or only snapshots. In addition, the monocomp one-piece technology provides consistent performance no matter where you are shooting from.
This Bauer hockey stick features innovative 5-sided shaft geometry which improves stick feel, thus providing greater accuracy. In addition, the enhanced sweet spot technology ensures a much more accurate release. The high performance of this senior hockey stick is also due to it weighing only 390g (13.8oz), one of the lightest sticks on the market. Unfortunately, like most sticks under 400g, it suffers a bit when it comes to durability, and can break on impact.
One of the great things about this stick is how easy it is to load and shoot, making it great for beginners. This is partly due to the spine created by the 5-sided design, and partly due to its reduced weight. Everything about this stick is optimized for effortless shooting and enhanced balance and accuracy, so if that is your jam, this may be the stick for you.
7. Sher-Wood Rekker M90 Grip Composite Hockey Stick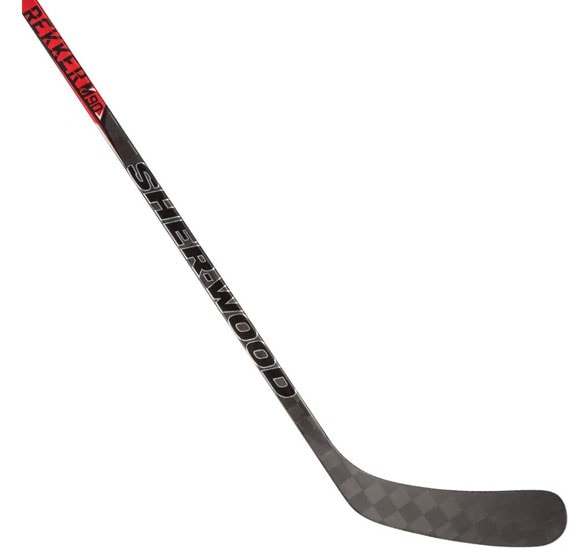 Previous versions of the Sher-Wood Rekker have been criticized for being heavier than other sticks at the same price point. By using Blackline XXV Carbon Fiber in its construction, The M90 has shaved off a lot of that weight, coming to a super lightweight 380g (13.4oz). This high-tech design also makes this stick more powerful than its predecessors – according to one reviewer, it should be classed as a weapon!
The really impressive thing about the Sherwood Rekker M90 is that as well as being very powerful, it is highly responsive and performs well in tight situations. This is partly due to the carbon fiber construction, and partly due to the advanced foams on the interior of the blade. This is a consistently good hockey stick when it comes to feel and control over the puck, and one of the best hockey sticks on the market overall.
The Rekker M90 is Sher-Wood's quickest releasing senior hockey stick yet. The low kick point combined with the Dropkick Taper design makes for quicker loading times and lightning fast releases. This stick provides a really remarkable combination of accuracy and power! The only downside is that it is not as durable as some of the other sticks on this list.
8. CCM Jetspeed FT4 Pro Grip Composite Hockey Stick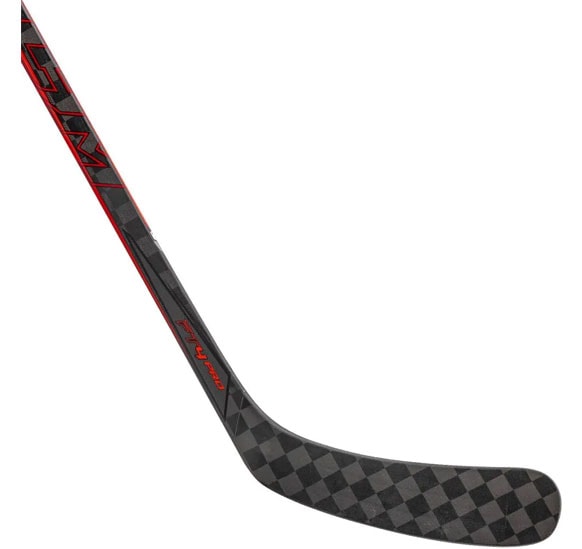 Lightweight With Great Pop
Coming in at 380g (13.4oz), this is one of the lightest hockey sticks available. This is due to the carbon weaving construction and Nanolite carbon layering technology in the taper area. The blade is also cleverly designed to provide the perfect mix of feel and pop through the dampening core and reinforced toe and heel area. Unfortunately, like other extremely lightweight sticks, a few customers have experienced durability issues.
The CCM Jetspeed FT4 Pro Grip is not designed with a particular play style in mind, but rather is optimized to be as versatile as possible. Its hybrid kick point creates a hinge effect for greater power while simultaneously optimizing speed of release. It's a great option for younger players who haven't found their niche yet, or for those who like to mix it up. Of course, this does mean that it isn't perfectly optimized in either direction.
The shaft of the CCM Jetspeed FT4 Pro Grip is constructed with a double concave to fit perfectly in your hands. Not only is this more comfortable, but it gives you better feel and control over the puck. The blade also contributes to the puck feel, which is definitely a step up from the previous model.
9. TRUE Project X Hockey Stick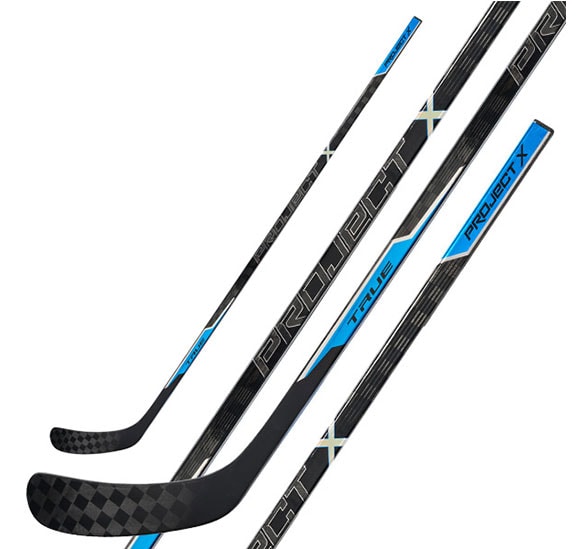 This limited edition hockey stick from True is the lightest stick on the market today. Its weight of just 335g (11.8oz) is achieved through its Precision Laminate Design layering process. This features 25 layers of carbon fiber arranged optimally to make an incredibly lightweight stick. However, despite assurances that it maintains impact resistance, some customers have found that the blade breaks easily on impact.
Enhanced Feel And Control
The performance of the Project X limited edition  stick is truly amazing, which may make some players look past its durability issues. It provides incredible feel and enhanced control over the puck due to the blade's BRT+ technology. This is an elite stick when it comes to accuracy.
The True Project X hockey stick features a low kick point, making this a great stick for those looking for effortless loading and a lightning quick release. If you're a hockey player who favors wrist shots and snap shots, this stick will work very well for you. At the same time, it still provides much more power than your average low-kick stick.
10. BAUER Supreme 3S Grip Composite Hockey Stick
The Bauer Supreme 3S Grip is made with defensemen in mind, with a really powerful kick. Its Maximum Power Kick technology improves energy transfer from the shaft to the blade, allowing you to make the heaviest slapshots you have ever made! Plus, as a high-kick stick, it is truly optimized for maximum force. It isn't as light as some other composite sticks, but at 435g (15.3oz) it is still pretty lightweight.
Despite its focus on power, control is not sacrificed in the Supreme 3S, and many customers have praised the accuracy they achieved with this stick. This can be partly attributed to the balanced feel of the blade through its MaxBalance technology, which increases control over the stick. For such an affordable senior hockey stick, this one performs incredibly well.
Another great feature of this stick is the Duraflex resin layer at the top that provides fantastic grip for your gloves. This will also help when it comes to control of the puck. At this price, you can't expect a stick that will last forever or performs like the best pro hockey stick, but this one comes pretty close!
We have compiled everything you need to know about choosing a new hockey stick.
Different Types Of Hockey Stick
First off, you need to decide between composite and wood hockey sticks, as well as whether you'd prefer a one-piece or a two-piece stick.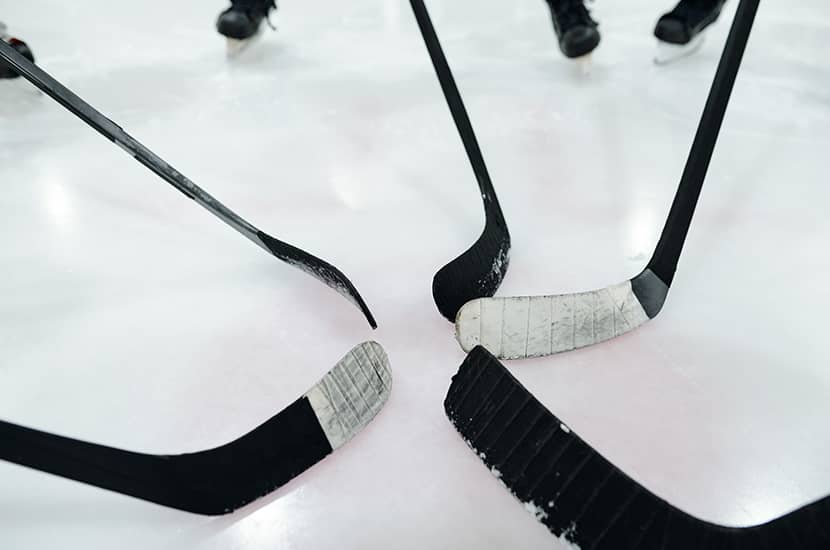 ●       Wooden hockey sticks are the original. If you are looking for something cheap, you can still get a wood stick. Wood sticks are perfectly fine for a game of street hockey or a casual game on the ice.
●       Composite sticks are what all the pros use. Composites sticks are more durable, and give you greater power and accuracy. If you are serious about hockey, you will choose a composite stick. 
A two-piece stick is one in which the blade and shaft are made of two separate pieces, and sometimes two different materials. Two-piece sticks are waning in popularity, but some players still prefer them because they allow you to customize by switching out the blade.
One piece hockey sticks are manufactured with a single mold. These are already much more popular than two-piece sticks. As one-piece sticks are usually much lighter, they require less strength and energy from the player when making a shot.
A lighter stick will give you greater power and allow you to be quicker with your hands.
Due to the improved performance, we would recommend a one-piece hockey stick for most players.  But if you really like one manufacturer's shaft but the blade of a different manufacturer, you can go for a two-piece stick and switch out the blade. To make the most of the ice skating at home, make sure to choose the best synthetic ice for your private rink.
These are the key features you should look out for when assessing hockey sticks.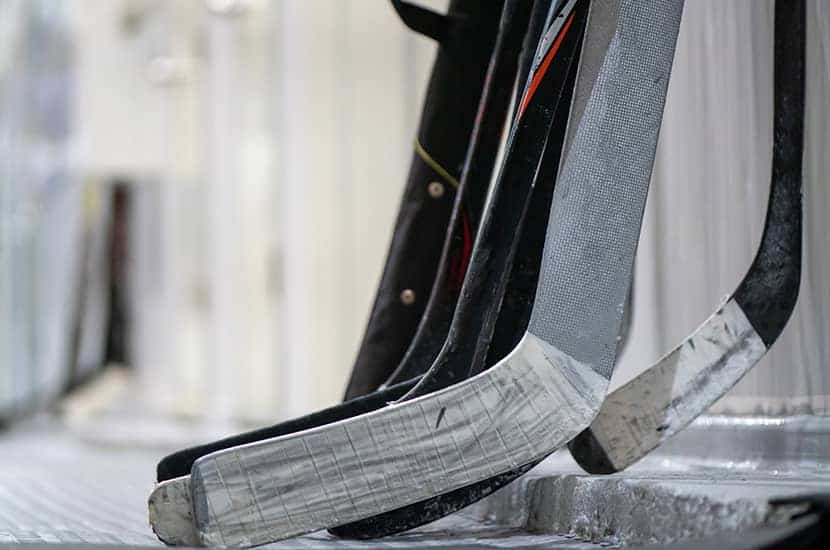 If you are new to hockey, you should start with a regular length stick. Read our review of the best hockey skates for beginners to choose the best ones for yourself if you are a starter on the ice. To check the height, stand straight with the stick in front of you and the tip of the blade on the ground. The stick should reach up to between your chin and nose. If you are a beginner at skating, read our articles about how to ice skate and the best hockey skates for beginners to quickly learn the ropes. 
Short stick: A shorter stick is ideal for players who do a lot of stick handling and like to move quickly.
Long stick: A longer stick improves reach, which is why it is often favored by defensemen.
Regular length sticks can be made shorter or longer by cutting them or adding extensions. However, the flex of the stick will change slightly if you change the length.
The flex rating refers to the amount of force required to bend a hockey stick. For example, a shaft with a 100 flex rating would require 100lbs (45kg) of pressure to bend it. In general, the recommended flex rating is about half your body weight. However, for defense players who like to take booming slap shots, a stiffer flex may work best. But if snappy wrist shots are more your style, a high flex rating might suit you better.
Curve direction: This simply depends on whether you are left or right-handed.
Curve type: This refers to where the curve of the blade begins. It could be at the heel, middle, or toe of the blade.
The kick point is the spot on the stick that bends when standard pressure is applied.
Mid kick point: A mid-kick stick is one that bends in the middle. This allows for maximum energy transfer, but the load and release is slower.
Low kick point: This type of stick flexes lower down. It provides a faster load and release, but not as much power.
Hybrid kick point: Only a few sticks have this kick type. These sticks blend low and mid kick point technologies for maximum versatility.
Blade faces can be open or closed. Open face blades are angled away from the puck to make it easier to lift. A closed face angles the top of the blade over the puck, providing more puck protection. In general, an open face is more suited to forwards and a closed face to defense.
Blade or curve depth refers to how much of an angle your blade has. A deeper curve allows you to lift shots, while a shallower curve gives you better control.
What Else To Consider When Choosing Your Hockey Stick
There are a couple more things to keep in mind before making your choice.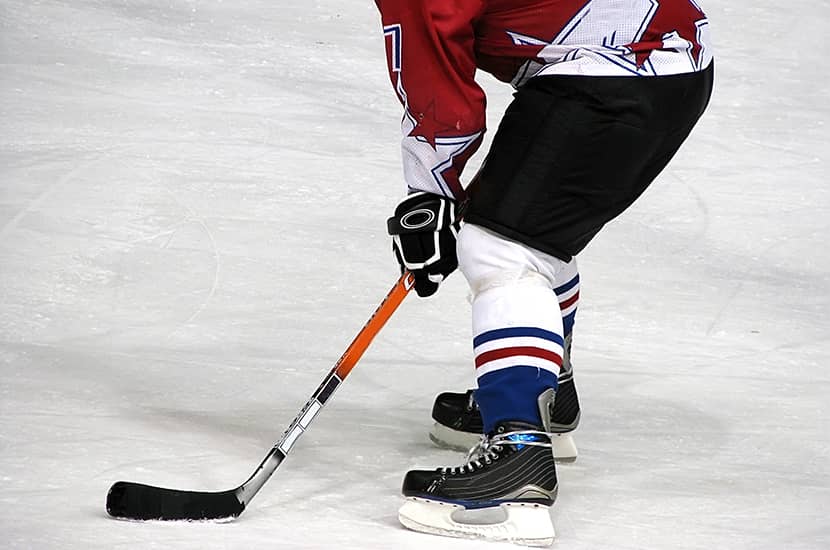 Budget should always be a consideration, but whether you can really afford to go cheap depends on how serious you are about ice hockey. If you only plan to use your stick in a couple of casual games a year, you can choose a budget stick. If you want something that will improve your game, you're looking at a slightly higher price tag. And if you want a top-of-the-line stick packed with features, you'll have to shell out even more. If you are a hockey pro, read our article to choose the Best Hockey Helmet for yourself.
When considering a new hockey stick, you also need to think about durability. If it's a stick that breaks easily, you'll have to factor in the cost of replacements in your budget.
Most of the factors we described above depend on your position and playing style. For example, whether you are more of a power player or one who values finesse should inform the flex point you choose. A lower flex point provides a quicker release and greater accuracy, but a higher flex point gives you more power. The same goes for flex rating and kick point. If you were wondering about a hockey rule called icing, click here to find more information.
Taking Care Of Your Hockey Stick
Hockey is a high-contact sport, and a certain amount of wear and tear on your stick is inevitable. But there are a couple of things you can do to increase its lifespan.
Tape, tape, tape! Taping the lower four inches of your stick is the number one thing you can do to improve longevity. As a bonus, tape can also improve grip on the puck and generate spin. Check out our review of the best hockey pucks, to choose the best puck for yourself.
If there are small holes or chips in your stick, clean these out and fill them with a resin glue. Add your stick tape as soon as the glue dries.
When not on the ice, keep your sticks in a stick bag.
Remember that the blade is the most sensitive part of the stick, so avoid banging or scraping it on the ground.
Frequently Asked Questions
After researching the best hockey sticks out there, our number one pick is the Bauer Vapor Hyperlite. But hockey sticks are a very personal thing – finding the right hockey stick for you is a matter of figuring out what you prioritize and what isn't as important to you. At the end of the day, any of these sticks will serve you well on the ice – you just have to figure out what kind of hockey player you are!