Choosing the best basketball is a very enjoyable process – similar to a kid in a candy store, we have rounded up some of the best basketballs that are available for both indoor and outdoor use, or more specialist. The idea of the game overall is to provide entertainment, exercise and a lesson in teamwork and trust. That all starts with the purchase of your first basketball. But have no fear, there is no rule that says you can only own one basketball – some of these are so nice you may want to try out a few.
1. Wilson Evolution Official Game Basketball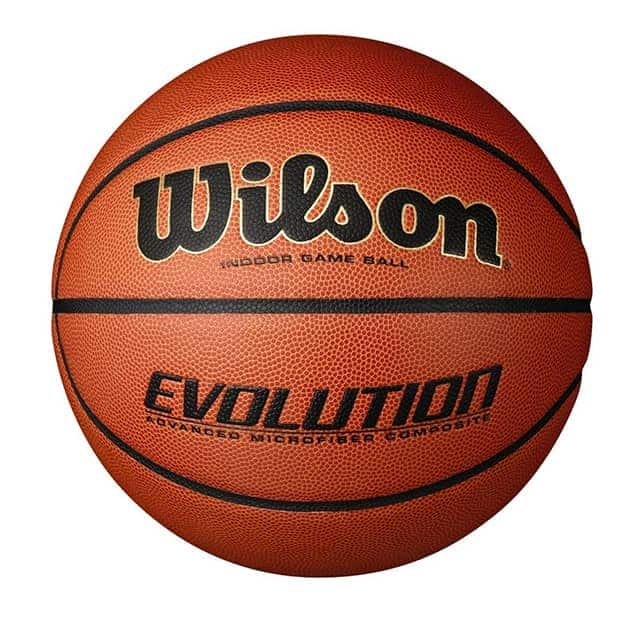 Editor's Choice #1: Wilson has been a sports equipment staple for decades so it's no wonder that this ball is one of our favorites. Blending all aspects from multiple different products this ball is sure to please and have you setting new scoring records every time you hit the hardwood. Play with the same feel, control and weight as your favorite players in The Association.  As long as you keep this basketball indoors it will be with you for many years – and hopefully many victories.
Used in top-tier high school basketball games, the Wilson Evolution Official Game Basketball has been created for exceptional indoor play. Designed with the player in mind, this ball's exterior provides a tacky grip without losing any feel. One of our best basketballs, this ball has been crafted using composite leather to give the player maximum control and has laid-in channels which both adds to the control and provides better feel for shooting.
Even on your off days, this ball is ready to play. Due to the care and attention that went into developing the outer layer, you can rely on inflation. All balls eventually start to lose their air after regular use, so it's handy to have an air pump around. But this ball's outer layer is so advanced that it is able to trap air and retain its inflation longer than most other balls on the market. This outer layer is also made to last – we recommend you keep it indoors though as playing on rough surfaces can scratch the outer leather layer.
2. Wilson NCAA Official Game Basketball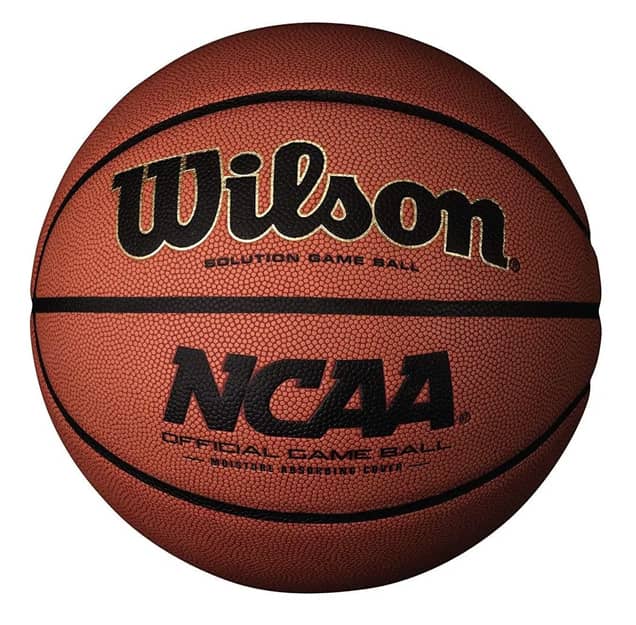 Editor's Choice #2: This basketball is the stuff dreams are made of; a ball with outstanding feel and control. For seamless transitions, accurate passing and show-stopping dribbling this ball checks all the boxes. As the official ball of the NCAA, you can rest easy knowing that the future stars of the NBA trust its performance. Keep this ball off the asphalt to realize its full potential and start winning today. 
If you have ever dreamed about making that last-second shot from three-point land to win the NCAA championship then this is the ball for you. As the official game ball of the NCAA, the Wilson NCAA Official Game Basketball is the real deal. Wilson has put all their expertise into the design of this indoor basketball so if you have never played in the final four, this is the next best thing.
Watching a college basketball player handle this basketball is a marvel and evidence of years of practice. Utilizing its moisture-absorbing cover, the outer layer and craftsmanship of this Wilson ball provide excellent grip and maneuverability. No matter how sweaty your palms get, you won't lose the handle on this ball. For extra control, Wilson has added laid-in composite channels that wicks away any excess moisture and feels great on the fingertips. The combination of this and the moisture-absorbing cover results in a top-tier basketball.
3. Spalding NBA Official Game Ball Basketball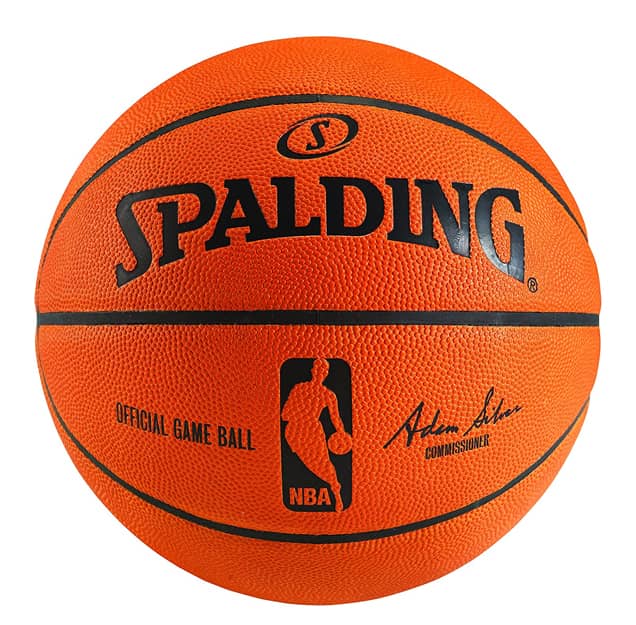 This is it: the same ball that all your favorite players have used to drain that buzzer-beating shot or dunked over their fiercest rival. With uncompromising attention to detail and using the highest quality materials, it's clear this is the official ball of the NBA from the minute you pick it up. As long as you keep to the indoor courts this ball will be with you as you climb the ranks to basketball stardom, or just to beat all your buddies.
Stitched from full-grain leather, this basketball provides remarkable touch and feel on your fingertips. With this feature, you can execute flawless layups, feathery hook shots and soft-handed jump shots. This ball meets all global measurements for weight and size so no matter where you play you won't feel any difference. Utilizing composite leather, these are top-rated indoor basketballs.
4. Spalding NBA Varsity Outdoor Rubber Basketball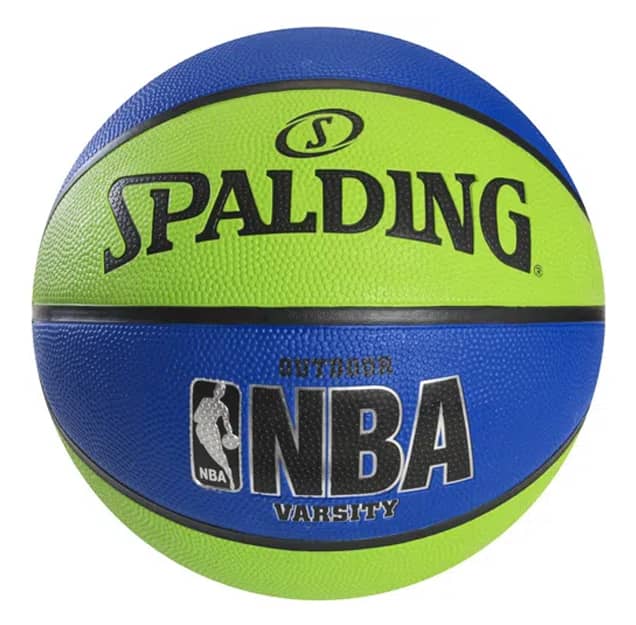 If you're more of a street-ball player then this is the ball for you. One of the best rubber balls out there specifically designed to absorb the harsher surfaces such as concrete and asphalt, this ball is built to play anywhere. The Spalding NBA Varsity Outdoor Rubber Basketball is not only strong but provides a good feel in your hands for dribbling and "breaking ankles".
Basketball players come from all walks of life but often have one thing in common: they started out on their driveway. If you're looking to take those first steps to a higher level ball game then start with this basketball. The official size of NBA balls, it provides excellent grip and durability, so you can practice all hours of the day. You won't have to sacrifice style either. This ball is available in a range of colors so there's no worry of getting it mixed up with anyone else's ball.
5. Spalding NBA Street Phantom Outdoor Basketball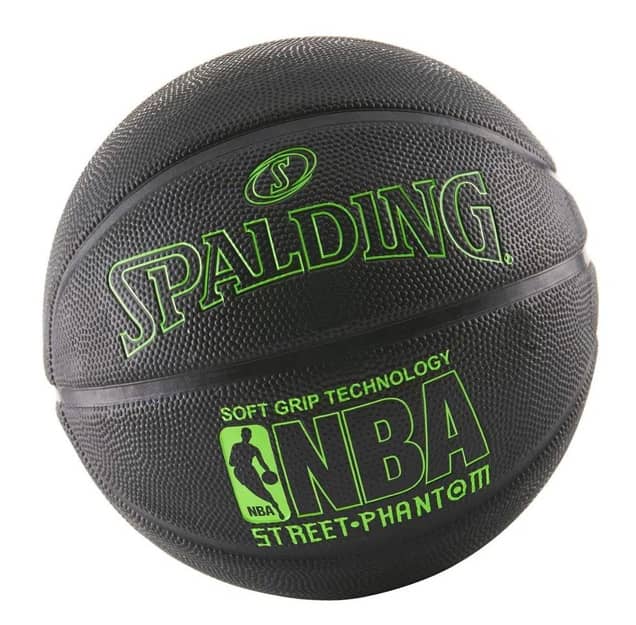 This basketball makes it easy to look like a professional on your own home court. Specifically designed for outdoor play, the Spalding NBA Street Phantom Outdoor Basketball has a unique look and the performance of a streetball. This is a great basketball if you're just starting out and want to impress your neighbors. It will last for years to come and look good doing it.
Featuring a wide channel design, it lets the player have complete control. The cover is made from a Soft Grip Technology material that mimics the feel of other leather balls without sacrificing handling. The styling will make you talk of the courts; with its one-of-a-kind color scheme, you won't see this ball anywhere else. The color also helps maintain a clean look as nicks and scratches that inevitably happen will be almost undetectable. If you are tired of the traditional "pumpkin" balls, look no further.
6. Spalding TF-1000 Classic ZK Indoor Basketball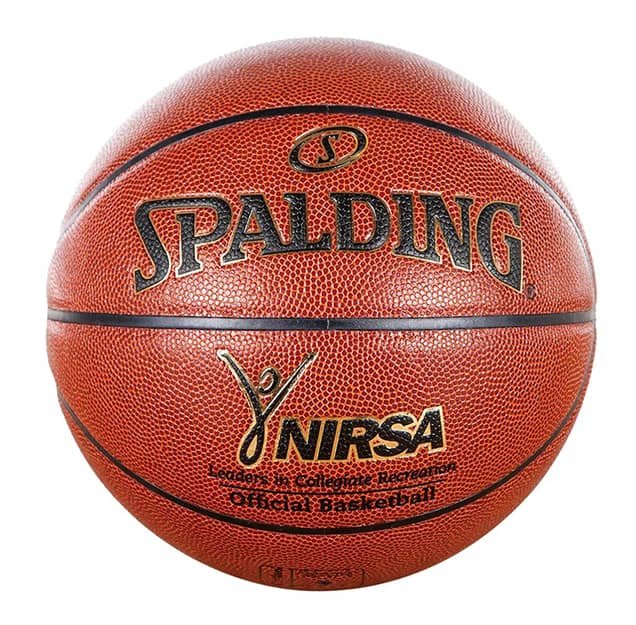 Spalding has presented us with one of the most technologically advanced basketballs on the market. The Spalding TF-1000 Classic ZK Indoor Basketball leads with its exclusive ZK microfiber composite cover that provides durability without losing any handling capability. This cover feels great in your hands which makes it a top performer for dribbling and more finesse shots.
In order to have a great performance on the court, it's important to understand what kind of basketball you're using. Over time some balls can lose their shape which will affect how your shots travel through the air. These indoor basketballs are designed with a balanced butyl bladder which prevents it from getting out of shape and retains maximum air.  Also included is a special in-lining that adds maximum grip and handling abilities. The wide-channel design and full ball pebbling are features you can feel as soon as you pick it up. It's no wonder this basketball is officially recognized by the NIRSA.
7. Spalding NBA Zi/O Indoor/Outdoor 29.5 Inch Basketball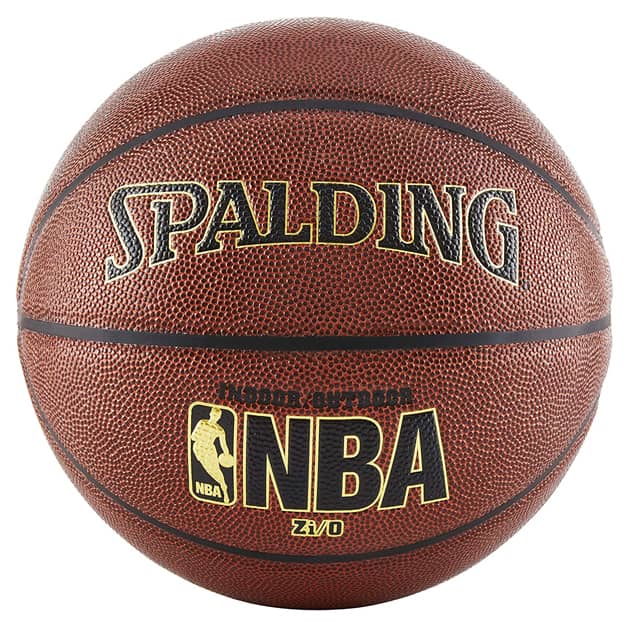 Combining the best features from indoor and outdoor balls the Spalding NBA Zi/O Indoor Outdoor 29.5" Basketball is the perfect product to travel with. No matter where a game pops up, you will be ready to go. This ball provides the best feel while not losing any durability and includes a look that imitates that of the official NBA balls.
Sporting a foam-backed cover to support a solid bounce on indoor and outdoor courts, this feature provides a great grip and feel in your hands. Your ability to dribble and know where the ball is at all times is due to this tacky outer cover. Available in regulation size, lots of elite players actually prefer this color over the official NBA orange. Play your best on any court and look great doing it.
8. Baden Elite Indoor Game Basketball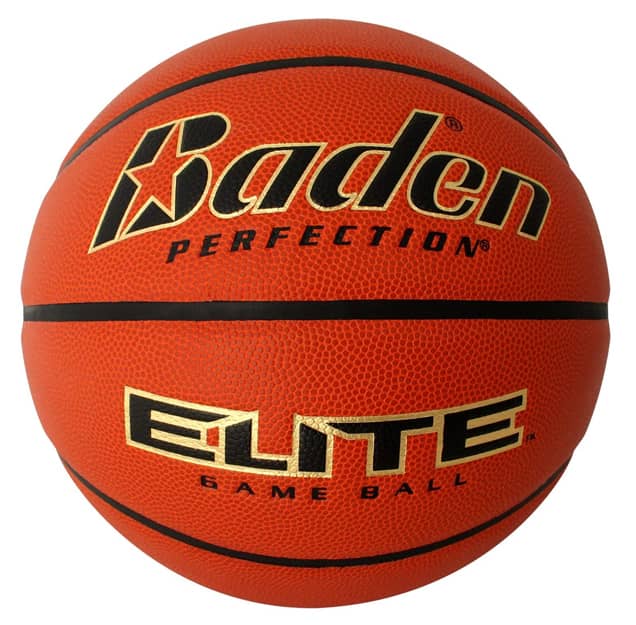 For all the elite players out there who will accept nothing but top-quality craftsmanship then the Baden Elite Indoor Game Basketball is the perfect fit. This ball provides exceptional feel, control and moisture-wicking properties that all the top-of-the-line basketballs possess. Specifically designed for indoor play, its microfiber cover is just one of many professional features.
The team at Baden has dedicated more than 30 years to the design and evolution of their products and this is their crowning achievement. To provide the best handling under tense situations, the micro-fiber cover gives you ultimate tackiness for grip but with a soft feel so you can practice for hours. It features a revolutionary valve that is recessed into the ball so it won't distract you. These indoor basketballs have spaced out the lay-ins so no matter what area of the ball you are gripping, it provides maximum control.
How To Choose The Best Basketball For You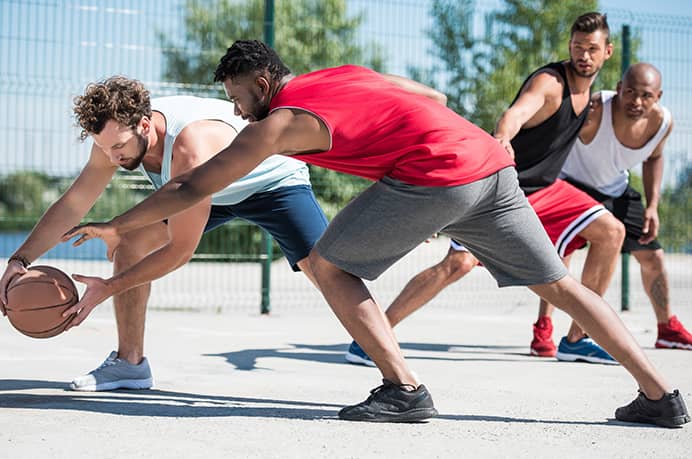 There are many different types of basketballs out there available to all skill levels. To find the optimal one for you it's important to consider the following aspects so that you can enjoy the game to its fullest and ensure victory on any court.
The majority of basketballs come in two sizes. The official size of an NBA basketball is 29.5" – the size used by all your favorite players in the world. However, if you are like most of us and don't have the same size hands as the professionals then the 28.5" basketball may be better suited, allowing you the same grip and feel as the pros do.
Think about the best basketballs for where you're playing. If you will be doing all your play outside on concrete or asphalt then seek a basketball specifically designed for outdoor play. Outdoor basketballs are created with a more durable cover — usually rubber — to prevent scratches and keep your ball performing at its best.
If you are an indoor player then you can opt for a more traditional ball – ones you would see being used in professional leagues around the world. Usually made from some kind of leather or microfiber, the best indoor balls provide amazing feeling and control when dribbling. Make sure you keep them on the hardwood.
A Basketball For All Levels
Whether you're starting out or competing for the state championship there is a basketball for you. For beginners it will help your development to stick with the 28.5" ball as these will allow you to perfect your handling and dribbling skills. It will also be easier for you to drop long-range shots as they tend to be a bit lighter. Beginners can be a bit rough on balls also so a rubber outer cover would probably be best at the early stages of your basketball career.
If you are an experienced player your hard work and dedication will pay off when you purchase your new indoor basketball. Look for something constructed with composite leather to provide maximum touch and feel when you're in control. A deep in-lay is advantageous – this will help you identify what part of the ball you're handling when you need to make those quick decisions. Practice with one of these best basketballs and you will catch the eye of basketball coaches everywhere.
Frequently Asked Questions
The basketball that is used in the NBA is the Spalding NBA Official Game Ball Basketball. This is due to its leather cover and exceptional moisture-wicking abilities. The feel of this basketball is unmatched and once you try it, you may never go back to rubber balls again. This is definitely not an outdoor basketball.
Yes, rubber basketballs are good. They are very durable and can protect against nicks and scratches. These features make them perfect for outdoor games on either asphalt or concrete. Rubber balls are still available in regulation size of 29.5" so if you play both indoor and outdoor your touch will not be affected too drastically.
The basketballs with the best grip are the ones with composite leather covers. This special material is perfect for wicking moisture, providing a stable bounce while still being soft to the touch. It's this soft touch that gives elite players the amazing handling abilities you see on tv. Well, that and decades of practice.
Whichever ball you choose as the best basketball for you, be sure it is one that suits your style of play and more importantly, your location of play – to find the best indoor or outdoor option for you. This game can be healthy and a great source of entertainment for years to come if you have the right knowledge and the best basketball. Lastly, there's no law against owning more than one basketball!