Looking to complete your home game room? As a buyer, the right skee ball machine is a great choice! It brings the nostalgia of being a kid at the arcade to the comfort of your own home. But what isn't so great is the difficult process of choosing between all of the different skee ball machines on the market. That's why we've done the difficult part for you by compiling all of the best skee ball machine reviews for you to check out. We've also included a handy buying guide to help you figure out which is the best skee ball machine for your game room!
1. Hathaway Games Boardwalk 8 Ft Arcade Machine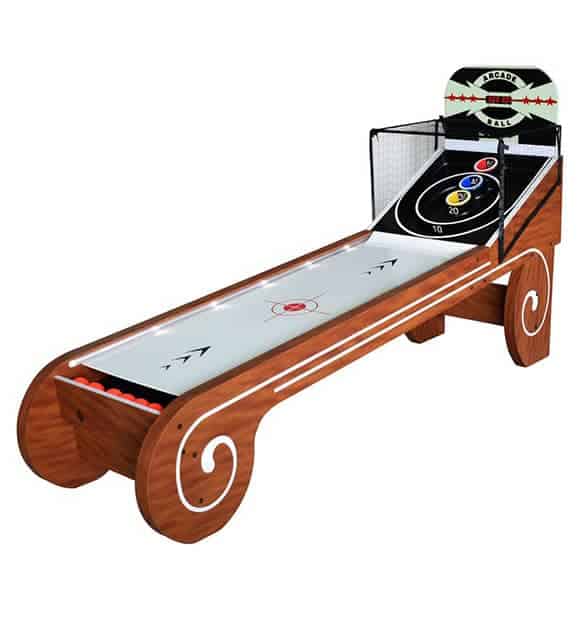 Editor's Choice #1: If you're in search of the ultimate arcade-style skee ball machine, then the Hathaway Boardwalk 8 Ft Arcade will be the perfect addition to your game room. Enjoy the classic arcade game in the comfort of your own home, and compete with family members and friends to see who can earn the highest score!
When you purchase the Hathaway Boardwalk 8 Ft Arcade, you're not just adding a high-quality skee ball machine to your game room. You're also adding a stylish new piece to the room! This game's design features an oak melamine finish and white detailing that gives it a retro vibe. This arcade machine truly looks like a designer piece!
Authentic Arcade Experience
If you're looking to recreate the experience of playing skee ball at an arcade, this machine is a great choice. It has a built-in automatic ball return system, LED side lighting along either side of the ramp and ABS molded catch rings. Plus, this model also features target guides and an LED electronic scoring system with sound effects. Your family will love competing against each other with the Hathaway Boardwalk skee ball table!
The Hathaway Boardwalk skee ball machine is constructed from medium-density fiberboard, or MDF, which is known for its sturdiness and durability. The MDF legs are reinforced and cross-supported, and they have non-skid bases for stability during gameplay. A double-stitched safety netting with steel rods for support keeps balls from flying across the room.
2. Big Sky Colored Game Machine Roll and Score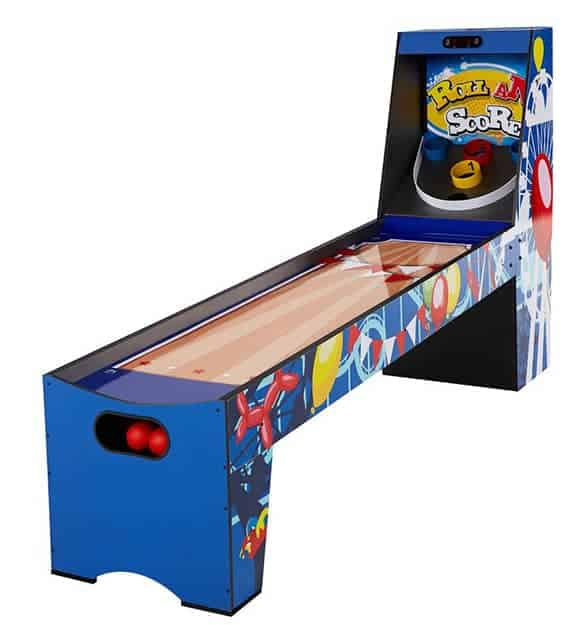 Editor's Choice #2: If you're short on space or prefer a more budget-friendly option, the Big Sky Colored Game Machine Roll and Score is a great selection. It's a slightly more compact version of skee ball, which makes it perfectly kid-friendly. Plus, its brightly painted solid wood cabinet is truly built to last.
This model from Big Sky is 7.25 feet long, 20.5 inches wide and four feet tall. A regulation-size skee ball machine is ten feet long and five to six feet tall. This slightly miniature version is perfectly sized for kids and shorter adults. It's also much easier to fit into your home than a full-size skee ball machine, and at only 69 pounds, it's much easier to relocate or move in and out of your game room as well!
We all know how destructive kids can be when they play, so you're sure to love this model's solid wood construction. The one-piece design has reinforced wood legs and a scratch-resistant surface that can withstand aggressive gameplay. Finally, the scoring rings are constructed from ABS, a plastic material known for its durability.
Skee ball machines often come with a wood finish or in a solid color like black. That isn't the case with this model from Big Sky! The kids (and the entire family) are sure to love the bright red, yellow, and blue graphics of balloon animals, banners, a roller coaster and a ferris wheel!
3. Barrington Coventry 10 ft. Roll and Score Game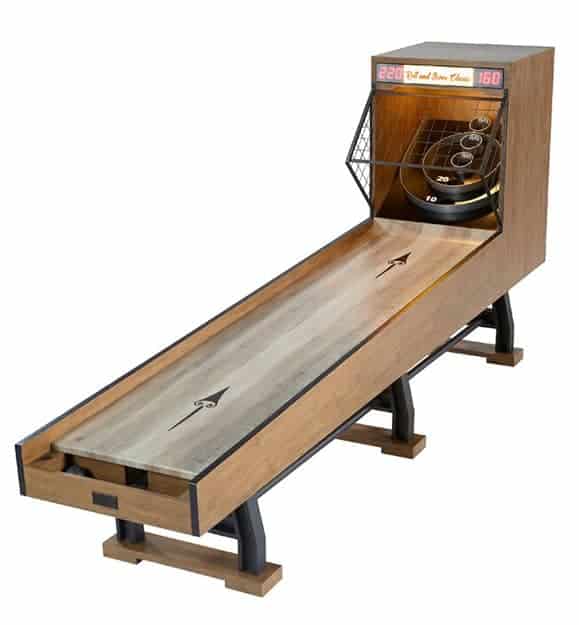 If you're often a buyer of pieces with a rustic feel, you're sure to be a fan of this model from Barrington Coventry. The rustic look of the distressed oak wood and iron trim adds an air of sophistication to this skee ball machine, making it a stylish addition to your game room or man cave. The Barrington Coventry Roll and Score game isn't just an arcade game, it's an upscale designer piece!
This model from Barrington Coventry has plenty of high-tech features, including a quick-response automated ball return, an LCD screen, a two-player LED electronic display and sound effects. It provides a true arcade experience, which is why this model made it onto our list of the best skee ball machines for home use.
Rust-Resistant Metal Legs
In addition to the solid wood construction, this skee ball machine also has rust-resistant metal legs. They have an industrial design with dark sand coating, and they're supported by a connect bar for additional stability. You can really rely on this skee ball machine to last for years to come, thanks to its ultra-stable construction!
4. Premium Barrington Roll and Score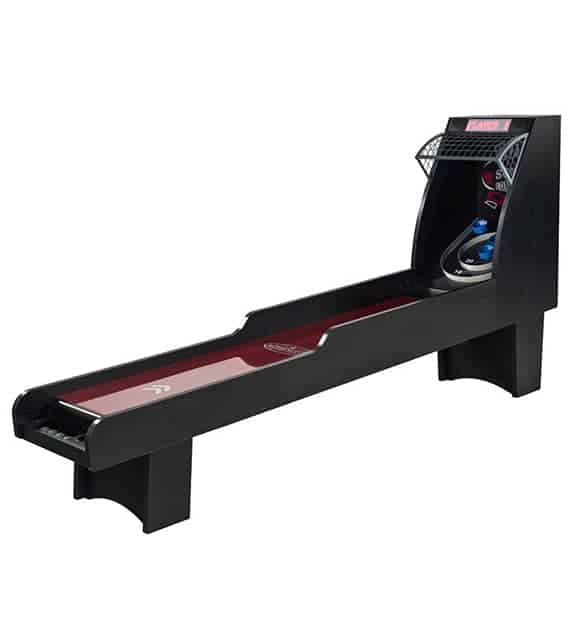 This sleek yet sturdy skee ball game from Barrington has both style and quality. Its durable one-piece construction is paired with multiple features to create the perfect at-home arcade experience. It even has cup holders! It's easy to see why the Premium Barrington Roll and Score made it onto our list of the best skee ball machines for your game room!
The black cabinet and dark red ramp make this skee ball machine sleek and stylish. The high-gloss playing surface features arcade-style graphics. And this skee ball game is complete with LED lights, an electronic scorer, automatic ball return and sound effects for an exciting experience. Four weighted balls are included, so you'll have everything you need to play skee ball!
If you've spent any time around kids, then you know that spills are simply inevitable during playtime. This model from Barrington has cup holders that can help to prevent potential messes! Plus, it's just convenient to have two cup holders at the base of the game, so that you can set down your drink while you play.
5. Hathaway Games Hot Shot 8-ft Arcade Ball Table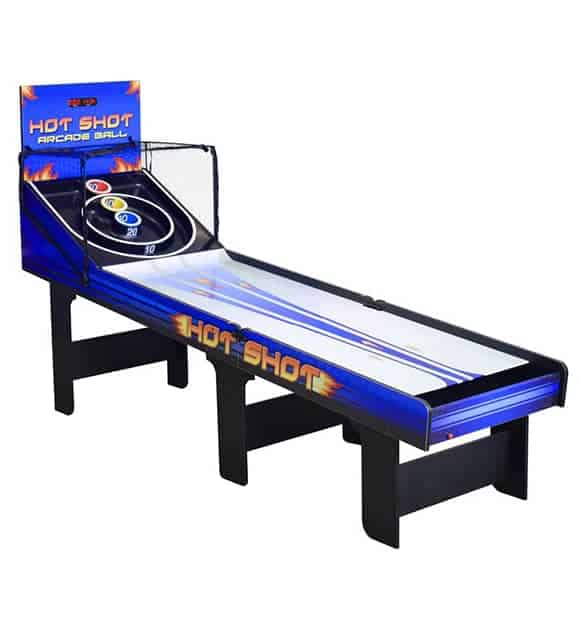 Do you love skee ball machines, but hate how much space they take up in your home? This game set from Hathaway Games solves that problem with its innovative folding frame. With sturdy construction, colorful graphics and all the features you need for a true arcade experience, this Hot Shot skee ball machine is one of the best on the market!
What sets this skee ball machine aside from the rest on our list is that it has a space-saving folding design! When not in use, the end of the ramp folds up to make the unit much more compact. Not only is this great for opening up space in your home, but it also makes it much easier to vacuum around the skee ball machine.
MDF is a sturdy material that is comparable to solid wood. The playing surface is poly-sealed for scratch resistance and durability, as well as to ensure that the skee balls roll smoothly along the ramp during gameplay. This skee ball machine's construction also features ABS scoring rings and triple reinforced leg stabilizers.
6. Lancaster Gaming Classic Arcade Machine Roll and Score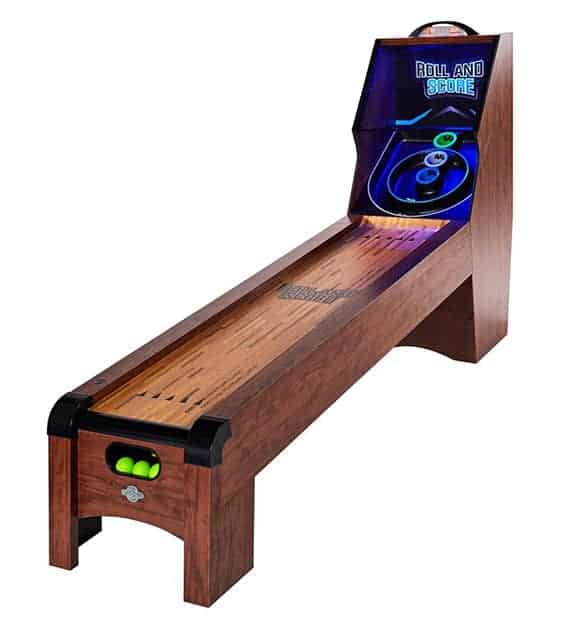 Lancaster Gaming made this model to stand out from the rest, thanks to its eye-catching blacklight lighting. This cool feature paired with many others means that this skee ball machine provides a true arcade experience for the entire family! And safety hasn't been forgotten, either–a clear acrylic safety cover keeps mis-rolled balls from flying across the room and damaging your other games.
Eye-Catching Blacklight Lighting
While many of the best skee ball machines on our list feature LED lights, this game set from Lancaster Gaming is the only one to feature blacklight lighting! This unique feature really adds to the entire arcade experience and makes you forget that you're playing skee ball at home! But the blacklight lighting isn't the only important part of this game's appearance. It also has a gorgeous natural wood finish.
This skee ball game offers everything you're looking for as far as an authentic arcade experience goes. From an automatic ball return system to sound effects, easy-to-use button controls and electronic scoring, your family will feel like you're in a real arcade rather than in your game room or man cave at home.
7. Hall of Games LED Lights and Electronic Scorer Machine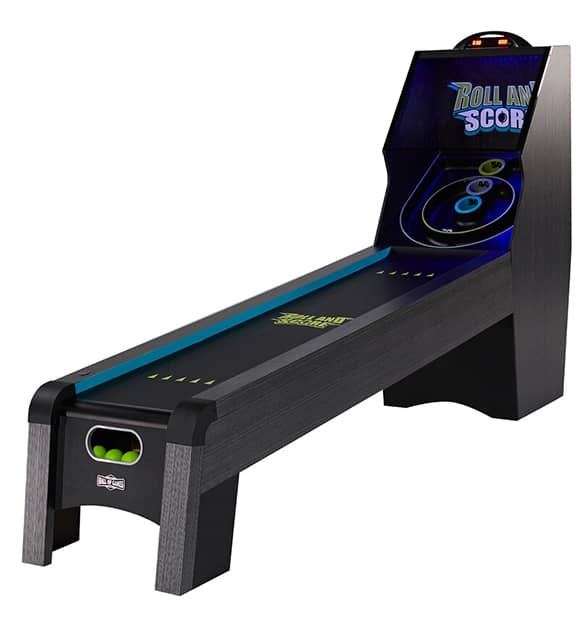 Hall of Games has produced one of the best skee ball machines on the market, which is why this model made its way onto our buying guide! Hours of gaming fun for the entire family are in store with this roll and score table.
One-Piece Solid Construction
Enjoy game after game of skee ball with this Hall of Games machine. Its one-piece solid construction gives it strength and sturdiness, while the playing surface features black PVC laminate and print graphics. The base is built from a mixture of solid wood and manufactured wood to create a truly durable product.
This skee ball machine has all the features you'd expect to find in an authentic arcade game, including a built-in ball return that keeps all of the four included balls coming back to you. This model also has a built-in LED light, LCD screen that displays the words "Roll and Play" and a clear acrylic safety cover. Arcade sound effects, easy-to-use push button controls and legs with cross panel support add to the machine's high quality.
8. Hall of Games Roll And Score Game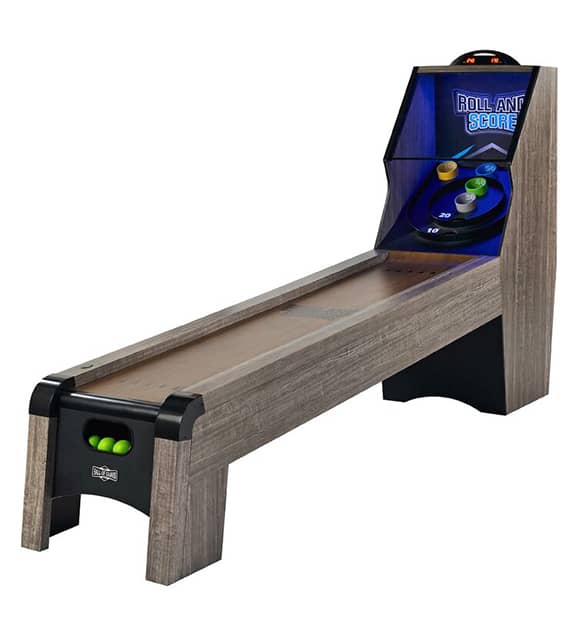 This model is one of the top skee ball machines available for home use thanks to its long list of features. Four balls come with this roll and score game set, so once you've finished assembly, you have everything you need to enjoy hours of vintage skee ball fun.
Hall of Games understands that the game of skee ball comes with wear and tear, so they designed a skee ball table that's built to last. The one-piece solid construction is well-equipped to handle rough play, and the durable plastic scoring rings can withstand plenty of game time as well.
The surface of this skee ball table is half an inch thick. The playfield is constructed from medium-density fiberboard and finished with attractive woodgrain laminate. Plus, it rests on four sturdy MDF legs, which have a cross panel for added stability. And this ramp plays just as good as it looks! It features simple button controls, an automatic ball return and arcade sound effects to enhance the game.
Things To Consider Before Buying A Skee Ball Machine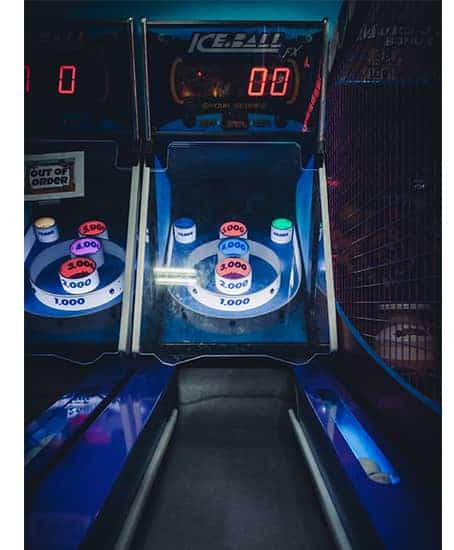 Home arcade machines are a big but exciting purchase, so you want to get it right. Here is what to look for when choosing the best skee ball machine for you:
Before making your purchase, be sure to measure the space where you're planning to set up the skee ball machine. Don't forget that you'll also need extra room around the game for the players to stand and move around. In general, you'll want to have at least two feet on each side of the skee ball machine. You'll also need three feet or more in front of the game.
Is the skee ball machine meant for an adult or for kids? Who will be playing it–a professional, or a family that just wants to have fun? When buying a skee ball machine, be sure to consider who it is for. This will help you decide between various sizes and features.
Typically, the material a skee ball machine is made of says a lot about its quality and durability. Solid wood is truly made to last, while MDF or manufactured wood is also very durable. Plastics don't tend to hold up as well. When it comes to a metal cover versus an acrylic cover, both are built to withstand impact. However, it's likely that the metal will hold up better over time than the acrylic.
A skee ball machine can be an expensive purchase, so be sure to evaluate your financial situation before settling on a budget for your new game. There are plenty of high-quality affordable options as well as more expensive products. In addition, make sure to take a look at each skee ball machine's included warranty to see what it covers and how long it lasts.
What Is Skee Ball And How Do You Win?
Skee ball is a game invented by Joseph Fourestier Simpson in 1907. It started out as a modified game of bowling inspired by the ski hills and ski jumps that were becoming highly popular in American culture at the time. Since then, the rights to the game have been sold several times, most recently to Bay Tek Entertainment. Throughout the years, however, the design for skee ball has remained largely the same, aside from a reduction in the ramp length.
A perfect game of skee ball involves scoring 450 points, which means all nine balls have to land inside the 50-point target.
In order to win a skee ball game, you must score more than your opponent does. Here are a few tips to improve your game:
Aim for the 40-point target
Get low for improved perspective of the ramp's angle
Master your stance
Put in plenty of practice!
Frequently Asked Questions
A regulation-size skee ball machine is ten feet long. Skee ball machines are usually around 30 inches wide and 85 to 90 inches tall. They require around two feet of extra space on each side of the machine, as well as at least three feet in front of the machine. When skee ball was first invented, the ramp was originally 32 to 36 feet long!
A good skee ball score is 360, which requires hitting the 40-point target with each of the nine balls. This is called "rolling a full circle" in skee ball leagues. Meanwhile, 450 is a perfect score, which means the players on one team must score 50 points with each of their nine rolls.
There are nine balls in skee ball. For skee ball league play, a match involves two teams playing 12 frames. Each frame is one full game with all nine rolled balls, with at least three rollers per team. Teams can use three "re-skees," also known as mulligans, throughout the match.
When it comes to the best skee ball machine for your game room, the Hathaway Games Boardwalk 8′ Arcade Machine is our number one Editor's Choice product. It has a vintage skee ball table design, sound and light effects and an attached safety net. Our second Editor's Choice is the Big Sky Colored Game Machine Roll and Score game set. Not only is it a great budget pick, but it's also the perfect size for kids. It features a scratch-resistant poly gaming surface that's built to withstand game after game. Enjoy your choice!