If you are looking for a great educational toy that your child will love for years to come, you can't beat magnetic tiles. As a STEM toy, these tick all the boxes. They help toddlers learn shape recognition and develop fine motor skills, and they teach spatial reasoning and engineering concepts as children play. They also allow for creative and open-ended play, and they foster your child's creativity. But with hundreds of seemingly identical products on the market, you may well be stumped as to which one to buy! Luckily, we have done the research for you, and come up with a list of the 8 best magnetic tiles currently available. But before you delve into the reviews, make sure to check out our buyer's guide so you know what to look for!
1. Magna-Tiles 100-Piece Set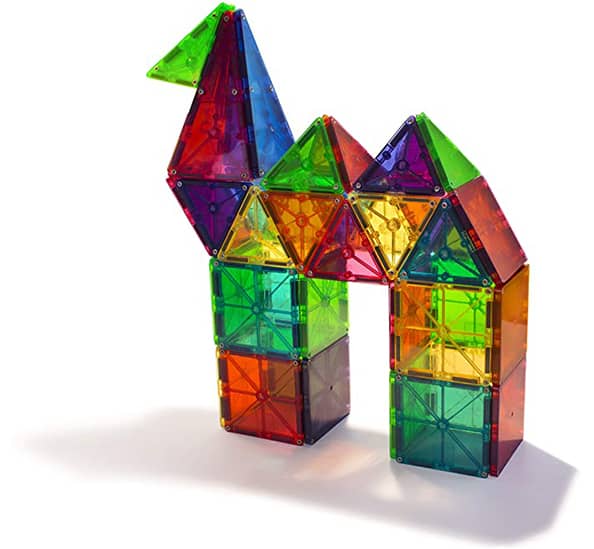 Editor's Choice #1: These Magna-Tiles are the OG of magnetic tiles, and they are still the best around today. They are a little pricier than the other options, but their build quality, safety, versatility and durability is unrivaled. Their magnet strength is perfect for ultimate safety and sturdiness, and they are beautiful too!
Magna-Tiles were the first magnetic tiles to come on to the market and the ones all the others are based on. They are pricier than most of the other brands, but it's for a reason: these tiles are virtually indestructible. Double sealed with metal rivets, you won't have to worry about pieces cracking or magnets coming out. In fact, these won't even show scratches for years to come!
This tile set consists of four shapes: small and large squares, equilateral triangles, right-angle triangles and isosceles triangles. Many other tile sets come in unique shapes, but this combination is best for versatility. You can make anything from circles to houses to rocket ships! This makes them fantastic for toddlers and older children alike. On top of that, the bright yet translucent colors are beautiful. You can put them on a window or light table for a stained glass effect, or make a gorgeous glowy lamp!
There has been much debate over which magnetic building tiles are the strongest. In our opinion, this set with their high quality ceramic magnets provides the best balance of strength and ease of taking apart. These are strong enough to build very complex and tall structures, and they click together so easily a toddler can do it! Some prefer stronger magnets, but if they are too strong they can pinch little fingers.
2. Cossy Kids Magnetic Tiles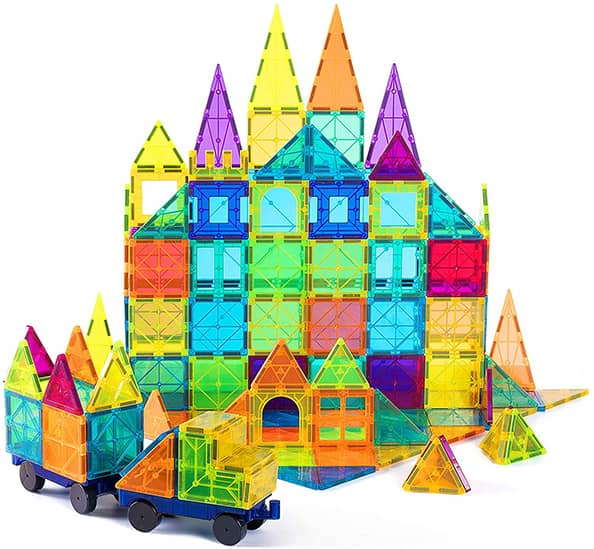 Editor's Choice #2: Almost identical to Magna Tiles in many ways, these are a fantastic budget option for those who are seeking a lower price point. Their durability is not quite on par with Magna, but they match up in almost every other way. Plus, this set includes wheel bases and window pieces for more building options!
Cossy Kids tiles are more affordable than the Magna Tile set but still some of the best magnetic tile toys around. These tiles are slightly thinner than the Magna set, but almost match them in terms of sturdiness. And because they are sealed with both metal rivet and sonic sealing methods, you can rest assured that no magnets will pop out! They are more prone to getting small scratches, but this is just a cosmetic issue.
It appears that the strength of Cossy magnets are also comparable to Magna Tiles. One or two reviewers found them to be on the weak side, but most customers were satisfied. They appear to be strong enough to support tall towers and complex structures, but not so strong that they can pinch the skin. These tiles also come in vibrant colors, and glow beautifully in the light.
If your kids love cars and trucks, these tiles may be the winner. Now they can make their own vehicles with the included wheel bases! This set also includes clip-in arches and windows, which are great for adding to house and castle builds. And because this is a 120-piece set, you don't feel like you are missing out on the classic shapes at all!
3. PicassoTiles 100 Piece Set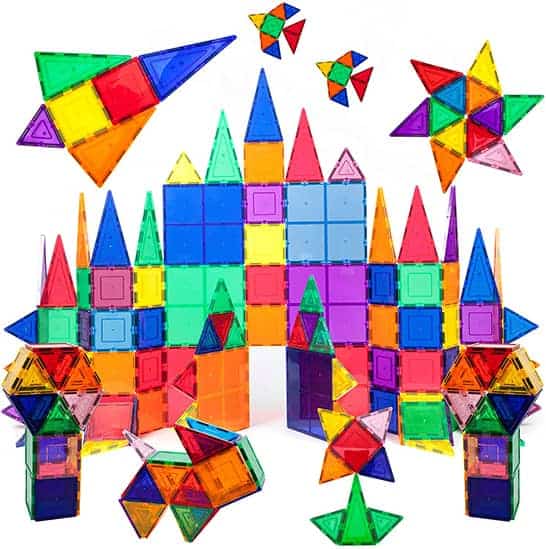 This Picasso Tiles 100 piece set is very similar to the options described above. At first glance, it is almost identical to the Magna Tile set. Despite being much more affordable, they are sturdy and made from durable plastic. The only discernible difference is that Picasso Tiles are not sealed with metal rivets. This means there is slightly more possibility of the magnets popping out – though this is very rare.
Picasso Tiles are just as versatile as Magna and Cossy Tiles. There is a good balance of different shapes, and you can use them to build almost anything. That makes these one of the best magnetic tiles to start your collection. Customers also love that Picasso Tiles offers many different sets – this set is 100 pieces but if you want to supplement your collection with a 30 piece set, you can do that too
These magnet tiles come in vibrant, jewel-like colors with a good degree of transparency. This makes them gorgeous on a window pane or light table! If you're looking for a classic magnetic tile set but don't want to pay a fortune, these are a great option. They do seem to have slightly weaker magnets than our editor's choice products, but the difference is minimal.
4. Playmags 100-Piece Colorful Tile Set
Playmags also offers translucent magnetic tiles in beautiful bright colors. While not quite as durable as Magna Tiles, they are still some of the best magnetic tiles you can buy. Their crosspieces make them able to withstand rough play, and they are double-sealed so you don't have to worry about the sides coming apart.
Like the tile sets above, this set comes with small and large squares and 3 kinds of triangles. However, one thing to note is that not all the tiles are magnetic. There are 82 magnetic tiles and 18 'click-ins' which mostly consist of window pieces and letters. The window pieces are great for building houses and castles, and the letters make for educational fun. Some people prefer only magnetic pieces, but this could be a great set to add on to your existing collection.
Playmags did not used to have the strongest magnets, but it seems they have upgraded their tiles and now they are super strong! It is possible that these tiles are actually a tad too strong, which may lead to pinching on small fingers. However, the majority of users found the magnet strength to be a plus. As long as your child is older than 2, pinching should not be a problem.
5. Magformers Challenger Set (112-pieces)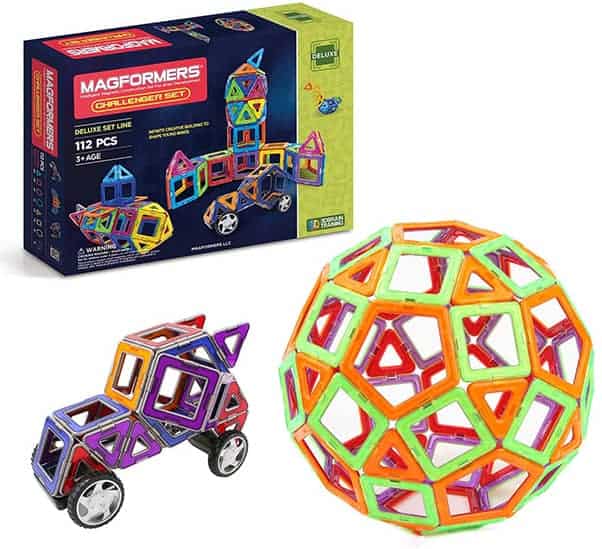 The Magformers Challenger Set is different to the magnetic toys we have reviewed so far. The shapes are not solid, so they can't create a stained glass effect. However, this means you can stick your fingers through them, making them easier to put together in challenging builds. Another great thing about this set is the combination of shapes. In addition to triangles and squares, it also comes with 4 hexagons, 12 pentagons and 2 wheel sets. These are awesome for building complex geometric shapes!
Another difference is that Magformers magnets are different to most other magnetic tiles. They are made from neodymium, and instead of all attracting each other, they are polarized. Because of this, they aren't compatible with most other magnetic toys. In addition, the added complexity may be too challenging for young children. But if high magnet strength is what you are after, these could be the tiles for you!
Great For Complex Structures
If you have older kids, these may be the perfect choice. Especially if your kids are mathematically minded, they will love Magformers! The combination of shapes and the magnetic strength means you can make complex geometric structures. They won't fall apart and you can even move them around!
6. Jasonwell 108 Pieces Magnetic Blocks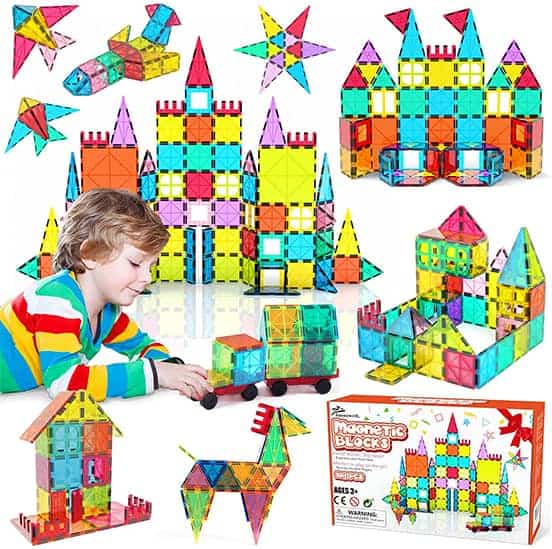 This 108 piece magnet tile set from Jasonwell provides a wonderful array of pieces. With squares, triangles, rectangles and wheel bases, the building possibilities are endless. Unlike the other tiles we've reviewed, this set includes both solid, open centered and window shaped tiles. This means you can get that stained glass effect, and also have windows and other openings if you like!
Although Jasonwell is not as well-known as some other magnetic tiles, customers consistently report their magnets as very strong. You can build tall structures with these without constantly worrying that they will collapse. The larger-sized tiles especially are very strong.
Jasonwell tiles come in 8 different colors, and are all beautifully translucent. Out of all the tiles on this list, these may be the prettiest when light shines through them. Set them up outside or against the window, and you'll have a gorgeous colored silhouette on the ground! In terms of safety, we love that these are made from BPA-free abs plastic. The tiles are also sealed with ultrasonic welding so they shouldn't come apart. Unfortunately, a few parents found that the magnets did come loose and fall out, though this seems to be a rare occurrence.
7. HLAOLA Magnetic Blocks
These HLAOLA magnetic blocks are similar to Magformers in that they have open centers. But what sets HLAOLA apart is the sheer number and variety of pieces you get. This 133 piece set includes squares, triangles, semi-circles and hexagons, click-in window shapes and letters, plus wheel bases and even a Ferris wheel base! But be warned – only 75 pieces in this set are magnetic. So if you're looking for more classic magnetic building tiles, this is not the best choice for you.
If you want magnetic building blocks that are suitable for babies and toddlers, these are a great choice. They are made from food grade ABS plastic, and are very well sealed. Though the tiles seem a little flimsy at first glance, they are actually highly durable. Plus, their rounded edges mean that even babies can grab them without getting poked or scratched!
HLAOLA tiles are compatible with Magformers and provide almost the same level of magnet strength. Kids can make all sorts of shapes with these and even pick up their constructions. However, some reviewers did note that the wheel bases are not well designed and tricky to build on. Nevertheless, the sheer number and variety of pieces you get with HLAOLA is amazing!
8. 42 Piece Tegu Magnetic Wooden Block Set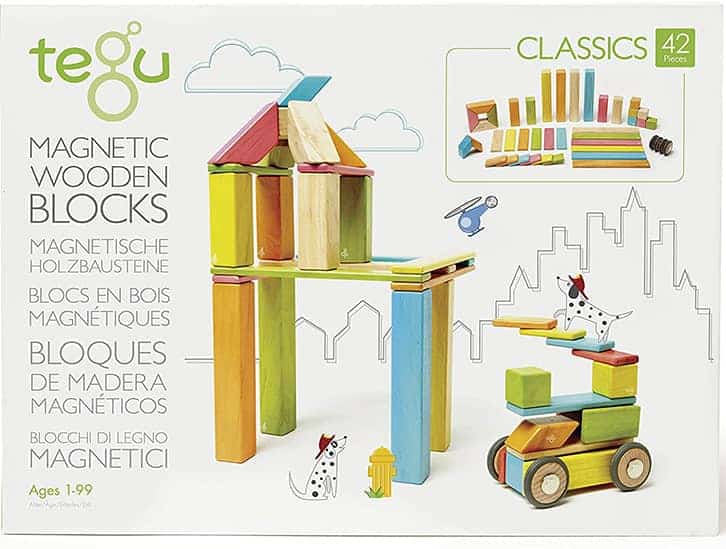 If you already have a magnetic tile set and are looking for alternative magnetic toys, these magnetic building blocks from Tegu are fantastic. Marrying together the concepts of two classic toys, these magnetic wooden blocks can be used to make all sorts of constructions. However, note that the magnets are polarized, which makes them a little more challenging to use. Also, some reviewers found that the larger blocks did not have magnets in enough places, which limited their use.
The magnets are hidden right inside these classic wooden blocks, so the chances of them coming out are zero! If you're worried about choking hazards, these are totally safe. They are also made from sustainably sourced Honduran hardwoods, so are a great option if you want to avoid plastic toys. Even the lacquer finish is water based, so there is no toxicity whatsoever.
As they are made of wood, Tegu blocks are incredibly durable and can be passed down across generations. The only way they may deteriorate is through the paint chipping. These aren't as popular as the magnetic tile sets, but if you're after a more "natural feel", these magnetic building blocks may be just what you're looking for.
Everything you need to know to find just the right tiles for your little ones!
What To Consider When Choosing Magnetic Tiles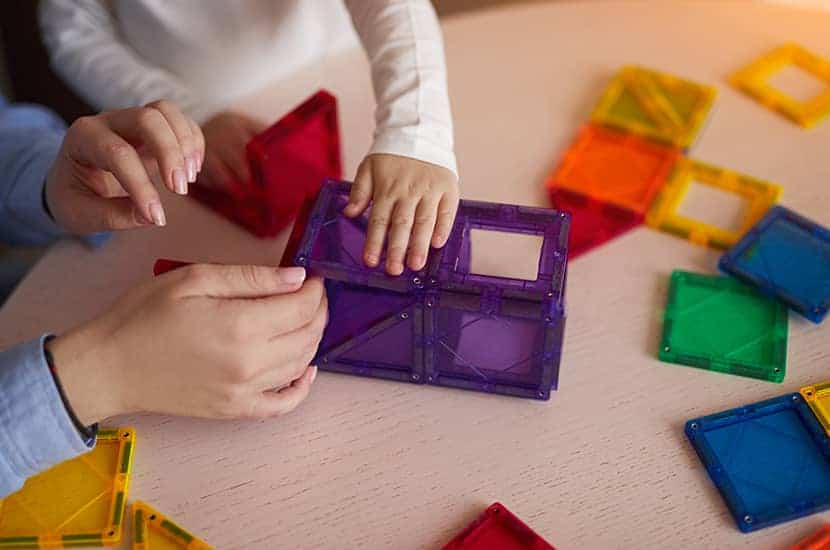 To help you make your decision, here are a few things to keep in mind when choosing magnetic tiles.
Magnetic building tiles can be enjoyed by toddlers, and children ages 2-12! Little ones love sticking the shapes and colors together, while older kids can enjoy building increasingly complicated designs. However, some magnetic tiles are a little more limited and aimed at younger or older children.
If your child loves board games, read here about Best Educational Board Games. Also, check out Best Board Games For 4 Year Olds.
If you want your tiles to be enjoyed for as long as possible, go for the ones with many versatile shapes.
It's not that easy to assess quality, but generally the heavier, sturdier tiles are less prone to breakage. If you can't test out the tiles before purchasing, make sure to do thorough research and read lots of customer reviews.
Quality is important not just because of longevity, but also because broken tiles can be dangerous if kids swallow the magnets.
Once you get your first set of magnetic building tiles, that's just the beginning! Almost everyone finds that they want to expand their collection over time. That's why it's a good idea to choose tiles that are compatible with different brands. You can't be sure that you'll be able to get the exact same brand of magnetic tiles again. Plus, many parents choose to splurge for their main set, and supplement this with slightly cheaper tiles.
The more shapes you have, the more creative you can get. That's why sets that come with unconventional shapes and extras like car bases can be fun. At the same time, make sure you get enough of the basic magnetic shapes like triangles and squares. These are the most versatile shapes and the ones you'll want the most of!
Getting strong magnet tiles is important if you want to avoid frustration and tears! If they are too weak, you'll only be able to make very simple structures without them falling down. On the flipside, if they are extra strong they can pinch little fingers. All the tiles on our list have good magnetic strength, but some are stronger than others. Think about the type of structures you want to build and the level of magnet strength they require!
Safety is often the number one thing parents consider when it comes to toys for their kids. Generally, magnetic tiles are a safe toy. However, cheaply made tiles can come apart and become dangerous if children swallow the magnets. It's also important to make sure the tiles are made of safe, non-toxic materials.
Remember to check how smooth the tiles' edges are – we don't want little hands getting scratched!
Important Information About Magnetic Tiles
A few things you should know before you make your purchase.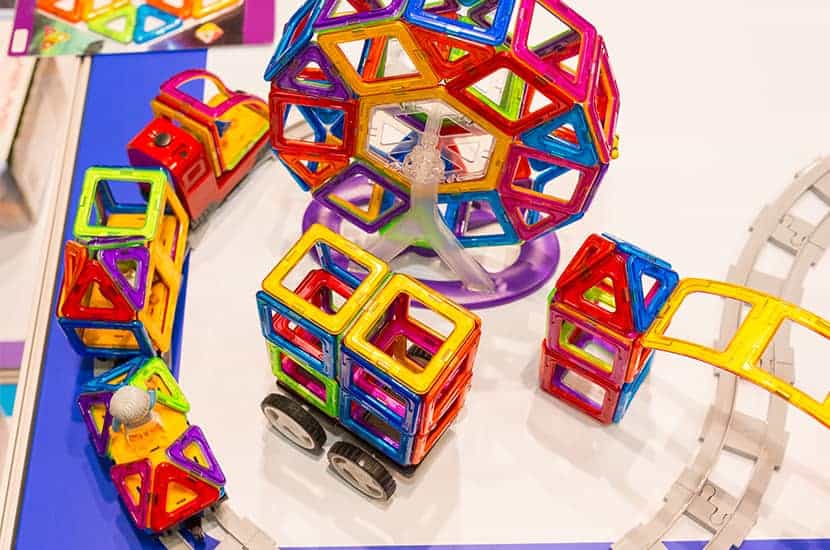 Can They Affect Your Electronics?
In general, magnetic toys will not affect your electronics as they are simply not strong enough. But it's better to be safe than sorry, so you may want to keep them out of the way of hearing aids, pacemakers, mechanical watches, hard drives and magnetic cards. But it shouldn't cause too much worry as we're talking distances of 10-300mm (0.4-12 inches)!
Taking Care Of Your Magnetic Tiles
You don't need to do anything special to take care of your magnetic tiles. The main thing to remember is just to put them away after use, so they don't become tripping hazards. Luckily, their magnetism makes them super easy to gather up and put back in their storage bag!
Over time, the tiles will naturally pick up dirt from the floor or grease from sticky hands. However, avoid submerging your magnetic toys in water if you can! This can cause the magnets to corrode and rust.
The best way to wash your magnetic building tiles is simply to wipe them with a damp cloth.
The Benefits Of Magnetic Tiles
Parents buy magnetic tiles because their kids love them, but it's not just about fun! Here are a few of the benefits of magnetic tiles:
STEM play: Magnetic tiles are one of the best STEM toys you can buy for your kids. They are highly educational and support all kinds of STEM skills. The geometric shapes teach kids about math and spatial reasoning, toddlers will learn about shapes and colors, and older children will learn about engineering and problem solving. Click here to see more great suggestions for your child's new favorite toy. See also Best STEM Toys for 4 Year Olds.
If you want toys that stimulate your little ones' brains, get them magnetic tiles!
Fine motor skills: Not only are magnetic tiles good for learning about math and engineering, but they are great for developing fine motor skills too. As your child plays with the shapes, they will improve their hand-eye coordination and dexterity.
Creativity: Magnetic tile toys are very open ended. The tiles come mostly in abstract shapes. This means that as opposed to a doll or a toy car, they can be used in all sorts of different ways. This is fantastic for fostering your child's imagination and natural creativity. You will be amazed at what your kids come up with!
Frequently Asked Questions
After extensive research, we have concluded that the best magnetic tiles are the original Magna Tiles. However, many of the other options come very close in quality, and have other points in their favor. If you already have a set and are looking for more tiles to expand your collection, you can choose from many different compatible brands! Whether you want to build vehicles, construct geometric shapes, or simply engage in creative play, there is a tile set here for you.