With winter just around the corner, it's time to start thinking about how you're going to embrace the cold. Chances are your town has an ice rink nearby, and most will have free skate time for ice skaters to enjoy some good ol' fashioned ice skating. This is usually frequented by families and friends looking to exercise while hanging out and improving their skating skills.
If you have designs on entering a pick-up hockey game, skip ahead to the CCM Jetspeed FT2 Hockey Skate. These ice skates have everything a beginner needs and will stay with you for a very long time. We have weighed the options carefully and compiled a comprehensive list below highlighting the pros and cons of the best beginner ice skates. Welcome to the wonderful world of ice skating!
1. CCM Jetspeed FT2 Hockey Skate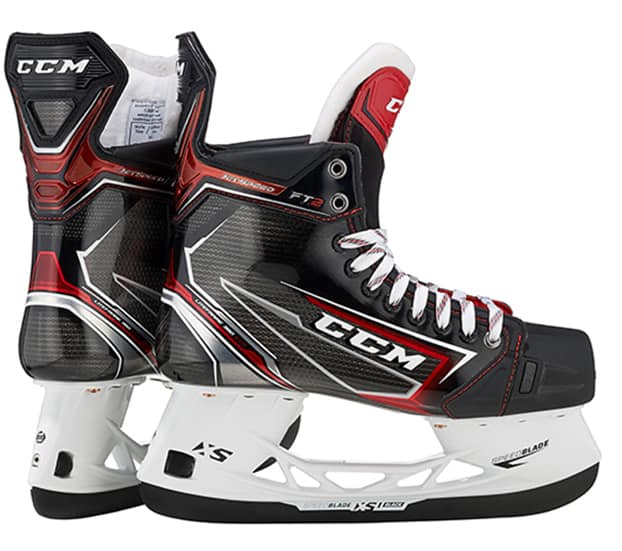 Editor's Choice #1: CCM has been at the forefront of skate design for many years now, and these skates are for beginners who know they love ice skating. They use an innovative one-piece design that provides an incredible fit after the break-in. You can wear these skates for hours and will probably be more comfortable than your street shoes.
These top-of-the-line CCM skates are one of the first ever to use a one-piece boot design. This gives the wearer maximum comfort with only a short break-in period. Being made from one piece, the entire boot forms to your foot and your movements. In a nutshell, this boot will learn how you ice skate and can adapt to your natural movements.
These are some of the best ice skates for beginners with relatively standard foot features. So if you're looking for a wide boot design, this is not it, and you would be better looking in our best hockey skates for wide feet and best figure skates for wide feet reviews. The forefoot is slightly narrow compared to others and perfectly suited for a beginner.
These Beginner Skates Have Improved On Every Aspect
CCM has redesigned the tongue to contribute to its one-piece design. It has an asymmetrical flex point so it can wrap around your foot more thoroughly and has molded lace bite protection, so you'll have comfortable tension throughout the laces. Getting your skates sharpened slowly erodes them, and after a while, they will need to be replaced. You can change your blades in the blink of an eye with this system – a great money-saving technique. If you love these skates, then you'll never have to get a new boot. You can replace the blade as it wears down and still maintain the comfort you have gained.
2. BAUER Supreme 3S Pro Hockey Skate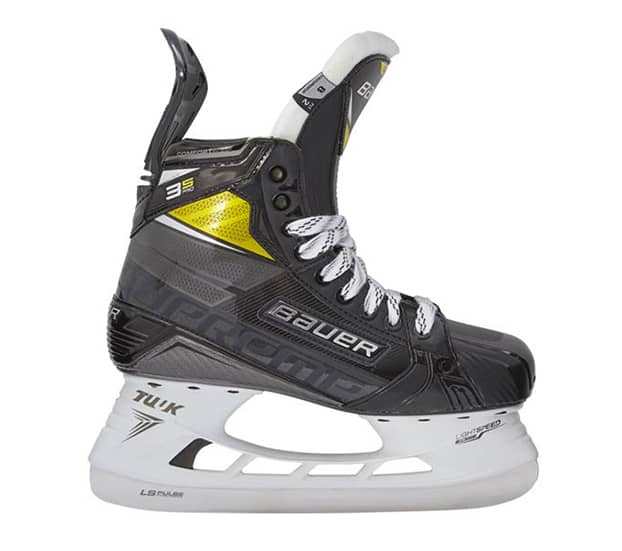 Editor's Choice #2: This is a skate that is going to last you a long time – flexible enough for new skaters it will become more comfortable over time, like a good pair of jeans. If you're serious about getting better and not being a beginner any more, then these could be the best ice skates for you.
As a flagship model for Bauer Skates, this ice skate has all the bells and whistles that hockey players look for. The style is traditional and straightforward because they chose to focus on what's under the hood to make some of the best ice hockey skates for beginners on the market today.
This skate features a very prominent forward press which tends to favor novice skaters a bit more. If you think you're ready for these, you can lengthen your stride and stay low while at top speed – something that lower-end skates won't have.
Customize How You Tie Your Skates
Another excellent feature is the extra eyelets for your laces. At the top of the ankle, there are additional holes so you can tie your laces precisely the way you want. Whether you wear your shin pads on the outside or inside, this skate is ready for either one. This is great for beginners, so you can try different ways to tie your skates to find out which method works best for you. To further customize your fit, the 52oz tongue is adjustable as well. It comes with moldable inserts that can conform perfectly to your foot.
The real star of the show here is the footbed. The Supreme 3S Pro features the all-new form-fitting lockfit footbed made of thermoformable recovery alloy composite. This reduces the negative space inside the boot, helping to increase your balance and provide a faster and more stable stride.
3. BOTAS Stella Women's and Girls Ice Figure Skates
Not all skates serve the same purpose. There are many ways to enjoy the rink, and hockey is only one of them. For the more artistic beginner skaters, figure skates will suit them best. The BOTAS Stella Women's and Girls Ice Figure Skates are made for women and girls looking to get into figure skating specifically.
All The Action Is In The Boot
The upper part is reinforced to provide extra ankle support. As a beginner, your ankles will be introduced to new movements. This added strength will be a massive help with preventing injury. The reinforced upper also allows for better lace tying as well. It's easy to get to the eyelets, and they provide an even tension across your foot. Having your skates tight but still being comfortable is one of the first hurdles new skaters must overcome. That task is much easier with this skate.
The whole boot is more water-resistant than previous models, which benefits beginner skaters immensely. Since you will probably be traveling slowly at first, it's easy for snow, ice and water to find their way into your figure skate. This design prevents that from happening and keeps your feet bone-dry.
4. Jackson Ultima Classic 552 Mens/Boys Figure Ice Skates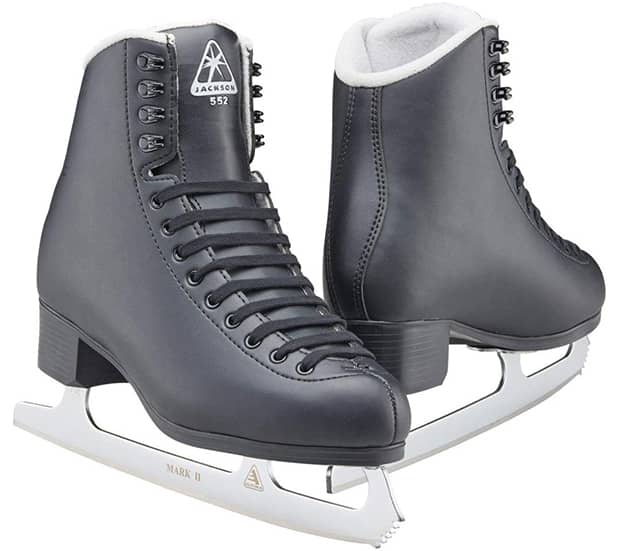 As the first skate for a beginner figure skater, the Jackson Ultima Classic 552 Figure Ice Skate checks all the boxes for men and boys. They allow a newbie to be comfortable while also being safe to experiment with twists and turns. The inside of the boot is the best part. It provides maximum comfort, and if you ever get a chance to see figure skates from 20 years ago, you won't believe how anyone figure skated with them.
Starting Now Is A Lot Easier Than Starting Then
Using a rolled padded Nylex, the interior is soft and cushiony. This is great for people who are not used to wearing skates for a long time. The material used means you won't get any irritation or worn-out spots in the lining. The tongue is also a huge contributor to providing comfort and stability. The foam back vinyl and mesh combination allow the tongue to conform to your foot from the top. It wraps around the sides and also adds protection against lace bite.
Lastly, the blades are attached via screws, so if any accidents happen – like walking on concrete – you can replace the blades easily. This saves you from having to buy all new skates should the unthinkable happen.
5. Jackson Ultima JS1290 Excel Figure Skates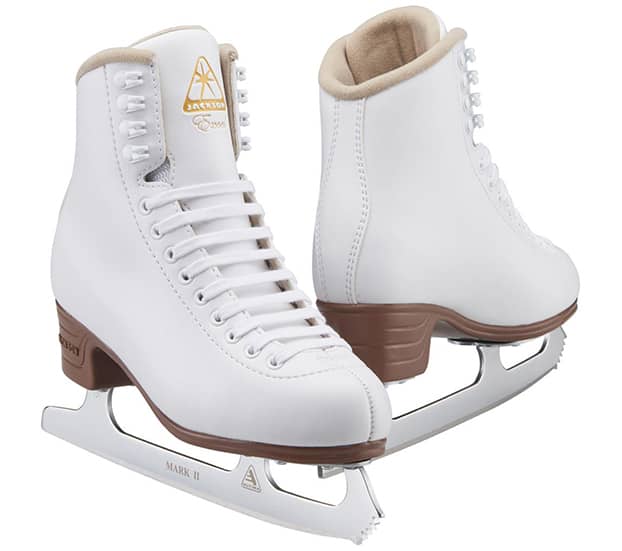 For the ladies, Jackson has made this line of figure skates so beginners can improve fast with a supportive figure skate. They have a very detailed fitting system to ensure you get the perfect fit for you, no matter your foot type.
With The Right Fit, You Can Take Advantage Of These Features
The tongue is made from vinyl and mesh, allowing some flexibility while still keeping your foot securely strapped into the boot. The backside of the tongue is coated with a special foam that provides excellent comfort which shortens the break-in period so you can enjoy your ice skates to the fullest after only a few uses. The outsole, which is located just under the boot, is comprised of strong PVC. This is a common material in figure skates as it provides strength without adding too much weight. Having a light skate is very important for beginners, so you don't tire too quickly. The longer you can practice, the faster you will improve.
If you're looking for that classic figure skating look, then these will be the best option for you. They are only available in white and have a tan finish on the outsole. Even if you're not sure how to use them now, as you improve, so will your confidence.
6. Jackson Ultima ST6102 / ST6107 Softec Sport Ice Skate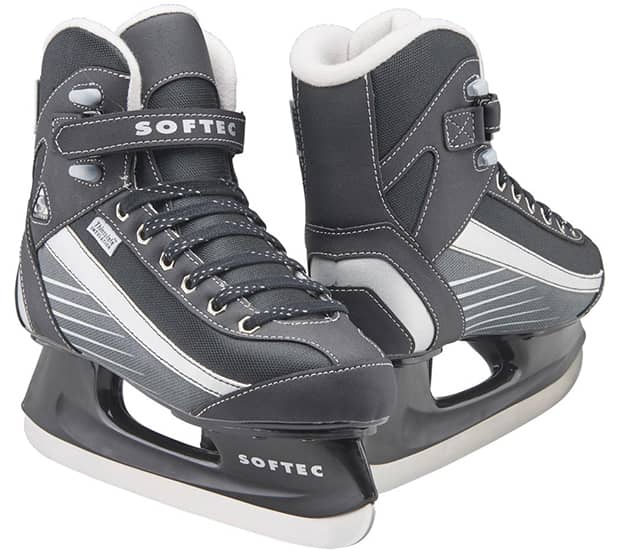 If you have never set foot on an ice surface before, then first of all, welcome to this fantastic activity. Secondly, you're going to want a skate that feels more like a running shoe to assist with your transition from walking to skating. The best part about these are the boot. It's Thinsulate lined, so it has the most flexibility of any skate on this list. While it's still much stiffer than a running shoe, this flexibility allows your foot to make adjustments throughout the learning process.
Keep Your Feet Warm And Dry
This style of lining also provides warmth. Beginner ice skaters typically don't skate fast right away. It takes some time to build up the confidence to go fast. Because of this, the feet of beginners can get quite cold: not with this pair of ice skates.
The lacing system was also designed with the beginner in mind. There are fewer eyelets so lacing your skates is not as cumbersome as more advanced skates (see here how to do it properly). There is also a velcro strap around the ankle. This allows you to get the perfect amount of tension without having to tie and untie your skates a million times.
7. Jackson Ultima ST3200 / ST3201 VISTA Softec Ice Skates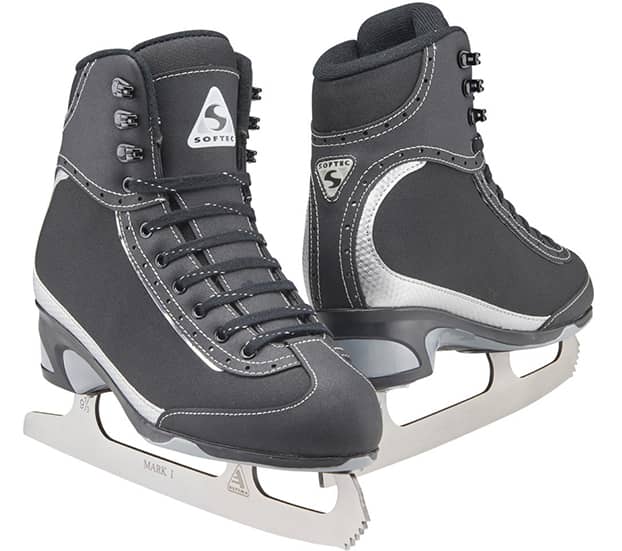 These ice skates are made for beginners who want to try figure skating before committing to a traditional pair of figure skates. They offer a lot of flexibility in the boot and still have the toe pick on the blade. This is the most challenging part for beginners to get used to, so having a comfortable skate throughout this learning curve is a huge help. The boot flexibility is thanks to the Softec comfort and support material. This revolutionary construction is relatively new to the world of skates but will be around for a long time. It's perfect for your first time ice skating.
Comfortable And Dry Inner Lining
The inside is lined with Nylex for an ultra-soft feel. Nothing turns people away from ice skating faster than blisters and sore feet. This lining is closer to what you would find in a sneaker and will help you get used to this ice skate faster.
The design is something that should not be overlooked here. By opting for a non-traditional figure skate, you also get a non-traditional design. The outsole has fashionable accents that not only look cool but will make you look like you're speeding across the ice. The design continues up to the boot and covers the toe with a casual look that is common on soccer cleats. Start your recreational ice skating career today with these ice skates.
8. Bauer Vapor X2.7 Ice Hockey Skates
For those who want great hockey skates but are still not ready for the top-of-the-line gear yet, the Bauer Vapor X2.7 Ice Hockey Skates were designed for you. They have all the excellent performance features that higher-end beginner skates have but with less durability. If you plan to ice skate once a week, this pair will suit you fine and dandy. They have a low-profile design that allows you to transfer energy more efficiently from your foot to the ice.
The perform flex system is unique to Bauer and is used to enhance the performance of the boot. It allows flexibility in all the right places, so you can move quickly in and out of turns. This is great for beginners while you're still figuring out the best way for you to turn.
Supporting that is the hydrophobic microfiber liner. This conforms to the specific features of your foot. It also works to keep your feet dry, so there is no slipping. The footbed and ankle backing both feature memory foam. This is a great feature to have if you want something that requires minimal break-in time: these will be comfortable right out of the box.
Before helping you decide which is best for you, we go over some key features of ice skates.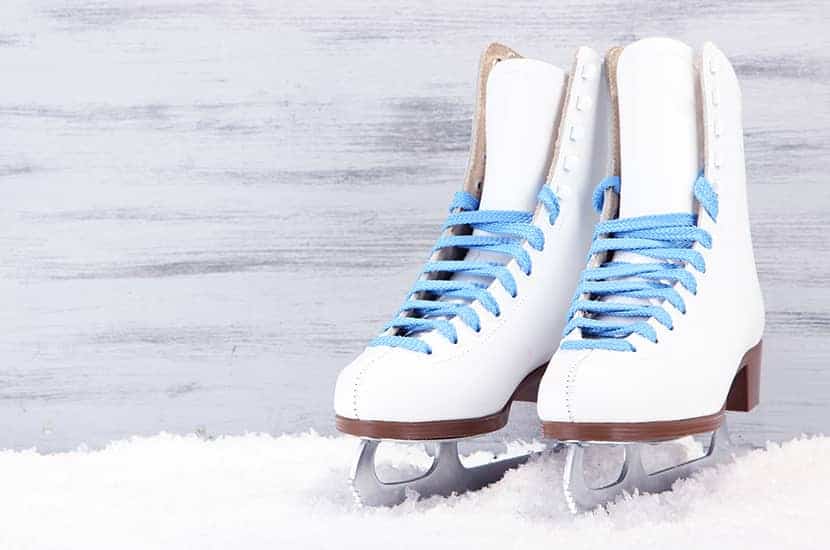 Both hockey skates and figures skates consist of the same basic design features:
●       Boot
●       Tongue
●       Blade
●       Outsole
The boot is the most crucial part as this will determine how comfortable your feet are. For those with wider feet, you may want to search specific skates for wide feet.
The tongue has come a long way over the years and now is a contributing factor in providing comfort and stability. Most encompass your foot so that you can maintain balance easier. This is a considerable advantage to beginner skaters.
The outsole connects the boot to the blade. There are varying designs of outsoles, but most are made with PVC to add strength without adding excess weight.
Which activity you intend to do will determine the skates you should go for. Check out our post on Figure Skates Vs Hockey Skates, to learn about the similarities and differences between the two in detail.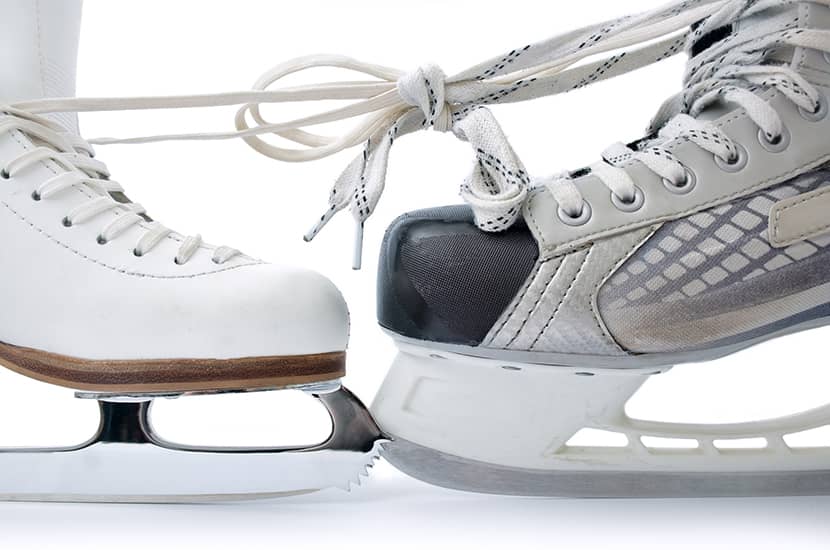 Figure skates are often identified by the toe pick at the very front part of the blade. This is used for precise twists and turns so the skater can have complete control over their movements.
It also adds traction when you're attempting jumps. You can dig one foot into the ice briefly to gain grip to push off from. If you watch professionals, you can see them use the toe pick during triple axles.
Hockey skates are much more protective. The boot is made from more rigid material to absorb the impact caused by blocked shots or other players' sticks.
There is no toe pick since hockey players aren't jumping, nor do they need the same precision when turning. You'll also notice the outsole is much heartier as well. This is again to withstand the harsher nature of hockey compared to figure skating.
Which Is Best For Beginners?
The best ice skates for beginners would be skates made for hockey. This style of ice skate is a little more forgiving when it comes to perfecting your stride.
With no toe pick, beginning skaters won't have to worry so much about tripping and falling forward. You will still fall when you first start skating. You'll just fall less with a hockey skate design.
If your end goal is to figure skate and you're not into buying ice skates for hockey, then go for it! You will have to learn how to benefit from a toe pick at some point, so you might as well start getting used to it right away.
What To Consider When Choosing Ice Skates For Beginners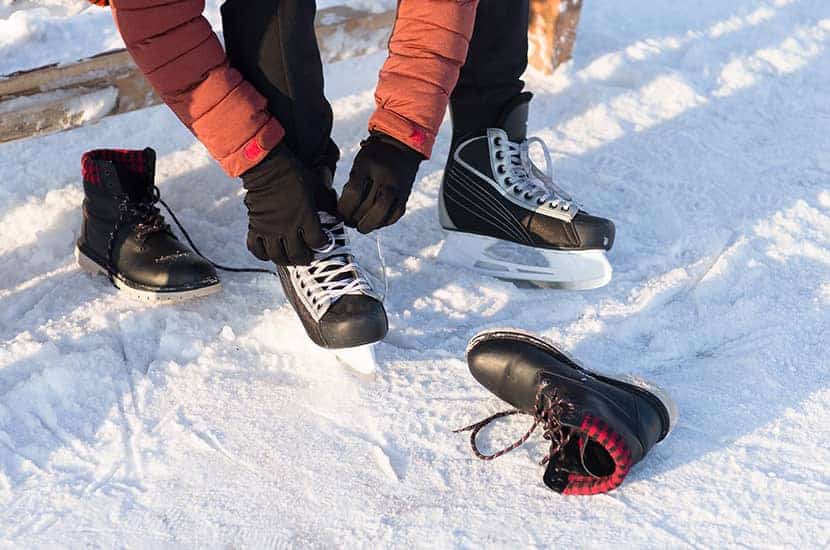 Sizing skates can be a tricky business no matter what style you choose. A general rule of thumb is to get skates that are 1.5 sizes smaller than your running shoes. Most companies these days provide detailed fitting charts so you can compare your foot size and shape to the boots they offer. Measuring your foot is easy as well:
Place your foot on a blank piece of paper on the floor
Using a pencil, trace the outline of your foot all the way around
Measure from heel to toe
Then measure across the widest part
Divide these two numbers, and you have your foot width measurement
Your skill level plays a huge role when deciding on which skates to get. For beginners, comfort will be your top priority. It's hard to learn anything if you are constantly fidgeting with your equipment and trying to adjust it.
Find a skate that feels great right outta the gate.
If you plan on ice skating often, then that should be taken into consideration. You will want to get something that has some durability, uses quality materials, and will conform to your foot more and more over time.
Find ice skates that use memory foam or have a high-end liner. This will protect your foot and skate against areas that rub more than others. The foam also can adapt with you as your skating technique improves.
It may take longer to get super comfortable with this kind of skate. But once you get there, you'll see why it's worth the wait
Materials differ vastly between hockey skates and figure skates. They are used for two completely different activities and, as such, are optimized for each.
If you want hockey skates but plan to use them solely for recreational skating, then materials won't matter as much to you. Focus on comfort.
For the budding hockey players out there, find a skate with a tongue you like. This material will be beneficial in securing your foot but also keeping it safe.
Beginner figure skaters will have a much easier time adjusting to the materials. This type of skate is meant to be thinner and more pliable. Your break-in time will be shorter due to the materials used.
Choosing whether you want to play hockey or try your hand with the figure skaters will determine what kind of blade best suits you. Both styles have two edges on each skate – it's these edges that allow you to turn sharply and stop quickly. This is the part of the blade that needs sharpening regularly.
The significant difference between the two blade types is the toe pick. Hockey skates do not have one as their blade is uniform from front to back.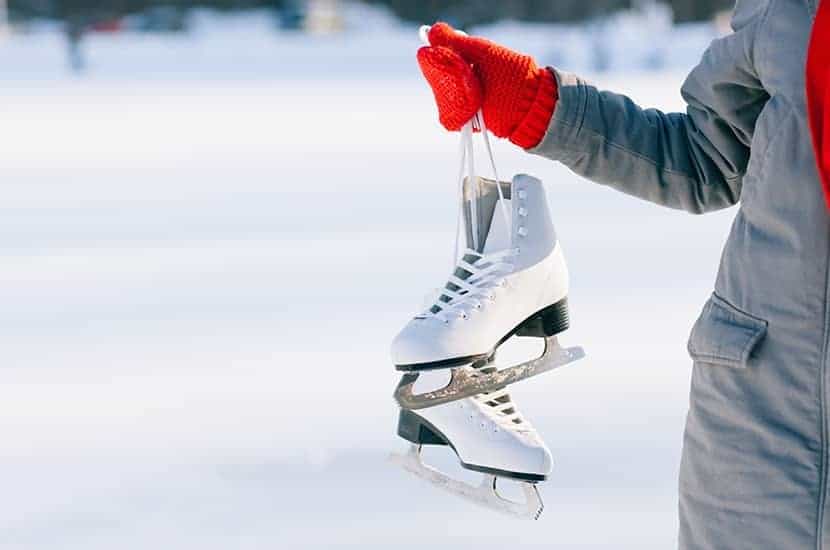 This will all depend on how often you plan to skate. For colder climates where skating outdoors is an option, then you will benefit from more expensive ice skates. They have the durability to be used consistently, and they are also lined with more expensive material to keep you warm and your feet dry.
Cheap skates (pun intended!) are perfect for those looking to try skating as something new. Maybe you're unsure whether you like it or not and want to try it for a season first. This is a great situation that cheap ice skates can help with.
Breaking In Your New Skates
No matter which skates you end up choosing, all new ice skates need to be broken in. This is a process that is longer for hockey skates as opposed to their figure counterparts. Hockey skates are typically more robust and offer more rigid materials. Due to the nature of the game, they offer more protection as well.
Some skates made for hockey can be placed in a special oven that will soften these hard materials. It makes it easier for your foot to conform to the material. This is called skate baking and can be found at your local sports store or most ice rinks.
For figure skating, you will have a slightly easier time, but there will be a couple of times you may curse your skates for hurting your feet so much. Not to worry, this only lasts for a few outings due to the more pliable material used.
Frequently Asked Questions
Choosing the best ice skates for beginners can be challenging since there is so much information available. To make the decision easy, we recommend the CCM Jetspeed FT2 Hockey Skate: versatile and very comfortable. It will also keep your ankle supported, which is a significant concern for new skaters. Whichever you choose, make sure you allow lots of practice and, most of all, have fun!