If you like to kayak, a good PFD is essential. Besides the fact that you are required to have one, you never know when the unexpected can happen. Plus, PFDs often include useful features like pockets, D-rings, gear straps and reflective strips. But how do you choose the best PFD for kayaking when there are so many options? Don't worry! We are here to help by laying out what we think are the top tried and tested 8 PFDs for when you're paddling on a kayak. We have also included a handy buyer's guide so you can know what to look for when looking at PFDs for kayak paddling.
1. Astral BlueJacket Personal Flotation Device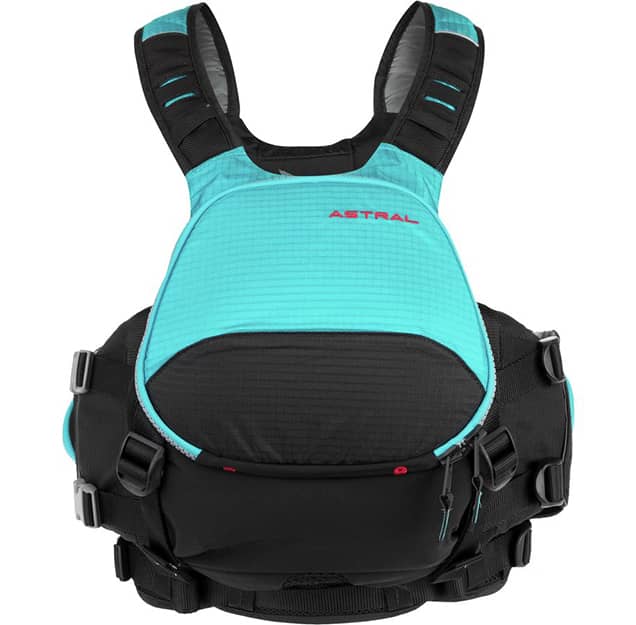 Editor's choice #1: The Astral Bluejacket provides you with unrivaled comfort, security and mobility. You can kayak for hours and forget you're wearing it, plus it has lots of great storage options. Whether you want to kick back with lots of snacks, or go on serious adventure trips, this vest will serve you well.
The Astral Bluejacket PFD is a type III PFD with a unique design of independently moving inner and outer panels. This Foam Tectonics system allows the external panel to move with the movement of your body, while the inner panel stays snug around you. This means it stays highly secure, while still being ultra-comfortable and allowing an impressive range of motion.
The Astral BlueJacket was designed for sea kayaking, but it can be used for almost any water sport. The freedom of movement it allows means you can sit in a kayak cockpit, run around a boat or right yourself from an unplanned dip easily. It is made from ripstop nylon, which is breathable yet durable. Plus, it includes reflective accents to improve visibility in low lighting, as well as a dedicated attachment point for a strobe light.
One of the things that sets this PFD apart is its wide range of storage options that provide easy access to all your gear. The clam shell pocket in the front can double as a drink holder, and there is also a lash tab on both shoulder straps for knives. It also features an internal back sleeve where you can attach a hydration bladder – great for long paddling trips.
2. NRS Zoya Personal Flotation Device - Women's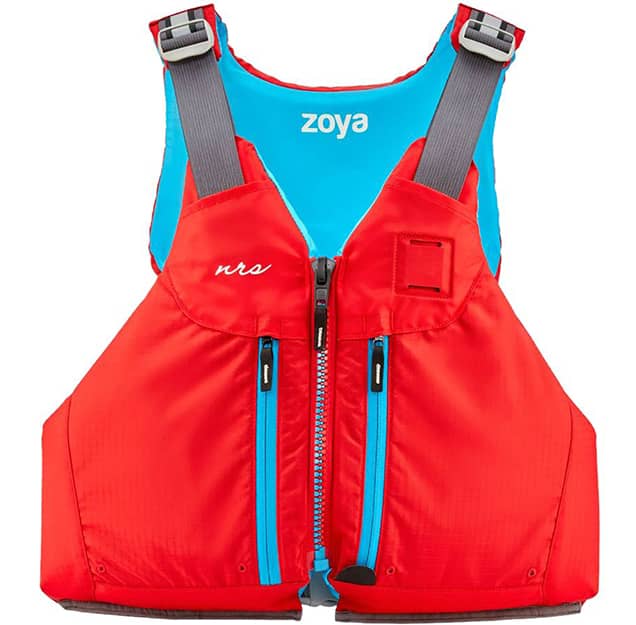 Editor's choice #2: The NRS Zoya is a fantastic choice for women, especially those with larger busts. Its pliable foam and adjustability allows you to find the perfect fit, and the mesh back and open arms enhances breathability. It may not have all the bells and whistles of the BlueJacket, but it is one of the best pfds for kayaking you can buy.
The NRS Zora is designed to fit a woman's body type, particularly curvier women. Its pliable foam chest panel means that whatever your bust size, this vest can accommodate you. On top of that, the Zoya has adjustable shoulder straps plus four more adjustment straps so you can get the perfect fit. Also, because the arm area is so wide, you can paddle unrestricted without worrying about chafing.
Great Ventilation And Mobility
The mesh back and open arms of the Zoya enhance ventilation, making this jacket a great choice in hot weather. The high back also makes it perfect for kayak seats, whilst the pliability of the foam and the low profile also allows for great mobility. The flexible foam fits snugly around your body without feeling restrictive. Plus, the front zipper makes it super easy to take on and off.
The quality and performance of this PFD rivals that of products twice the price. It doesn't have all the pockets and features of more expensive jackets, but its two front pockets and lash tab accommodate all the essentials. The front pockets are designed to be spacious but spread out so as to avoid a concentration of bulk. This is a top-notch tried and tested PFD.
3. NRS Zen Type V Personal Flotation Device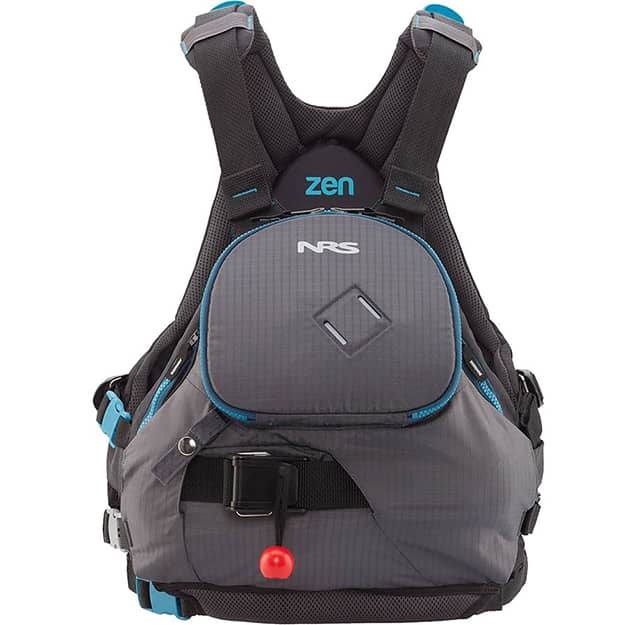 The best thing about the NRS Zen is the mobility it allows. Kayakers will love the low profile design that keeps your arms unrestricted. The latest version is sleeker than previous models, and the tapered torso makes it great for shorter-torsoed kayakers. There are several sizes and the 6 adjustment points make this a good fit for most body shapes. One small drawback is that the straps can dangle if they are pulled tight.
Storage is another area that the newest version of the NRS Zen has improved. Its front pocket is big enough to hold several items, and it can double as a can holder. The hand warming pockets are another fantastic feature, generously sized and effective. The large front pocket may feel bulky for some, but it shouldn't be a problem while paddling a kayak.
This is a type V PFD, designed for whitewater kayaking, though it can be used for sea kayaking too. Its padded arm holes and sides also offer impact protection. Some of its safety features include a carabiner tow clip and a strobe attachment. There is no reflective strip, but this is easy to add.
4. NRS Ion Personal Flotation Device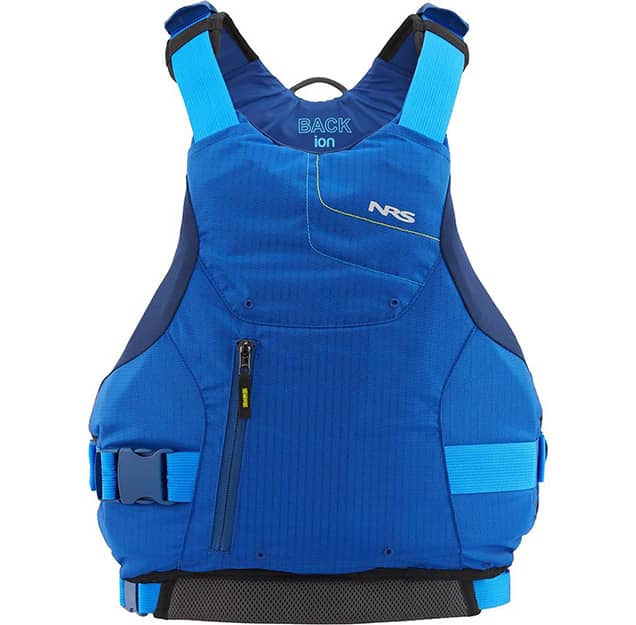 The range of motion allowed by the NRS Ion is impressive, particularly in this price range. You can move around a boat, paddle easily and get back on a SUP board with no issues in this vest. It is lightweight and fits securely. That said, it tends to fit men better than women.
The NRS Ion is a type III PFD rated for calm, inland waters. It is not recommended to use this to kayak in the open ocean. That said, though it is designed for kayaking, it can work just as easily for sailing and SUP boarding as it is comfortable sitting down and standing up. One useful safety feature is the reflective strips that improve visibility in low light.
The NRS Ion fits snugly, and has mesh panels that enhance ventilation. Another great feature is the 'strap garages' that hold adjustment straps down so that they don't flap. This life vest does not have lots of pockets but since it is designed for inland paddling, that probably isn't necessary. It also makes for a smooth and comfortable jacket, and it has a hand warming pouch – a godsend in chilly weather.
5. NRS cVest Type III Personal Flotation Device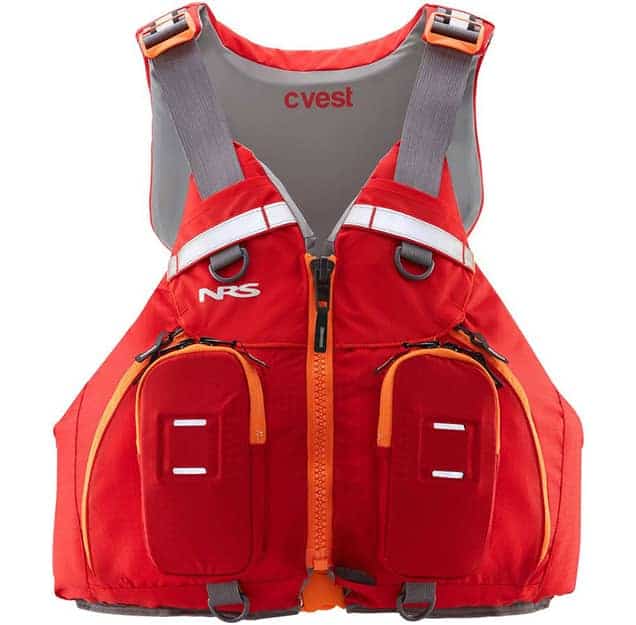 Comfortable In Hot Weather
The NRS cVest is designed for kayaks but works just as well as on a SUP. It is super comfortable and does not ride up. It is particularly good in hot weather, due to its mesh back. The half back is great for kayak cockpits, though perhaps not ideal for short kayakers.
With a whopping 6 pockets, you can bring lots of gear in the NRS cVest. The pockets are a little small however, so are not the best if you want to bring large items. There are also lots of attachment points to bring a knife or other safety gadgets. Reflective accents increase visibility in low light conditions.
The NRS cVest has a lifetime warranty, which tells you something about the durability. In addition, its comfort and breathability make it easy to wear for long periods of time. You can bring all the gear you need, plus a snack or two. Also, the zip front design means you can take it off and on quickly and easily. All of this makes the NRS cVest a great touring vest.
6. NRS Siren Personal Flotation Device - Women's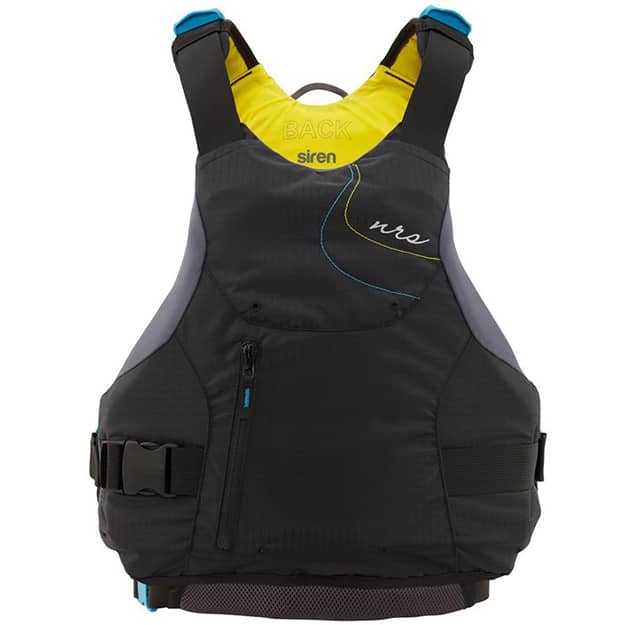 The NRS Siren is a type III PDF rated for calm, inland waters, specifically designed for women. For most women, it fits wonderfully snugly and allows great mobility. We should note though, its 3 sizes do not accommodate women on either ends of the size spectrum very well. However, its soft inner fabric is comfortable against the skin, and there are pockets to tuck away excess from the shoulder straps.
The secure fit and mobility of this PFD can be mostly attributed to its 6 separate foam segments that allow you to wrap it snugly around your torso. The large armholes also improve freedom of movement and prevent chafing. While it's designed for kayakers, you can easily wear the NRS Siren on a SUP too. It isn't the most breathable vest, so it may not be ideal for those who easily overheat.
Not only is the NRS Siren lined with ripstop nylon, this is lined in urethane, increasing durability. The seams are also hidden to prevent them wearing thin. Plus, this vest has a lifetime warranty, so you can be confident it will last you a good long while. Not bad for such an affordable product!
7. NRS Vapor Personal Flotation Device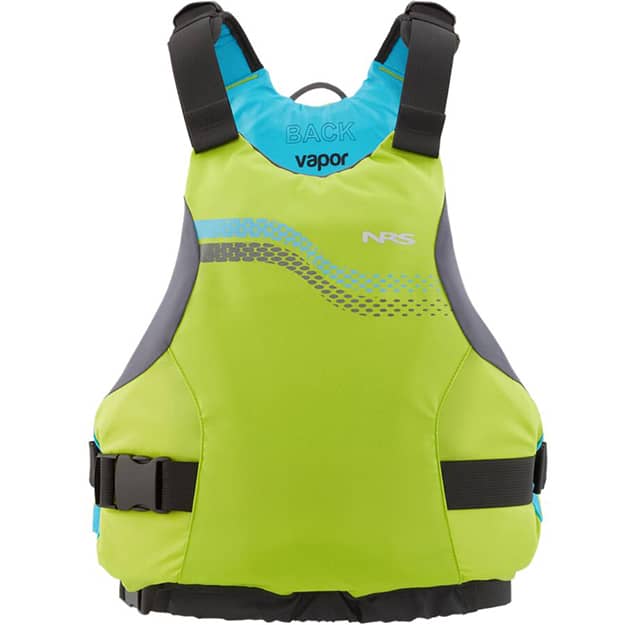 The Vapor PFD is more affordable than the other NRS jackets we have reviewed, but has the same level of comfort. The inner material is soft against the skin. The padding is spread across the vest, making it less bulky. However, it is not ideal for women with larger busts as the foam panels are not as flexible as female-specific vests.
The flexibility and secure fit of the NRS Vapor make it a highly versatile PFD. It works just as well in a kayak as on a SUP or sailing boat.  It has super wide armholes that are great for paddling. Plus, like the Siren, its 6 panel design makes for an extra-snug fit. The open sides and narrow shoulder straps mean that it fares well in hot weather. One drawback is that it lacks pockets.
While this PFD does not have all of the extra features of the other NRS vests we have listed, it is a great option for its price point. It is also highly durable, rivaling the top-end models. It has a ripstop nylon outer layer and hidden seams, as well as a lifetime manufacturer's warranty. All in all, this is a great budget life vest.
8. MTI Adventurewear Livery Sport Personal Flotation Device
The MTI Adventurewear Livery Sport PFD is a no-frills life jacket that does what it says on the tin. It doesn't have lots of bells and whistles, but it will keep you afloat. Plus, its high level of adjustability through its three front straps means it can be worn by people of various shapes. Also, its bright color improves visibility.
One great thing about the MTI Livery Sport is how light it is. If you are going trekking and doing some paddle sports along the way, you can attach this to your backpack and not feel the added weight. And while it does not have the same level of mobility as the PFDs reviewed above, due to its lightness, you won't feel weighed down or constricted.
The MTI Livery Sport has a one year warranty, but it will last you much longer if you take care of it properly. This is a decent product for people who want something affordable and aren't interested in extra features. If you are a casual paddler who prefers to kayak in calmer waters for short periods of time, this PFD will be perfectly satisfactory.
What You Need To Know About PFDs
A PFD is one of the most important kayaking, canoeing and paddle board accessories you can get. Here is everything you need to know before purchasing a PFD for kayaking.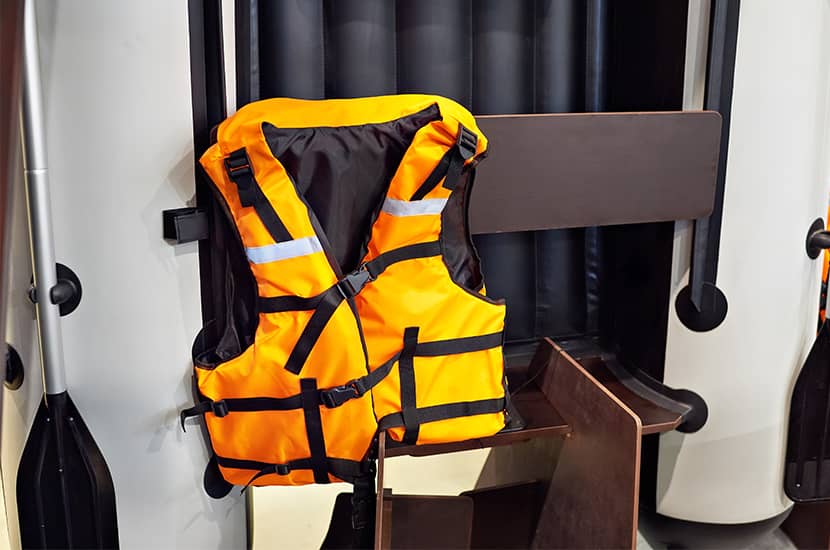 USCG Classifications Of PFD
The United States Coast Guard has specified 5 different classifications for personal flotation devices. Make sure you choose the type responsibly.
Type I
Type I PFDs are defined as "offshore life-jackets". They are the most buoyant and offer the highest degree of safety. They tend to be brightly colored to improve visibility, and can turn unconscious people face up in the water. They are recommended for open ocean kayaking, rough waters and remote paddling spots.
Type II
Type II PFDs are described as "near-shore vests". These are the standard orange life jackets you will see on most watercraft. Some can turn an unconscious wearer face up. Type II vests are recommended for calmer, inland waters where quick rescue is likely.
Type III
Type III PFDs are described as "flotation aids". They offer about the same buoyancy as type II, but they won't turn an unconscious wearer face up. These offer more comfort, freedom of movement and extra features. Most of the PFDs reviewed here are type III.
Type IV
Type 4 PFDs comprise the "throwable devices" category. These include cushions and ring buoys that can be thrown to a conscious swimmer.
These should be considered a backup buoyancy aid and are not to be used by non-swimmers or in rough waters.
Type V
Type V PFDs are "special use devices", designed for specific activities, such as kayaking, windsurfing, waterskiing or sailing. They tend to provide more buoyancy than type II and type III, but this varies. In addition, they must have a label stating the activity they are intended for to be accepted by the USCG.
Of course, safety should be the first consideration when choosing a PFD. But there are several other factors to take into account.
Comfort is an important consideration for something you are going to be active in for long periods of time. Avoid PFDs that ride up and crunch against your chin or chafe the armpits while paddling. Try out various movements while wearing the PFD before making a decision.
Type I and type II PFDs do not provide the same freedom of mobility as type III or type V. That said, whatever type you get, you need to factor in mobility to a certain extent.
You want a life vest that is snug around your body, but you also don't want it so tight that it restricts movement.
Durability is mostly a question of quality of the life jacket's quality of construction. A good PFD can last you up to 10 years if you take care of it well. The most durable PFDs have hidden seams to prevent them weakening.
Most PFDs are made up of a PVC or PE foam center with an exterior shell. PE foam is the most common, though there are some other types you will come across, such as Kapok foam, which is great because you can repair this if it gets punctured. When it comes to the outer shell, nylon is a good material as it is resistant to wear-and-tear and UV damage.
Inflatable PFDs are also an option. The idea is to only inflate them when necessary, and they offer more comfort and freedom of movement. They may inflate manually or automatically when in the water. Automatic inflation PFDs are safer but can occasionally inflate when you are hit by a wave. Manual inflation PFDs are not the safest choice because they require consciousness and favorable conditions to be inflated.
How To Choose The Right PFD
Here are a few of the questions you should ask yourself when deciding on a PFD.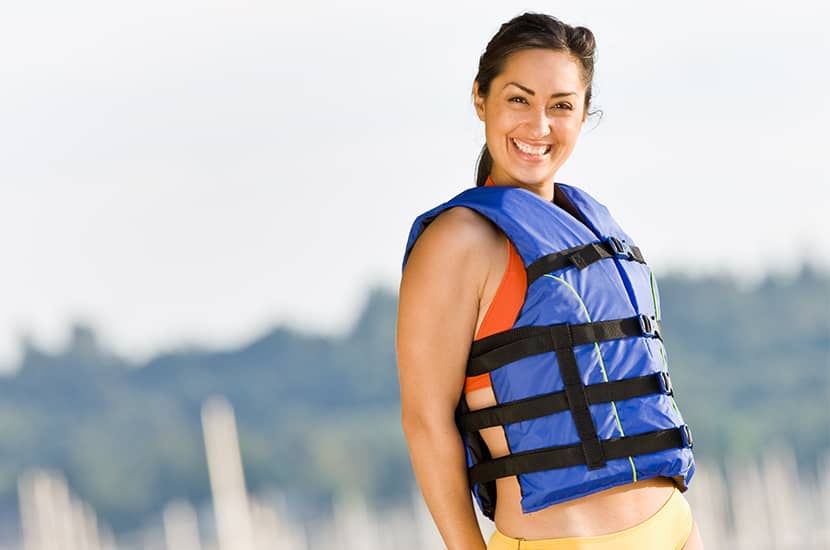 If the PFD is for a child you will want one that is designed for children, and the same goes for your furry friend. Another consideration is the wearer's swimming proficiency.
Those who cannot swim well should avoid inflatable PFDs.
This is possibly the most important factor when choosing your PFD. If you are heading out to open seas or anywhere far from shore, you need something that will keep you afloat for long periods of time and will ideally keep you facing up even if unconscious. This means you should probably choose a type I, II or V PFD. If you are paddling in a place where quick rescue is likely, a type III PFD is sufficient.
Ideally, your PFD should fit you snugly and comfortably. The ideal size for you is based on the width of your chest. Measure the circumference of your chest at its broadest point, and check this with the manufacturer's size recommendations to find the right size. A well fitting PFD should fit snugly, but not restrict movement or chafe while paddling.
The most important thing is that you should not be able to put more than 3 fingers in the gap between your shoulder and the life vest.
Does Color Choice Matter?
Color choice is not just a question of aesthetic preference. A brightly colored PFD is a much safer choice than something which will make you blend into your surroundings.
Particularly if you will be wearing it far from shore or in rough waters, choose a brightly colored PFD for maximum safety.
Flotation is a PFD's primary function. However, many include extra features for convenience or safety.
Pockets: many life vests have pockets, sometimes multiple. These are useful for storing all kinds of gear, safety equipment, and even a snack.
Tabs: tabs are a way for you to attach things like a knife, flashlight or navigation aid for easy access.
Reflective tape: this improves visibility, which is important in low-light conditions.
Fishing features: some PFDs are designed for fishing, and so include loops and tool hangers specifically for fishing equipment.
Ventilation: if you will be wearing the PFD in hot weather, look for one that has ventilation built in.
Careful maintenance of your PFD means it will last longer. Here are a few tips:
Store your PFD somewhere dry, with good ventilation and away from direct sunlight.
Check your PFD carefully before each use and make sure that:
All the straps are firmly attached
There are no rips or tears in the fabric
The USCG approval label is readable
There is no mildew or lumpy foam
     3. Replace PFDs that show signs of deterioration.
     4. Clean your PFD regularly, and after each use in seawater. Here's how:
Wash with mild-strength soap and water
Rinse thoroughly
Air dry away from direct sunlight and heat sources
Frequently Asked Questions
To conclude, of all the PFDs for kayaking we tried, the best is without a doubt the Astral BlueJacket. If you want something with all the best accessories that you can bring all your gear in and still forget you're wearing it, this is the one for you. But whatever your priorities, you can definitely find something perfect for your needs on this list, and the best PFD for kayaking for you. With so many great kayaking PFDs to choose from, you have no excuse not to stay safe on your kayak!