If you're thinking of buying a kayak, an inflatable kayak is a great choice, particularly if you want to travel with your kayak. With today's advanced technology, you can get something just as smooth in the water and durable as a hard-shell kayak. But how do you find the best one for you? We have compiled a product list of some of the best inflatable kayaks on the market. Browse through our kayak reviews, and think about what exactly you are looking for in a kayak. Whether you are an adventurous whitewater kayaker, or want to have some family fun in the sun, you can find the best inflatable kayak for you.
1. Sea Eagle 380x Explorer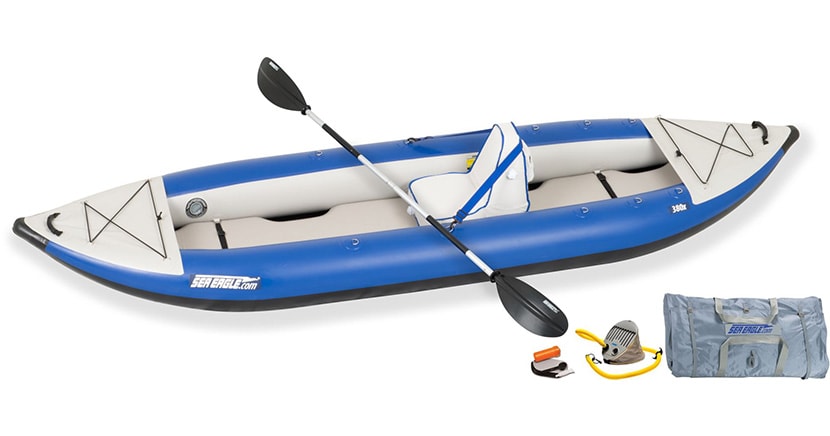 Editor's Choice #1: If you want a versatile kayak that can fit up to three people and be taken to any place, the Sea Eagle 380x Explorer is ideal. Featuring a high-pressure drop-stitch floor, this kayak is super durable and can carry up to 750 lbs. Whether you are paddling on calm waters or whitewater rapids, this kayak stands up to the test.
The 380x Explorer is made of 1100 Decitex reinforced material, and features a high-pressure drop-stitch floor that enhances durability and performance. It paddles smoothly, and tracking is improved by the large, removable skeg. The floor can also be removed for easy cleaning and drainage. This three person inflatable kayak has an impressive weight capacity of 750 lbs (340kg), so you can bring along whatever you need on your paddling trips.
The 380x Explorer may be the most comfortable of all the kayaks on this list. Its high-back bucket seats make you feel supported, as does the rigid drop-stitch floor. This tandem kayak also feels great to paddle, whether you are paddling solo, or have two or three people on board. It is easy to maneuver and wonderfully stable.
This is a great kayak for water sports and adventuring in up to Class IV whitewater rapids. It features front and rear spray skirts which prevent spray from entering the hull. However, it works just as well in calm waters and may be the best inflatable fishing kayak on this list.  In addition, the skirts create sheltered areas where you can store your fishing gear. On top of the skirts are bungee cords, and this as well as the 10 D-rings means you can easily bring camping gear along with you or attach fishing rod holders.
2. Sea Eagle 393 RazorLite™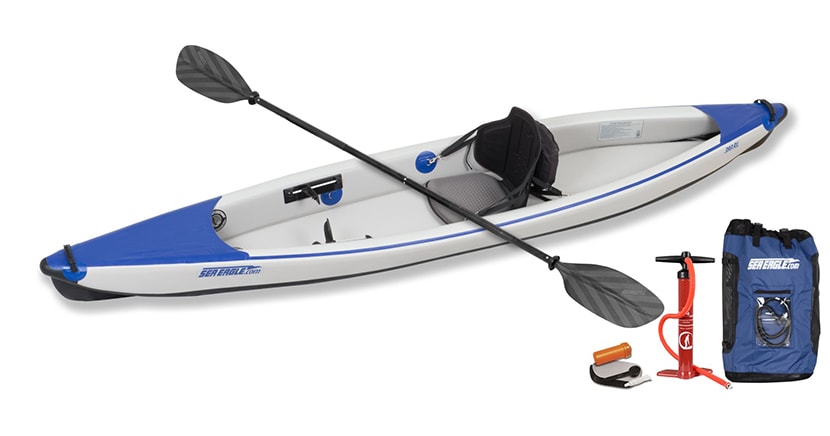 Editor's Choice #2: If you are looking for speed, the 393 Razorlite is one of the best inflatable kayaks out there. Its drop-stitch construction means it can inflate to 10 PSI, achieving remarkable rigidity. This kayak is super fast, efficient and feels great to paddle. The FlexBrace footrest allows for extra comfort and power.
Incredible Rigidity And Durability
Most inflatable kayaks inflate to about a 3 or 4 PSI, but the 393 RazorLite soars past this, achieving an incredible 10 PSI. This is because the entire kayak is made of drop-stitch PVC construction. This makes it practically as rigid as a hard-shell kayak and enhances durability. The high-pressure hand pump gets you to 10 PSI in no more than 7 minutes.
The 393 RazorLite is a dream to paddle. The rigidity helps to eliminate drag and side to side movement. Speeding through the water feels easy and efficient, though it is designed for calm water touring so should not be taken up rapids. The swept back removable fin helps with tracking, turning and stability. The adjustable FlexBrace footrest enhances comfort, and also allows your legs to take some of the strain off the upper body.
Another reason this watercraft performs so well is its advanced design. Its straight hull, together with bow and stern molds with tapered side walls, makes the 393 RazorLite optimized for speed and performance. In addition, this kayak features multiple air chambers, improving safety. Although it is a solo kayak, there is decent storage space and enough room for small dogs.
3. Sea Eagle 300x Explorer
Versatile For Solo Kayaking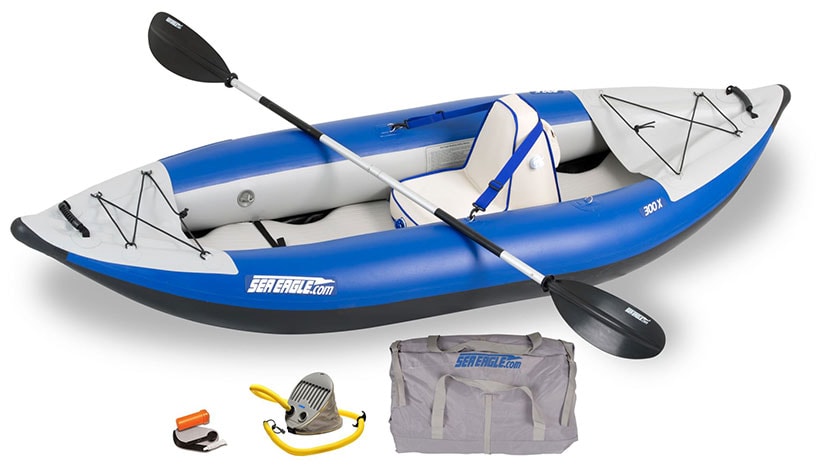 The 300x Explorer is ideal for the solo paddler who wants some versatility. Both highly durable and stable with its 1100 Decitex reinforced material, the 300x can handle rough waters. It also sports 16 self-bailing drain valves that can be opened if any water gets in the kayak. In mellow conditions, you can easily close up the valves. This kayak is highly maneuverable and performs well in any conditions.
The 300x Explorer is well-made and can hold its own against the elements. It features a drop-stitch floor and its hull is reinforced to withstand impact with rocks or other objects. This whitewater kayak is rated for Class IV rapids. Plus, with a weight capacity of 395 lbs (180kgs), any fishing gear (or dogs) you need can easily be brought along.
The 300x is one of the most portable options on this list. It folds into a compact 24 by 16 inch (60x40cm) carrying bag. You can bring it with you in the trunk of your car, on an airplane, or even on a bike. At 30 lbs (14kg), this kayak is easily transportable. On top of that, it only takes 5 minutes to inflate with a hand pump.
4. Advanced Elements AdvancedFrame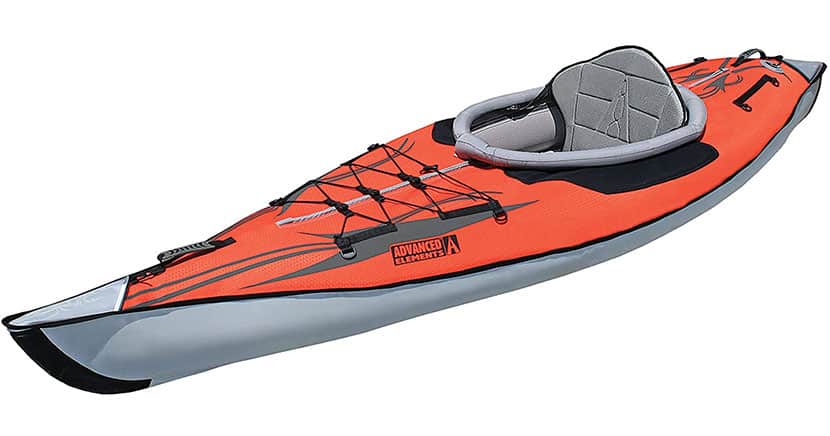 The Advanced Elements AdvancedFrame inflatable kayak has a triple-layer construction to guard against punctures and a weight capacity of 300 lbs (136kg). It is made of PVC-coated polyester material, and has aluminum ribs reinforcing the bow and stern. The aluminum ribs do add weight, but they increase speed as well as directional stability. The high-tech construction also means this is one of the most durable models on this list.
The aluminum frame does make a difference in performance, and along with the pointed bow and multiple skegs underneath, this makes for very smooth tracking. This Advanced Elements kayak is suitable for all water conditions, and it remains stable and fast even in choppy water. However, you should remove the frame when kayaking in rapids. In this Advanced Elements kayak, you sit low on the water, which is better for stability.
The Advanced Elements AdvancedFrame is a closed kayak with a narrow space for the cockpit, so it is very hard for water to get inside. In addition, the adjustable cushioned seat feels great, and the cockpit shape allows your legs to lie comfortably. This kayak has no less than 7 air chambers, making it exceptionally safe in the unlikely event of leakages.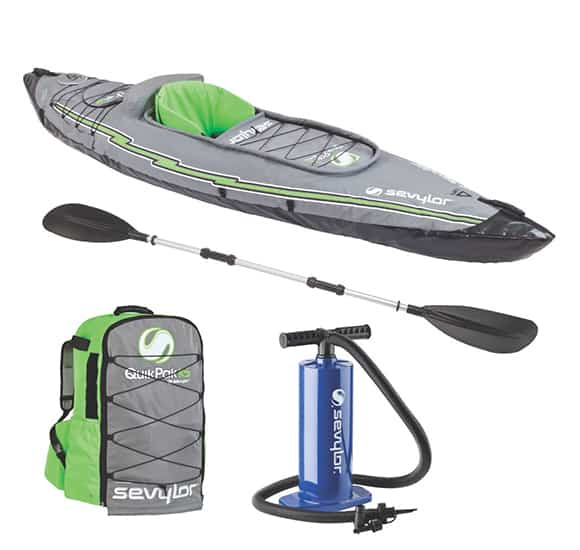 The Sevylor Quikpak K5 inflatable kayak is super lightweight at 23 lbs (10.4kg). It is a single person kayak and can hold 250 lbs of weight (113kg). Cleverly, every part of the backpack becomes part of the boat, so you don't have to leave anything behind. This makes this kayak ideal to take hiking. The Quikpak K5is also super quick to inflate, though you will need to buy the air pump separately.
While this may not be the kayak to take on whitewater rapids, it can handle some waves and minor rivers. It rides high on the water but remains stable. Part of the backpack can become a spray skirt that zips over your legs, and keeps water out of the boat when paddling in choppy water. This is necessary as there is no scupper hole to let water out if it does come in.
The Sevylor Quikpak K5 is decently durable, made from heavy duty polyester material with removable fabric cover and a laminate PVC tarpaulin bottom. The tarpaulin bottom means you don't have to worry about rocky landings and unintentionally scraping over rocks in shallow water. This boat is NMMA certified for durability, so it should last you a long time.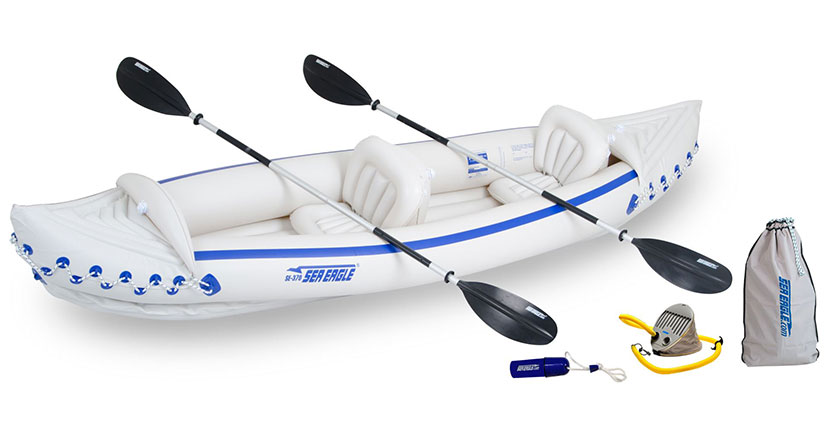 If you are looking for an affordable 3 person inflatable kayak, this product is a great choice. Although it can fit two people and carry 650 lbs (295kg) of weight, this product is only 6 lbs heavier (2.7kg) than the single person 330 described below. It also comes with a good quality carrier bag with a shoulder strap for ease of transportation.
The 370 is one of Sea Eagle's budget models, but it is surprisingly versatile. It can be used in up to Class III rapids. Two attached skegs underneath help with the tracking. The construction is also very good for the price. The K80 PVC material holds up well and the seams are strong. However, note that you should use a hand pump for this kayak as an electric air pump may cause it to inflate to a too high PSI.
This kayak comes with three removable, adjustable seats. This means you can add two or three depending on how many kayakers you have, and place them in the watercraft wherever is most comfortable for you.  Even if you only plan to have two people on board, this kayak might be a good option as it will be more spacious.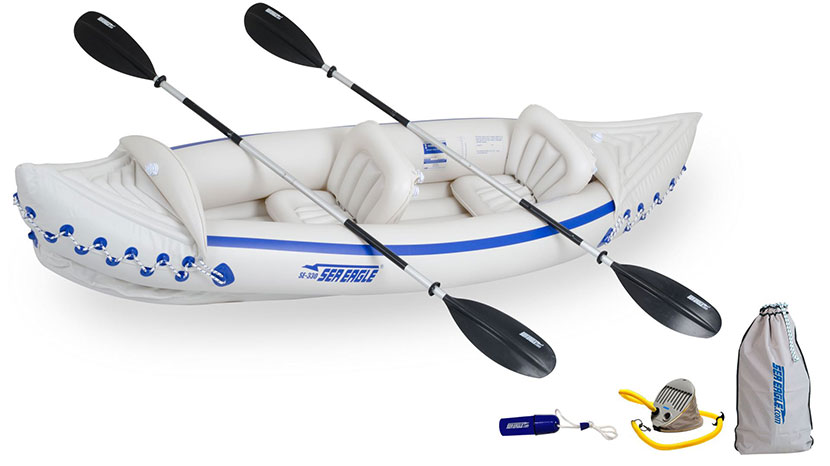 The Sea Eagle 330 is tall and great at staying afloat. It also features a scupper hole so you can get rid of any water that makes its way inside. This buoyancy can be a bit of a pain in that it catches the wind fairly easily. However, the kayak features two small skegs at the bottom to keep it moving the right way.
This kayak can hold up to 500 lbs (228kg) of weight, and features removable seats that can be placed anywhere in the kayak, so it can fit people of various heights. It's a 2 person inflatable kayak, but it works fine for a single paddler too. In addition, it is easy to set up and its instructions are easy to follow.
For a budget kayak, the 330 is pretty durable. It is constructed out of 33 mil Polykrylar material with welded seams and I-beam tubes running the length of the hull. For a kayak without an extra protective layer, this one is surprisingly durable. In addition, the removable skegs have their own protection. This isn't the most maneuverable or stable kayak in the world, but for casual paddling, this is a perfectly good inflatable tandem kayak.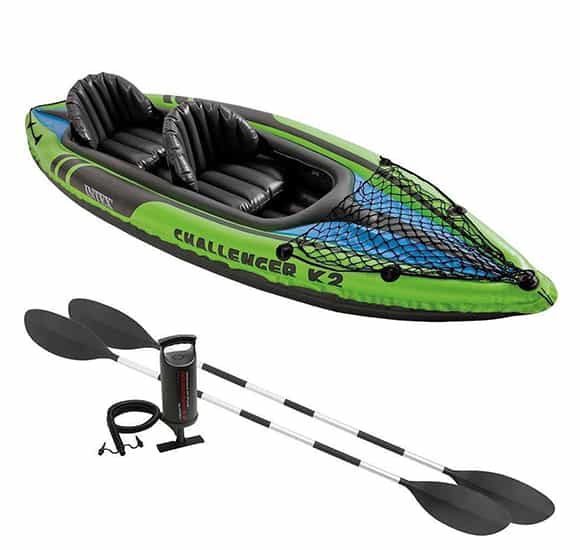 For such an affordable inflatable tandem kayak, the Intex Challenger K2 performs surprisingly well. It sits low and withstands wind well, and will not capsize if you pull yourself in after a quick dip. This is a 2 person inflatable kayak with a decent weight capacity of 400 lbs (180kg). It is made of PVC vinyl material and is not one of the most durable kayaks ever, but it is fairly puncture resistant.
Paddles And Pump Included
You are getting a great deal with the Intex Challenger K2, as this kayak includes both paddles and foot pump. When inflating, the printed measuring scale allows you to know when it has reached the correct PSI. This kayak is incredibly lightweight at 27 lbs (12.2kg) so it is easy to carry around.
The seats may not provide a great deal of support, but they are comfortable for a few hours. This kayak is better suited to relaxing on the water than long and arduous expeditions. The bow has a mesh covering where you can bring along some gear, which is nicely accessible to the person in the front seat. This is not the best performing kayak in the world, but it is perfectly good for family fun.
What To Look For When Choosing The Best Inflatable Kayak For You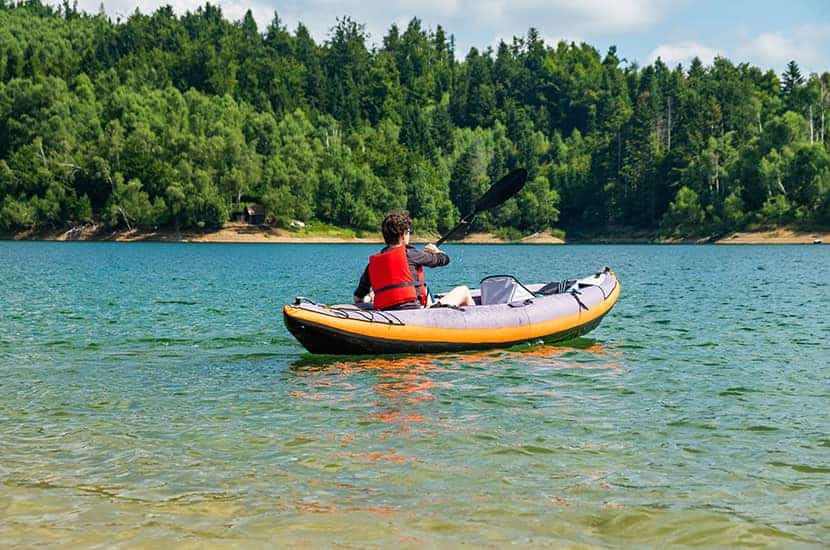 When deciding on an inflatable kayak, there are lots of factors to consider. Here's what to look for when weighing up your options.
A higher price will get you better performance and higher quality construction and stronger materials to a certain extent. Many less expensive kayaks are surprisingly good on the water, while some of the pricier ones are not as good as their price tag suggests. It's important to look at lots of kayak reviews to see if you really get what you pay for. And if you want something for more casual use, you don't necessarily need the best inflatable kayak on the market.
It's important to look out for how the kayak handles on the water, including how easy it is to turn and control. Look at how much drag the kayak has, how much resistance you feel when paddling, and how waterproof it really is. Think about the types of water you want to use it in and look up how well it can handle wind.
Especially if you are a beginner, you want a kayak that is easy to maneuver.
Durability is based on both material used and quality of construction, and is all about how the kayak holds up to various conditions. If you want to paddle up rapids every weekend, you need a whitewater kayak made from materials that can withstand the elements. But if you plan to use the kayak in calm waters a few times a year, you might not need something quite as indestructible.
Comfort is a really important variable, considering that you want to enjoy yourself while on your kayak! Make sure to get a kayak that is optimized for your size and weight. However, seat shape and cushioning has an effect as well.
Stability is also an important factor, especially for beginners. The level of stability you need depends on the conditions you plan to go kayaking in, though you want it to be able to withstand at least a little wind.
Stability is particularly crucial if you want to bring a lot of gear or extra passengers.
Benefits Of Inflatable Kayaks
Let's stop and consider – why get an inflatable kayak in the first place? These days, a good inflatable kayak can match a hard shell one in terms of performance and durability, and there are a few reasons why inflatable is the way to go.
Inflatable kayaks can be deflated, and come with a travel bag or backpack system. This means you can easily throw them in the back of the car without needing a roof rack, take them as luggage on an airplane and even attach them to the back of a motorbike or bicycle. Inflatable kayaks give you a level of freedom you cannot get with a solid kayak.
Storage is also much easier for an inflatable kayak, as they fold up relatively small in their storage bag. Even if you don't have a big garage to store a kayak, no matter – you can store your inflatable kayak in a cupboard.
Looking After Your Inflatable Kayak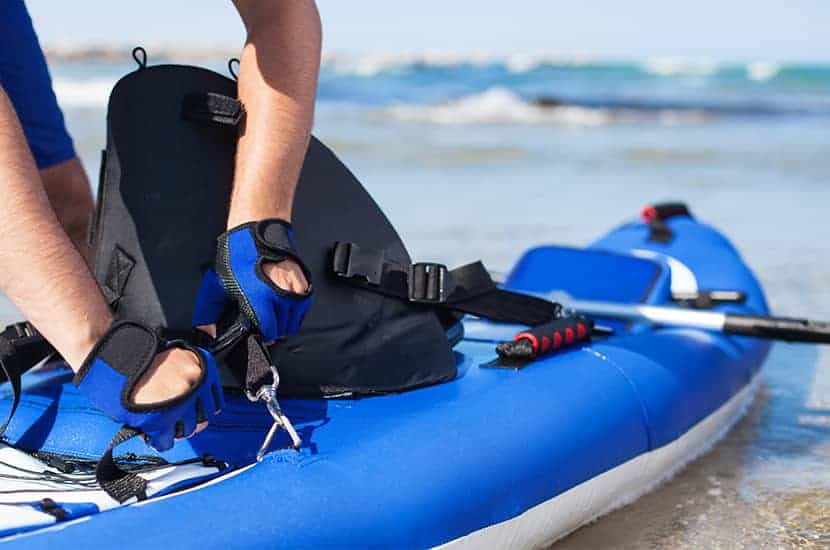 If you want your kayak to last a long time, it is crucial to care for it properly.
Even the best inflatable kayaks can spring a leak eventually. If your kayak seems to be losing pressure, it is likely that there is a leak. Here are some foolproof steps you can follow to detect it.
Inflate your kayak somewhere quiet and listen for hissing. Try to narrow it down to a general area.
Poorly fitted valves are the number one cause of leaks in kayaks. Apply soapy water around the valve and look for bubbles.
If it isn't the valve, it might be a puncture. Fill a spray bottle with soapy water and spray it where you think the leak might be. If you see bubbles foaming, you've found it!
If you can't narrow it down, spread the soapy water over the whole kayak with a towel or sponge.
If there is one puncture, there are likely to be more, so keep looking!
If the leak is from the valve, remove it, clean the area, put it back and tighten it. You might need some acetone to clean the area or the rubber seal ring. If it's a question of a leak around the area of the valve housing, seal it with glue or sealant. If you are looking at a puncture, smaller ones can be sealed with glue or sealant, while larger ones will need patching.
How To Clean Your Inflatable Kayak
Cleaning is essential for proper maintenance of your inflatable kayak. Here is how to do it effectively.
Rinse your kayak after every use. Close all the valves first so no water gets inside. Make sure you have got all the sand and dirt off. Rinsing is particularly important after kayaking in sea water.
After rinsing, dry your kayak with a towel and do not pack it away unless it is completely dry. Damp causes mildew which can degrade your kayak.
After every few uses, give your kayak a better clean with some soap and warm water.
Do not leave your kayak out in direct sunlight as this can weaken the materials.
Using Your Inflatable Kayak Safely
Inflatable kayaks are safe, but it's important to follow these tips for responsible and safe kayaking and to avoid injuries.
Make sure your kayak is inflated to full capacity before you take it out on the water.
After inflation, listen carefully for any air leaks.
Make sure to always bring the following items with you when you go on a kayak trip.

A personal flotation device (PFD) – see our PFD for kayaking reviews
Your air pump and repair kit
Drinking water
A hat and sunscreen
A safety whistle and your phone
Appropriate clothing, for example water shoes, like those in our best shoes for kayaking roundup

Load your kayak carefully so that the weight is evenly distributed.
If you see a wave coming towards you, turn towards the wave so you can ride it. Capsizing happens if a wave hits you from the side.
Always go kayaking with a buddy, and tell someone else where you are going.
Don't drag your kayak over rocks and gravel, and be careful of sharp objects. Avoid shallow rocky spots where your kayak might drag across the bottom.
Never fall asleep in a kayak.
Always make sure you have enough time to get back to shore before it starts to get dark.
Do not paddle too far from shore, and check the tidal and weather conditions before you go.
It is important to keep safe on the water and not put yourself at unnecessary risk
Frequently Asked Questions
From our review, we can say that the Sea Eagle 380x Explorer is the best inflatable kayak on the market. It fares best in terms of durability, versatility, performance and capacity. However, it's also about what you want to use your kayak for – so from this list of the best inflatable kayaks, you are sure to find the ideal one for you.