Whether you're a pro chess player or are interested in learning the rules of the game, we're here to help you find the best chess set! Regardless of the board size you prefer and the things you look for in chess sets, you're sure to find the perfect item for you on the menu below. Many of the chess sets even include free shipping! It can be difficult to know what to look for when searching through multiple products, but we've put together a menu of helpful product descriptions and even a buyer's guide to help you make your decision between the best chess sets below.
1. Classic Game Collection Metal Chess Set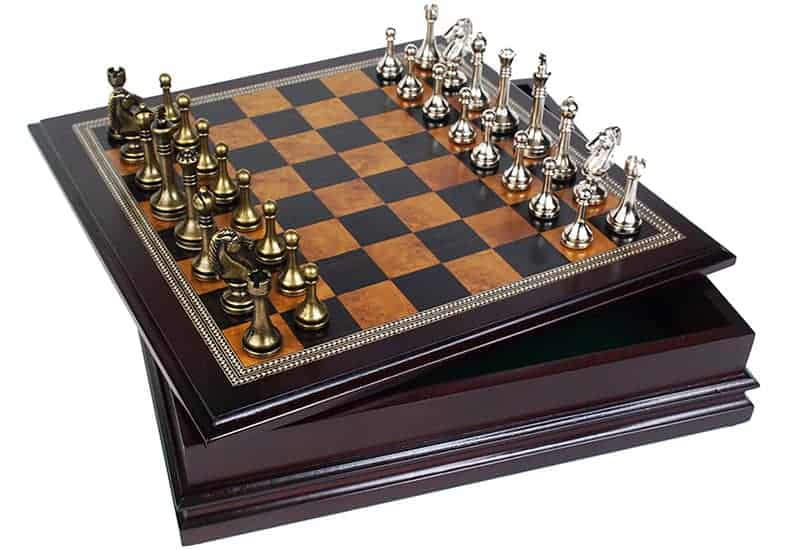 Editor's Choice #1: This elegant metal and wood chess set would look at home in a sophisticated office or anywhere else in the house! It features a board size of 12 inches by 12 inches, and the unique chess pieces are made of metal and have a sleek design. This popular chess set allows you to enjoy one of the most classic board games of all time!
The inlaid wooden board will become your new favorite for a good game of chess. With a gorgeous dark red mahogany finish and sharply contrasting black and light oak board squares, this board is truly a work of art! Exceptional craftsmanship and a quality design make this board one of the best chess sets on our menu.
This chess board isn't just a board–it's really a chess box! The lid lifts off, revealing plenty of storage space for all of the included chess pieces. Chess players are sure to appreciate the built-in storage box–the chess box still remains compact, at only 3.25 inches tall.
2. Winning Moves Games Winning Moves No Stress Chess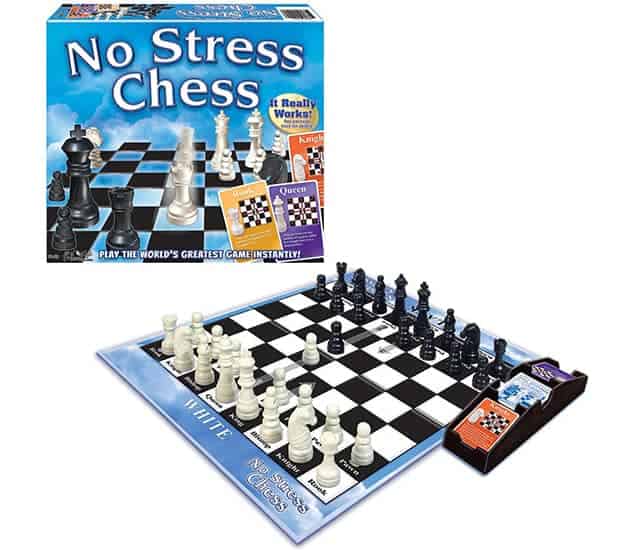 Editor's Choice #2: This set is not only budget-friendly, but it's also aimed towards children and those who don't know how to play chess. The simple setup and action card deck makes it easier than ever to begin learning about this classic game. Plus, the two-sided board allows players to choose the helpful illustrated side for "no-stress chess" or the regular side for classic chess.
What's unique about this chess set is that it comes with a 56-card action deck. Each card identifies a chess piece and explains the proper way to move it. The action deck effectively transforms chess into a game of chance; each player takes a turn drawing a card and moving the piece as illustrated. This is a great method to get the pieces down before beginning to learn about strategy.
The double-sided board features one side with helpful illustrations that show where each piece goes and assist with the first few moves of the game. The other side is a classic chess board, perfect for those who are ready to take the next step after learning about each of the pieces. This board and its pieces are wonderful for young kids and those who are just beginning to learn chess.
3. Noble Collection Harry Potter Wizard Chess Set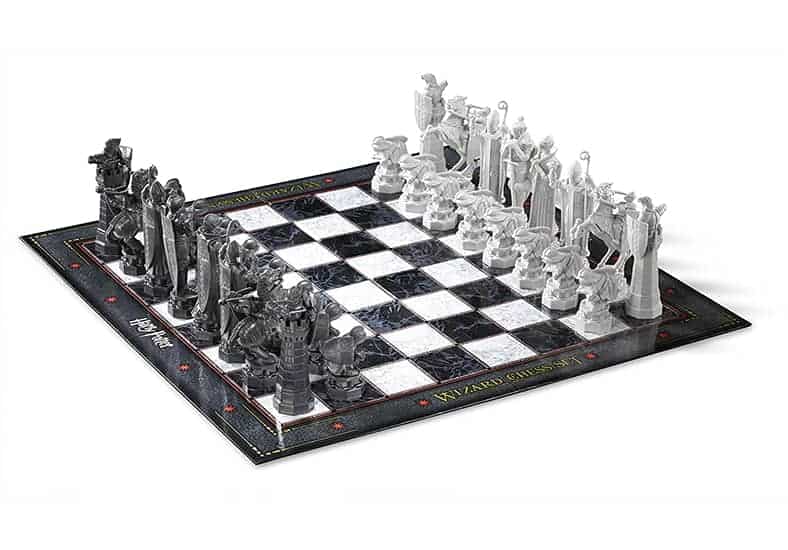 If you're a Harry Potter fan, it'll be hard to pass this one up! This chess game is modeled after the wizard's chess set featured in the first Harry Potter movie, which makes the game even more fun. It can also double as a piece of home decor since you'll definitely want to show off your cool new chess set! Plus, two drawstring storage pouches are included with this board, so you don't have to worry about losing any parts of your wizard's chess set.
If you remember the iconic scene in Harry Potter and the Sorcerer's Stone when Harry, Ron and Hermione must play a life-size version of wizard's chess in order to save the Sorcerer's Stone, then you'll love this set. It's officially authorized by Warner Brothers, and each piece is based on the wizard's chess set that's seen in the movie. Bring some magic into your life with this Harry Potter-themed game of chess!
4. Wegiel Handmade European Ambassador Chess Set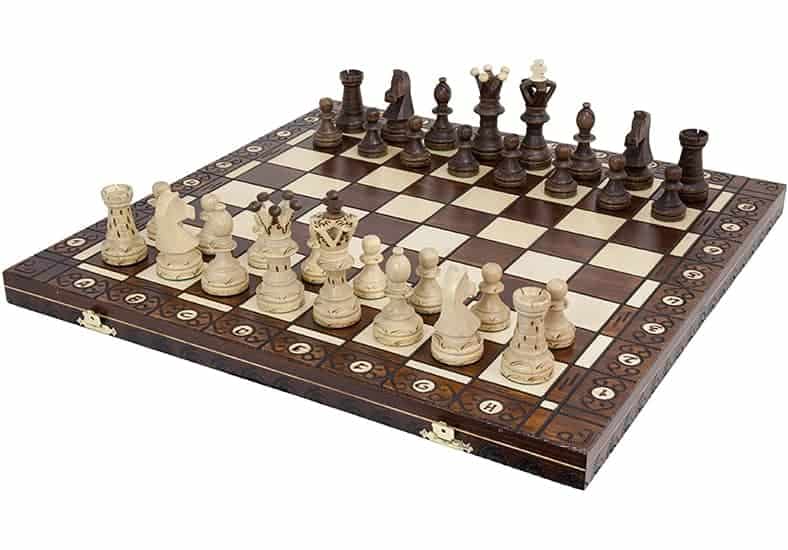 Thanks to its incredible detail, these chess sets are considered an ambassador set. Amazing quality and care was put into its construction. Plus, this chess game features convenient built-in storage with separate areas for each chessman. You're sure to fall in love with the intricacy and craftsmanship put into this game board and pieces.
This 21-inch wooden board is made from beech and birch wood for a gorgeous finish and extreme durability. The board has a classic, handmade feel and includes artistically-displayed coordinates along the sides. The handcrafted hornbeam and sycamore wood chessmen are weighted and have felt bottoms to keep them from damaging the board.
5. Chess Armory 15 Inch Wooden Chess Set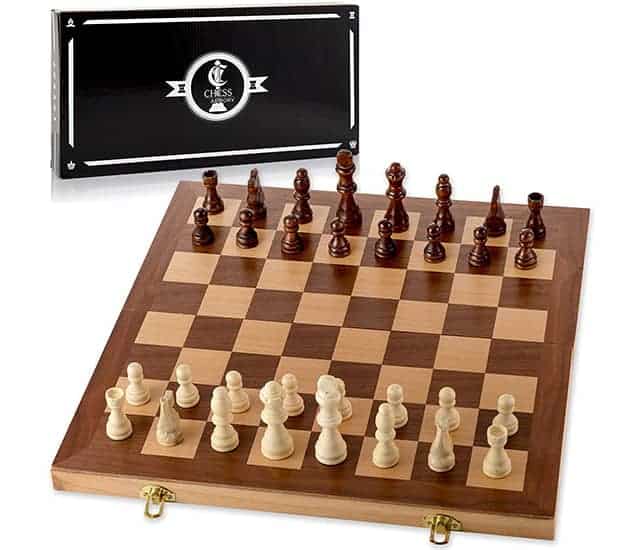 This well-made set includes a large 15-inch by 15-inch folding chess board, along with handcrafted Staunton-style chess pieces and an interior felted storage area with convenient straps to hold each piece in place. The quality wood used for this board truly makes it stand out! Get ready to play game after game with one of these chess sets.
Walnut is known for being durable and long-lasting. Plus, it has an attractive wood grain and is highly resistant to wear and tear–so you know this board will last you for years to come. The contrast of the inlaid walnut against the lighter wood on the board makes it one of the most gorgeous wooden sets on this list!
6. Cardinal Game Gallery Chess & Checkers Wood Set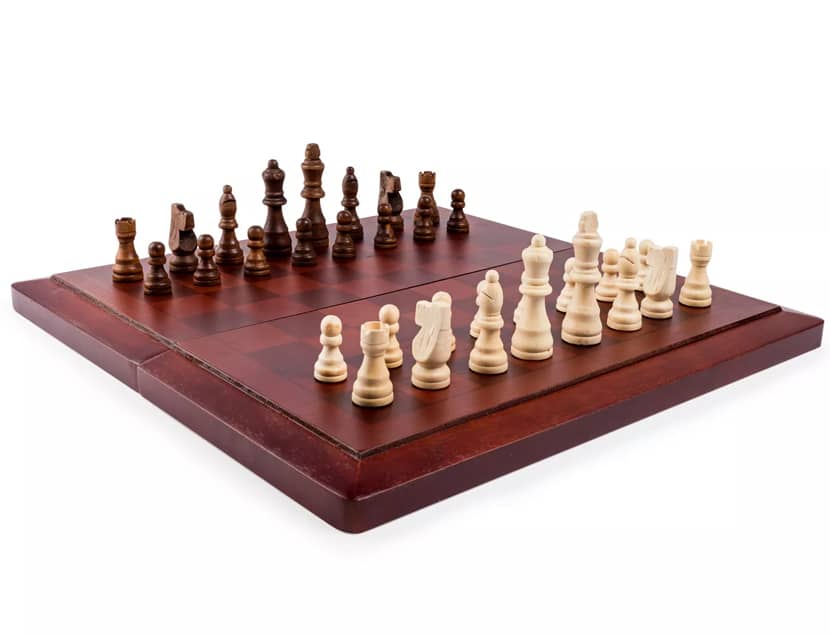 Want to get the most bang for your buck? Take a look at the Cardinal Game Gallery Chess & Checkers Wood Set. It features a quality wooden board that opens up to reveal a felted built-in storage space where you can keep all the game accessories. This simple board is a great addition to any house where people enjoy playing board games together!
Enjoy two classic games with this affordably-priced game board! All the accessories and pieces you need to play both chess and checkers are included with this set. Kids and adults alike will be able to enjoy playing chess or checkers as they please. It's truly a bargain to get both games and all their game pieces in a single set!
What To Look For When Buying A Chess Set
Price is a huge factor in any purchase, so of course it comes into play when selecting the best chess sets as well. There are plenty of budget-friendly chess sets on the market, but a tournament chess set might cost a little extra. Weighted, hand-carved pieces and extra queens are often included with more expensive boards. Meanwhile, cheaper boards typically feature lightweight plastic or metal pieces.
The most expensive chess set in the world is worth $9.8 million! This set is made of 18 carat gold and is studded with diamonds and rubies!
When it comes to chess sets, craftsmanship is extremely important. Not only do the pieces need to be easily discernible, but the board and pieces both need to be of high quality. While themed chess sets are fun novelty items, they're usually not suitable for tournament play. Often, quality craftsmanship comes with a higher price tag.
Durability is also an important component of chess sets. Cardboard chess boards simply aren't built to last and withstand hours upon hours of play. A solid wood board, on the other hand, promises much more durability. Metal pieces also tend to hold up much better than lightweight plastic ones.
Frequently Asked Questions
Now that you've learned all about the best chess sets on the market, it's time to choose the best chess set for you! Out of all of the products, our number one Editor's Choice set is the Classic Game Collection Metal Chess Set with its elegant design, in-board storage, and sleek metal pieces. Our second Editor's Choice recommendation is the Winning Moves Games Winning Moves No Stress Chess, which is perfect for children and those who are still learning the rules of the game.