Let's face it: it isn't feasible even for the most serious players to get to the rink every day. That's why a central concern for anyone serious about ice hockey is finding ways to get training off the ice. And that's where hockey rebounders come in – with one of these as a training buddy, you don't need real ice or teammates to practice your passing, shooting and stick handling skills!
In order to help you find the best hockey rebounder for you, we have trawled through the options and put together a list of the 6 best hockey passers you can buy. Whether you want a single edge, triangle or 4-way rebounder (or even a full kit), there is something for you. Soon you'll want to practice your passing drills all day!
1. HOCKEYSHOT 4-Way Elite Passer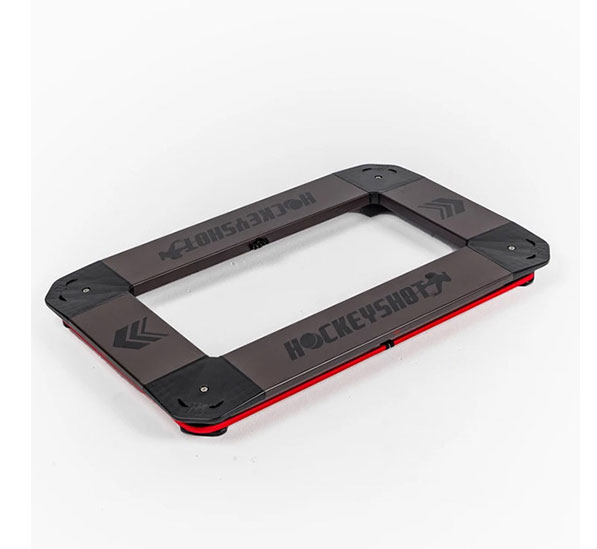 Editor's Choice #1: Whether you are practicing solo or as a team, this hockey rebounder is sure to improve your coordination, reflexes, shot power and timing. Well crafted, cleverly designed and compatible with pretty much any surface, this is a versatile passer. With a very powerful rebound, it makes a fantastic training partner for any hockey player.
The Hockeyshot 4-way Elite Passer is compatible with flooring tiles, synthetic ice, shooting pads, a flat ground surface and real ice, making it one of the most versatile hockey rebounders you can buy. No matter where you go, you can always practice your saucer passes!
Powerful Rebound & Incredibly Well Crafted
The recently improved bungee cord of this hockey puck rebounder makes for lightning fast and powerful rebounds, simulating the performance of a skilled hockey player. Of course, this rebounder has the advantage of being usable by multiple players at once – but it also works particularly well for practicing one-timers. This is simply one of the best hockey rebounders you can buy – it is cleverly designed, well made and durable. One neat feature is the levelling legs which mean that you do not lose any pucks above or below it. Fit for the NHL league, this one ticks all the boxes!
2. Rebounding Foam & Puck Stopper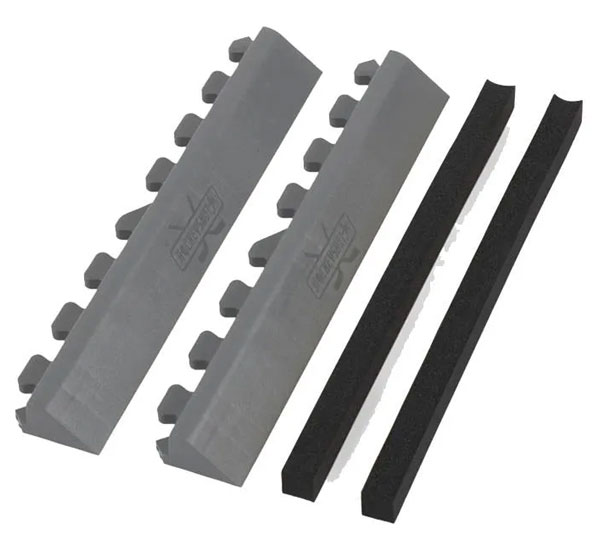 Editor's Choice #2: This rebounding foam and puck stopper proves that you don't have to pay an arm and a leg for a great passing trainer. Great value for money, it offers quick and consistent rebounds, it is durable, easy to set up, and one of the best hockey passers you can buy!
Considering its quality, this rebounding foam and puck stopper offers incredible value for money. You don't necessarily need a high-end product with lots of bells and whistles – this rebounds the puck as quickly and consistently as many much more expensive products.
A great feature of this rebounding foam is its length, which provides a large surface area for solo hockey passing training. This rebounder is impressively durable, made from high-density foam with a long-lasting adhesive strip. One drawback is that once installed, it cannot be moved as the adhesive strip can only be used once. The rebounding foam of this product adheres easily to the puck stopper edging. Then, a simple yet effective clipping system attaches the edging to your synthetic ice tiles or to any vertical surface. And unlike rubber band rebounders, this no-frills design will never let the puck get underneath!
3. HockeyShot Performance Passing Kit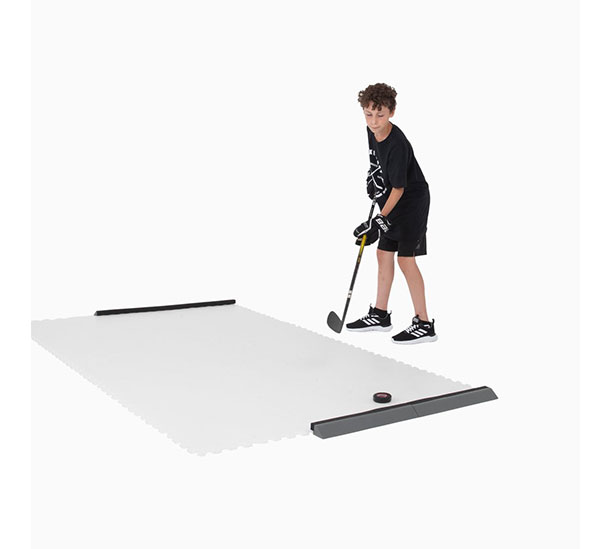 If you do not have your own synthetic ice, it may be economical to buy a full passing kit. This option from HockeyShot comes in 3 versions, each with a different number of tiles. Although you can use the rebounders on any flat surface, nothing replaces the glide of synthetic ice tiles!
Excellent Performance & Easy Set UP
Both the tiles and rebounder in this kit are excellent quality. The puck glides beautifully over the tiles, simulating the feel of real ice. The (four!) rebounders are the same as the product listed above. That means they have the same issue of only being able to be installed once, but also all the same benefits. This passing kit from HockeyShot is quick and easy to install. Plus, you can put the tiles together in whatever shape you want. Although very durable, the kit is lightweight enough for kids to set up. This set includes all you need to improve your stick handling!
4. BLUE SPORTS Pass-Aid Triangular Passer
This excellent triangular passer has extreme versatility as it can be used on almost any flat surface, including your garage or driveway. It also includes spikes for use on genuine ice which take about two minutes to attach.
Designed For Longevity & Rebounds Nicely
Made from commercial-grade rubber and steel, the Pass-Aid triangular passer from Blue Sports is very durable. It is likely to last you several years, but if for some reason the elastic band does get damaged, it is easily replaceable. Although this is not the most powerful hockey passing training aid out there, it is sturdy and rebounds nicely without any slipping. Plus, it can be used by up to three players at a time. The only downside is that the puck can sometimes get under the rubber tape, though this is rare. This is certainly one of the best hockey passers out there!
5. HockeyShot Extreme Passing Kit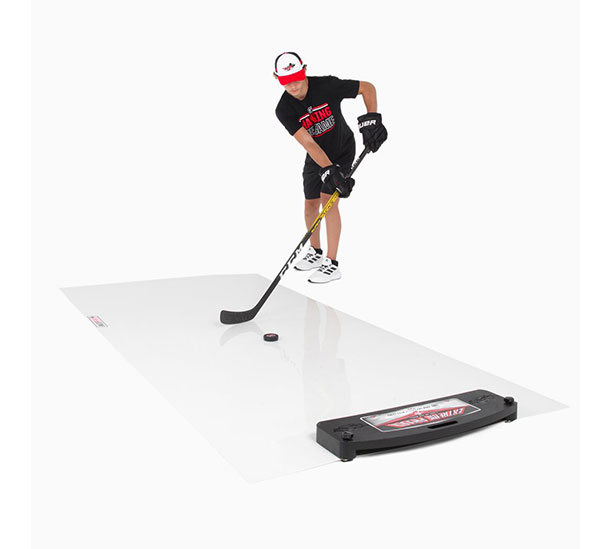 The Extreme Passing Kit from HockeyShot is another great option if you want a shooting surface and a rebounder. This version comes with a roll up shooting pad and passer of different sizes with the Junior, Extreme, Pro I and Pro II options.
Powerful Rebound & Natural Ice Feel
The Extreme hockey passer utilizes a bungee cord system to match your velocity when returning passes. That means that if you make a powerful shot, the rebound will be just as powerful! This rebounder is not as durable as some of the hockey passers on this list – but its performance is fantastic. The shooting pad in this passing kit provides a smooth glide that feels just like real ice. A few customers did find it difficult to get the shooting pad to roll out completely flat – but this is a small price to pay for the ease of setup and storage of this fantastic training tool.
6. Snipers Edge PassMaster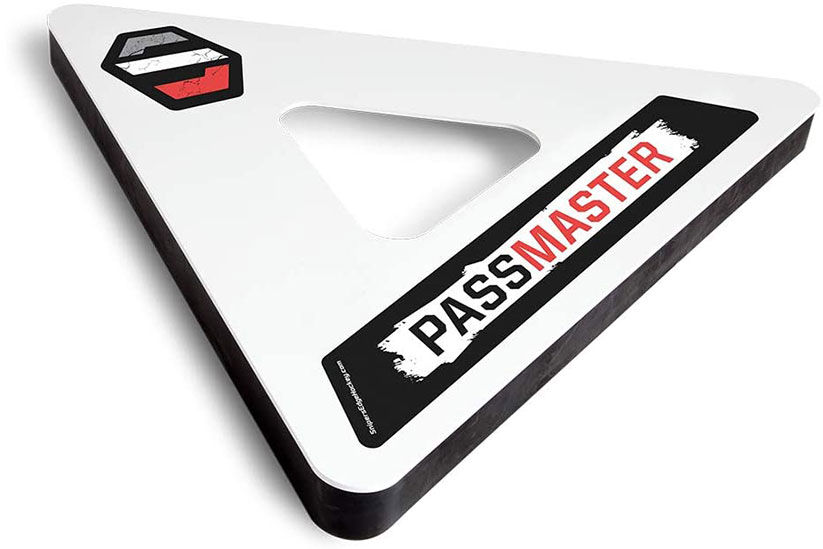 The Snipers Edge Pass Master is another one of the triangular hockey rebounders for use by multiple players. It is also one of the most versatile training aids, as it can be used on any flat surface. Oddly enough though, it does not stick well to hockey tiles – it's best for use on real ice or your driveway or basement.
Highly Durable & Very Sturdy
Made from heavy duty steel and rubber, the Pass Master is extremely durable. It can withstand heavy and frequent use by a hockey team, whether made up of beginners or elite hockey players. Customers love how heavy and sturdy this triangle passer is, meaning that it does not move no matter how hard you hit it with your puck. However, some users did find that the puck occasionally went underneath the rebounder, but this was a rare occurrence. In general, this is a great training tool!
All the information you need to choose the best hockey passing aid for yourself or loved one.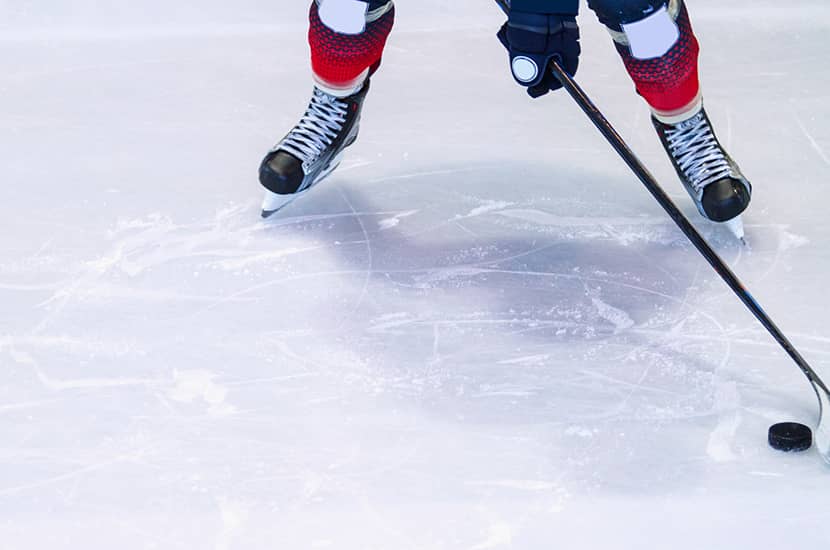 Passing Practice – Different Types Of Product
There are three main types of hockey rebounder to choose from.
The main advantage of the single edge rebounder is that it has a long rebound section. It also works best with a shooting pad. The obvious downside is that it can only be used by one player at a time.
Three Edge – Triangle Passers
Triangle passers allow 3 players to practice at the same time and can also be used for a wide variety of exercises. They also tend to be very durable.
Four Edge – 4-Way Passers
The main selling point for 4-way passers is that they can be used by up to 4 players at once. However, they are also the largest of the rebounder types, making them fairly cumbersome.
Note that passing kits usually come with a single edge rebounder.
How To Choose Your Hockey Rebounder
These are the key factors to consider when deciding which hockey rebounder to buy.
We have outlined the differences between rebounder shapes above. Now it is up to you to consider:
How many people will be practicing at once?
How important is durability vs. portability?
What surface are you going to be practicing on?
Considering that it may be hit with the puck hundreds of times in one training session, durability is an important factor in hockey rebounders. All the products on our list are durable – though whether you need something extremely heavy-duty or not depends on how often you practice.
The versatility of a rebounder refers to how many different surfaces it is compatible with. When choosing between products, check whether they can be used on real ice, or only on shooting tiles or pads.
Some rebounders can be used on flat surfaces such as concrete or asphalt too.
Of course, price is likely to be a factor when choosing a product. The good news is that there are good quality rebounders available for a wide range of prices. It's up to you to balance your priorities with your budget.
Using Your Hockey Rebounder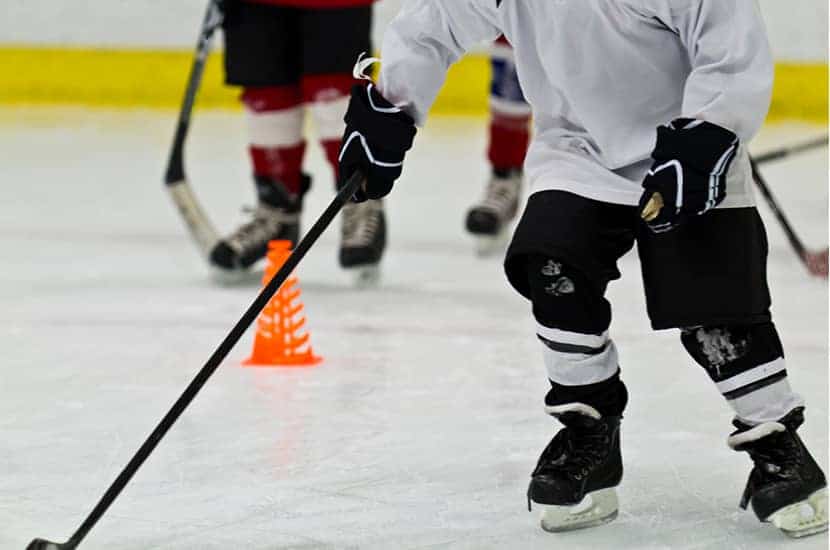 You may feel like you are limited in what you can practice at home with just a shooting pad and hockey rebounder. But actually, there are loads of exercises you can do to improve your passing accuracy and stickhandling skills.
Protect the puck: keep the puck rebounding while protecting it with your stick so that it stays close to the rebounder. The point is to practice quick reactivity to where the puck rebounds. Make sure you are properly equipped for the game by getting the best Hockey Gloves for on the ice.
Avoid a defender: send the puck from a distance and receive it while moving forward and going around the rebounder. The idea is to imitate receiving a pass while avoiding a defender.
Skate around: if you are practicing on real or skateable synthetic ice, keep skating around the passer as you perform rebound after rebound. This exercise will improve your reactivity, perception, and hand-eye coordination. If you don't have access to skateable ice, you can still perform the exercise using roller skates.
Score a goal: if you have a shooting tarp or goal cover, you can simulate receiving a pass and attempting to score. Simply position your rebounder in front of the tarp or goal, shoot into it, receive the pass and shoot a goal.
Remember to change up the position of the passer!
Frequently Asked Questions
To sum up, our pick for the best hockey rebounder is the HockeyShot 4-Way Elite Passer. This one ticks all the boxes of versatility, rebound quality, durability and craftsmanship. However, all of the rebounders on this list are great options – no matter your shape preference or budget, there is something here for you. Now there is no excuse for not practicing all year round!