Which is the best electronic dart board? We're going to show you our favorites, including the best wall-mounted boards and free-standing cabinets with electronic boards inside them. All the electronic boards below are excellent quality and you'll have no problem finding a soft-tip dartboard that will fit your home and family well. Read on to learn more about the best electronic boards and what to look for to select the right one for you — the best electronic dart board might have custom-level cabinetry or an automated heckler!
1. Hathaway Games Outlaw Free Standing Dartboard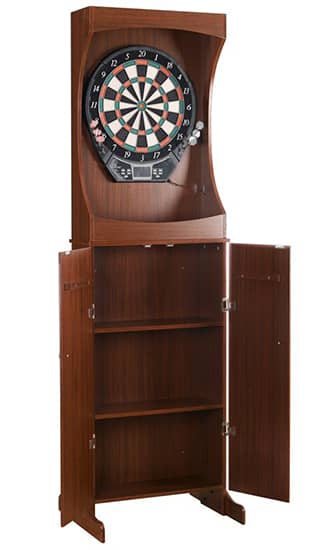 Editor's Choice #1: This is a great electronic dart board in a really great free-standing wooden cabinet with storage space for darts, accessories, and more. It's pre-programmed with a wide variety of games and a "trash-talking" feature. The cabinet can be relocated to a corner to free up space when not in use.
Free-Standing Dart Board Cabinet
This electronic soft-tip dartboard is housed in its own free-standing cabinet with storage and accessories. This means that you can move it around the room or even around the house easily. Keep it discreetly in the corner when it's not in use and then give it a place of pride when it's game time! The handsome manufactured wood cabinet has a deep cherry finish that suits both traditional and more contemporary decor schemes. It will look great in any game room! The cabinet also holds the darts and other accessories so they stay out of the way but are always right there when you're ready to play. Some assembly is required and you'll need to have a Phillips-head screwdriver handy as well as another pair of adult hands to help.
The wood-look cabinet is actually fairly compact at 81″x24″x9.5″ and it weighs 78 pounds. It's slim enough to fit in the corners of most rooms when it's not in use. It has two doors in the bottom section that open to three shelves where you can store darts, accessories and game-related (and even non-game-related) items. The extra storage space makes it a handy piece of furniture in your den or basement. The dart board itself has a 15.5″ target in the classic black, white, red and green color scheme. You get a set of six darts with red/white and black/white tails. The automatic score board includes a "trash talk" feature as well as scoring capabilities.
2. Cricketmaxx 3 Piece 1.0 Electronic Dartboard Cabinet Set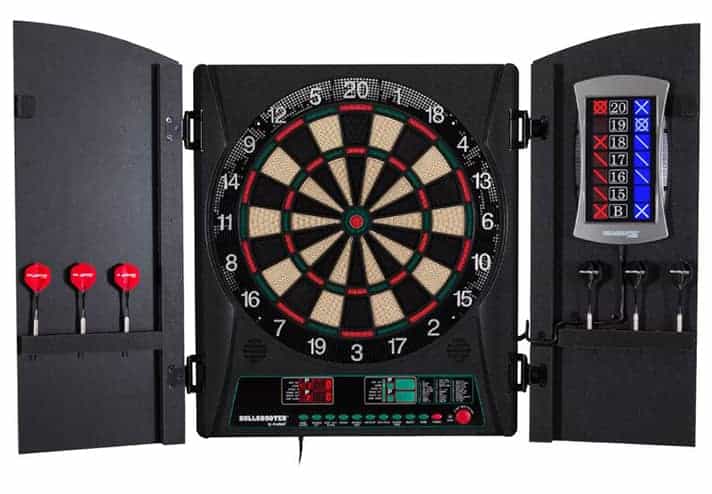 Editor's Choice #2: This electronic dart board and cabinet set is a great entry-level set if you're new to this sport, but it's also got everything that experienced players need and want. It's housed in its own light, compact composite wood cabinet with room for dart storage. The automatic scoreboard is easy to use.
If you're new to darts, or to the best electronic dart boards, here's a great place to get started. It has everything you need in a sweet little package at a very budget-friendly price. The attractive composite wood cabinet mounts on the wall and holds an electronic dartboard with automatic scoring. It's pre-programmed for 34 games and 183 level variations, and it also has a pub-style cricket display. Other games include Fox Hunt, Car Rally, Warfare, Elimination and Steeple. You can also turn on the heckler level feature, which can especially motivate you if you're practicing on your own. The display is easy to read and easy to operate with clearly marked buttons. There is room to store darts and other displays in the cabinet as well.
You get the cabinet, dartboard, score board, cricket display and two sets of soft-tip darts in red and black. The cabinet measures 28″x18″x3″ when closed and 44″ wide with the doors open. It weighs 18 pounds and mounts easily on the wall. Black plastic on the back highlights the target and protects the wall behind it. The target features the classic black, white, red and green colors, and the natural-colored manufactured wood and brass darts look great in any den, basement, game room or man cave. Any dart board — electronic or not — is a fun way to keep your skills sharp and spend time with friends and family. You'll really enjoy this one!
3. Viper 800 Electronic Dartboard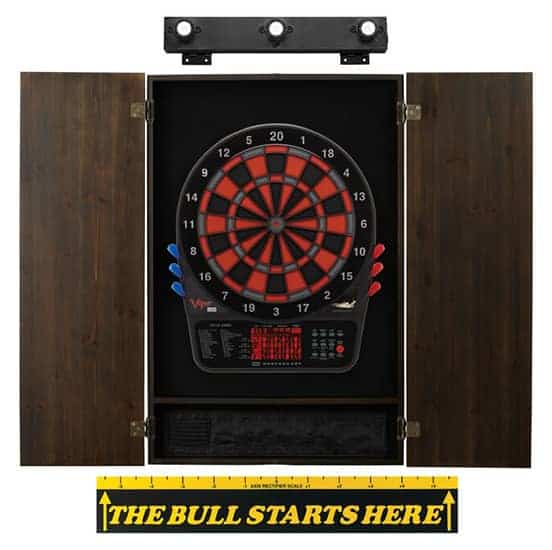 This super-classy electronic dart board comes with its own wooden cabinet doors so it can store away discreetly when you're not playing with it. Choose cinnamon, espresso or mahogany finishes to match any decor. The cabinet also holds darts, markers and other accessories so they don't clutter up the house but are still always accessible. It's lined with soft, thick fabric to protect your walls from any errant darts or other damage. Mount it once and it's always there for you even if you can't see it. This is a great way to keep your dartboard ready for play any time but also making sure that your carefully decorated home doesn't look like the neighborhood pub.
Tech is your friend here with this high-quality electronic dart board. The cabinet houses a light so that you can always see the target perfectly. It also includes a laser sight that marks your throw lines accurately and clearly every time, with no need to measure and no need to have permanent line markings on your floor or carpet. (Your cats will probably love it at least as much as you do!) You also get an easy-to-read automatic dual-LCD scoring display beneath the target board. The target face itself is regulation-sized and comes in an attractive black, red and grey color scheme. Six (three red and three blue) soft-tip darts are included and the darts weigh 14 ounces each. The closed cabinet measures 38.5″x25.25″x3.63″ and weighs 25 pounds.
4. Arachnid Cricket Pro 800 Electronic Dart Board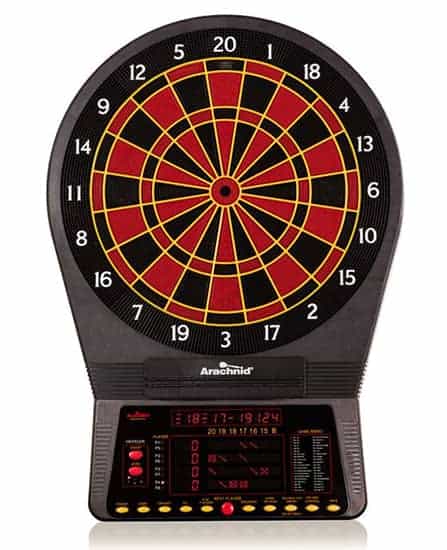 There are a lot of games that can be played with darts and dart boards, electronic or conventional, and this is certainly a great example of that. The Cricket Pro 800 is pre-programmed with nearly 40 games, ranging from classic to complex. There are even seven cricket-style games! Other popular games include Count Up, Horse, Bermuda Triangle, Bowling, Double Down, Golf and Football. The Cricket Pro can also be set for solo play so you can practice on your own — and if you need extra motivation, Level 3 includes a built-in automated heckler feature. There is also a sleep mode for energy efficiency and a one-touch reset function. You'll need to use soft-tip darts with the board.
Like most electronic dart boards, this Cricket Pro also mounts on the wall with slotted mounting holes and the included mounting hardware. It must have access to an AC outlet; there is no battery option. It measures 36″x24″x4″, weighs in at 18 pounds, and has a regulation-size 15.5″ target area with a selectable bullseye. There is also a bounce-out feature to reduce the number of bounce-outs, which are no fun for anyone. The automatic scoring is displayed beneath the target and keeps score with Xs and Os. Traditionalists will like that the board comes in the classic tournament colors. This is a great electronic dart board whether you're looking for a good time with your family and friends, or you're needing to get some practice before your next competition.
5. Viper 797 Electronic Dartboard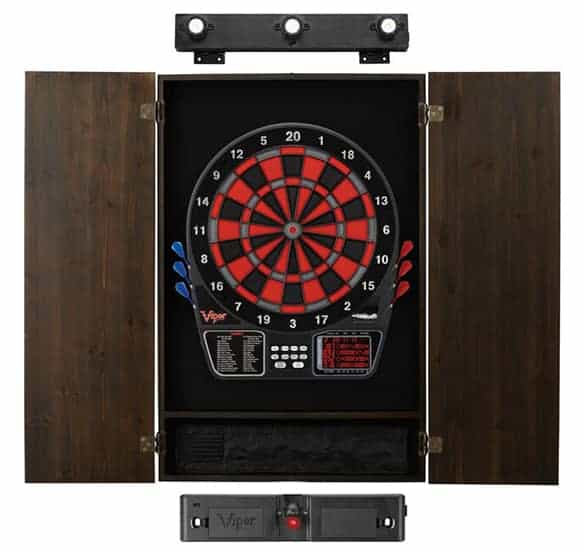 This is another example of electronic dart boards that are housed in their own semi-custom cabinets. Choose cinnamon, espresso or mahogany finish on these solid wood cabinets that are constructed with furniture-quality details such as brushed nickel hinges and box joints for a look and feel that elevates your game room. The dartboard target is made from polypropylene with soft pockets that help your dart stick and reduce the dreaded bounce-outs. It is regulation size at 15.5″ in diameter and features an attractive black, grey and red color theme. The cabinet is lined with soft, thick black fabric that protects your walls from mis-thrown darts; the black fabric also shows off the target nicely. You also get a Shadow Buster light to mount above the dart board and an easily adjustable laser pointer line marker to cast throw lines on your floor or carpet with no need for chalk or adhesive.
Like all the best electronic dart boards, the Viper 797 offers a full menu of games including Killer, Shanghai, Double Down, Nine Dart Century, All Fivers, American Cricket and Scram Cricket. There are 43 games in total. The automatic scoreboard is easy to read and easy to operate. It will keep score from 1 to 8 players, so you can play with a group or practice on your own to beat your high score. The cabinet weighs 25 pounds and measures 38.5″x25.25″x3.63″ closed. When the doors are open, they measure 38.5″ wide. It must be mounted on the wall but it can usually be done by one moderately handy adult. You get six darts along with the cabinet, target, light and line marker.
6. Arachnid Free Standing 650 Electronic Dartboard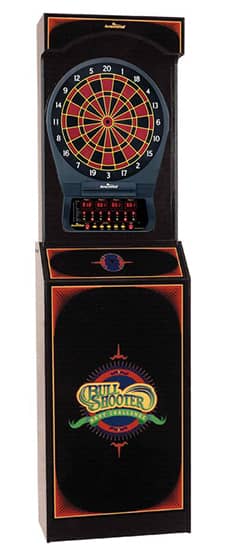 Vintage Arcade Look And Feel
This stylish soft-tip dartboard and its freestanding cabinet look as if they came straight out of a 1980s arcade. The black lacquer finish and neon-colored graphic design will liven up any den, basement or man cave. The cabinet holds an Arachnid Cricket 650 electronic dartboard and the door leads to a storage compartment with a fold-down leaf and shelves to hold darts, supplies and any other items you please! The cabinet can also reside in the corner of the room when it's not in use, and it's slim and narrow enough that it won't take up too much space. The electronic scoreboard has 132 options including 301, 501, 901, Gotcha, Quick Cricket, Cut Throat Cricket, Shanghai, Double Down, Ace, Bermuda Triangle and Shoot Out.
The freestanding cabinet measures 84″x23.5″x12.5″ and weighs 50 pounds, so one average-size adult can move and position it easily. It needs to be plugged in for the electronic dart board to work properly. The cabinet is constructed from manufactured wood with a dark finish, and the dart board surface is plastic with small pockets to hold the darts securely and reduce bounce-outs. The target is 15.5″ in diameter with an attractive black, red and yellow color scheme. It comes with three red and three black darts. The electronic board for scoring displays beneath the target and is easy to read. It keeps score for eight players at a time and also offers a solo play feature.
7. Laser Throw Line Viper Electronic Dartboard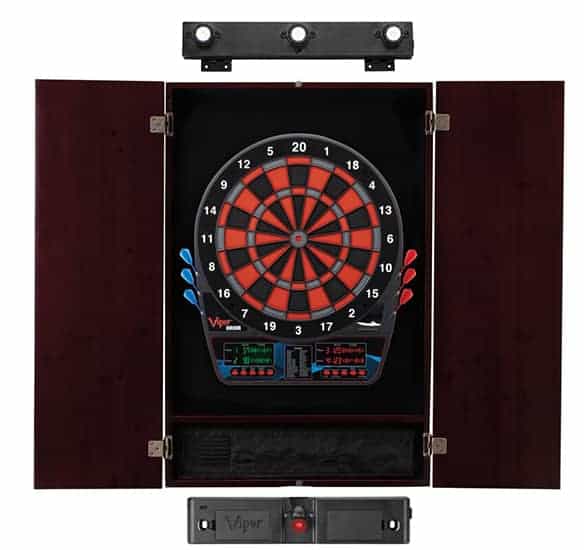 You'll love the look of these electronic dart boards that come in their own solid pine cabinets, with your choice of espresso or mahogany stain finishes. The Metropolitan cabinets are made with box joints and self-closing brushed nickel hinges, just like in fine furniture. Each cabinet is lined with thick black cloth to protect the wall or whatever furniture is behind it. There is also a padded caddy beneath the target board area to store darts, supplies, accessories and more. Also included in the cabinet setup is a Shadow Buster light that illuminates the dart board area and flips up discreetly when it's not in use. The Shadow Buster light operates on AA batteries. You also get a laser pointer throw line marker that shines a bright, focused light to mark your foul lines and can be easily adjusted for different players and games.
The Metropolitan cabinet mounts on the wall and measures 49.5″ x 25.25″ x 3.63″ when closed and 38.5″ wide when the doors are opened. It weighs 20 pounds. You also get six 9.1-ounce soft-tipped darts. The automatic score board can accommodate up to 8 players. It offers 43 pre-programmed games and over 300 scoring options so there will definitely be something for everyone with this versatile dartboard and scorekeeper. Some assembly is required but it can usually be put together and hung by one adult.
8. Fat Cat Mercury Electronic Dartboard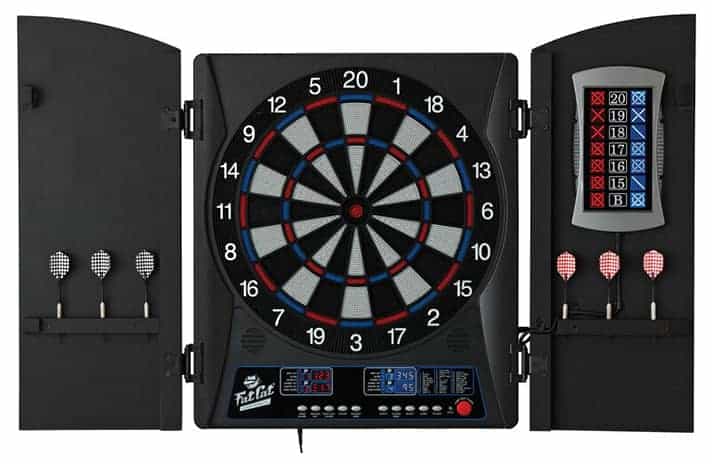 Enjoy your game of darts and then close the doors behind you. This electronic dart board lives happily in its own wood-look cabinet, which also houses darts, an automatic scoreboard, a cricket scoreboard and other accessories. It features 34 individual games such as cricket games and 301, and it has over 179 variations and scoring options to suit your every mood. And the play on this board is excellent — it has an ultra-thin spider to help prevent the dreaded bounce-outs as well as precision-engineered concave segment holes that lock in your shots. You'll appreciate the back lighting in the cabinet so that you can make sure to line up every shot just right. There's also a good-sized catch ring to protect your walls from any errant shots.
The wall-mounted cabinet measures 24″x18.5″x2.6″ and weighs just under 11 pounds, which makes it easy to mount on the wall in your game room or anywhere else you want to play. It's finished with a neutral wood grain to match any home decor. The target area is made of polypropylene with a 13.5″ diameter and a red, white, black and blue color scheme. The board comes with six soft-tip, 14-ounce darts with red/white and black/white "tails." The scoreboard is easy to read and easy to operate with 11 function keys (On/Off, Game, Option, Player, Next, Handicap, Miss/Double, Bounce, Quick Cricket, Language and Volume). It keeps track of up to eight players at a time. The sleep and auto-off features save electricity. There is also a cricket scoreboard mounted in the cabinet.
Features To Consider When Choosing The Right Electronic Dart Board For You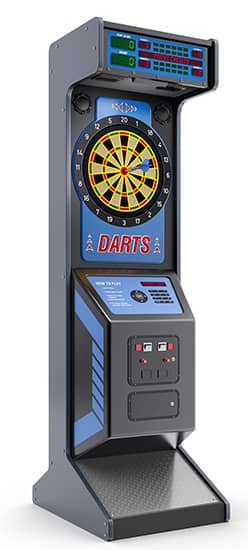 There are some really excellent electronic dart boards for you — so many that it can be hard to choose! We'll hit some of the high points here so you can pick from among the best electronic dart boards.
Wall-Mounted Or Free-Standing: Most electronic dartboards mount on the wall, but some also come in their own free-standing cabinets. Free-standing cabinets need a place to stand when they're not in use; many of them are fairly slim so they can usually fit in a corner, but they are not small. Even the best wall-mounted cabinets take a bit of time and effort to install, and the heavier ones may need to be mounted on a stud, but once they're up, they stay up and you don't have to fuss with them. Both wall-mounted and free-standing cabinets often have shelves for darts, accessories and more. Read about mounting a dartboard next.
Cabinet Size: Smaller cabinets are more compact and less expensive, which is naturally appealing, but a larger cabinet — especially one with a thick fabric backing to serve as a catch ring — is more likely to catch all errant darts. This keeps them from hitting your walls and/or furniture. If you have the space for a larger cabinet, it's generally a very worthwhile investment.
There are 3944 different ways to finish with nine darts in a game of 501.
Target Size: A regulation-size dart board is 15.5″ in diameter. Serious players, or players who think that they might want to play seriously someday, would do well to invest in the best regulation-sized target face so that they can practice in their homes. There are certain advantages to smaller targets, though, namely that they take up less space and are often cheaper.
Target Material: The best targets reduce bounce-outs by making sure that they are welcoming to soft-tip darts. They usually do this through the use of densely packed micro-thin segment "pockets" that hold the tip of the dart in place instead of letting it bounce off the target face. Make sure that any target board you choose is made up of multiple ultra-thin segments to best lessen the number of bounce-outs.
Score Board: Scoreboards are the brains behind electronic dartboards and therefore worthy of consideration! You'll definitely want the best score board that has a large enough and bright enough display that you can read it from the throw line.
You may also want one that can play your favorite dart games and teach you some new ones. The best electronic dartboards are pre-programmed with a wide variety of classic and innovative games as well as scoring formats. Also look for how many players it can accommodate at any given time, and if it has a solo option. The best scoreboards have memories so you can easily track your high scores, too.
Darts was officially ruled a game of skill (and therefore not gambling) in The Crown v Pub Landlord in Leeds (1908).
Voice: Some of our  favorite electronic dartboards have built-in voices that heckle or trash-talk players. This can be the best fun when you're playing on your own or with your friends, and it can actually be a helpful (albeit amusing) feature when you're practicing by yourself — if you get used to drowning out background noise and concentrating on the bullseye, you'll be less distracted and more focused in competitive play! Other sound effects can be encouraging and fun as well.
Other Features: We especially like electronic dartboard cabinets that have extra storage space for darts, rulebooks and other supplies and accessories. The best of both wall-mounted and free-standing cabinets have this option and if you can take advantage of it, you should! You'll have everything you need right where you need it, which means that you don't have to waste time and energy setting up and putting away every time.
We are also very fond of laser pointer line markers. These ensure that your throw lines are accurately and clearly marked every time without the need for yardsticks or tape measures, and without the need to run tape or chalk all over your floors and carpets. The best laser pointer line markers can be adjusted easily and we highly recommend them!
Electronic Vs. Bristle Dart Boards
The best modern high-tech toys versus the classics is definitely a question for the ages! The best bristle dartboards available parallel those used in pubs for centuries and in tournaments even today, so for an authentic experience, bristle is the way to go. And for the most part, bristle dart boards are considerably more economical than their electronic board counterparts made with micro-thin segment pockets.
But there's no question that the best electronic dartboards are easier for new players since an electronic board will guide you through game setup and scoring. They're also friendlier for home use because they use soft-tip darts instead of steel-tip darts, which is a safer choice around kids, pets, walls and furniture even with a catch ring.
How To Maintain An Electronic Dart Board
The best electronic dart boards are often considered easier to maintain than bristle dart boards. You don't have to worry about rotating an electronic board, for instance, and they are not damaged by light or by sharp steel darts. However, you still need to keep the board away from water and other liquids (beer is a liquid!), and make sure that your hands are clean when you handle the dart board and the darts.
Remove the darts carefully — preferably with a slight twist to loosen them — so that you don't damage the target, and never play with dull, dirty or damaged darts. If you need to replace your old darts, check out our darts reviews to find the best set. Also, if your board manufacturer offers any software updates, take advantage of them! New games and new sound effects are always the best fun.
Frequently Asked Questions
We think that the best electronic dart board is either the Hathaway Games Outlaw Free Standing Dartboard or the Cricketmaxx 3 Piece 1.0 Electronic Dartboard Cabinet Set (best value!), but we've outlined many of our favorite high-quality boards. Features include laser light markers, sound effects and voices, and custom cabinetry. Pick the one that feels best to you today and have fun with your best electronic dart board!