Whenever you're shopping for new products, it's a good idea to compare them so that you can see which model is of the highest quality. That's why we put together this guide to the best shuffleboard tables, analyzing each of the models and their shuffleboard table reviews so that you don't have to.
Each of the shuffleboard tables comes with a long list of features and important characteristics that provide for a great game. Make sure to take a look at our helpful Buyer's Guide so that you know exactly what you need to consider while making your decision! By the time you finish reading this article, you'll know exactly which model is the best shuffleboard table for you.
1. Playcraft Telluride Shuffleboard Table-Best Overall Shuffleboard Table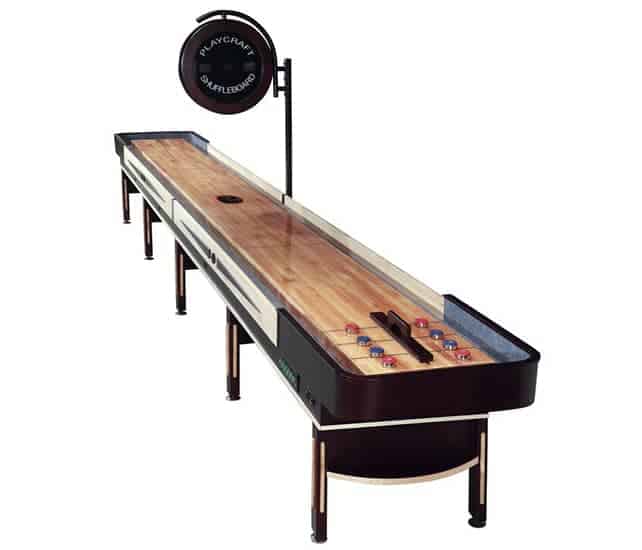 Editor's Choice #1: Available in Espresso and Honey finishes, this gorgeous table is sure to impress anyone who comes across it! The impressive design features an overhead electronic scorer with a plexiglass face to keep track of the action. You'll also love the built-to-last high-quality construction on this Playcraft Telluride Pro table. These shuffleboard tables make the perfect addition to any game room or rec room!
The hardwood butcher block surface is an impressive three inches thick, promising durability and longevity even after years of gameplay. This Canada Maple wood playfield is edge-glued and kiln-dried for optimal strength. This model also features a quarter-inch of poured polymer coating over the surface of the playfield to truly lock in the long-lasting quality.
Considering that this shuffleboard table comes with plenty of accessories, it's only fitting that it also features a convenient storage shelf built into the legs. That way, you can keep the included cushions, pucks, wax, leg levelers and shuffleboard brush handy for whenever you need them. You'll never have to worry about the problem of misplacing your shuffleboard accessories again!
Climatic adjusters are one of the hallmarks of professional-level shuffleboard tables. Since shifts in humidity and temperature can cause your table to become concave or convex, climatic adjusters allow you to level the table and maintain the correct curvature. This way, the pucks will glide evenly across the table instead of falling into the gutter or sliding into the dip in the middle of the table. This model uses a straightforward, easy-to-learn bolt and screw system for its climatic adjusters.
2. Hathaway Games Excalibur 9ft Shuffleboard Table-Best Budget-Friendly Shuffleboard Table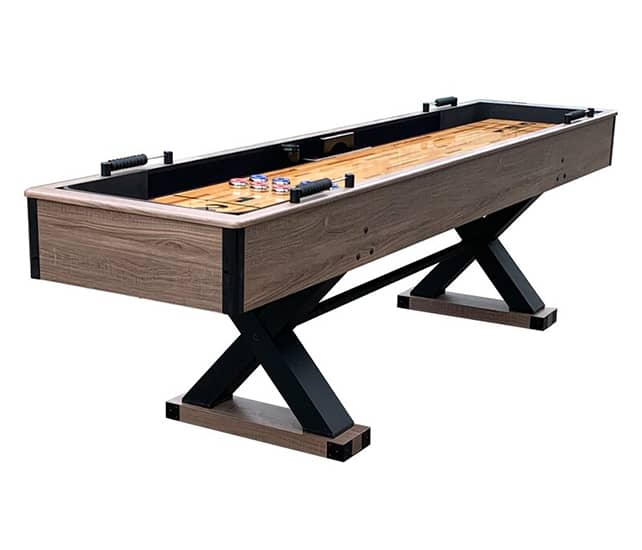 Editor's Choice #2: If you're in search of a more moderately-priced table that doesn't skimp on features, make sure to check out the Excalibur from Hathaway Games. This table includes pucks and wax, and it also has included assembly and delivery–not to mention the six-month limited warranty! Plus, the table's strength and gorgeous rustic design are a great addition to any room. 
This gorgeous table is sure to mesh well with many different styles of game rooms. It features an upscale farmhouse design with reclaimed rustic driftwood. A melamine finish showcases the natural imperfections of the wood while also providing the table with increased protection from damage. In addition, the table has sleek black padded gutters for reduced noise and slide style scorers to keep track of the game.
This may be a lower-priced option, but it doesn't compromise when it comes to stability! This model from Hathaway Games features a leg support system with an innovative X pattern that makes this table rock solid. Hidden leg levelers allow you to adjust the table's height as needed. And the rustic bronze support bar not only adds to the table's rustic appearance, but also provides a sense of rugged strength and stability.
Delivery And Assembly Included
As if these shuffleboard tables' great features weren't enough to convince you that it's one of the best, it also comes with delivery and assembly included. Without any need for you to construct the table yourself, you'll avoid any potential stress and confusion and can go straight to playing the game! The convenience of included assembly and delivery truly makes a difference.
3. Playcraft Georgetown Shuffleboard Table-Best Small Shuffleboard Table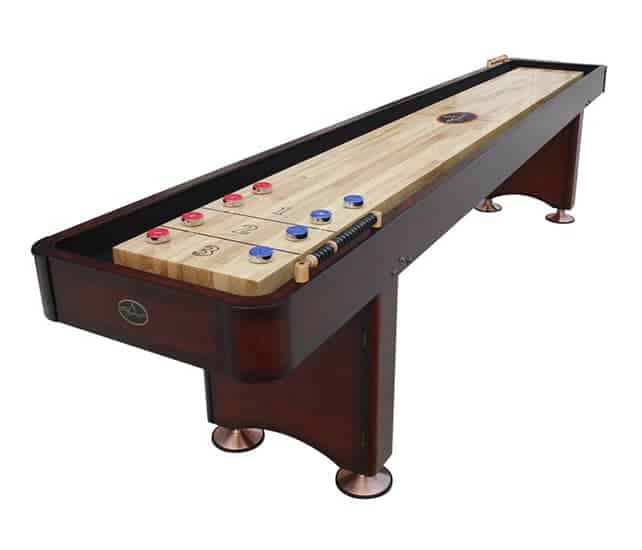 Ready to make an investment on one of the best shuffleboard tables on the market? This high-quality table from Playcraft is a great product with plenty of options to fit your space and style. Whether you choose a dark cherry finish or go with honey instead, this model is ideal if you want to play shuffleboard on a serious level.
Options For Customization
Choose the table that's perfect for you by mixing and matching size and finish options until you find the one that's just right. You can choose between Cherry, Honey and Espresso finishes. The table comes in lengths of 12 feet, 14 feet and 16 feet long. It's great to have options, especially when you're trying to fit the table into an existing design scheme. This way, you'll be able to fit the space you have available and you'll also be able to match the rest of the room!
This wood and MDF Playcraft shuffleboard rests on reinforced double-paneled box legs for strength and stability. Under the table you'll find climatic adjusters to maintain the curve of the playing field.  Plus, the legs feature hidden storage, so you'll have a convenient place to keep the included pucks and wax.
4. Challenger Shuffleboard Table-Best Shuffleboard Table for Public Use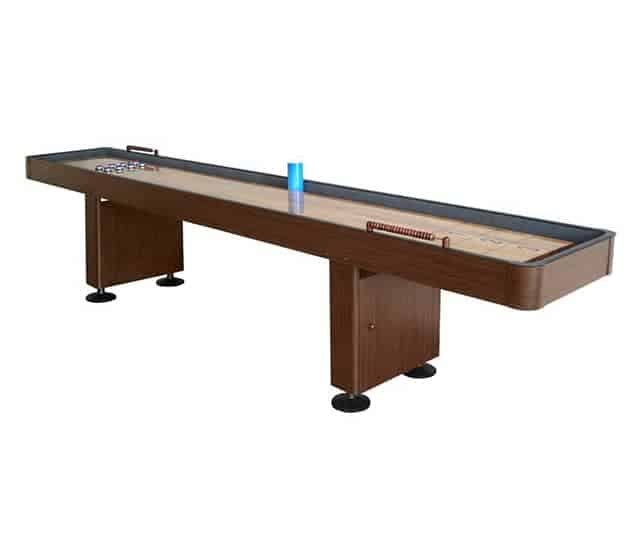 Choose between Walnut and Dark Cherry for this high-quality Challenger table from Hathaway Games. This model features solid hardwood construction with a high-quality playfield. It's a great option for home or public use with its durable construction and pub-style design, not to mention its useful leg cabinet storage.
The Challenger shuffleboard table has a butcher block-style playfield. It's 1.5 inches of solid hardwood with a glossy polyurethane finish, which adds durability and strength to the playing surface. The tabletop is supported by box-style legs with hidden storage inside, providing a handy place to keep your pucks and wax, which come included with this table.
Since changes in temperature and humidity can cause shuffleboard tables to form a hump during humid weather or a dish due to dry weather, it's important to have climatic adjusters that can level out the playing surface. As Hathaway Games points out in the product description, this is the only table at this price point that has the adjusters! That definitely adds some value to this model as one of the best shuffleboard tables.
5. Bernier Billiards Standard Shuffleboard Table-Best Range of Table Sizes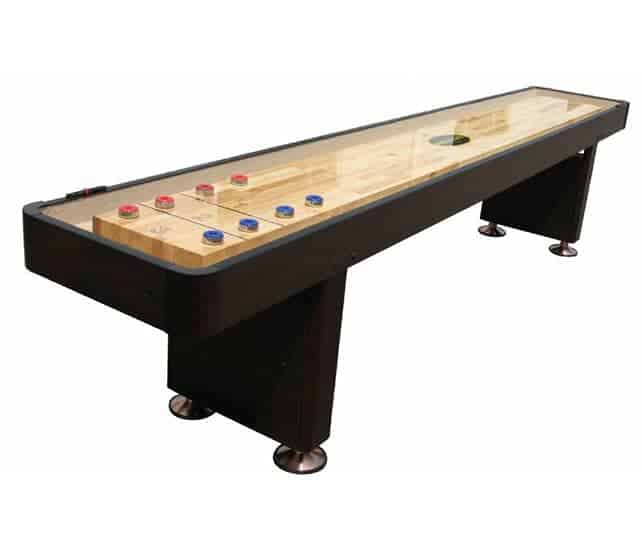 This model from Bernier is a wonderful choice for those who are in search of a shorter table than the regulation-size 22 feet. This table is available in lengths ranging from a small nine feet to 16 feet. Enjoy hours of play on the expertly lacquered playing surface, and don't worry about making extra purchases for accessories–this product comes with eight pucks and a can of wax.
If you're looking for a more sophisticated addition to your home, look no further. This sleek table adds a level of refinement to your space in your choice of Black, Espresso or Cherry. The outlined block numbering lends a sense of elegance to the table's aesthetic as well. The two double-paneled legs are reinforced for added stability, and they also feature leg cabinet storage.
The playfield is a classic butcher block that's sealed with an impressive 10 coats of polyurethane lacquer for a smooth, glossy, and fast surface. Whether you select the 9-, 12-, 14- or 16-foot table, you can rest assured that the playfield will be just as good as a professional table.
6. Playcraft Woodbridge Shuffleboard Table-Best Table Finish Selection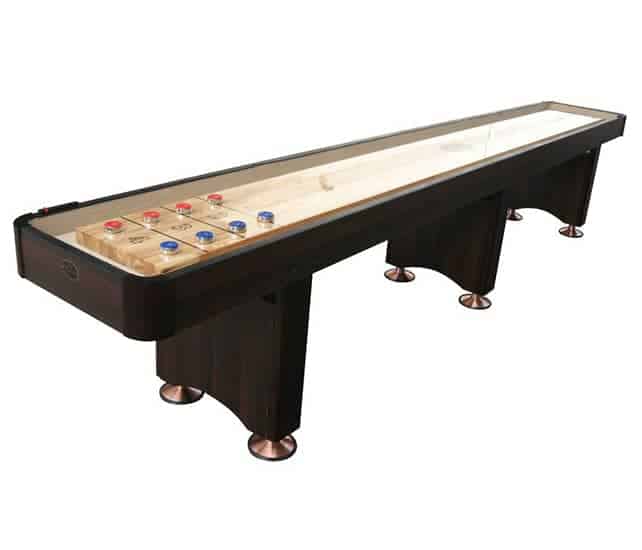 Enjoy this quality table from Playcraft, with its solid hardwood playing surface and plenty of options when it comes to size and appearance. You'll love the carpeted walls and gutters, which reduce noise during gameplay. And you can't forget about this table's most convenient features, such as storage built into the table legs and a manual scoring system.
Mix And Match Size And Finish
With an impressive four finish options and four available sizes, you can create 16 different combinations to create your ideal shuffleboard table! Finish options include Espresso, Black, Honey and Cherry, so there's a shade to match any rec room. Available sizes begin at nine feet; 12-foot, 14-foot and 16-foot models are also available.
Included Playing Equipment
This table comes with everything you need to play the game of shuffleboard! With your purchase, you'll receive eight playing weights or pucks, four blue and four red. You'll also get speed bead wax and a set of playing instructions. When not in use, simply store away your shuffleboard accessories in the built-in leg storage cabinet.
7. Hathaway Games Avenger Recreational 9ft Shuffleboard Table-Best Starter Table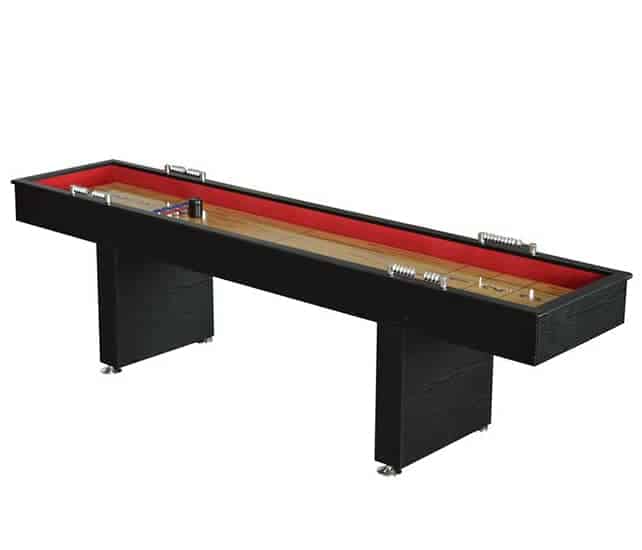 Short on space, or need to consider models that are slightly lower in price? Then this model from Hathaway Games is a good pick for you. The red, black and silver design on this high-quality table adds to the design scheme of your home. Read on to find out more about why this product made our list of the best shuffleboard tables!
MDF, or medium-density fiberboard, is a wood composite that's known for its durability. Although it isn't quite as heavy-duty as solid wood, it's still a quality material, and it tends to come at a more accessible price point. The playfield is poly-coated for smooth, slick gameplay. Padded gutters mean the game won't get too noisy.
This model's nine-foot length means that it's much easier to fit into your home than a regulation-size 22-foot shuffleboard table. In fact, this table's compact design makes it a good choice if you're new to shuffleboard and want a quality introduction to the game. In addition, this table only weighs 156 pounds, which is very lightweight compared to most of the tables on this list! Easy assembly rounds out this Hathaway Games table's best attributes.
8. Barrington Billiards Urban Shuffleboard Table-Best Modern Design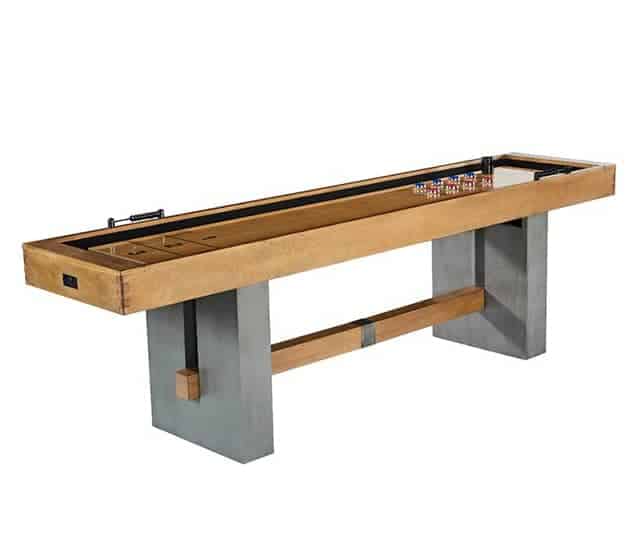 If you haven't found the shuffleboard table of your dreams yet because you prefer a more modern design, then this Barrington Billiards table is the one for you. Not only does it have a striking modern appearance, but this model comes with tons of great features that provide optimal playability. Keep track of the fun with the attached manual scoring system.
This Urban shuffleboard table's leg design adds a feeling of modernity to the room. The box leg system comes pre-assembled to make things easier on you, so that you can get to playing the game even more quickly! The simplistic faux cement design truly makes a statement. And the wood leg connection bar adds stability and style.
This beautiful table is finished with a premium birch wood veneer for an attractive and durable finish. The playfield features a scratch-resistant coating for faster and smoother puck action than ever before. And you don't have to worry about the table warping due to heat and humidity; an adjustable bracket system allows you to maintain the perfect curve on the playing field.
Features To Look For And Consider When Choosing A Shuffleboard Table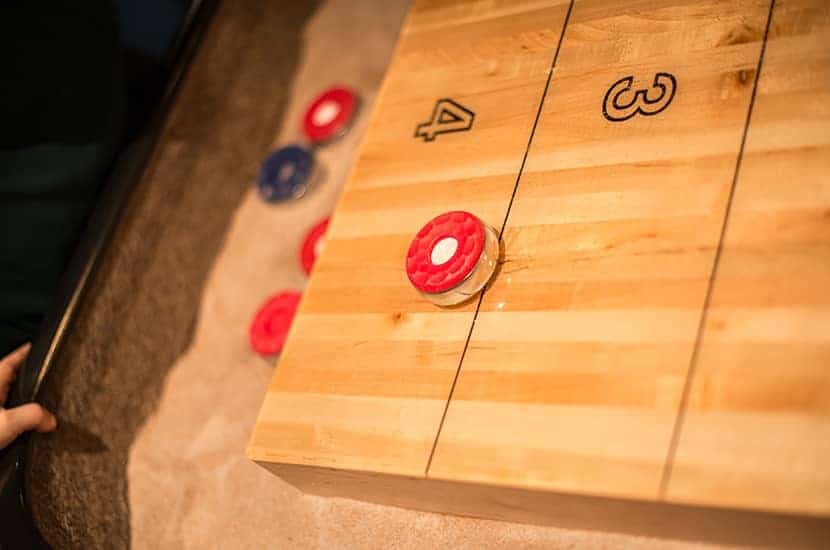 Read on for tips and advice for choosing from the best shuffleboard tables out there for your household.
When considering which shuffleboard table to get, the most important thing to take into account is size. Shuffleboard tables tend to be very large, so you want to be absolutely sure you have enough space before placing an order for a table! Keep in mind that in addition to space for the table itself, you'll need about two and a half to three feet of clearance space on either end of the table. For example, if your table is 12 feet long, you'll need an area of about 18 feet to account for clearance space. Remember that you can place a shuffleboard table against a wall to conserve space if needed. You'll also want to consider how easy it is to store the table if you don't plan on keeping it in your game room on a permanent basis.
Since even the best shuffleboard tables will get some dents and dings over time, thickness is an important component to think about when choosing the best shuffleboard table for your preferences. A professional table is three inches thick, and quality tables feature thick playing surfaces that are meant to withstand years of gameplay.
Before deciding on a shuffleboard table, you'll want to see what materials it's made of, as well as what kind of finish is on the playing surface. The most common combination you'll see is a wood table with a protective plastic laminate coating. Clear polymer finishes are also common for shuffleboard tables meant for residential use. In addition, some lower priced models may be made of MDF, or manufactured wood, rather than solid wood.
High-quality tables come with climatic adjusters, which allow you to level your shuffleboard table for optimal gameplay. With climatic adjusters, you can rest assured that you'll be able to adjust the table as needed to maintain the curve so that weights don't slide into the gutter. Keep in mind that some of the more budget-friendly shuffleboard tables do not come with this feature.
Of course, you'll also want to be on the lookout for products with special features such as a manual or electronic scoring system, as well as a three-level or triangular scoring grid. Many models feature a variety of size and finish options, so you can choose the perfect fit for your home's design scheme. Built-in storage is another great additional feature.
How To Maintain Your Shuffleboard Table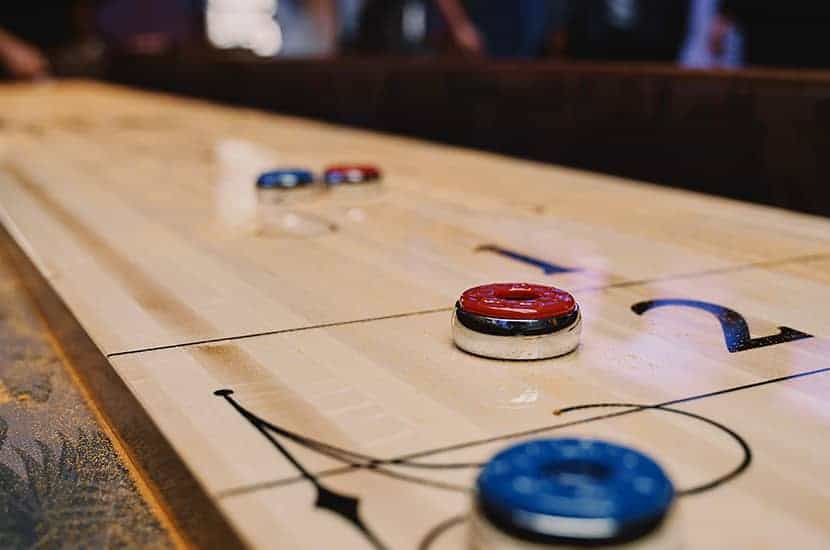 You'll need to clean and wax your shuffleboard table one to three times a month in order to maintain it.
For a shuffleboard table with a traditional wood finish:
Clean your table with a ¼ cup of vinegar and a damp cloth. You can also mix in a couple of drops of olive oil or wood polish to preserve your table's finish and improve its shine.
Apply a silicone spray to the table by spraying it in a sweeping motion, making sure not to miss any spots. Let it dry for a few minutes, and then pat it down with a towel.
Spread the shuffleboard wax across the table.
For a shuffleboard table with a polymer finish:
Use a shuffleboard brush to remove excess grains.
Wipe your table down using a multipurpose glass cleaner.
Apply a silicone spray in a sweeping motion across the table. Allow it a few minutes to dry before using a towel to pat it down.
Spread the shuffleboard wax across the table.
Caution: Never leave toxic cleaning supplies in areas that are within children's reach.
Frequently Asked Questions
Caution: If anyone in your family has a nut allergy, it's best to select the yellow cornmeal wax rather than the brown crushed nut wax.
You level a shuffleboard table by using the climatic adjusters located on the underside of the table. Shuffleboard tables that are concave will cause the pucks to fall to the middle of the table, while convex tables result in pucks falling into the gutter.
Of all the table games that are popular today, shuffleboard remains an all-time favorite. All of the shuffleboard tables on our menu are of the highest quality, but based on our research, the best shuffleboard table on the market is the Playcraft Telluride Shuffleboard Table. With its solid hardwood construction, hidden storage and impressive electronic scorer, it's easy to see why this model came in as number one on our list. Our second choice is more budget-friendly, and it's the Hathaway Games Excalibur 9′ Shuffleboard Table. It has an attractive upscale farmhouse design paired with a poly-coated surface.