Getting yourself the best portable basketball hoop has never been this easy. No longer needing cement and hours of assembly, these portable basketball hoops don't sacrifice quality. These hoops will provide a great source of entertainment and exercise for the whole family.  There are lots of things to consider when choosing from the best portable basketball hoops, and luckily we have a list of the best portable basketball hoops right here. Everything from polycarbonate backboards to Slam-It rims and even a system designed specifically for youths.
1. Lifetime Polycarbonate Portable Basketball System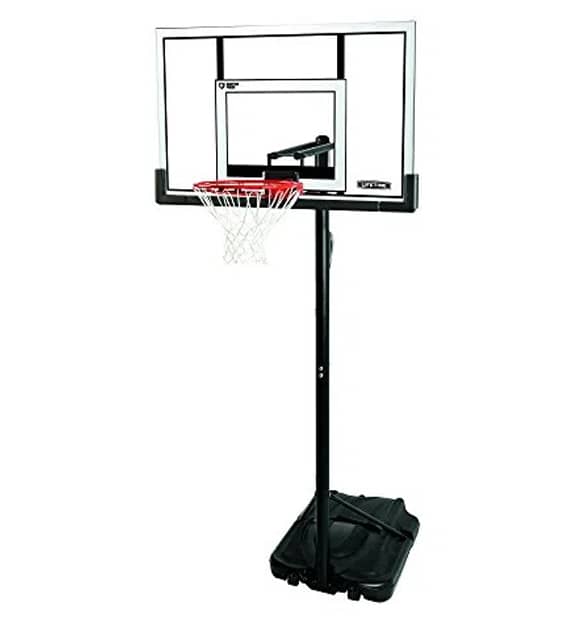 Editor's Choice #1: Containing all the requirements to take your game to the next level, the Lifetime Polycarbonate Portable Basketball System is possibly the best portable basketball hoop out there. From the backboard material, quality of the rim, and ease of assembly this will suit any baller's needs and look great doing it. Oh, and did we mention it's built to last? Suitable for beginners and experienced players alike, it's ready to play for as long as you are.
If you're looking to really enjoy the game this season then this is the best portable basketball hoop for you. It provides quality and convenience while still looking great. It is easy to assemble and also very easy to move around. Choose from two different backboard sizes to suit any home gym or driveway.
Lifetime has a great reputation in regards to basketball systems. When your hoop arrives the pole is assembled by fitting 3 sections together making it easier than other 2 or 1 piece pole systems. The pole itself is treated with a layer of powder coat to protect it from all the elements for years to come. Once it's together it is surprisingly easy to move due to its compact size and durable wheels mounted discreetly on the front.
Whether you're just starting out or have been playing for years this hoop will be with you through thick and thin. The polycarbonate backboard is the strongest backboard you can get outside of Madison Square Garden. The backboard also comes with fade-resistant graphics to protect against weather conditions but also all those bank shots. If you prefer nothing-but-net then you will be very happy with the all-weather nylon netting that is included.
Included is a Slam-It rim containing compression springs to protect your rim against heavy slams. The rim height is adjustable with the easy-to-use speed shift height adjuster. This will take your rim from 8' to the professional height of 10'. If you're looking to shatter the backboard with your dunks then this is the hoop for you. The polycarbonate backboard is constructed with a steel frame to add stability but also makes it completely shatterproof.
2. Lifetime Basketball Hoop 48 Inch Portable
Editor's Choice #2: The Lifetime Basketball Hoop 48" Portable is a complete set for all players. Combining pro styling and durability this hoop is built for the player without spoiling the curb appeal of your home. Owning a Lifetime product also feels like you're a member of an exclusive club as you have access to their highly recommended support center should anything happen. With this hoop, you will be the envy of all your neighbors.
The Lifetime Basketball Hoop 48" Portable is a great system for the beginner but with features to please big basketball hoops fans. If you are just starting out then this is the hoop for you. It has a speed shift adjustment system that allows you to adjust the height with one hand! Height can be set anywhere from 8' to the regulation 10'.
For the more dedicated player, this basketball goal hasn't forgotten about you. The backboard material is made from polycarbonate so it's very strong and also provides a good response on rebounds. Equipped with fade-resistant graphics, even if you're not playing like a pro your backboard will still look professional. The pole comes in three pieces which makes it easy to assemble and it is also treated with a weather-resistant finish.
Huge Dunks Anywhere You Want
The smaller base and smaller backboard make moving this system a breeze for anyone no matter where the game is. At 31 gallons the base can be filled and emptied relatively quickly so moving it long distances is not out of the question. Even with it filled the sturdy, front-mounted wheels means even the smaller players can move it with ease. And finally, it includes a Slam-It rim which gives this basketball hoop an extra layer of protection against big dunks.
Being a Lifetime product, this portable basketball hoop is durable and can withstand mother nature's wrath. A very well-rounded system that is easy to install and can be moved anywhere you can find a game, because this system is a Lifetime product it comes with a great support center behind it and a limited 5-year warranty. However, you probably won't need it due to the high-grade construction of this system.
3. Lifetime 32 Inch Adjustable Portable Basketball Hoop – Youth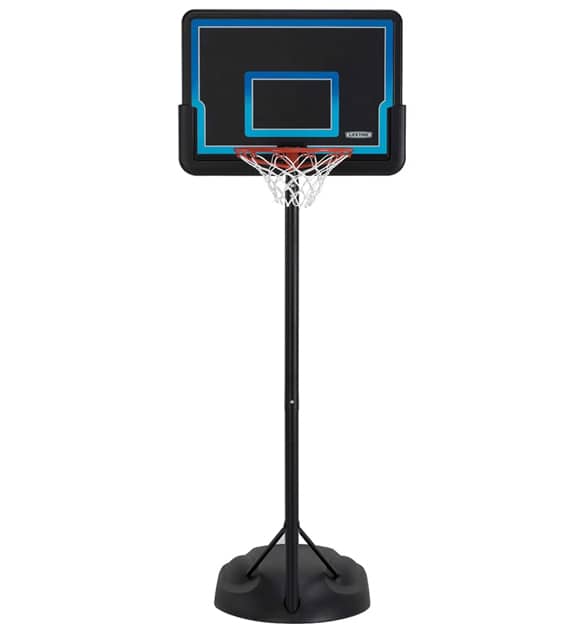 The Lifetime 32" Adjustable Portable Basketball Hoop is specifically designed for the up-and-coming basketball stars of tomorrow. This youth portable basketball hoop is the perfect system to get the little ones started with. Being a Lifetime product you can rest assured that it is built with integrity in mind and will survive all those long practice hours.
Learning this game can be tough, so having a net that meets the needs of young players is important to grow the game. Your young players will be able to learn and enjoy the game so much more with a hoop that was made specifically for them. The backboard size is a modest 32" so it can be used with smaller basketballs easily. It is an impact backboard as well to add extra stability and protection against the elements. Complete with fade-resistant graphics to keep it looking brand new.
This Hoop Grows With Them
As your young superstar starts to improve each day the hoop's height can be adjusted along with them. It comes fitted with a telescopic pole that can be adjusted to heights between 5.5′ and 7.5' in 6-inch increments. Everything about this system was made with the youth in mind. The 10-gallon base makes it easy to move around so you won't have to worry about rebounds hitting nearby cars. It comes with a 5-year limited warranty to protect against everything that comes its way.
4. Lifetime Height Adjustable Portable Basketball System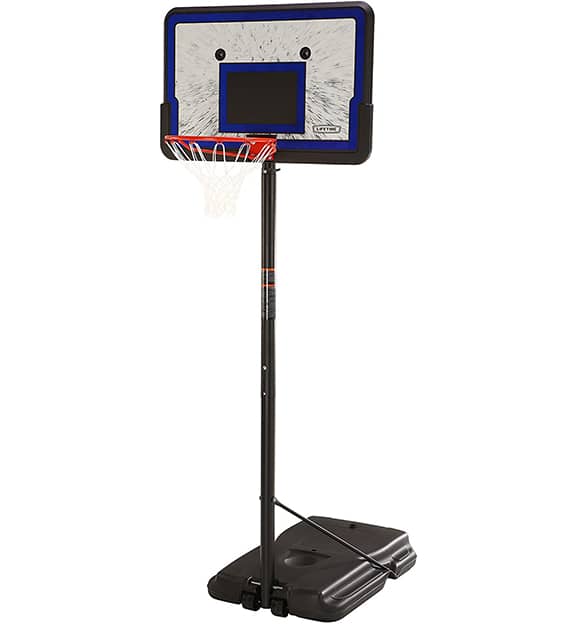 The Lifetime Height Adjustable Portable Basketball System has all the features you need to enjoy pick-up games with friends. This is a great system for part-time players or those just getting started – the ease of setup and ability to move it around are just a few of the great features that make this one of the best portable basketball hoops.
An acrylic backboard is the closest material you can get to the official backboards used in the NBA. Responsive rebounds and predictable bank shots are two features that a lot of basketball hoops don't have. Thankfully, this goal has both. The height of the rim can be adjusted easily with the telescopic mechanism and goes all the way up to 10' feet, which is regulation height in pro leagues around the world. If you're just starting out, the net can be brought down to 7.5'; the mechanism makes it easy to adjust to any height in 6-inch increments.
Being a member of the Lifetime family of products, you can rest easy knowing that your product comes with a 5-year warranty. The rim comes with a ½" steel brace for added stability and to reduce huge rebounds on long shots. The pole is supported by a 27-gallon base that can be filled with either water or sand. It is also weather-treated to last through harsh seasons and comes in 3 pieces for easy assembly.
5. Spalding The Beast Glass Portable Basketball Hoop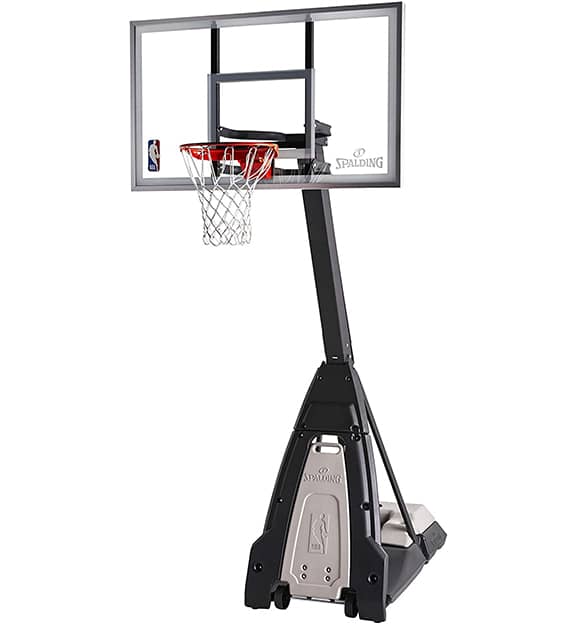 They don't call this "The Beast" for nothing – the Spalding Glass Portable Basketball Hoop is made for the serious player. Everything about this system screams professionalism and your friends and neighbors will agree. They have pulled out all the stops on this one to provide the most durable, best-looking, and best-performing hoop Spalding has to offer.
Let's Talk About The Backboard
This tempered glass backboard provides optimal feel and performance on rebounds, layups, and bank shots. A 60" backboard size is available which makes it the largest glass backboard on a portable support system. Given its immense size and weight, this hoop is equipped with a screw jack lift system that makes adjusting the height easy. It can go from as low as 7.5' all the way up to the regulation 10'.
Full Support & Pro Dunking
The pole is a massive 5 inches around in a pro-styled square shape, secured tightly to a very large 55-gallon base size that can be filled with either water or sand. To remain mobile they have fitted this base with 4 wheels instead of 2 and has a pull-out handle to assist with moving the net. If you have dreams of playing above the rim then this hoop will not disappoint – it's been fitted with dual compression springs to support all the dunk contests you can handle. Housed within the base of the rim, these springs are protected from the elements to reduce rust and extend the lifetime of your hoop.
6. Spalding NBA Portable Basketball System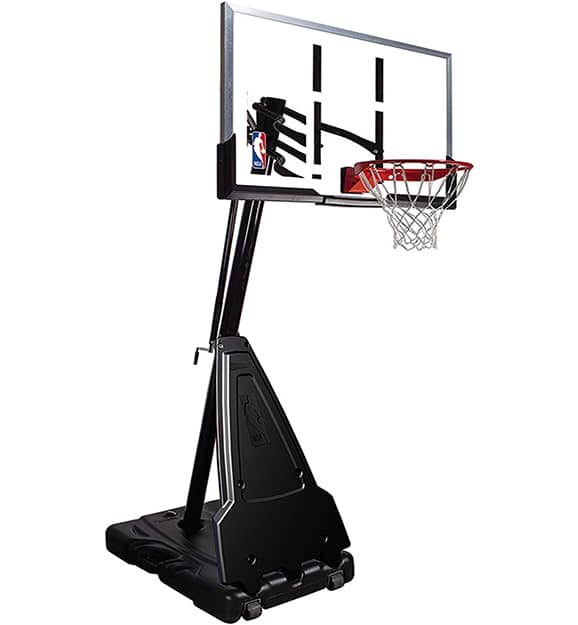 If you're looking to play your best and impress your friends at the same time then the Spalding NBA Portable Basketball System might be the one for you. Constructed using Spalding's decades of experience, this is one of the best portable basketball hoops available to home courts and great for slam dunk contests.
The backboard material of this hoop is acrylic – the next best thing to tempered glass as it mimics a lot of the characteristics by providing great rebounds and bank shot capabilities. Virtually unbreakable – unlike glass backboards – this hoop comes with custom-fitted padding around the edges which will keep you safe when the play takes you above the rim. This Arena Slam breakaway rim ensures your dunks will be supported so you can practice for hours. Dual compression springs are housed safely under the rim to protect against rust. With the screw jack life and detachable handle, this rim can be adjusted to heights between 10' all the way down to 7.5'.
The support pole was specifically designed for outdoor residential play so it can withstand some pretty harsh conditions. The pole itself is measuring at 3.5" around and provides a 20-degree angle from the base to allow maximum space under the rim. The durable base is also equipped with heavy-duty wheels that allow for the system to be moved around with ease – it can be filled with either sand or water but we recommend water as it is easy to empty if the time comes where you need to dismantle it.
Choosing The Best Portable Basketball Hoop For You
If you are looking for one of the best portable basketball hoops then there are a few things to consider. The main three are backboard, rim, and support pole but when purchasing the best portable basketball hoop then a great base is also important.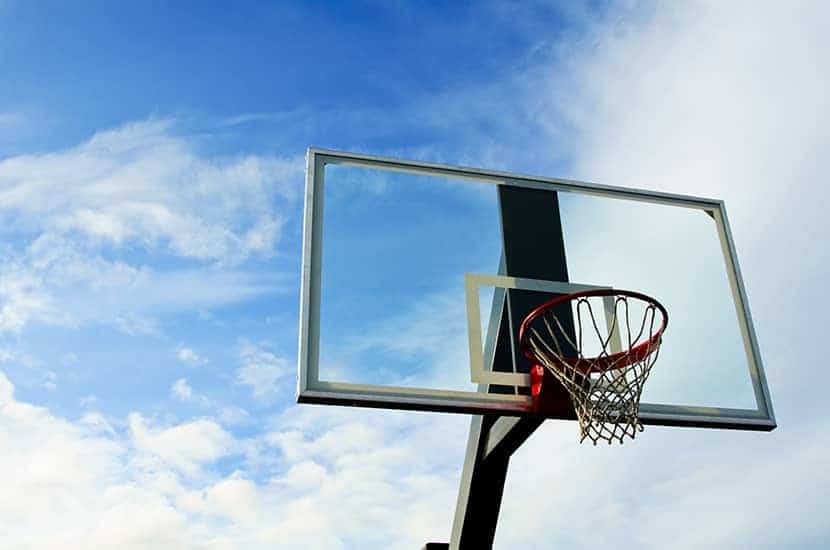 Using glass provides the best playing surface for rebounds especially but also for layups and bank shots as well. Tempered glass can be very heavy though which makes it tough to install and also a little cumbersome to move around. Being made from glass, it can break (eg. all those huge jams you see on YouTube).
Weighing considerably less than tempered glass, acrylic still provides good rebound response but may have issues with bank shots and layups as it is much softer. This softness will also pick up scratches over time which will diminish the look of your backboard. Acrylic does allow for a transparent look though which gives it more of a professional appearance (with less breakability than tempered glass).
This backboard is one of the most popular amongst portable basketball hoops simply for its durability – it will last forever and is very light. Assembly and movement of any system with this backboard material will be a breeze. The downside is that it is the least performing in regards to rebound response, layups, and bank shots.
The part that will affect your play happens under the rim and whether or not there are compression springs. These springs help your rim absorb the shock of long shots and keeps the rebounds on the court. If you are looking for stability on long shots and overall durability then look for a pole that comes in one piece. However, this is rare so 2-piece and 3-piece are more common. The width of the pole will also play a huge role in stability especially when dunking.
The base can be a confusing aspect when searching for the best portable basketball hoops. The size and weight will determine what kind of base you get but beginner or smaller setups start at about 30 gallons for the base. They can be filled with either sand or water to add weight and keep your goal where you left it. Some lighter systems can be affected by strong winds so it is important to not skip this step.
We recommend using water to stabilize your portable basketball hoop as it makes it much easier to empty rather than sand.
Why Is The Base So Important?
The base is important to keep your portable basketball hoop upright and protected against not only slam dunks but also the elements. Smaller and lighter systems, like youth systems, can be affected by high wind so unless you want to wake up and find your hoop halfway down the block it's important to have the right base. Most of the best portable basketball hoops have wheels on the front so tipping the whole system towards mid-court is the best way to move it. Some have four wheels with a retractable handle on the front which makes these types the easiest to move as there is no tipping required.
After your system is assembled it is a good idea to move your hoop to the spot you intend on using it the most. Once you have it positioned correctly then you can fill it with either sand or water. Due to its mobility, however, you may want to check how level the rim and backboard are to make sure you're not on an incline. Lower your rim to the shortest height for easy leveling.
Frequently Asked Questions
With all the options out there it can be difficult to find the best portable basketball hoop for you. There are lots of options and lots of features to consider. Rest assured that by selecting any of the basketball hoops listed above you will be very happy. These portable basketball hoops provide great fun for the whole family and will last for years to come. Whether you're getting ready for the NBA or just playing a quick game of horse, every day will be filled with fun and enjoyment with any of these basketball hoops.