Giant yard games are a great way to get outside and get moving with your family and friends. Giant yard dice games, giant board games and many more giant games all deserve a place at your next get-together. Imagine how much fun you could have if you had these giant play pieces throughout your yard? Most of them are fun and appropriate for family and friends of all ages, and adults with a bit of imagination can usually find ways to play after the kids have gone down for the night. Read on to pick the next game for your collection! Your house will be the most popular in the neighborhood when you have giant yard games to offer.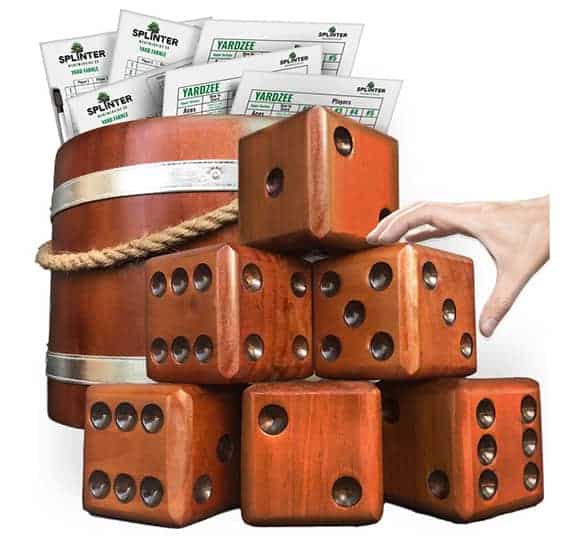 Yardzee combines the best parts of classic Yahtzee with giant outdoor games and big wooden dice. In each round, players have three chances to roll the dice and score multiples, combinations (such as a full house), sequences or chance. This giant yard dice game is suitable for all ages — older players can help younger ones with math — and it teaches chance, probability and other number facts. It's stood the test of time and comes out on top because it's easy to learn and easy to play. However, despite the simplicity, it never gets boring because it feels like a different game every time.
If you're looking to start a collection of giant games outdoor, let this be the centerpiece. Even young children can handle the dice, and let's face it — giant solid wooden dice are hard to break so you won't have to worry about your giant dice cracking during play (maybe just kids cracking each other with the dice). It's an excellent addition to any family gathering or camping trip. Make sure that you have a giant yard dice set for your backyard today — you'll be the most popular house on the block when everyone wants to come play.
We recommend the Splinter Woodworking Yardzee & Yardkle Giant Dice Set, which comes with six giant yard dice and instructions for over 20 yard games that you can play with these dice. The dice game set is made of solid pine wood and finished in a lovely oak stain. The giant dice fit nicely in a matching bucket with a rustic rope handle.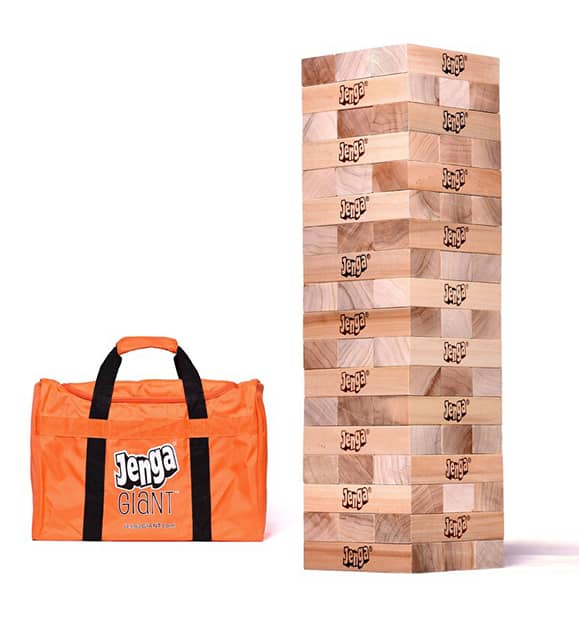 Jenga was born in an African village but it's now played by people all over the world, sometimes very competitively! It's deceptively simple to explain: you take turns removing a block from the pile and placing it on top. It's not so easy to play giant Jenga, though! Towers topple, blocks wobble and it's a challenge to keep the whole thing upright. Playing giant Jenga outside with large blocks makes it even harder because sometimes it feels like a whole-body exercise. The giant pieces have to be balanced perfectly so they don't make everything tumble.
Whether you're playing giant Jenga with kids, adults or both, there are variations on the game that can add to the experience. You can roll a six-sided die to determine how many blocks need to be removed and replaced; you can build the tower "backwards" so that players have to insert the blocks in the center; or you can even use a whip to remove the giant blocks! Another variant involves writing numbers on a few of the blocks and creating a chart of consequences corresponding to the numbered giant blocks. For a family game, this can be doing jumping jacks, singing a song or doing a favor for another family member. After dark… well, we're sure that you can come up with your own giant Jenga fun game plays.
We especially like the Jenga® GIANT™ JS7 Hardwood Game and we think you will too. It includes attractive, sturdy branded giant Jenga blocks and a handy carry case/storage bag with a zipper and handles.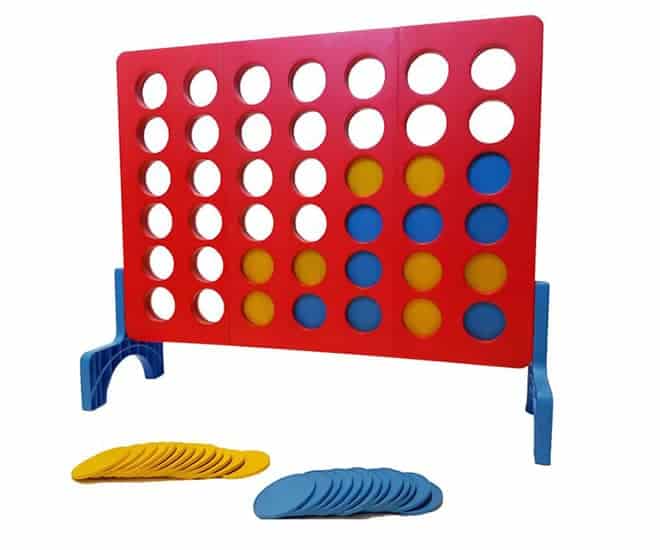 Who doesn't remember Connect 4? It was introduced by Milton Bradley in 1974 with a TV commercial featuring a "pretty sneaky" sister. There have been numerous versions over the years, including computer and console games, smartphone apps and giant yard games like the giant Connect 4 set we're showing you. This is a great row game to play with family and friends because it's easy to set up and easy to learn, but it's suitable for adults as well as children.
Giant Connect 4 is played on a suspended grid that is six high and seven wide for 42 open spaces. Opponents take turns dropping checker pieces into the giant grid; the checkers will always drop to the lowest open space in the column. The object, as you may have guessed, is to connect four checkers in the row. There are a giant 4,531,985,219,092 possible combinations, so you're never playing the same game twice. Games like Connect 4 are known as games with "perfect information" because both players have all the knowledge about moves that have already taken place and moves that can take place in the future. Variations of the game include a version called Pop Out, where players can remove checkers from the bottom row, and a version of Power Up, with specially marked game pieces with special powers.
Our favorite giant Connect 4 set is the Bolaball 4 in a Row-Family Edition Giant Games. It's bright, it's colorful and it's weather-resistant. The checker pieces are small enough for kids' hands but the overall game is still plenty big enough to qualify as a "giant yard game."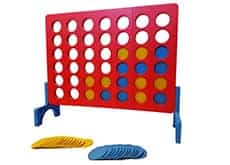 Bolaball 4 in a Row-Family Edition Giant Games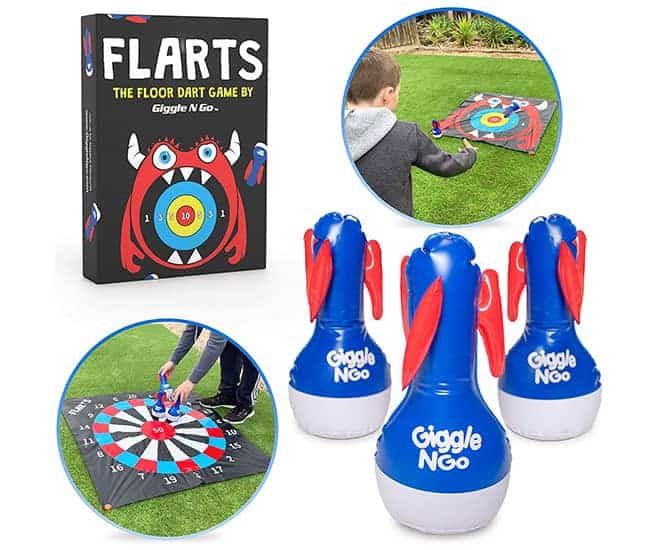 Flarts sounds like something that you should be doing outside, and it is! It's a mashup of the words "floor" and "darts." They aren't pointy darts, they are inflatable darts, and you throw them at a giant target set up on your lawn or other flat surface outdoors. The giant darts are safe to play with and so is the plastic target, which you can secure to the lawn with pegs. It may take some time to get everything set up and inflated, but once it's up, no one will be able to resist it. There's just something compelling about throwing things at a giant target!
As with traditional darts, you get points for getting your flart closest to the bullseye, but with this giant game for outdoor version, there's very little chance that you'll put anyone's eye out. This makes flarts a much safer version of darts, and one that you can feel good about playing with family and friends of all ages. It's even safe for a family reunion!
There are lots of different ways to change up a game of giant darts or flarts, including Around The Clock, Chase the Dragon, Cricket, Hare and Hounds, Follow The Leader, Prisoner and Sudden Death. We recommend the GIGGLE N GO Flarts Outdoor Games for Family, which comes with a standard dart board on one side of the giant nylon fabric target and your choice of either a monster or unicorn theme on the other. It will be the hit of any bbq or picnic, so pick your set and add to your giant yard games collection today!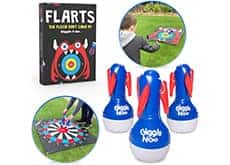 GIGGLE N GO Flarts Outdoor Games for Family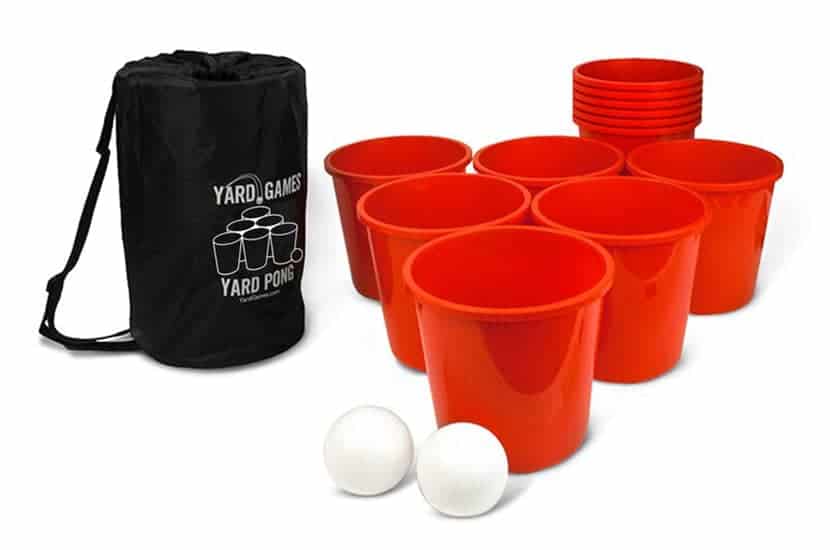 This is the big red cup taken to extremes! Many of us know the pong game as something totally focused on beer, but we can transform it into a giant game that's suitable for all ages. You'll still set the cups (buckets, in this case) up in the traditional triangle format (point of the triangle facing the players) and players or teams will take turns trying to get the balls into the giant cups. Younger or smaller players can stand closer to the targets, while adults and older kids can set a line that makes it a bit more challenging.
To make this giant game family-friendly, each cup will contain jelly beans or challenges instead of beer. The challenges can be doing calisthenics, singing silly songs or doing an act of service. Of course, if you want to keep playing after the kids have gone down for the night, there's nothing stopping you from playing the drinking game the way it was meant to be played — but these buckets are indeed giant, so don't *fill* them with beer or everyone will be sorry! You can also fill some of the cups with alcohol and some with more adult challenges.
We recommend the Yard Games US Giant Yard Pong Pieces, which comes with 12 giant red buckets and two balls in a convenient carry case. It's lightweight and easy to take with you anywhere you want to set up a giant party game with your friends (of all ages).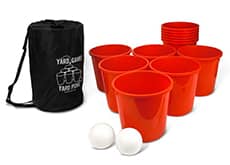 Yard Games US Giant Yard Pong Pieces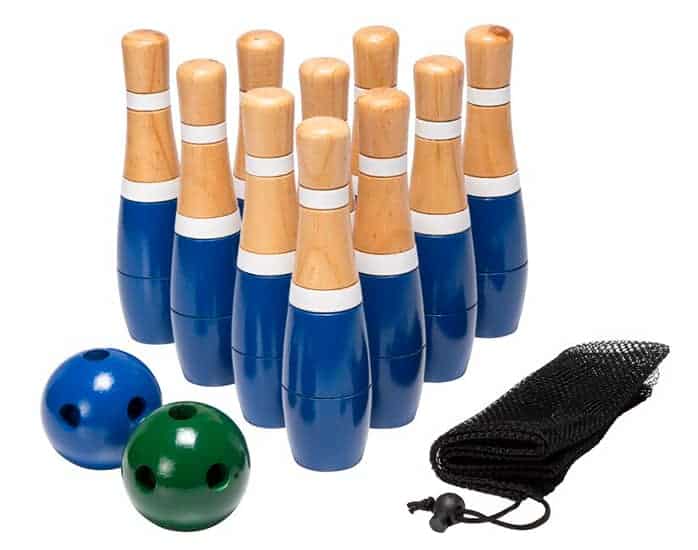 It's probably not a great idea to set kids loose in the backyard with 16-pound bowling balls and solid wood pins. At the very least, you'd be looking at some serious landscaping work, and a trip to the emergency room wouldn't be out of the question. It's a lot safer and at least as much fun to set up a giant inflatable bowling set. It's also easier to store a giant inflatable set since you can deflate most of the pieces to store them. Traditional balls and pins take up quite a lot of space!
Most giant sets have somewhere between six and the traditional ten pins; choose one that fits in your backyard. Younger and smaller bowlers will probably do better with fewer pins. You'll also get a ball to roll or throw at the pins to knock them down. You can score the giant game the regular way with strikes and spares earning a bonus on the next frame, or you can simply tally the number of pins knocked down. Either way helps teach math concepts and a way to take the game outdoor for some extra giant fun.
We think that the HearthSong Inflatable Unicorn Bowling Set is a great addition to any giant yard games collection. You get six proud unicorn pins (with horns!) and a colorful rainbow bowling ball. This will appeal to children of all ages, and most adults won't be able to resist it either.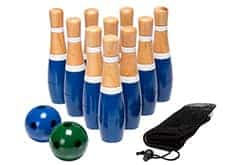 7. Giant Chess and Checkers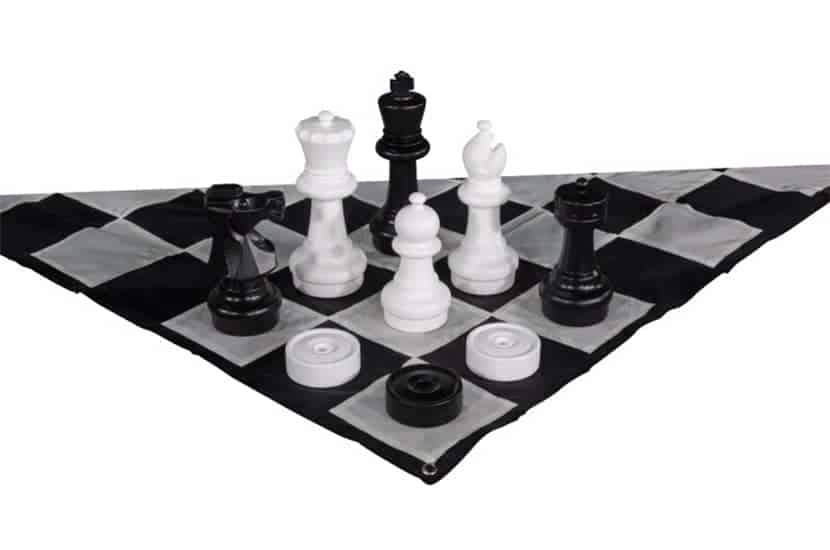 Chess and checkers are board games that pretty much all of us grew up with. Checkers is a board game that's easy to learn and hard to master. Chess is a bit more complicated but it's a board game that people can play all their lives. A fun version of these board games involves taking giant versions of the board outside and setting them up on the lawn. Only two players can participate at any time so this isn't well suited as a party game but this giant board is still plenty of fun in the backyard with friends.
Giant chess and checkers are played on the same board with different pieces. Checkers are flat discs in two different colors. Giant chess pieces can be far more interesting: there are pawns, castles (rooks), horses (knights), and, of course, the king and the queen in chess sets. A giant outdoor checkers and chess board is an excellent investment if you're looking to spend afternoons outside on your lawn, matching wits with a worthy opponent across the board.
We like the MegaChess Giant Chess Set With Checkers and Quick-fold Nylon Mat. It features a giant chess board that comes with high-quality molded plastic chess pieces. The pieces are quite detailed, making them fun to hold as well as to play with. You also get a complete set of black and white checkers. The giant nylon chess and checkers board mat is durable and folds for storage.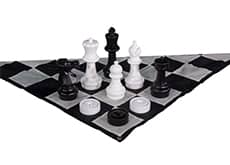 MegaChess Giant Chess Set With Checkers and Quick-fold Nylon Mat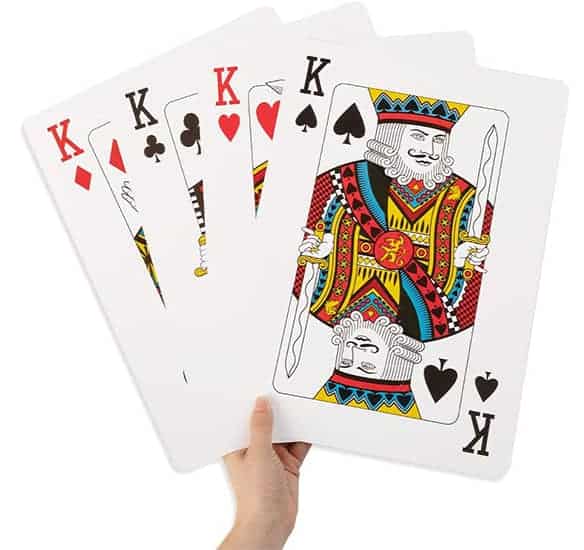 There's not much that you can't do with a deck of cards, and the same goes for giant playing cards! Cards are good for games like solitaire, party games, games of skill and chance, magic tricks and even some distinctly adult versions of these games (Poker, anyone? Or even strip poker?) If you're looking for ways to pass the time with your friends while hanging in your yard or theirs, these giant playing cards are bound to be plenty of fun. You can be as mild or wild as you please with games that include gambling, drinking and dares.
They are just the same as regular cards in everything but size, which means that you can play giant games of gin rummy, hearts and bridge with adults, and Go Fish with younger friends. They are large and sturdy, but they'll be manageable by children who are old enough to read the numbers and play the games. You'll love being able to play some of your favorite playing cards games outside in your own backyard — and you definitely won't need reading glasses to tell what's what on these giant cards! The number and suit markers are bright and easy to read under any light conditions.
Our favorite giant set is the GAMELAND Super Jumbo Playing Cards. They measure 10.5″ x 14.5″ in size and they are made from sturdy, high-quality card stock. You get the standard 52 cards plus two jokers, which means that you should be good to go for any game you choose. Have fun with your friends!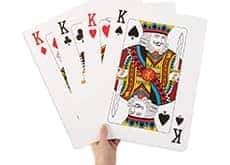 GAMELAND Super Jumbo Playing Cards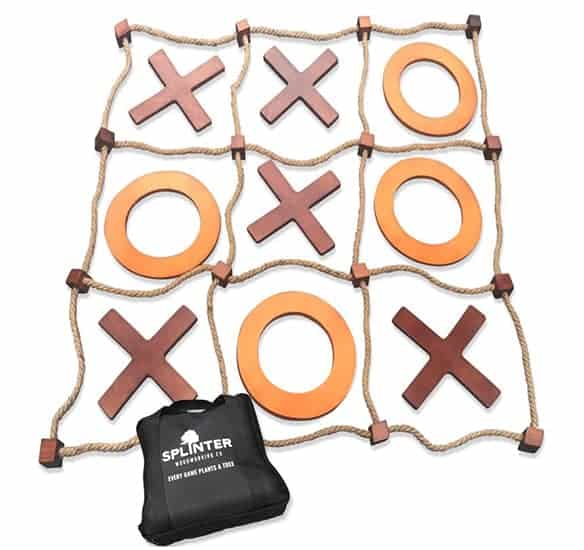 Tic Tac Toe has been a way to occupy children for generations, and a giant tic tac toe set does the same thing in a far more fun way than a pencil and a fast food napkin in the back seat of the car. When you take games outdoors and make them bigger, they automatically become more fun. A giant tic tac toe set is tactile and manipulative, which means that you can get all your senses involved in the game.
The first person to play in giant tic tac toe almost always wins (or at least doesn't lose — many games end in a tie). A way to liven up the game is to have side competitions to see who gets to go first! These can be foot races, quizzes or any other sort of contest that matches players more or less evenly with each other. This adds an extra spirit of competition to the giant game and you may even be able to get the party started with some fun, silly challenge competitions. You could also require players to toss the giant markers from across the yard!
We recommend the Splinter Woodworking Giant Tic Tac Toe Set. This is a gorgeous wood-and-rope set with a vintage appearance. It will look great in your yard and store away nicely when you are done. This giant set comes with its own carry case/storage bag and doesn't take up much room. Splinter Woodworking plants a tree for every giant game ordered.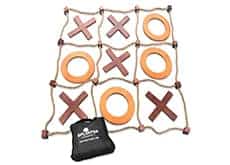 Splinter Woodworking Giant Tic Tac Toe Set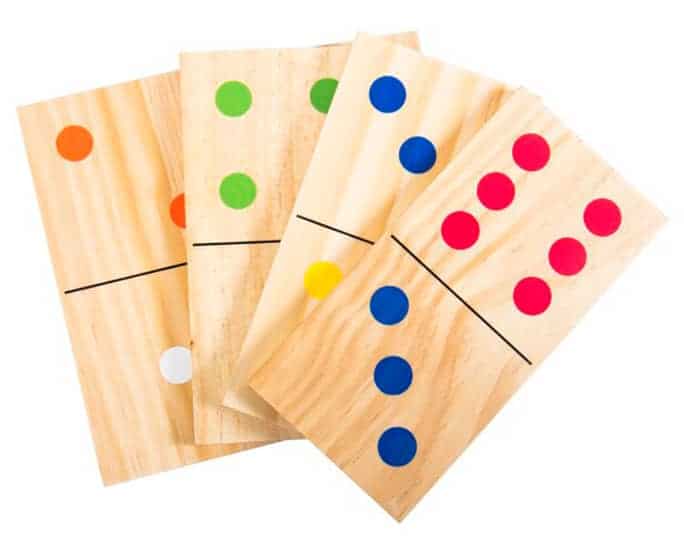 Dominoes is one of those games that everyone recognizes so when you have a giant version set up in your yard, it will draw attention from all of your friends. The basic game of giant dominoes — matching colors or pips — is so simple that even young children can play, but there are many versions for more competitive players. There are even professional dominoes players and dominoes tournaments!
Some other versions of giant dominoes include Basic Trains and Mexican Train, Maltese Cross, Bingo, Concentration, and Rivers, Roads and Rails. After dark, adult friends can probably figure out how to organize the giant dominoes into a type of Twister game; a few (or more) drinks will probably help that endeavor. Whether you're looking for a serious game of strategy or a much looser one that focuses on casual fun, a set of giant dominoes is just what you need for your yard. They're pretty, they're fun and no one will be able to resist them.
Giant dominoes are usually made out of wood. They feel solid and sturdy in the hands, and the bright color markings are both easy to see and pleasing to the eye. Our favorite giant product of this type is Triumph Sports Wood Lawn Giant Dominoes. The dominoes are 7″ long in size. They are colorful and finished to protect that color. As with many giant games, you also get a carry and storage bag to complete the set.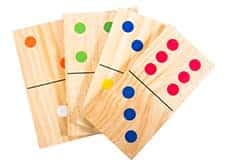 Triumph Sports Wood Lawn Giant Dominoes
If you're looking for wholesome (or maybe slightly spicier) outdoor fun, giant yard games are the way to go. Giant games can be as easy or as competitive as you please, and it's nice to enjoy the great outdoors with great games and great people. Pick your favorite giant game today!