Cornhole may be the quintessential all-American game — it allows individuals to win or lose on their own merits, it features the staple grain of Native American culture, and a slick woody is a good thing appreciated by all. You can't play the game without a cornhole board, though. Read on and decide which cornhole set will be best for you and your intended purposes. We've looked at regulation sets, tailgate sets, fancy sets and basic sets, to help you discover the best cornhole boards and the joy of playing cornhole. It's super-easy to get started so don't put off getting your very own cornhole board set and bean bags, whether you're looking to get ready for tournament play or just want to mess around with your family and friends.
1. 2' x 4' Stained Boat Shoe Solid Wood Cornhole Board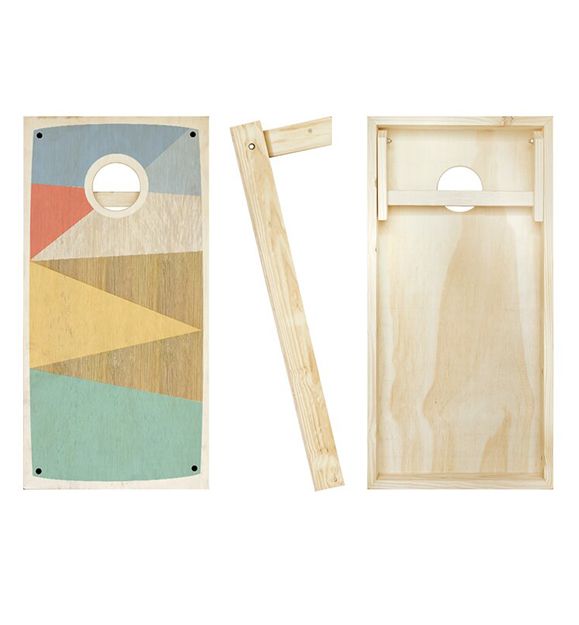 Editor's Choice #1: This 2′ x 4′ Stained Boat Shoe Solid Wood Cornhole Board is great for a backyard game or cornhole competitions. The cornhole board has a sophisticated appeal, solid construction, and everything you need to get your game going. It's a super choice whether you're training for a tournament or entertaining friends and family.
This solid wood cornhole set is sturdy and high in quality. The abstract design in earth-toned stains will look great in any backyard or playing field. It's made of sturdy, solid wood — each board weighs in at around 30 pounds — with bolted-on legs that fold in nicely for storage and a professional finish. These boards are not going to jostle or slip at all with even the hardest bag toss. It's ready to go right out of the box and comes with a full set of eight cornhole bags. The board size of 24″ x 48" is compliant with American Cornhole Association, American Cornhole Organization, and American Cornhole League regulations.
This cornhole set can be placed anywhere you want. The wood is treated to be heat-resistant and mildew-resistant so the climate won't bother it at all. The furniture-grade stain will mellow and look even better with a bit of sun and weathering over time. You can also fold the legs in and store the bags and boards easily if you want to.
2. GoSports 2' x 4' PRO Metal Cornhole Board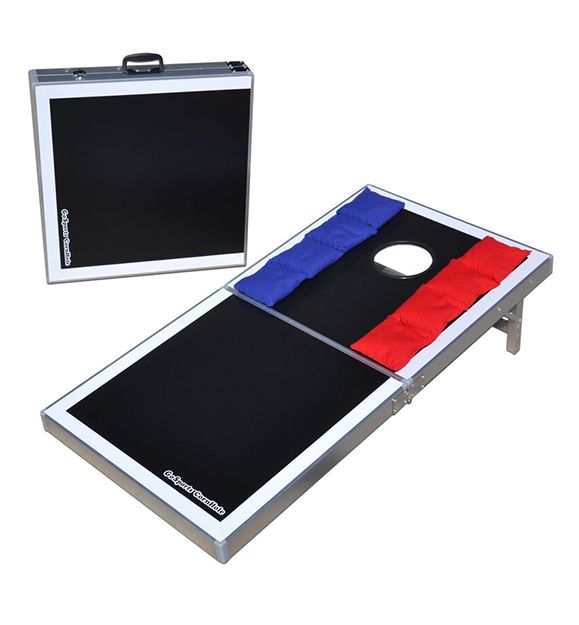 Editor's Choice #2: This no-frills GoSports 2′ x 4′ PRO Metal Cornhole Board set offers a lot of bang for your buck and there are a lot of people who will appreciate its simple aesthetic, as well as the simplicity of setup and storage. It's an excellent choice for casual players who want to be able to take it on the road with them. Get cornholing quickly and easily!
This GoSports classic cornhole set offers superb utility with no frills. The lightweight, yet strong aluminium frames house manufactured wood cornhole boards in basic black with white edges, and you get two sets of cornhole bags in bright red and bright blue. It's easy to see exactly where your bags lie on these boards, which allows you to line up your next toss just where you want it. Each board folds into its own suitcase-style carrying case and you can put the bean bags inside. The entire set weighs less than 35 pounds so it can be easily moved and set up by just one person.
Besides being easy to transport and store, these cornhole boards are weather-resistant, mildew-resistant, and UV-resistant. You can use them indoors or outdoors, and you can leave your court set up without any worry about your equipment. At 24″ x 48″, these boards meet the regulations of all major associations and leagues. The wood surface offers the best combination of slipperiness, stickiness and bounce.
3. 2' x 4' Retro Stained Bennett Pyramid Solid Wood Cornhole Board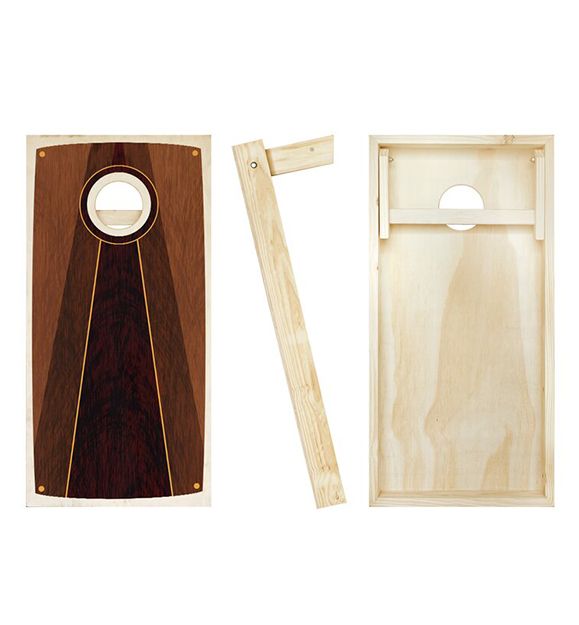 These wooden boards are stained with classic pyramid designs that provide a means to line up your tosses at the target. The natural, neutral tones will look great in your yard or other space, no matter what your decor scheme may be. The varnished finish lets your cornhole bags slide easily into the hole (or off the board, so be careful). The wooden legs are securely bolted to the frame so the set stays solidly in place, and they fold inwards so the boards lie flat for easy storage or transport. The set is sturdy and solid at 60 pounds total.
Every cornholer needs cornhole bags and you can choose the team colors that you want. Complementary color combinations include black, red, navy, orange and yellow. The regulation-size boards measure 24″ x 48″ and are certified by the ACA. They are treated to be heat-resistant, UV-resistant and mildew-resistant so you can leave your outdoor court set up in any weather without any worry.
4. GoSports 2' x 4' LED American Flag Manufactured Wood Cornhole Board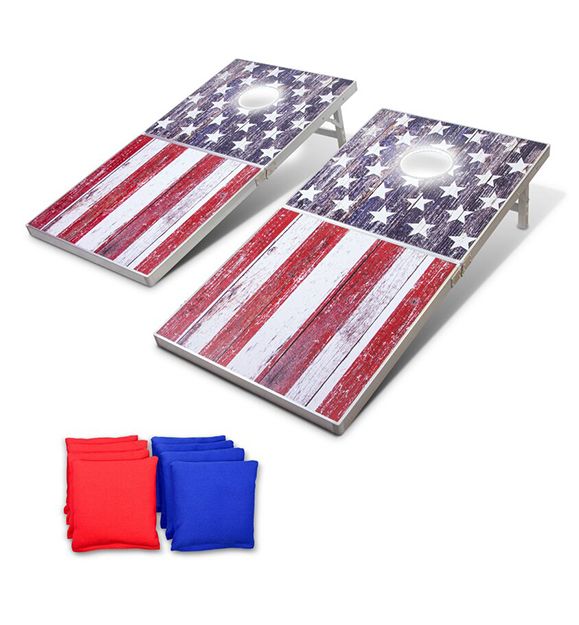 Cornhole is an all-American game born in the farms and fields, and nothing exemplifies this more than this set of American flag design cornhole boards. This set is thoughtfully designed for convenience, durability and excellent gameplay. The frame and foldable legs are lightweight aluminum and the board surface is printed wood that resembles a weathered American flag. The hole can even be illuminated for nighttime playtime! Each ring can be powered for up to 24 hours with just three AA batteries.
This is an excellent, high quality board and set. The wood surface has just the right amount of slip and give for a great playing experience, and the 24″ x 48″ size is compliant with all major cornhole association guidelines. The boards fold for easy storage and transport. This GoSports classic cornhole set comes with eight all-weather bean bags in red and blue, and the bags can be stored inside the folded boards — there is no need for a separate carrying case.
5. 2' x 4' Plain Manufactured Wood Cornhole Board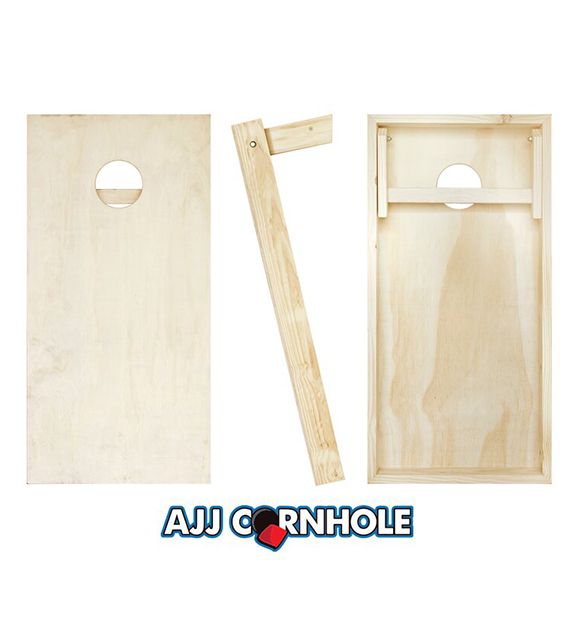 This high-quality set is a great way to personalize your games. You get two 24″ x 48" regulation size and height cornhole boards, constructed from birch plywood. The legs are attached securely with galvanized bolts and fold for easy storage. You also get eight cornhole bags to complete the set. The boards are yours to make your own. The wooden surface can be painted, stained or decorated with vinyl decals. You also get to choose bags in your choice of color combinations (featuring red, black, navy blue, royal blue, orange and yellow) to best complement your design scheme.
This cornhole set has everything you need to get started or take your games to a new level. The boards are compliant with all major league, team and association requirements and the solid construction and all-wood surface makes for excellent gameplay. Get the best blanks around and create something perfect for your backyard. This is also a great purchase for a small business or organization to build their brand, as well as develop team spirit.
6. 2' x 4' Parrot Manufactured Wood Cornhole Board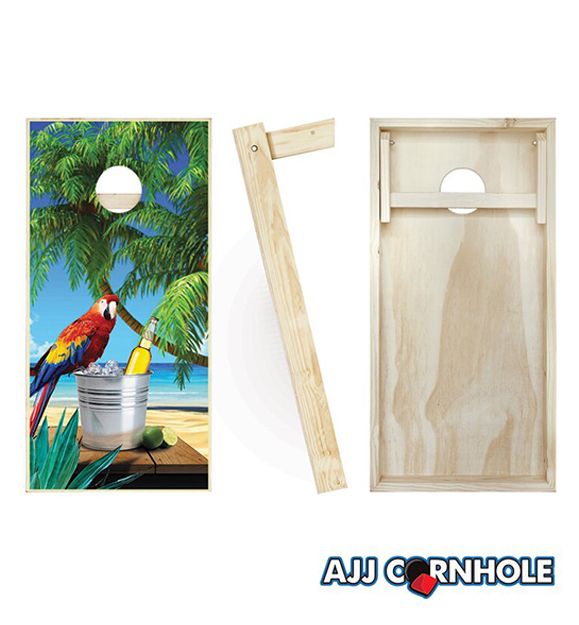 This vibrant, cheery cornhole board will make you smile. It's a great choice for cornhole on the beach — or for anyone who wishes that they were at the beach! You'll enjoy this fun themed cornhole board set with your family and friends. The boards themselves are made from solid, sturdy plywood with bolted-on foldable legs. The brightly colored parrot-themed bean bag toss game also comes with two sets of four bean bags, each in your choice of complementary colors.
You'll be ready to play as soon as you take them out of the box. The toss game set is ACL, ACO and ACA regulation size at 24″ x 48″ and the set is ACA-certified. The plywood is thick and substantial — the boards are about 30 pounds each, so they will stand up to even the most vigorous play. The surface is nicely finished to keep the colors true, but be careful because the slickness can make it easy for the bean bags to slide off. The legs fold in for easy storage, and this also makes them easy to carry.
7. 2' x 3' Coors Light Can Manufactured Wood Cornhole Board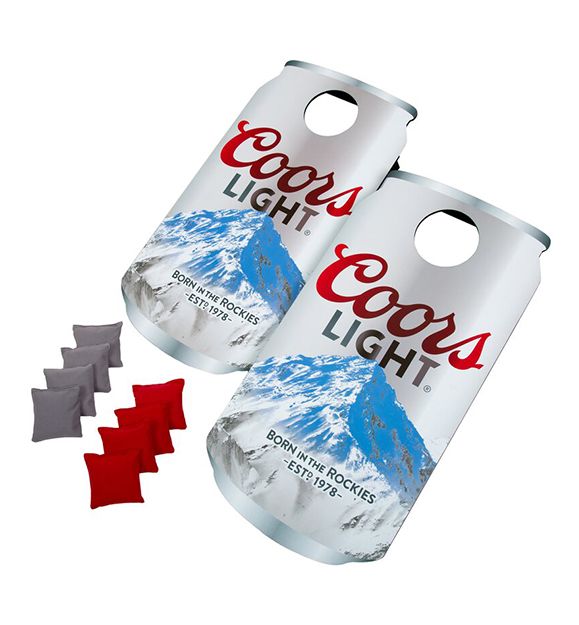 Coors Light is "made to chill" and you will be too when you're playing cornhole games with your family and friends. This cornhole set is made from lightweight, but sturdy, manufactured wood in a beer can shape and is proudly emblazoned with a replica of the iconic Coors can. It also comes with eight all-weather bean bags in complementary colors. The boards have folding legs for easy setup and they snap together to make a "suitcase" that holds the bags for easy storage or transportation.
These boards are relatively lightweight so they are easy to carry with you when you're heading to a picnic or party. At 37″ L x 19″ W x 10. 5″ H, they are slightly smaller than regulation size cornhole boards so they don't take up as much room or require a large space to play. It may also be easier for younger and smaller players to reach the board and score easily, which makes these a great choice for family gatherings.
Key Considerations When Choosing Your Cornhole Board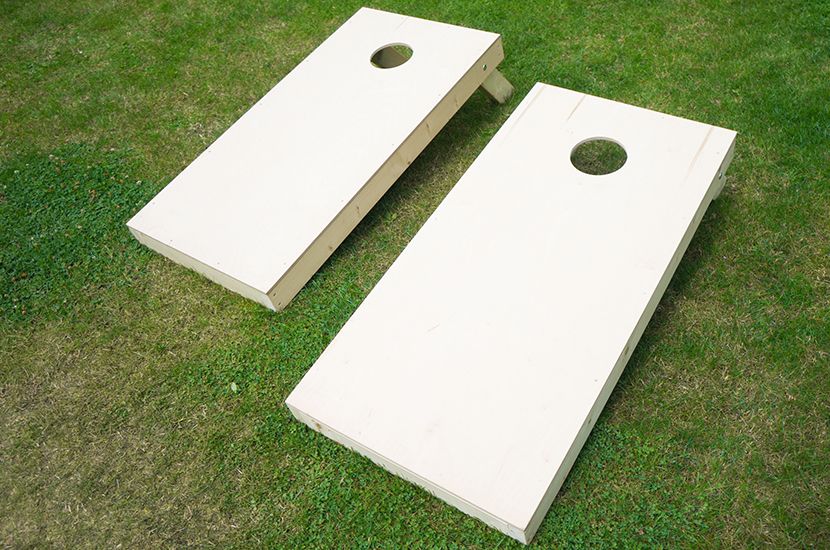 Here are some things to consider when choosing your cornhole boards.
The best cornhole board for you depends in part on where you plan to use it. Regulation boards, like the AJJ Cornhole Solid Wood Boards, require a regulation-size court and not everybody has that much space in their backyard. If you plan to set up your court and leave it up, you'll want wood boards that stand up to a rain shower or other weather. If you plan to store it and/or transport it frequently, look for carrying handles or a carrying bag. And, of course, you'll want a cornhole set that fits in with your decor so consider the best color, material and design, as well.
The American Cornhole Association, American Cornhole Organization, and American Cornhole League all require regulation cornhole boards to measure 24″ x 48″. If you're only planning on playing friendly games and are not especially concerned about complying with cornhole tournaments regulations, you may prefer smaller — or "tailgate size" — boards. These can be any size but they generally come in around the 24″ x 36″ mark. These smaller boards can be used on a smaller court, and they are friendlier for players who may be smaller, younger, older, or who may otherwise have difficulty with a bag toss on a full-size court.
Almost all cornhole sets have a wooden playing surface and most have wood sides as well. The best quality boards should be finished with latex paint, stain and varnish (like an oak design or walnut finish), vinyl decals, or anything else that provides the right balance between slipperiness and stickiness; you want the duck canvas bean bag to be able to slide into the hole easily (or to be able to knock your opponent's bean bags off), but you also want to be able to control your tosses.
Most agree that the best cornhole boards are made with bolted-on legs that feel solid and sturdy. You don't want your boards to shake or shift if a bean bag toss lands hard. Solid wood construction is the best traditional board material, but there are some advantages to aluminum frames; they are lighter and tend to offer a bit more bounce, if that's something you're after. The carry handles and bean bag storage is very convenient, too.
Cornhole sets come in some really neat, unique designs with color-coordinated bean bags, but there's also something special about customizing your own. It's entirely up to you and your talents whether you want to pick the theme that looks best in your backyard or paint/stain your own masterpiece with a walnut finish or anything else. You can also get creative with rope handles or a carry bag.
Traditional Corn Or All-Weather Beans?
Cornhole games are named after the corn that traditionally filled and weighted the bags, but many modern players prefer plastic or resin beans. The best bean bags (as opposed to corn bags) can stand up to weather and won't mildew, sprout or mold. You can try out both kinds and decide whether you want to stick with tradition or take advantage of modern bean bag materials. Check out our review of the best cornhole bags next!

Cornhole Regulating Bodies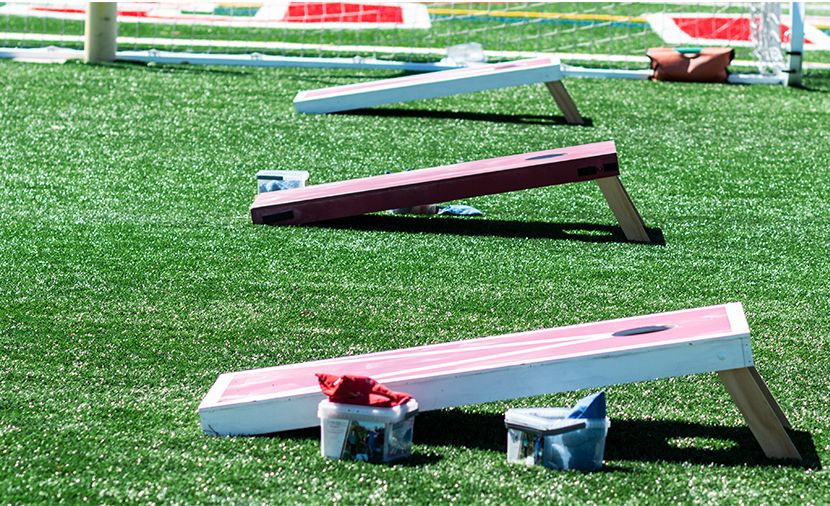 The American Cornhole Organization (ACO) was founded in 2005 and considers itself the governing body for the sport. They offer official cornhole rules and sanctioned products. The ACO sponsors professional and recreational tournaments and promotes the sport around the world.
The American Cornhole Association (ACA) was established in 2002 and bills itself as the "original and official governing body" (rivalry to be the best is fierce). They maintain the original official cornhole rules, produce official equipment, maintain a listing of tournaments and promote the sport.
The ACL is the newest governing body. Their divisions include ACL Juniors, ACL College, ACL Championship, ACL Pro, and the World Cornhole Organization, which is advocating to have cornhole included as an Olympic sport. They also provide event management services and official equipment.
Frequently Asked Questions
A cornhole board is a large, flat plank with a hole to aim the bean bags at. It is angled to sit slightly off the ground and should have a smooth finish to facilitate good game play. The best cornhole boards are solid, sturdy and suited to their environment in both look and feel.
The classic game of cornhole involves individuals or teams competing to get the most bean bags in the hole or on the board by the end of the game. The best game play can be offensive (trying to score points), defensive (trying to keep your opponent from scoring points), or, ideally, a combination of both.
The best cornhole board finish is hotly debated; polycrylic and polyurethane are popular among competitive players. What really matters is that the best cornhole boards are completely smooth so that the bean bags cannot get snagged, and that the surface is slippery enough for good slide and grippy enough that a good pitch stays where it lands.
We've discussed some of the best cornhole boards available. Of course, what's best for you and the people you're playing with may not be the same as what's best for someone else, although you definitely won't go wrong with any of our choices, such as the Stained Boat Shoe Solid Wood Cornhole Board or the GoSports PRO Metal Cornhole Board. Take some time to think about what would work best in your cornholy life and try out some of the best cornhole boards that we have selected! Embrace the joy of cornholing.