Having good hockey gloves is essential: not just to make sure you perform at the top of your game, but also to keep you protected from injury. But there are so many factors that go into what makes a great hockey glove that choosing which ones to buy can seem impossible! To help you along, we have compiled a list of 10 of the best hockey gloves on the market today. Our buyer's guide at the end of this article is also a must-read as it will show you how to assess which are the right hockey gloves for you. Note that this list only includes senior hockey gloves, so if you are looking for junior or youth hockey gloves, you will need to search elsewhere.
1. Bauer Vapor 2X Pro Hockey Glove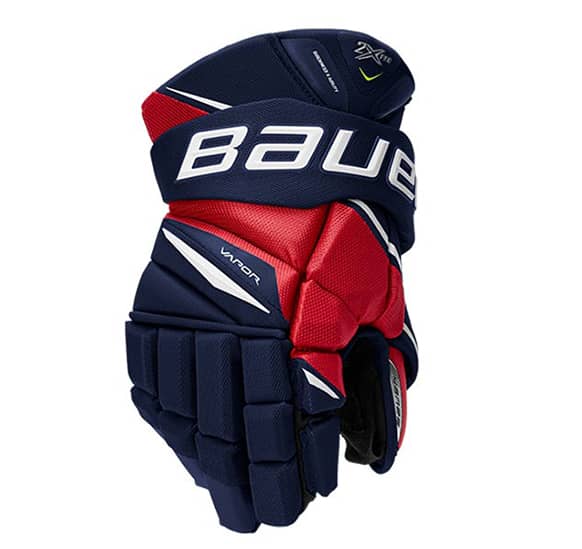 Editor's Choice #1: The combination of comfort, mobility, stick feel, protection and durability on the Bauer Vapor 2X Pro makes them some of the best senior hockey gloves available. Thanks to the Shock Lite foam and with triple density foam fingers, you can have maximum protection while wearing the lightest gloves on the market.
Featuring a tapered fit, the Bauer Vapor 2X Pro Hockey gloves have triple density foam fingers, and keep your hands safe and protected. At the same time, they are the lightest gloves on the market today, weighing only 265 grams (9.3oz). This is thanks to the Shock Lite foam padding, which provides optimum protection without hampering your speed and performance. It's a win-win!
The Bauer Vapor 2X Pro features a Thermo Core lining to keep your hands at a comfortable temperature. It also keeps the inside of your glove dry, preventing bad odors. Customers report that these are incredibly comfortable gloves, and take a lot less time than most to break in. The tapered fit also offers a remarkable balance between mobility and control.
The Connekt+Palm and Hypersense lining around the fingers of these gloves will vastly improve your grip and ability to feel your hockey stick. On top of that, the Bauer Vapor 2X Pro also features a three-piece index finger and two-piece flex thumb to improve grip and dexterity in the hands. With your gloves feeling like an extension of your hands, you'll never want to let them go! Luckily, they are also highly durable.
2. CCM Super Tacks AS1 Hockey Gloves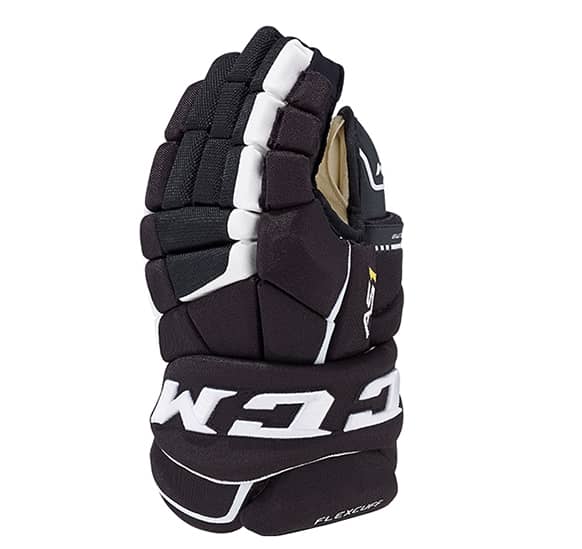 Editor's Choice #2: Comprised of a great combination of features, our second editor's choice are the Super Tacks AS1 hockey gloves from CCM. Their innovative fit provides a fantastic combination of mobility and control, and they are beautifully cool and soft. Durable, lightweight and highly protective, these gloves tick all the right boxes!
The Super Tacks AS1 is packed with premium features. They are without a doubt the best CCM hockey gloves, and some of the best hockey gloves overall. These gloves feature anatomical hybrid taper fit that fits snugly around your hand but gradually opens up towards the cuff. This, along with the three-segment cuff and two-piece thumb, provides optimum mobility for the wrist and maximum stick handling control.
Everything about these hockey gloves is made with durability in mind. With a polyester exterior, D30 smart material and PE foam padding, they are really made to last. The Pro Clarino palm features strengthening material at common wear points, which both enhances durability and makes for a softer feel. At the same time, the Super Tacks AS1 is wonderfully lightweight, improving your efficiency on the ice.
These CCM gloves offer truly elite level protection. The full coverage PE foam padding as well as PE inserts protects the entire hand from injury. Despite this, the Super Tacks AS1 is not too bulky, prioritizing both dexterity and protection. The polygiene treated liner also minimizes moisture and bad odors. The only drawback is that the emphasis on durability in the palm does detract slightly from your feel of the stick.
3. Bauer Supreme 2S Pro Hockey Glove
If you like an anatomical fit, the Bauer Supreme 2S senior hockey gloves will exceed your expectations. You will be amazed at how closely ice hockey gloves mold to your hand shape! Many reviewers found these to be the most comfortable gloves they have ever worn.
The dual density foam padding offers decent protection, and the AMP free flex cuff system provides extra protection for the wrist and forearms. The anatomical fit also minimizes pain on impact. On the mobility front, these gloves also come out on top, especially thanks to the three-piece articulation on the index finger. The pro nylon mesh shell makes these gloves durable yet flexible and lightweight.
These gloves feature an antimicrobial liner that not only keeps your hands dry, but also prevents bad odors. This is major both for comfort while playing and for the longevity of the gloves. Ventilated patches on the thumb and palm improve airflow, keeping your hands as dry and cool as possible! If that wasn't enough, the AX Suede Quattro palm also features fungal protection technology, improving your grip later on in the game.
4. Warrior Covert QRE 10 Hockey Gloves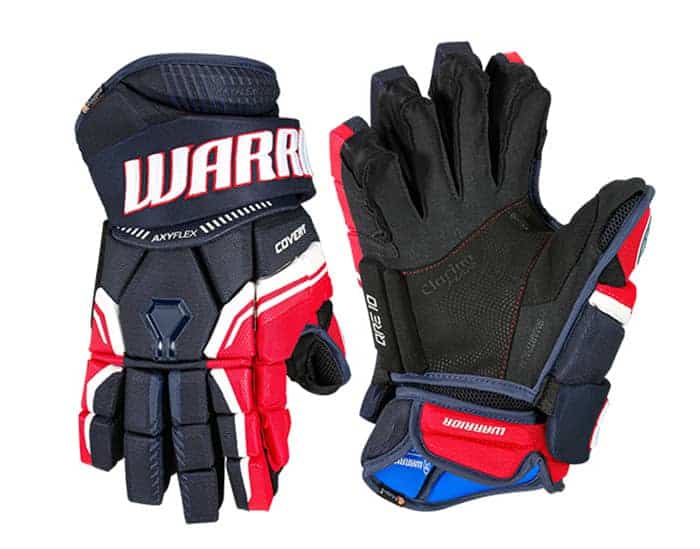 The Warrior Covert QRE hockey gloves have prioritized touch and mobility to give you the utmost control over the hockey stick and puck. Click here to see best hockey helmets! The tapered fit and AxyFlex floating cuff design allows free and easy movement without sacrificing protection. The non-slip Smart Palm + technology allows sensitivity to the stick while still providing slash protection. Mobility in the fingers and thumbs does not match up with the mobility in the wrist, but is still decent.
These Warrior hockey gloves provide great protection, especially on the fingers and wrist, our most sensitive areas. Padding is made from Exo+ Foam, and tough plastic inserts provide impact protection for the fingers and back of the hand. As well as enhancing mobility, the AxyFlex cuff also fully protects your wrist and forearm.
The Warrior Covert QRE boasts a durable shell made of cable mesh and nylon. Plus, the palm has an additional Gatorskin Clarino layer which improves longevity. Inside, the polygiene infused microfiber lining will wick sweat and keep your gloves bacteria free. Despite all their enhancements for durability, these gloves are still super lightweight. Thanks to this and their soft feel, you will almost forget you have them on! If you would like to practice hockey and skating at home, check our our review of the best synthetic ice and choose the best one for your private rink.
5. Bauer Nexus N2900 Hockey Gloves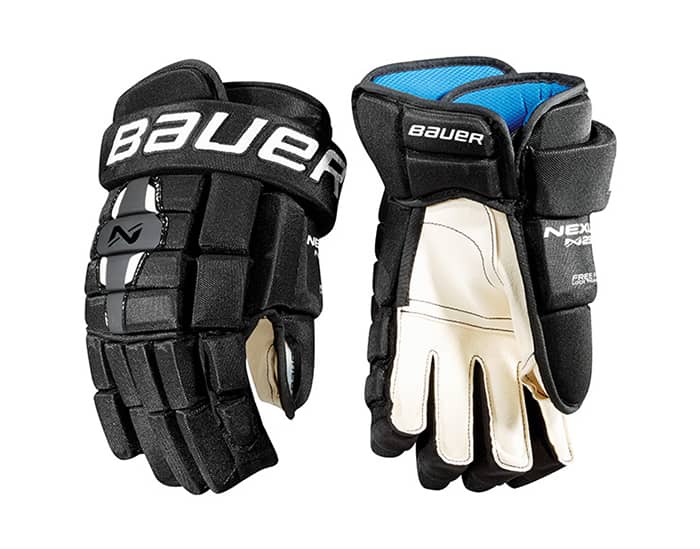 If you're looking for budget gloves with a classic fit, you could do much worse than the Bauer Nexus N2900. With dual density foams throughout, these are highly protective gloves, featuring plastic inserts on the back hand and fingers for extra protection. This does make the gloves a little bulky, but they are a great choice for power players who need maximum protection. They are also abrasion resistant and should last a long time.
These Bauer hockey gloves also have a Thermo-Max lining which is soft and comfortable as well as keeping your hands the perfect temperature. Many players find the classic fit most comfortable, as it provides optimal mobility for the wrist and wiggle room for the fingers. The Quattro Grip palm with AX suede provides excellent stick feel, though the bulkiness of the gloves does hinder this somewhat.
Thanks to the moisture-wicking lining, these gloves will stay cool and odor free for a long time, preventing bacteria from developing. On top of that, the cable mesh exterior and poly knit material on the finger gussets makes the Nexus N2900 super breathable, which also keeps the moisture levels low. These are a fantastic pair of hockey gloves at an extremely affordable price.
6. Bauer Vapor X2.9 Hockey Glove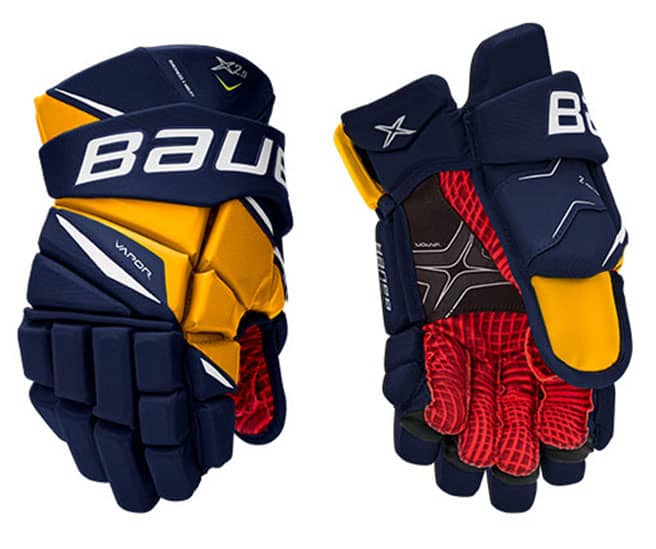 The Bauer Vapor X2.9 hockey gloves feature a tapered fit like all Bauer Vapor gloves. And despite its affordable price point, this is still one of the best senior hockey gloves available today! Like the Supreme 2S Pro, it is constructed from durable pro nylon mesh. Its mid-density foam provides decent protection, though not as much as some of the gloves on this list. However, it is an incredibly lightweight glove at 295g (10.4oz). This is especially good if you are a playmaker, as you need to be quick and dexterous.
The Thermo Max liner in these gloves keeps your hands warm, but at the same time incorporates odor-resistant technology to keep your gloves dry and your hands cool and fresh. Another great feature is the tactile palm liner, which makes these gloves deliciously soft and comfortable.
The Bauer Vapor X2.9 hockey gloves feature an AX suede grip palm which allows for greater control over the hockey stick and puck. The fingers have great articulation and the design features a flex thumb, making for maximum precision and dexterity. If you want a high-performance glove for a fraction of the price, this is the one to get.
7. Warrior Alpha DX Pro Hockey Gloves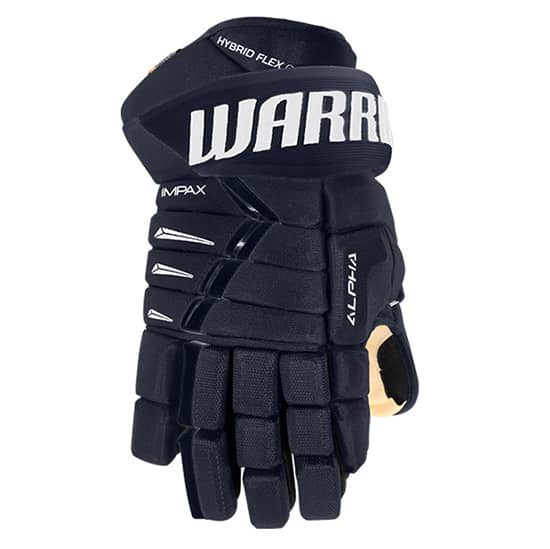 For something a little more affordable, the Warrior Alpha DX Pro hockey gloves are still some of the best gloves around. Despite being a traditional 4-roll design, these gloves fit your hands with a contoured design. Like the Covert QRE 10, they also feature the Axi-Flex thumb and Pro Palm + for improved stick handling. If you like a form-fitting glove but want extra mobility, these are a fantastic choice.
These Warrior hockey gloves are padded with a combination of vinyl nitrile and HD IXPE foam and feature PE inserts. This "Phantom Foam" blend provides very good slash and impact protection, without adding too much weight. The protection level is not as high as some of the gloves on this list, but should be enough unless you are a power player or prone to injury.
The Alpha DX pro gloves have a buttery-soft feel that your hands will love. Add to that the responsive lycra gussets, and these are some of the best ice hockey gloves when it comes to comfort. The Wartech NFC liners are also polygenic, meaning these gloves will stay fresh and dry for longer.
8. TRUE A6.0 Pro Hockey Gloves
True is one of the best hockey glove brands out there, and the A6. Pro are their best hockey gloves. These utilize a classic relaxed fit, with an ergonomic cuff that enhances mobility in the wrist. The TrueFlex+ Lock thumb provides great flexibility and protection from hyperextension, and the top three fingers all feature triple segmentation! If you like a classic 4-roll fit, these are some of the best hockey gloves you can buy.
One fantastic feature of True Hockey's gloves is their ZPalm interchangeable palm technology. You can switch the palms with any of True Hockey's four other palms, so you can mix and match to find the perfect combo for you! An added bonus is you don't have to buy a whole new pair of hockey gloves if the palms wear out. Unfortunately, one or two customers found that the zip broke after a few months.
The A6.0 hockey gloves feature medium density Pro-Grade EPP foam throughout the glove, which offers decent protection without adding too much weight. They also have PE inserts to provide further impact protection. The antimicrobial technology in the inner lining keeps your gloves cool and dry, which also enhances comfort! Note that the sizing runs a bit small though – so if you normally wear a 13", you may need a 14" of these.
9. Warrior Covert QR Edge Hockey Gloves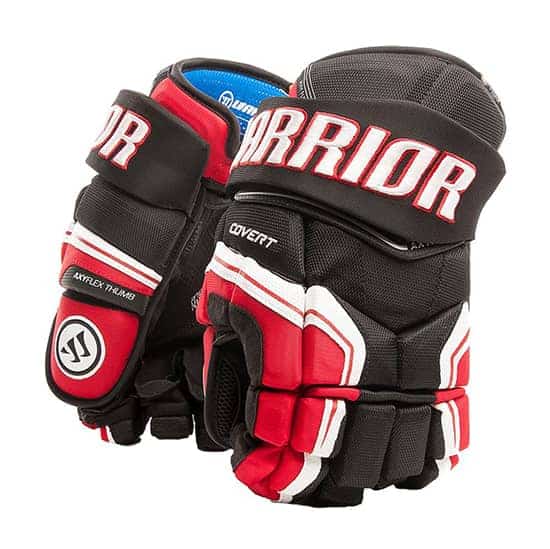 Like the other Warrior gloves, these also feature the SmartPalm+ non-slip material which improves grip and stick feel exponentially. The contoured fit of these gloves helps you feel like they are an extension of your hands. Unfortunately, the palms are not designed to be replaced, but they should last a long time.
With a mixture of medium and dual density foam throughout, this is a highly protective glove. The foam is quite stiff and they have gone from a 4-roll to a 3-roll design, which does hinder flexibility somewhat. Nevertheless, the AxyFlex technology introduces a number of components to mitigate this. One is a stretch mesh between the cuff and body of the glove which enhances mobility without sacrificing protection. Another is a flexible plastic plate in the cuff roll which functions as a slash guard while still allowing mobility.
The Warrior Covert QR Edge gloves include stretch lycra in the finger gussets, which delivers enhanced flex and breathability. This, along with the antibacterial polygiene lining, keeps the gloves cool and dry. Plus, they are so soft and comfortable, they barely need to be broken in! And with a shell of cable mesh knit, they should last you a good while.
10. Bauer Nexus 2N Hockey Gloves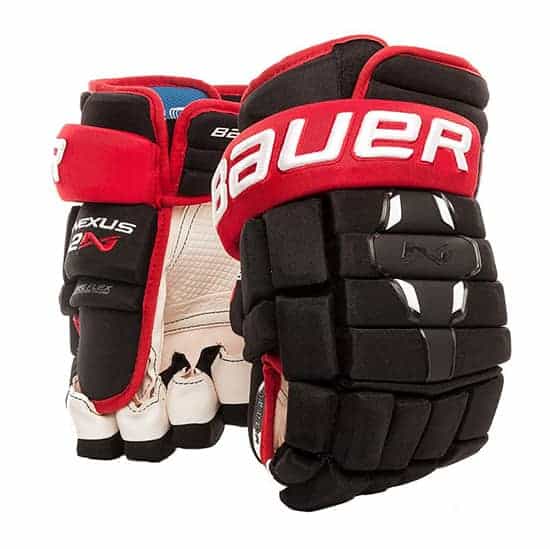 A classic 4-roll fit option packed with modern features, the Bauer Nexus 2N hockey gloves are ideal for those with larger hands. Despite being looser fitting gloves, they feature an adjustable cuff so you can make them as tight or loose on your wrists as you like. For people who find that most other gloves are too tight or too short in the fingers, these may be an excellent choice.
These Bauer gloves offer much more flexibility and dexterity than most 4-roll gloves. The three-piece Flex Lock thumb provides flexibility and protection, and the palms are made of a combination of Ax Suede's Quattro and Nash gussets. This provides fantastic grip, but can still stretch if necessary. These also feature an odor-resistant lining which not only wicks moisture while you play, but helps the gloves dry out when not in use.
The padding on the Bauer Nexus 2N is made with dual density foams and features poly inserts for added protection. Add to that the straight cuff roll and high-tech palm and you have elite level protection. They aren't the most durable gloves on this list, but for those who want all the modern features on a classic fit, these are a decent option.
We outline some of the most important things you should know when it comes to choosing hockey gloves.
Parts Of The Hockey Glove
Hockey gloves are made up of a number of different parts, which you should be familiar with.
Fingers: Hockey glove fingers need to provide protection while also allowing for movement. The outer side has a segmented layer of padding for protection, while the inner side is thinner.
Cuff Roll: The cuff roll is a section of protective padding around your wrist. Its sizing will affect your mobility.
Back Roll: The back rolls make up most of the glove's bulk and provide protection to the back of your hand.
Cuff: This is the padded section that sticks out from the cuff roll, meant to shield your forearms.
Looking for other hockey gear? Find out more by clicking Best Hockey Skates.
There are three mainfit styles – which is best for you depends on your hand size and personal preference.
The anatomical fit is designed to contour around the shape of your hands and provide a snug fit. It is best for those with average sized hands who like a form-fitting feel.
The tapered fit is also snug around the fingers, but looser around the wrist. If you like a snug fit but want more wiggle room for the wrist, this is ideal.
The classic fit is looser and more spacious. This style is best for players with larger hands and those who prefer a relaxed fit.
Keep these factors in mind when assessing hockey gloves.
Today, few players use real leather gloves as they are heavy and not very protective. Nylon is highly favored as it is breathable and lightweight, but some players prefer synthetic leather for its durability. These days, composites of the two are becoming popular.
A thumb lock is a plastic insert that only bends in one direction, protecting your thumb from bending backwards unnaturally. Most hockey gloves today have a thumb lock, but not all do.
All hockey gloves have padding, but they vary in terms of thickness and shape. The shape of the padding will affect the way you can move your hands, which is a matter of personal preference.
The thicker the padding, the more protection – but overly thick gloves can become too heavy and also limit flexibility.
Some things to keep in mind when trying to fit hockey gloves.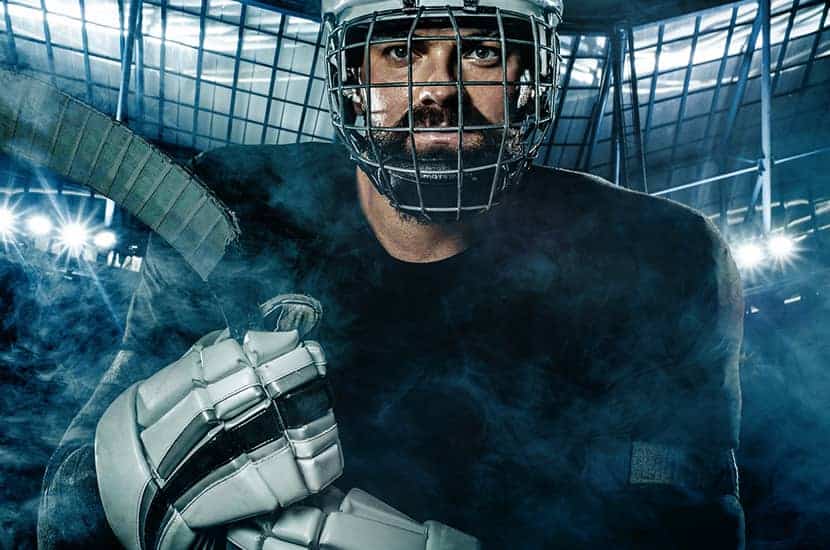 Hockey glove palms should cover your entire palm, but not feel too loose. If it does not cover your palm, the glove is too small. If it covers your palm but feels loose, the glove is probably too large and you should try a size down. What Is Icing In Hockey? The rule explained.
Short cuff hockey gloves end just above the wrist, while in long cuff gloves, the cuff extends nearly all the way to your elbow pads. Short cuff gloves are quicker to put on and may allow a little more wrist movement. But they expose your entire forearm, putting you at a much higher risk for injury. 
According to Nashville Predators equipment manager Pete Rogers, the benefits of a short cuff are miniscule compared to the protection offered by a longer cuff.
Getting The Right Size Glove For You
Hockey gloves range from 8 to 15 inches long (20-38cm). Youth and junior hockey gloves are usually between 8 and 12 inches (20-30cm). Trying on different hockey gloves is the only surefire way to get the right size. But if this is not possible, measuring your hands is the next best thing.
Measure the distance between the base of your palm and the tip of your index or pointing finger.
Multiply this by two and round to the nearest inch – that should be the length of your glove.
Another method is to measure from your elbow crease to the base of your middle finger. The number you get should be the length of your glove.
Note that both these methods are designed with long cuff gloves in mind.
Simple, right? But there is another layer of complication – many hockey glove brands do not make their length in inches explicit, but only specify sizes like small, medium and large. If the brand you're looking at does not specify length, this size guide should do the trick.
Remember that gloves will fit differently depending on the fit style (classic, tapered, or anatomical). But either way, the gloves should feel snug but not too tight.
There should be around a quarter of an inch (0.64cm) of space between the tip of your fingers and the tips of your gloves.
What To Consider When Choosing Your Hockey Gloves
Because we want you to be as informed as possible, here are a few final things to consider.
The weight of your gloves is a function of a number of things – material used, amount of padding and even sweat-wicking ability. Heavier gloves tend to have more padding and thus provide more protection, but if your gloves are too heavy, they will slow you down.
As we have said above, greater protection usually means more weight and decreased mobility. So how do you decide which to prioritize? Well, it depends on the type of player you are and your role in the team. If you're a playmaker, a more lightweight, flexible option is best. But if you're a power player taking heavy slap shots and getting pushed around in the corners, you'll need extra protection.
Protection is crucial for all hockey players – even if you value mobility, do not choose overly thin gloves.
Hockey gloves can cost anywhere between $50-$210 for senior players.
$50-$70: Usually made from thick material, with single-density pads – at this level, protection and durability is not the best
$70-$100: These usually have a thinner palm with an overlay of another material for enhanced grip, and padding is usually made of double-density foam or polyethylene.
$100-$150: This is where you start to see some really quality gloves – palms are highly sensitive, often made of nash, and padding is usually made from high quality foam
$160-$210: Gloves in this price bracket are full of enhancements, such as reinforced grip coatings on the palms – here you will find the most comfortable, durable and high performance gloves
If you want to play competitively, you'll need something towards the higher end. But for the casual player, there are many great affordable hockey gloves! If you are interested in similarities and differences between figure skates vs hockey skates, click to find out more. Don't forget to check out the Best Figure Skates.
Frequently Asked Questions
Taking all factors into consideration, the best hockey gloves are the Bauer Vapor 2X Pro gloves. The lightest gloves on the market, these also offer the best blend of flexibility, control, protection and comfort. However, all the hockey gloves on this list are the best gloves for someone! It all depends on your budget, fit preference, and priorities. A good hockey glove can seriously improve your game – but when it comes down to it, the glove is only as good as the player wearing it.