Croquet is a game that's suitable for all ages and stages and the best croquet set is the one that suits your family and friend group, and that you'll get the most use out of.  We've looked at and played with a lot of croquet games to determine the best croquet set out there, so read on to learn which is the best in each of these categories:
Sophisticated Players
Children
Adults
Serious Players
Beginners
Budget Set
Parties
Budget Family Pick
From the best croquet sets out there, you're sure to find the one that's right for you, whether you prefer vintage weathered wood, woodland animals or no-frills/low-cost.
1. Franklin Sports Vintage Croquet Set: Best For Sophisticated Players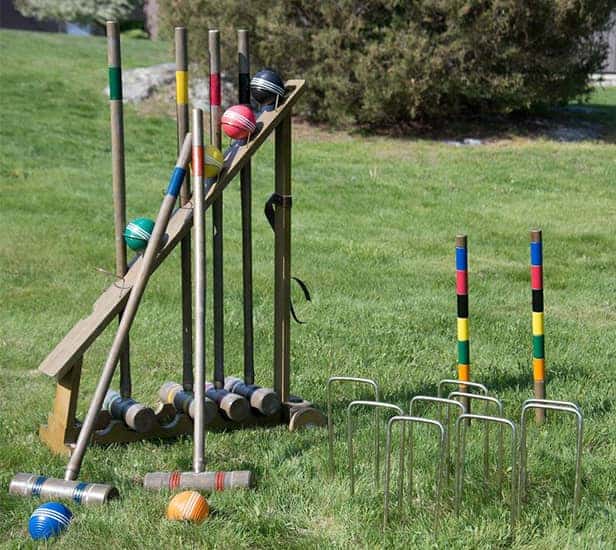 Editor's Choice #1: You'll love the look and feel of this old-fashioned croquet set, and not only is the aesthetic reminiscent of the good old days but the quality is too. It's made with solid hardwood mallets and balls, copper wickets and finishing touches worthy of master craftsmen. This set looks great in any yard.
The best of the croquet sets for those with more sophisticated tastes, this vintage-look set has a charming authentic appearance plus all the advantages of modern advances in manufacturing and technology. All the pieces look almost as if they were hand-crafted, and they have been carefully engineered to precise standards for the best play. The all-wood mallets have hardwood handles with great grips and are nicely balanced. They feature protective brass bands and colored trim. The high-performance balls are finished to stand up to any weather and are nicely painted. You'll also appreciate the colorfully painted and finished wooden stakes, the authentic copper wickets and the weathered wood stand.
The quality croquet set is perfectly sized for most players. The mallet handles are 30.5″ long, and each mallet head is 9″ long and 2″ in diameter. The weather-resistant wooden balls are 2.75″ in diameter. The nine wickets are 18″ high, and the stakes are very tall. All the pieces fit nicely on the vintage-look stand with wheels for easy transport and storage. The entire set weighs in at just under 24 pounds so while it is solid and sturdy in your hands, most adults will be able to wheel it around and set it up easily. It's easy to assemble and there is a downloadable owner's manual/instruction booklet easily available.
2. Magic Cabin 10 Piece Woodland Croquet Set: Best For Children
Editor's Choice #2: Everybody loves animals, and everybody loves croquet, so there's nothing better than a fantastic woodland animal-themed croquet set. This set appeals to kids (adults will love it too) and it's sized just right for them. This is a fun way to get your whole family started with the timeless game of croquet.
Croquet is an outdoor game and this set celebrates the best of the outdoors. Like all good croquet sets, it plays the same as a more traditional set but these wickets represent woodland animals like the deer, rabbit, owl, fox, squirrel and hedgehog. Children and adults will have lots of fun with this set! It includes six wickets, green and blue croquet balls, and green and blue mallets. The set comes in a very sturdy box that can also be used for transport and storage. Teach your kids how to play croquet and all about nature at the same time.
Since this set is themed for children, it makes sense that it would be sized for them as well. This is not a full-size set; it's designed for younger and smaller players and it's just right for them! Mallets are 24″ long, balls are 2″ in diameter and wickets are approximately 7″ x 8.5″. The entire set is under three pounds so it can easily go with you to the park, to a party or to a friend's house. It is also weather-resistant so feel free to play anywhere, any time. It includes a rule book/instruction manual. The animal-themed croquet set is fun to play and fun to look at! It makes for a super gift and a great introduction to the game.
3. GoSports Premium Croquet Set with Carrying Case: Best For Adults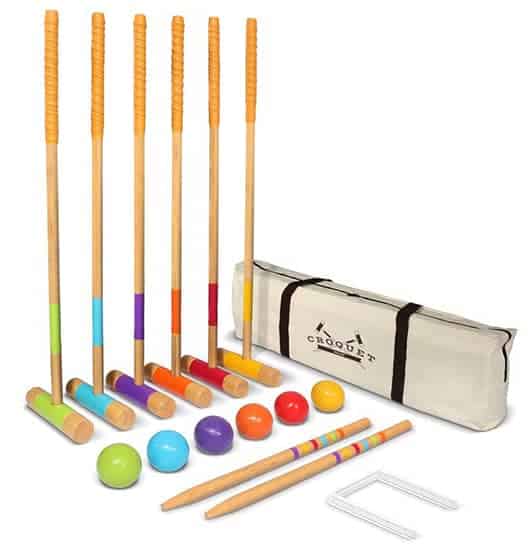 There's a lot of little touches that make this set a "premium" version of the croquet sets out there, such as leather grips on the handles of the mallets, a handsome carry case/storage bag for transport and easy storage, a rulebook/owner's manual and a United States-based customer service team.
The set includes:
6 mallets
6 balls
9 wickets
2 stakes
Rule book
The colors of the balls, handle trim and stakes are nicely coordinated for an upscale look, and the bag features an attractive logo. You don't have to disassemble the mallets and balls to fit them in the bag so you can pack up quickly and easily when you're done with the game or you want to take it on the road with you.
The mallets come with 36-inch handles, which is longer than many other sets come with. Taller adults will definitely appreciate the extra few inches when you're looking for the right set. You also get two end posts with painted trim that matches the mallets and balls. The balls are made of molded plastic, are 3″ in diameter and weigh a solid ten ounces each. The hardwood handles and mallets are sturdy and well-balanced too, so you know you'll have a good game. The wire wickets are durable and shiny for good visibility in the grass. This heavy-duty croquet set is resistant to water, mildew and UV rays, and it is a sturdy yet lightweight 12 pounds in total.
4. Franklin Sports 6 Player Professional Croquet Set: Best For Serious Players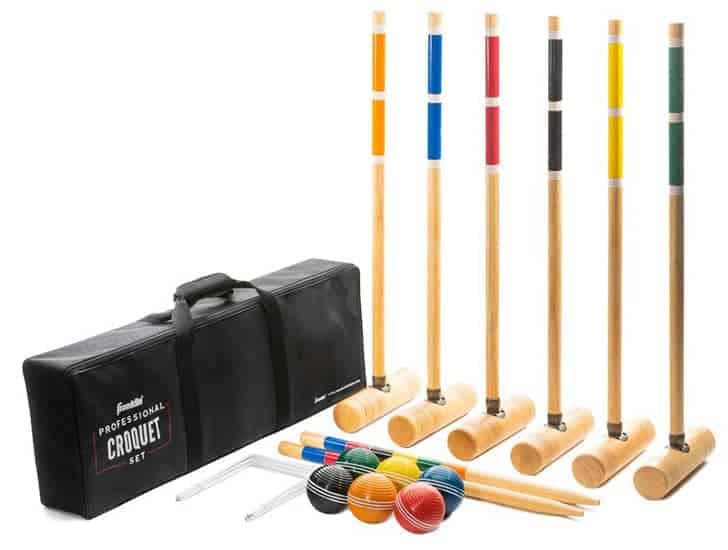 Here, you get a professional-grade set that's also perfectly suited for play with your family and friends. It comes with absolutely everything you need for six players to set up and get started, comprising:
6 mallets
6 balls
9 wickets
2 stakes
Carrying case
The set is high-quality, colorful and easy to take with you whenever and wherever you want to play with your family and friends! It weighs just over 20 pounds in total, which means that most adults will be able to transport it easily, especially in the convenient storage/carry bag with a zipper and handles.
This set comes with all the gear that you could want or need for the best croquet fun. The hardwood mallets are made of solid wood with metal threads connecting the handle and mallet head. Each handle measures 29.5″, which is a very comfortable length for most adults. The polymer balls are 3.31″ in diameter and made to stand up to any weather conditions. Both the handles and balls are nicely weighted and balanced for easy, fair play. The wooden stakes are 24″ high with a multi-colored painted design for easy visibility. The coated steel wickets are also designed to be weather-resistant and they look great with the rest of the set. The 6-player croquet set includes complete instructions for laying out and setting up your court so you can get started immediately.
5. Hey! Play! 6 Player Croquet Set with Carrying Case: Best For Beginners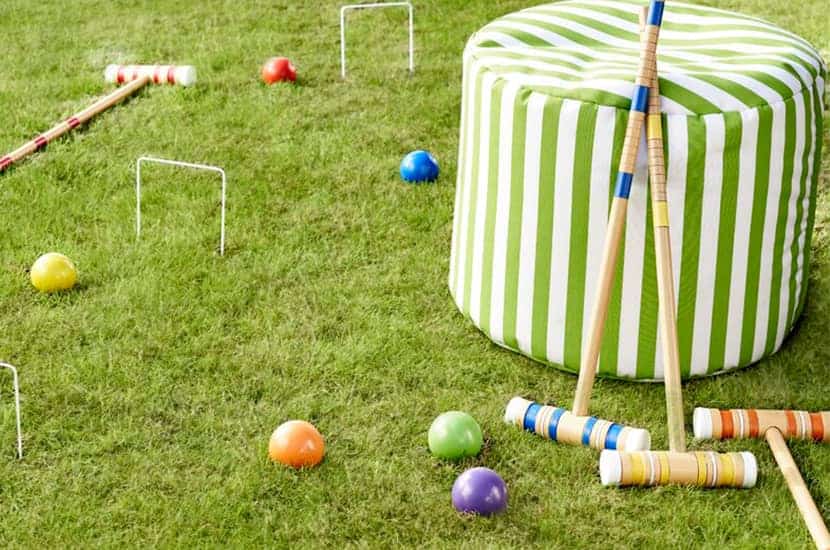 Nice Introduction To The Game
You may not be sure what you're looking for in croquet sets, but this set includes everything you need to set up a croquet court in your yard — you'll definitely be the hit of the neighborhood since this is a great game for all ages and stages to play together. You'll get all the equipment that six players will need: six mallets, six balls, two stakes, nine wickets and a great bag for easy storage and transport. The mallets, balls and stakes are solid wood with carved grips and painted trim. Mallets are 28.875″ long. They are treated to be resistant to weather, UV rays and mildew, so you won't have to worry about playing an outdoor game outdoors!
This set looks great with coordinated, colorful painted trim on the wooden mallets, stakes and wooden balls. Adults and kids alike will appreciate the bright colors. The metal wickets are coated for appearance and durability, and the white finish is easy to see even in low light or against dark grass. The stakes feature matching painted stripes and a not-too-sharp pointed end so they stay securely planted where you put them. You'll also like the blue fabric bag with a zipper and handles; all the pieces fit nicely inside (sometimes it is easier to detach the mallet heads from the handles) for storage or transport. The best croquet set for beginners, this solid wood set is durable but weighs only 11 pounds in total, making it very suitable for younger and smaller players as well as full-grown adults.
6. Triumph Sports 6 Player Backyard Croquet: Best Budget Set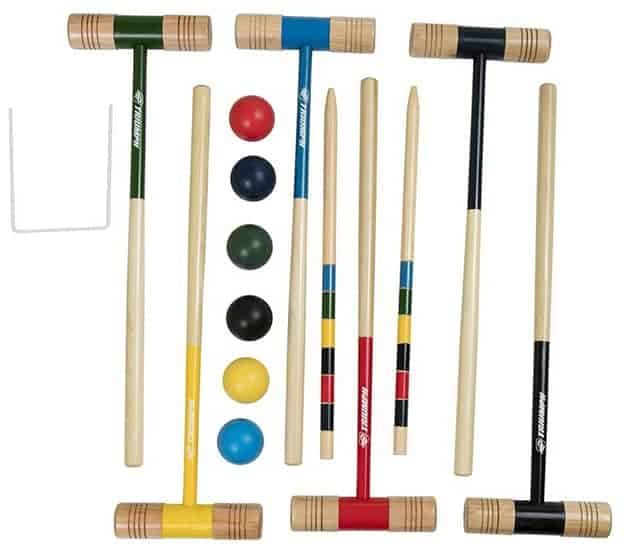 This set comes with everything you could want to introduce yourself to the much-loved game of croquet. You will get six mallets and balls, two stakes, nine wickets and a handy carrying bag that can also be used for storage. The colors of the polymer balls match the painted trim on the hardwood mallets and stakes, and the wire wickets are their natural color. The storage bag is a handsome blue color with a logo. There is also an easily downloadable instruction book/owner's manual; you can read up how to play croquet and set up the court so that you can start playing the minute you take everything out of the box!
With the balls and mallets, 6 players can enjoy a game, and they fit inside the carry bag that the set includes, along with the stakes and wickets that you need to set up the game. The entire game set weighs under eight pounds so although it is made to last, it's also made to be easy to carry. It is also well-suited for smaller and younger players so every member of your family and friend group can enjoy the game. The stakes and wickets will stay securely in the ground where you place them. The mallet heads attach to the handles easily and can be removed just as easily for storage. This croquet set is excellent value for a complete game set.
7. Baden 6 Player Backyard Games Deluxe Combo Croquet Set: Best For Parties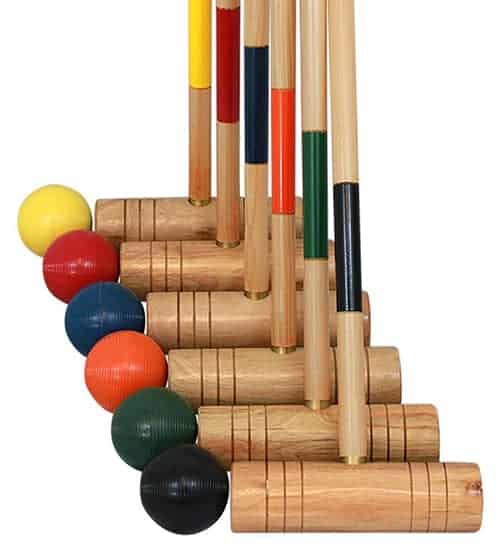 This six-player set is an excellent choice for anyone who wants to set up a court in the yard to enjoy the game with friends and family. The full-size set includes six nice wooden mallets and two wooden stakes, polymer balls, vinyl-coated steel wickets and a zippered case with handles. All the materials were selected to be both durable and nice-looking, which makes this a super set for any family or group. You also get a lot for your money here, as this set is attractively priced as well as attractive in appearance.
You'll like the look and feel of this six-player croquet set. The mallets and stakes are made of wood that feels appropriately soft and smooth in your hands, and the balls are durable poly resin. The trim on the mallets and stakes matches the colors of the balls for a coordinated, classy appearance. Along with the polymer balls, 9 steel wickets are included covered in a bright white finish for durability and visibility. The croquet balls are 2.9″ in diameter and the mallets are 33″ tall. One thing that sets this set apart is the high-quality case with sturdy handles, interior pockets, a heavy-duty zipper and an embroidered logo. You'll be proud to show up at any gathering with this handsome case. The set weighs about 17 pounds, so you'll have no trouble taking it with you, for the best croquet party fun!
8. GoSports 23 Piece Standard Croquet Set: Best Budget Family Pick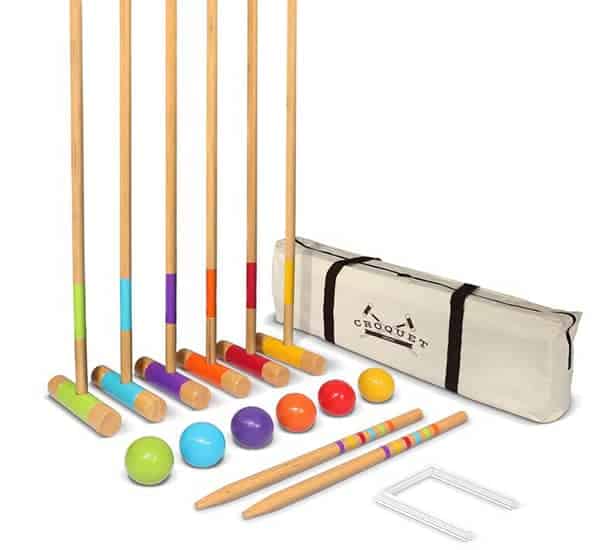 Most standard croquet sets come with mallets, croquet balls, stakes and wickets; it's no surprise that this set comes with all that too. It also includes a handy carry bag with a zipper and handles, and a rule book/owner's manual so you can learn all about the game of croquet as well as your own personal croquet set. The molded balls are solid all the way through so they will behave as they should when struck with mallet heads during play. This set comes with all that you need to play, and you'll also love the way the wooden croquet pieces look and feel in your hands.
While this set is definitely sturdy and solid, it's also very lightweight at under nine pounds. Like all the best croquet sets, this makes it easy to take with you (in the included bag!) and set up at a park, campsite, friend's house or wherever you want. It's intended for outdoor use and the wire wickets will hold in just about any type of ground. The hardwood mallets are just the right size for children but are also quite suitable for adults. You'll appreciate the ease of use, and also the ease of purchase since the wooden croquet set comes at a very budget-friendly price point.
Things To Consider When Choosing Your Croquet Set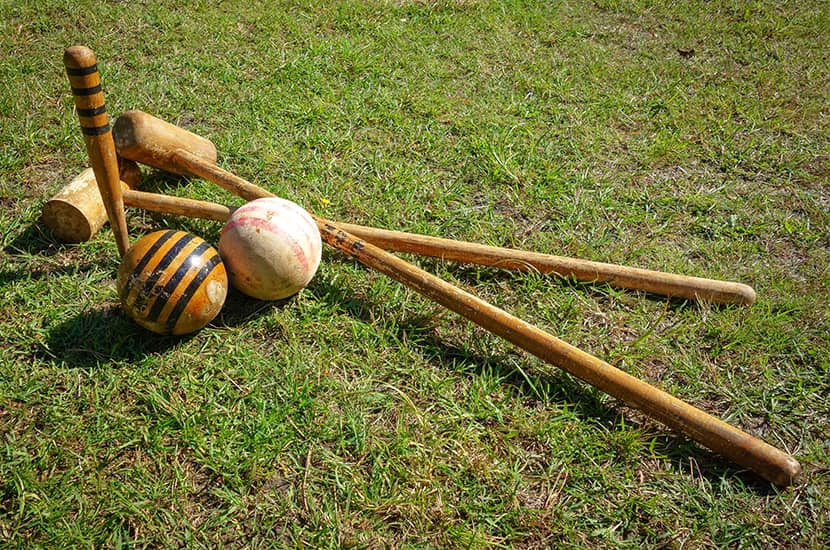 When you're looking for the best croquet set, you'll want to consider several factors, such as the mallets, balls and wickets.
Mallets: Most croquet mallets are made of wood, which is probably the best material for the job. Wooden mallets are nicely balanced and feel good in your hands. You'll probably want to look for grips that are textured in some way, like leather wraps or carving in the wood.
Balls: Croquet balls are usually either wooden or plastic. Wooden balls can look nicer, since they can match the mallets perfectly. Balls can also be made of polymer or resin. They should be solid all the way through. Synthetic balls tend to be more durable and stand up to harder play.
Wickets: Most wickets are made of some sort of metal, which resists moisture and can be planted firmly in the ground. Wire or steel wickets can be natural, powder-coated or vinyl-coated. Coated wickets are sometimes easier to see against a dark grass surface.
Regulation croquet balls are 3.625″ in diameter and weigh 16 ounces. Regulation mallets are 36″ long. It's good to know these standards for making your choice of the best croquet sets, but if you're just wanting to play with friends and family, feel free to pick the equipment that feels best to you!
A regulation six-player croquet game uses blue, black, green, red, yellow and orange balls, usually with corresponding trim on the mallets. As above, when you play in your yard, play with what you like most!
Setting Up The Croquet Court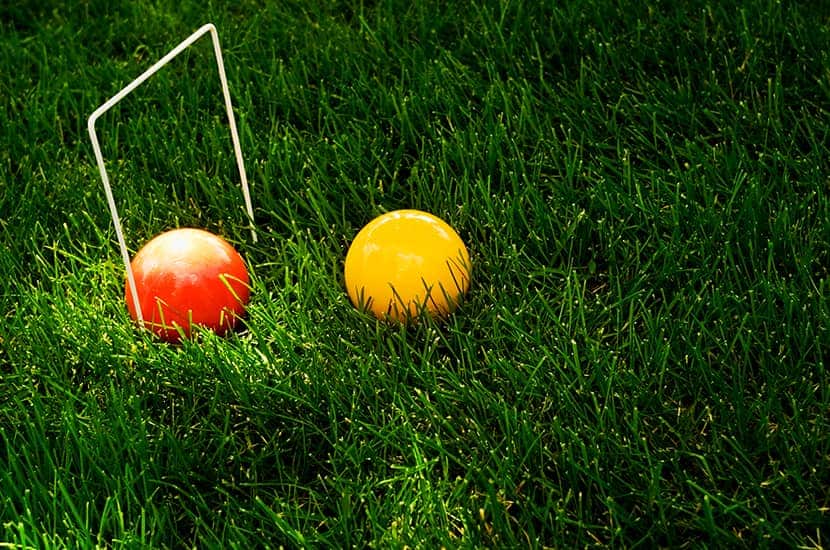 An official full-size croquet court is 100′ long by 50′ wide on a playing surface of short, dense grass. The 9 wickets and 2 stakes are arranged in a double diamond pattern starting 6′ from each edge of the court. Diagrams are available in most purchased croquet sets, at the library, or on the Internet. Colored clothespins or other clips can be used to mark the wickets.
If you do not have enough room for a regulation court in your yard, it's fine to scale it down, especially if younger and smaller players will be joining your game. It's important to try to keep the proportions the same, and the playing surface as dense and level as possible. You could also consider a game which requires a smaller court, such as Spikeball or Bocce Ball, which you can learn about here.
Croquet Rules And How To Play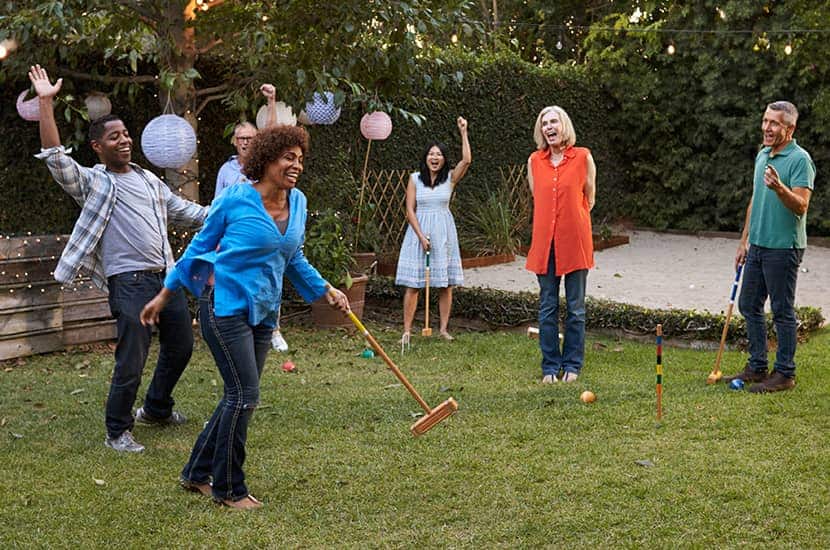 The objective of croquet is to advance your ball through the course along the proper route. You start your croquet game halfway between the first wicket and the finishing stake, and you  accumulate points for each stake and wicket.
Only one ball is in play at any time. The person who has a ball in play is the striker. A striker gets only one shot unless they earn bonus shots or finish the course. Hitting the ball through the correct wicket or stake earns points; hitting the correct wicket, stake or another player's ball also earns bonus points and therefore more plays. You can find more information in our croquet rules blog post.
Some tips from those in the know include:
Use the heaviest — also usually the longest — mallet that you can, since the harder you hit the ball, the straighter it will roll.
Line up with your feet parallel to the target and the ball under your nose.
Try not to end your turn with your ball open to be hit by an opponent's ball.
Focus on bonus points; you only earn points when you are the striker, so you want to maximize your play time.
Consider setting a "guard ball" to impede your opponents' progress and/or force them to waste strokes getting around it.
The concept of hitting a ball with a stick has been around for as long as balls (or ball equivalents) and sticks have been around. Organized games resembling modern croquet, golf and hockey have been documented as far back as the 12th century, and games played in the Middle Ages would probably be recognizable by today's croquet fans. The first official document with the current incarnation of croquet was filed in London in 1856, and the first official croquet meets were held in 1868. Croquet was played throughout the British Empire and in the 1930 Olympic games. It remains a popular lawn game today.
Frequently Asked Questions
We think that the best croquet set is either the Franklin Sports Vintage Croquet Set or the Magic Cabin 10 Piece Woodland Croquet Set, but there are plenty of very good, high-quality sets suitable for any type of play from the most competitive to the most family-oriented. Out of the best croquet sets around, pick the one that you think you'll like the most and have fun!