People of all ages, stages and skill levels have enjoyed the sport of darts for centuries! Dart boards can be a great addition to any home: easy to set up and get started playing right away. Besides the classic games, there are numerous variations — you're sure to find one that piques your interest. The best bristle dartboard is a matter of personal preference; we'll show you eight ranging from basic starter dart boards to deluxe dartboards with fine furniture features. Read on to help you select the best bristle dartboard to enjoy with soft- or steel-tip darts!
1. Viper Dead On Sisal Bristle Dartboard And Cabinet Set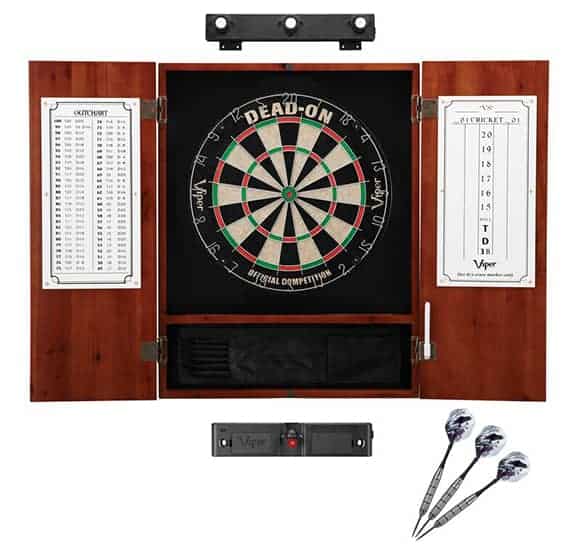 Editor's Choice #1: The solid wood cabinet comes with your choice of finishes and the dartboard inside is designed to minimize bounce-outs and maximize scoring potential. The set comes with scoreboard, outchart, light bar and laser line marker, plus attractive, high-quality darts to get started right away.
This Viper Dead On dartboard comes with your choice of finish — oak, cinnamon, mahogany or espresso — on the attractive solid wood cabinet to match any home decor. The board itself is made with self-healing sisal fiber and a triangular galvanized spider. The cabinet comes complete with a light bar to mount above it and a laser throw line marker for accurate, precise lines without marking your floors. There is a dry-erase scoreboard and a printed outchart mounted inside the cabinet doors, and room to store darts and accessories inside the cabinet. The set comes complete with three darts with a clever bird motif on the tails.
The cabinet measures 27.5″ x 21.25″ x 3.5″ when the doors are closed and 42″ wide when open. It weighs 22 pounds and can mount easily to any wall. Inside the cabinet, the regulation-size dartboard is 17.75″ in diameter in the standard colors of black, red, green and natural/white. It can be used with either steel-tip or soft-tip darts. The number ring rotates so you can make sure to play all areas evenly, which is always good for dart boards. The laser line marker and Shadow Buster light bar require batteries.
2. Winmau Blade 5 Bristle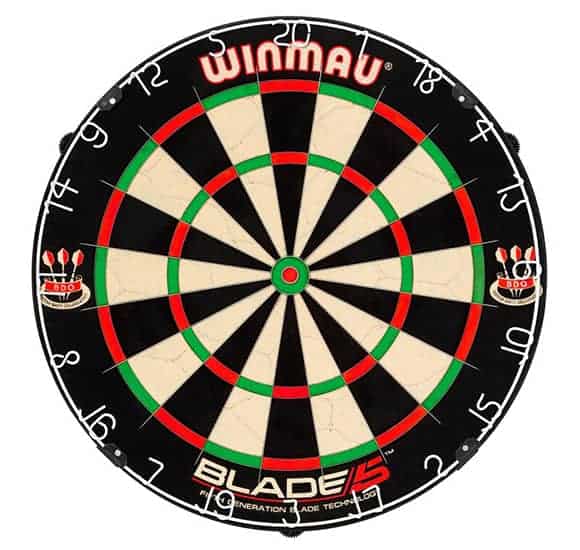 Editor's Choice #2: This classic dartboard is easy to set up and made for the best playing experience. It's been certified and endorsed by the British Darts Organisation and the World Darts Federation, so you know you're getting a premium product to use as you please in your very own home.
This bristle dartboard is acknowledged as one of the best by none other than the prestigious British Darts Organisation, which knows a thing or two about darts. Winmau has been making high-quality bristle boards for decades and their expertise is evident here. The board is designed so that even a casual player can score big, thanks to the wiring system that increases scoring area in the double and treble sections as well as a reduction in web surface area. The bullseye area is made with carbon diffusion technology for strength and durability.
The Winmau Blade 5 mounts quickly and easily to nearly any surface with a triple-wheel lock-and-level system. It is 17.8″ in diameter, weighs 10 pounds and features the classic black, red, green and white/natural tournament colors. The playing surface boasts strengthened razor wires with reduced angles to increase dart deflection, and the metal dividers are deep to reduce the dreaded bounce-outs. The quality board is certified by the World Darts Federation.
3. GLD Viper Vault Deluxe Dartboard Cabinet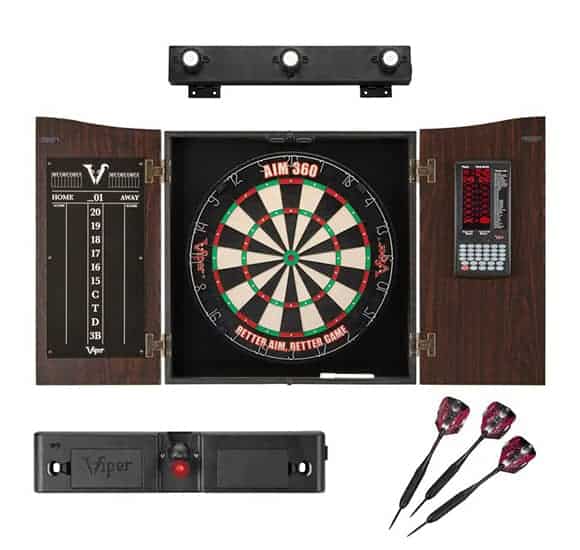 A Beautiful Sight In So Many Ways
You'll be able to see your dart board perfectly no matter what the room light is like, thanks to the row of lights that mounts above the board. You'll be able to find your throw lines easily with the laser light pointer, and you won't have to put down any markings on your flooring. You can put it in any room of your house and it will look like fine furniture — the cabinet itself is gorgeous in mahogany-finish manufactured wood with brass-look hinges. The cabinet holds a regulation-size dartboard with self-healing sisal bristles (can accommodate both steel-tip and soft-tip darts), an automatic electronic score pad, a chalkboard for manual scoring and a chalkboard to score cricket and other games.
The attractively detailed cabinet measures 22″ x 23.25″ x 2″ closed and 41.25″ wide when open. It weighs 22 pounds and comes with a pre-installed board bracket. The dartboard is regulation size in the standard colors of black, red, green and natural/white. You get three high-quality 14-ounce darts to start with. The laser line marker and Shadow Buster lights require batteries, and the automatic scorer needs to be plugged into an outlet.
4. DMI Sports Paris Lighted Bristle Dartboard And Cabinet Set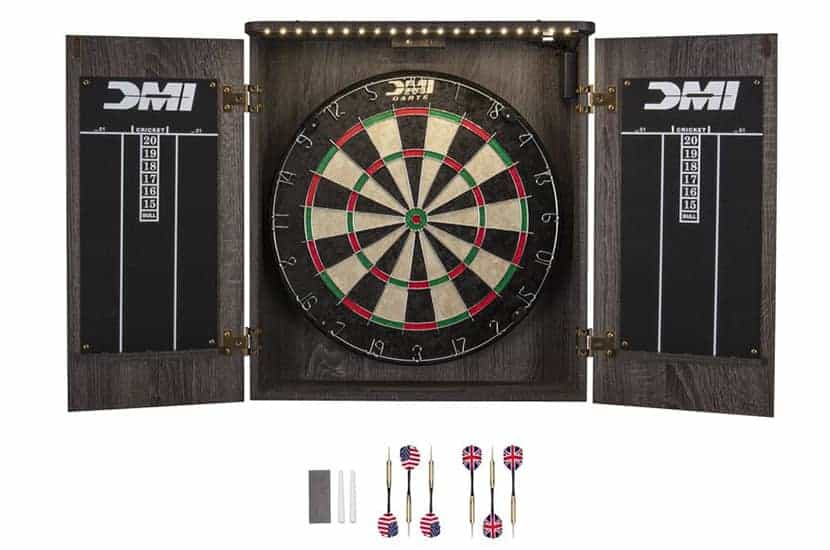 You'll love the little row of LED lights that turns on when you open the cabinet and turns off automatically when you shut it again! This gives you a good view of your dart board no matter where you're playing. The light strip is mounted on the top edge of an attractive maple-grain wood laminate cabinet with a handsome burnt grey finish that will look great in almost any room. The cabinet features chalkboards to keep score and a space to store your darts to keep them safe and out of reach. The regulation-size dartboard flies the standard colors of black, green, red and white/natural. It is made with self-healing sisal bristles and has a rotating number ring so you can ensure equal wear on all areas of the board.
The cabinet measures 20″ x 20″ x 2″ when the doors are closed and 30″ wide when open. It requires access to an electrical outlet to power the LED light strip and it mounts easily to any wall. This dartboards set includes the cabinet with lights, the dart board, chalk and an eraser to keep score, and six steel-tip darts with American and British flag themes. Get started right away with this complete set that can go in any room of the house!
5. Nodor Supawire 2 Bristle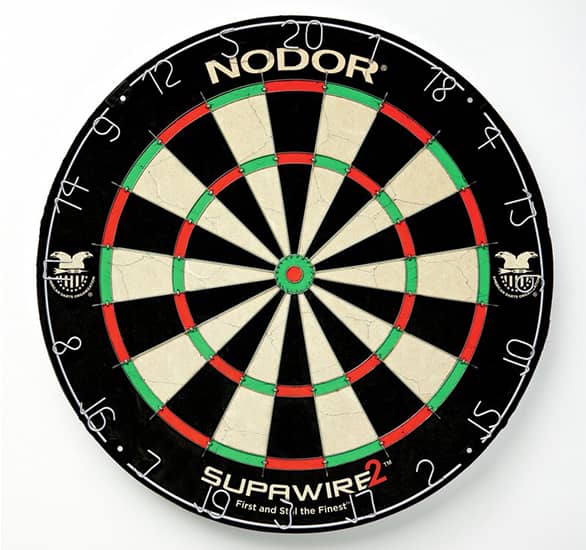 Endorsed By The American Darts Organization
People who know and love darts love this darts board, with plenty of good reasons why. It's ideal for any indoor environment from a game room to a pub to a competitive player's practice space. The regulation-size board is designed for good play and high scores with features such as a completely staple-free bullseye, Supawire bands, deep dividers to minimize bounce-outs, a movable number ring and high-quality sisal fibers. It boasts the standard tournament color theme of black, red, green and white/natural.
This board meets regulations as it is 18 inches in diameter with a 13.5-inch target area. The dense sisal fibers are self-healing for strength, durability and continued play, and the moveable number ring also extends the life of the board. It mounts easily on any wall or cabinet door and you can be ready to play right away. Nodor invented the bristle dartboard nearly a century ago and are still making great ones today.
6. Viper Stadium Bristle Dartboard And Cabinet Set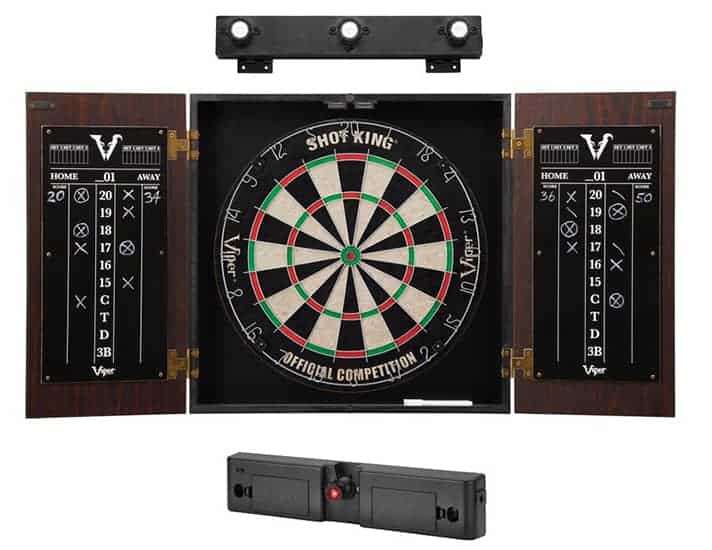 You'll be the Shot King (or Queen) with this self-healing sisal bristle dartboard mounted inside its own handsome solid wood cabinet with a walnut finish and furniture-quality details, such as brass-finished bronze hinges. The cabinet features black dry-erase scoreboards mounted inside the doors and you can store darts and other accessories in the cabinet as well. You get a Shadow Buster light bar to install above the cabinet so you can always see to play, and a laser pointer line marker for precise measurements every time with no need for chalk or tape on your floors. Your first set of darts completes the set.
The handsome cabinet looks like fine furniture and measures 21″ x 21.5″ x 3″ with the doors closed. It is 42.5″ wide with the doors open and weighs 25 pounds. The dartboard is regulation-size at 18″ in diameter and has a staple-free bullseye area to maximize scoring potential. The rounded, galvanized spider is designed to decrease the amount of bounce-outs. You can rotate the number ring around the bristle board to ensure even usage. The light bar and laser line marker require batteries.
7. Hey! Play! TGT Champion Tournament Bristle Dartboard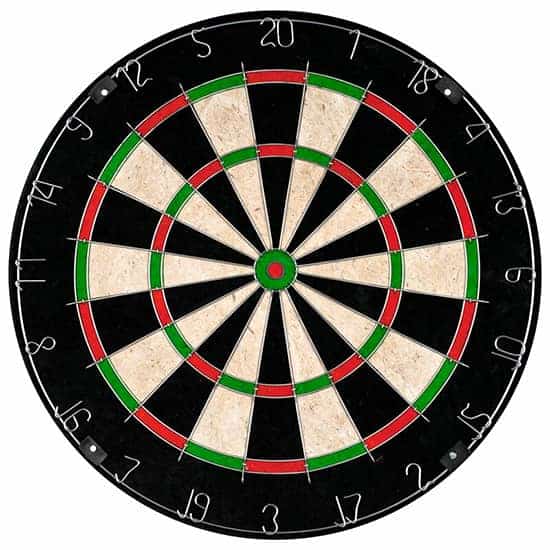 Classic Championship Dartboard Style And Quality
This authentic bristle darts board has everything you could need or want to play in classic style in your own home. It's made with self-healing bristles for longevity and so that there are never any holes to mar the surface of your board or affect your throw. The board features a wire spider and a staple-free bullseye area for a playing experience just like you'd have down at your local tavern — but in the comfort of your own home with your own choice of drinks and snacks! It sports the standard color scheme of black, green, red and white/natural.
The regulation-size dartboard measures 18″ in diameter and 1.75″ deep. It weighs 10 pounds and comes with mounting hardware so you can put it up easily on any wall, cabinet or other surface. The spider and the scoring numbers are made of wire for a classic look and an excellent play experience. It's made to look good and to stand up to whatever you put it through. This board is an excellent choice for either recreational or more serious players and it adds to any rec room or man cave.
8. Dart World Bulldog Darts Kit
This fine furniture-quality pine cabinet boasts a British bulldog and tavern sign painted on the front of it — you'll feel like you're in a London pub! The hand-crafted cabinet also features pre-drilled mounting holes and adjustable brass hinges. It holds a tournament-quality dart board with self-healing sisal bristles, an outchart and a chalkboard to keep score. There is room to store darts and accessories in the cabinet. You also get a silk-screened outchart that you can mount underneath the dart board with the included 3M adhesive backing.
The darts boards kit also comes with six brass darts and a dartboard hanging kit. The dart board is regulation-size and sports the classic colors of black, red, green and white/natural. The cabinet measures 22.5″ x 25.5″ x 3.5″ closed and 51″ wide with the doors open. It weighs 28 pounds. The cabinet is excellent quality and you will be proud to have it in your home, and the solid wood back protects your wall from any errant darts.
Features To Consider When Choosing A Bristle Dartboard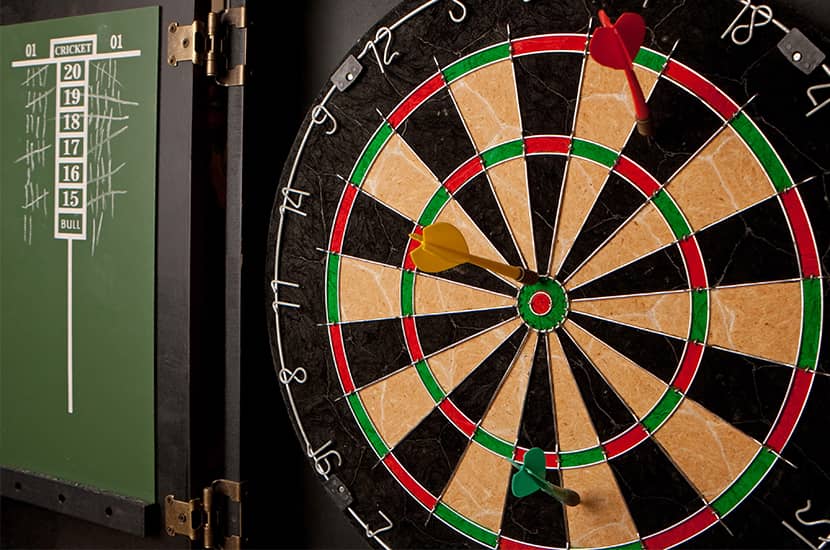 Bristle dartboards can provide years of fun for you, your family and your friends but you'll want to make sure that you pick the best bristle dartboard for you. Features to look for when you're buying boards include:
Size: Regulation dartboards are approximately 18″ in diameter. As long as you have enough room for one that size, we highly recommend that you choose one as close to standard tournament size as possible. Should you choose to play on dartboards anywhere other than your home, you'll appreciate not having to make adjustments to your game.
Bristles: Sisal bristles are the standard for boards, and that's for a reason. They are attractive and durable, they take color well and, most importantly, they are self-healing — this means that you won't have any holes in your board to mar its appearance or throw off your game. The best bristle boards are generally made from densely packed sisal.
Wiring/Spider/Staple-Free: You'll want wires that are designed to minimize bounce-outs from the boards. This typically means that they are thin and angled. A staple-free bullseye scoring area also helps your darts stay where they'll do you the most good. Well-made boards help you play better and score higher, and who wouldn't want that?
Number Ring/Backing: A removable, adjustable or rotating number ring means you can reposition it to ensure that all areas of the board get equal play. This keeps your board even and helps it last longer. A solid wood or heavy fabric backing behind the board will catch errant darts to keep them from damaging your walls or furniture, which is a feature of the best bristle dartboards that everyone is sure to appreciate!
Frequently Asked Questions
We think the best bristle dartboard is either the Viper Dead On Sisal Bristle Dartboard and Cabinet Set or the Winmau Blade 5 Bristle, but we've hit the highlights of eight excellent dartboards above. One of them is sure to be the right one for you and your home, so don't hesitate to get yourself set up to enjoy this sport with friends and family.