The best Kubb set inspires you to explore the game of "Viking chess" as it has been played and enjoyed for a long time in Scandinavia. Your wooden Kubb game set should have everything you need to get started and hone your best skills and strategies.
Pillage your opponents' kubbs and topple the king! The best sets are made of high quality, eco-friendly hardwood and convey the Nordic feel through graphics, paint trim, or other design touches. We think that the GoSports Regulation Kubb Viking Clash Toss Game Set is a great choice with its Viking graphics, as is the Tactic USA Kubb with Wooden Crate.
1. GoSports Regulation Kubb Viking Clash Toss Game Set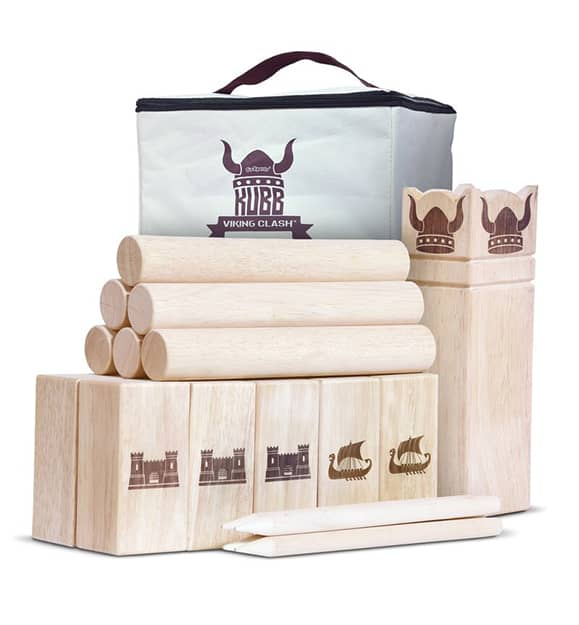 Editor's Choice #1: The GoSports Regulation Kubb Viking Clash Toss Game Set features engraved Viking-style graphics of ships, castles, and crowns on hand-sanded rubberwood pieces. You also get a matching canvas carry bag and everything else you need to pillage… er, play Kubb. This is a fantastic Kubb set in every aspect.
The laser-etched Viking ships, crowns and castles pay homage to the game's heritage in the best way. Everyone can appreciate the imagery, but this is a great opportunity for families with children — or really, any one of any age — to learn a little about Norse history while enjoying Kubb the game in the backyard or at the park. Other things that make this Kubb game set look and feel special include knot-free rubberwood, hand-sanded rounded edges and a super-easy setup. The set comes in a zippered canvas carry bag with handles, also with Viking-inspired graphic design
This high-quality set comes complete with:
One king
Six batons
Four corner stakes
A rulebook/instruction manual
A storage/carry case
It's got everything you need to get started playing this great game with your family, friends, or team. The set pieces are made of solid rubberwood with a natural finish for appearance and durability. They are nicely-balanced and weighty; the complete set comes in at over 20 pounds.
2. Tactic USA Kubb With Wooden Crate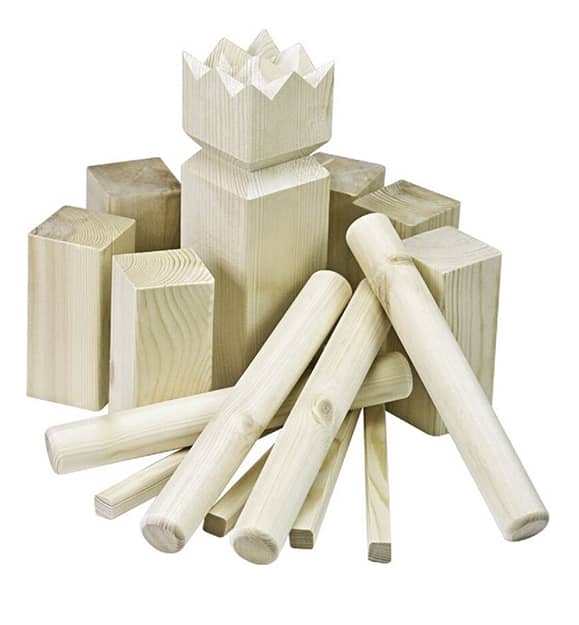 Editor's Choice #2: The heritage-inspired, eco-friendly Tactic USA Kubb with Wooden Crate set features beautifully-finished birch wood pieces in a classy, coordinating wooden crate with rope handles. It's a great game, a great storage container and a great conversation starter. You'll be the hit of any and every gathering with this premium set.
This eco-friendly natural birch wood Kubb set comes with its own matching rope-handle crate, which can be used to carry, store and show it off in the best way. The Kubb set blocks and crate are manufactured from high-quality, CPSIA-compliant, hard wood with a natural finish that highlights its beauty. The king is 11.75″ tall, the batons are 11.5″ tall, and the kubbs are 6″ tall. The lightweight-but-sturdy set weighs a total of just over 15 pounds. You also get a rulebook and score keeper so you'll be ready to get your game going right out of the box.
This Kubb game premium set is made by Tactic USA, which is based in Finland and leads the Scandinavian market in outdoor and board games. If there's any company uniquely qualified to make the best Kubb game set on the market, this is likely it! You'll appreciate the old-world craftsmanship and heritage as well as the modern commitment to bringing gameplay to over 70 countries around the world.
3. Kubb Swedish Outdoor Giant Game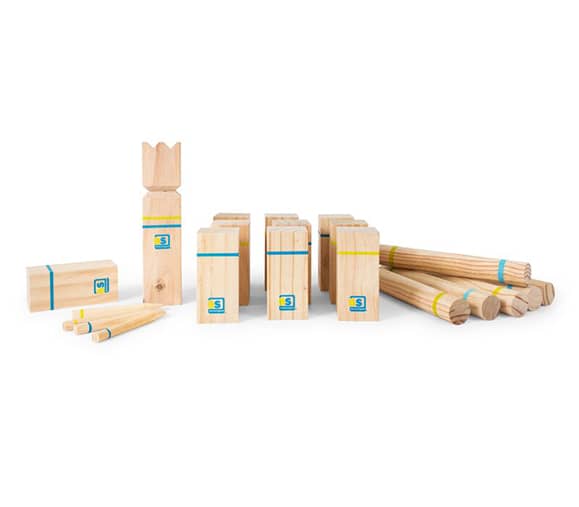 This solid pine wood Kubb set evokes a Scandinavian feel with the yellow and blue painted trim on the lightly-finished, CPSIA-compliant wooden blocks. You'll appreciate the nod to the game's history as you enjoy a game inside or outside – anywhere else you please! The king, throwing batons, kubbs and corner stakes come neatly-packed in a reusable box with a rope handle. It's a very attractive set and you'll get everything you need to play Kubb with your family, friends, or any other group.
The pieces are solid, evenly-balanced and nicely-finished so that they look and feel good in your hands and throw well on any surface. The Kubb lawn game is designed for indoor and outdoor play and will definitely be a great addition to your yard, patio, or other available space. Enjoy the bright feel of this Kubb set when you're outside in the sun. The lightweight set comes in at under 13 pounds in total and the pieces are suitable for elementary school-age children and up. The wooden materials with painted trim are a great introduction to the game and reflect where it came from.
4. Triumph Sports USA Stake And Marker Kubb Set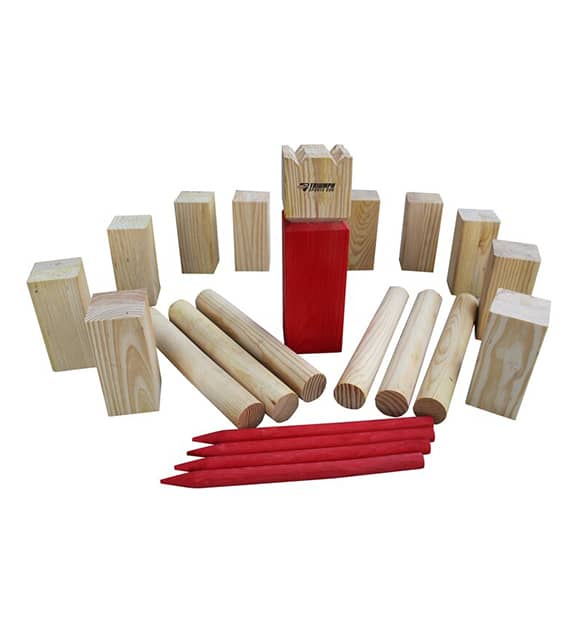 This thoughtfully-crafted Kubb game set features a bright red base for the king and the corner stakes. This makes it much easier for players to see where they do and do not want to throw their batons. The pieces of wood are all top-grade, kiln-dried hardwood with a natural smooth finish for handsomeness and durability. They look good and play even better; you'll enjoy the feel of these block pieces. Get started with outdoor games of Kubb with this set that's suitable for players of all sizes and ages.
This Kubb game set has everything you need to get set up and start playing. You get the king kubb on a red base, ten kubb blocks, six batons and four red corner stakes. The game weighs in at a solid 16 pounds so you know that it is sturdy and will stand up to serious play. There is a downloadable owner's manual with game instructions. It's an excellent, high-quality Kubb set that will look great in your yard or anywhere else you want to play.
5. Yard Games US Game Premium Kubb Set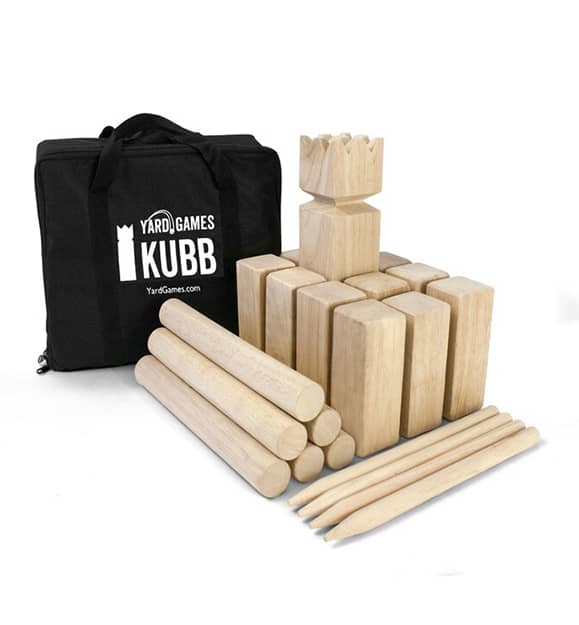 This Yard Games Kubb game set is a great way for any group to start exploring the game of Kubb and offers everything you need to set up and play. The game pieces are crafted of eco-friendly hard rubber wood that is naturally shock-absorbent to stand up to repeated tosses. The king and the batons are each 12 inches tall and the kubb blocks are six inches tall.
Included in the game:
One king
Ten kubbs
Six batons
Four corner stakes
Rulebook
This all comes in a black sports bag with a logo, zippers and handles for transport purposes. The sturdy set weighs in at around 15 pounds.
The field cubes are treated to be heat- and UV-resistant so they're great to play with on the beach, at the park, on a camping trip, or anywhere else you want. They have a classic, natural wood appearance that you can enjoy as it is or customize for your family or group. This Yard Games hardwood Kubb game offers excellent value and a quick, easy way to get started with this classic game.
6. Premium Yard Viking Chess Kubb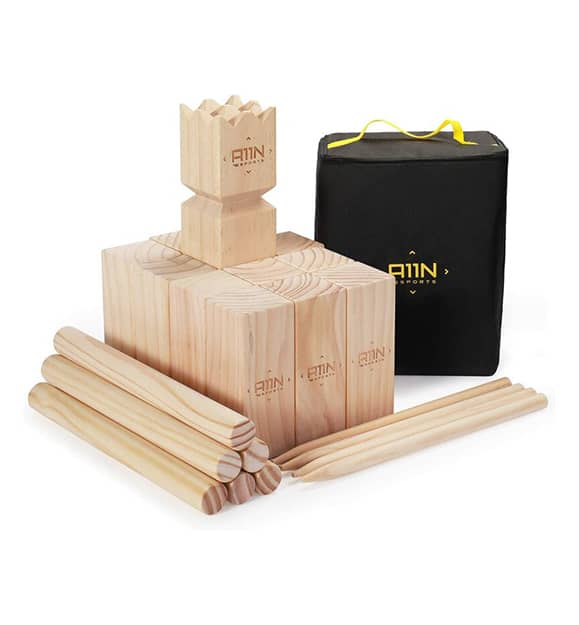 Kubb As It Was Meant To Be
Get started playing the game of Kubb with a great premium set that comes with everything you need. This set is made with durable, knot-free New Zealand pine wood — this species is known for its hardness so the Kubb sets will stand up to play in the house, yard, park, beach, picnic area, or anywhere else. The natural wood pieces are finished to be smooth, weather-resistant and extremely long-lasting. The pieces come in a zippered black storage bag/carry case with a logo.
All but the youngest and smallest players will be able to handle these blocks with ease. The king, baton and corner stakes are all just under one foot high and the kubbs are about half that. The set weighs in at slightly over nine pounds so it will be easy to take with you wherever you want to go. This is a very nice, very easy to use set for any player or group that wants to play games of Kubb. With this set Kubb will be yours to play again and again.
Features to Consider When Buying a Kubb Set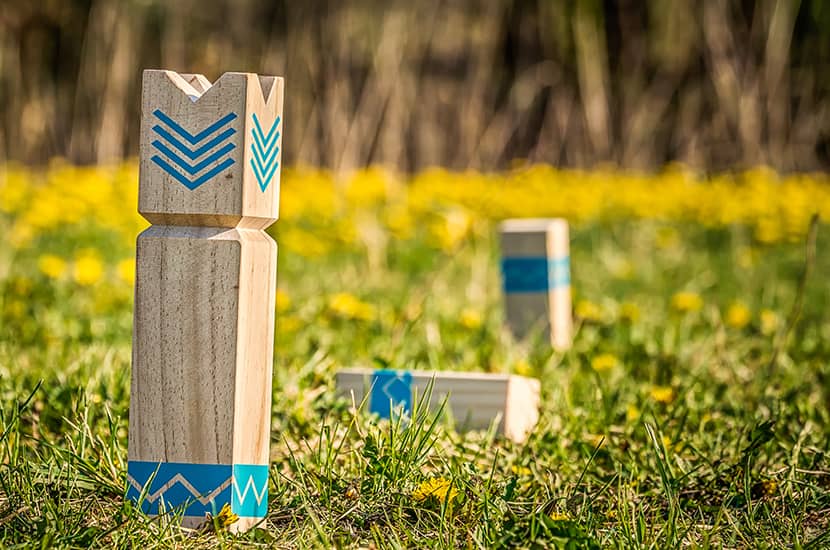 Make sure that you get the best Kubb set for your crew by considering the following:
Kubb sets include the king, ten kubb blocks, a set of batons and corner stakes. Some Kubb sets come with four stakes — one for each corner — and some come with the four corner stakes plus two to mark the center line.
Most Kubb game sets are made of wood. Since the set pieces are going to be thrown over and over, you'll want the best high quality wood that is solid and sturdy, like rubber wood or maple hardwood. The wood materials should be dried or cured so that they won't warp or crack.
The finish on your Kubb sets material is both a matter of personal preference and of practicality. You'll want a set that looks the way you want it to, of course, but you may also want qualities such as weather- and water-resistance.
The 1 king is the largest piece and is typically about 12 inches (30 centimeters) tall. The batons are also 12 inches (30 centimeters) long. The corner stakes are typically around the same height. The kubb blocks are half that height at 6 inches (15 centimeters). Kubb sets often weigh between 9 and 16 pounds.
Like other lawn games, Kubb is generally played on grass. But any relatively level surface should work, such as sand, gravel, flat rock, or snow surfaces (for an authentic experience).
As with pretty much every yard game out there, the budget for Kubb sets can range from the basic to the brilliant. If you're a serious player, you'll want regulation size and tournament-quality. But if you're just looking to throw some blocks in a lawn game with family and friends, get what pleases your eye and your wallet. Expect to spend somewhere between $40 and $80 to get started with Kubb sets.
Most of the best Kubb sets come with a limited warranty, which is more than enough to ensure that your game is not defective. Some sets do offer a longer or even a lifetime warranty.
Your Kubb lawn set may come with a bag to organize, store, and transport the pieces. It is helpful if the bag has a zipper and handles. It's also fun if it has a Viking crown on it, like our top choice of the GoSports Regulation Kubb Viking Clash Toss Game Set.
Kubb Game Instructions: How To Play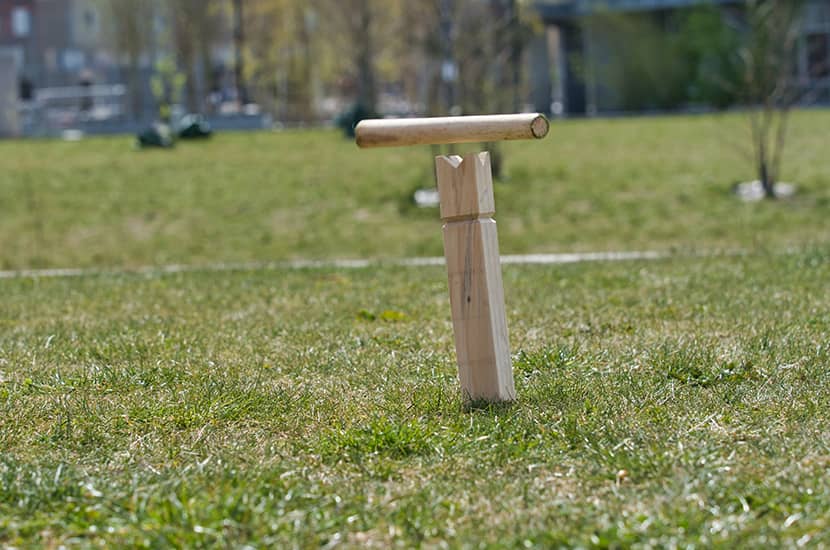 It's always good to know the "right" way to play but remember that you can play your game your way if you want!
According to the national Kubb championship rules, a regulation Kubb court measures 5 meters by 8 meters. Use corner stakes to mark the edges of the field; the center boundary line is also marked. Place the king in the center of the field and place five kubb blocks on each baseline. You're ready to play!
To win the game, one team must knock down all the kubbs on their opponents' side of the field, and then knock down the king.
Play starts when Team A throws two batons, trying to knock down the kubbs on the opponents' baseline. Team B then throws four batons. In the next round, both teams throw all six batons.
After batons are thrown, the opponents pick up any kubbs that have been knocked down. They then throw the fallen kubbs to the opposite side of the field. They become field kubbs. Field kubbs must be knocked down before baseline kubbs, and all kubbs must be knocked down before the king is toppled. If a team knocks down the king before all of the kubbs, it is an automatic loss.
Kubb has long been known as "Viking Chess" because it is at least as much a game of strategy as it is a game of skill. Some tactics to consider include the placement of the field kubbs (and any penalty kubbs). You can also spin the field kubbs when you throw them, which can help you land them in tricky and/or tight placements.
Frequently Asked Questions
The best Kubb set is made of high quality hardwood and has everything you need to get you going with this Nordic game of skill, strength and strategy. Our favorite out of all the Kubb sets is the GoSports Regulation Kubb Viking Clash Toss Game Set, and we also really like the Tactic USA Kubb with Wooden Crate.