The game of bocce can be traced back to paintings in an Egyptian tomb from around 5200 BCE. In its "modern" iteration, bocce was played during the Punic wars in 264 BCE. It's evolved a bit over the past seven and a half thousand years and one of the most dramatic changes has been to the balls themselves.
The best bocce ball set today is likely made of solid, one-piece resin construction with a durable, weather-resistant finish. It's much smoother than the stones that Roman soldiers used in Carthage, though the legions might have been able to teach us a thing or two about the best strategy!
Our favored choice for the best bocce ball set is the St Pierre Sports Tournament Bocce Game Set. The balls look and feel great and everything about the set, including the case, has been designed to optimize your bocce experience!

Check out our blog post on how to play bocce ball to find out more!
1. St Pierre Sports Tournament Bocce Game Set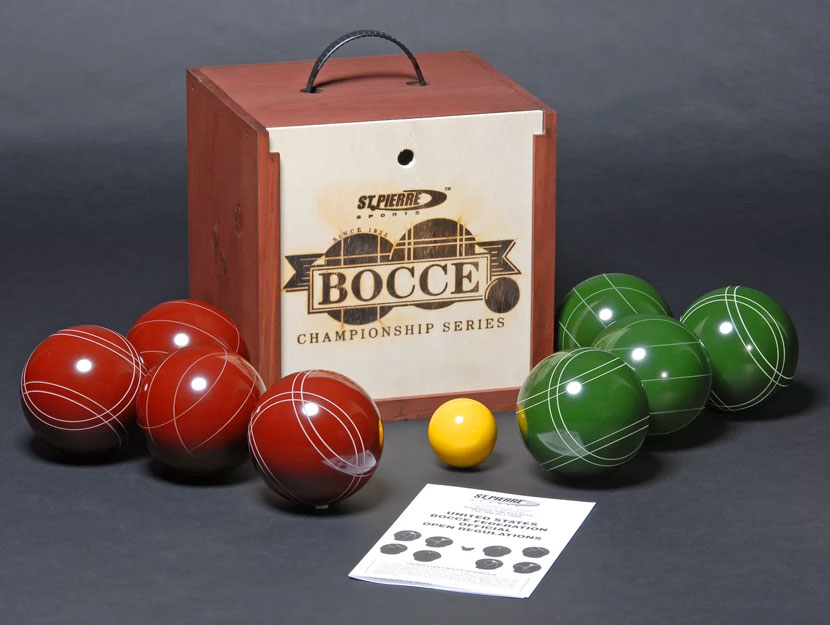 Editor's Choice #1: The St Pierre Sports Tournament Bocce Game Set is the official ball of the United States Bocce Federation, so you know that it's top quality and crafted for perfect play. Both the balls and the etched mahogany-stained case are also gorgeously authentic with their deep, rich colors and old-world look.
This is one of the classiest bocce sets available. The set is made to tournament standards and is the official ball of the United States Bocce Federation, but it still looks and feels great for casual play. The resin balls are crafted with the best one-piece thermo-set composite resin construction for excellent balance and durability. The vintage-looking deep red and green balls are adorned with circle- and square-cut markings, which means that you're ready for either two- or four-player games. The balls are, of course, regulation size at 107 mm (4.21″) and the set is 24 pounds in total.
This set comes to you in a handsome mahogany-stained pine wood travel case with a burned-in official logo and a handle. You'll also get the pallino ball, a rule book, information on court layout and dimensions and a score keeper. The St Pierre Tournament Set is the only one that serious players should be seriously looking at, but it's also a great set for backyard, beach or family play. The balls are finished to be weather-resistant and highly durable.
2. Triumph Sports Advanced 100mm Bocce With Carrying Case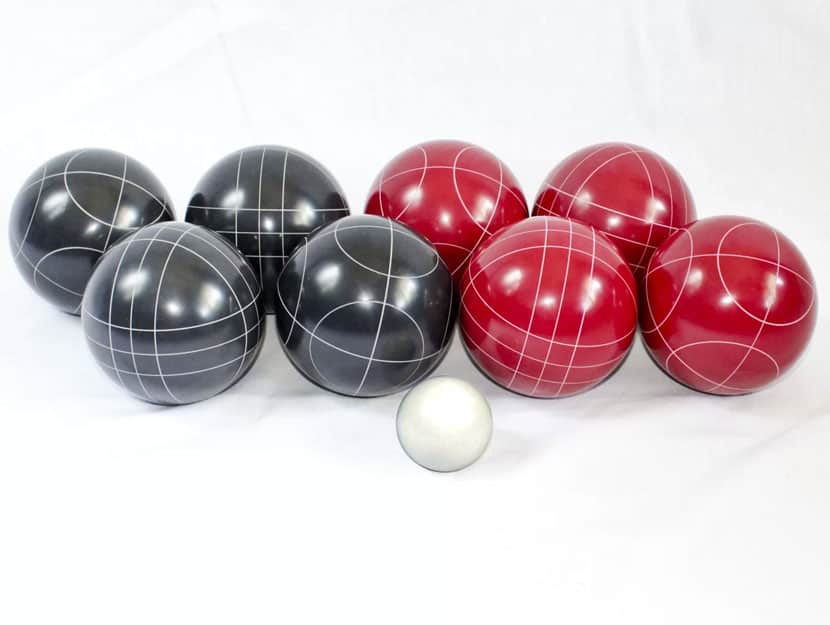 Editor's Choice #2: This bocce ball set from Triumph Sports is a more affordable option, though the quality for the price is outstanding. Highly durable, with a good weight and classy colors, these bocce balls feel like the high end ones! Though they are not standard size, they are ideal for casual play.
If you're looking for a bocce ball set to play casually, you can't go wrong with this option from Triumph Sports. At 100 mm (3.9") the balls are slightly smaller than standard size so they won't work for tournament play. That being said, the quality for the price is outstanding and if you're playing for fun, you likely won't be able to tell the difference. At 19 lbs (8.6 kg) the balls are a good weight and have a solid feel.
This bocce ball set comes with a heavy duty carrying case and a rulebook for convenience. The balls are a classy red and black, as opposed to most budget sets which come in bright colors. But the best thing about these balls is their durability – you can drop them on hard concrete without any damage besides a small scuff! At such an affordable price, this level of quality is unheard of. They look, feel and last like a much more expensive product!
3. Hey! Play! Bocce Set With Carrying Case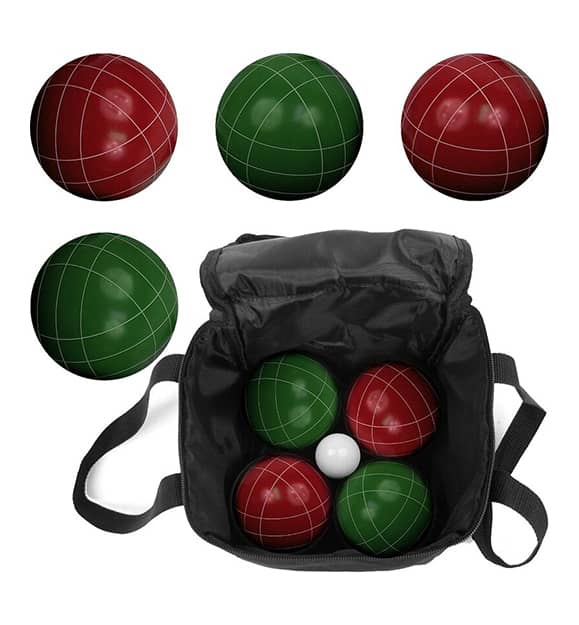 This set evokes the best of the Italian countryside with its traditional colors of red and green along with the classic line markings and the small, white marker ball. The balls are manufactured with a glossy finish that preserves their handsomeness and allows them to stand out in the grass or sand of any backyard or playing field. The circle- and square-cut markings make this set suitable for two- and four-player games. You'll love the old-world look and modern amenities of this bocce ball game set.
These bocce balls are regulation-size and nicely weighted; the full set comes in at twenty pounds. The bocce balls are made of a poly-resin composite that is weather-, water- and UV-resistant so you can play outdoors or on the beach without any concerns. If you're looking for a great set of bocce balls, these can go anywhere you do. It is also one of the cheaper sets but it's attractive and durable so you won't feel as if you're missing out on anything. The set also includes a solid black carrying case with handles and a zipper for easy transport or storage.
4. GoSports 10 Piece Premium 3.94'' Bocce Ball Set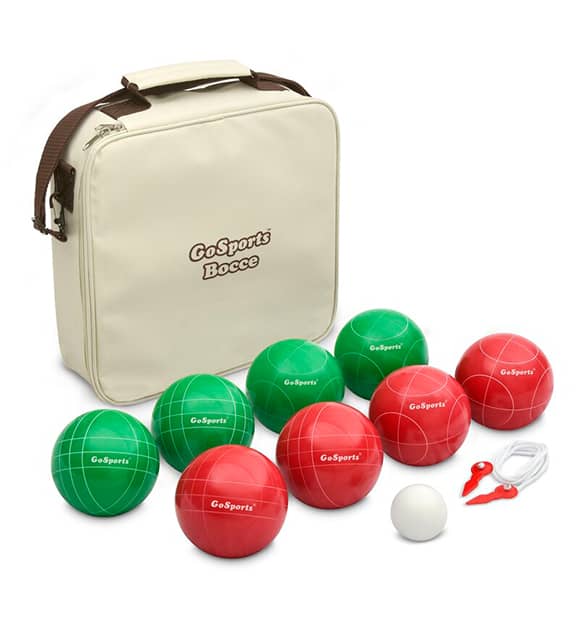 This thoughtfully-designed bocce ball set features the traditional Italian color combination in quality balls made of the best poly-resin material with a high gloss finish.
The set includes:
Four red balls; two with circle-cut markings and two with square-cut markings
Four green balls; two with circle-cut markings and two with square-cut markings
This makes the set perfect for both two- and four-player games without sacrificing the classic look. You'll appreciate the look, feel and build quality of the balls as they are nicely weighted and balanced and the high-gloss finish feels smooth and luxurious in your hands. Each bocce ball measures 100 mm (3.94″) and the full set weighs just over 20 pounds in total.
You get the bocce balls, the small white marker, a measuring rope, a rule book and it also includes a logo canvas carrying bag. The bag features ball dividers to keep the balls stable and prevent scratches as well as a padded shoulder strap so that you can carry it easily. The balls are finished to be weather- and mildew-resistant so they are great for outdoor play or games at the beach, campground or tailgate party. The bocce ball sets are manufactured by a US company with US-based customer support.
5. Franklin Sports Professional Bocce & Bowling Set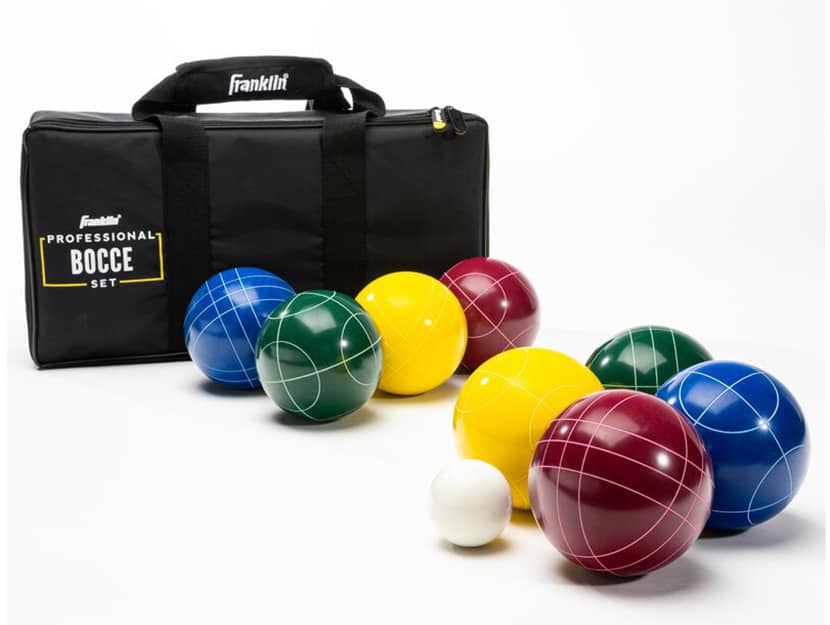 Professional Quality, Play-At-Home Price
This is a great way to get started with the game of bocce ball. The bocce ball set includes eight professional-grade, 100 mm (3.94″) balls made from high-quality resin and the small white marker ball. The balls sport the traditional line markings and come in the classic deep red and green colors as well as blue and yellow, making this bocce ball set ideal for the best two- or four-player games. The resin balls are nicely weighted to roll just the way you want them to and they are treated to be weather-resistant for outdoor or beach play.
You'll get the set of eight bocce balls and one pallino ball, which come in a soft-sided carrying case with a zipper and handles. The case makes it easy to store when it's not in use or to take the game on the road with you. The set weighs in at a solid 20 pounds so it has the heft you need to play on any surface but isn't too heavy to transport easily. You'll appreciate both the quality and the value of this set. It's a great way to get started with a classic game.
6. Baden Champions 90mm Ball Set Bocce & Bowling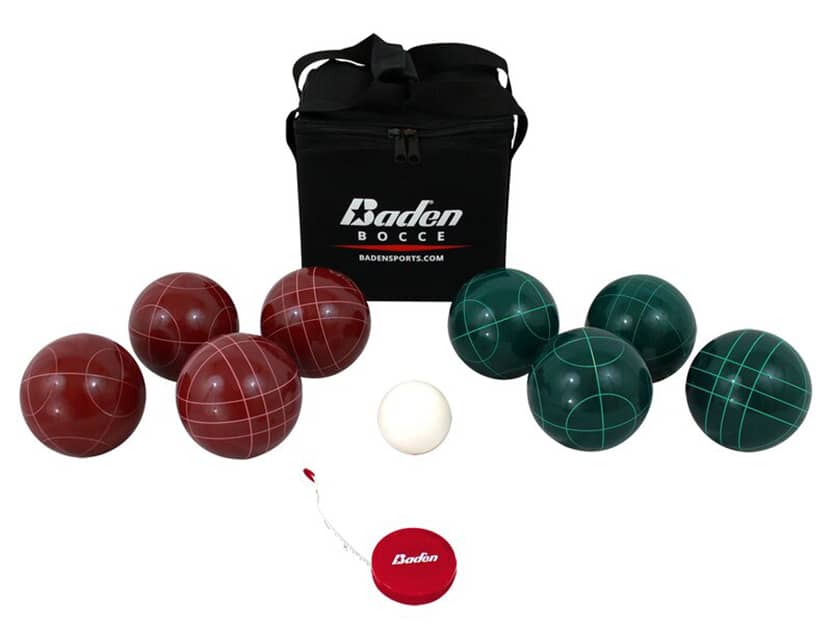 This Baden Champions bocce ball set lets you experience the best of the game as it has been played in Italy for hundreds of years. You get balls in the classic deep green and red colors with the traditional line markings as well as a small white marker. The balls measure 90 mm (3.54″) in diameter and the slightly smaller size may be easier for younger or smaller players to handle. The balls are crafted from a polyresin composite and are weather-resistant so you can play in your backyard, a park, on the beach, at a campsite or anywhere else you want. This is also one of the cheaper sets that we've evaluated and it makes a great starter set.
You'll get eight bocce balls, a marker ball and a logo measuring tape to keep things official, all nicely packed in a branded black nylon bag that's perfect for transport or storage. This sports bocce ball set is an excellent way to get started with bocce or lawn bowling and players of all ages will love it. Whether you're looking for casual play or an introduction to this great game, this is a very nice and practical set at a very reasonable price point.
7. Water Sports Backyard Fun Lighted Bocce Set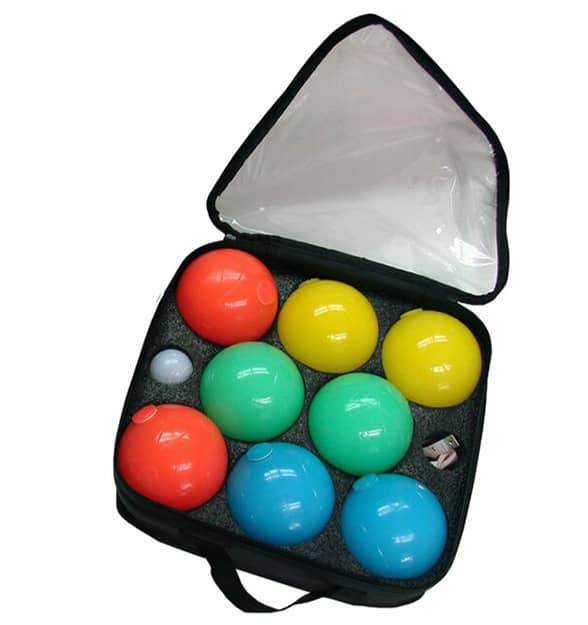 These unique bocce balls are made with internal LED lights so that you can play well into the night if you so choose. The brightly colored, semi-translucent polymer material looks great in daylight or illuminated with a soft glow after dark; both the bocce balls and the marker balls light up. In the set, you get a marker ball and a set of eight happy, bright bocce balls (the colors you get may vary slightly from the ones in the picture). The lights can be turned on and off with an easy-to-use control switch that does not interfere with your play in any way.
You get everything you need to start your play! The bocce ball set comes in a handsome, sturdy, padded carrying case that you can also use for storage, along with a copy of rules and a tape measure to settle any disputes. Get ready to play with the baccia (large balls) and pallina (small ball). The balls measure 107 mm (4.21″) in diameter and the set weighs in at just under nine pounds in total. The lights are powered by three button-cell batteries, which need to be purchased separately.
How To Choose The Right Bocce Set
Whether you're wanting to play with your friends and family or getting ready to compete, there are a lot of great sets out there and we'll help you decide which is the right one for you!
The game of bocce — pronounced "botchy ball" and spelled "b o c c e ball" — has been played for thousands of years; the original bocce balls were made of stone or wood. It's still possible to get those today, of course, but most modern players — and all major bocce tournaments and organizations — use the best bocce ball sets made of hard resin composite, not dissimilar to billiard balls or bowling balls.
Although the best bocce ball sets can come in all different colors and finishes, the traditional colors are deep red and green with etched line patterns. These lines allow for four-player play with teams of red circles, red squares, green circles and green squares.
Bocce ball sets are available with different-sized balls. A bocce ball set with smaller balls might work well for travel or for players with smaller hands. Tournament-grade balls are generally between 100 mm (3.94″) and 115 mm (4.53″) in diameter. The Bocce Standards Association has set the regulation size at 107 mm (4.21″) ± 0.5 mm.
The best bocce ball sets come in many different sizes and weights. Some balls may be regulation size in diameter but lighter than the standard because they are not made of solid resin. That's fine for casual play and may even be desirable for younger or smaller players, but it's probably good to know the best bocce ball standard, which is 920 grams (2.02 pounds) ± 10 grams.
One of the advantages of modern manufactured resin bocce ball sets is that they can be perfectly balanced for a good, consistent play experience. Balls that are made in one piece are generally the most evenly balanced as the solid construction ensures even and regular weight distribution.
Most people will want their bocce ball set to come with a case for storage and transport and most in our buying guide do. Some of the higher-end bocce ball sets have beautiful custom wooden crates and others come in a basic nylon or canvas bag. If you're looking to give your bocce ball set a place of honor, you'll likely appreciate the nicely made wooden display cases; if you just want something to keep the balls safe and secure, a bocce ball set with a fabric bag will certainly do the job at a friendly price point.
As with many things in life, you often get what you pay for with bocce ball sets. You can get a complete, ready-to-go set at a price point ranging from bargain to deluxe. If you're looking for backyard fun with the kids or grandkids, an Amazon Basics bocce ball set or similar budget pick is a great way to get started with a great game. But if you're a serious player or fond of the finer things in life and don't mind the price tag, you'll be able to indulge in beautiful craftsmanship, excellent build quality and tournament-quality balls.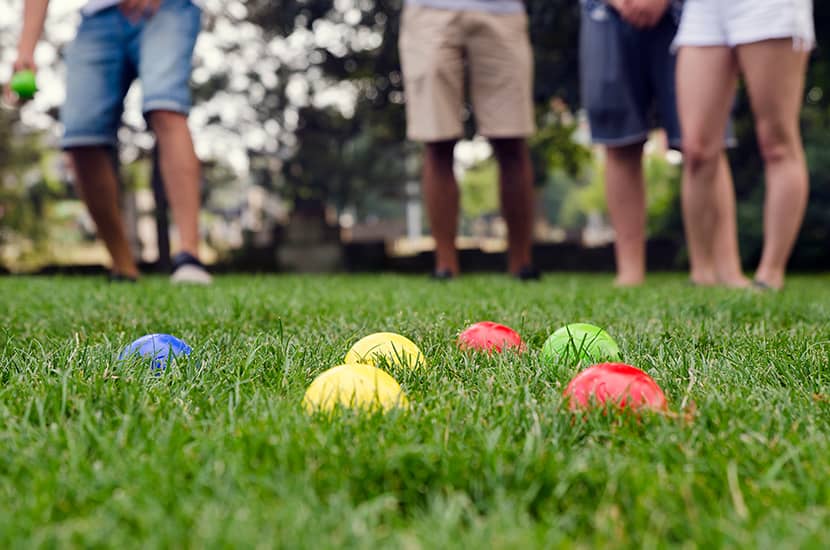 A regulation bocce ball court measures 86.92′ x 13.12′ (read more here). A friends-and-family backyard game or an Amazon Basics bocce ball game doesn't have to meet tournament standards, but it's best to get as close to that size as possible for the best game play. You can also search "bocce balls near me" to find a local club or tournament. The court should be level, flat and groomed. You'll need to mark horizontal lines four feet from each edge (the pointing foul line), ten feet from each edge (the hitting foul line) and in the center.
The pallino (marker, jack ball) throw is usually determined by a coin toss. The pallino must land across the center line and at least 12 inches from the side and back edges. The player who threw the pallino also throws the first bocce ball. Throws must be from behind the pointing foul line. The goal is to get your bocce balls as close to the pallino as possible. Bocce balls must be thrown underhand and must hit the ground before the center line. Players may also choose to throw from the hitting foul line with the goal of moving the pallino or an opponent's ball.
Only the player/team who has the closest ball to the pallino at the end of the frame scores points. One point is awarded for each ball that is closer to the pallino than the closest ball of the opposing player/team. A measuring rope is used to determine who is closest. Scoring patterns can vary wildly, so to find out more read our guide to the bocce ball rules.
The game of bocce requires strategy as well as dexterity, skill levels and coordination! You can choose to focus on getting your balls as close to the pallina as possible, or you can play defensively by either knocking your opponent's balls away or hitting the pallino – which is not as easy as it sounds! – to move it away from your opponent's balls.
Frequently Asked Questions
Our favorite sets are the St Pierre Sports Tournament Bocce Game Set and the Triumph Sports Advanced 100mm Bocce With Carrying Case, but the best bocce ball set is the one that gets you off to a great start with this fun game. You really can't go wrong with any of the fantastic bocce ball sets we've shown you here in our buying guide, whether you want a luxury or a budget pick.