From the ages of 0-5, children are constantly learning, developing and making neural links. 3 years old is the perfect time to introduce children to STEM (Science, Technology, Engineering and Math)! Not only do STEM toys help kids learn key skills like problem solving, creative thinking and spatial awareness, they also show that learning is fun.
But out of the thousands of STEM toys for 3 year olds out there, it can be hard to know which ones are actually good. Thankfully, your search is over! Our list of the best STEM toys for 3 year olds provides an easy way to shop for your budding scientist.
Whether you're after a toy power drill, your child's first microscope or classic building blocks, we've got the perfect toy for you.
1. Magz-Bricks 60 Piece Magnetic Building Set
Editor's Choice #1: All the STEM toys for 3 year olds on this list are great, but this one comes out on top. For its versatility, staying power and durability alone, this is an amazing toy. Add to that its ease of cleanup and the fact that there is no need for adult supervision, and we have a winner!
Magz-Bricks is a magnetic building set that allows children to create unlimited designs and geometric shapes. It is one of the best STEM toys for 3 year olds, but is really fantastic for kids of all ages. Toddlers and little ones will love simply sticking the magnets together and sorting colors. As children grow, they can make increasingly complex designs.
The size and design of Magz-Bricks is perfect for little hands to manipulate, and will certainly improve dexterity and coordination. The magnets are a great strength too – they click together easily but hold up well even when building tall structures. Cleanup is also a breeze as the magnets all attract each other! Many parents found 60 included pieces to be not quite enough, but you can always buy another set if you want more options.
One of the most versatile educational toys available, Magz-Bricks introduce children to technology, engineering and math concepts. This toy fosters both critical thinking and problem solving skills, and sparks your child's imagination. And if you're worried about small magnets toddlers can choke on, don't be! These bricks are virtually indestructible.
2. Wooden Nuts And Bolts Set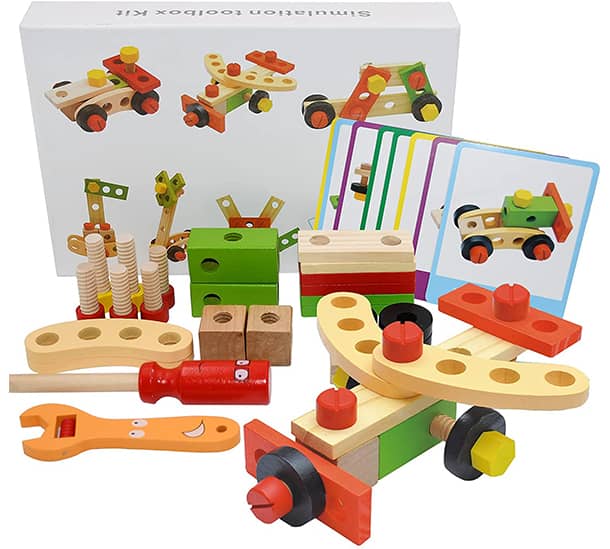 Editor's Choice #2: A more affordable option, this Nuts and Bolts Set is a fantastic way to encourage learning through play for your little ones. Many toys for toddlers get neglected after a few months, but this will be loved for years. Durable and safe, these beautiful wooden pieces are great for developing many different skills.
Educational In Multiple Ways
This nuts and bolts set from Joydom is a fantastic way to develop STEM related skills. Tinkering with this tool set helps children learn spatial awareness, hand eye coordination, problem solving skills, color recognition and more. The set includes 27 building pieces, as well as a screwdriver and a wrench. With this, your child can create a number of constructions included on cards, or make their own designs!
Despite the bright colors, this tool set is painted with totally non-toxic paints. In addition, the pieces all have rounded edges so there is no danger of little ones getting poked or scratched. Plus, there are no tiny pieces that can become choking hazards. With these nuts and bolts, 3 year olds can mimic mom and dad without any of the danger of being near real tools!
Many parents love that this tool set is made from high quality wood rather than plastic. Not only does this create a natural feel, but it also means it will last longer and can withstand rough play! Although the paint may fade, the shapes will hold up for many years to come. From airplanes to cars to animals, let your child's imagination run and see what they make!
3. Kids First Automobile Engineer Kit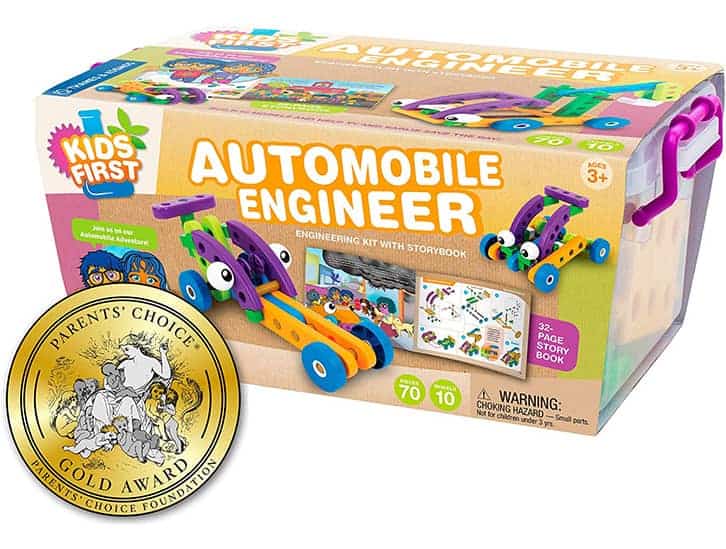 With this Automobile Engineer Kit, children can make their very own toy car from scratch. Kids can either follow instructions or use their imagination to create their own designs, and they will have a toy car to play with once they are done! As STEM toys for 3 year olds go, this one is the gift that keeps on giving. However, the main focus is on the building aspect – once assembled, the vehicles won't hold together for long.
Engineering And Creativity
This is a great toy when it comes to both STEM and imagination. It helps children learn engineering skills, geometry, spatial awareness and following instructions. At the same time, it is great for kids' imagination and creative thinking. 3 year olds will probably need some help putting their car together, as some of the pieces are quite hard to connect and pull apart. But as children grow, they will be able to play without adult supervision.
Fantastic Story And Characters
The vehicles you create with this engineer kit are not just cars – they are adorable characters! A lovely touch is that all the assembly instructions come in the form of a story, adding another element of magic and a way to stimulate kids' imaginations.
4. BathBlocks Ball Run & Waterfall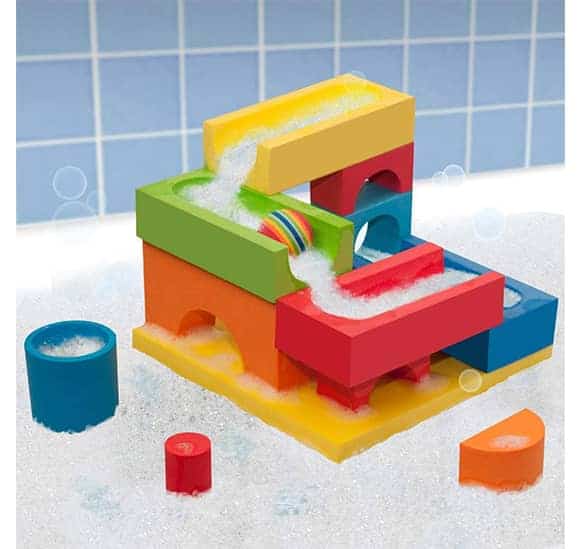 If you find it hard to entice your toddler to the tub, this is the toy for you. When bathtime means playing with these BathBlocks, you'll be struggling to get your little one out! And the good news is, the blocks dry quickly and won't grow mold or mildew. They are quite bulky though, so if you have limited space in the bathroom, you might want to keep them somewhere else.
This is an open-ended toy, meaning there is no set way of putting the blocks together. This encourages creative thinking in young children and fosters their imagination and inventiveness. Every bathtime, your toddler will be coming up with new structures. The added element of being able to make an obstacle course for the ball and water to flow down makes it even more fun!
Great For Developing Brains
Sometimes, the best toys are the simplest. This BathBlocks set helps teach mathematics, geometry, balance, colors, and cause and effect. Plus, the sensory stimulation it provides is great for growing brains. The blocks stick together simply through getting wet in the bath. Some parents found them to be not as sticky as they had hoped, but the balancing element adds to the STEM learning.
5. Design & Drill Activity Center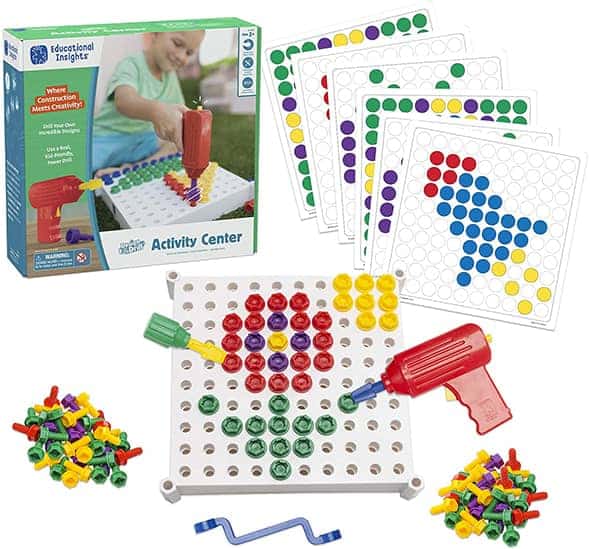 Follow Patterns Or Be Creative
This Design & Drill Activity allows kids to be DIY masters and artists at the same time. It comes with pattern cards to copy, which helps children learn pattern recognition, sequencing, and spatial reasoning. But there's no need to follow the pattern – you can make your own designs too! This versatility makes it wonderful for ages 3 and up.
Develops Fine Motor Skills
This activity center is fantastic for improving motor skills and coordination. Manipulating the power drill, screwdriver and wrench enhances the abilities kids need to tie shoelaces and hold a pencil. Unfortunately, a few parents found that the drill broke after a few uses – but luckily it has a one year warranty and the company will happily replace defective elements.
This is a great toy for introducing children to the world of tools in a safe and easy way. If your children have seen mommy or daddy using a power drill, they will be thrilled to get one of their own. Plus, the screws are way too big to be swallowed, so children can play safely without adult supervision. One downside is that there are no extra screws, so you'll have to be careful not to lose any.
6. Design & Drill Flower Power Studio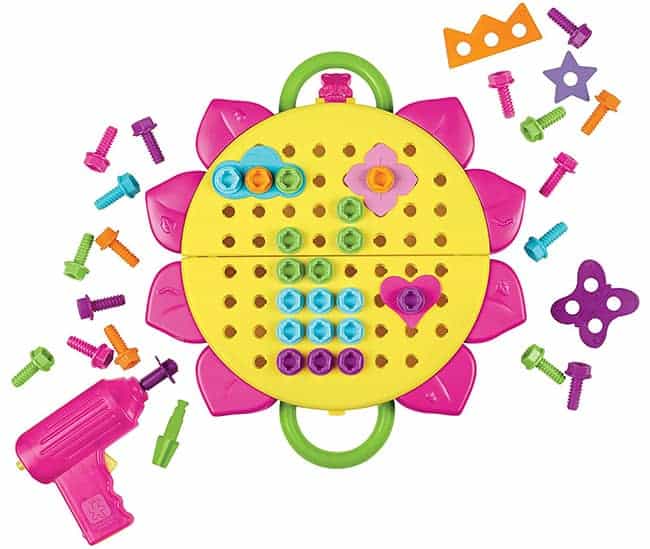 This Flower Power Studio works just the same as the Design & Drill Activity Center above, except that the board is in the shape of a flower. If your toddler loves building and flowers, this is a great option! In addition to all the tools and screws, this version comes with a butterfly clasp, flower bit, and a number of fun design plates.
One of the best STEM toys for 3 year olds around, this design and drill studio is wonderful for preparing your child for preschool. By counting and sorting the colorful bolts, they will learn critical math skills. By playing with the tools, they will improve their dexterity and hand eye coordination. With all the components easy enough for little hands to manipulate, kids will love exploring with this STEM toy.
Just like the non-flower version, this toy allows kids to mimic grown ups using tools and a power drill safely. Children love playing at being grown up, and they will be thrilled with their own motorized drill. Some customers did not like how finicky the battery compartment is and also found the box too small. However, these are minor gripes considering all the enjoyment this toy brings.
7. BathBlocks Floating Airport Set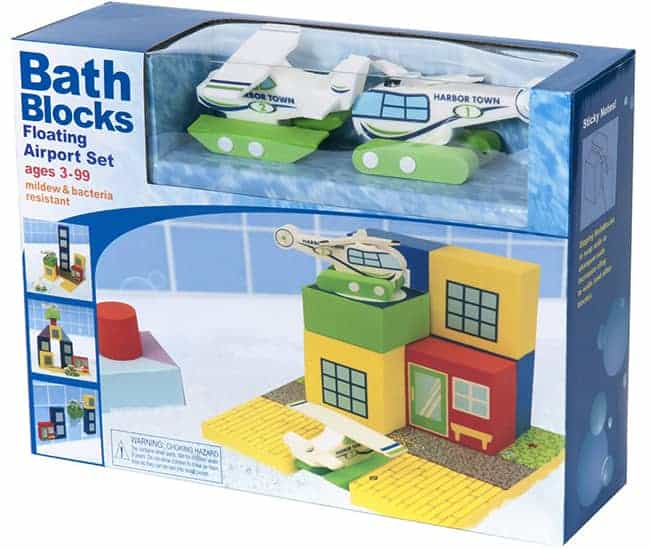 This Floating Airport Set is another offering from BathBlocks, perfect for children obsessed with airplanes. Like the waterfall set, the pieces stick together when wet, and you can make all sorts of constructions. If your child needs some enticing to get into the tub, this is one of the best toys to do that. However, this may not be the ideal toy if your child likes to engage in rough play, as the aircraft pieces are a little flimsy.
From math to spatial reasoning to cause and effect to balance, this helps children learn all kinds of STEM concepts. As they experiment with different configurations, they are learning all the while they are playing. And the best part? They dry quickly, do not have finicky parts to clean and never develop mold!
Although it is an airport set, you can really let your child's imagination run wild with this toy. The building blocks are versatile and can be used to make almost anything. Unfortunately, the base can sink when overloaded with blocks, so some parents found that building on the bath edges worked better. But for all the fun it brings, this is still one of the best STEM toys for 3 year olds on the market.
8. GeoSafari Jr. My First Microscope Toy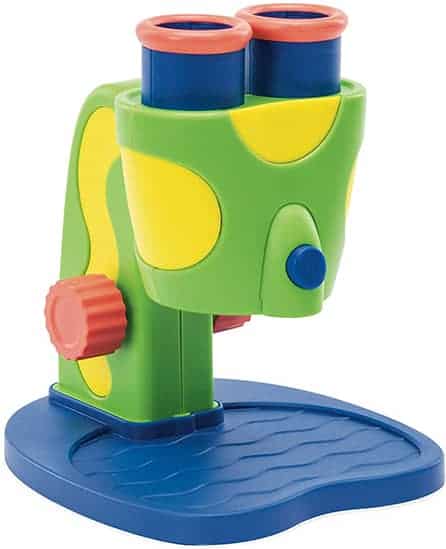 This My First Microscope toy from Geosafari is a great way to spark children's curiosity about the world around them. Soon, they will be putting absolutely anything that fits under the lens! With two eyepieces, there is no need to close one eye. All that's required is to turn a knob to focus, which even toddlers will pick up quickly.
Introduces World Of Science
One thing to note about this microscope toy is that the 8x magnification advertised is misleading and it is closer to 1.5x. However, this is great for ages 3 to 5 as they can still connect what they see to the item in front of them. Plus, simply the action of using a microscope is a great way to introduce children to science. In the world of STEM toys for 3 year olds, building blocks are everywhere. A microscope is a great alternative that encourages exploration!
Although this microscope is quite lightweight, it is also incredibly durable. It can be knocked over, covered in mud and subjected to very rough play and it will still work. And that includes the light! It is also very well designed and intuitive to use. Allow your toddler to take a closer look with this fantastic toy!
STEM toys are great for ages 3 and up – we go through the reasons why.
Choosing The Best STEM Toy
Here are the factors you should consider when choosing a STEM toy for your 3 year old.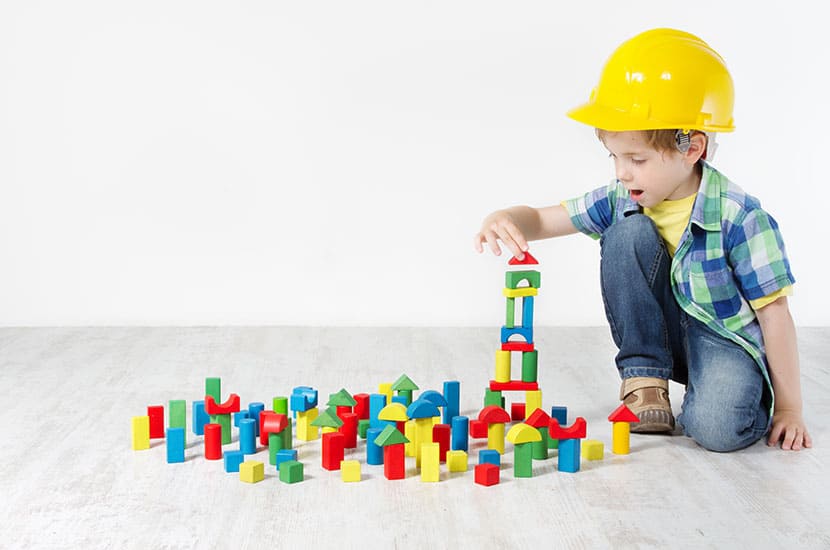 First things first, it's important to get a toy your child will enjoy. Here are a few types of STEM toy you might consider:
Science toys: things like a microscope toy or coding robot that teach children about the wonderful world around them.
Building toys: whether blocks, tiles or other funky shapes, these are the most common STEM toys for 3 year olds. They tend to be the most versatile and teach kids about math, spatial reasoning, creative thinking and problem solving. Take a look at our magnetic tiles reviews as well! 
Mechanics toys: toys that introduce kids to drilling or constructing with nuts and bolts. These go a step further than your classic building blocks.
When buying STEM toys for 3 year olds, safety is a major factor. At age 3, your child is probably beginning to gain some common sense about interacting with the world, but that doesn't mean any toy is appropriate.
When it comes to safe toys, you can use the recommended age range as a guide, but you know your child best. Some 3 year olds will be fine with small parts, whereas others might still put them in their mouths.
You can read more about toys for younger ones here.
Ask yourself how your child interacts with the toys they already have, and whether a particular STEM toy is safe for them.
Quality is an important consideration when buying any toys, but especially when buying STEM toys for 3 year olds. As you probably know, 3 year olds are still dropping their toys, banging them together and subjecting them to pretty rough play.
Check the customer reviews for the products you are considering to see if breakage was a common problem.
The Benefits Of STEM Toys
It's not about creating the next Einstein, but playing with STEM toys has so many benefits when it comes to learning and development.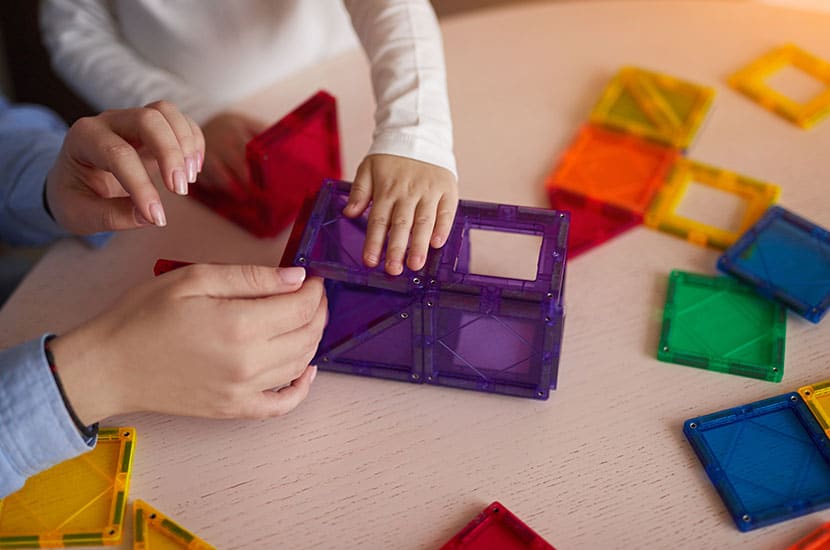 STEM toys help kids learn about cause and effect, and how to solve problems. They teach spatial awareness, logical reasoning and critical thinking. They stimulate your child's natural curiosity and inventiveness, and spur on their cognitive development.
Many STEM toys foster creativity and imagination as well as STEM skills. Building toys like blocks and nuts and bolts are especially great as they can be put together in countless ways. When there is no limit to what you can do, you'll be amazed at what your kids come up with!
Not only do STEM toys stimulate the mind, but they tend to involve building things or manipulate objects with your hands. This makes them great for developing fine motor skills and hand eye coordination.
STEM toys help prepare children for preschool and grade school. They introduce them to concepts they will likely encounter there, like colors, shapes and numbers.
In addition, by improving dexterity, they make it easier for kids to grip pencils. Last but not least, they get little ones used to focusing on one thing for an extended period of time.
STEM toys will make kids associate STEM concepts with play and discovery, which will in turn make them excited rather than apprehensive about learning and school.
Frequently Asked Questions
STEM means Science, Technology, Engineering and Mathematics. It was initially coined as a curriculum design strategy but now refers to careers, education and other activities that involve skills key to science, technology, engineering or math. Whether or not your kid becomes a scientist or engineer one day, skills like out of the box thinking, logical reasoning and problem solving will help them throughout their life.
STEM toys help kids by engaging various parts of their brains in a natural way through play. They teach important concepts like cause and effect, problem solving and spatial awareness. They also encourage children to explore and search the world around them and foster their natural curiosity and inventiveness. They also prepare toddlers for school by making learning fun and practicing focus and fine motor skills.
The best STEM toys for 3 year olds are Magz-Bricks and the Wooden Nuts and Bolts Set from Joydom. We especially love the versatility of these toys and how open-ended they are. Children will find these toys endlessly absorbing for many years to come. When it comes to STEM learning through play, they are also some of the best toys you can buy.
Out of all the great STEM toys for 3 year olds out there, our top pick is Magz-Bricks. We love the versatility of these magnetic building blocks and the way your child can grow with them. Their durability and ease of cleanup is a bonus!
But all the toys on this list allow children to have a blast while learning key skills. Hopefully, this article has given you an idea or two for the next toy box addition!