Maybe you cycle to work or school every day. Perhaps you like to go on multi-day backpacking trips, or you are more of a kayaking or SUP adventurer. Either way, all the gear in your backpack is important and you don't want it to get wet! You cannot always avoid the rain, but you can be prepared for it.
However, many backpacks are advertised as waterproof and it is difficult to assess the true quality of the product. But not to worry! We have assembled 8 of the best waterproof backpacks with different features designed for a variety of different purposes in this buying guide, so that you can find the best waterproof backpack to suit your specific needs.
1. Arc'teryx Bora AR 49 Pack - Women's: Best For Hiking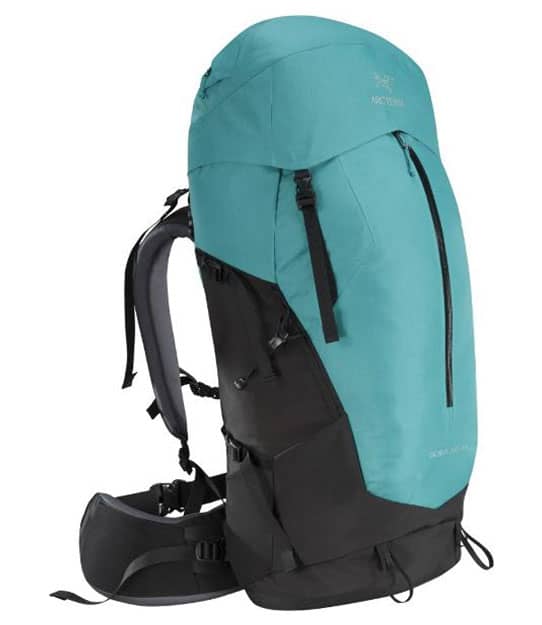 Editor's Choice #1:  The Arc'teryx Bora AR 49 pack is one of the best waterproof backpacks you can buy for hiking. It is marketed for women due to its ingenious hinge system in the waist strap, but it can also be comfortable for men too. This backpack is incredibly durable, amazingly water-resistant and versatile.
The Arc'teryx Bora AR is perfect for long hiking adventures and to take any place. Its waist belt and shoulder straps are made of solid foam and are super comfortable, though may feel a little bulky for petite women. The centralizing hinge system keeps the pack stable while hinging with hip motion, making it feel much lighter than it is. Plus, the Tegris framesheet and compression straps will keep the weight more evenly distributed.
Made from layers of nylon with a capping of weatherproof AC fabric, this hiking pack will last you a long time. It can handle scrapes on tough rock, as well as any type of weather. It is not designed for full submersion, but all your gear will remain dry with no water damage even after walking all day in heavy rain or snow.
This backpack only has 3 compartments, but a capacity of 52L, so you can bring sleeping bags, food and any other necessary gear. Its sleek design makes it perfect for rock climbing as there aren't many loops and zips that can snag. In addition, the top compartment comes off for use as a day pack. The zip down the front makes for easy access, so you don't have to rummage around to find your gear.
2. Ortlieb Velocity Pack: Best For Commuting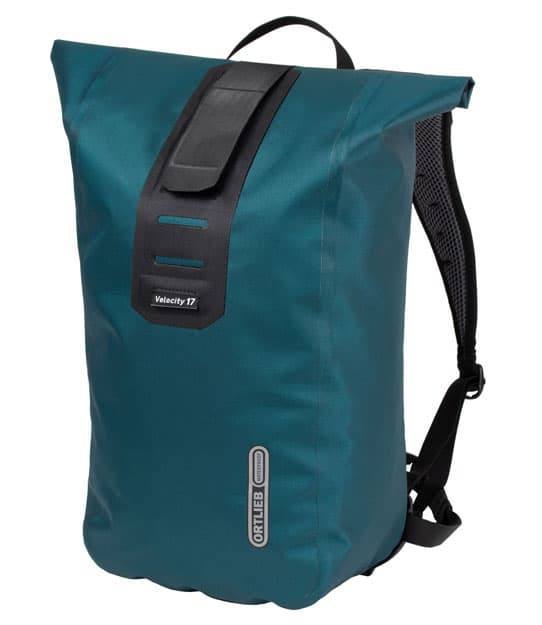 Editor's Choice #2: The Ortlieb Velocity Pack is a commuting backpack that does not compromise on comfort, and its ergonomic design makes it an ideal pack for cycling. It includes reflective features for visibility on the roads, and it can handle some pretty harsh weather. On top of that, Ortlieb stocks extra parts for easy repairing.
Designed for city cycling, the Ortlieb Velocity Pack is great for commuting or for business travelers. However, it is much more comfortable than most other urban backpacks. It features a foam back, ergonomic shoulder straps and a removable waist and chest strap. This ensures that your back is supported, and will keep the bag stable while you're on your bike.
The Ortlieb Velocity Pack comes in a variety of color options. Even if you choose black, the reflective logo and threads in the shoulder straps enhance visibility in dark or rainy conditions. It also features an attachment point for a helmet or rear light. Plus, you can bring along a 17 inch laptop in the removable zip pocket without fearing water damage.
This bag is classified as IP64, so you can rest assured that it can handle heavy rain. It is made of polyurethane laminated polyester and its bottom corners are reinforced to resist abrasion. Another reason to love this bag is that it is repairable – even the best products can deteriorate over time, but Ortlieb offers a range of spare parts so you don't have to replace the whole bag.
3. Sea to Summit Hydraulic Dry Pack - 120L: Best For Paddling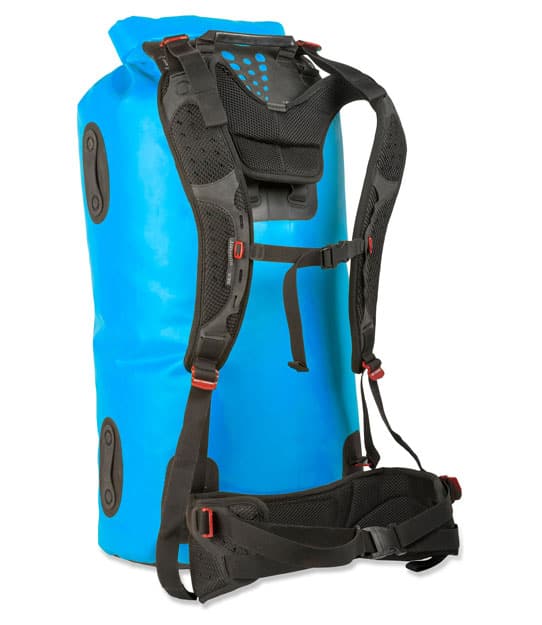 If you're looking for a dry pack with serious capacity, look no further. This Sea to Summit Hydraulic dry pack has a capacity of 120L and is designed for paddling adventures. It is made from laminated polyester, with welded seams to ensure it is 100% waterproof. On top of that, it is resistant to both UV and cold temperatures. The roll-top closure also ensures all your gear stays totally dry.
The harnesses on this dry bag are just like what you would find on a hiking backpack, including padding and lumbar support. This makes it the perfect backpack for multi-day hiking and paddling adventures. Despite its size, you will not feel any strain on your spine. Plus, the EVA foam and mesh strap construction enhances breathability. All the straps are removable for use as a standard dry bag, though they can come off the loops a bit too easily.
Adventure-Oriented Details
If you are going on an extended kayak or SUP tour, the Sea to Summit Hydraulic dry pack is ideal due to its handy attachment points. Another neat feature of this dry bag is its flat, oval base, which prevents it from rolling. This backpack is perfect for serious adventurers!
4. SealLine Black Canyon Dry Pack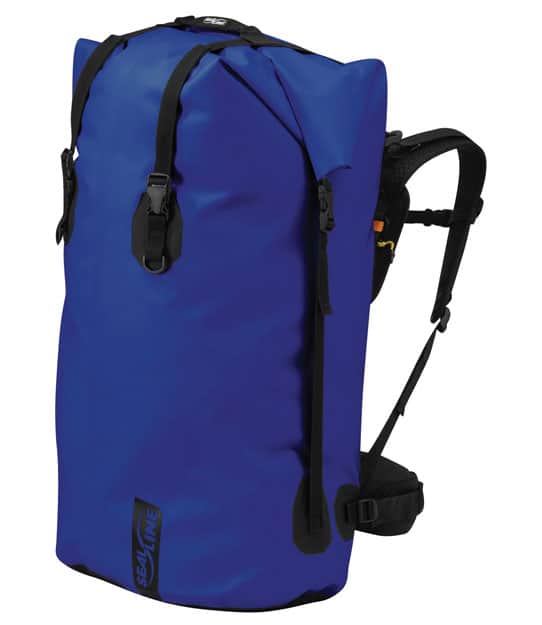 Whether you want to go canyoneering, canoeing or kayaking, you can rest assured that the SealLine Black Canyon dry pack will keep all your gear 100% dry. Its polyurethane coated polyester is strong and abrasion-resistant. In fact, this backpack comes with a lifetime warranty! Plus, the roll-top closure ensures that all your belongings remain dry.
Not all dry packs are designed to be backpacks, and comfort often takes a back seat. However, with its padded shoulder straps and lumbar area, as well as a hip belt to ensure even weight distribution, this backpack is much more comfortable than most dry bags. And with a storage capacity of 115L, comfort is key. If for any reason you don't want the straps, you can simply remove them.
For such an affordable backpack, there are a lot of smart features. One great thing about this backpack is its white interior, which makes it a lot easier to see all your gear inside. Choose from classic black, blue or bright yellow for visibility. If you want a comfortable dry bag backpack that can carry all your gear, this is a fantastic option.
5. Herschel Supply Co. Pop Quiz Eco Pack: Best For School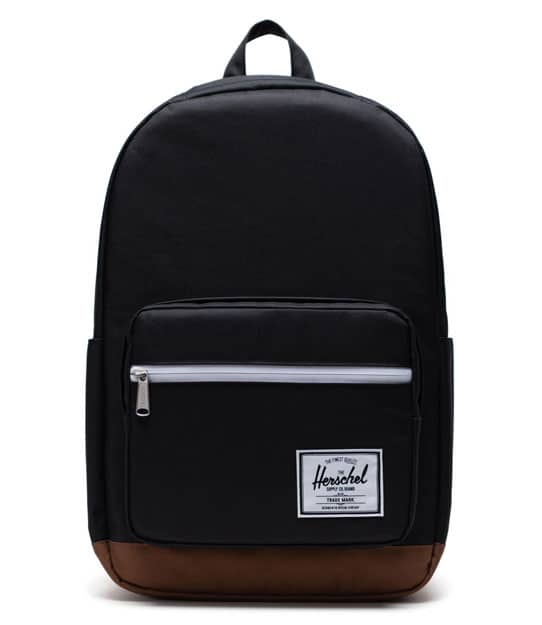 Made from 100% recycled thermoplastic elastomer material, this is the most eco-friendly bag on this list. It is also super durable – Herschel Supply Co. has built up a reputation for bags that last, and many people have kept theirs for years, taking it to every new place they go. This is not the most waterproof backpack on this list, but it will stand up against a brief rainstorm.
With multiple pockets, including a 15 inch laptop sleeve and a sunglasses pocket, this 22L backpack can fit all you need for the day, including a laptop, folders, books and more. Despite this capacity, it is super lightweight at 1lb 14oz. One gripe is that there is no external water bottle holder, though there is one on the inside.
The Herschel Pop Quiz Eco Pack has padded, contoured straps that enhance comfort, even when carrying a heavy load. Note that there is no waist belt or chest strap, so it may strain your shoulders after carrying it around all day. However, for daily commuting or casual sightseeing, this is a great backpack.
6. Geckobrands Lightweight 30L Waterproof SUP Backpack: Best For Travel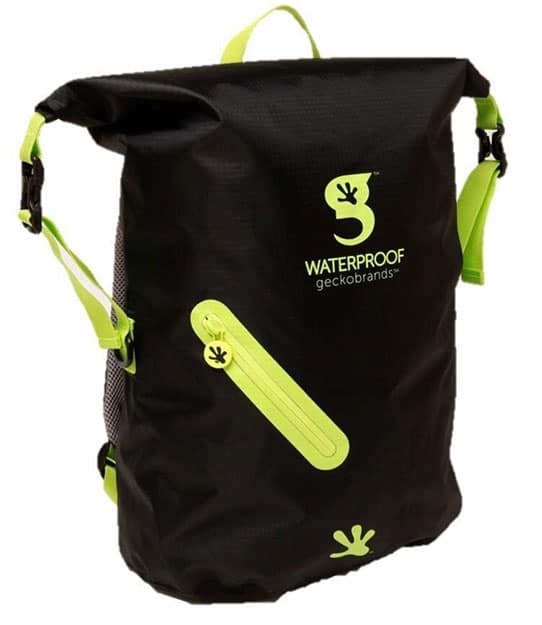 This Geckobrands SUP backpack is not fully submersible, but it's as close as you can get for such a lightweight bag. Fully waterproof backpacks are quite heavy because of their multilayer construction, but this one is only 0.6 lbs. Despite being so lightweight, its polyester ripstop material has held up to testing in extreme weather conditions. While you shouldn't submerge this bag, it can survive rain, snow and splashing.
The best thing about this backpack is that it folds up like a t-shirt, making it super easy to transport in another bag or suitcase. Although it is marketed as a SUP backpack, it may be better placed in the travel backpacks category, to pack in your suitcase for sightseeing or beach trips. It fits everything you need for your travels, without taking up extra space or weight.
This 30L backpack is great for SUP and kayaking adventures. It has two D-rings for attaching to your SUP, or to clip on keys or water bottles. The dual-reinforced nylon straps offer more points of attachment. Apart from the main compartment, the interior and exterior pockets allow you to keep small items like a phone separate. It also comes in several colors to suit your travel style.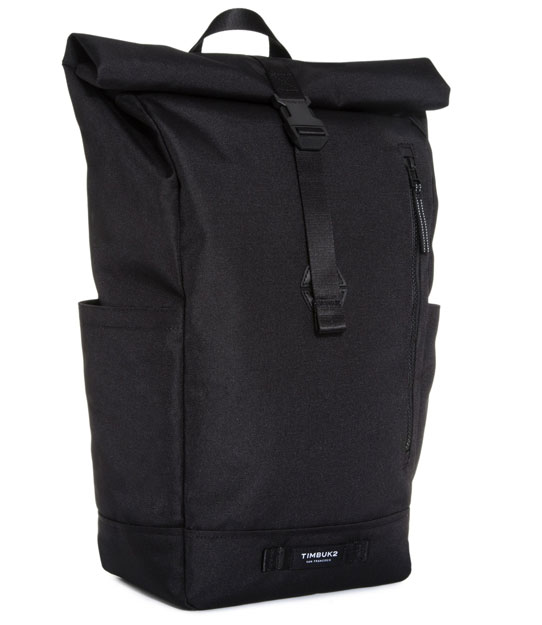 The Timbuk2 Tuck Pack is ideal for the urban commuter who needs to carry a lot of stuff. It has a sleeve for a 17 inch laptop, as well as lots of organization pockets. Bonus points for the stealth side zip pocket! This is perfect for small valuables such as a phone, cash or passport and makes it a great travel bag.
The lifetime warranty on this backpack tells you something about the quality. Constructed from tough yet lightweight polyester, it is super durable for such an affordable bag. The only potential issue is the slightly cheap seeming plastic buckle that secures the roll-top.
The Timbuk2 tuck pack incorporates smart design to be both water proof and convenient. Its roll top closure keeps your belongings dry, but it has a side zip to allow easy access to the main compartment. Its flat design and large shoulder straps provide decent comfort, though it may strain your shoulders after a full day. A little thought is necessary when packing, as the bag provides minimal padding. However, it is super lightweight at 1 lb 8 oz.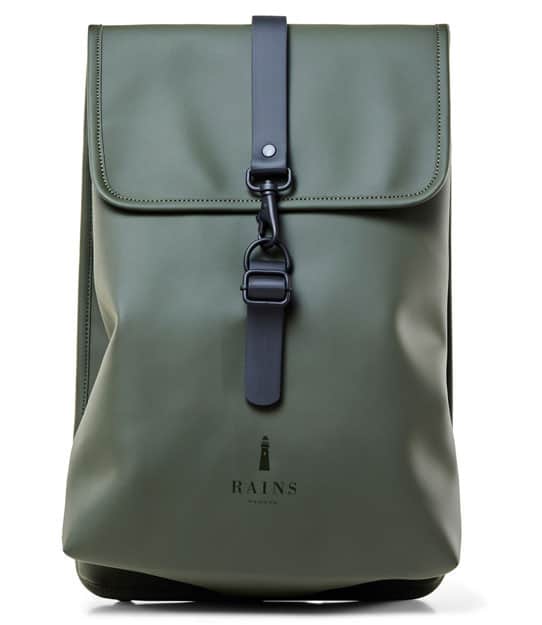 For the fashion-conscious who want to stay dry during daily commuting, this is a good backpack. With its sleek design and chic color choices, you will look both stylish and professional. Small enough to be your personal bag on an airplane, it is also great for business trips. Plus, it has a padded sleeve for a 13 or 15 inch laptop.
Whether you are walking or cycling, you don't have to worry about getting caught in the rain with this backpack. Its completely waterproof fabric has been tested with a high-pressure water column from 8 meters away! It does not seal perfectly, but its snap buttons and large flap will keep your stuff safe from rain.
Ideal for the business traveler, this bag also works great for casual use. With a storage capacity of 11L, it cannot fit a great deal, and its straps do not offer the best comfort. But if you want something small and simple for your daily essentials, this bag is perfect.
What To Consider When Choosing Your Waterproof Backpack
A good waterproof backpack  is an essential accessory if you are into water activities like paddle  or kayaking. Here are a few points you should keep in mind when reading reviews and assessing backpack specs and features.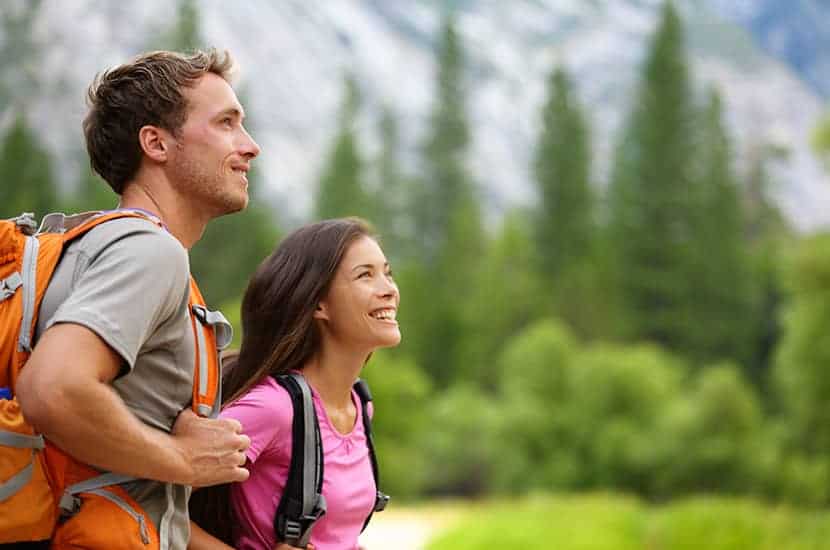 Use is probably more important than any other factor when choosing a backpack. If you need a backpack for commuting, you may want it to have a designated laptop sleeve. In contrast, if it is for hiking adventures, it needs to be able to carry a lot while keeping strain off your back. To keep all your gear dry while paddling, you want something 100% waterproof.
The most comfortable backpacks are designed to spread out the weight evenly. Hiking backpacks should have a hip belt and compression straps to ease strain on the back, as well as strategic padding.
Discomfort in a backpack is often an indication that it is not good for your spine, which is a major red flag!
Size or capacity in backpacks is usually measured in liters. 25L or under is a good size for sightseeing or casual hiking. A 35L bag is your typical hiking day pack size. From there, you can go all the way up to 80L or more for multi-day backpacking or paddling trips. However, you need to take your own size into account when choosing a backpack that will fit and not strain your back. Petite hikers in particular should look more on the small or medium-sized product region.
Color is generally a matter of personal preference, but there are a few more reasons for choosing a particular color. Bright or fluorescent colors increase visibility in low-light conditions. This enhances safety when paddling or hiking, but also when cycling on city streets.
If you are traveling somewhere hot, avoid dark colors as these attract sunlight, which is especially bad if you are carrying electronics!
Features Of Waterproof Backpacks
Here are some features and specs to look out for when choosing your waterproof backpack.
Zips create the opportunity for moisture to sneak in, so the most waterproof backpacks out there have roll tops. Usually, roll-top backpacks can be secured with buckles on either side of the bag, or clipped together to create a carry handle or attachment loop.
If you want your stuff to stay dry even after total submersion, look for a roll-top pack.
Extra pockets are very helpful for organization and storing small items you want for easy access.
Zippered pockets allow you to access smaller items without opening the main storage area, while still keeping these items relatively dry.
Mesh pockets do not keep their contents dry, but are more useful for carrying stuff like water bottles or flip flops. It is common to have a mesh pocket on either side of the bag, providing easy access to your H2O.
For bags of any significant size, waist straps are essential to keep the bag from bouncing around. Hiking backpacks should have chest straps too, especially if you need to carry more gear. These distribute the weight so that there isn't too much strain on your spine.
What Is The Difference Between Waterproof And Water Resistant?
In general, water resistant backpacks can handle the odd rainstorm or a few splashes, while truly waterproof packs can be submerged in water. However, it is a spectrum, and the level you need depends on the backpack's intended use. For canoeing or kayaking, you'll probably want something truly waterproof. However, for most hiking trips or general use, water resistant is sufficient. However, don't simply trust a label that says "waterproof" or "water resistant". It is important to read reviews and understand something about the materials and construction in order to trust the quality.
If a bag advertises its IP rating, this usually means it is more trustworthy. An IPX6 rating is splash and rain proof, while IPX8 usually means fully submersible.
Frequently Asked Questions
The best waterproof backpack is the Arc'teryx Bora AR 49 Pack. It is amazingly comfortable due to its groundbreaking hinge system, which allows the bag to move with you. When compared to other hiking backpacks, it is more durable and more water resistant. It also has lots of great features to enhance convenience and versatility.
The best waterproof backpack material is probably polyester or PVC material. Many of the best waterproof backpacks on this list are made of layers of polyester. The more layers, the more water resistant the backpack will probably be. Nylon can also be good, provided it is treated or coated with a waterproof material. Having a coating such as polyurethane is what makes a bag truly waterproof.
Your waterproof backpack may or may not be machine washable. Check the label on the backpack and follow the instructions. If you are not sure, it would be best to contact the manufacturer or retailer. Even machine washable backpacks should be washed with cold water on a gentle cycle, as you do not want to damage the bag's waterproofing.
After having reviewed 8 of the best waterproof backpacks, we believe that the Arc'teryx Bora AR 49 Pack beats all the rest. It boasts amazing comfort, durability, water resistance and versatility. However, this is a hiking backpack – if you want something more for daily commuting, go for the Ortlieb Velocity Pack. Whatever your needs, you can find the best waterproof backpack to keep water off your stuff from this list. Don't let a little rain get in the way of your adventures!