Spikeball is commonly known as a cross between volleyball and four square. It's a great game to play on the beach, on grass, or anywhere else you don't mind landing hard. It's an easy game to learn and a straightforward game to play, but you won't be bored because every game feels different and there are plenty of skills and strategies to master.
You'll want the best spikeball set to get started with and we think that the best set is the Spikeball Game Set that was featured on Shark Tank. A close second is the GoSports Slammo XL set. You may also want to look for sets with a lifetime guarantee or lifetime warranty.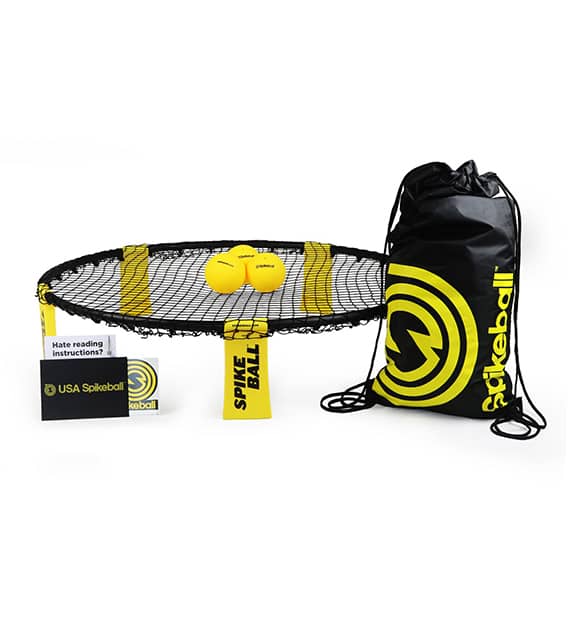 Editor's Choice #1: This iconic Spikeball Game Set is what started it all! If you want to play spikeball as it was meant to be played, this is it. It's made to the highest standards and is suitable for serious spikeball athletes as well as people who just want to bounce a ball with their families and friends. Get started today!
This patented spikeball set was created by Spikeball Inc., which was featured on Shark Tank, Dude Perfect, the Today Show, the Wall Street Journal, Esquire, Outdoors and ESPN2. They're also behind the Spikeball Roundnet Association, tournaments, blog and app. These folks know and love spikeball so who better to create the ultimate spikeball sets? They are designed for serious play and you won't be disappointed whether you're training for a tournament or just having fun with your family or friends. This set works for players of nearly all ages and sizes.
The 3-ball kit gets you ready to play: the set comes with a net that is 36″ in diameter and 8″ tall when set up, three balls, a rule book/instruction manual and a logoed drawstring backpack for transport and storage. The net folds up to fit inside the drawstring bag and the set is heat-, water- and weather-resistant so it's suitable for use indoors or outdoors. Replacement spikeball balls are readily available.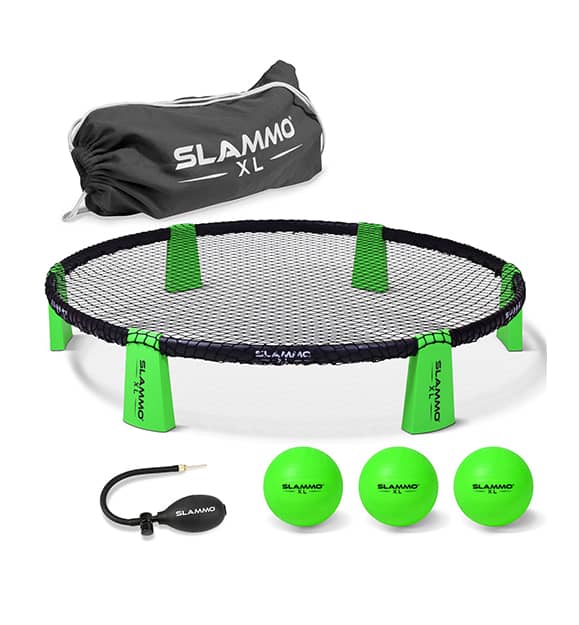 Editor's Choice #2: This GoSports Slammo XL set is big, beautiful and bouncy. It's ideal for players of all ages and stages and it's even large enough to accommodate more players than the traditional four (excellent for parties or play groups). You can play on nearly any surface with this strong, well-designed set. Choose it for fun and games anywhere!
This is a great Slammo game set for all ages from elementary school through to adult. The net is larger than average at 48″ in diameter and offers a low-profile rim and complete coverage to the edge so that balls don't get trapped between the net and the rim. The wide playing surface encourages longer rallies and can support more players in a game. The legs are reinforced to double the standard strength and feature rubber feet for use on multiple surfaces such as grass, laminate, sand, asphalt and more.
The spikeball set comes with everything that you need to set up and start playing. You get the net, three bright green balls that perfectly match the legs of the target net, an air pump to inflate the balls, a carrying case with a drawstring and handles and a rule book/instruction manual. The net folds up nicely for storage or transport and the total game set weight is just over eight pounds.
3. Hey! Play! Battle Volleyball With Carrying Case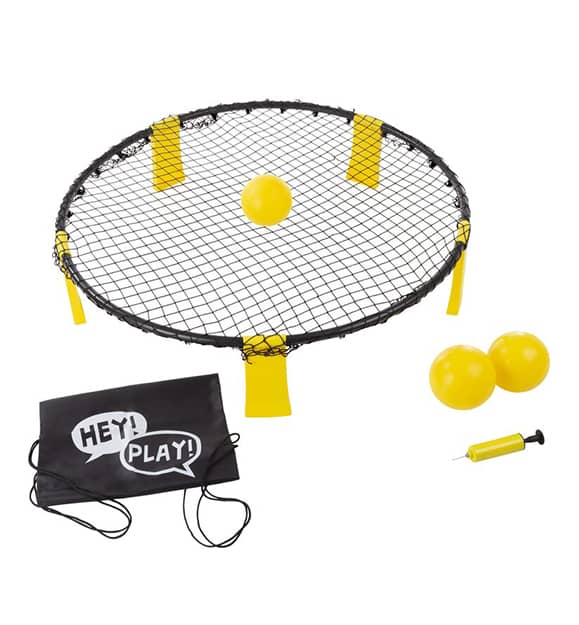 This spikeball set comes with an adjustable net that's a real game-changer. You can draw the net tight to make it easier for younger players or players with less strength to get a good bounce on their balls, or you can leave a little slack to make more advanced players work harder. This feature makes the game accessible to all players while allowing serious athletes to sharpen their skills. The yellow and black color scheme makes the balls easy to see — you're not going to lose them in the woods!
Play Anywhere And Everywhere
The set has everything you need to set up and get started right away. You get the adjustable net, three balls, an air pump and a carry bag. You can break down and fold the net quickly and easily (and set it up again just as handily) and the entire set is very lightweight at under four pounds in total.
The pieces are resistant to:
Weather
Heat
UV rays
Water
Mildew
This means you can play anywhere under any conditions and you don't have to worry about leaving it set up outside.
4. GoSports Slammo Roundnet Set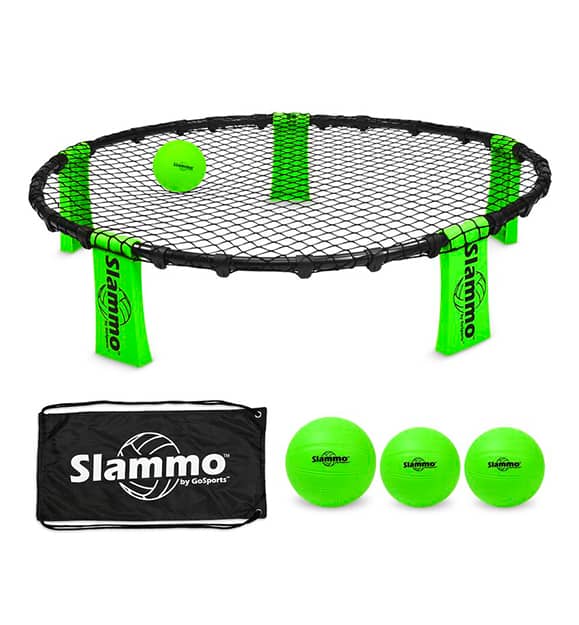 This super Slammo set lets you take your Slammo game wherever you want. The net has foldable legs so you can collapse the game set and pack it into its logo-emblazoned drawstring backpack. The durable legs are suitable for many different playing surfaces, both indoors and outdoors, as they will be stable on grass, in sand, or on a court. You can also enjoy your game in any conditions or leave it set up for spontaneous play as the set is weather-resistant.
The spikeball roundnet set comes with two competition-size (9 centimeter) balls and one larger training-size (12 centimeter) ball. Newer, smaller, or younger players will find it easier to play with the large ball so this is a great set for beginners to start out with. The net stretches to the edge of the frame so none of the balls will get caught or trapped. In the spikeball pro kit set, you get the high quality net, a 3 ball kit, a rule book/instruction manual and the backpack. The balls are rubber, which many people consider best, so they do not need to be inflated.
5. Funsparks Slam Ball Game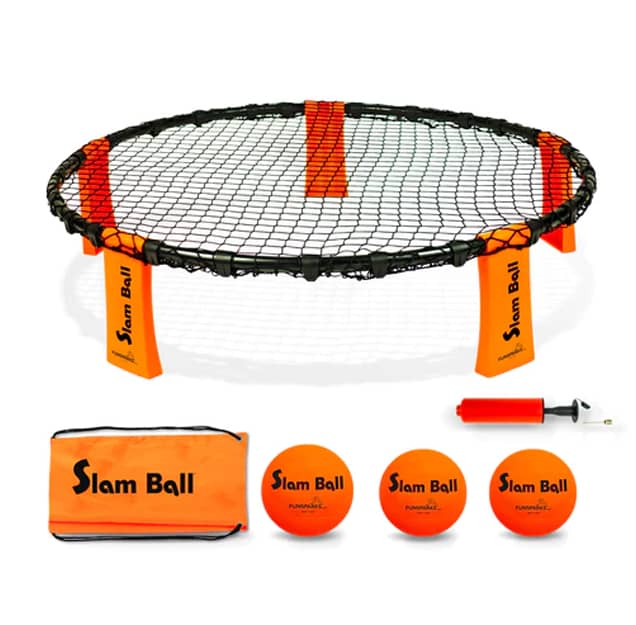 Great Quality At An Affordable Price
If you're looking for a budget option, this slam ball set from Funsparks gives high quality at an affordable price. The legs are sturdy, the net provides great bounce and the balls are responsive. The durability on this set is not far off what you get with the higher end ones, so you won't be disappointed. Most customers found that the set lasted well and did not break easily. Whether you play inside or outside, you'll have a blast with Slam Ball!
Everything You Need Plus Spares
When you buy this set, you not only get the frame, net and two regulation size balls, but you also get an extra large ball for beginners to practice with. This larger ball also works great for kiddos to play with. The net is super easy to set up and folds up for easy storage. Once disassembled, it fits easily into the included carry bag for transportation wherever you want to go.
What To Look For When You Buy A Spikeball Set
Besides fun, of course! You'll want to make sure that you have the best spikeball set that gets ready for the most fun possible, so read on.
The best spikeball sets have nets with sturdy legs that are solid on stable playing surfaces and can also adjust to slightly less even surfaces, such as sand or grass. The spikeball pro kit nets should stretch to cover the entire diameter of the hoop so that there are no gaps where a ball could get trapped. It's an extra bonus if the Slammo game set features a net with adjustable tension so that it can be very taut for beginners or smaller players but loosened a bit to challenge stronger or more skilled spikeballers. Build quality matters as much as material quality; the game is much more fun when balls don't get trapped in the net. You may also want to look for a lifetime guarantee or lifetime warranty.
Ball Quality And Quantity
Spikeball or Slammo is played with one ball at a time, so technically, one is all that you need. But it's always the best idea to have at least one in reserve and some of the best spikeball sets come with three balls to cover eventualities. You won't have to call a game early if you have a 3-ball kit! The best balls should be bouncy with a bit of texture on the surface so players can make solid contact when volleying or spiking the balls. Most balls in spike ball sets are manufactured from rubber, latex, or plastic. They may need to be inflated with a ball pump or air pump. A few of the best come with a lifetime warranty or lifetime guarantee.
Some of the best spikeball sets come with carrying cases. Spikeball is fun to play almost anywhere and it's really nice to be able to fold up the net, tuck it in a bag and head off to the beach water body, a campsite, a tailgate picnic, or anywhere else that strikes your fancy. Another spikeball set accessory is a training ball that is about 25% larger than the standard-size tournament regulations ball; the larger ball is easy for younger or newer players and it's the best way to get started with this game. Spikeball sets can also include rule books, score sheets, stickers, a lifetime guarantee or lifetime warranty and more.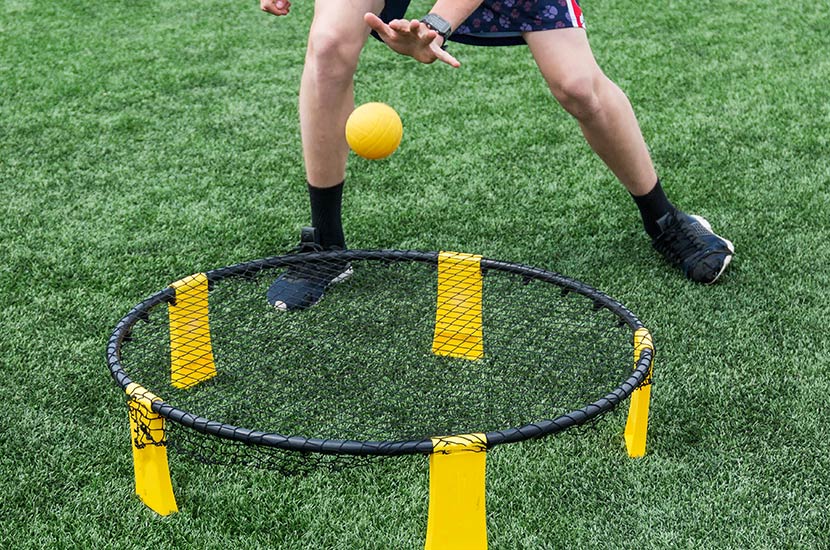 Games with family and friends can be enjoyed with relaxed rules, especially if some of the players are younger or smaller, but read on to learn the classic game play.
Spikeball pro (also known as roundnet or Slammo) is played by two teams of two people each. One team serves the ball into the net and the other team needs to return the ball into the net. Rallies repeat until one team cannot return the ball into the net, the ball hits the ground, the ball hits the rim, or the ball bounces twice on the net. Players can only use one hand at a time and each team can only have three contacts with the ball before it must hit the net. Games are usually played to 21 points and a team must win by two points.
Interested in the bocce ball game? Find the best bocce ball set here.
A roundnet or spikeball pro court is typically a circle with a 15-foot diameter. The net, which is generally three feet in diameter, is in the middle of the circle, leaving a six-foot serving circle and playing area around the net. Players arrange themselves in a square around the net at ninety-degree angles, with teammates standing next to each other. Serves must take place outside of the serving circle, or at least six feet from the net.
If you would like to enjoy other yard games and activities, check out the best pickleball sets here.
Some of the best skills and strategies that come in handy in spikeball, especially if you're getting ready for a tournament entry, include:
Serving: a ball served with topspin is difficult to return as it behaves unpredictably once you make contact and a ball served with drop/back spin is designed to drop in front of the receiver, which also makes it a challenge.
Passing: underhanded hits are most often used to set your partner up to make an attack and overhanded hits are usually used in response to a serve or a hard return.
Attacking: a "flick" shot directs the ball where the defender is not; a "chip" shot aims the ball over the head of the defender; and a "drop" shot places the ball low to the ground in front of the defender.
Blocking: a body block can block the ball back onto the net.
You can play spikeball anywhere you want, of course, but since it's a game with a lot of jumping — and sometimes a lot of hitting the ground — a playing surface like grass or sand is a lot friendlier and more fun than gravel or asphalt. You may not want to play too near a water body or else you might lose a ball.
Click here to find the best tetherball set.
Frequently Asked Questions
Whether you call it spikeball, Slammo, battle volleyball, roundnet, revol, bounceball, or Strike 360, this is a super-fun game and a great workout. Enjoy it with family and friends, take it to the beach, or take it camping — everyone from elementary school age up will have fun playing spikeball. And we think that the best spikeball set is the Spikeball Game Set.