So you have been playing pool at your local bar for some time, but the cues available there just don't seem to cut it anymore. But you are still new to the world of pool, so you're not sure what to look for in a pool cue yet. What do you do? This list of the best pool cues for beginners is meant for you if this is the very first cue you've ever purchased or if you currently play pool with a cheap cue and want to get something better. I'm confident you can find your next cue among these fantastic beginner pool cues!
1. Viking Valhalla 2 Piece Pool Cue Stick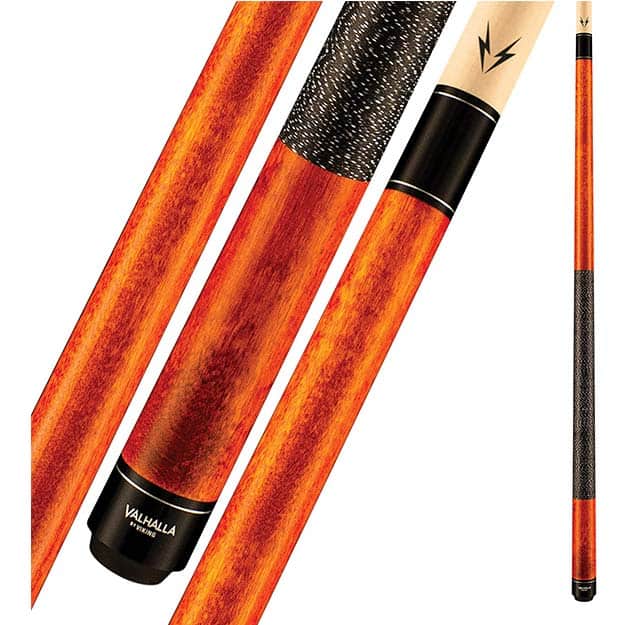 Editor's Choice #1: The Viking Valhalla is the best pool cue for beginners we could find. This cue ticks all the boxes – Irish linen wrap, a hard leather tip that still provides control and an impressive lifetime warranty against warping despite its low price. It also has excellent weight distribution and provides a smooth and powerful shot.
Fantastic Weight Distribution
Good weight distribution has a significant effect on your game play and thanks to its stackable weight bolt system, the Viking Valhalla does not disappoint. Another great feature is that you can choose your weight between 18 and 21 oz (510 – 595 g). If this is your first cue, I suggest the 20 oz.
This pool cue has a 13 mm (½ in) leather tip which is perfectly designed to give you greater control over the cue ball. If you are used to bar cues, you will notice the difference in that your misses will go right down. We also love the Irish linen wrap, which provides just the right level of grip and smoothness.
Valhalla is another trusted brand with stringent quality criteria. With a Canadian maple hardwood shaft and stainless steel joint, you will be pleased to find that the Viking lasts you many years. It even comes with a lifetime warranty against warping! All in all, this is an excellent beginner pool cue that is sure to have you hitting more balls with more power than ever before.
2. Viper Revolution Spider 58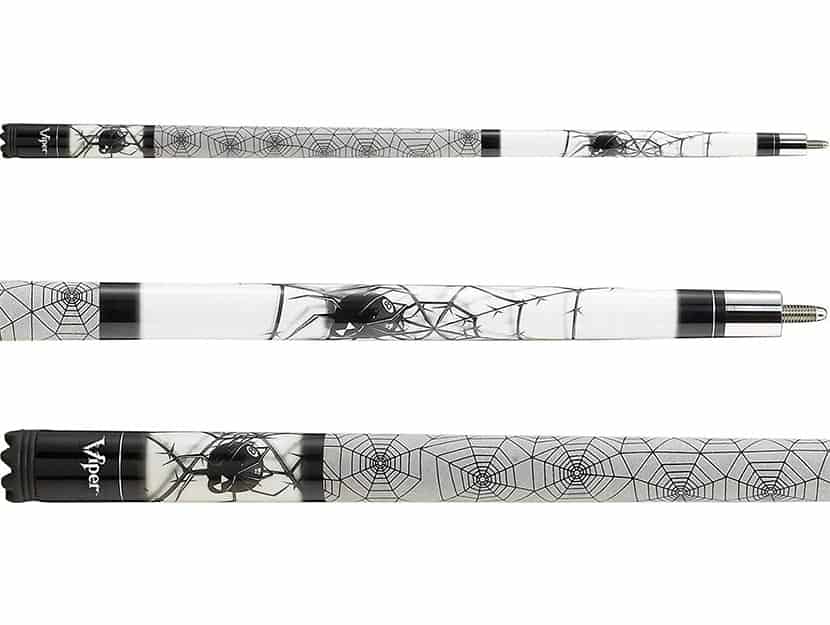 Editor's Choice #2: If you want something snazzier, the Viper Revolution Spider is an excellent choice. Cool graphics notwithstanding, this cue is not just a pretty face – it comes with a three-year warranty, shoots straight and is well-balanced. It also features a comfortable silicon grip and a built-in scuffer for convenience.
Extremely Solid Construction
The Viper Revolution Spider comes with a three-year limited warranty, so you already know it is a good cue. Plus, many reviewers have noted that this two-piece pool cue is very solidly constructed. The joint fits securely and the shaft won't warp, so you will be enjoying this cue for years to come. The only weak point is the tip, which has a tendency to come off after a while.
Performance And Convenience
Despite its affordability, the Viper Revolution is an extremely high-performing cue. It shoots straight, its silicon grip is comfortable and its weight is well-balanced. You also have a few weight options between 18 and 21 oz (510 – 595 g). Another great feature is the built-in removable scuffer, so you will always be ready if you suddenly find that your tip needs scuffing.
In addition to its durability, performance and convenience, this pool cue also looks the part. Its original spider graphics are incredibly striking and are sure to get you noticed for the right reasons. All in all, this is one of the best beginner pool cues you can buy.
3. McDermott Classic Pool Cue Kit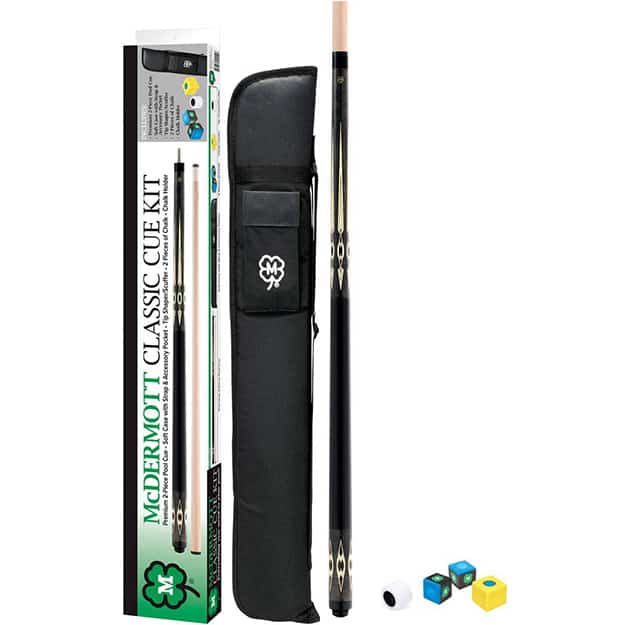 McDermott is one of the most trusted cue brands when it comes to durability. The quality of this two-piece pool cue is unrivaled in its price range – it even comes with a 3-year warranty! You can be sure this cue will last a long time. In addition to its Canadian maple wood construction, its 3 element butt design enhances longevity.
The McDermott Classic Pool Cue Kit is a great beginner pool cue because it comes with everything you need to play pool. In addition to the pool cue and soft case, the kit includes two pieces of chalk, a chalk holder and a scuffer. This means you won't have to search for these items and you can save a few bucks!
This McDermott cue is a heavy-hitting cue, making it one of the best cues for beginners. It weighs 21 oz (595 g) and features a hard 13 mm (½ in) tip. Combined, these provide both power and control, though the tip is not the best at holding chalk. It is also a wrapless cue, which is not ideal if you're prone to sweating.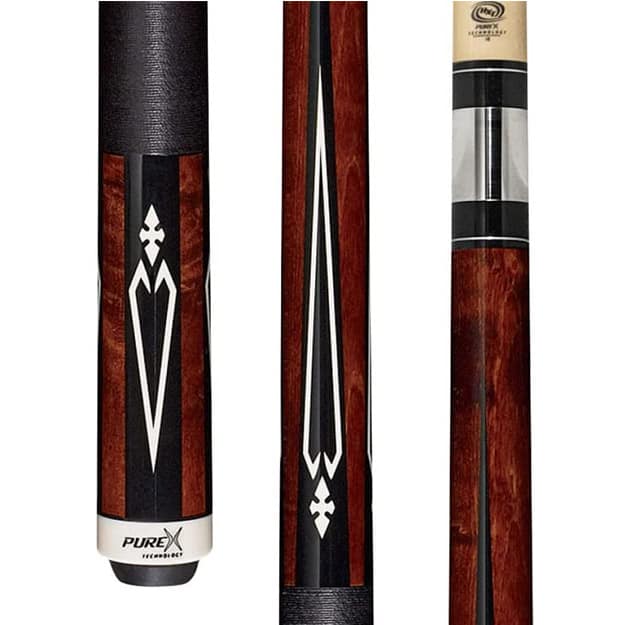 The Players HXT15 is a high-end pool cue that provides the best cue ball control out of all the cues on this list. This is thanks to its low-deflection shaft and Kamui Black tip that allows for optimal control and better ball spin. While these features are not ideal for complete beginners, if you want to start trying out more advanced shots, this is the cue for you.
Packed With Premium Features
This pool cue may be pricier than others, but it is actually very affordable, considering the number of premium cue features it includes. For example, the Kamui Black Tip, double-pressed Irish linen wrap and stainless steel joint collar all make this one of the best pool cues available.
Made From Quality Materials
Made from North American hard rock maple wood treated with Nelsonite, the durability of this pool cue is unquestionable. It also boasts an epoxy finish that protects the cue from moisture and warping. If you want something that will last you until you're a much better player, this is a great option!
5. Players Classic Birds-Eye Maple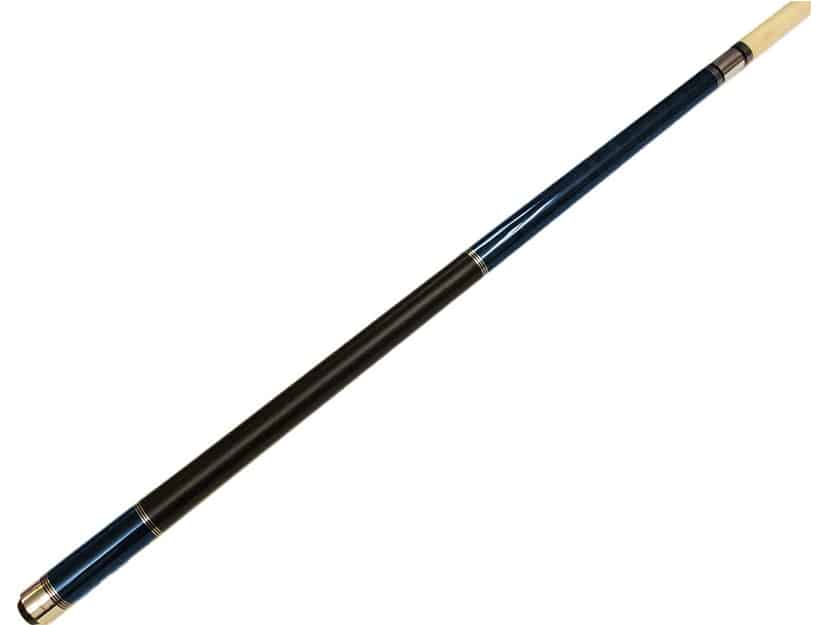 The Classic Birds-Eye Maple cue from Players comes with a lifetime warranty, so you can be confident it will be unlikely to warp. One reviewer mentioned that having owned the cue for two years, it is perfectly good as new after a cleaning! The crimson shaft gives this two-piece cue a classy look, so you feel like a boss even if you're a beginner. The only real issue is that the rubber bumper can come loose and fall off.
Customers overwhelmingly praise this cue for its performance. Thanks to its straightness and excellent tip, this stick rarely miscues. It also comes with an Irish linen wrap, which is double-pressed to make it even more durable. Whether you're attempting a hard or soft shot, this two-piece cue will set you up for greatness. The stainless steel joint provides excellent stability which makes for a controlled hit. You can choose any weight in half oz increments between 18 and 21 oz (510 – 595 g), though it seems that the cues run a little lighter than their stated weights.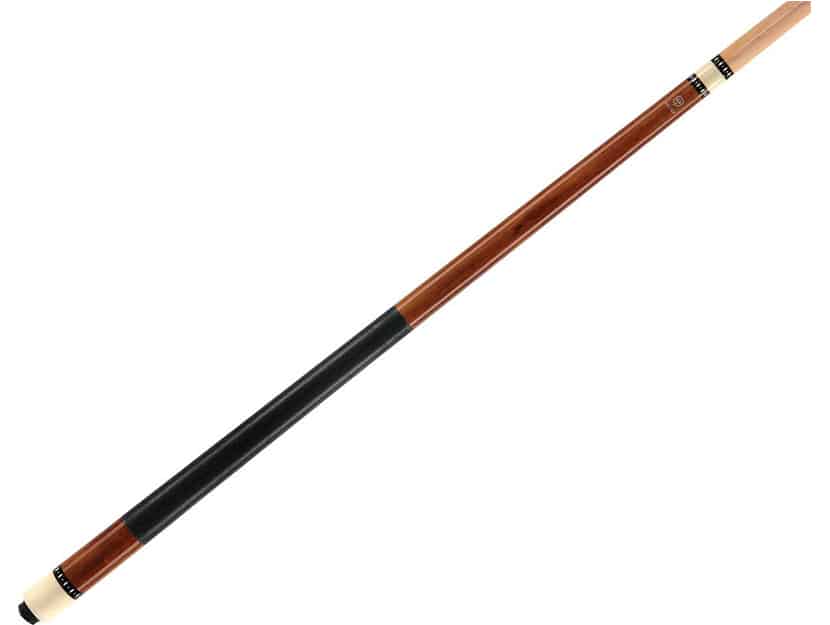 Excellent Value For Money
McDermott is known for making some of the finest affordable cues and this one provides one of the best cost to quality ratios on this list. It's rare to find a cue under $100 with a three-year warranty, but that is what this two-piece cue offers. A solid and durable hard rock maple cue, this one will stick with you for years. Plus, it feels comfortable in your hands, which is important in beginner cues.
The McDermott Lucky ticks all the boxes for beginner cues. The cue features an Irish linen wrap, a 13 mm (½ in) hard leather tip and a choice of weights from 19 to 21 oz (538 – 595 g). While it isn't perfect – the weight balance is not ideal and a few customers have complained of vibration – these are minor issues and probably unnoticeable to beginners. For such an affordable cue, the McDermott Lucky provides an excellent shot. It shoots smoothly and has a solid and powerful hit. This is a truly great pool cue, especially considering the price.
7. Lucasi Custom Birds-Eye Maple Sneaky Pete Pool Cue Stick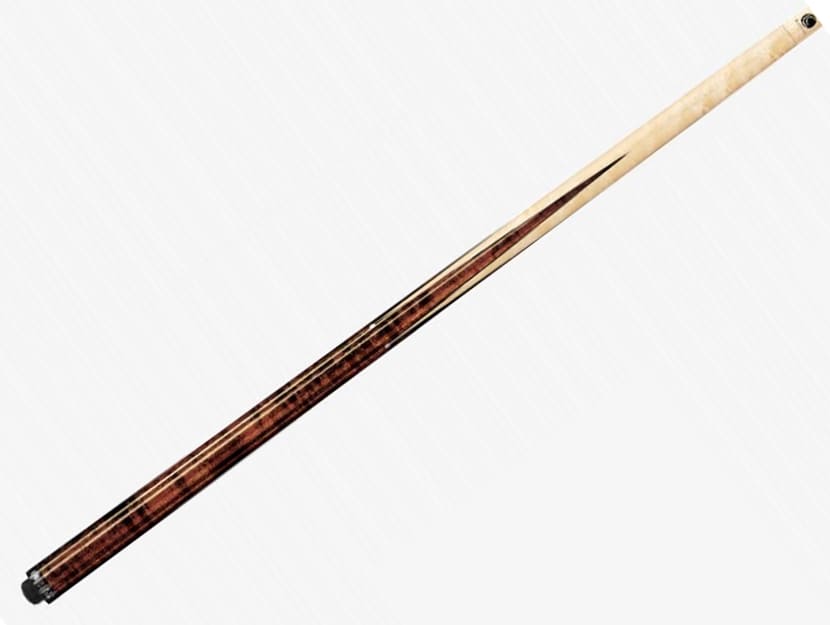 Extremely Durable Construction
This Birds-Eye maple wood pool cue from Lucasi is unquestionably an excellent cue. Boasting a lifetime warranty even against warping, this cue is made from high-quality materials and features top-level craftsmanship. If you want a cue that will last you many years, you can't go wrong here. This Sneaky Pete cue also has an understated, classy finish to it.
According to Lucasi, the layered leather tip on this cue "holds its shape like a hard tip, hits like a medium and gives the ball control of a soft tip". While this may be slightly exaggerated, the tip does offer an impressive balance between power and control. This is a high-end pool cue and is also low-deflection, so it's not ideal for complete beginners. However, if you are serious about pool, there's no reason to delay purchasing a quality cue. This Lucasi cue shoots smoothly, has perfect balance and provides a crisp shot. It is also available in half oz increments from 18 – 21 oz (510 – 595 g).
8. AB Earth Two Piece Cues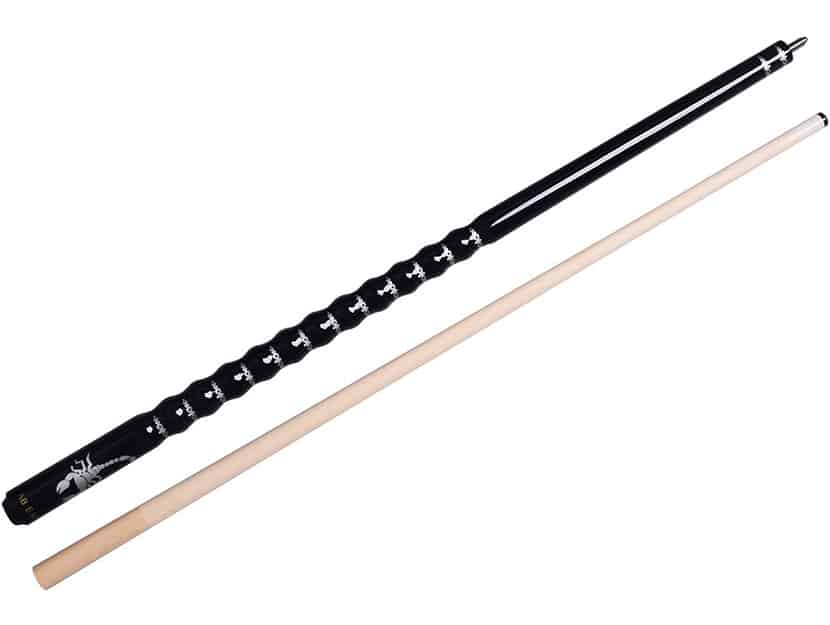 If this is your first pool cue and you want something very affordable, the AB Earth could be the cue for you. While it isn't the most durable cue in existence, it is very solid for the price. It is also impressively straight and provides a crisp and powerful shot. For a budget cue, you would be hard pressed to find something better. While the tip is quite large, it is perfect for beginners – it hits hard and scuffs well.
The AB Earth is one of the best beginner pool cues thanks to its very grippy handle, which ensures your hand won't slip. The cue features a hard rock maple wood butt with a wavy shape. While a linen wrap works best for some, this is ideal for players who want more grip. Plus, this pool cue comes in a range of awesome designs. You can choose between pearlescent blue, green or red, but my personal favorite is the black design featuring metallic scorpions. You can also choose your weight between 18 and 21 oz (510 – 595 g).
For beginners, choosing between different pool cues can be overwhelming. This guide will help you know what to look for so you feel a little less lost!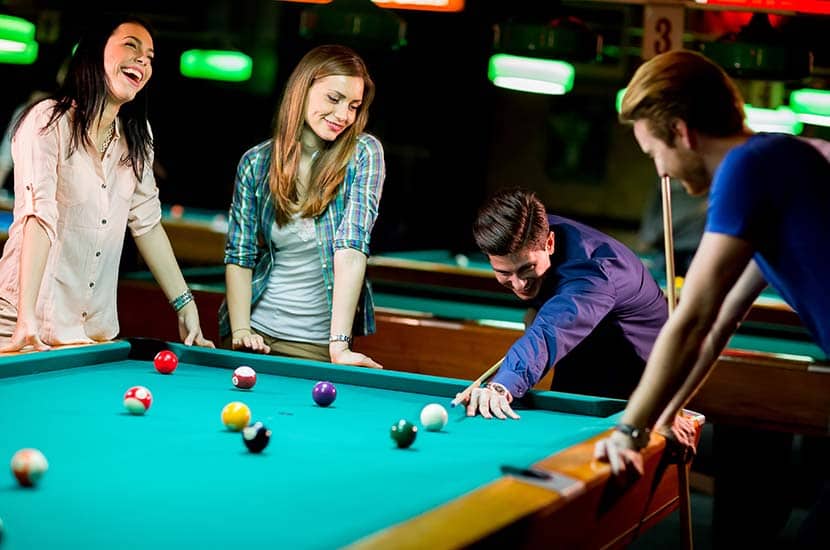 How To Choose The Best Pool Cue For Beginners
There are lots of things to remember when choosing a pool cue – we have listed them here so you can make an educated assessment. If you are in the market for a pool table as well, click here to find the best one. Plus, this article will tell you how much room for a pool table you need.
In contrast to most other sports equipment, in billiards and pool, the size and weight of the pool stick mostly comes down to personal preference. Despite the assumption that pro players prefer heavy cues, many still go for lighter ones for the grip and better control they provide.
As a beginner, stick to something between 55 and 60 inches (1.39 – 1.5 m) and 18 to 22 oz (510 – 623 g), as anything larger will feel unwieldy. It's possible that if you are smaller, you will need something on the shorter and lighter end of that, while if you are taller, you will feel comfortable with something on the longer end.
Speaking of billiards, click here to learn how it's different from pool.
The best pool cues for beginners are made from hard and durable materials that provide both power and control. Maple is a great cue wood and you will notice that most beginner cues are made from hard rock maple.
Once you have achieved some proficiency with your maple wood cue, ask if you can try out other players' cues made from different materials and see how they compare.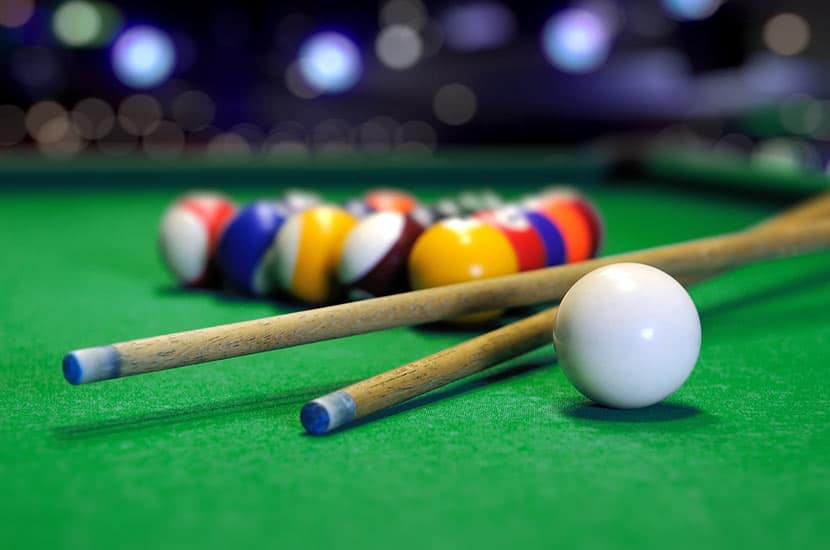 As with the shaft material, the harder the cue tip, the more impact and power is created. Tips are usually made from leather but come in a range from soft to hard. As a beginner, a medium to hard leather tip is ideal for you. Soft tips allow for maximum agility but if you are a novice, you will probably find them difficult to control.
The wrap is a crucial element of the pool cue because it is where you place your hands while you play pool. As such, it is important to choose wrap materials that make you feel comfortable and in control. If you want to learn how to hold a pool stick, follow the link.
Leather is a popular choice because it provides good grip and is relatively cheap but it can lead to sweating. Leather wraps also tend to be quite thick, which minimizes your control over the stick. For these reasons, the best choice for beginners is Irish linen wrap handles. Irish linen provides a good level of grip and control and doesn't promote sweating.
Most modern pool cues available are two-piece cues, so they require a joint to connect the two pieces. These come in a few different types, but the most important thing is that the joint fits the pieces together snugly and doesn't create a weak point in terms of stability. Stainless steel joints are usually your best bet.
When you screw your pool cue together, check that there is no light visible around the shaft and the butt and that the pin is perfectly in the middle.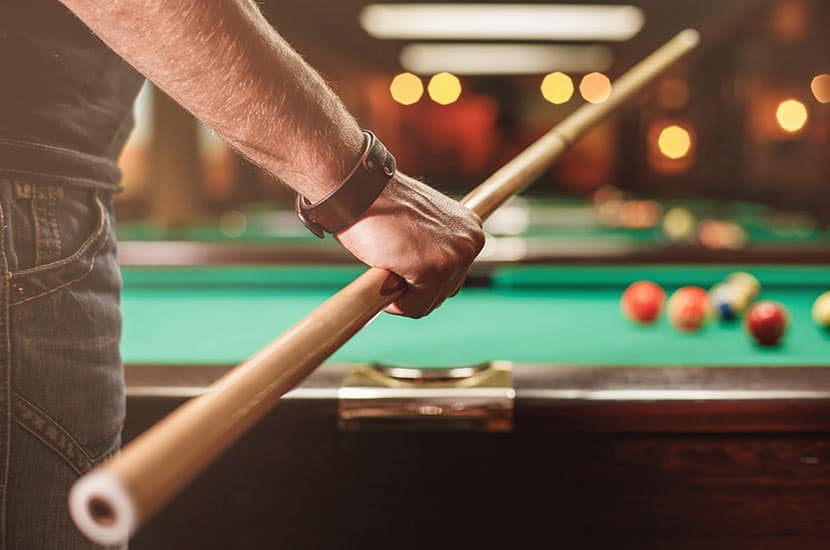 There are two main types of cue shafts: standard deflection and low deflection. Pro players tend to go for low-deflection shafts, as these work better for extreme shots and to generate spin. However, a standard deflection shaft is more suited to beginners as it provides better control. Remember not to put the cart before the horse – there will be plenty of time to learn trick shots later!
Most pool cues you can buy nowadays come in two pieces as these are a lot easier to store and transport. There is nothing wrong with one-piece cues in principle, but they are not convenient to take anywhere with you.
If your two-piece cue does not come with a carrying case, you will need to buy one separately or the convenience factor doesn't apply!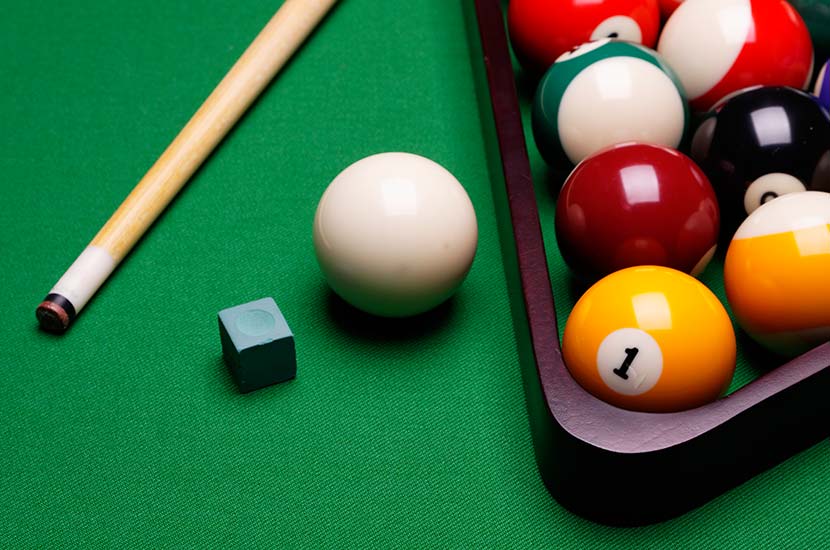 Some pool cues come with extra accessories, such as carrying bags, shapers, chalk and a cleaning cloth. The more of these items you can get for free with the cue, the more money you will save. And if you are setting up your own pool room for the first time, learn how to rack pool balls here.
When choosing between beginner pool cues, a warranty can give you peace of mind as it implies that the cue will last. Usually, the warranty depends on the price of the cue. If you purchase a pool cue that costs over 100 dollars, it should have at least a three-year warranty, otherwise the purchase is a risky one. For cheaper cues, a 12 – 24 month warranty is reasonable.
For a beginner pool cue, a price of $50 – 200 is advisable, depending on how serious you are about the game. Although pool cues can go all the way up to $2,000, it doesn't make sense to get anything too expensive if you're a novice as you won't know what specs you prefer and you probably won't notice the advantages.
Frequently Asked Questions
The cues listed above are all some of the best pool cues for beginners. However, our number one choice is the Viking Valhalla as it is an all-round great cue, particularly for new players. The Viper Revolution Spider is also excellent, while the McDermott Classic is a great first pool cue as it comes with lots of free accessories.