Playing hockey requires a lot of equipment, but none more critical than your skates. Some skates are not suited for certain players, and to enjoy that game at its fullest, you need to be safe and comfortable out there, wearing the best hockey skates for you. To save time, we have identified the Bauer Vapor 2X Pro skates as a great option to suit many different players. They have versatility within the skate boot and provide an anatomical fit for many different foot dimensions. Choose a pair of skates that will customize to your current foot shape, and over time, you will wonder how you ever lived without them.
1. BAUER VAPOR 2X PRO ICE HOCKEY SKATES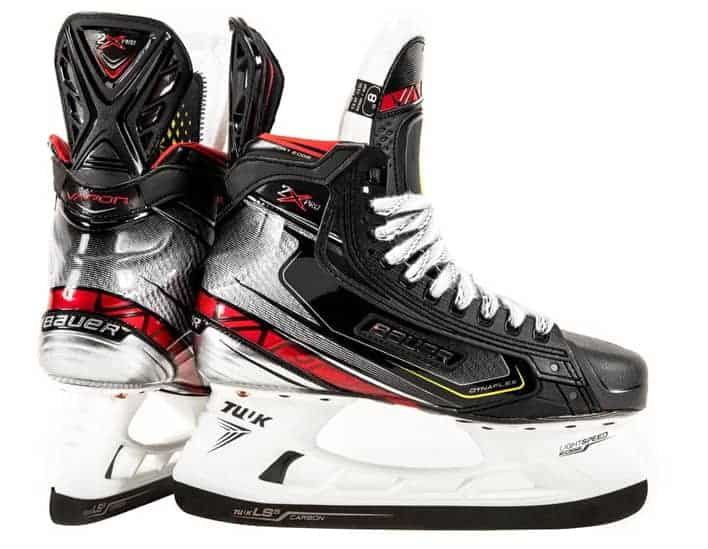 Editor's Choice #1: Bauer has added a lot of new features to these skates and this is truly a breakthrough in the hockey skate world. This model will feel great right out of the box as it's packed with design features that minimize the break-in period. These are a far cry from your parents' skates, and if you haven't got a new pair in a while these will feel like skates from the future. 
This amazing skate has a lot of new features to improve your skating and ensure you can play longer and more comfortably. If you're a player who is on the ice multiple times a week then you need a skate that can keep up with you. The new Bauer Vapor 2X Pro Ice Hockey Skates have a low-profile design that will make you faster and more responsive. This works in conjunction with the DYNAflex boot which conforms to your foot easier than any other previous model. This also shortens the break-in time for skates immensely.
Every Small Detail About This Skate Has Been Improved
The tongue is also a point of pride with this skate as it's thicker, and made to wrap around the top of your foot to keep it low in your boot. It provides maximum comfort from the laces so you can tie them tight. Your ankle will get extra support with this new model, and they have added extra memory foam pads in the back of the boot. This type of material requires no break-in time and will keep your ankle safe and your heel firmly planted. These Bauer skates are perfect for dedicated players who want the top-of-the-line performance to play as often as possible.
2. CCM JETSPEED FT2 ICE HOCKEY SKATES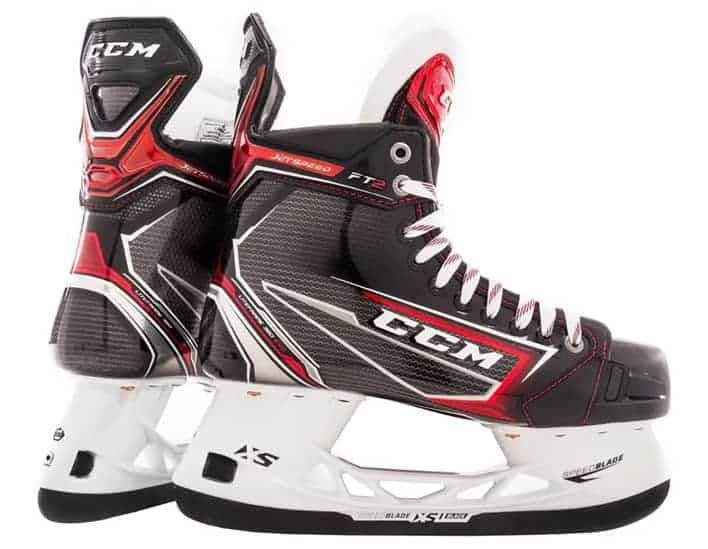 Editor's Choice #2: This was a tough choice between the Bauer Vapors and the CCM Jetspeed so we had to make them both editor's choice. These skates use an innovative one-piece design that provides an incredible fit after the break-in. You can wear these skates for hours and will probably be more comfortable than your street shoes after a while.
CCM and Bauer have been rivals for decades. They each have amazing products but with slight changes in each one. These top-of-the-line CCM skates are one of the first ever to use a one-piece boot design. This gives the wearer maximum comfort after a short break-in period. By only being made from one piece, the entire boot forms to your foot and your movements. Essentially, the boot learns how you skate and adapts to your natural tendencies and is ideal for anyone with relatively normal foot features. If you're looking for a wider feet boot design this is not it; the forefoot is slightly narrow compared to others.
These Elite Skates Have Improved On Every Area
To further improve the fit, CCM has redesigned the tongue to contribute to the one-piece design. It has an asymmetrical flex point so it can wrap around your foot perfectly and a molded lace bite protection so you'll have consistent tension throughout all the laces. Like the Bauer Vapor, it has a quick-release blade system as well. This feature is great for players who are on the ice more than 3 times a week. Getting your skates sharpened slowly erodes them and after a while, they will need to be replaced. You can change your blades in the blink of an eye with this system.
3. TRUE TF9 ICE HOCKEY SKATES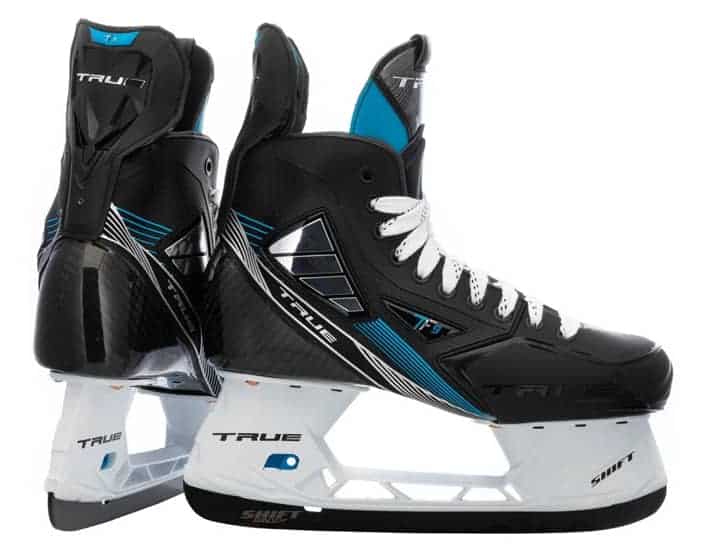 For outstanding fit and mobile comfort then look no further than the True TF9 Ice Hockey Skates. They utilize a variation of a one-piece design that will conform to your foot over time for a custom fit. The boot is constructed from a combination of carbon fiber and thermoplastic, giving it a great range of motion without being too loose. It feels like a second skin once you've broken them in and this technique is carried through to the toe cap so there are no weak points anywhere. You have full protection for blocking shots and absorbing any feisty stick action. See Best Hockey Sticks next.
All The Comfort Is Built-In And Customizable
The footbed comes with different arch support systems to match your foot perfectly making them excellent senior hockey skates. The tongue is also specially designed to be adjustable based on how your foot reacts, wrapping around the top and down the sides of your foot for full coverage and lace bite prevention. The blade itself is made for long-term use, treated with a patented black coating that retains the edge longer so you won't have to get these sharpened as often as your old skate blades.
4. BAUER SUPREME ULTRASONIC ICE HOCKEY SKATES
This is one of the best hockey skates for skilled players. With a snug fit and plenty of ankle support, you can concentrate on the game and less about how your feet are feeling. The lower part of this boot is designed with a more rigid feel. This is for old-school players who want to feel extra strength when pushing off. A stronger boot allows you to be rough on them while changing direction quickly. To get this added strength, the boot is made with a special carbon "curv" composite. Although this material is very strong, it's also very light. These skates are one of the lightest on the list which means you'll skate faster as soon as you lace these up.
One Of The Safest Skates For Your Ankles
For ankle support, there is a full-bodied memory liner that encompasses your entire ankle. You can see it right away and you will feel how well the foam coddles your ankle in a secure and comfortable way. For more ankle reinforcement the back tendon guard is the most flexible we've seen, made possible by the extreme ankle support. With the reflex tendon guard, you can maneuver easily in any direction. It also helps with your acceleration and you can flex your ankle easier for powerful first strides.
5. CCM SUPER TACKS AS3 PRO ICE HOCKEY SKATES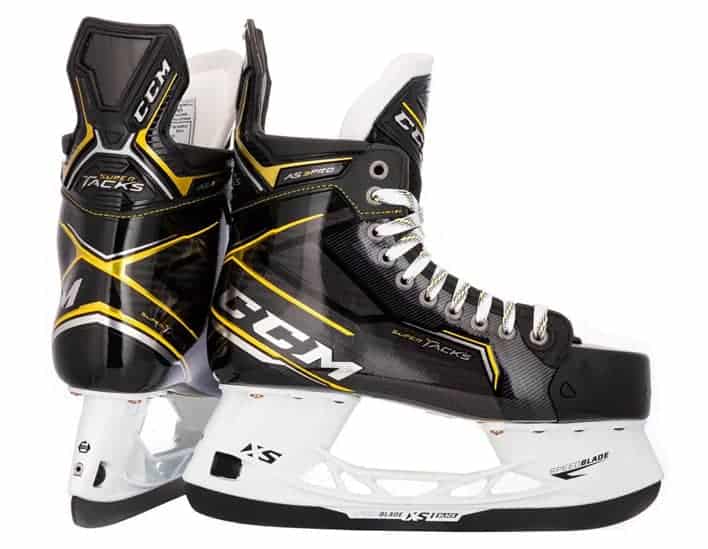 If you're unsure about your foot type and worry about getting the wrong fitting skate then the CCM Super Tacks AS3 Ice Hockey Skates are here to help. Hockey players know that to get the best performance on the ice it all starts with the right hockey skates. If you've had bad luck in the past with skates that don't quite feel right then give these a try. The tongue is the first thing to note here because it has unique interchangeable inserts. You can affect the volume of the boot by either increasing or decreasing the toe's thickness. The three inserts are easily fitted within the tongue and provide custom comfort for mobility and protection against lace bite.
A One-Piece Design That Has Separated Itself From The Pack
You can see that it's a one-piece design but CCM has taken it a step further. While most hockey skates are nailed to the quarter package via the footbed, this design wraps all the way around the foot and is directly attached to the blade holder. This will give you incredible agility as it reduces a lot of excess material. This design also makes it easier for you to accelerate from a standstill. Transferring weight from your feet to the ice is made easier by shortening the distance between the two. With your foot and blade acting as one you can get up and down the ice much quicker with these elite-level skates.
6. BAUER VAPOR X2.9 ICE HOCKEY SKATES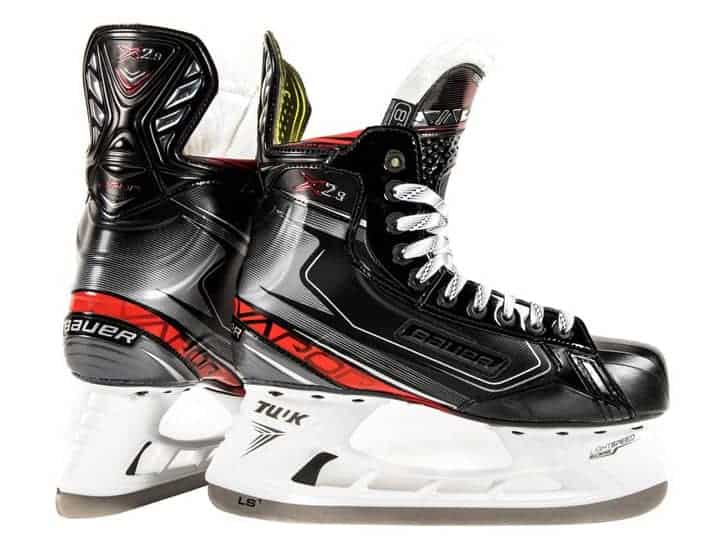 For those who want the best hockey skates but don't play as often as they'd like, the Bauer Vapor X2.9 Ice Hockey Skates were designed for you. They have all the great performance features that the best ice hockey skates have just with a little less long-term durability. If you play at least once a week then this pair of skates will suit you perfectly. They have the same low-profile design that allows you to transfer energy more efficiently from your foot to the ice.
They Have Top Of The Line Features
The perform flex system is unique to Bauer and is used to enhance the performance of the boot, allowing flexibility in all the right places so you can move quickly in and out of turns. Supporting that is the hydrophobic microfiber liner, great for conforming to the specific features of your foot and working to keep your feet dry so there is no slipping. The footbed and ankle backing both feature memory foam – a great feature to have if you're looking for a skate that requires minimal break-in time and will be comfortable right out of the box.
7. CCM Ribcor 80K Hockey Skate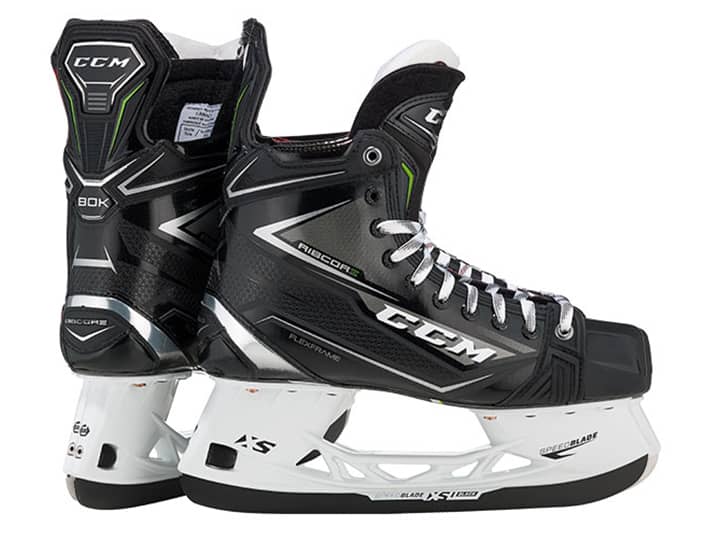 This is a great skate for all types of foot dimensions. It's very versatile and can be used either regularly or sporadically. If you never know when you'll play and still want a comfortable and performing skate then CCM Ribcor 80K Hockey Skate will work for you. The comfort starts with the FLEXFrame design that can only be found on CCM skates, specially designed to be tough and rigid on the outside. This provides protection and support for those times when you're off-balance. The inside is soft and flexible so it can conform to your foot no matter what position you find yourself in.
The Level Of Comfort Makes These Great Skates
The liner is also a huge reason for this skate being as comfortable as it is. It's installed with TOTALDRI Pro+ Liner which is as comfortable as liners come. It wraps around your foot perfectly from the first time you try these on. It wicks away the moisture but it's also abrasion-resistant, meaning it protects against the areas that you agitate the most and won't wear away easily. Lastly, the ADPT symmetrical memory foam provides extreme comfort and support for your ankle. This is great because these skates have a slightly exaggerated forward press to encourage longer strides.
8. BAUER SUPREME 2S PRO ICE HOCKEY SKATES
As a flagship model for Bauer skates, this one has all the bells and whistles that elite hockey players are looking for. Its style is simple and traditional as they chose to focus on what's under the hood to make some of the best ice hockey skates on the market today. Not everyone will benefit from the features being offered here so it's best to evaluate what kind of skate you're looking for. For example, this skate features a very prominent forward press so you can lengthen your stride and stay low while you're at top speed – something lower-end skates won't have.
You Can Even Customize How You Tie Your Skates
Another pro-level feature is the extra eyelets for your laces at the top of the ankle so you can tie your laces in exactly the way you want them. Whether you wear your shin pads on the outside or inside, the skate is ready for either one. To further customize your fit the 52oz tongue is adjustable. It comes with moldable inserts that can conform perfectly to your foot. The real star of the show here is the footbed. The Supreme 2S Pro features the all-new form-fitting Bauer Speed Plate 2.0 which is made of thermoformable recovery alloy composite. The new Speed Plate 2.0 reduces the negative space inside the boot, helping to increase your balance due to additional contact between your foot and the blade providing a faster and more stable stride.
9. CCM JETSPEED FT4 PRO ICE HOCKEY SKATES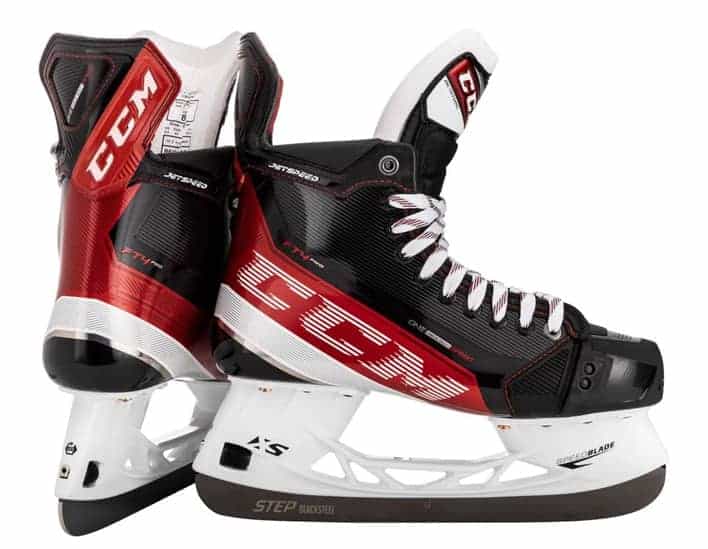 As a counter to the Bauer Supreme 2S Pro, CCM has released their new Jetspeed FT4 Pro Ice Hockey Skates: true custom skates that provide experienced players the feel they need to play better and improve their on-ice performance. The first thing you'll need to do with these skates is choose a foot category. They come in three different sizes: tapered, regular or wide, so no matter your foot dimensions, they have the perfect boot for you. The second customizable option you get is with the tongue with interchangeable insert options available so you can choose how much room you have in the boot. Choose from a 4mm, 7mm or 10mm insert to give your foot maximum comfort and mobility.
The Most Customizable Skate On The Market Today
Another custom feature is the memory foam that is used throughout the inside. As you wear this skate more, the memory foam will conform to your foot and will feel like they were made just for you. Lastly, the design of this is nothing short of pro-level. Its low profile construction and one-piece boot allow you to get closer to the ice which minimizes energy loss. Your strides will be more powerful in this skate and you'll expend less energy to do so.
10. BAUER NEXUS 2N ICE HOCKEY SKATES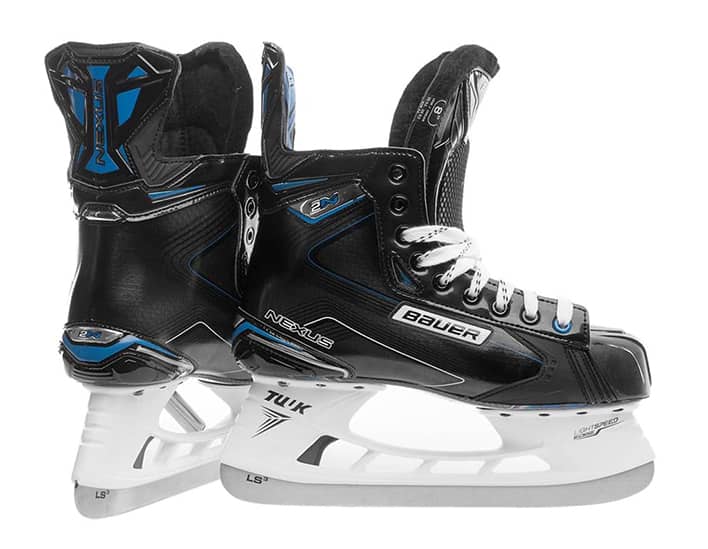 With not as many of the extras, this skate still has top-tier features that are sure to please any serious player who's on the ice at least once a week. If you're not quite committed to true custom skates yet, try the Bauer Nexus 2N Ice Hockey Skates. These are designed to keep all the things you love about your old, broken-in ice skates while adding a few extra features to bring you some modern-day comfort.
We Saved The Best Liner Til Last
The Hydra Max 2 liner is one of the best and extremely soft to the touch. Players who don't wear socks will be in heaven with this liner. It wicks away moisture to keep your foot dry so there is no sliding around. The inside of the tongue is also lined with it so your foot is secure and dry all the way around. They have made the tongue with special care to accommodate playing hockey barefoot. With its thick foam and injected plastic metatarsal guard insert your foot is not only protected from lace bite but also shots from the point or any chippy stick play you may face.
There are a few different aspects that make a hockey skate what it is. Here we cover the most important parts that will factor into your decision when shopping for the best hockey skates.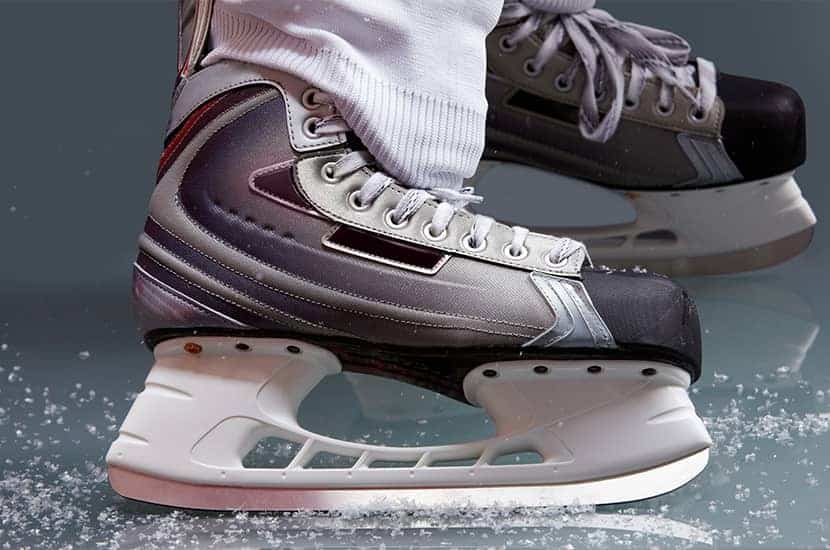 The Construction Of A Hockey Skate
Boot — This is the part where your foot will be. This has a liner, footbed and ankle padding to ensure comfort and safety.
Tongue — More important than most people think, the tongue in a hockey skate is crucial to your performance. This will protect you from errant shots but also from your laces. Hockey laces should be tied tight so a quality tongue is needed to maintain comfort.
Quarter Package — Residing between the blade holder and the boot is the quarter package. This is used to fasten the lower half to the boot. There are various options to choose from here however only elite players will notice a difference.
Blade Holder — This is the part that secures the blade and boot together. Most skates will have a quick-release system so you can change your blades easily. This feature is only useful to players who play at least 4 times a week.
What To Consider When Choosing The Best Hockey Skate For You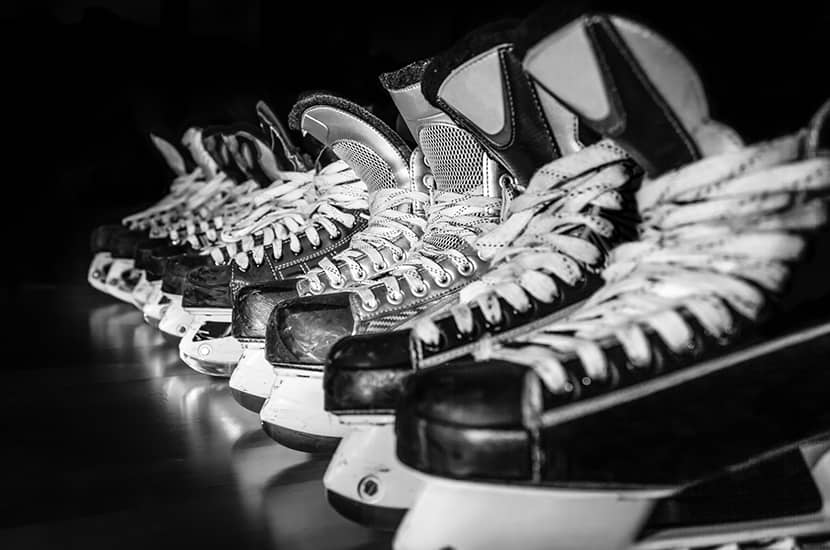 If you're a junior and still growing, it may not be the best idea to get the top-of-the-line skates right now. You won't have them long enough to really experience the comfort level that top-tier skates provide before you outgrow them. Read our review of the best hockey skates for beginners to choose the best ones for yourself if you are a starter on the ice.
For committed, long-term hockey players who are just playing for fun, focus on finding a skate that has a liner you really love. This will minimize your break-in time so you can enjoy your skate right away.
For elite players who are on the ice more than 4 times a week then look for something in a low profile design. This will assist with your energy transfer so each stride is more powerful. You can also look at carbon fiber one-piece designs to reduce weight.
Because hockey is played both offensively and defensively by all players, it's important to have a versatile skate. Even if you're a forward, you'll still need to skate backward at some point, so having an exaggerated forward ankle press won't be a huge help. Check out our tips for the best hockey positioning on ice. In case you are unclear about basic rules of hockey, you will find useful information in this post.
Focus on comfort and performance for quick movements. When you're on the ice it's very unpredictable. You don't know when you'll need to stop, start, crossover, or skate backward, so having a skate that will adapt with you is paramount.
The cost is always of importance and can be justified based on how much you play. It's the most expensive piece of hockey gear in the bag so take time to weigh all the options. If you're playing just once a week throughout the winter months then you don't need expensive hockey skates. You won't be in them enough to really take advantage of their features. Most skates become better over time, like your favorite pair of jeans.
Skates that sell for half the price of upper-end skates still have some very modern features – with the introduction of memory foam and carbon fiber, you can find a skate that you'll be proud of and that fits your budget.
How To Check The Fit Of A Hockey Skate
There is no exact science to getting the right fit as everyone will have a different experience. It's worth noting that in general, your skate size will be one less than your shoe size. Here are a couple of other ways to check for proper sizing.
Toe Brush Test — Put the skate on and ensure your heel and ankle are all the way back in the boot. Lace them up and if you can barely brush the inside of the toe cap with your toes then that is a perfect fit.
Finger Test — This test requires your skate to be unlaced and with the tongue pulled out. Put your foot in the boot and push your toes up to the toe cap to just shy of them being uncomfortable. Now, at the back of your ankle if you can just barely squeeze one figure in between your ankle and the boot then you have a good fit. Any more than that and the skate is too big.
How To Break In Your Hockey Skates
Until a few years ago, the only way to break in your skates was to suffer through it and just use them. Accept the fact that you will have to treat a few blisters along the way but know that once this break-in period is over, you'll have excellent form-fitting skates. To make sure that you skate on the best quality ice, check which synthetic ice is the best for your private rink.
While die-hards maintain this is the only way, there are many pro shops that will bake your skate for you. This is a process that involves heat treating your skate to the exact mold of your foot. This cuts the break-in time down considerably and for those who don't play often, this is your best bet.
Frequently Asked Questions
Buying ice skates is a tough decision because they are an investment – the longer you have a pair the more comfortable they will get. The Bauer Vapor 2x Pro skates are a perfect example of why they're used in the NHL so much. If you give a good pair of skates the attention they need, then they will return the favor. If you're not playing all year round you can still take advantage of new technology and find the best hockey skates for you. Whichever you choose, keep your head on a swivel and have fun.