Bumper pool is the perfect addition to any game room because it's not as popular as some of the other bar games out there. If you want something that stands out, getting your hands on the best bumper pool table will make you a hero among your friends and family.
There are two types of people in this world; those who like rectangular tables and those who like octagon tables and each has its own quirks. This game is unique because the gameplay is the same, but the playing surface is different depending on your game preference.
There's so much to this underrated game, but you can't start enjoying it until you get a table. Only half the size of a billiards table but twice the fun!
1. Fairview Game Rooms 3-In-1 Combination Game & Dining Table Set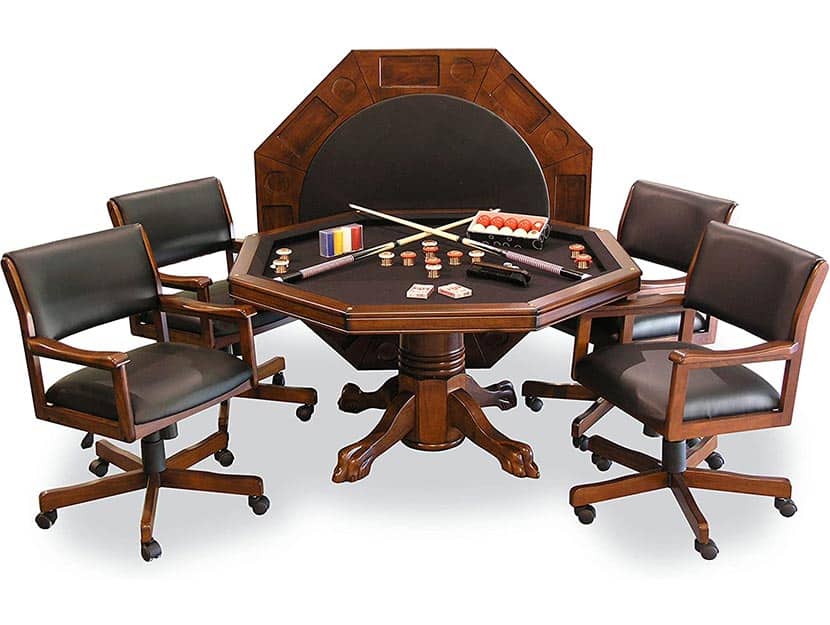 Editor's Choice #1: Both the classy design and unrivaled quality of this table are what landed it the top spot. Every inch shows excellent craftsmanship and you wouldn't look out of place in a tuxedo with a cigar. The fact that you can turn it into tables for playing poker or dining is simply the cherry on the cake!
If you want to turn your games room into a classy old-fashioned gentlemen's club, this bumper pool table from Fairview Game Rooms is perfect. Made from solid chestnut with a beautifully rich finish, this is one of the longest-lasting tables on this list. Every element is the highest quality – for example, it features bronze posts with solid rubber bumpers and the included pool cues are a cut above.
Not only is this an excellent bumper pool table, but it features two modifications so you can turn it into a poker table or a dining room table as well. The poker modification has special indentations where you can keep your cards and chips so none of them go flying. And for when you want to have a few drinks post-game or eat dinner, it takes less than a minute to switch to a flat top for dining!
We can't end this review without mentioning the swivel chairs that come with this table. They are made from the same beautiful wood as the table and come with durable black vinyl seats. Best of all, they feature gas lifts so each guest can easily adjust the height.
2. Atomic Classic Bumper Pool Table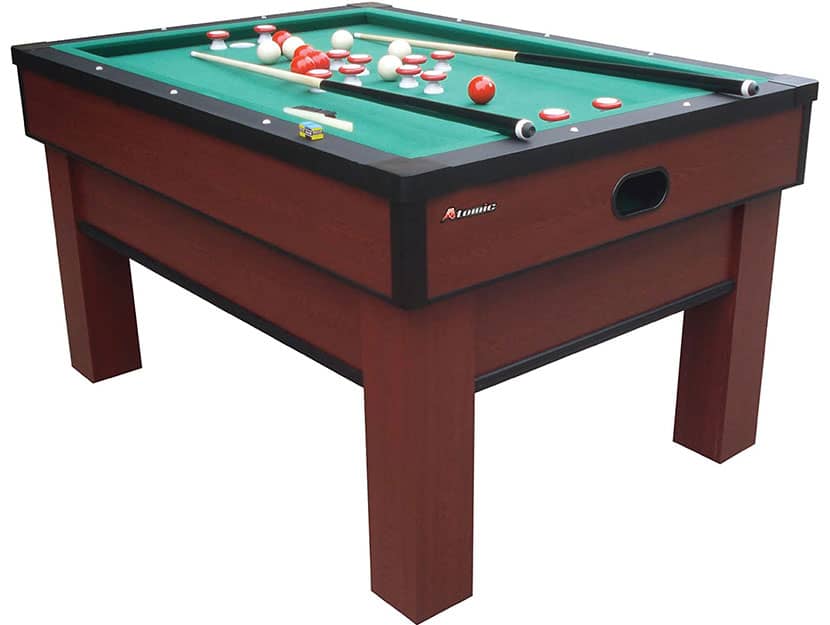 Editor's Choice #2: The nostalgic look is what lands this one on our list of the best bumper pool tables. Many of us learned on tables just like this, so the chance to own one and hone your skills at home is very enticing. The looks coupled with the durability means this could just as easily have been ranked number one.
This is the classic bumper pool table look that you played at rec centers when you were a kid. Atomic wants to recreate those memories for you and your family. Although this bumper pool table might be a bit nicer than your average rec center equipment, it still has notes of tradition and, after years of use, will look a lot more like those that you remember.
The rectangular shape makes it a bit easier for newcomers to learn the game and practice their angles. Knowing how to bump the balls at the correct angles is what separates the good players from the great players.
Keep This Table For Future Generations
This sturdy four-legged setup means you'll have it for a while and will probably be able to have a game with your grandkids one day. The tabletop itself is made with MDF material to prevent warping and ensure straight and predictable rolls. Once you sink a ball, the internal ball return system maintains the look of the table while making it much more convenient to retrieve your balls.
This set comes with two cues, a set of balls, chalk and even a table brush to ensure the felt stays shiny and new looking. The brush also helps maintain a high level of performance by removing any debris that could knock your precise shot off line. 
3. Berner Billiards The Orlando Outdoor Bumper Pool Table
Perhaps you want to play your bumper pool outdoors during a barbecue or you simply have more room in the yard for extra tables than you do indoors. In that case, you will love this Outdoor Bumper Pool Table by Berner Billiards. Made from heavy-duty weatherproof WPC with outdoor coating, this table will stand up to the elements, even if you leave it outdoors in the sun, rain and snow! It also comes with a Euro Blue 100% waterproof cloth cover so you can protect the playfield when you aren't playing.
Outdoor ground surfaces are not the most even but never fear – the legs on this bad boy come with built-in levelers so you can still get a perfectly flat surface. Add to that the warp-resistant MDF playfield and that ticks all the boxes for a smooth game of outdoor bumper pool! The table also comes with two fiberglass pool cues, balls and cue chalk, so you will be ready to play as soon as your table is set up.
If you favor durability and a modern design, you should probably add this to your Amazon cart. If you live somewhere the weather is good, nothing beats playing games outdoors with friends and a few beers.
4. Coaster Home Furnishings Mitchell 3-In-1 Game Table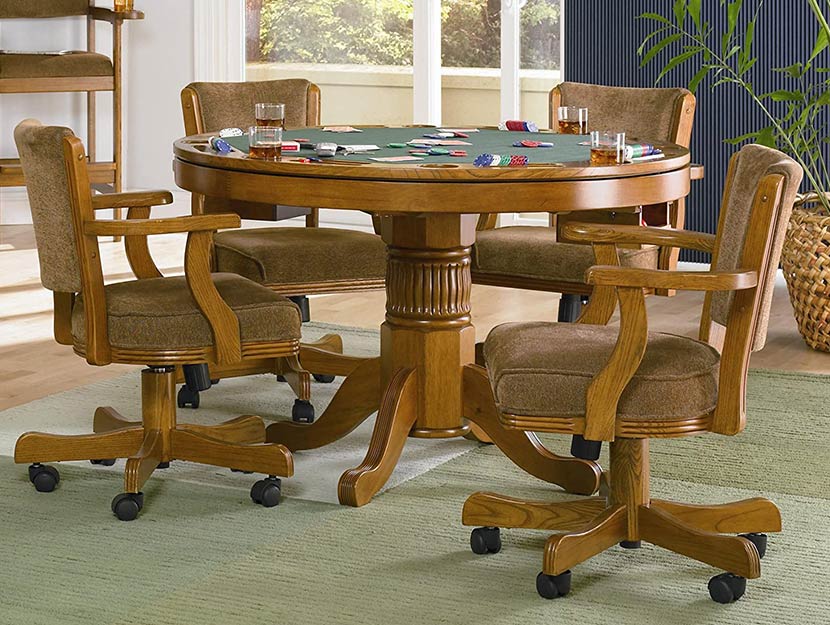 We're suckers for old-school, traditional-style bumper pool tables and this one checks those boxes. The oak veneer frame paired with the deep green felt will make you feel like a professional bumper pool player, if there is such a thing.
Another feather in this bumper pool table's hat is the included pool cues. Usually, this is where companies are cheap, but these feel good in your hands as they have some weight to them. They also have a little more flair when it comes to design features.
More Than Just Bumper Pool
As a three-in-one gaming table, this can be transformed into a poker surface as well. What's more, the poker table top addition comes with cup holders and chip racks to keep everything organized during your high-stakes games. But that's not all! It also comes with a plain wood top so you can use it as an ordinary tea or dining room table when the games are done. It also comes with matching chairs which are made with the same wood as the table. They are durable and look very elegant and are on wheels for ease of movement during play.
5. Wildon Home Atlantic Poker And Bumper Pool Table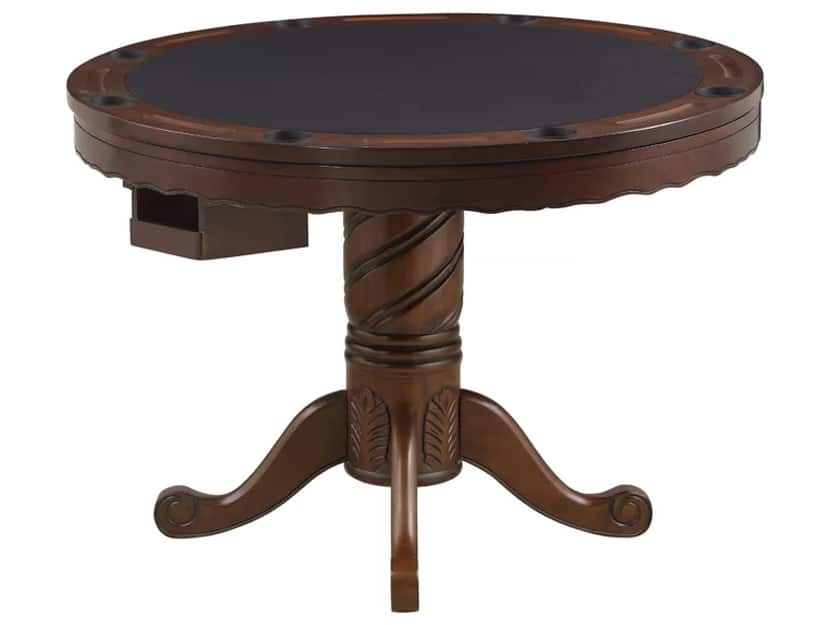 This is also a simplified table for players who want to focus on the game action and less about the styling and appearance. While it still looks great, you'll be more impressed with how the ball rolls and how the bumpers react.
You can improve your game with a table like this because lots of attention has been given to the construction. This sturdy pedestal design is made from solid wood with a tobacco finish. The artwork on the bottom looks great but is not over-the-top.
Simple Features Make A Big Difference
Simple design features like the exposed ball retrieval section give this bumper pool table character while still being versatile enough to fit any game room decor.
Being an octagon shape also provides the most intense playing experience. Having the extra bumpers will keep both players on their toes because there are many more options for each shot. This will test your skill as well as your creativity.
Included is a poker surface attachment with soft felt that can be used for any kind of card night. It will stay looking great because the table has cup holders to prevent any spilling.
6. Hathaway Games 4.5ft Bumper Pool Table With Accessories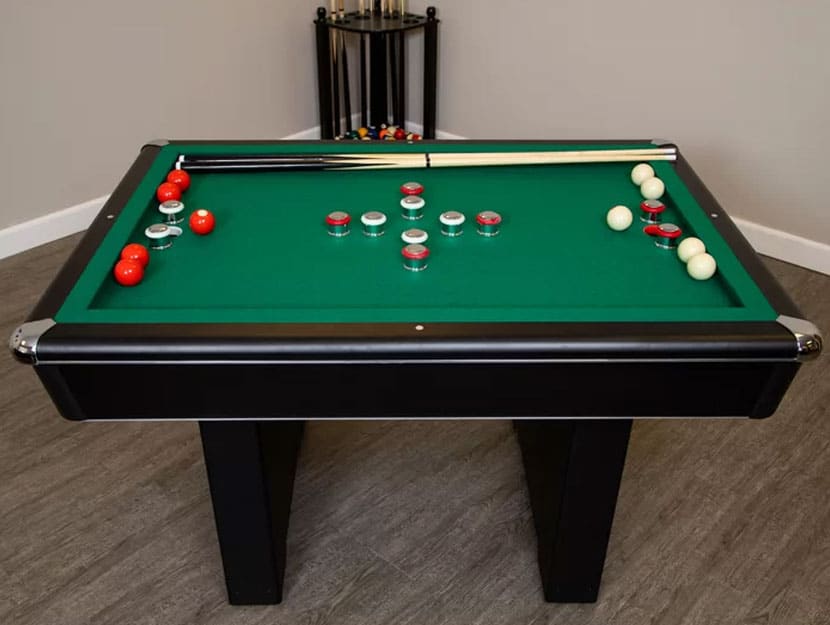 For a bumper pool table without all the frills and fancy design features, have a look at this one. You can focus on your game and your opponent without the distraction of feeling like you're always in professional games.
The only style features this has are the shiny metal corner covers that conceal the sharp edges and add a touch of class.
This Bumper Pool Table Is For The Real Players
Don't be fooled by the lack of design features; this table still performs from a gamesmanship perspective. The legs are thick and sturdy; they also have adjustable feet so you can get a perfectly level playing field no matter where you place it.
The bright green felt is a traditional material that helps you to see the balls and the angles much better. It's easy to keep clean and the table even comes with a brush so you can maintain the surface for years to come.
This set comes with two standard-length pool cues, full set of bumper pool balls, chalk and a table brush. It requires some assembly but is easy to do with the simple instructions. 
7. Hathaway Kingston 3-In-1 Poker Table
Bumper pool tables don't get any classier than this, so if you want to elevate your game room, then you may have found the missing piece. Your eye is immediately drawn to the crafted dark wood frame that securely holds the table up. This ensures a completely level playing field, though it makes the table pretty heavy. The walnut finish gives this bumper pool table some serious billionaire vibes!
Play Your Best Bumper Pool
This is one of the larger octagon-style bumper pool tables, so it features twelve bumpers. By being this shape and having that many bumpers, it's the most complex unit you can get for bumper pool. In addition, tables of this shape are often multi-usage if you want to take a break from bumper pool. It easily converts into a felt poker table with cup holders and chip racks. There's even an additional top insert that lets you convert this to a dinner, board game or art and crafts table.
We can't ignore the fact that it also comes with 4 stunning chairs that take the classy look to another level. They are comfortable, on wheels and swivel. Their only downside is that they are quite tricky to put together.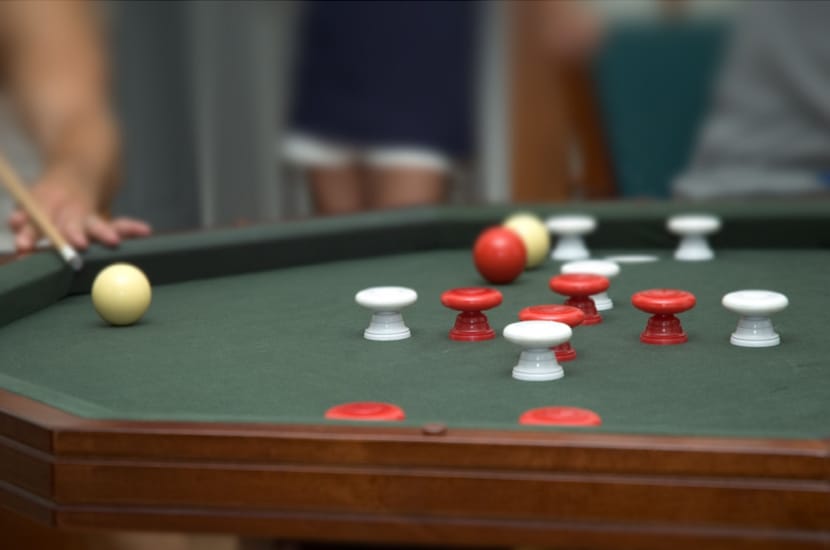 Bumper pool tables can sometimes be hard to find, which is why we did the research for you. No matter which one you pick, it will be easier if you have your mind made up at the beginning for what you are looking for. Don't pull the trigger unless your chosen table checks all the boxes you require.
What To Consider When Choosing The Best Bumper Pool Table
Use this as a checklist of things to ask yourself about all bumper pool tables.
Bumper Pool Table Only Vs A Multi-Functional Unit
If you're looking for an octagon bumper pool table, then most of them will have a multi-function feature that typically includes a poker table top. If you're looking for a multi-functional rectangular shape, then you may have a tough time. Rectangular-shaped bumper pool tables with multi-functional use are more rare but not impossible.
In most cases, the quality of your rectangular table will suffer with the addition of other features such as ping pong or foosball. If durability is a concern, avoid multi-function rectangular tables and go for the octagon shape.
Click here to read about bumper pool in detail.
This is an important item to monitor because it encompasses more than just the table's size. You need to account for the space needed by players to shoot. There needs to be room to stand and set up your cue. 
Although bumper pool tables are more compact than traditional billiards tables, they still require the same space from the edge of the table to the nearest wall.
We recommend you leave at least three feet (91 cm) around all sides of the table; the more, the better. Bumper pool is hard enough without the added challenge of having obstructions during your shot.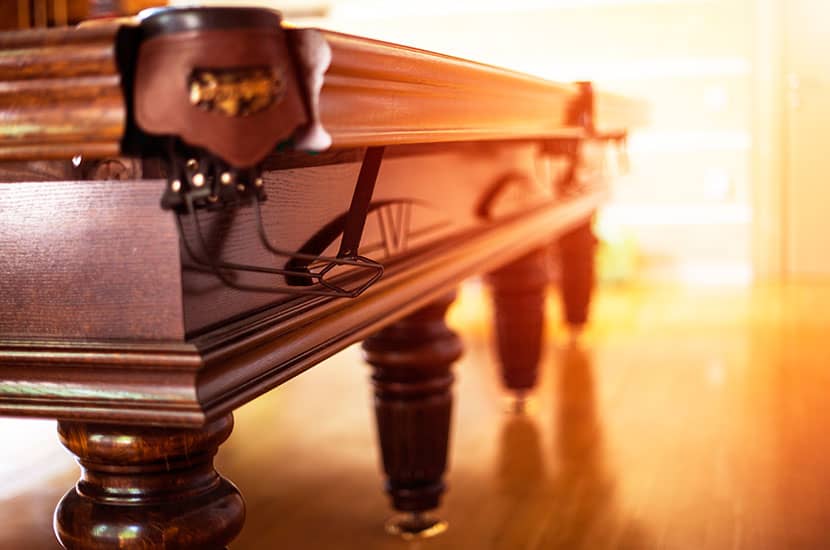 Knowing how much you will play can help you choose the right materials. If you want to play a lot, then choose one of the heavy tables made from dense wood. This will sustain years of leaning on it and will stay level for longer periods before needing to be adjusted.
If you'll only use it on the weekends or every once in a while, then you can opt for something a little less expensive. There are synthetic woods that offer a stunning look but may not last long enough to pass down through generations.
Most gaming tables will come with balls, cues, chalk and a brush, but always confirm this before purchasing. If you already have the necessary tools, then see if there is an option to forgo the accessories to save yourself a bit of money.
Some tables will include a poker top or even chairs. The sky's the limit, but the more accessories you have, the higher the cost will be. Stay focused on the bumper pool tables and what they offer.
Bumper pool tables don't always weigh a lot. Solid wood tables are quite heavy, but they usually come with poker tabletops and flat tops as well. If you're just looking for something fun to introduce to family game night, then you won't need a heavy one. However, it does take more than one person to carry almost all bumper pool tables.
Warranties vary a lot based on manufacturers and retailers. Most are very short except for the Hathaway Kingston 3-In-1 Poker Table. This comes with a 6-month limited warranty when many are simply a 30-day return policy. Be wary of any option that does not offer at least 30-day returns; this is a red flag on its durability.
A big part of your bumper pool table's identity is how the ball return system works. Look for ones that are out of the way but still accessible, especially if you're looking for a multi-functional table. We also recommend bumper pool tables with felt-lined pockets to dampen the sound when a ball is sunk.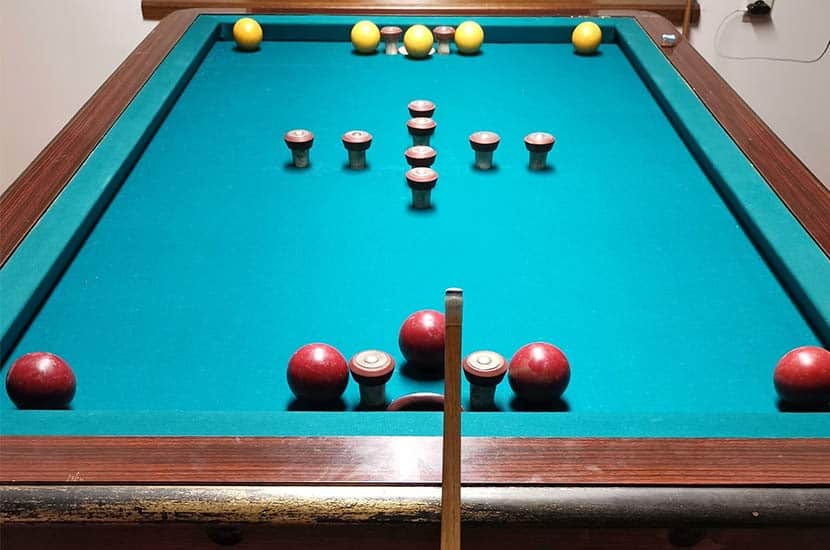 These apply to two-player games. While there is no official governing body of bumper pool, the rules are simple enough that they are easily transferable.
Each player starts by shooting their marked ball off the right bumper simultaneously.
Whoever is closer to their opponent's cup goes again and continues to try and sink their marked ball in the opponent's cup.
If they are successful, they get another turn and try to retire the rest of their balls.
If they miss, the other player attempts to make their marked ball in the same manner.
Whoever sinks all their balls first wins.
Your last ball must be sunk via a bank shot.
If you drop one of your balls in your own pocket, it comes out and is replaced in the middle of the table.
For more info on the bumper pool rules, click here.
Frequently Asked Questions
Full-size pool tables are a thing of the past. Nowadays, people want a more compact game and more excitement. The best bumper pool table can bring both of these whether it's with your friends or during game night with the kids. Easily transfer your billiard skills to a new bumper pool table and enjoy hours of fun with this unique game.