Canoes offer a wonderful opportunity to explore the outdoors. Not only a great addition to a family holiday – going on a solo canoe expedition can be the perfect fix for adventure junkies. But if you are new to the world of canoeing (and even if you aren't!) it may be difficult to choose which is the best canoe for you from the myriad of choices that exist today. That's why we have come to the rescue to show you 6 of the best canoes currently available. We have also included a buying guide so you can tease out all the factors to choose the right canoe for you.
1. NOVA CRAFT Fox 14' Solo Canoe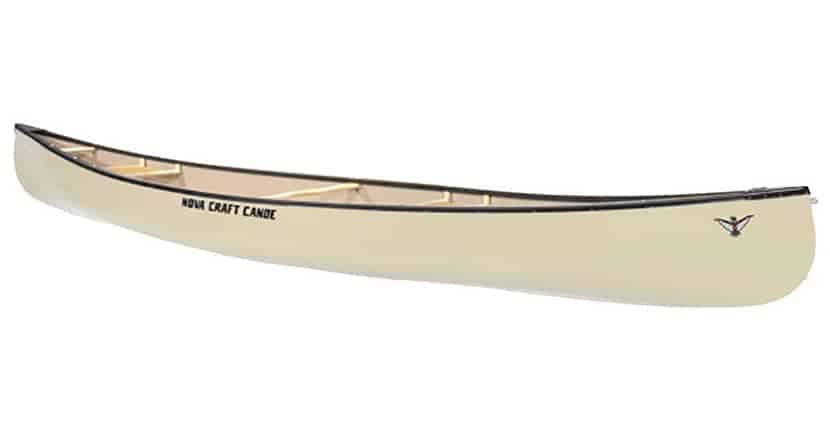 Editor's Choice #1: The remarkable balance achieved between tracking, maneuverability, stability and speed puts this solo canoe in first place. It is lightweight yet incredibly tough, and can hold all the gear you could possibly need! Beautifully designed and versatile, this is one of the best canoes out there.
Amazing All-Round Performance
As a shorter canoe, the Fox 14' is cleverly designed with a minimal rocker to provide excellent tracking and agility. It also has a shallow arch for decent stability without sacrificing too much speed. This combination is perfect for paddling on lakes and slow moving rivers, though beginners may want something more stable. When it comes to aesthetics, the Fox is perfectly balanced too – its sleek, high-tech hull with wooden trimmings feels both classic and modern. With its lower seat and hull design, you can use this canoe with a kayak paddle too if you like. For solo paddlers, this is one of the best canoes you can buy.
At 42lbs (19kg), the Nova Craft Fox 14' is an impressively lightweight canoe, making it a breeze to transport. Nevertheless, it has a weight capacity of 550lbs (250kg), so you can easily disappear on a week long solo camping trip. Plus, its TuffStuff composite construction is highly durable and can handle a beating. This is a fantastic fishing or recreational canoe and is also easy to load with camping equipment for all your solo expeditions. You can easily fit in a four-legged friend or even a passenger for shorter trips.
2. Sea Eagle Travel Canoe 16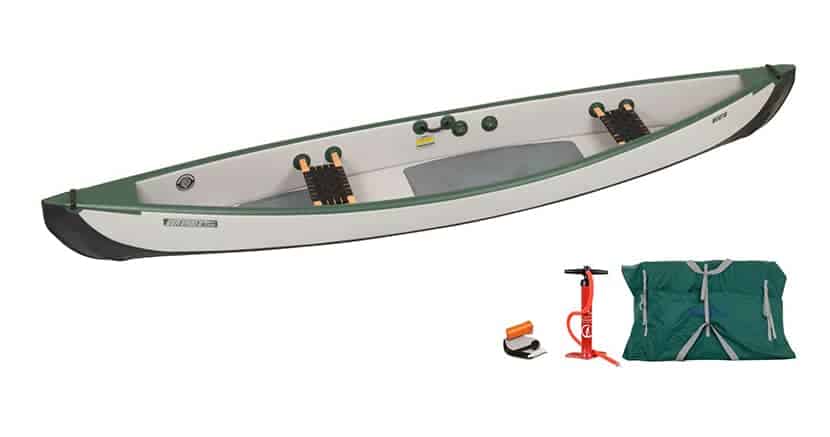 Editor's Choice #2: If battling whitewater rapids is your jam, or you want a portable canoe that can accommodate 3 paddlers, the Sea Eagle Travel Canoe is perfect. In fact, it is the toughest most rigid and highest performing inflatable canoe we have seen. As whitewater canoes go, this is on the cutting edge.
Highly Portable & Perfect For Adventure
Many adventure canoeists face a dilemma – portability often means diminished durability, and durability often means a heavy canoe. Well, the Sea Eagle Travel Canoe is here to solve this problem! After deflating, it folds up into a compact bag that is easy to carry, and no need for a roof rack. This versatile canoe can handle up to Class IV rapids, is stable enough to stand in and provides impressive tracking due to its removable skeg and plastic front and rear molds. In addition, you can attach the seats wherever suits you best.
The Sea Eagle Travel Canoe is the toughest inflatable boat we have encountered. With a high-pressure drop-stitch construction all over, this canoe inflates to an incredible 10 PSI, making it buoyant and almost as rigid as traditional canoes. Even if you do puncture it (unlikely), its 3 air chambers will keep the boat from sinking. Plus, it can accommodate 3 people or an incredible 900lbs (415kg) – as whitewater canoes go, this one is a game changer!
3. Esquif Adirondack Canoe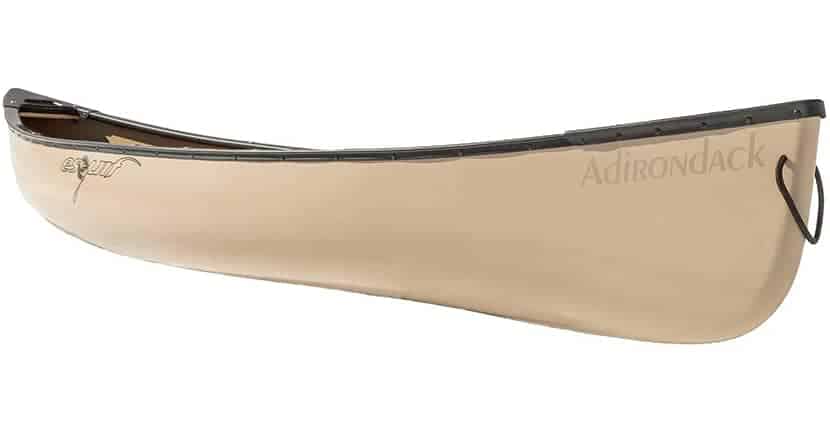 If you're a solo paddler looking for a canoe that performs just as well in a lake as in a relatively calm river, the Esquif Adirondack is one of the best canoes you can buy. Made from ABS plastic laminate, it is highly durable yet impressively lightweight. Not only that, but the attention to detail in the craftsmanship is outstanding. As a pack canoe, the Adirondack offers the best of both worlds between canoeing and kayaking. Its size and 42lb (19kg) weight make it easy to transport, it is agile and can handle small waves, and it can be paddled with a kayak paddle. However, the open cockpit makes it more comfortable than a kayak, especially when you want lots of storage space.
Great Stability And Maneuverability
This little boat is surprisingly versatile – it can be used as a fishing canoe, for overnight expeditions or for those looking to try a solo canoe for the first time. It is easy to maneuver, can handle some wind and offers great tracking. It may feel a little tippy for those used to larger canoes, but you should get used to this. For something half the price of most kevlar canoes, this is a fantastic boat!
4. Old Town Canoes & Kayaks Discovery 119 Solo Canoe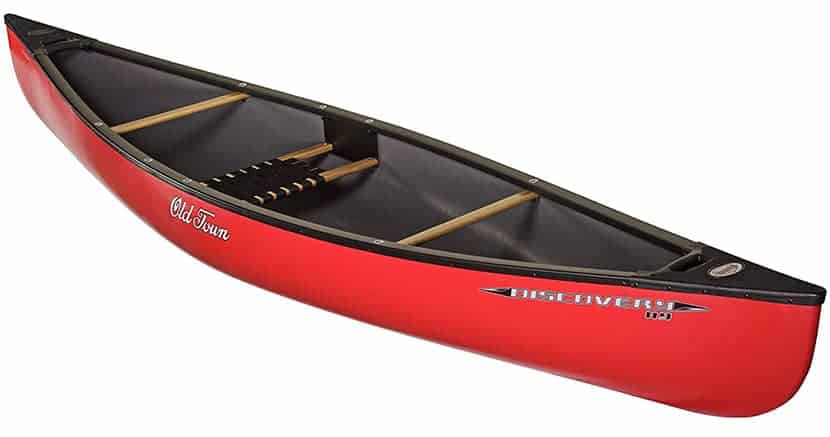 For the casual solo paddler, the Old Town Discovery 119 is a great canoe. It is constructed from triple-layer polyethylene, and can handle a few knocks. It can also hold 500lbs (227kg) of weight, so you will have no problem loading it with gear or bringing a pet along. Despite its ruggedness, it is lightweight at 49lbs (22kg), making it no problem to transport by yourself. As a small, wide canoe, the Discovery 119 is designed for agility, not speed. It tracks very well, and feels great to paddle. It performs well on calm water and it can handle a little swell.
Versatile All-Round Performance
A highly versatile canoe, the Discovery 119 paddles beautifully on flat water and can also handle up to Class III rapids. It is compatible with a classic canoe paddle or a double-bladed paddle, and you can attach a motor. Many reviewers loved how easy it is to move the seat with basic DIY – some preferred it near the middle for more stability, while others moved it further back for greater speed and maneuverability. This canoe from Old Town is perfect for recreational paddling, fishing trips or as an outdoor photographer's workboat. The Discovery 119 is definitely one of the best canoes at its price point.
5. Esquif Prospecteur 16 Canoe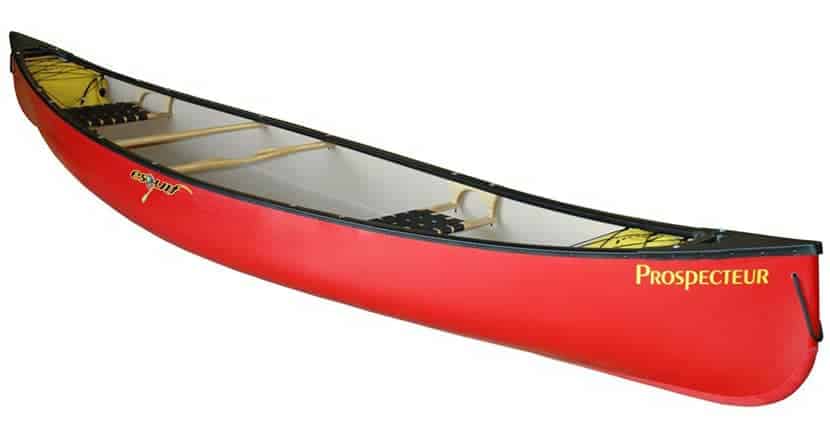 Like the Adirondack, the Prospecteur is also made from ABS plastic laminate, making it a highly durable canoe. It is designed for whitewater canoeing, so you can rest assured it will survive frequent paddling in rough or rocky conditions. It can accommodate up to 3 paddlers, or 2 paddlers and camping gear with its 550lb weight capacity. It can even be paddled solo if you are experienced! The design of the Prospecteur is based on the classic canoe shape used by First Nations people. This, coupled with its modern construction technology, makes for an exceptionally high-performing boat. Its rounded chine provides good glide, and it reaches high enough speeds for touring. It tracks well on flatwater, but whitewater is where it really excels.
With its impressive combination of durability, good tracking, stability, maneuverability and speed, the Esquif Prospecteur 16 is the perfect expedition canoe. You can take it almost anywhere, though it does catch the wind a little on flat water. It is also quite heavy, so is not the ideal boat if transportation is an issue. But if you are a whitewater junkie who wants an expedition canoe that can handle other types of water, this is the boat for you!
6. Lifetime Kodiak Canoe With 2 Paddles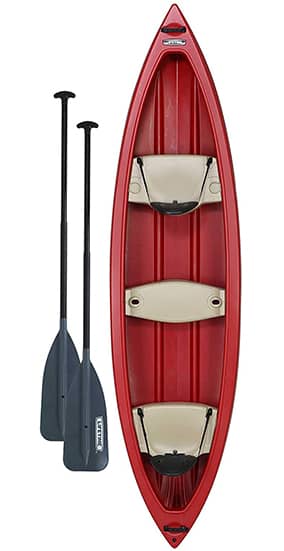 Highly Durable With Convenient Features
Made from high-density polyethylene with UV protection, this canoe can take a beating. It will also not change shape due to sun damage like most canoes made from polyethylene. However, some customers reported that it arrived damaged due to insufficient packaging. Luckily, Lifetime also offers a 5-year warranty, so any issues should be taken care of. Thanks to its molded polyethylene design, the Lifetime Kodiak canoe provides many features common in kayaks. It has molded seats with backrests, molded cup holders, storage trays at the rear and its rod holders make it a great fishing canoe. It is also possible to attach an electric motor if you want a break from paddling.
The above features, as well as its 3 seats and 600lb (272kg) weight capacity, make the Kodiak a great canoe for family trips. Its flat bottom and wide hull enhance stability, perfect for paddling with kids. It is not a high-performance canoe, but as an affordable recreational canoe it paddles well. Its skeg also improves tracking and doubles as a wheel mount for easy transportation. All this and its excellent features make for a great canoe for spending hours on the water.
We cover canoe designs and parts, and what canoes are made of to help you make the best decision for you – whether it's a recreational canoe or something more adventurous you are looking for.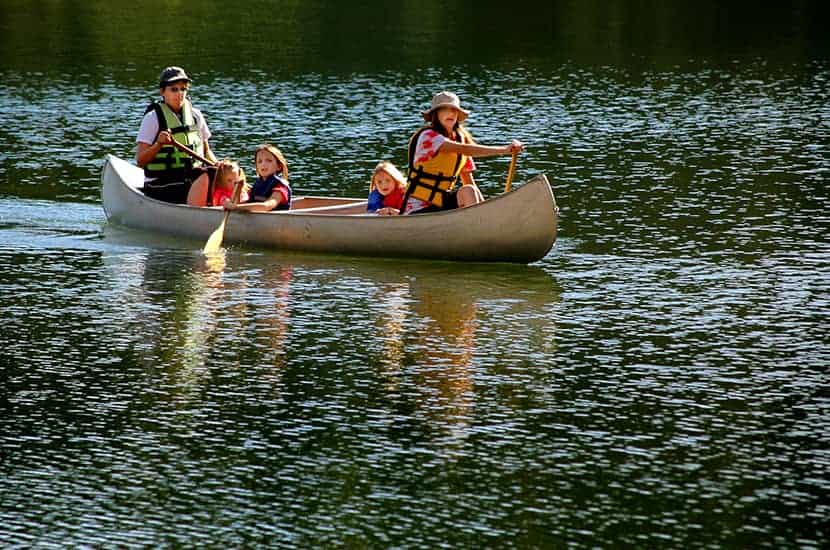 Some basic canoe terminology you'll need to know.
Bow: the front of the boat – the seat located here is referred to as the "bow seat"
Stern: the back of the boat – the seat located here is referred to as the "stern seat"
Gunwales: the upper edges of the canoe walls
Thwart: a cross piece attached to the canoe's gunwales to provide structure and support
Hull: the bottom and sides of a canoe, i.e. it's main structure
Keel: a small blade running down the center of the canoe bottom, from bow to stern
How To Choose The Best Canoe For You
There are lots of different factors to think about when choosing your ideal canoe.
When it comes to length, it is important to think practically. If you have a small car, it will be impossible to transport a long canoe. Then you can think about performance – generally, a longer, narrower canoe provides speed, while a shorter, wider canoe provides maneuverability.
Another aspect of shape is whether you choose a flat or rounded bottom. Flat bottom canoes are more stable and better for family or recreational canoes. Rounded-bottom canoes are faster and more agile, making them better for expedition canoes.
Weight is also a question of practicality. Especially if you are planning a solo adventure, you'll need a canoe you can carry by yourself. Sometimes, a very lightweight canoe may sacrifice on stability, especially in windy conditions. However, there are some great canoes out there that are both lightweight and strong. Ultimately, it is a question of your personal needs and budget.
Are you going to be mainly going on solo trips, paddling with a partner, or taking the whole family along? Capacity refers to the total weight the canoe can carry, including gear. Therefore, when choosing a canoe, it is important to think about both the weight of the paddlers and passengers, and whatever cargo you want to bring.
Canoes can be made out of all sorts of materials:
Wood: a good wooden canoe can be exquisite and provide fantastic performance. With a little maintenance, these can last for decades. However, they do require upkeep, and cost a pretty penny.
Aluminum: aluminum canoes are stable and durable, making them great recreational canoes for families. However, an aluminum canoe is often quite heavy and slow.
Plastic: if you are on a budget, a plastic canoe can be a great choice. Their performance is not the most advanced, but they are usually very durable.
Composites: composites, such as kevlar and fiberglass canoes, tend to provide a combination of durability, high performance and lightness. However, they come with a price tag to match! 
Frequently Asked Questions
Our choice for the best canoe is the Nova Craft Fox 14', for its sheer quality and all-round fantastic performance. However, each canoe on this list is perfect for something different: if you are looking for your first canoe for paddling solo, the Esquif Adirondack is great. If you want a 3-person, portable, adventure canoe, the Sea Eagle Travel canoe is probably your best bet. Whatever your needs, the perfect canoe for you is out there!