Pogo sticks have been bouncing around the world for nearly a century now and for very good reason indeed – not only are they an excellent source of fun and entertainment, but they also provide you with a great workout. Not just for kids, these pogo sticks will challenge and delight adults as well – reawaken your inner child, and exercise in a fun way. Whether you are new to the world of pogo-ing or a seasoned veteran, we have rounded up the best pogo sticks tried and tested on the market today – you will be jumping for joy in no time!
1. Geospace Jumparoo Boing!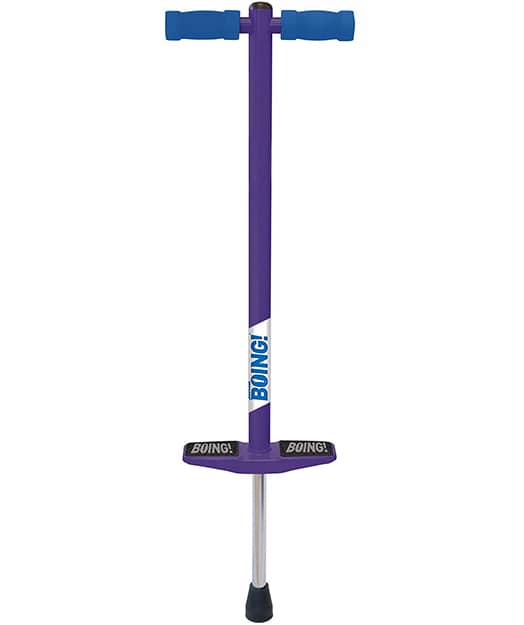 Editor's Choice #1: By combining safety and style, this pogo stick rose to the top of our charts. The Geospace Jumparoo Boing! is the best pogo stick for the youngsters in your family. Even for beginners, this stick provides great safety features without sacrificing the bounce. It's a great way to take pogo-ing to the next level should your child want to start doing tricks. You will know they are safe and on a quality piece of sporting equipment.
If you have a youngster in the family who is looking to get into the pogo game then the Geospace Jumparoo Boing! is the best pogo stick for all kids between 50 to 90 lbs. Specifically designed for junior bouncers, it provides stability, safety and styling all in one.
Finished with high-gloss paint, this pogo stick is sure to impress. Available in different colors and with different decals, it's a lot of fun just customizing this pogo stick even before the first bounce. The features continue with the grips, they are decorated in the same theme as the rest of the pogo stick. And not just for show, these grips provide maximum security by using foam material instead of rubber. This prevents blisters and also absorbs moisture from those hot summer days.
Stable Steel Construction
The metal-constructed spring system is housed within the steel frame of this stick to protect it against rust and user injury. The foot grips are some of the most secure non slip footpegs available as this pogo stick uses grip tape. The same grip tape is used on professional skateboards, sporting 4" of foot space to ensure the user stays balanced and secure.
2. Flybar Foam Maverick Pogo Stick For Kids
Editor's Choice #2: If your child wants a pogo stick that no one else has then this is it. We selected this pogo for its styling features which pushed it ahead of some of the other competitors. While it does not sacrifice performance or safety features, the added amount of styling options makes this great for kids.
The Flybar Foam Maverick Pogo Stick For Kids is the perfect stick for that fashionable child in your life. With lots of options in multiple colors, there is a stick here that is sure to please the toughest mini critics – and with two new colors just released the decision on which one to get will be difficult.
Featuring a foam-covered metal frame that houses the spring, this pogo stick not only looks good but performs great as well. The foam covering keeps the spring from rusting and also prevents injury. This makes it a great choice for beginners between 40 – 80 lbs, before they are quite ready for the foam master pogo stick. The handles have been ergonomically designed to give the jumper maximum control no matter their experience level.
A Leader In Pogo Stick Construction
Having been a pioneer in pogo sticks since 1918 all of Flybar's pogos go through rigorous testing to ensure top safety and performance. From the foam master pogo stick to the flybar super pogo, this kind of experience shows in all the little things such as the footholds – featuring textured and non-slip material these footholds provide the best grip.
3. New Bounce Pogo Stick For Kids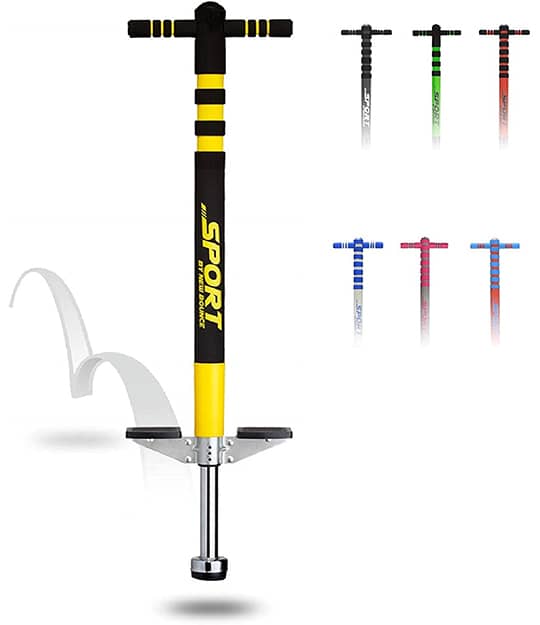 Specifically designed for kids, this pogo stick comes with all the features you need to get your child out and jumping around. With many designs and colors to choose from, there's something for everyone. Providing hours of fun and exercise, this is a great way to enjoy the outdoors.
When out pogo-ing with friends it's important to have a product you can trust. The foam-covered handles not only protect the jumper but also the stick itself. The foam coating also continues down the frame to protect the spring from any foreign objects and rust. Not only for protection, this foam coating also adds a great sense of style as well. Due to its size, this is a great pogo stick for children as it can support up to 80 lbs. The footholds were designed with the newcomers in mind, they feature a wider stance to add more stability and make it easier to perform tricks early on in the learning process.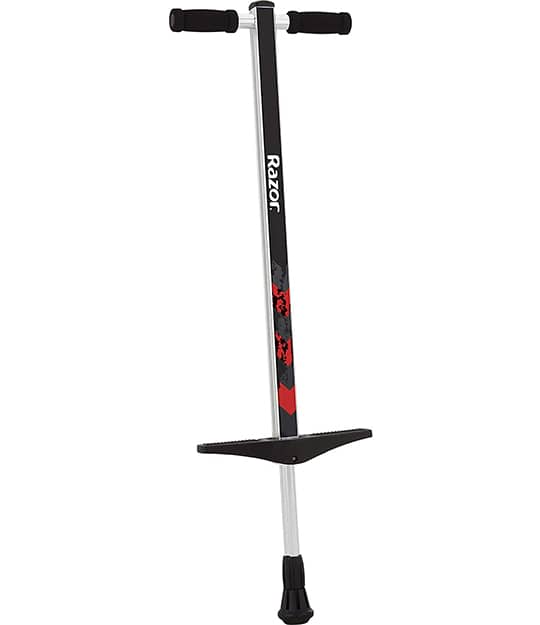 The Razor Gogo Pogo Stick might be the best-looking of all the pogo sticks ever produced. This stylish and well-crafted stick is great for someone looking for a bit of an edge in their bounce. Its design is not all cosmetic though as this stick provides excellent performance while you're getting your jumps in. Trusted as a brand name in street sports, this pogo stick is tough to beat.
Cutting Edge Foldaway Design
Created from very lightweight aluminum, this pogo stick will outlast even the most dedicated pogo-er. The durable footpegs and foam handle grips can be retracted as well. This means when you fold in the grips and footpegs and take into account its weight, you can take it anywhere. Having been designed by Razor for the more intermediate bouncer, this pogo stick is ready to perform any trick you can throw at it. Its weight makes it easy to try new routines and with the durable frame, it can handle all those long practice hours.
5. Flybar My First Foam Pogo Jumper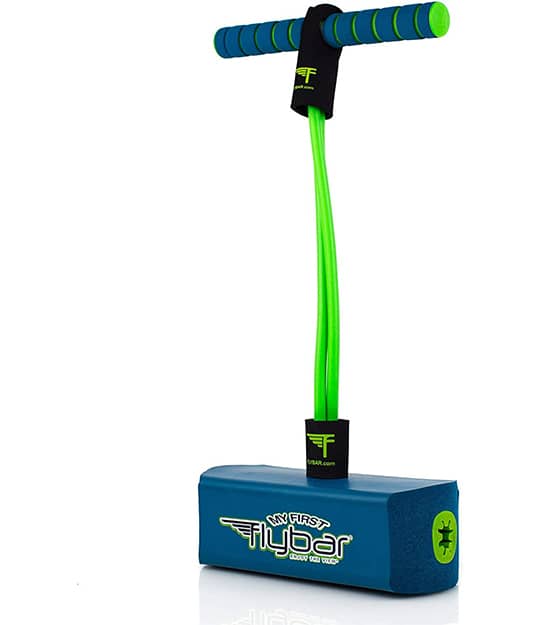 Although it doesn't look like a traditional Flybar pogo stick, the Flybar My First Foam Pogo Jumper has been designed with the kids in mind to build balance and confidence in order to move them up to a traditional pogo stick. This design may not be recognized by you or your parents but it is the product of years of experience and dedication by Flybar.
The bottom of this stick is probably what stands out the most. It was created to help really young kids get their footing and balance secure before moving up to a traditional pogo stick. The wide foam base is durable enough to support 250 lbs and when jumping, makes a squeaking noise to add some fun. Its unique foam base is also made for either outdoor or indoor use. It will not scratch or damage the floors no matter how many jumps are jumped. Available in many colors and backed by Flybar's 30-day money-back guarantee. Overall this is a great way for kids to learn balance, motor skills and gain physical activity all while having a blast in the process.
6. Alex Active Play Ready Set Pogo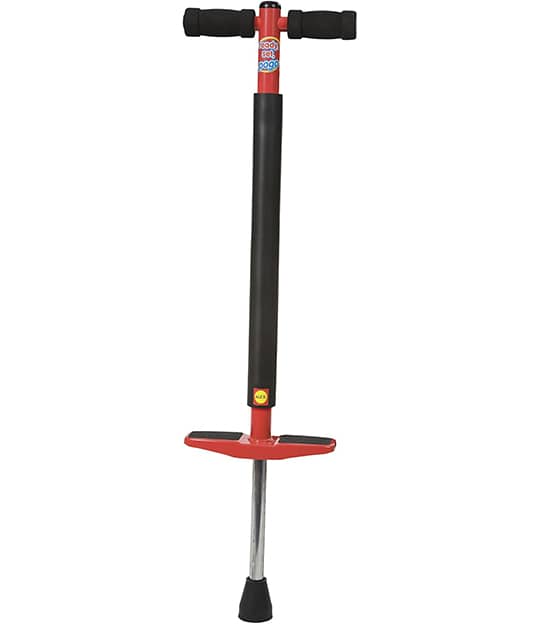 For the active jumper in your family, the Alex Active Play Ready Set Pogo is the perfect addition. Its design and construction were made to provide excellent performance throughout long hours out on the sidewalk. If you have kids that are looking to improve their skills and are already in love with pogos then this may be the stick for them. Warning – may cause jealousy in adults.
Good Grips For Big Bounces
It won the preferred choice award that was handed out by Creative Child magazine which solidified it as a front-runner amongst many other pogo sticks. It also won a spot on the top of the summer toys list of Toy Insider which is tough to do given how many other summer toys are on the market. This pogo stick boasts jumps of up to 24 inches for the experienced user and is designed with an encased spring to protect against injury and the elements. When jumping this high it's important to have a good grip and that's exactly what they have installed here with foam grips.
7. NSG Kids Grom Pogo Stick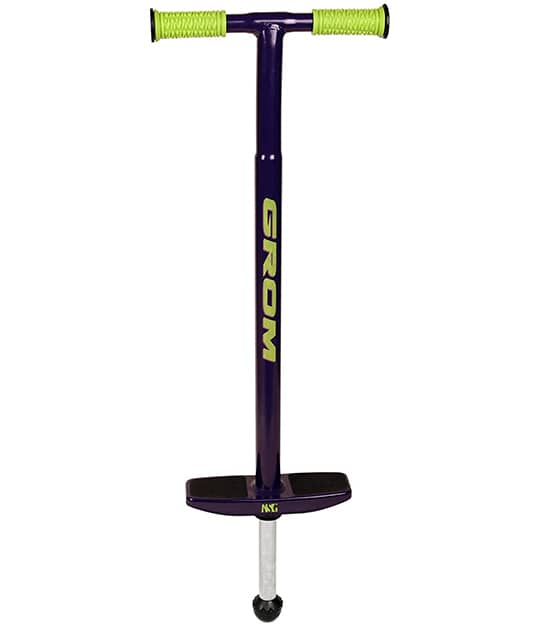 This isn't one of the pogo sticks your grandparents grew up with – pogo sticks have come a long way and this one proves it. Combining traditional design with updated technology, the NSG Kids Grom Pogo Stick is made for the serious jumper. If other pogo sticks have not been able to meet your child's needs when it comes to height and trick performance then this is the one.
Revolutionary Spring Technology
The future of pogos, its sport design starts with its low friction spring technology which not only reduces sound and vibration but increases retention. This revolutionary spring is housed within a durable hydro-formed steel shell to protect it and the user from injury. This spring technology also helps dampen landings and the strong steel piston provides great stability and maneuverability. They have also made it easy to replace the tip should it become worn. The footholds have been mounted with a one-piece, pressed steel plate to hold strong. This pogo stick doesn't like to be called a toy, it is definitely a high-performing piece of sporting equipment.
8. Kidoozie Foam Unicorn Pogo Jumper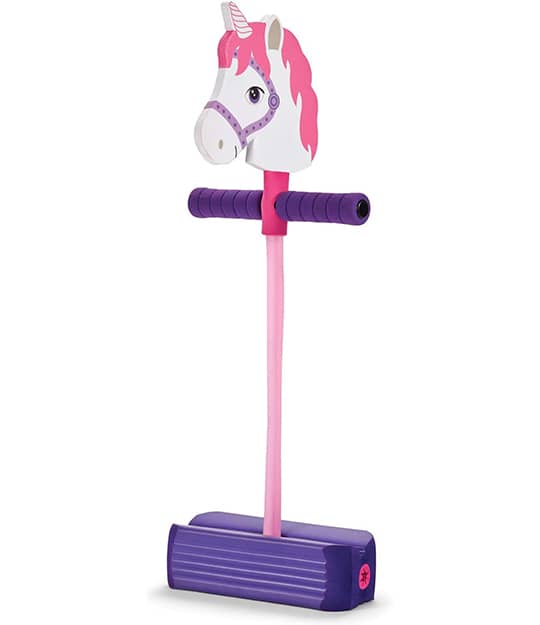 For the unicorn lover in your household, the Kidoozie Foam Unicorn Pogo Jumper is sure to please. This is one of the best pogo sticks to introduce kids to the world of pogo-ing – not just its design but also its construction makes this a perfect starting point for any beginner.
The base separates this unit from other pogo sticks – suitable for both outdoors and indoors, it won't scratch or damage the floors. The base also makes a squeaking noise on each jump so you will always know where your little one has jumped off to, and the handle grips are wrapped in foam to ensure a firm grasp. Pogo-ing provides a great source of exercise as well as an early lesson in dexterity and balance. There is a sense of accomplishment that can be earned with pogo-ing that can carry on throughout life.
9. Play22 Foam Pogo Jumper
The Play22 Foam Pogo Jumper is a great way to introduce the little ones to the world of pogo sticks. This was specifically designed to be used by kids and is perfect for any child ages 3 and up. Sporting a colorful yet neutral color scheme it is sure to suit the preference of any kind and thus makes it a perfect gift for any occasion.
Its design and construction allow for the jumper to easily develop the skills needed to move up to more traditional pogo sticks. The base works to build confidence while not sacrificing any safety or fun. It also squeaks on every jump for more pleasure and to always know the whereabouts of your little jumper. The foam base also allows for this to be used both indoors and outdoors, so your child can enjoy it year-round without fear of scratching or damaging the floors. Overall, pogo sticks are a great source of entertainment but also exercise. They teach kids the value of balance and dexterity while still being extremely fun.
10. Kidoozie Foam Pogo Jumper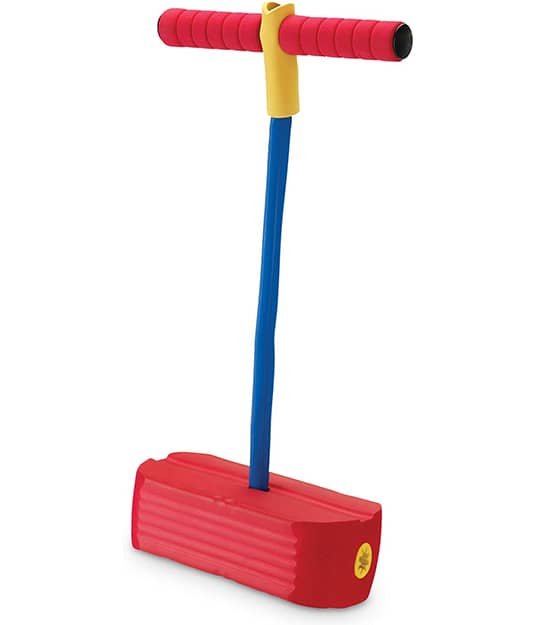 The Kidoozie Foam Pogo Jumper is sure to put a smile on the face of the young jumper in your household. As one of our introductory pogo sticks, it is also one of the best pogo sticks for kids. This one is not only safe but extremely durable so it can be used for a long time.
Its durable foam base can withstand adults up to 250 lbs and can be used both indoors and outdoors. This unique feature also protects your floors when using it indoors so your kids can jump all year round. The grips are also wrapped in the same foam material providing a safe and secure grip. With this stick, your kids will be getting some exercise to build muscle and core strength. They will also be getting lessons in hand-eye coordination, dexterity and will be promoting a healthy lifestyle. The unique and colorful design will also grab their attention and make them the coolest kids in the neighborhood.
If you're new to pogo sticks then we have put together few key factors to look for in this buying guide.
What To Look For When Buying A Pogo Stick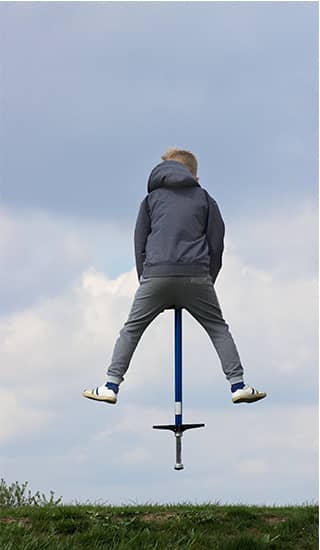 Whether you are buying for yourself or a kid in your life, these tips will help you select the best pogo stick to suit your needs.
Determining who the pogo stick will be used by is the first aspect to consider. Having a pogo stick that houses the spring system in some way is the first step. Many of the best pogo sticks already do this but some are in a metal case and others are wrapped in a foam case.
Buying a pogo stick that has the proper weight limit is also very important. There are lots of child pogo sticks out there and most of them have weight limits suited to a child. Be mindful of this as having a pogo that is not built for the correct person can cause damage to the pogo stick and the user.
Your first point of contact will be the grips which can be either foam or rubber. Foam grips are more comfortable at first but are much more prone to wear and tear. Whereas rubber grips may feel less soft but they are designed to withstand hours of jumping while still providing a safe and secure grip.
The last major item to consider is the footholds. The wider the better as this will provide the most stability and safe usage. However, as you progress in skill a larger foothold may become too cumbersome when performing tricks. So knowing what skill level you are at and what you will be asking of your pogo stick is crucial.
Legend has it that the pogo stick was invented initially by a father for his daughter to get to temple each day over muddy ground – this then evolved into a jumping stick for recreational use.
Pogo Stick Tips For Beginners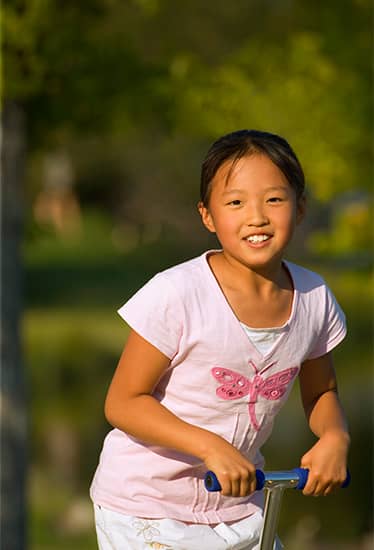 Start with a beginner pogo stick — A pogo stick that is made for beginners will look a lot different than a traditional one. These pogo sticks have a foam block attached to the bottom which creates a lot of stability and lots of room for the user's feet.
Have appropriate safety equipment — Just like any other sporting activity, there is a risk of injury. Limit that risk by wearing a helmet, knee pads and elbow pads. Not only will this protect the user but will also instill confidence when trying it out the first couple of times.
Take it slow — This is a very unique activity so take your time to adjust. It can require balance and the use of muscles you don't normally use. Work on trying to get a few bounces in a row then take a break. When you're ready, get back on it and try to break that record. Little by little you will gain the skills needed to maintain balance.
Start with a friend — Having someone to join you on your pogo journey can help immensely. Your partner can act as a spotter or provide tips that you may not have seen yourself. A little friendly competition never hurt either!
Keeping Safe On A Pogo Stick
Wearing a helmet is highly recommended as jumps can be higher than expected and will throw off your balance.
Also, wear knee and elbow protection. Not just for the added safety but also to maintain confidence. You will be much more relaxed and have more fun knowing you are fully protected.
Having the right pogo stick can also keep you safe. Look for ones that have the spring encased somehow. This will prevent pinching of the skin if you get too close. There are also many pogo sticks that come wrapped in soft foam.
Newbies and kids in particular should wear some protective gear.
Benefits Of Using A Pogo Stick
The benefits of pogo-ing are widely documented. As a source of fun, it can provide hours of entertainment – there are many tricks you can learn to master and the possibilities are endless. Similar to other street sports like skateboarding you are only limited by your imagination!
Starting a little friendly competition can be a great time. Try to see who can jump the highest or over obstacles. Test your stamina and see who can jump the longest. The sky's the limit (pun intended).
There are also a vast amount of health benefits that come with regularly jumping. Building core strength is at the top of the list and as any experienced pogo-er will tell you is a useful attribute to have. Not only that, it is healthy for your heart and overall cardiovascular system.
Pogo-ing also improves your cognitive skills that, as we get older, tend to receive less attention. This improves dexterity and hand-eye coordination and can help younger pogo-ers develop these skills at an early age.
Frequently Asked Questions
With lots of options out there to spend your free time on, it's easy to forget about pogo sticks. They may seem old-fashion but with all the fun that can be had, it should be more mainstream – not just pogo sticks for kids! Add in the fact that it's not only fun but a source of health improvement and you may find a few of your neighbors asking you what the best pogo stick is.