A hockey puck is the solid disk used to score goals in a hockey game. Ice hockey pucks do not differ that much as they are all made from vulcanized rubber using a similar process. However, that doesn't mean they are all created equal – production quality can vary considerably.
If you're looking for a puck to use in off-ice training, street hockey or roller hockey, you'll need something different altogether. Off-ice pucks such as street hockey pucks are designed to glide over rougher surfaces. It's important to know exactly what you want in a hockey puck before evaluating your options – so we recommend reading our buyer's guide first. Then, choosing from one of these fantastic products will be a breeze!
1. Smart Hockey Training Puck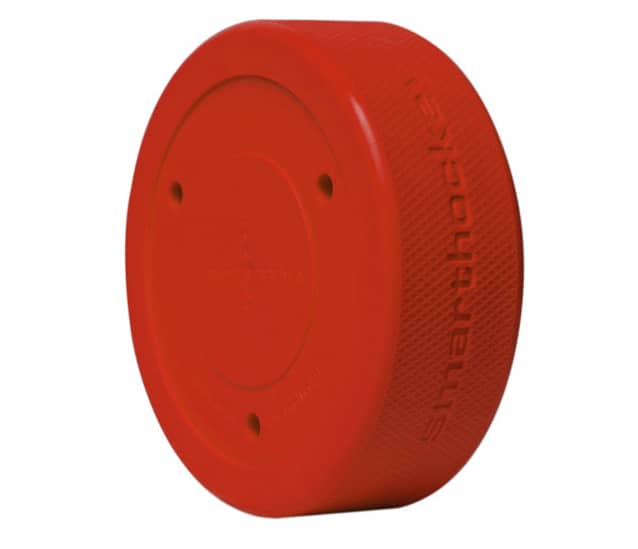 Editor's Choice #1: This training puck gets the top spot because its simulation of a real puck on the ice is unrivaled. Plus, it is durable and works on almost any surface! The Smart Hockey Training Puck is designed for training off the ice. But unlike a standard street hockey puck, this one accurately simulates the weight, bounce and slide of a real ice hockey puck.
High Tech Design & Versatile
The performance of this puck is down to its 5-piece counteractive ballast that replicates the responsiveness of an on-ice puck. Plus, the outer Surlyn shell compresses just like rubber on impact, so players can hit as hard as they like without causing damage. Whether you are training on cement, asphalt or synthetic ice, the Smart Hockey puck glides beautifully. This puck allows you to train anywhere without adjusting your playing style. Plus, it comes in seven colors!
2. Golden Sport Ice Hockey Pucks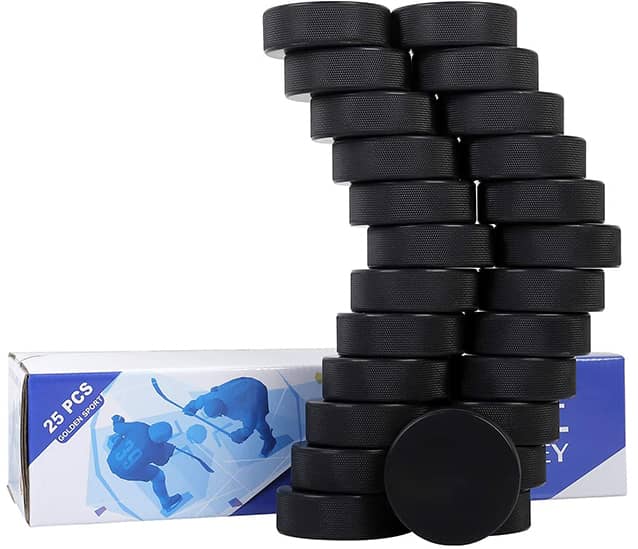 Editor's Choice #2: Golden Sport promises strict quality control for all their products, which is probably why these on-ice pucks are so popular. For on-ice use, these were the best hockey pucks we found. Hard, durable, made to NHL specifications and with great performance, it doesn't get better than this. Made from high quality vulcanized rubber, they can take a beating!
Slides Well & Great Value
The Golden Sport puck is perfectly flat and smooth on both sides, meaning it slides effortlessly  across the ice. On the edges, they have a dense dimple pattern which creates great friction between the puck and hockey stick. The price of this 25 pack definitely belies the quality. If you are buying for a team, this is a fantastic option. These are the best ice hockey pucks for both game play and on-ice training.
3. EAGLES Ice Hockey Pucks | High Grade Pucks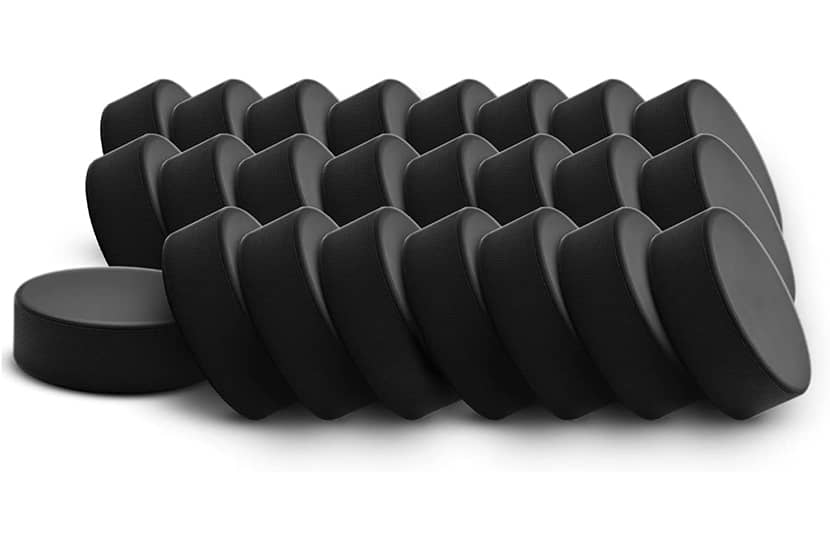 Durability, Performance And Value
The Hug Flight Hockey Pucks are very similar to the Golden Sport ones above. They are also highly durable with impressively smooth surfaces and are made to NHL regulation dimensions. These also feature a dimpled surface on the edges to enhance contact with hockey sticks. The dimpling is not quite as pronounced, but these are still some of the best hockey pucks you can buy. With 24 pucks in each pack, this package offers great value for money. Plus, the company offers a 100% money back guarantee if you are not happy! This is another great option for hockey teams, clubs or arenas.
4. Green Biscuit "Snipe" Shooting Puck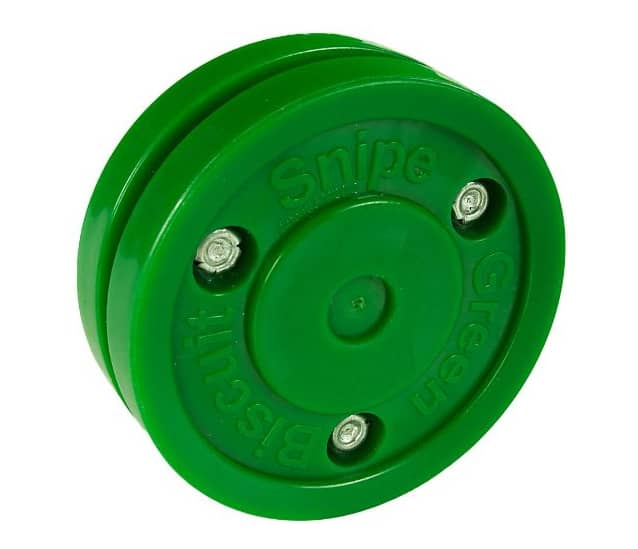 A great street hockey puck, the Green Biscuit "Snipe" Shooting Puck is an improvement on the original. It feels a lot closer to a real puck due to its heavier weight of 5.2oz, making the transition to the ice rink much easier. While the original Green Biscuit is made from hard plastic, the new and improved "Snipe" is much softer. This makes it shatter-proof and much more durable. Great use for stickhandling and shooting – due to its durability, this street hockey puck can be used for shooting practice, unlike the old Green Biscuit puck. The trade-off is that it does not glide as well on a rough surface.
5. Hug Flight Hockey Pucks
Good Quality & Great Value
The Hug Flight Hockey Pucks are some of the best you can get. Made from high quality vulcanized rubber, with perfectly smooth surfaces and textured edges, they perform exactly as you would want. These pucks are designed to play ice hockey with, but they also work great for practicing on a shooting pad. Some customers have pointed out that they don't weigh 6oz as advertised – but they are still within official NHL dimensions. This package offers the best value for money, with 50 pucks included in the box! So if you are buying for an ice hockey team or club, this may be the ideal choice.
6. A&R Sports Ice Hockey Puck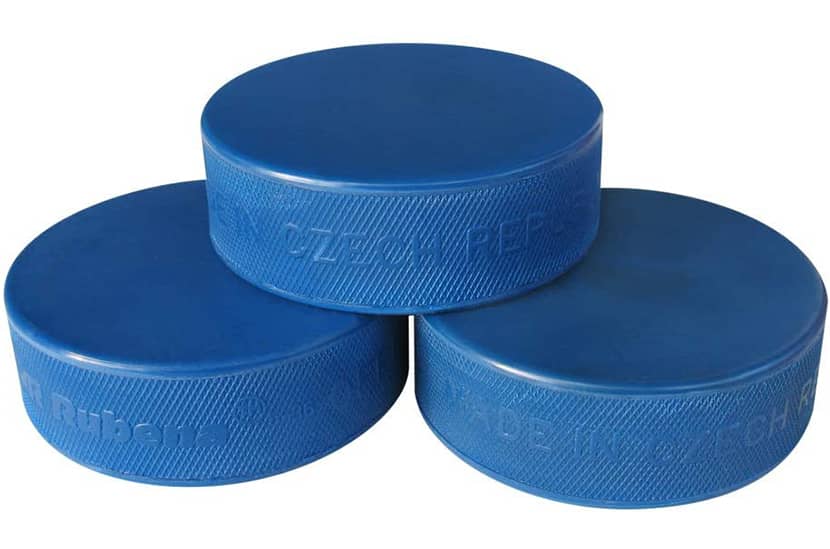 Lighter And Heavier Options
If you want a lighter or heavier puck, these A&R sports pucks may be your best bet. The 4oz version is perfect for kids, while the 10oz is great for training if you're looking to get more power into your shots. These pucks can be used at the rink, but they also work great in basements or garages, or even tennis courts. As training pucks go, these offer fantastic versatility. These A&R sports options are great quality pucks. They are solid and durable and perform well on various surfaces, on or off the ice. If you want to learn about the icing rules and pick up handy tips about the hockey positioning, click here.
7. Green Biscuit Original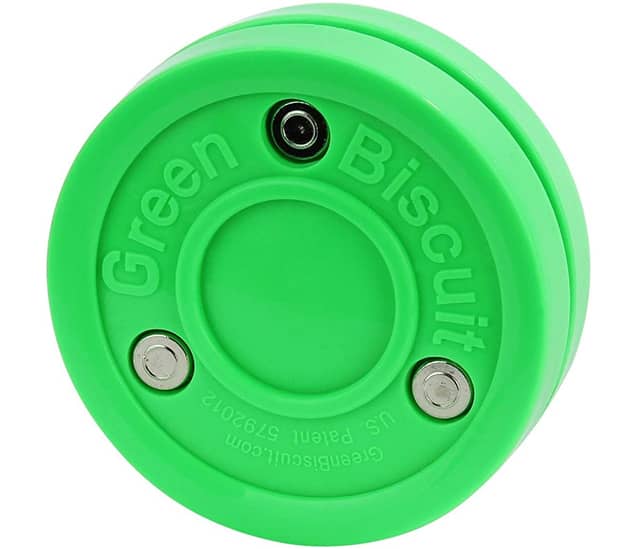 Fantastic Glide For Stickhandling Skills
We ranked the Green Biscuit "Snipe" higher, but the original version does have its benefits. It can glide fluidly over virtually any rough surface – making it ideal for practicing in the driveway or tennis court! This puck can shatter on impact, so you should not use it for shooting. But for practicing the three primary stickhandling skills outdoors, the Green Biscuit may be the perfect choice. If you are looking for a street hockey or roller hockey puck, this could be a good choice due to its impressive glide. Just note that it can get damaged if you use it for shooting.
8. Faswin 18 Pack Classic Ice Hockey Puck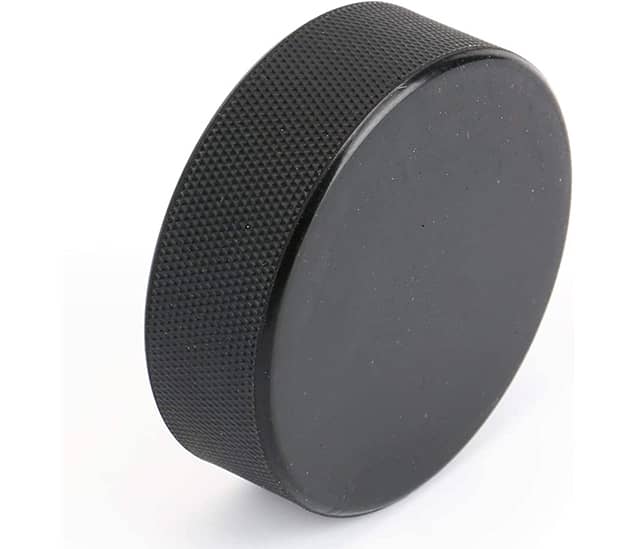 Value For Money & Good Performance
If you want to save a few bucks, this Faswin 18 pack is a solid option. Plus, it comes with three reusable mesh bags for convenient transportation. These vulcanized rubber hockey pucks have a remarkably smooth surface to reduce friction when gliding across the ice. The rubber is nice and hard and the sides are textured. While these are designed for on-ice use, they work great on synthetic ice or even a cement floor so can be used for street hockey practice. They aren't as durable as some of the options on this list, but they are perfectly fine for casual use.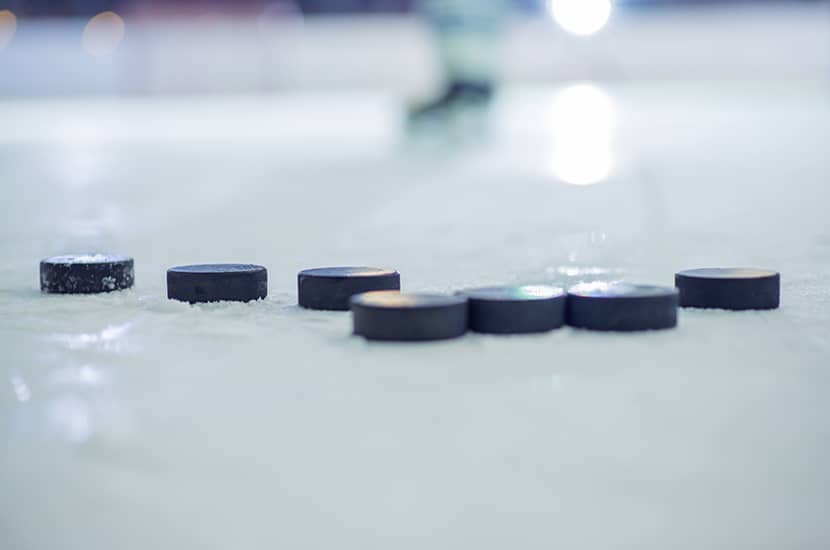 How To Choose The Best Hockey Puck For You
Here is everything you need to know about choosing the best hockey pucks for you.
The main question you need to answer when deciding on a hockey puck is what surface you are planning to use it on. For example, if it is mostly for at-home use, you won't want a real ice hockey puck. Instead, maybe go for some practice pucks, roller hockey pucks or street hockey pucks, which are designed for use on rough surfaces.
The standard size of a hockey puck is 1 inch high and 3 inches in diameter (2.5 x 7.6cm), and the standard weight is 5.5 – 6oz (156-170g). But if it's for a child, a 4oz (113g) puck may be more suitable. You can also get heavyweight pucks of over 10oz (283g) for strength training.
If it's for at-home use, you can probably get away with buying a few individual pucks. But if it is intended for your whole team, you'll need to buy in bulk.
When it comes to standard hockey pucks, you don't need to pay a fortune to get something that works. However, the budget ones are often less durable and can have quite a strong rubber odor. When it comes to training pucks, there's more variation. It's up to you to decide whether you are willing to fork out more to get something that simulates the real thing. If you are a beginner at skating, read our ultimate beginners guide on How To Lace Hockey Skates.
Regulation hockey pucks are black, but if you're buying practice or street hockey pucks, there's more room for creativity. Some of the options on our list offer different color choices. If you don't want to lose it, a bright color may be a good idea! For figure skating enthusiasts, we recommend that you read Figure Skates Vs Hockey Skates and Best Figure Skate. If you are into fun activities on snow and ice, read about Best Snow Tubes here.
Frequently Asked Questions
The best hockey puck we found for at-home training was undoubtedly the Smart Hockey puck, which uses advanced technology to simulate a genuine ice hockey feel. For on-ice use, the pucks from Golden Sport come out on top. Whether you are looking for a street hockey puck or something to use on the ice, one of the products listed above will serve you well!