Let me guess, you've tried all the other "best" hockey skates under the sun and can't find one that is wide enough to be a comfortable fit for you? Don't worry; you're not alone. For some reason, it took skate companies a few years to cater to us wide-footed players, but thankfully they did. Not only that, the manufacturers applied the exact science and technology that you see in the NHL to create the best hockey skates for wide feet. So even though you're getting a different sized boot, you still get all the luxury features that your narrow-footed teammate has been getting for years. Whether you choose the Bauer Supreme 3S Pro or any of the hockey skate options on this list, we think you'll find a massive difference in your play.
1. Bauer Supreme 3S Pro Ice Hockey Skates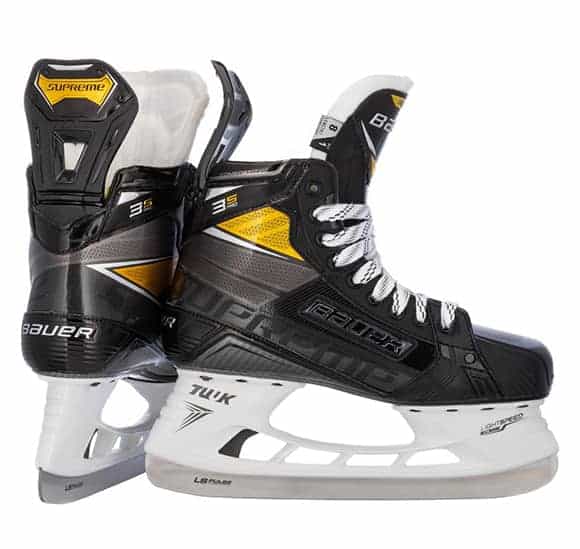 Editor's Choice #1: This was a relatively easy pick for number one based on Bauer's fitting options. Specifically for wide feet, Bauer has truly made a skate that caters perfectly to you. No more trying on skate after skate. Select the Supreme 3S Pro and get the widest and highest volume skate available today.
For the best fit in any hockey skate, the Bauer Supreme 3S Pro has created a new performance fit system that is unique to itself. With more options than any other company, you can be sure you're getting the right fit for comfort and performance. The first step in choosing your Bauer skates is identifying which category your foot will be most comfortable in. Bauer has three options for you: low volume/narrow width, medium volume/medium width and high volume/high width.
Custom Option For The Fit
For wide feet, we recommend the high volume/high width option. It adds volume around the upper lace part. This allows more room overall for your foot instead of just a wider berth. With all the customization options available, you can get dialed in from day one. The tongue is fitted with molded inserts to conform to your foot. It's also wider, so it can wrap around your foot more to add stability and prevent lace bite. Your ankle will be safe and sound as well with the memory foam ankle pad that encompasses the entire back of the boot. This foam will morph to the shape of your ankle and will stay that way the more you wear them.
2. CCM Super Tacks AS3 Pro Ice Hockey Skates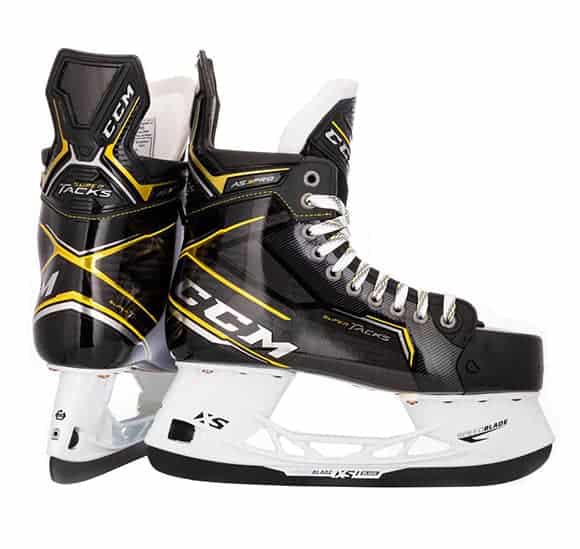 Editor's Choice #2: As one of the best hockey skates for wide feet, CCM is no doubt Bauer's biggest competitor. This flagship model skate is comparable to the Bauer Supreme 3S Pro, and wider feet hockey players are rejoicing. An impressive one-piece boot design is the difference here, and we're sorry for making the decision so tough on you.
If you're unsure about your foot width and skeptical about getting the "wide" fitting skate, then the CCM Super Tacks AS3 Hockey Skates for wide feet are here to help. Hockey players know that to get the best performance on the ice, it all starts with the right hockey skates. The tongue of this hockey skate is the first point of interest here because it has special interchangeable inserts. You can affect the volume of the boot by either increasing or decreasing the tongue's thickness. The inserts are easily installed and provide custom comfort for mobility and protection against lace bite.
A Wide Foot Needs A Wide Boot
This hockey skate utilizes a one-piece boot design. Many companies do this; CCM has elaborated on it. While most hockey skates are secured to the quarter package via the footbed, this design wraps around the foot and is directly attached to the blade holder. This gives you more mobility and speed because it reduces a lot of excess material. These hockey skates for wide feet also make it easier for you to accelerate from a stopped position. Energy transfer from your feet to the ice is made easier by shortening the distance between the two. With your foot and blade acting as one, you can get up and down the ice much quicker with these elite-level skates.
3. Bauer Supreme 3S Ice Hockey Skates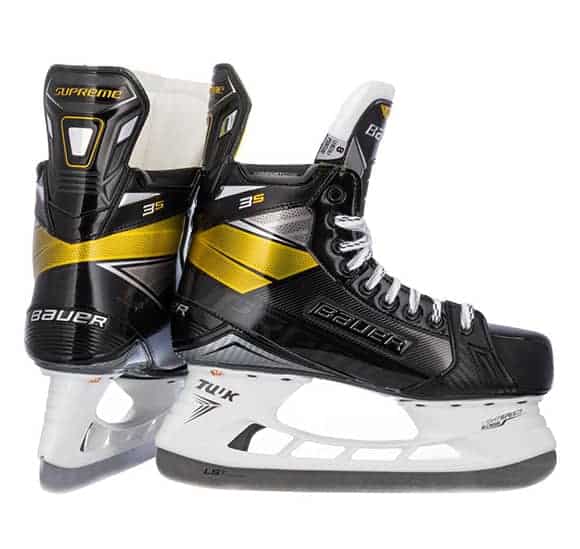 If you don't play often and are overwhelmed by all the Bauer Supreme 3S PRO features, you can opt for the more traditional Supreme 3S listed here. It still utilizes the Bauer Performance Fit System to identify the best boot volume for your foot. For the widest hockey skates, select the FIT3 option. This allows maximum room not only laterally but vertically as well. The entire volume of this boot is increased.
Defined System To Add Speed
The system follows Bauer's strict Power Profile/Quad Profile, setting four distinct zones throughout the skate that each serve a purpose:
The first zone is under the toe and is designed for increased acceleration from a standstill position
The second zone is located under the ball of your foot and is a transitional zone – this helps the skater move from quick strides to longer and more fluid strides
The third zone is right in the middle and will ensure your entire blade is being used. This is how you'll reach top speed with less effort and stay there
The final zone in these Bauer skates is reserved for stability. When traveling that fast, you'll want more assurance around the ankle and heel. Zone four is designed to do just that. As you turn from edge to edge, it's easy to lose one at that speed without the proper support. This system prevents that and is even more helpful in wide hockey skates
4. Bauer Vapor X2.9 Ice Hockey Skates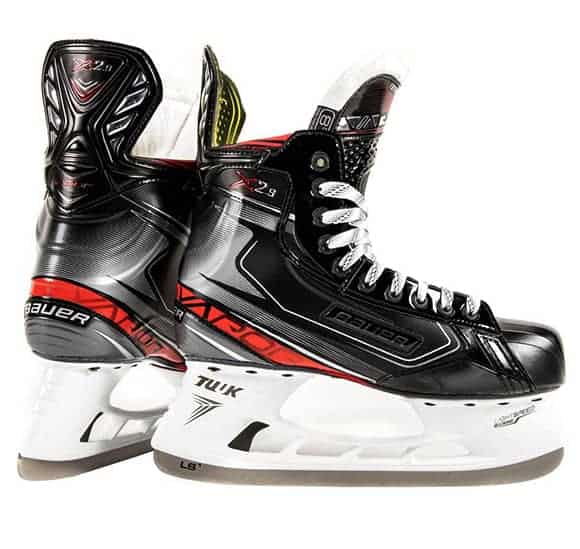 For those who want wide hockey skates but don't play as often as they'd like, the Bauer Vapor X2.0 will do fine. They have all the fantastic performance features that Bauer Vapors have, just with a little less long-term stamina. They have a low-profile design that allows you to transfer energy more efficiently from your foot to the ice. This is due to their Performance Flex System.
Vapors Have Their Own Way Of Generating Speed
The performance flex system is unique to Bauer and is used to enhance the performance of the boot. It allows flexibility in all the right places so that you can move quickly in and out of turns. This is a considerable advantage for hockey players with wide feet. Supporting that is the hydrophobic microfiber liner that covers the entire inside of the boot. This is great for conforming to the specific features of your foot. It also works to keep your feet dry, so there is no slipping. The footbed and ankle backing of this hockey skate both feature memory foam. This is great if you're looking for a skate that requires minimal break-in time. These will be comfortable right out of the box.
5. CCM Super Tacks 9380 Ice Hockey Skates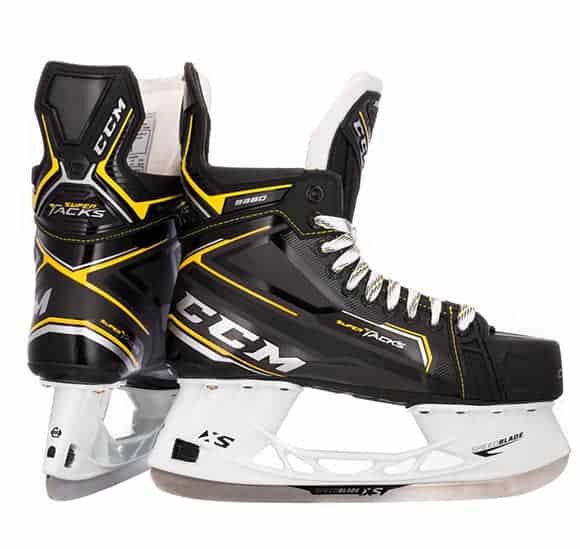 If you're on the fence about getting skates for wide feet, then try the CCM Super Tacks 9380. They're for a hockey player with medium-width feet but find standard skates a bit too tight. It's designed with a two-piece boot made from RFM composite. This material is exceptionally light and will allow you to skate faster for longer. This is the same material used in the higher-end model, the AS3. The difference is this boot is more flexible than its luxury counterpart.
High-Class Tongue For Comfort And Protection
The tongue is a dual-density asymmetrical build with added lace bite protection. The 10mm felt offers reinforcement layers for better protection and added comfort. It's also lined with an abrasion-proof material, so you can wear your shin guards on the inside if you choose. This liner prevents wear and tear on any pressure points. Even though this is not a flagship model, it still has some elite model features. One of which is the speed blade Xchange system. This allows you to swap out the blade quickly. So quick that you can do it on the bench in between shifts.
6. Bauer Nexus 2N Ice Hockey Skates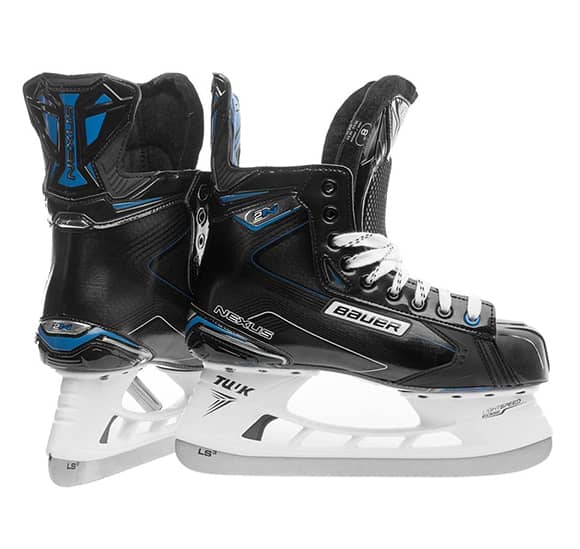 While not boasting as many features as some of the other skates for wide feet, this hockey skate still has elite features that are sure to please any player who's on the ice at least once a week. If you're not entirely committed to proper custom skates yet, try the Bauer Nexus 2N. They're designed to keep all the things you love about your old, broken-in ice skates while adding a few extra things to bring you some elite-level comfort.
Maybe The Best Liner In All Of Hockey
The liner is one of the best in the business. It's called Hydra Max 2, and it's incredibly soft to the touch. Players who don't wear socks will be in love with this liner. It wicks away moisture to keep your foot dry, so there's no sliding around while you're out there givin' it your all. The inside of the tongue is also lined with it, so your foot is secure and dry all the way around. They have made the tongue with special attention as well to accommodate playing hockey barefoot. With its thick foam and injected plastic metatarsal guard insert, your foot is not only protected from lace bite but also shots from the point or any chippy stick play you may face.
7. True TF9 Ice Hockey Skates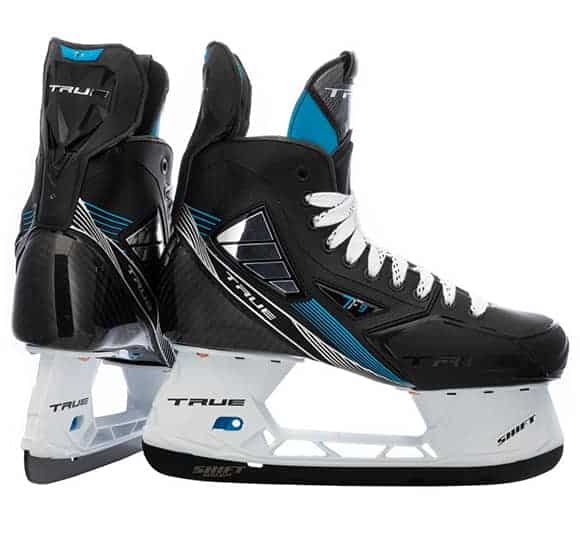 For outstanding fit and agility, then look to the True TF9 Hockey Skates for wide feet. They utilize a variation of a one-piece design that will conform to your foot over a short time for a custom fit. The boot is constructed from a combination of carbon fiber and thermoplastic. This gives it a great range of motion without being too loose around your foot. It feels like a second skin once you've broken them in. This technique is carried through to the toe cap, so there are no weak points anywhere. You have complete protection for blocking shots and absorbing any rough play.
All Customizable; Perfect For Wide Feet
The footbed comes with different arch support systems to match your foot precisely. This feature makes them excellent for wide feet. The tongue is also specially designed to be adjustable based on how your foot reacts within the boot. It wraps around the top and down the sides of your foot for complete coverage and lace bite prevention. The blade itself is made for long-term use and treated with a patented black coating that retains the edge longer, so you won't have to get these sharpened as often.
8. CCM Jetspeed FT4 Pro Ice Hockey Skates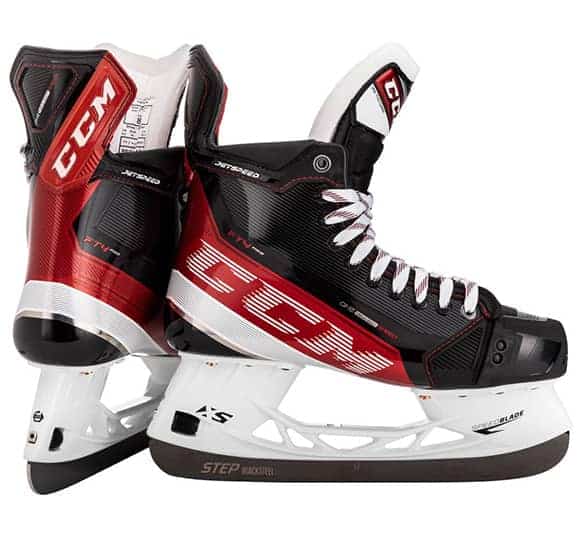 These are actual custom skates that provide advanced players the feel they need to play better and improve their performance. The first thing you'll need to do with these wide-foot skates is choose a foot category. They come in three different sizes: tapered, regular or wide. No matter your foot dimensions, they have the exact boot for you.
The Most Customizable Skate On The Market Today
The second customizable option you get is with the tongue. It has interchangeable inserts available, so you can choose how much room you have in the boot. Choose from a 4mm, 7mm or 10mm insert to give your foot maximum comfort as well as mobility. Another custom feature is the memory foam that is used throughout the inside. As you use this high-volume skate more, the memory foam will conform to your foot shape, and they'll feel like they were made just for you. Lastly, the design is for elite skaters. Its low-profile construction and one-piece boot allow you to get closer to the ice, minimizing energy loss. Your strides will be more powerful in this skate, and you'll expend less energy to do so.
To help find the perfect ice hockey skates, we have all you need to know.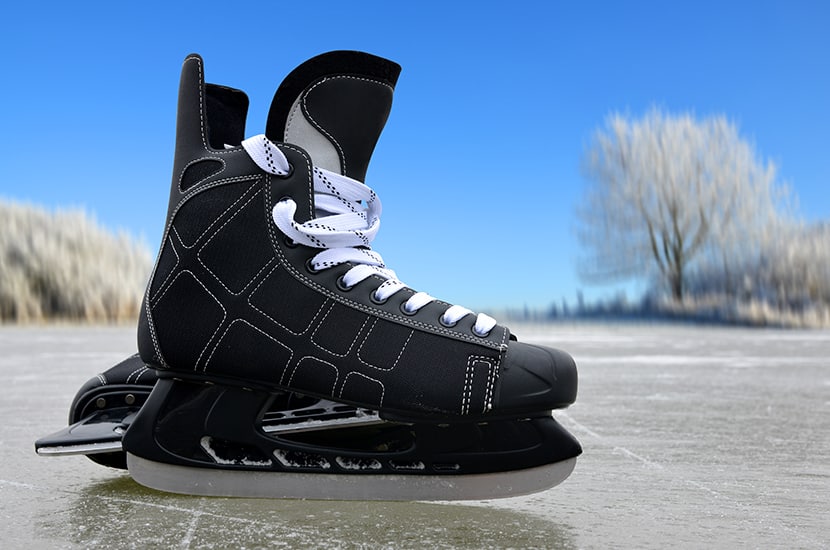 Foot Type – How To Know Whether You Need Wide Skates
The easiest way to know if you need wide skates is to measure your foot yourself. Place a blank piece of paper on the floor and stand on it with one foot. Trace around your foot with a pencil while keeping it completely perpendicular to the floor.
Once you have an outline of your foot, take two measurements: one from toe to heel and one across the widest part of your forefoot. In centimeters, divide the length by the width. This will give you your foot width ratio.
If your foot width ratio is under 2.5, then you need skates for wide feet.
What To Look For When Choosing Hockey Skates
Skates usually fit 1 to 1.5 sizes less than your sneakers and vary slightly between hockey skate brands. Keep in mind what kind of socks (if any) you will be wearing as well. For the best hockey skates, you'll want the tightest fit you can get without sacrificing comfort.
The last thing you want is for your foot to be sliding around in the boot while you're playing. Not only is this inefficient, but it also could lead to injury.
These days, comfort won't be hard to find. With the addition of memory foam and customizable tongues, high-performance skates have come a long way since your father was playing. Take note of what the tongue has to offer. Some of them have interchangeable inserts so that you can affect the volume of your boot. You may find some support systems to be too soft, or some high-volume skates have too much memory foam. Ensure your fit is exactly what you are looking for.
All of these skates for wide feet come with exceptional protection against pucks and sticks. The toe caps are all solid, and the boots are made from some type of strong material. The varying protection elements are in the ankle support. Some players prefer a stiffer fit, while others value mobility. Ensure you choose based more on safety than comfort. The protection provided will keep your ankle from twisting and keep you from being sidelined.
High-performance skates should be lighter, more rigid, and have a low-profile design. To get the most out of these skates, you will need to be very experienced in skating. With all of the cushioning options available, it's easy to choose the most comfortable. When it comes to performance, though, this is not always the best idea. Your feet should be comfortable but also athletically engaged.
Ensure your skate finds a balance between comfort and fit.  
Frequently Asked Questions
Finding the best hockey skates for wide feet used to be a challenge. Twenty years ago, these weren't an option unless you sought out specific skate makers. Thankfully manufacturers heard our cry for help and answered the call. The Bauer Supreme 3s Pro offers many professional-level features while still being touted as wide feet skates. In the past, unless you were in the NHL, this was never an option. Now that you're equipped with perfect-fitting skates, you have no excuse not to light the lamp every game.