If you're setting up a billiard room, you are probably considering which pool table and cue sticks to buy and where to store your equipment. But have you considered pool table lighting yet? Having effective lighting is just as important as having a good pool table – it's not just about aesthetics. Improper lighting will impair your ability to see the game clearly, which will hinder both you and your opponent's performance. Ideally, you want your pool table lights to light up every inch of your table, create no shadows, provide a nice atmosphere and go with the decor of your game room. To help you out, we have put together a list of eight of the best pool table lights, including both multi-shade lights and single-shade lights. It is up to you to decide which will look the best and provide the best light above your table!
1. Wellmet Hanging Pool Table Light Fixture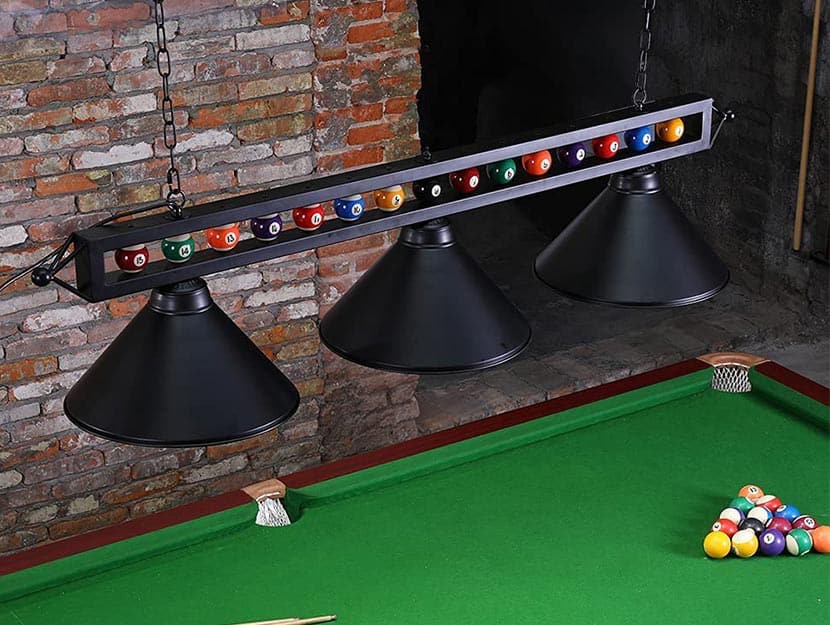 Editor's Choice #1: This Wellmet Hanging Pool Table Light Fixture ticks all the boxes if you like a classic yet modern design. This light suits almost any ceiling and looks great in any game room. It is durable and rust-resistant, easy to install and lights up the entire table – what more could you want?
This pool table light from Wellmet is extremely durable. The matte finish on the shades is treated with anti-rust and corrosion resistance, so you won't have to replace them anytime soon. It also comes with everything you need to assemble it and is fairly easy to install. The only complicated element is that it needs to be hard-wired, so you may need to hire a professional.
As for the number one thing a pool table light is meant to do, these lights will light up your pool table excellently. With this in your game room, you'll be able to see every nook and cranny of your pool table! Plus, the height is adjustable for ceilings up to 8' (2.4 m) high, so you can get the best lighting no matter the height of your table.
The design of these pool table lights is something of a modern classic, perfect for any billiard room or rec room. You can choose between a few colors but I think matt black is the classiest. The row of decorative billiard balls is a nice touch. The light fixture is also compatible with any E26 light bulbs, so you can choose between a variety of different types and brightnesses.
2. LALUZ 5-Light Island Lighting
Editor's Choice #2: For the budget-conscious and style-conscious pool player, the LALUZ 5-Light Island Lighting is a great option. One of its stand-out features is that it is compatible with all ceiling types, including slanted and vaulted. With a rustic yet sophisticated design and two-year warranty, this is a high-end product at a low-end price!
This 5-light lighting fixture from LALUZ is marketed as a kitchen island light but it works just as well as a billiard light. Although it is not very long, its multiple bulbs provide even, proper lighting for 7 – 8' (2.1 – 2.4 m) pool tables. One of its best features is that it is compatible with all kinds of ceilings, from flat to slanted to sloped to vaulted. So if you have struggled to find pool table lighting that fits your ceiling, look no further!
The rustic yet sophisticated design of this billiard light fixture works perfectly in a farmhouse-style kitchen but it can also instantly elevate the style of your game room. If you want unique and stylish lights that aren't so obviously game room lights, these could be the best billiard lights for you.
This light fixture comes with a two-year extended warranty, so you can rest assured it will last you a long time. It is also UL certified for safety, which provides extra quality assurance. Despite being lightweight, it is sturdy and clearly well-made. It is also designed to work with a dimmer switch, though this is not included. Unfortunately, assembly is quite tricky, so it would be best to hire a qualified electrician.
3. GSE Games & Sports Expert Billiard Table Light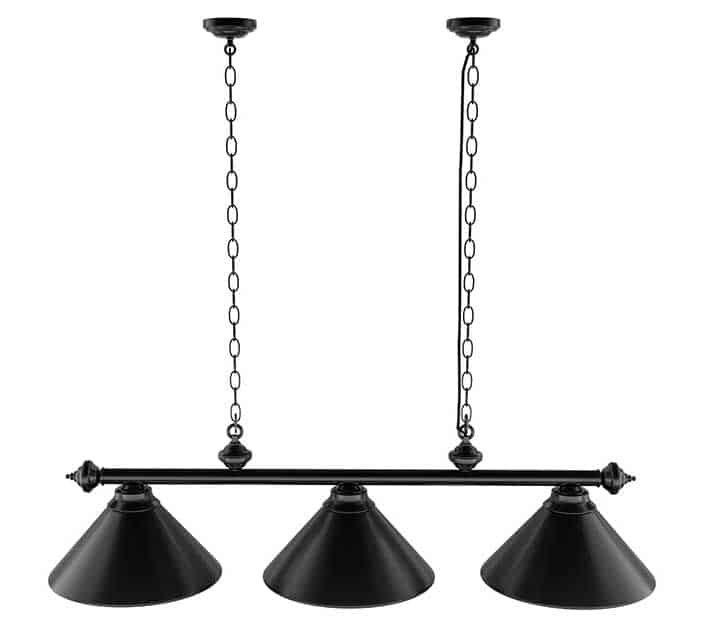 This billiard light from GSE is another light fixture that boasts UL certification, so you can be confident in its safety and quality. The whole lighting fixture is made from heavy-duty metal and the shades have a matt finish to prevent corrosion. This pool table light is clearly well-made from top quality materials, so you can keep it in your billiards room for many years to come.
Although these lights are very simple, they are great for people who like to change up their decor or who don't like to think about decor at all! They will look sleek and stylish in just about any game room, no matter what the aesthetic or color scheme is. These lights are also easy to install, though they do require hard wiring.
Provides Excellent Lighting
These lights provide some of the best pool table lighting we could find, illuminating the entire surface and providing nice ambient light as well. However, the fixture is probably not long enough for 9' (2.7 m) pool tables. Like any good billiard light, the chains on this one are adjustable, to a height of 52″ (132 cm). This is truly a high-end light for an affordable price – if you like the look, this may be the best light for you!
4. RAM Gameroom Filigree Billiards Table Light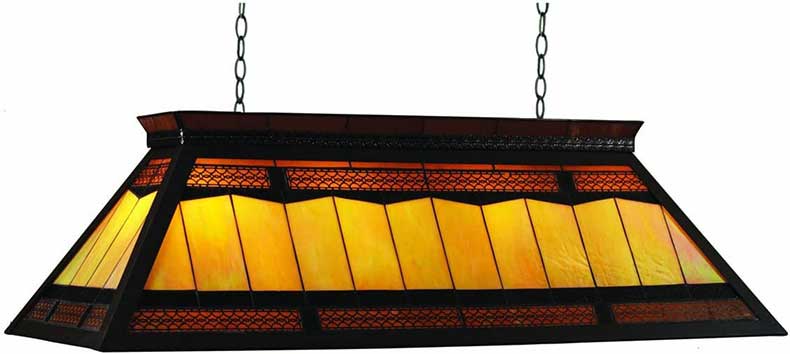 This RAM Filigree billiards light is one of a kind. Made from high-quality glass with a metal frame, you can see the craftsmanship that went into it. If you want something to light up your game room for many years to come, this is a great option. It isn't cheap but you get what you pay for both in terms of quality and design.
This pool table light is 44" (111 cm) long and takes four standard bulbs within a single oblong shade. This, combined with the yellow stained glass, makes for good lighting that illuminates the entire table, without feeling too bright on your eyes. In fact, the warm lighting this lighting fixture provides will give your game room a very cozy and warm atmosphere.
Attractive Stained Glass Design
The stained glass design on this pool table light is beautiful and elegant without being ostentatious. It is simple and classy and the color and shapes of the panels give a subtle nod to western style bars. This lamp also comes with 3' (91 cm) of adjustable chains, which is enough for most ceiling heights. The only issue is that this light is difficult to install, so you will most likely need to hire an electrician.
5. Z-Lite Riviera Billiard Table Light
Provides A Sophisticated Atmosphere
If you're looking for a traditional yet elegant look in your pool table lights, these multi-shade Z-Lite Riviera billiard lights could be perfect for you. The golden mottled shades look beautiful and make for a gorgeous golden glow in your game room. The oil rubbed bronze light fixture is also beautiful and the whole effect is of an extremely classy gentleman's club in days of yore.
Most customers found that the Z-Lite Riviera pool table lights were lightweight and easy enough to install without professional assistance. However, if you have absolutely no DIY experience, it's probably still a good idea to get some help as it does require hard wiring. At 72" (182 cm), the chains should be long enough for most ceilings, so you won't need to get any extensions.
Good For Large Billiard Tables
As this billiard light is 59" (149 cm) long in total, it is large enough to perfectly light a 9-foot (2.7 m) table. So if you are struggling to find a large enough light for your table, this is a great choice. All in all, these are beautiful pool table lights that provide a sophisticated atmosphere and all the clarity you need for playing pool. By the way, do you know the difference between billiards vs pool vs snooker? The answer might surprise you!
6. LAKIQ Hanging Pool Table Light Fixture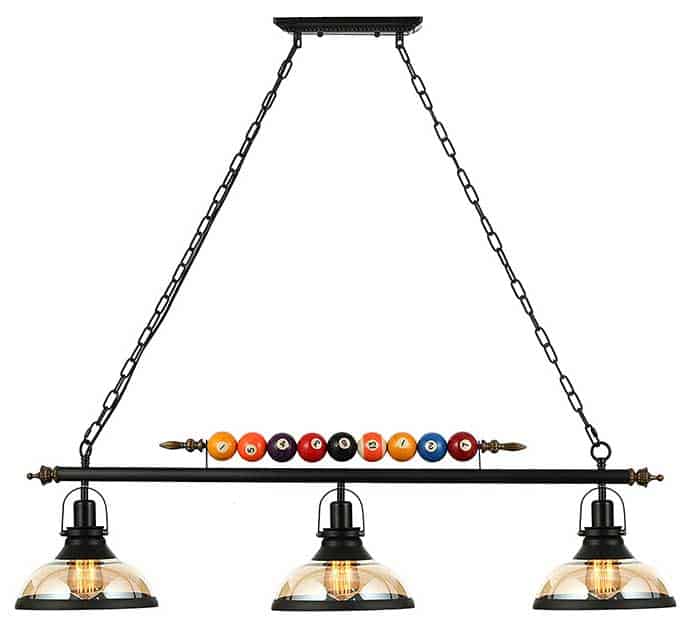 This pool table light fixture is certainly aimed at the style-conscious pool players among us. The metal fixture and glass shades look extremely elegant, especially because of the beautifully domed shape of the shades. With a look that is vintage, industrial, classy and contemporary all at once, this is sure to look sophisticated in any gaming room. Customers also liked that it is lightweight, easy to install and comes with a ceiling plate. However, this unfortunately does not properly cover a standard electrical box which is a bit of an oversight.
Great Lighting For Your Table
This pool table light is not just a pretty face – it also provides excellent lighting for playing pool, with no odd shadows on the table. The row of billiard balls makes the key purpose of this light fixture clear but its elegant design means it looks just as good lighting up a bar, dining room or kitchen table. It is also clearly well-made and should last you a good long while. One downside is that the 39" (99 cm) chain is not long enough for high ceilings, so make sure to check how long you need the chain to be before buying.
7. Dale Tiffany TH12406 Pool Table Light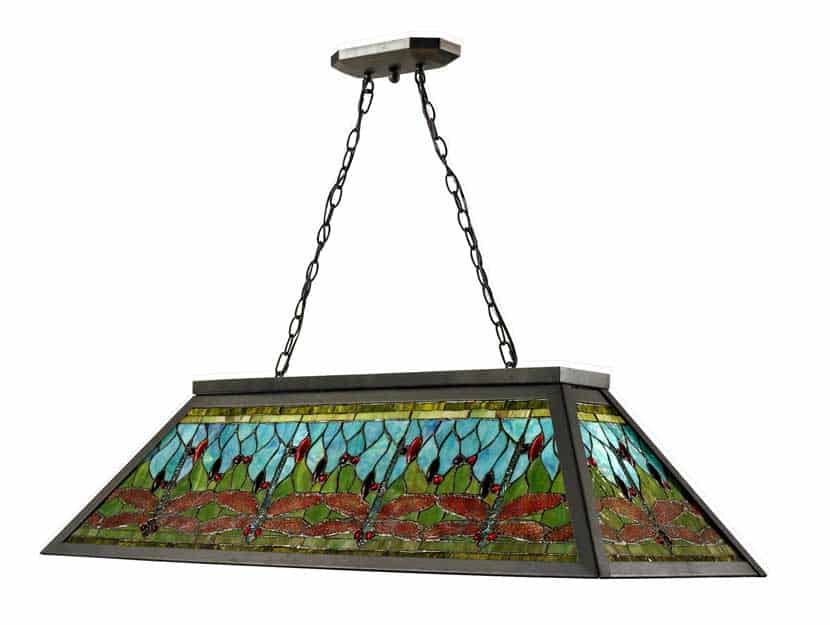 A real Tiffany lamp is an investment but it is one that will last you a lifetime and can be passed down from generation to generation. This billiard light shade is hand made using traditional Tiffany techniques to produce a one-of-a-kind, beautiful work of art. The glow through the stained glass is magical and it provides the right brightness to properly illuminate your pool table as well. This is a truly exquisite billiard light that your guests will certainly remark on!
Not only is the craftsmanship of this Dale Tiffany pool table lighting exquisite but it is also compatible with most rooms and billiards tables. You get a whopping 8 feet (2.4 m) of chains and you can always remove links to make it shorter. Unfortunately, some customers did find a few problems with these billiard lights, such as crookedness when hung and vague assembly instructions. Also, while the light is high-quality, the fact that it is made of lots of tiny glass pieces makes it fragile. As such, it is not the best lighting choice if you play pool with rambunctious kids (or drunk adults!)
8. Hathaway BG2576 3-Shade Billiard Light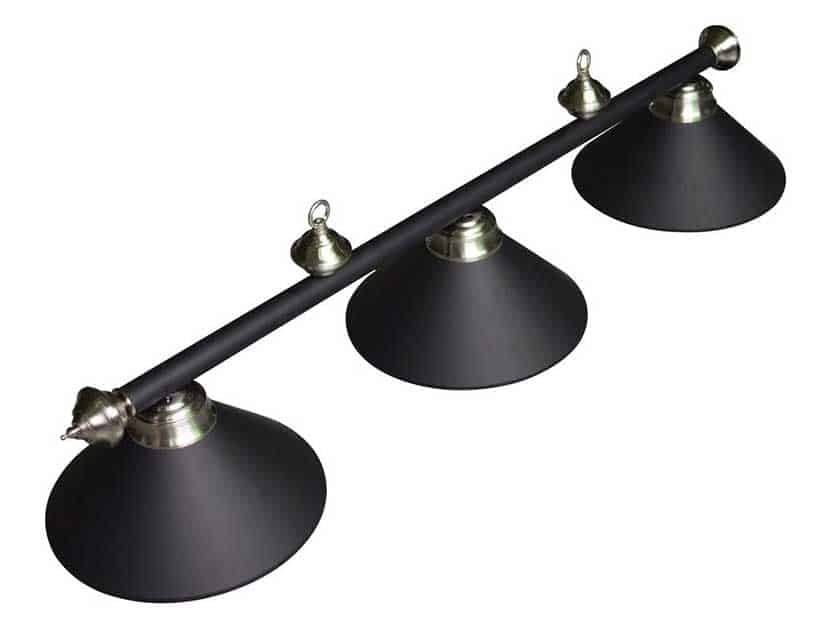 If you are looking for something basic and affordable yet high-quality, these billiard lights from Hathaway will provide you with just what you need. It has a sturdy construction, yet is lightweight which helps with the installation. Plus, the lamp shades have a matt finish which helps prevent corrosion. However, it is a hard-wired lamp and the instructions are not very clear, so you may need to hire a professional to install it. Also, a few customers found that the lights were not perfectly lined up, which is annoying but easily fixable if you are a handy person.
All in all, this pool table light is great quality for the price. It provides excellent lighting for full-size tables, so it does its main job very well. It also comes with an 8' (2.4 m) adjustable chain to suit any ceiling or pool table height. Note that the ceiling anchor point is made up of two anchors, so make sure it is compatible with your ceiling before purchasing. And if you like a simple, classic look, this could be the light for you. With sleek black shades and white interiors, these lights have a classic yet modern design that will fit into any rec room.
This guide is here to help you choose the right pool table lighting system for you. It also includes some helpful tips for installing your lights.
Features To Consider When Choosing The Best Pool Table Lights
These are the most important features to keep in mind when deciding between pool table lighting options.
Pool table lights come in a few different designs and styles to choose from.
Tiffany Or Stained-Glass Style
Tiffany style lamps refer to a particular type of stained-glass lamp, which involves a hand-made crafting process to produce unique pieces of multi-hued glass which are then soldered together with copper. Whether Tiffany or not, stained glass brings a feeling of luxury and old-fashioned glamor to your pool room. However, if you prefer a minimalist look, these are not for you!
Classic Pool Table Lights
Classic pool table lights tend to have three equally spaced bulbs, each with their own conical shade. Though the shape, color and extra details can vary, these lamps tend to be quite simple looking, which may be just what you want in a game room.
Most bars and pool venues make use of classic or stained-glass lamps.
Modern Or Contemporary Lights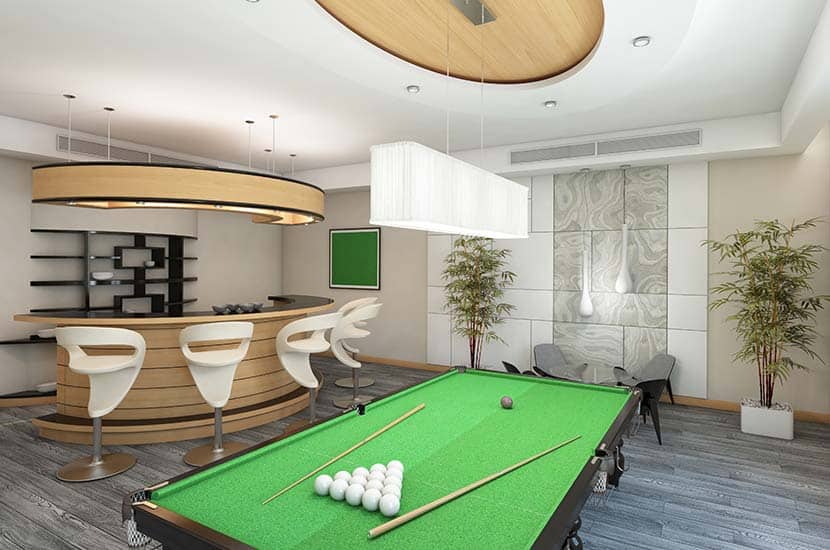 These days, there are all kinds of pool table lighting designs available in modern and contemporary styles. If the room your pool table is in already has modern decor, a modern style lamp will seal the deal to make yours the most stylish games room around.
Rustic, Industrial And Farmhouse Styles
If you want a stylish modern look but prefer rustic styles to flashy or minimalist contemporary, there are options for you! Lots of manufacturers have begun to produce industrial and farmhouse style pool table lights that are ideal for a charming yet homely feel.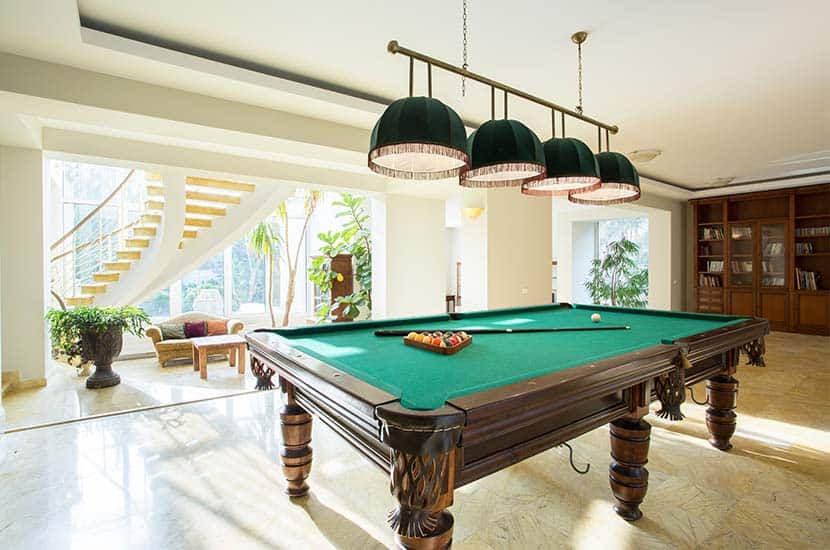 When assessing the materials the pool table light fixtures are made from, the key element to look for is durability. Many pool table lights are made from metal, which is great, but make sure it is treated for rust resistance or you may have issues. Glass is also popular and can potentially last you for many years provided it is treated gently. Some pool table lights incorporate wood into the design, which can also be long-lasting but requires polishing to keep it in shape.
While glass makes beautiful lamp shades, it can break if knocked with a cue stick. For that reason, it is best avoided if you like to have a few drinks while playing or if you play with kids.
Number Of Bulbs And Type Of Bulbs Needed
The best type of bulbs to use for a pool table are compact fluorescent light (CFL) light bulbs. These are great because they provide bright, long-lasting light and they are energy efficient. LED lights are also energy efficient, though not all fixtures are compatible with them. Incandescent light bulbs are cheap and readily available but don't last as long and can give off a lot of heat. Three lights are usually enough for most standard-sized pool tables but if yours is a 9 footer, you should probably go for a four or even a five-bulb option. Check the table below for more precise information.
Installation And Adjustability
An important factor to consider when choosing pool table lights is whether you are going to install the lights yourself or hire an electrician. In general, we recommend hiring a professional, as most pool table lights require knowledge of electrics to install. However, if you have some experience working with electric wires and want to install the lights yourself, make sure you choose lights that aren't too complicated to put together.
It is crucial to look for lights you can adjust based on the height of your ceiling and pool table. If they aren't adjustable, you might find the lights are too far away or too close to your table.
Size And Overall Dimensions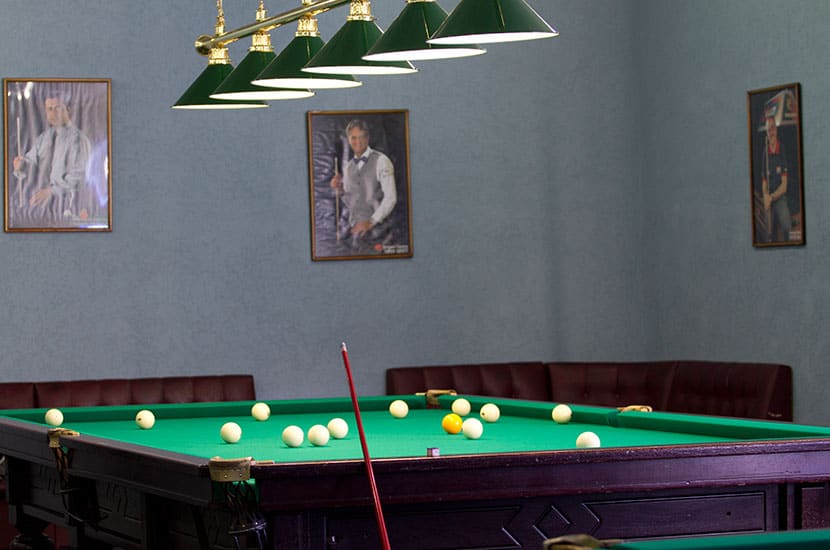 The ideal size for your pool table lights depends on the size of your pool table. Make sure to check the overall dimensions of any pool table lights you consider buying and assess them according to the size of your table, using the chart below. To learn how much room you need for a pool table, go here.
Pool Table Light Sizing Chart In Imperial Units
| Pool Table Size | Recommended Pool Table Light Size |
| --- | --- |
| 3.5' x 7' table | 3 lights or 35'' to 55'' in length |
| 4' x 8' table | 3 to 4 lights or 40'' to 60'' in length |
| 4.5' x 9' table | 4 to 5 lights or 60'' to 75'' in length |
| 5' x 10' snooker pool table | 4 to 5 lights or 65'' to 90'' in length |
| 6' x 12' snooker pool table | 5+ lights or 90'' to 110'' in length |
Pool Table Light Sizing Chart In Metric Units
| Pool Table Size | Recommended Pool Table Light Size |
| --- | --- |
| 1.1 x 2.1 m table | 3 lights or 88 to 139 cm in length |
| 1.2 x 2.4 m table | 3 to 4 lights or 101 to 152 cm in length |
| 1.3 x 2.7 m table | 4 to 5 lights or 152 to 190 cm in length |
| 1.5 x 3 m snooker pool table | 4 to 5 lights or 165 to 228 cm in length |
| 1.8 x 3.6 m snooker pool table | 5+ lights or 228 to 279 cm in length |
If you have a bumper pool table, your lighting needs will be somewhat different. Check out these bumper pool table reviews to learn more.
It is important to check the length of the chains that come with the billiard lights and whether or not they are adjustable. If you have high ceilings, you will need extra long chains so that the lights can get close enough to the table to provide comprehensive lighting. The optimal distance between table surface and pool table lights is 32" – 36" (81 – 91 cm).
If your pool table lights come with a warranty, it is an indication that the manufacturer has strict quality requirements and the lights will last a long time. It also means that if something does go wrong when it shouldn't, you can always contact the manufacturer to get it repaired or replaced.
Warranties are especially important with electrical equipment as there is a lot that can go wrong!
If you can find a product with a warranty that suits all your other criteria, you should buy it! However, just because a pool table light does not have a warranty, it doesn't mean it is poor quality. Always check the user reviews, preferably across multiple platforms, to see if the light holds up well with use. If you happen to need a new cue stick as well, check out these pool cue reviews.
Tips On Using And Installing Your Pool Table Lighting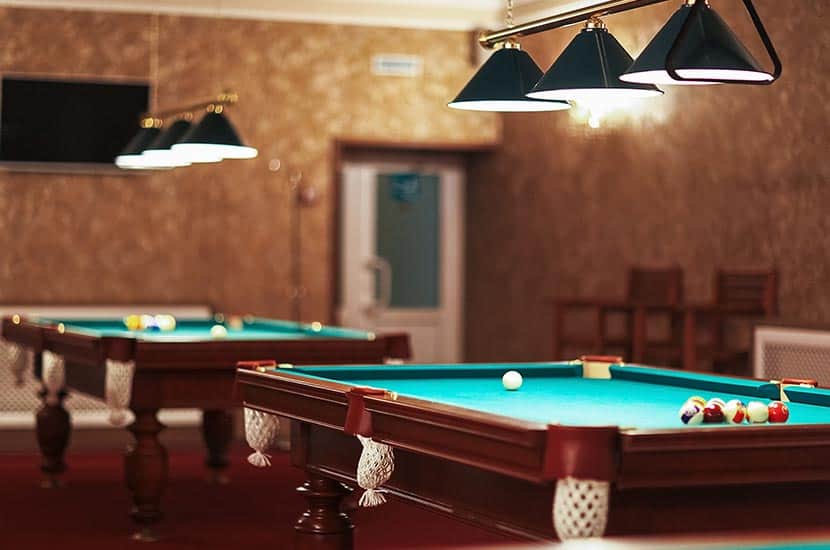 If you're installing your pool table lighting yourself, make sure to read these tips carefully:
Always think about installation in advance: check whether the lights require hard wiring and what type of ceilings and electrical boxes they are compatible with.
If you do not have experience fitting electrical goods, hire a professional to install the lights instead of attempting it yourself.
If your ceiling is sloped, choose an option that is adjustable to the slant of your ceiling. Another option is to get a ceiling adapter that can create a flat surface.
If you can, install the light before setting up your table, as this will make the process a lot easier. When you're ready, make sure you read up on how to level a pool table.
Check the distance from your pool table to the ceiling and try to set up the lights 32" – 36" (81 – 91 cm) from the table. If you don't have a table yet, install the light around 62" (157 cm) from the ground.
If your table is in place and difficult to move, cover it up before installing your lights to prevent damage to the felt. If it's already taken on some dirt, learn how to clean pool table felt here.
Frequently Asked Questions
To conclude, on our list of the best pool table lights, the top rated overall is Wellmet Hanging Pool Table Light Fixture due to its durability, great lighting, ease of installation and simple yet classy design. However, if you want something more affordable or you have a sloped ceiling, go for the beautifully rustic LALUZ 5-Light Island Lighting. Whatever you choose, I recommend installing a dimmer switch so you can control the lighting to perfect levels!