Tetherball doesn't have to be relegated to school playgrounds any more; learn about the best tetherball sets and get your own backyard game! It's a fun, outdoor activity that can be shared with family and friends. Better yet, it's easy to get started and it's easy for just about everyone to play.
This is a game that can be easily adapted for players of all ages, sizes and abilities. Take a look below to discover which is the best tetherball set to fit into your life and your lawn, and get ready to be the most popular house on the block!
1. Baden Champions Series Tetherball Game Set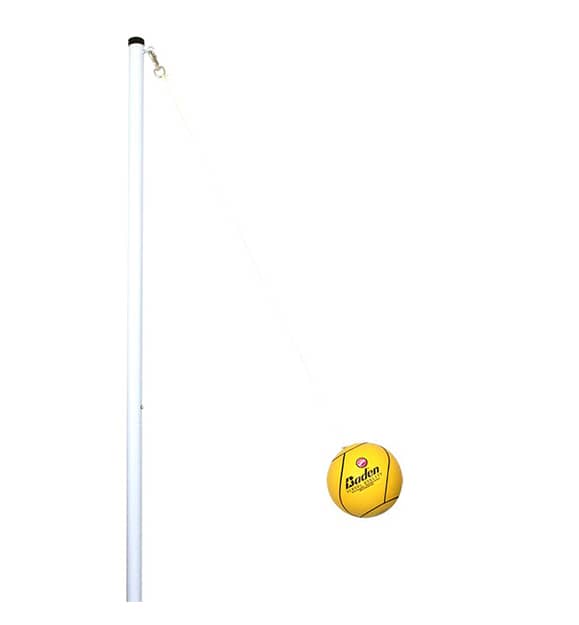 Editor's Choice #1: This Baden Champions Series tetherball set will take you back to your schoolyard days. It's made with old-school quality and durability just like it used to be. The pole is standard height and the entire set packs into a nice bag with zippers and handles so it's easy to transport and to store.
This Baden Champions Series Tetherball Set is labeled "school quality" and, indeed, it's going to be just like what you played with back in the day. It's also made to be sturdy to stand up to not-always-gentle schoolyard play so you know it will be a great choice for your backyard or elsewhere. The attractive white powder-coated pole and frame are made from metal that's been finished to be heat- and rust-resistant. It comes in three pieces so it's easy to set up. It's the standard 10 feet/120 inches tall so it's a great size for both kids and adults.
The game set comes complete with:
All the pieces of the pole (including a stainless steel eye bolt)
PVC sleeve
Heavy-duty braided nylon rope with a swivel hook
Yellow rubber ball
Ball pump
Carry/storage case with handles
Rule book/instruction manual
The needle of the air pump is stored inside the pump, which is a nice safety feature, and all the pieces fit inside the carry bag. The set weighs in at 17 pounds so it is easy to transport if you want to take your game on the road.
2. Lifetime Playground Portable Tetherball Set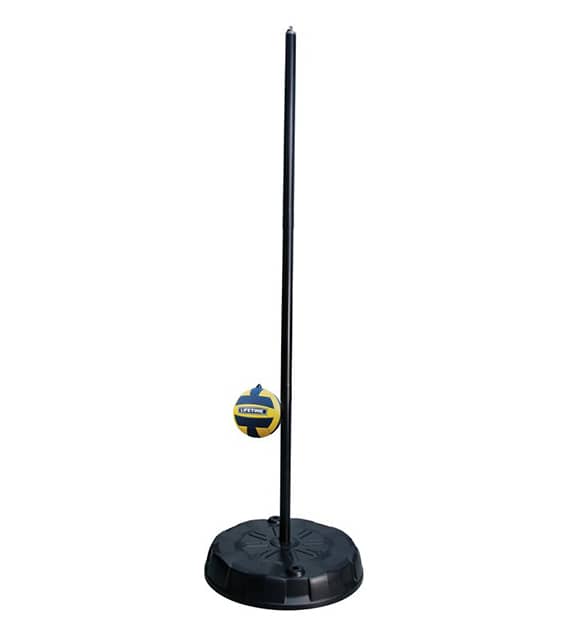 Editor's Choice #2: This Lifetime Playground Portable Tetherball Set is well designed and engineered so it can be as stable as a permanently-installed pole but easily portable when you want to share the fun with family and friends. The base can be weighted down to play or emptied to stash in the trunk.
This tetherball set is cleverly designed so that it will stay firmly in place if you want it to, or it can be portable and go on vacation with you. The 30-inch base can be filled with sand or water to keep it stable during vigorous play, but it can also be emptied for travel or storage. The entire set weighs under 25 pounds empty so it is easy to transport or store away. It's one of the best kinds of tetherball sets for both home and away games.
The outdoor tetherball pole is somewhat smaller than standard at 8 feet/96 inches tall but it is still quite suitable for children and most adults to enjoy. It is 2 inches in diameter, comes in three pieces and is manufactured from galvanized steel. The set comes complete with the base and pole, a yellow and blue patterned soft play ball, and a 6 foot/72 inch nylon cord with a swivel hook. The base is made from heavy-duty polyethylene that won't chip, crack or peel. You can enjoy it anywhere because the game set is resistant to mildew, weather, heat and UV rays.
3. Mookie 5-in-1 Multi Play Tetherball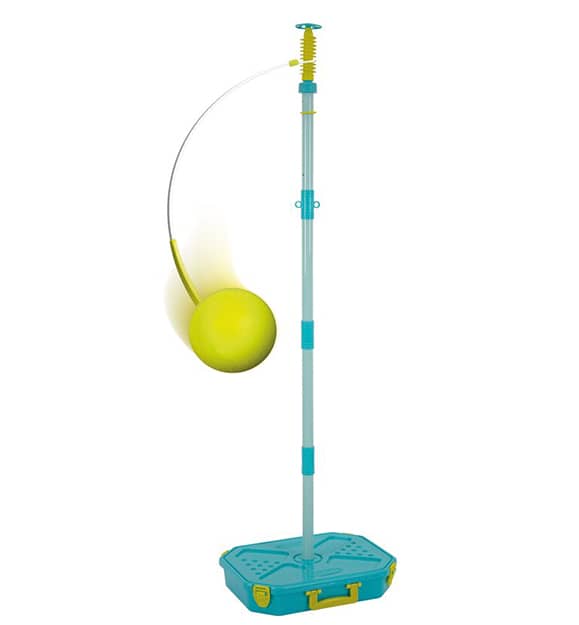 This is one of the most unique tetherball sets in our list. Not only can you enjoy a rousing game of tetherball (they call it "swingball") but the pole can also be configured for swingball soccer, paddle swingball and volleyball. The game set also includes a Frisbee-style fling disc for even more fun. You get the pole, net, paddles, balls and a user manual/instruction book. All pieces tuck away nicely in the carrying case so you can take this with you wherever you go. The case also doubles as a base for the tetherball pole so it will be sturdy on any surface.
This set promises and delivers big-time fun, but it's not a very big set. The pole is 5 feet/60 inches tall and the balls and paddles are scaled accordingly. It's also made of relatively lightweight plastic, which is great when you want to pack and carry it (the total weight is five pounds), but it also means that it doesn't stand up well to vigorous adult play. It's a great set to buy for the kids or grandkids, but it's probably not well suited to tailgates or other adult gatherings.
4. Park & Sun Deluxe Tetherball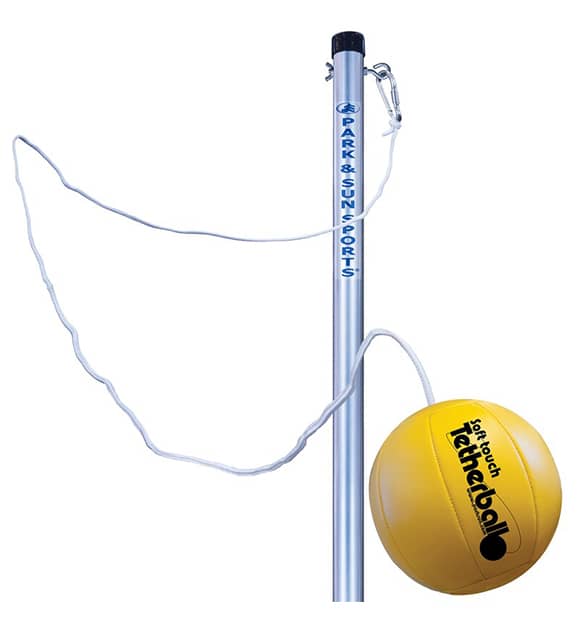 This sturdy Park Sun Sports tetherball set is made to stand up to school playground use, so you know that it's durable enough for wherever you choose to install it. The standard-size (10 feet/120 inches) pole comes in two pieces and includes a 12-inch PVC sleeve. It should be cemented in place for stability, so this is not intended to be a portable tetherball set. The yellow tether ball is also standard size and features a soft-touch surface, which feels softer the more you hit the ball. You'll also get a rope with a carabiner that clips onto the eye hook of the pole, a hand pump and a rulebook/instruction manual.
The pole is standard height so it is ideal for players of all ages and sizes. The bright yellow ball boasts an imprinted logo and is easy to see wherever you are playing. Once the galvanized steel pole is properly erected, it will stay in place no matter how hard you smack the ball. This outdoor tetherball set will provide hours of fun for you, your family and your friends. You just may be the most popular house on the block! It's a great choice for anyone who wants to get out and play.
5. Hathaway Games Weather-Resistant Tetherball Set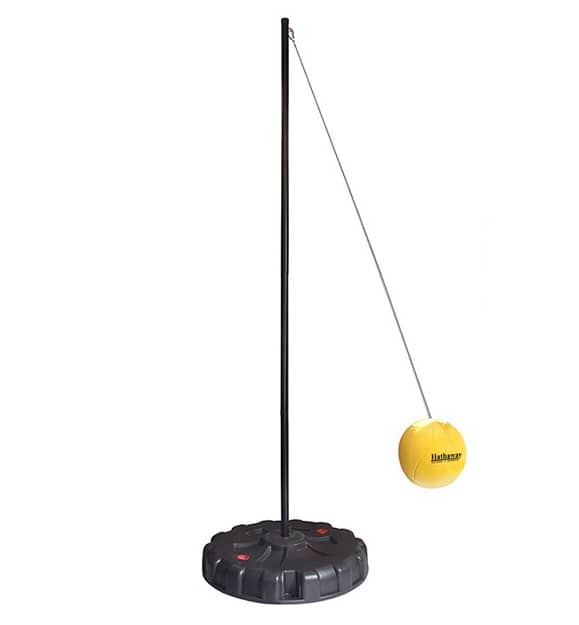 This heavy-duty set features a tetherball pole with a stable base that you can fill with sand or water for weight. It also comes with four ground stakes to provide additional stability. The pole collapses and can be stored in the bottom of the base. This thoughtful design means that you can have a sturdy, secure pole in your yard or anywhere else you want it, but you can also empty the base and take your game on the road, to the beach or to a tailgate picnic. It's a great choice for any family that wants a tetherball set in their yard but also wants to be able to travel easily with it.
When completely set up, the pole is 9 feet/108 inches tall, which is somewhat smaller than the standard size but still plenty tall enough for most kids and adults.
The set comes with:
Base
Ground stakes
Easy-to-assemble pole parts
Heavy-duty rope
Soft-sided yellow ball
Ball pump with needle
The whole setup is weather-, heat- and UV-resistant so it's great for outdoor play anywhere you want it.
6. Franklin Sports Recreational 6 Piece Tetherball Set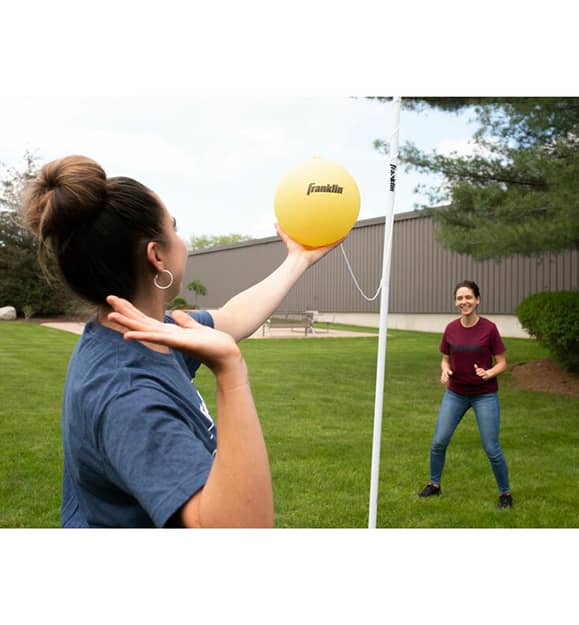 This is part of Franklin Sports' recreational collection and is designed to be a great set for friends, family and fun. The metal pole sets up quickly and easily; you can also take it down with ease so that you can take it with you to a campsite, the beach, a picnic at the park or anywhere else you want. The white metal pole is easy to see even in shaded or low-light conditions and the baked-on enamel finish wipes clean easily. This is a low-maintenance, low-price, high-fun game set that will be a great addition to your collection of games and gear.
This outdoor tetherball pole is somewhat smaller than standard at 8 feet/96 inches tall; still tall enough for most adults to play with, but easier for younger or smaller players to manage. It is 1.25 inches in diameter and comes in three pieces. The bottom piece is ridged so that it grips the ground better. The tetherball itself is standard size. You also get a sturdy braided cotton rope and a ball pump with needle. This recreational-quality tether ball set with a three-piece pole is a great way to get started with this great game.
Things To Consider When Choosing Your Tetherball Set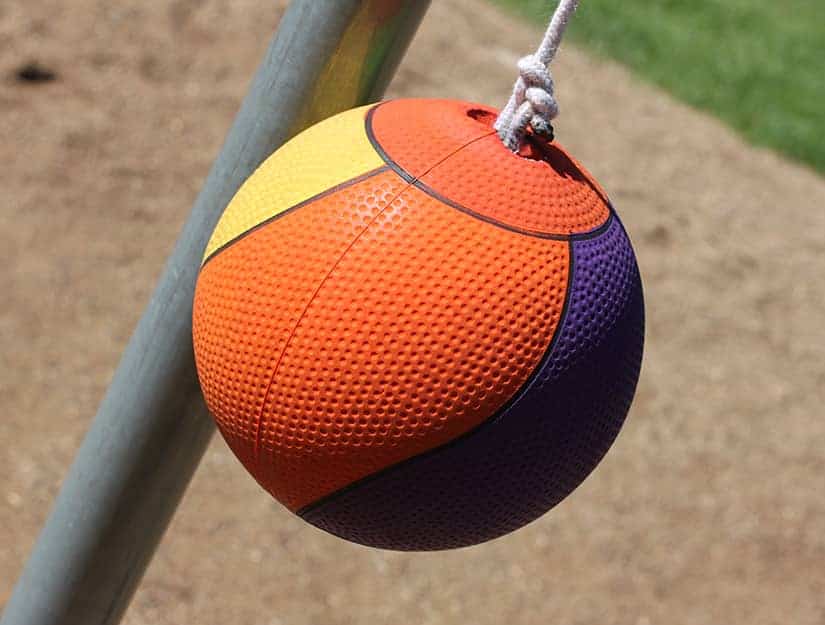 Tetherball is a super fun game for people of all ages, stages and abilities, however in order to ensure that you get the best tetherball set for you, you'll want to shop carefully. The best tetherball sets include:
A tetherball set is super easy to put up. For a standard-sized tetherball set, you'll need a round court 20 feet in diameter. Erect the pole in the center of the court and make sure that it is stable. Attach the rope to the top of the pole and make sure that it is secure.
Draw an "X" through the center of the court, dividing it into four sections. Playing zones are opposite each other, separated by neutral zones. Each zone should measure 17 feet and 4 inches across at the widest point. You can mark the boundaries of the zones with lines, tape or any other system you choose.
The objective in tetherball is to wrap the ball completely around the pole. The player who succeeds in doing so (the one who touched the ball last before the game was complete) wins the game. There is no set amount of games that make up a tetherball match — that is something that the players decide in advance.
Each player needs to stay completely in their zone. Players take turns serving. The ball can be served in either direction, and once it has been served, the server can not touch the ball again until either their opponent touches the ball or the ball wraps around the pole four times. Players are only allowed to hit the ball once per wrap around the pole.
If a player touches the rope or the pole, "carries" the ball in their hands, touches the ball with any part of the body other than hands or forearms or steps out of their zone, that is a foul and the opponent serves the ball back into play at the position of the foul.
Another similar game is Swing Ball, which uses a smaller ball hung on the rope and players use rackets to hit the ball. This is a great way of practicing games like Pickleball.
Frequently Asked Questions
Tetherball is a great way to get outside and play sun sports with your family and friends. It's easy to set up, easy to learn and is not a contact sport. We think that the best tetherball sets are the Baden Champions Series Tetherball Set and the Lifetime Playground Portable Tetherball Set, but we know that you'll have fun with any of the tetherball sets listed above.