If you have the space for it, a new trampoline is a super awesome addition to your backyard. It can provide hours of fun, and is great exercise too! But it can be tricky to know which is the best trampoline for you, as there are a lot of variables to consider. Check out our buyer's guide below to figure out what your priorities are in a trampoline, then look at the list we have compiled of the 8 best trampolines currently available to find the best trampoline for you. After careful research, we have picked out the best backyard trampolines and listed the others in order of how good we think they are. But any one of these trampolines is a fantastic choice, and will give you and your kids an excuse to spend time outdoors for many years to come!
1. Skywalker 9ft X 15ft Rectangle Trampoline With Enclosure And Blue Safety Pad
Editor's Choice #1: We think the best backyard trampoline is the Skywalker 9ft x 15ft rectangle trampoline. This huge trampoline exceeds expectations – it allows you to bounce high with no slippage, it is very sturdy and durable and, most importantly, it is optimized for safety in every way. This trampoline is perfect for daring gymnast kids, but still allows parents peace of mind if you're looking for the safest trampoline.
This Skywalker model is a large, rectangular trampoline that is ideal if you want to bounce high or have space to jump with friends. As well as being UV-protected, the jump mat is woven in a way that prevents slipping. The slightly rounded base increases stability so that you do not have to worry about tipping. With a single user weight limit of 250lbs (115kg), this trampoline is ideal for gymnasts and skilled jumpers.
Skywalker trampolines are known for their quality, and this one is no exception. The trampoline frame is made from galvanized steel and all materials are weather-resistant. On top of that, the enclosure frame interlocks with the trampoline frame using reinforced T-sockets. These enhance stability and prevent any twisting. With a frame warranty of 3 years, you will be enjoying this trampoline for a long time to come. The springs are a bit squeaky, but this will be drowned out by the kids' laughter!
The safety net of this trampoline interlocks with the jump mat itself, inside the springs. There are no ropes or gaps for kids to pinch themselves in, and the springs are completely out of harm's way. But the spring pad is still extra thick just in case. Even the enclosure poles are covered in soft foam padding to prevent bruises. Everything has been thought of to make this trampoline as safe as possible and the best backyard trampoline for the little ones!
2. Jumpking 10ft X 15ft Rectangular Trampoline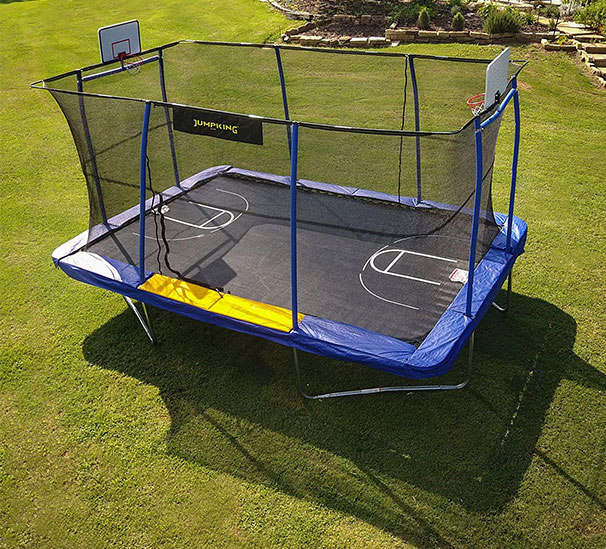 Editor's Choice #2: This Jumpking rectangular trampoline is similar to the Skywalker above in that it is durable, optimized for safety and super bouncy. An added unique feature is its basketball hoop attachment, which makes jump time that much more fun! Its quality does not quite match the Skywalker's, but it is still one of the best trampolines out there.
If you are a serious jumper who wants the space and bounce to do flips and tricks, this trampoline could be the one for you. At 10 x 15 feet (3 x 4.5m), it has loads of room for uninhibited bouncing. The springs are designed to provide a high but soft bounce. The rectangular shape also makes it feel spacious and allows for more vigorous jumping. This trampoline is perfect for aspiring gymnasts!
This Jumpking trampoline features a rust-resistant galvanized steel frame and springs, and a safety enclosure net of heavy-duty, UV-resistant polyethylene. Due to its quality construction, it should stay sturdy for many years to come. The safety net is very tough and tear-resistant due to the horizontal seam above the zipper. The spring pad is also oversized for enhanced safety. So while gymnasts and experienced jumpers will love this trampoline, it is still safe for beginners.
What makes this trampoline stand out from the others is its basketball hoop attachment and inflatable basketball. This adds an extra layer of competitive fun to the bouncing experience, and is easy to set up. The jumping mat even has a court painted on so it feels like the real deal! Kids will love shooting some hoops while getting their bounce on. Plus, because of the size, shape and weight limit of this trampoline, it can handle a few jumpers at a time. Just remember to be extra careful when bouncing with others!
3. Skywalker 12ft Round Trampoline With Safety Enclosure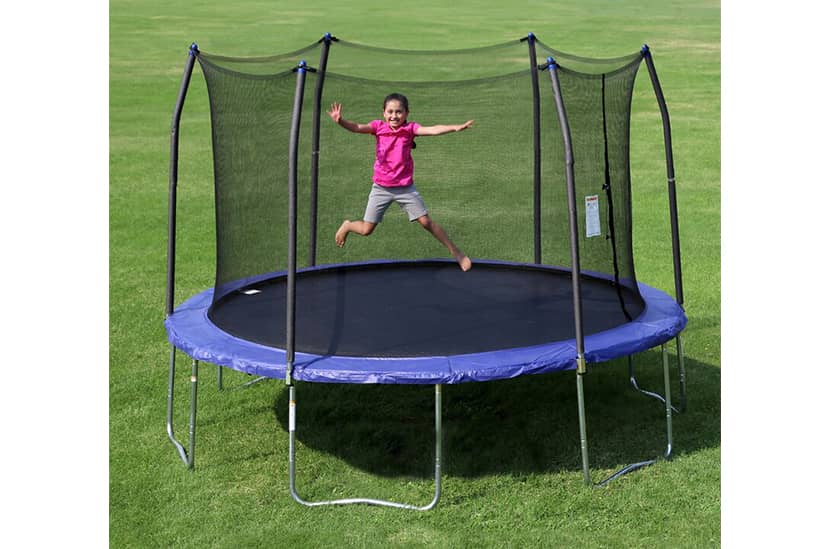 Like most Skywalker trampolines, this 12 foot round trampoline is high quality yet affordable. It has a single user weight limit of 200 lbs (90kg), but it can handle a few jumpers at a time. Its 72 springs provide a light and bouncy jump, but the round shape directs jumpers to the center, making it safer for young kids to use. Plus, Skywalker trampolines all have a tightly woven mat for an extra crisp bounce.
Skywalker trampolines are built to be sturdy and stable. This one has W-shaped legs for added stability, and an enclosure net frame that connects to the trampoline frame using T-sockets to prevent twisting. You can jump on this trampoline to your heart's content without worrying about tipping or twisting! The frame is made from rust-resistant galvanized steel and all materials are UV-protected. The only drawback is the enclosure net, which has been reported to deteriorate over a few months.
All the safety features of Skywalker trampolines are on display here. The safety net enclosure is held up by 6 padded poles and connects directly to the jumping mat, inside the springs. This eliminates pinch points and prevents nasty accidents. But there is still an extra-wide, UV-protected spring pad for peace of mind. One last thing we love about this trampoline is how easy it is to assemble – it can be done by one competent person and shouldn't take much more than an hour.
4. SpringfreeTrampoline 13ft Oval Backyard Trampoline With Safety Enclosure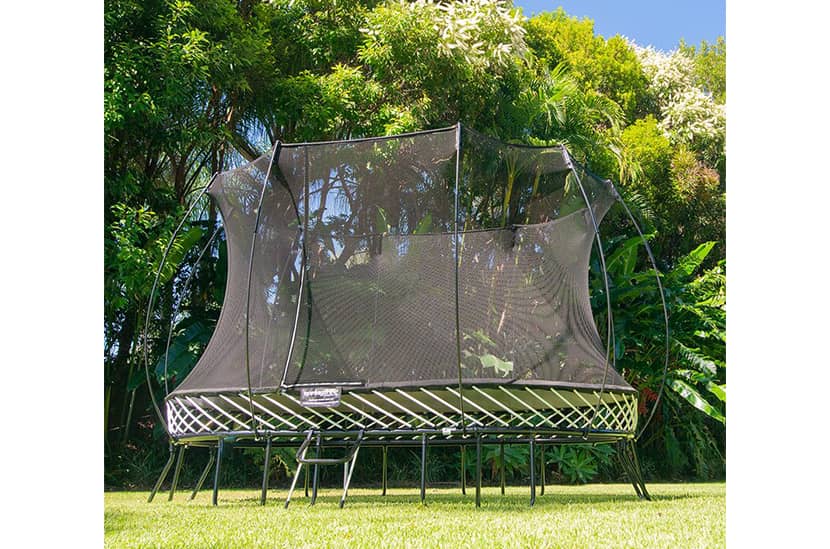 If you are looking for trampoline safety, you can't go wrong here! Springfree trampolines are possibly the safest trampolines that money can buy. The bounce is created by flexible composite rods instead of springs, so there is no danger of pinching. It also has the benefit of increasing the jumping surface area. Plus, there are no hard edges – even the net enclosure frame is designed so that the poles curve away from the trampoline.
This oval Springfree trampoline offers the biggest bouncing area of all Springfree trampolines. It has a total weight limit of 1100lbs (500kg), so can take several bouncers at once. However, please note that it is essential to exercise caution when there are multiple jumpers! This trampoline also offers fantastic bounce – because it uses rods instead of springs, you can bounce higher without experiencing any joint strain. The setup instructions are a bit confusing, but this is a small price to pay for such a great trampoline.
Although this trampoline is on the costly side, you get what you pay for – it comes with a whopping 10 year limited warranty. This unfortunately does not cover wear and tear, but only manufacturing issues. Nevertheless, its frame is made of galvanized steel, and the flexible rods are made of composite fiberglass – so no rusting here!
5. SpringfreeTrampoline 13ft Square Backyard Trampoline With Safety Enclosure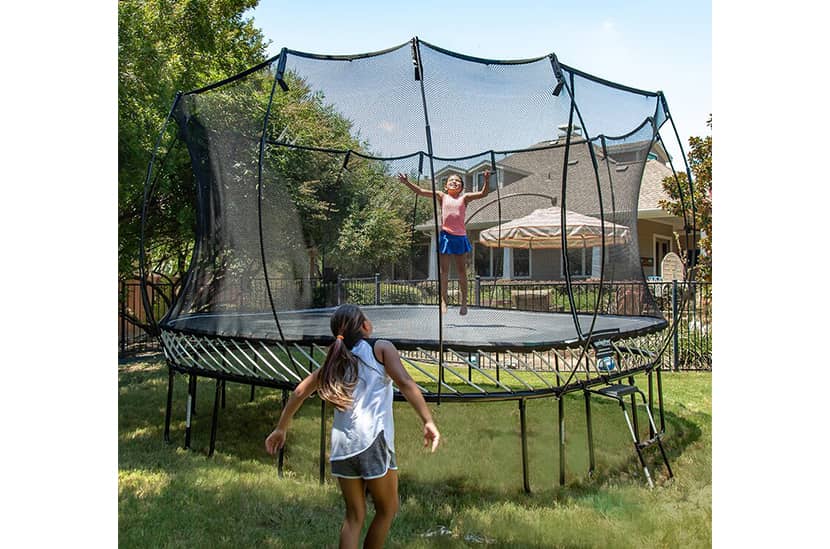 This Springfree model is very similar to the oval version above, except that it is a square trampoline. It also has no springs or hard edges, with all the safety benefits this brings – no bruises, pinched toes or feet caught in holes. Like the oval version, children from 3 years and up can use this trampoline. The large size also means it can accommodate multiple jumpers, but remember that most trampoline accidents come from other jumpers, so exercise caution!
Like the Springfree oval trampoline, the flexible rods allow you to bounce high on this trampoline, but are low-impact. This makes it a perfect choice if you have kids of different ages – older and more experienced jumpers will not be disappointed, but it is still safe for the little ones. Even Grandma can join in because it is gentle on the joints! The durability and stability of this trampoline is also just as good as the oval version.
The one big difference between this trampoline and the one described above is the shape. To be honest, we recommend the oval trampoline above this one, as it offers a greater jumping surface area and there is not much difference in the bouncing experience. However, if a square trampoline fits better into your backyard, this one may be the best outdoor trampoline for you – but either of these outdoor trampolines would be a great addition to your yard!
6. JumpSport AlleyOOP 14ft Trampoline With Enclosure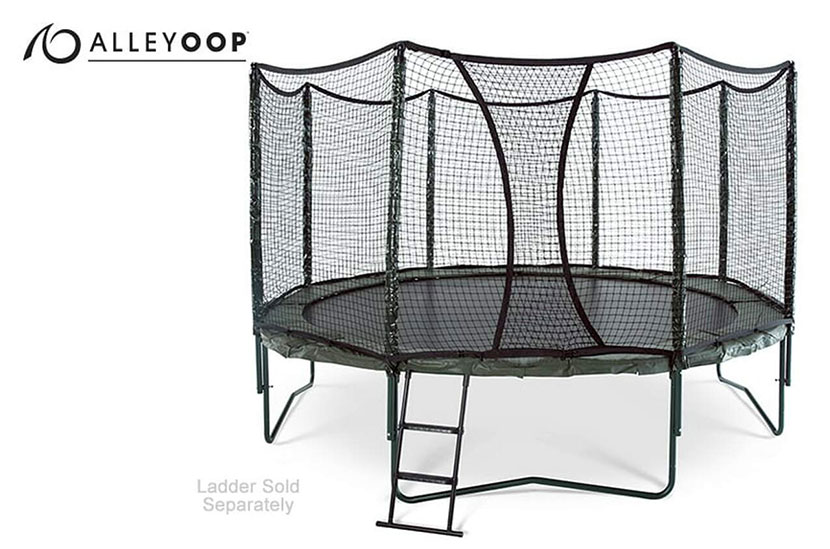 This JumpSport trampoline is built with high quality materials, with a galvanized, powder-coated steel frame and additional supportive elements. So as well as lasting for a long time, you can be sure there will be no tipping from this super stable trampoline. The jumping mat is also very high quality and resistant to UV. This trampoline will withstand all kinds of weather and vigorous jumping!
You will love the soft, high bounce this trampoline offers. The springs themselves are made of high carbon, steel piano wire. This, as well as the tapered design, allows them to stretch further than most trampolines, giving you a higher bounce. JumpSport trampolines also feature something called VariableBounce technology, which consists of alternating V-ring lengths allowing the springs to engage at different stages. This allows better shock-absorption and a cleaner bounce.
This JumpSport trampoline offers a unique solution to tired kids getting bumped by overenthusiastic jumpers: padded rest zones outside of the jump mat but inside the net enclosure. This gives kids a space to recoup without having to leave the trampoline. A super thick spring pad and high impact netting also enhances safety. However, there are some minor safety issues with this trampoline. The first is that it is tricky to set up the safety net in a way that no gaps form between the net and the trampoline surface. Also, the zip-free doorway is not ideal as it sometimes ends up hanging open.
7. Little Tikes 84in Octagon Backyard Trampoline With Safety Enclosure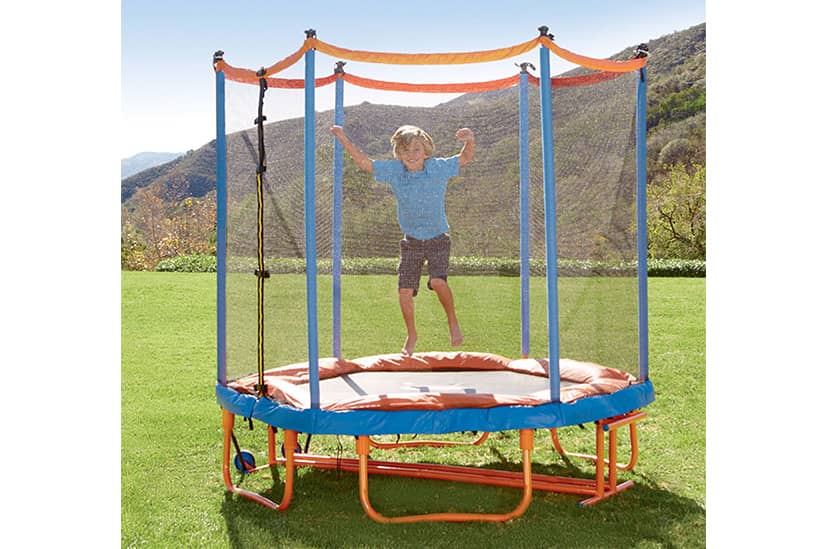 If you want a smaller trampoline for young kids that is still an outdoor trampoline with decent jumping space, this is the one for you! At 7 foot (2.1m) in diameter, it is spacious enough for little ones to bounce freely while still being safe and compact. If you are worried about durability, rest assured – the frame is made from rust-resistant steel and the jumping mat is UV-resistant. Some kids' trampolines are made of plastic and not built to last, so this one is definitely a step up.
Another great thing about this trampoline is how easy it is to move. It folds in half easily, and is equipped with wheels at the base that makes it super simple for one adult to transport. This is great if your yard is on the small side and you want to keep the trampoline in storage when it isn't being used. The set up instructions are a little confusing though, so make sure you approach this with a clear head.
Because it is for young children, this backyard trampoline is optimized for safety. The safety mat that covers the springs is extra thick and wide, and the poles that hold up the trampoline net are padded. There are no hard edges or pinch points on this trampoline, and its low height of 6.6 inches (17cm) makes it extra safe and accessible for kids from the age of 3. Plus, kids will love the bright orange and blue colors!
8. AirZone Play Backyard Jump 12ft Round Trampoline With Safety Enclosure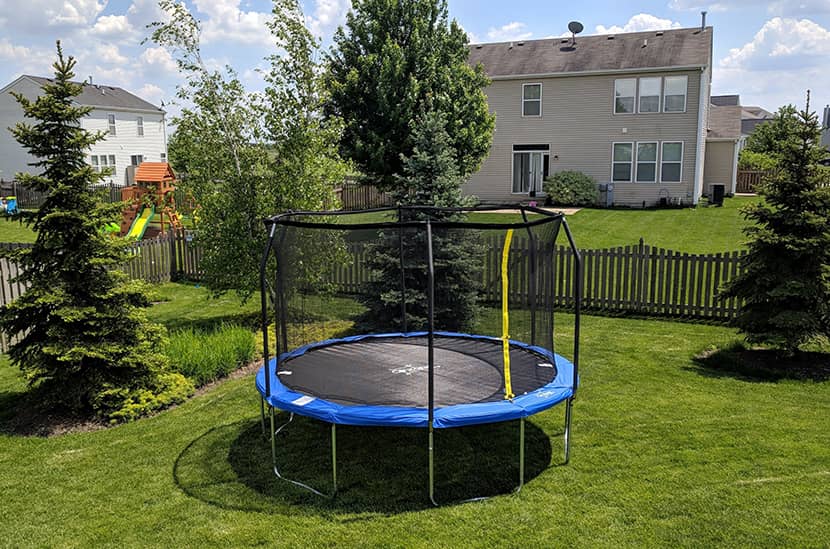 If you are looking for a more affordable trampoline, this AirZone 12 foot round trampoline is a good choice. Despite its low price, it is well made from good quality materials. It has a rust-resistant, high-gauge steel frame, and UV-resistant bounce mat and spring cover. However, some customers do report jump mat deterioration after a lot of sun exposure. On the plus side, the frame is super sturdy due to its W-shaped legs.
A lot of thought has gone into making this trampoline super safe and injury free. The safety net poles are positioned away from the net so jumpers won't risk bumping into them. The net is good quality and its zipper is reinforced with buckles, so there is no danger of little ones falling through. Plus, if safety is a major concern for you, a round model is a good option. The trampoline can accommodate a few bouncers at once, but note that its single user weight limit is 200lbs (90kg).
One thing reviewers consistently love about this trampoline is how easy it is to set up. No extra tools are required, and an easy to follow instructional video is included. It should be up and ready for bouncing in one to two hours. This trampoline is best if you want a safe, decent recreational trampoline for family fun, but do not want to spend a fortune.
From weight limits to trampoline frames, we cover the things you need to know to find the best backyard trampoline for you.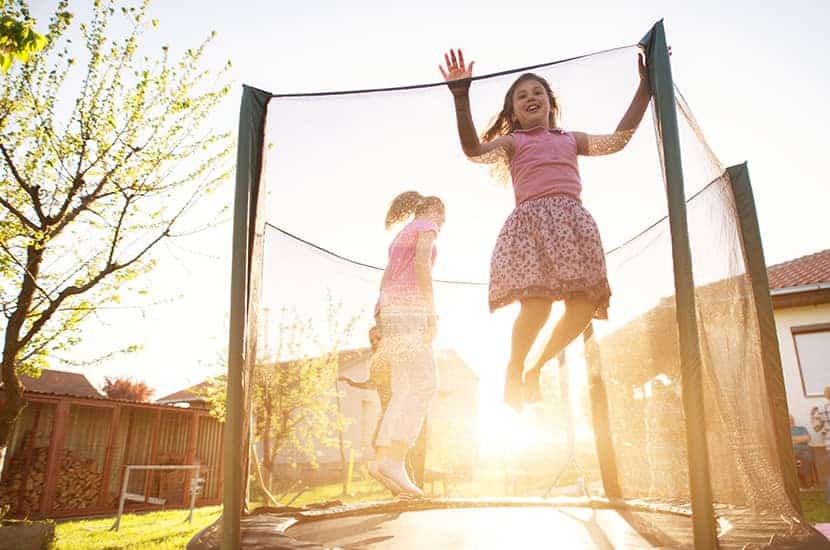 Things To Consider When Choosing The Right Trampoline For You
There are so many fun trampolines out there, so it can be tempting to just pick a trampoline based on what it looks like. But there are a few important things to think about when choosing your trampoline.
Backyard trampolines come in a wide range of sizes, from approximately 6-17 feet (1.8-5.2m) in diameter. Big trampolines are wonderful, but you need to make sure there is enough space in your yard. For the safest trampoline fun, you should have 5-10 feet (1.5-3m) of clearance on all sides of the trampoline.
Who will actually be jumping on the trampoline should play a big role in your decision. For example, if it is primarily for younger kids, safety will be a bigger concern. However, if multiple kids or adults are going to use it, the trampoline's weight limit is a crucial question. Also, remember that kids grow, so think about how long your kids will be able to enjoy a particular trampoline for. It might be best to go for a middle ground where the trampoline is safe enough for your kids to jump on now, but also provides some wiggle room for future growth spurts and a taste for more adventure.
Most of these are safety features to give you peace of mind while your kids are bouncing away – the best trampolines will have these options.
Safety net: This is a highly important The trampoline safety net usually comes with the trampoline, but you can buy one separately. Make sure the net is a good one that will actually prevent falls. It should be securely attached to sturdy poles with no gaps.
Ladder: You may need a ladder for small children to get onto the trampoline. Trampoline accessories like these are usually bought separately.
Safety mat: To cover the trampoline springs. This is absolutely necessary to avoid painful accidents, so make sure you get one if your trampoline doesn't come with it.
Anchor system: This is necessary if you live in a very windy area or have opted for a lightweight trampoline.
What Shape Trampoline Should I Get?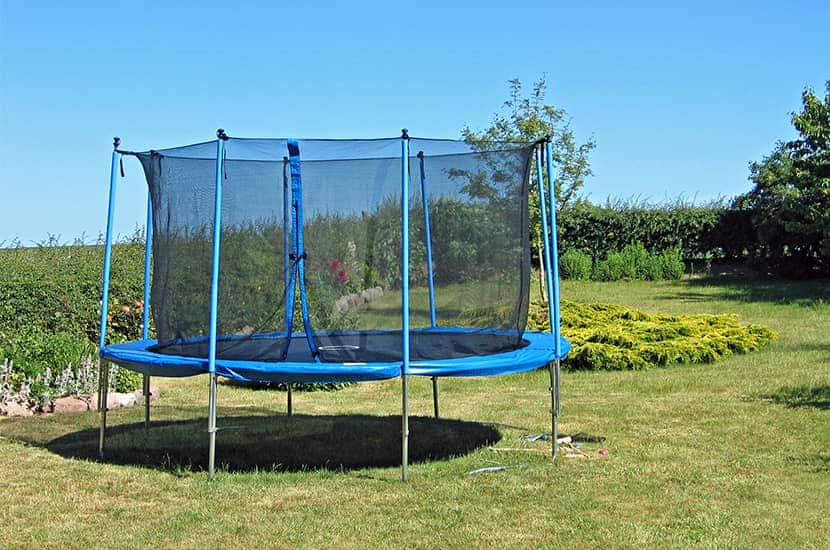 Did you know that the shape of a trampoline has a huge effect on the bouncing experience? Read on to find out which shape is best for you.
Round: Probably the most common type, round trampolines are also the safest for single users. They tend to have less bounce, and they direct movement to the center of the trampoline, so they are good for kids. However, this can be a hazard if you want the trampoline to accommodate multiple jumpers so it may not be the safest trampoline if you expect there to be several bouncers at once.
Rectangular: Rectangular trampolines are a great option, as they provide a lot of bounce but also good shock absorption. Plus, they allow a stable liftoff and landing no matter where on the trampoline you are jumping. This also means they work better if more than one person is jumping at a time.
Square: Square trampolines aren't all that common, but they have some of the benefits of round and rectangular trampolines. They direct the jumper towards the center, which enhances safety for a single user. However, they also have the higher bounce of rectangular trampolines.
Oval: These also aren't very common, but they have the advantage of providing a larger jumping surface than round trampolines. Instead of directing all jumpers to the middle, they direct each jumper to the center of one side, minimizing the risk of bumping into each other.
Spring trampolines are the traditional way of creating bounce, and are still the most common. However, the springs can cause nasty accidents, if fingers and toes get caught in the gaps between them. Fortunately, if you keep them covered with a safety mat, they should be out of harm's way. Still, springfree trampolines are safer, and they also usually provide more bounce and last longer! Springs can rust and get creaky after prolonged exposure to the elements, but springfree trampolines will stay in tip-top shape for much longer.
A springfree trampoline is usually a lot more pricey than one with springs. Think about your priorities, and whether a springless trampoline is within your budget.
We have already talked about the importance of safety features, so this section is more about how to use your trampoline safely. Make sure to follow these safety tips to avoid injury and tears.
Make sure all components are securely attached and the trampoline is secure to the ground. Also make sure there is nothing electrical on or near the trampoline.
Check that the space around the trampoline is free from impediments, and there is no debris on or around the trampoline.
Lastly, make sure there is nothing above the trampoline that could cause injuries, such as tree branches or fences.
Do not wear jewelry while using the trampoline, or clothing with loops, hooks or drawstrings.
Do not hold any hard, sharp or heavy objects while jumping.
Do not use the trampoline while under the influence of drugs or alcohol.
Only enter and exit the trampoline through the designated opening.
Do not crawl under, kick, climb or hang from the safety enclosure net.
Do not attempt somersaults or advanced tricks unless you are very experienced.
Do not use the trampoline during rainy or windy weather, or if the mat is wet.
Always supervise children when they are on the trampoline. Check the manufacturer's guide for age limits.
Be very cautious about allowing more than one person to jump at the same time.
In addition to the above, make sure you follow any safety guidelines in the manufacturer's instructions and carry out any essential trampoline maintenance.
Frequently Asked Questions
After considering several factors, we think the best trampoline overall is the Skywalker 9ft x 15ft rectangle trampoline. This trampoline is sturdy, safe, and durable, with a generous jumping area and great bounce. The Jumpking 10ft x 15ft trampoline is also a great option, and the Springfree trampolines are wonderful if you don't mind splurging for the extra benefits. Whichever trampoline you choose, we are sure it will provide endless hours of healthy fun. You'll wonder why you didn't get a trampoline sooner!