Are you in search of the best arcade game to fill the empty space in your rec room? We've got the solution for your man cave with our list of the best home arcade machines, guaranteed to make your setup the best arcade on the block!
Whether you prefer newer games or more classic ones, there are seven different options below to check out. From classic cabinets to cocktail arcade machines, games like Star Wars, Space Invaders and Pac-Man all have great features you're sure to love. Kids and adults alike will be fans of these games, which look like they came straight out of arcades from days gone by.
Arcade1Up Star Wars Home Arcade Machine, 3 Games in 1, 4 Foot Cabinet with 1 Foot Riser
Read Full Review
Arcade1Up Teenage Mutant Ninja Turtles Tmnt Home Arcade Machine, 2 Games In 1, 4 Foot Cabinet with 1 Foot Riser – Electronic Games
Read Full Review
Cocktail Arcade Machine Two Players 22-INCH Screen 135 LBS Special-Edition with 60 Classic Games
Read Full Review
1. Arcade1Up Star Wars Home Arcade Machine, 3 Games in 1, 4 Foot Cabinet with 1 Foot Riser-Best Overall Arcade Machine
Editor's Choice #1: This three-in-one classic game is sure to bring plenty of nostalgia and fun to your man cave or game room! Enjoy all of your favorite Star Wars video games from back in the day. This arcade cabinet is complete with the game's original artwork and an eye-catching light-up marquee. The included clear deck protector is great for maintaining the quality of your machine.
You're in for hours upon hours of fun with these three Star Wars games! This system from Arcade1Up features the classic Star Wars game, along with Star Wars: The Empire Strikes Back and Star Wars: Return of the Jedi. In these arcade classics, you'll get the chance to battle Imperial forces and defend the rebellion. This Star Wars arcade cabinet has a large, full-color LCD display that measures 17 inches. The machine's dual speakers are complete with volume control, so you won't have to deal with a game that's extremely loud or way too quiet. There's also a flight yoke with four buttons to control the game.
2. Arcade 1Up Space Invaders Arcade-Best Budget-Friendly Arcade Machine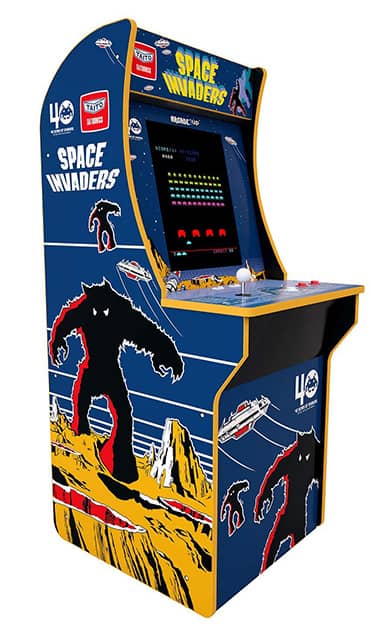 Editor's Choice #2: This Arcade1Up game is the first-ever consumer model featuring the original Space Invaders game. This system makes a great budget-conscious option for those who aren't quite ready to drop several hundred dollars on a new gaming cabinet. You'll love the authentic gaming experience and quality of this machine.
This game is smaller than the original at 45.8 inches, or just under four feet tall. It's also much more lightweight, weighing in at only 58.5 pounds. This makes it much more convenient than most of the games on this list when it comes to getting it moved into your house. But aside from its size, everything else about this game is just the way you remember it from years gone by! This old school game machine has the original Space Invaders artwork featured all over the cabinet, and the included black and white game is identical to the classic arcade version.
3. Arcade1Up Marvel Super Heroes At-Home Arcade Machine-Best for Marvel Enthusiasts
Are you a Marvel fan? Then you'll absolutely love this next gaming system from Arcade1Up. With multiple games featuring your favorite Marvel characters and iconic original artwork, this machine is certainly one of the best. And at a little less than four feet tall, this model is easier to fit into your man cave or rec room than larger full-size cabinet models.
The game list for this machine includes Marvel Super Heroes, X Men: Children of the Atom and The Punisher. These games involve tons of jumping, blocking, punching and kicking for a mix of combat, strategy and skill. Lose track of the hours while you put together endless combos to win infinity gems. You'll love the experience that this Marvel multi game arcade machine provides! The 17-inch full-color display, paired with dual speakers, adjustable volume and an onscreen game selection menu, makes this cabinet one of the best on our list.
4. Arcade1Up Teenage Mutant Ninja Turtles Tmnt Home Arcade Machine, 2 Games In 1, 4 Foot Cabinet with 1 Foot Riser-Electronic Games-Best For Playing With Friends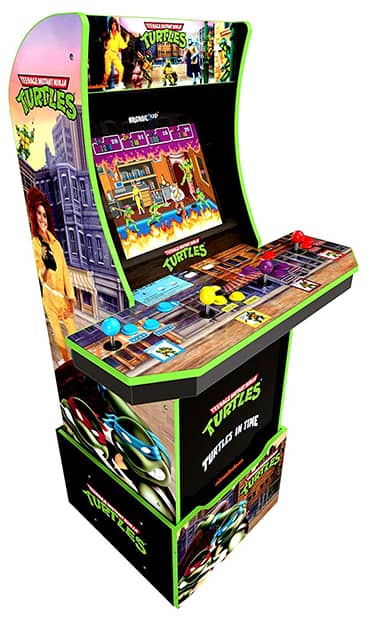 Looking for a game that lets multiple friends join in the fun? This model from Arcade1Up allows you to play with one, two, three, or all four players! Konami's Teenage Mutant Ninja Turtle fans will be excited about this machine's game list, which features two different games starring Leonardo, Raphael, Donatello and Michelangelo.
Choose between Teenage Mutant Ninja Turtles and TMNT: Turtles in Time. The light-up marquee and cabinet covered with the original artwork really add to the gaming experience. Each of the four sets of highly responsive controls includes a joystick and two arcade buttons. Plus, the matching riser is perfect if you want the machine to be closer to full-size.
5. Ms. Pacman Upright Arcade Game with Riser-Best Classic Game System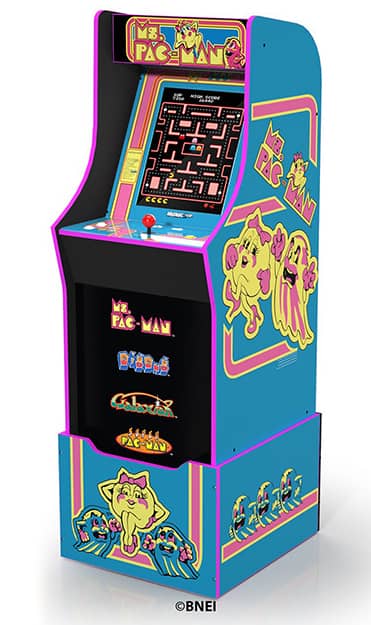 Are you a huge fan of the classics? Looking to relive your glory days with some games from the past? This Ms. Pac-Man game will make a brilliant addition to your game room or man cave. Featuring an impressive light-up marquee, an included riser, and four different games, it's easy to see why this product is one of the best games available for residential use.
From the 17-inch color LCD screen to the two-player game setup, everything about this game screams classic arcade. This quality machine is built with a durable, made-to-last wood construction. The bright blue, pink, and yellow graphics only add to the fun, and the trackball makes play easy and entertaining. This model also features an on-screen game selection menu.
6. Arcade1UP Countercade18 (Pac-Man)-Best Mini Arcade Cabinet
Perhaps you're not interested in assembling and moving a full-size gaming cabinet into your home, or maybe you just don't have the extra space in your man cave for another large game. Well, the Arcade1Up Countercade18 Pac-Man cabinet is your solution. It has all the features of the larger arcade game machines–it's simply a much more compact and lightweight model!
While this video game isn't exactly like the original Pac-Man, it comes very close. Play both Pac-Man and Pac-Man Plus while enjoying the easy-to-use controls, which are heavily influenced by authentic arcade controls. The artwork on the machine is based on the original Pac-Man artwork design as well. Tabletop units like this one are great if you're short on space and want to maximize the area you have available. And since this table weighs in at a low 14.97 pounds, it's extremely easy to move, store and transport as needed.
7. Cocktail Arcade Machine Two Players 22-INCH Screen 135 LBS Special-Edition with 60 Classic Games-Best Cocktail Arcade Machine
If variety is what you're looking for, you'll truly enjoy this Cocktail Arcade Machine from RetroTVGames. This cocktail table has the largest video game selection of all the products on this list, with an amazing 60 bonus games to choose from! There's something for all ages, and it's always a good time to sit on chrome stools in arcades and compete against friends and family. This model is sure to be a huge hit!
Cocktail Style Arcade Machine
The cocktail table style of arcade machines originated back in the 1980s. It allowed players to take a comfortable seat while playing, and the screen was located in the middle of the table, facing upwards towards the players. This fun layout is perfect for playing by yourself or with a friend. This model from RetroTVGames features a coin slot so that you can set it up for pay per use or free play, which is perfect if you're planning to put the machine in a bar or public setting. All you need are a couple of stylish chrome stools, and your setup will be complete!
What To Look For When Buying A Home Arcade Machine
There are multiple types of home arcades. The most common is the upright cabinet, which is around six feet tall and typically has a joystick as well as button controls. Mini cabinets are a smaller version of the upright model. Meanwhile, cocktail or table cabinets are low, rectangular tables with the screen facing upward inside the table. Countertop or bar top cabinets are smaller arcade machines that can sit on a tabletop. When purchasing arcade machines, it's important to know the different types available so that you can keep an eye out for the kind you prefer.
Arcade machines can range quite a bit in size, from small countertop models to large deluxe upright cabinets. When choosing between multiple products, always keep size in mind. It's a smart idea to measure out the available area you have so that you can choose an arcade machine that fits your space.
Warning: Always use caution and correct lifting techniques when moving heavy arcade machines.
The most common controls are a joystick paired with multiple buttons. In addition, trackballs and spinners are also seen for various games. Trackballs move through both the x and y axes, while spinners can only move in one axis at a time. If you have a preference when it comes to controls, remember to keep that in mind while selecting your arcade system.
Of course, you should always be on the lookout for your preference when it comes to game selection! Some arcade machines house one game, while others have hundreds! There are plenty of classic arcade games on the market such as Pac-Man Galaga, as well as newer arcade games, so there's truly something for everyone.
Frequently Asked Questions
The best home arcade machine is the Arcade1Up Star Wars Home Arcade Machine, 3 Games in 1, 4 Foot Cabinet with 1 Foot Riser. It features three different Star Wars games: the original Star Wars, Star Wars: The Empire Strikes Back and Star Wars: Return of the Jedi. It also has a 17" color LCD display, dual speakers, volume control, and a light-up marquee. Plus, the video game features the game's original artwork!
No, arcade machines do not use a lot of electricity. Even though it may seem like large arcade cabinets must use a huge amount of power, prime arcades actually use very little in comparison to most of today's electronics. In a test with a Donkey Kong arcade machine, researchers found that the electricity needed to play 16 hours each day only costs a total of $5.18 per month.
An arcade machine can weigh anywhere from 50 pounds up to over 500 pounds. It all depends on the type and design of the arcade machine. Countertop and mini cabinet models tend to weigh the least and are more transportable, while deluxe arcade cabinets can weigh several hundred pounds.
Of all the best home arcade machines, the Arcade1Up Star Wars Home Arcade Machine, 3 Games in 1, 4 Foot Cabinet with 1 Foot Riser ranks as our number one Editor's Choice product. The three games, including the original Star Wars as well as two other variations, make playing on this high-quality old school machine more fun than ever before! Our number two pick, which is more budget-friendly, is the Arcade 1Up Space Invaders Arcade. This gaming system comes with the color and black and white versions of the game. Regardless of the model you choose, you're sure to be more than content with your purchase!