Welcome to the wonderful world of hockey! As one of the oldest professional sports out there, you're going to have a blast learning this game and getting some great exercise in the process. Even if you just want to go skating and hold off on the playing hockey part, we have rounded up the best hockey skates for beginners right here. Skates are the most crucial piece of equipment you'll need to get started. Having the right pair can make or break your first few experiences, so don't be shy to demand quality. It will pay off right away. For comfort, speed and agility, choose one of these below and start lighting the lamp sooner than you thought.
1. CCM Ribcor 74K Hockey Skate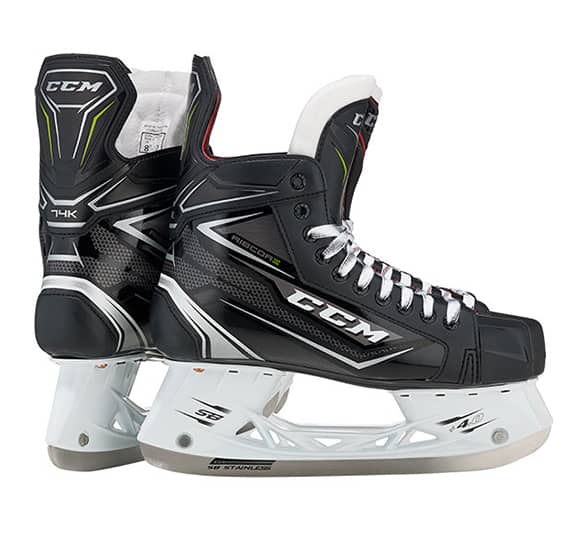 Editor's Choice #1: Providing maximum comfort is vital when getting skates for beginners, and we found that the CCM Ribcor 74K is the best for that. Having a skate this comfortable will encourage you to keep practicing and improving. The more you improve, the more fun you will have, and this skate will get you started on the right foot (pun intended).
CCM has done an excellent job providing a great initial fit for a wide range of beginners. The fit is aided by an injected quarter package, creating a durable and structurally stiff boot. And the reinforced injection outsole with exhaust system provides a solid energy transfer profile.
Keep This Skate For Years To Come
With this fit style, you can use this skate for many years. As your skating improves, this skate will adapt to you and learn your habits. Inside the boot, they have included their brushed microfiber liner with durazone abrasion protection for increased comfort and resistance to wear.  Also included is the famous CCM footbed. This offers excellent support and comfort at the bottom of the boot. And for the tongue, the 74K uses a 7mm felt construction with reinforcement layers for increased comfort around the top of the skate and added protection.
You'll Never Have To Buy Another Boot Again
Under the boot is where the magic happens for the hockey nerds out there. Changing the blade is made easy with their SpeedBlade 4.0 holder. It's considered a trusted and durable holder that offers a high attack angle, providing players with improved striding and cornering. Your skills will improve with these ice skates. This quality skate blade provides a long-lasting edge for extended performance, proving an excellent option for those players who skate sporadically.
2. BAUER Vapor X2.9 Hockey Skate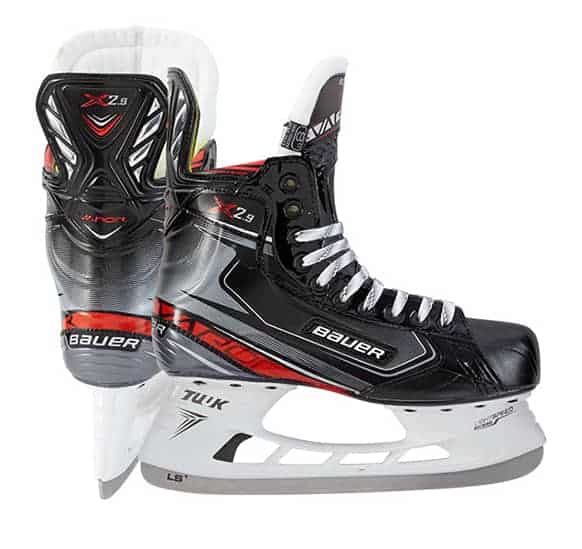 Editor's Choice #2: You may not know how much you like skating yet as a beginner. This is common and the reason why the Bauer Vapor X2.9 was created. It's a versatile skate designed to smooth the transition from sneakers to skates. You can use them sporadically and still get the same enjoyment that higher-end skates provide.
Players looking to enjoy the game more casually don't need all the bells and whistles that other skates provide. You can have a great time and learn the fundamentals with something that is still comfortable but also protects your foot. The Bauer Vapor X2.9s have all the great performance features that the best skates have, just with a little less long-term durability. If you play at least once a week, this pair of skates will suit you perfectly.
Top-Tier Features For Beginners Is Included
They have the same low-profile design that allows you to transfer energy more efficiently from your foot to the ice. This is an excellent feature if you plan on skating fast and playing in hockey leagues. It gives your foot ample room to move without feeling constricted. The perform flex system is unique to Bauer and is used to enhance the boot's performance, allowing flexibility in all the right places so you can move quickly in and out of turns.
Gives You The Option To Experiment
Supporting that is the hydrophobic microfiber liner, great for conforming to the specific features of your foot and working to keep your feet dry, so there is no slipping. This is great if you want to skate without socks on. Companies have been more accommodating of this as socks can bunch up or absorb too much moisture. The footbed and ankle backing both feature memory foam. This great feature is for those looking for a skate that requires minimal break-in time and will be comfortable right out of the box.
3. BAUER Vapor X2.7 Goal Skate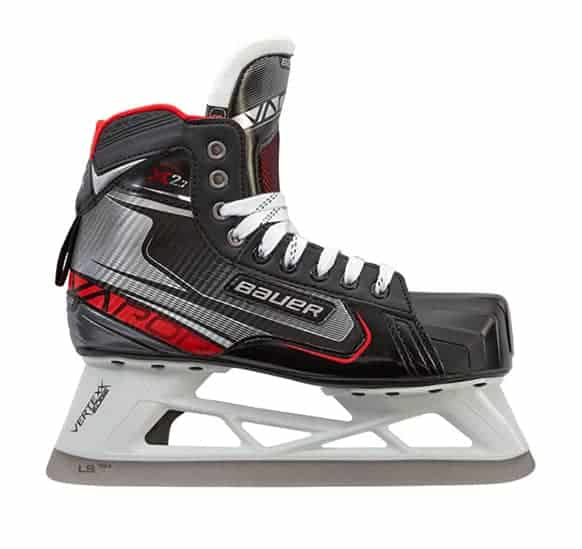 To have a proper game of hockey, each team needs a goalie. This is arguably the most important position in the sport, and for those who thrive under pressure, this is the position for you. Goalie skates are designed a bit differently than player skates to make it easy for you to "flash the leather" and "shut the door."
Upgraded Goalie Skate Features
The first thing you'll notice is the lack of tendon guard. This is common on all goalie skates so that you can move about more freely. Goalies must change direction quickly, and in a smaller space than other players, so this feature is essential. The toe guard is flatter than that of a player skate as well. So if you need to assume the butterfly position, your toes can stay flush to the ice to cover more area. Behind the ankle is a loop to attach your pads. Not all goalie skates have this feature, but they should. It provides extra support to keep your pads in place when you're playing your hardest.
You'll Never Want To Take This Skate Off
The inside of the skate is outfitted with the same elite-level support that other Vapor skates have. Starting with the memory foam ankle pad. This will maintain a tight and comfortable fit between you and the skate. Lastly, the 3D Tech PU Quarter package is an upgrade from previous models. This allows your goalie skate to be baked for an optimal fit.
4. CCM Jetspeed FT485 Hockey Skate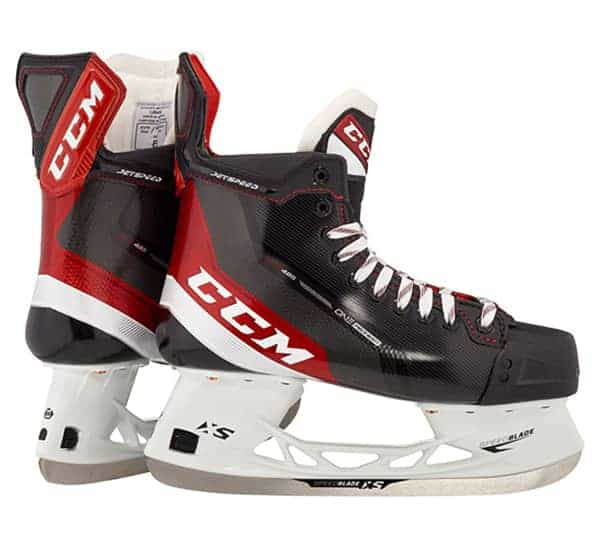 As mentioned above, the fit is a huge determining factor when buying your beginner hockey skates. If you're caught in between sizes, then this skate with customizable features is worth a look.
The Most Customizable Tongue
Found in the AS3 Tacks skate line is CCM's XS Tongue. This takes comfort and proper fitting up a notch by making them interchangeable. Easily switch out various tongue inserts to optimize feel and protection in your skate. The XS Tongue System gives you options in thickness to either increase or decrease the inner boot volume and achieve the best fit. The tongues range in size from slim to thick. For those with a higher volume foot, start with the 4mm option. This increases the amount of space in the boot. The mid-range option is 7mm thick and is the most popular. For the tightest fit, get the 10mm thick tongue. This will offer the most snug fit and wrap around the sides of your foot.
Built-In Comfort All Around Your Foot
This boot is fitted with memory foam pads throughout the ankle area to further your comfort. They are multi-density to allow it to mold while still being protective. On top of that layer is the TotalDri liner. This protects your foot from abrasions and areas that may rub. It allows you to use this skate without socks if you want. This liner is also great for keeping your feet dry when you're out there giving 110%.
5. BAUER Vapor 3X Hockey Skate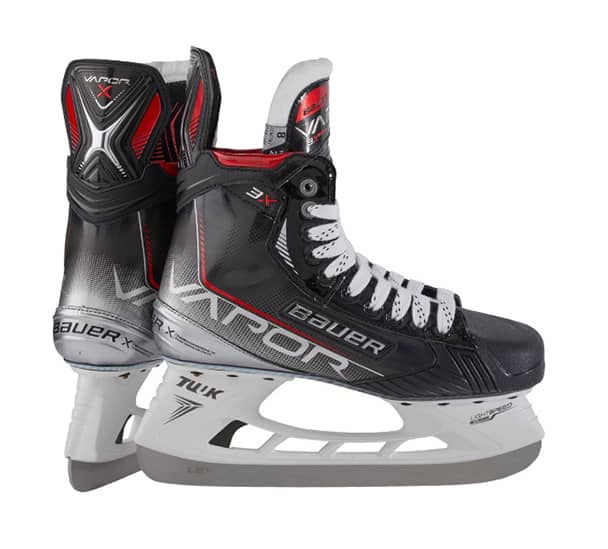 Bauer's Vapor line of hockey skates is one the best around these days. The 3X is their flagship model, and they have taken all of their knowledge, experience and technology to create this skate. This is for those beginners who are serious about getting into the game. As opposed to other Vapors, the focus on this skate is adding more speed. For beginners who want to expedite their learning process and start playing a lot, you need a skate to support you.
Do You Have The Need For Speed?
The lower part of the skate is softer, which provides an increased response. To counterbalance this, the upper part is much stiffer to maintain your foot and ankle support. Many things will increase your speed, but the most important is that this boot is made from composite. This material reduces the weight by approximately 6.5%. The asymmetrical toe cap is inherited from the Vapor 2X Pro line. This toe cap design reduces the volume of the skate for an enhanced low-profile fit while also allowing you to improve your push-off with each stride.
To keep your foot anchored to the bottom of your boot, this skate has a heavy-duty tongue. The Pro Stock tongue weighs 40oz and has a comfortable lining. It offers an exceptional balance of performance, support and fantastic feel.
6. BAUER Supreme 3S Pro Hockey Skate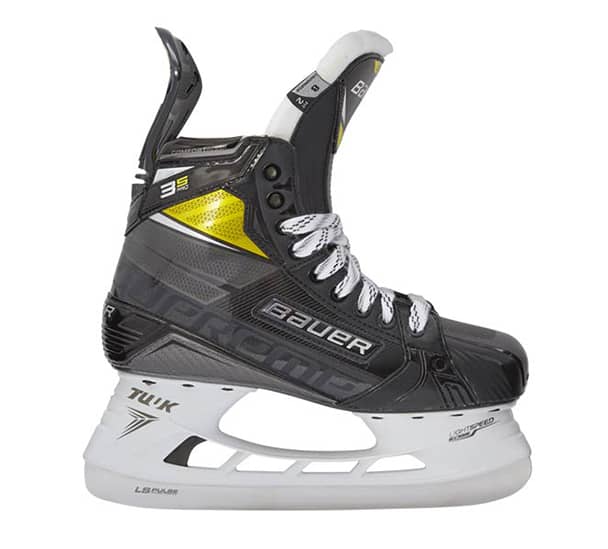 This is a skate that is going to last you a long time. It's flexible enough for beginners and will get more comfortable over time, just like your favorite pair of jeans. If you're serious about getting better and not being a beginner anymore, then these could be the best ice skates for you. These Bauer skates feature a very noticeable forward press that favors novice skaters a bit more. If you think you're ready for these, you can lengthen your stride and stay low while at top speed. This is something that lower-end skates won't have.
Another excellent feature is the added eyelets for your laces. There are additional holes at the top end of the ankle so you can tie your laces precisely the way you want. Whether you wear your shin pads on the outside or inside, this skate is ready for either one. This is great for beginners, so you can try different ways to tie your skates to find out which method works best for you. To further customize your fit, the 52oz tongue is also adjustable. It comes with moldable inserts that can conform perfectly to your foot.
The Best Part About Bauer Supremes
The real star of any Bauer Supreme is the footbed. The Supreme 3S Pro features the all-new form-fitting lockfit footbed made of thermoformable recovery alloy composite. This reduces the negative space inside the boot, helping to increase your balance and provide a faster and more stable stride.
7. TRUE TF9 Ice Hockey Skates
For outstanding fit and maximum mobility, take a look at the True TF9 Ice Skates. They utilize a variation of a one-piece design that will conform to your foot over time for a custom fit. The boot is constructed from carbon fiber and thermoplastic, which gives it a great range of motion without being too loose. It feels like a second skin once you've broken them in, and this technique is carried through to the toe cap, so there are no weak points anywhere. You have complete protection for blocking shots and absorbing any feisty stick action.
Built-In Comfort And It's Customizable
The footbed has multiple arch support systems to match your foot perfectly, making them excellent beginner hockey skates. The tongue is also specially designed to be adjustable based on how your foot reacts, wrapping around the top and down the sides of your foot for complete coverage and lace bite prevention. The blade itself is made for long-term use. It's treated with a unique black coating that retains the edge longer, so you won't have to get these sharpened as often as other blades.
8. CCM Super Tacks AS3 Pro Ice Hockey Skates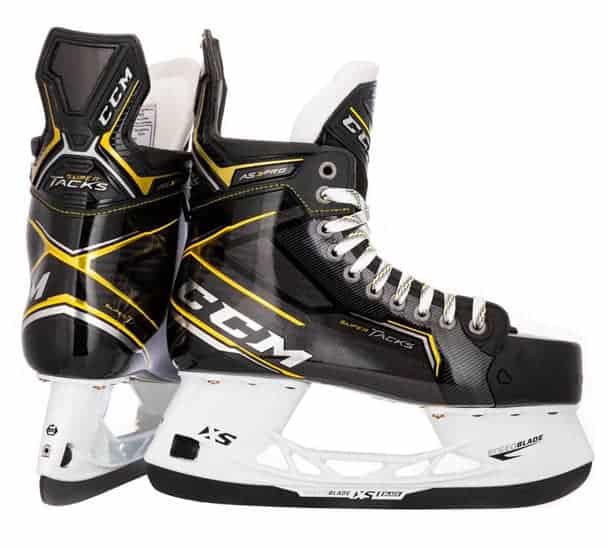 It pains us to list this skate in the last position because it deserves better. It's a great skate for beginners, but experienced players will also benefit from its features. For beginners, getting the right fit is paramount, and that is why the CCM Super Tacks AS3 is here. The tongue is the first thing you'll notice because it has unique interchangeable inserts. You can adjust the boot's volume by increasing or decreasing the toe's thickness. The three inserts are easily fitted within the tongue and provide custom comfort for mobility and protection against lace bite.
A Unique One-Piece Design
Other skates also offer a one-piece design, but CCM has taken it further. While most hockey skates are nailed to the quarter package via the footbed, this design wraps around the foot and is directly attached to the blade holder. This will give you incredible mobility as it reduces excess material. This design also makes it easier for you to accelerate from a standstill. Transferring weight from your feet to the ice is made easier by shortening the distance between the two. With your foot and blade acting as one, you can get up and down the ice much quicker with these beginner/novice skates.
What to look for when choosing your ice skates for hockey.
First up – the anatomy of a hockey skate.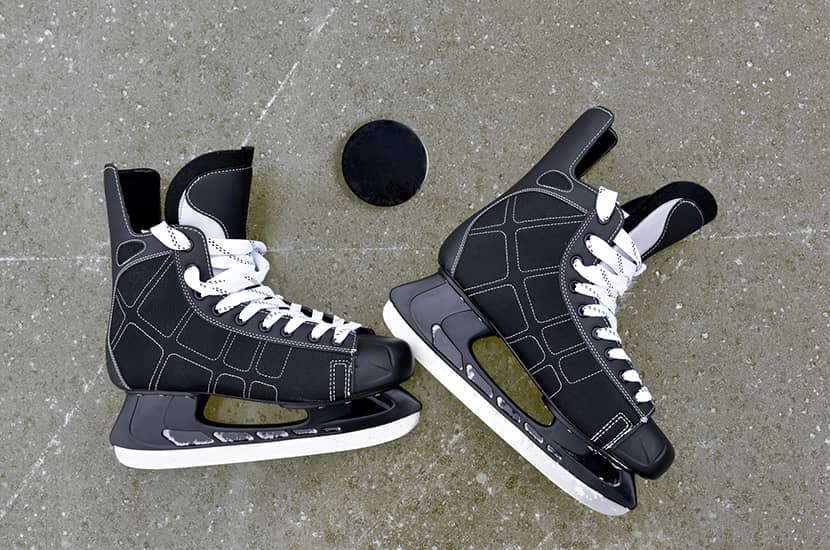 As the most critical aspect of the skate, the boot is the part that you put your foot in. This needs to be comfortable but also tight and secure. Everyone's foot is different, so finding a boot that suits you perfectly should be your number one priority.
Often underrated when choosing skates, the tongue plays a more significant role in skates than they do in sneakers. The tongue can help you get a custom fit but choosing its thickness and flexibility. Hockey tongues are made tough to protect against outside agents such as pucks and sticks. They are also tough enough to keep your foot in place while you're playing your hardest.
Pay attention to how your tongue fits against your foot to get the best beginner skates possible.
All the blades listed in these skates are top-of-the-line. The blade itself won't change much from skate to skate, but it's important to protect your blade no matter which skates you choose.
Do not walk on anything other than wood, rubber or ice while wearing your skates. Hard surfaces can chip your blade, and that will cause you to fall when skating. You can get a pair of skate guards in most arenas.
If you have decided to make your own ice rink, read our post about the best synthetic ice next to choose the best one.
Hockey skates have many options to fit all types of feet out there. The technology and attention to detail have come a long way over the past decade, and they can now offer great new hockey skates to any size foot.
To find the best fit for your foot, I recommend looking at skates with interchangeable tongue inserts. If you're worried about how you will feel in a new pair of skates, then this is the best way to find comfort.
A thicker tongue is great for those with narrow feet; it reduces the available volume within the boot and will wrap around your foot nicely.
For larger feet, choose a thin tongue. You'll get more space for your upper ankle area and will be able to adjust the fit with the laces as well.
Choosing The Right Hockey Skates For You
When buying hockey skates, we help with what you should be looking out for.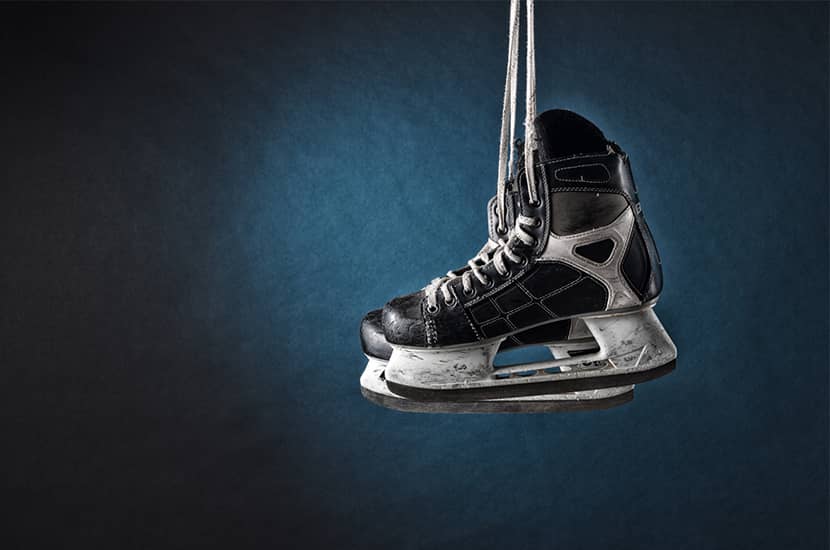 As a beginner, and for recreational skating, we recommend you focus your efforts on finding the proper fit when choosing the best beginner hockey skates for you. You want comfortable hockey skates, but they should also be very snug – snugger than any shoe you have worn. It should feel like the skate is an extension of your foot.
As you improve, you'll notice certain things that will help you. You can look for different features on your next pair of skates depending on how much you use them and what position you play in hockey
Right now, you don't have a playing style since you are a beginner hockey player. This is an exciting time in your career since all positions are possible for you. Make sure you try out all playstyles and see which you like best.
Forwards require speed, defense requires a lot of backward skating and goalies need agility. Have fun experimenting with each position, and be sure to note how your skate feels and performs. This will give you the most helpful information for getting the right fit on your new skate.
Thankfully, beginner skates are priced low to encourage more people to play the game. Big companies know that once you get hooked, you'll spend more money anyway, so enjoy this shopping experience while it lasts.
Expensive skates will come with higher quality materials and more features that cater to your needs. Once you gain some experience, you'll be able to do more specific searches for exactly what you're looking for.
Fitting Your Hockey Skates
How your skates fit is import! Be sure to perform all these tests while standing and with both skates on. If you're in a store and pressed for time, you don't have to tie them all the way up. If you have time and plan on using them a lot, then lace them up to get the best idea of how they fit.
This is the most popular test as it allows people to perform it without any tools. It's also great to use with kids so you can see precisely how their foot fits in the boot. With your foot in the boot, slide it to the front, so your longest toe is just barely touching it. Now direct your attention to the back of your ankle. If you can slide a finger down the back to touch the footbed, then those skates are too big.
Similar to the finger test, this one starts with you sliding your foot to the front, so your longest toe is barely touching the toe cap. Look to the back of your ankle and try to fit a pencil between your ankle and the boot. If it fits, but just barely, then you have a skate that fits perfectly.
This test starts opposite the other. Slide your foot BACK in your skate boot. Ensure the back of your ankle is fully supported and makes full contact with the tendon guard. From this position, take note of where your toes are. If they are squished against the toe cap, then those skates are too small. If they gently brush against the toe cap, you have found yourself the best entry-level skates.
Understanding More About Hockey Skates
From breaking them in to looking after them – what you need to know.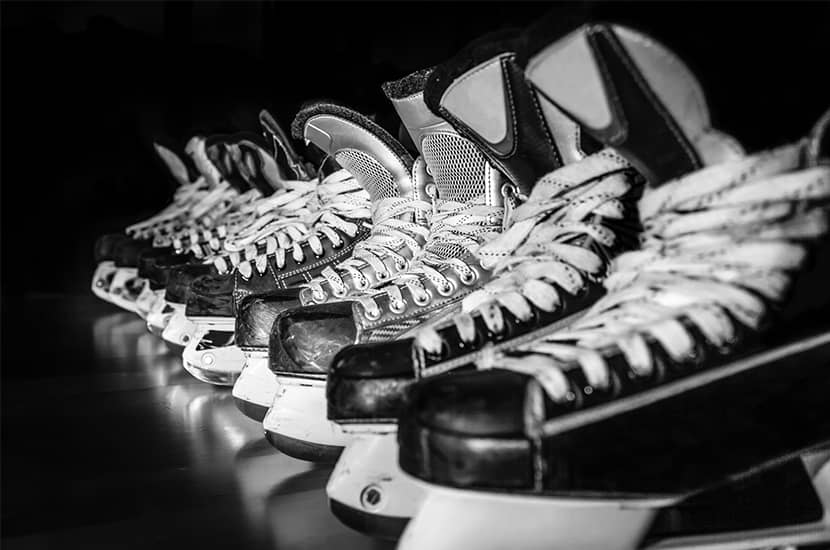 Can The Blade Be Replaced?
This is one of the best features that new skates offer these days. Yes, your blade can be replaced easily by you and within minutes. Some skates have quick-release systems that allow you to change your blade so fast that you can do it on the bench during a game and not even miss a shift. They are still very secure, though, and you never have to worry about them coming loose during play.
Get your skates sharpened regularly. Your blade comprises two edges that run parallel from back to front. These two edges on each foot allow you to turn quickly without falling.
Every public rink will have a pro shop where you can sharpen your skates. If you play once a week, getting them sharpened once every couple of months will be fine. The better you get, the more you will have to sharpen them because of the added stress.
How Stiff Should They Be?
Any high-quality skates will be considerably stiffer than any shoe you're used to. They are supposed to be like that to provide protection against pucks and sticks and support your ankle. Since your foot sits higher off the ground/ice than shoes, the danger of turning your ankle is quite high if you were just to strap blades on your shoes. With the added rigidity throughout the hockey skate boot, you can move confidently and safely.
Why You Shouldn't Buy Used Skates
Skates are unique in that they can adjust and mold to your specific needs. The more you use them, the more they will fit around all the details of your foot. If you buy a used pair, you will be putting your foot into someone else's mold. Unfortunately, they do not re-mold. Once a skate has been used by someone, the memory foam only remembers that foot. We strongly recommend that you NEVER buy used hockey skates.
Breaking In Your New Skates
This is an integral part of the skate-buying process. All these new skates have much less break-in time than their older ancestors, but there is still some getting used to that has to happen.
There is no steadfast rule for breaking them in other than dedication. Simply wear them as often as possible at first to give the memory foam the most interaction. After a while, your skates will just stay in that comfortable mold. If you are looking for the best hockey gear and equipment to take your game to the next level, read our article about Best Hockey Gloves.
The Difference Between Hockey Skates And Figure Skates
The most noticeable difference is the toe pick. Click Figure Skates Vs Hockey Skates to find out more. Figure skates have three or four points on the front of the blade that they use for positioning their body and controlling spins during ice skating. Hockey players don't need this precision, so they don't have them. The protection is also much more elaborate in hockey skates due to the nature of the game and the ice skating involved. Click Figure Skates Vs Hockey Skates to find out more. If you are interested in the best figure skates right now, read our reviews of the Best Figure Skates here.
Frequently Asked Questions
When starting a new activity, it's important to get all the right equipment. While some things can be bought second-hand or borrowed from a friend, your skates are not one of those things. You're going to want the best hockey skates for beginners since your feet are so important for this game. Different skates are made for different people, so finding the right one for you and your foot should be your number one goal.