Ice skating is a super fun winter activity to do with friends, family or on a romantic ice skating date. Whether it's indoors or outdoors, it is important to take care planning exactly what to wear when ice skating. Most ice rinks are cold, so you'll need to dress warmly. You should also avoid exposed skin so that if you happen to take a tumble, you'll be protected.
At the same time, you don't want to be bundled up so much that it restricts your movement – for both safety and comfort on the ice, you need to be able to move freely. As long as you follow the advice in this article, you'll be protected and comfortable, allowing you to enjoy improving your skating skills. You can dress responsibly and still look cute for an ice skating date! It's all about flexibility and smart layering.
These are the items you should make sure to put on every time you hit the ice skating rinks.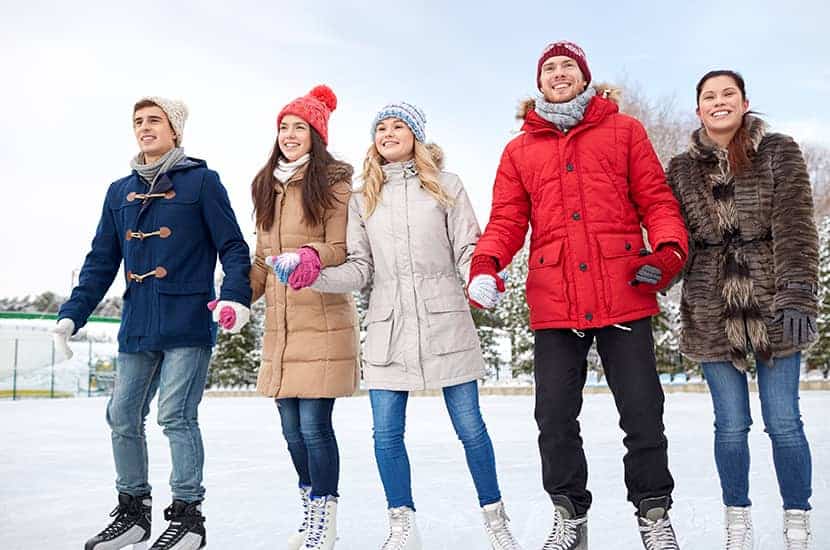 Whether you are skating indoors or outdoors, it's going to be chilly. If you wear pants, you can keep your legs warm and protect your knees from any unforeseen tumbles.
It's best to wear comfortable pants that you can easily move around in. Yoga pants, fleece leggings, sweatpants or even snow pants all work well.
The key thing to remember when dressing for ice skating is to layer up. That way, you'll be prepared for the cold, but you can also shed the layers as you warm up!
A comfortable sweater or long sleeved shirt is an essential part of your layered ensemble. Again, make sure it's one that allows for ease of movement.
You'll need a jacket to top off your layers, but the type of jacket you need depends on where you are going ice skating. A light jacket over a sweater is probably sufficient for an indoor rink as you won't be exposed to wind chill.
If it's midwinter and you're heading to an outdoor rink, you'll probably need a heavier jacket. You can always take it off if you get too hot!
These items aren't essential, but may be a good idea depending on the type of ice rink you're going to be skating at.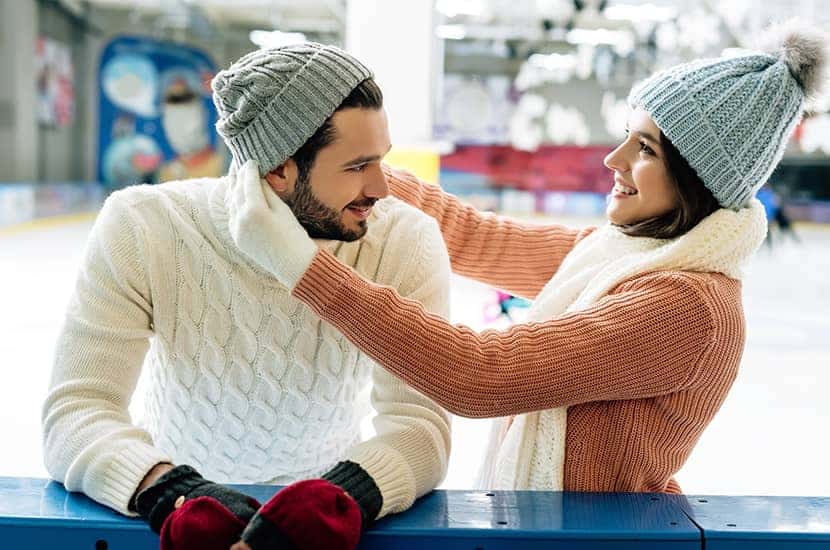 It's a good idea to wear warm gloves when ice skating. As well as keeping your hands warm, these will prevent scrapes from falling on the ice. If you're going to an indoor rink, thin gloves are probably fine. If you're skating outdoors, thick padded gloves are best.
We lose heat through the head, so if you're worried about the cold, a beanie or beret is the way to go – especially if you're going to be skating for a long time.
You may think that thick socks are best to ice skate in, but experts typically recommend wearing thin socks. Overly thick socks will interfere with the fit of your skates and their ability to provide the correct support. At the same time, make sure you wear long socks that reach well above your skates.
Especially if you're headed to an outdoor ice rink, a scarf will protect your neck from cold winds. Just make sure to wrap it carefully so that it stays secure while you ice skate!
Protective Gear – Optional!
Tumbles on the ice are inevitable for new ice skaters. And while they seldom lead to serious injury, they can be painful! That's why it's a good idea for beginners, especially young children, to feel free to wear protective gear, such as a helmet, elbow guards and knee pads.
As well as preventing head injuries, a helmet has the added benefit of keeping your head warm.
Here's what you should avoid wearing when heading to the rink to unleash your inner ice skater, to ensure you remain warm.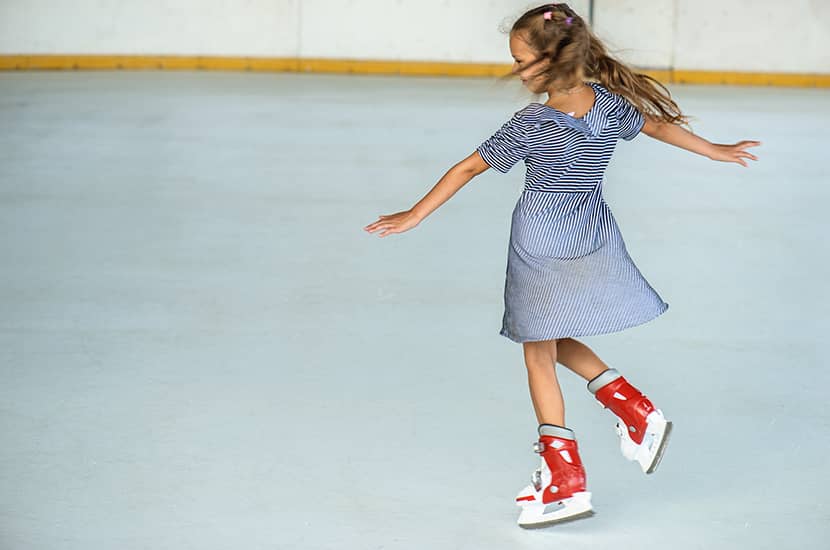 This one is a no-brainer – shorts leave way too much skin at the mercy of the elements. Also, any skin exposed leaves you vulnerable to scrapes on the ice.
Unless you are wearing them over leggings, dresses and skirts won't protect your legs either. Excessively long skirts can also be dangerous if your skates get caught up in them.
If you feel like you need a cute skirt to keep up your style, make sure it's a short, loose skirt layered over a pair of warm leggings.
Any clothing that is too tight will restrict your movement on the ice. Not only will this make it harder to enjoy yourself, but it could even diminish your ability to catch your balance and lead to falls.
As we explained above, whether using your own or skate rental, thick socks can make it difficult for your skates to give your feet the support they need when skating. Wondering about Figure Skate Vs Hockey Skate? Click here to read more. If you are a hockey player and would like to purchase the best gear and equipment, click on Best Hockey Skates, Best Hockey Sticks, Best Hockey Pucks and Best Hockey Rebounders and you will find everything you are looking for. Don't forget to also check out our review of the Best Snow Tubes for fun time with kids.
Frequently Asked Questions
Whether you're going on a romantic ice skating date or a family outing to the ice rink, you need to be thoughtful about what you wear when ice skating. It's important to dress in layers of comfortable, stretchy clothing so you can remain comfortable and move freely – plus extras like gloves can help you have an even more smooth day on the ice. Also, whether you have your own ice skates or are using rental skates, you should wear thin socks. Now all you need to do is check out our beginner skates review to pick your ice skates, and you're ready to go skating!