Perhaps you've just purchased a dart board for your home or multiple dart boards for a bar, and now you're ready to invest in a quality set of darts. Well, you've come to the right place! We've compiled all of the best darts available for purchase here in our guide. In our table of contents, you will find a convenient comparison table, detailed product descriptions and a helpful buyer's guide that answers every question you have about purchasing a dart set. Don't worry too much about choosing the right dart set; whether you pick our number one Editor's Choice product or another item on the list, you can rest assured that it's one of the best.
1. Bottelsen Hammer Head Steel Tip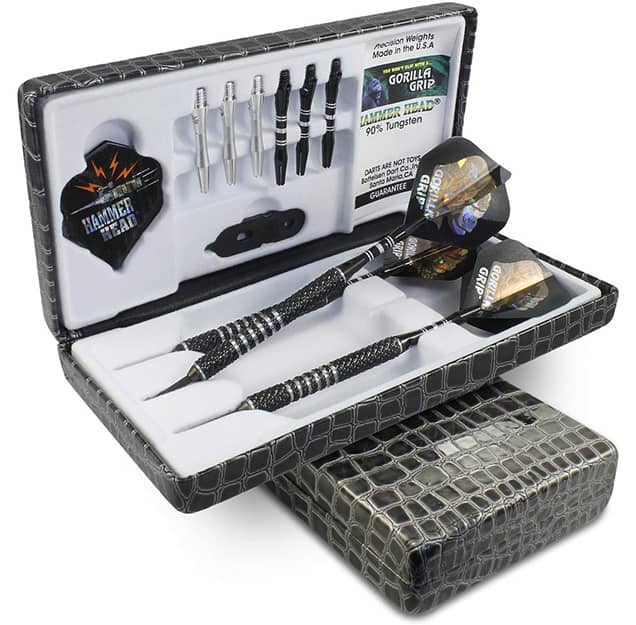 Editor's Choice #1: If you're looking for the ultimate set of darts, look no further than the Bottelsen Hammer Head Steel Tips darts set. This set of three heavy-duty darts may be more pricey than some of the other dart sets on the list, but it's truly one of the best–it's hard to match or exceed its quality! Watch your throws improve and wins increase after you begin using these darts regularly.
There's a reason why the pros always choose to use darts with a high percentage of tungsten–it's because this type of barrel material is extremely strong, durable and heavy-duty. In fact, tungsten is stronger than diamond, steel and titanium! When you purchase tungsten darts, you know you're choosing the right ones.
These darts are much heavier than most of the others you'll find on this list. A heavier dart is ideal for dart players who have a more relaxed throwing style. It's also wise to use heavy darts if you find that your throws tend to be a bit too high. The increased dart weight provides for a smooth, straight flight with improved accuracy.
2. Viper Astro 80% Tungsten Soft Tip Darts with Storage/Travel Case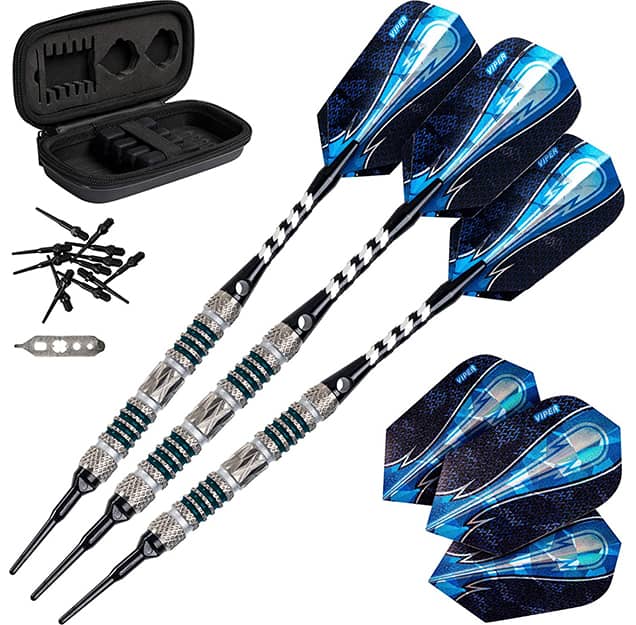 Editor's Choice #2: Do you prefer soft-tip darts over steel-tip darts? Then you'll love this excellent dart set from Viper. In addition to the darts themselves, this set comes with six flights, 12 2BA Tufflex III tips, a dart mechanic repair tool and a handy storage case–everything you need to enjoy the game!
A locking hole is the best way to attach the shaft and barrel so that you don't have to tighten up your darts constantly. This Viper Astro set of darts features locking holes that allow a more secure fit. The included dart mechanic repair tool can be used to secure each dart barrel to the shaft.
The included travel and storage case is perfect for maintaining your darts, so they'll stay like new for a longer period of time. The TacTech case features a form-fitting interior paired with a tough outer shell to protect your soft-tip darts set. It has plenty of space for all accessories included in the set.
3. Viper Blitz 95% Tungsten Steel Tip Darts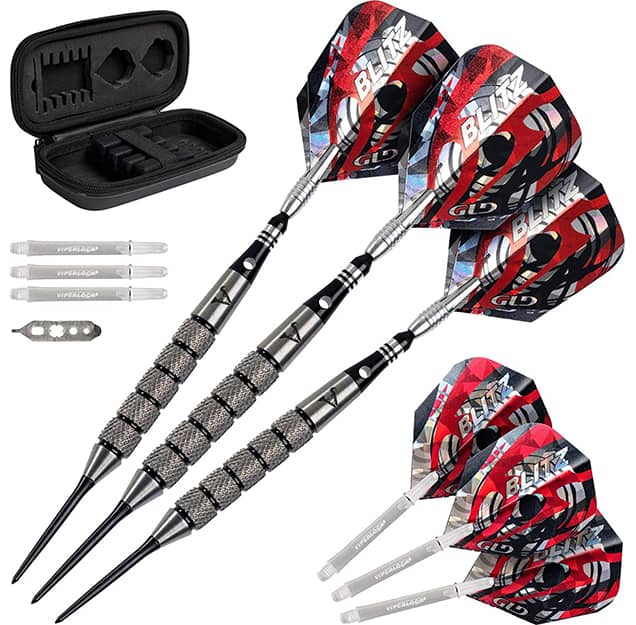 The Viper Blitz 95% Tungsten Darts are truly some of the best steel-tip darts available for purchase! With four choices of dart weight ranging from 22 grams to 28 grams, plus high-quality dart barrels and shafts, these darts will help you level up your game and improve your throwing skills.
95% Tungsten Construction
The Viper Blitz 95% Tungsten Dart barrels are made from 95% tungsten. Tungsten darts are used by professionals thanks to the material's strength–it's known for its density, hardness and resistance to heat. Tungsten is ten times harder than 18 karat gold and five times harder than steel, so you can imagine how strong and durable these darts from Viper are! Plus, each dart has an aluminum-construction shaft that has the added benefit of helping to prevent bounce-outs thanks to its ability to rotate freely.
4. Cuesoul 30/28/26 Grams Tungsten Steel Tip Darts Set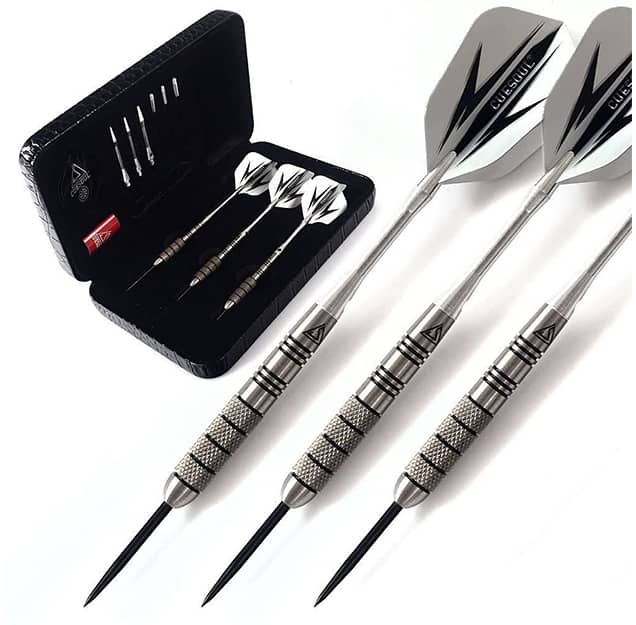 This great set of steel-tip darts from Cuesoul has tons of great features and included accessories. Each dart has a detailed center-weighted barrel and a high-quality anodized aluminum shaft. The set includes:
6 anodized aluminum shafts
3 lantern-shaped flights
3 standard flights
3 alloy flights
Point sharpener
Dart tool
Storage case
These Cuesoul tungsten steel tip darts are constructed with center-weighted barrels for complete control. The barrels are made from 95% tungsten for ultimate strength and durability, regardless of how often you play. They're designed with knurls, grooves and lines to improve your grip, provide consistent hand placement and improve your accuracy. You'll be able to tell these are some of the best darts on the market as soon as you pick one up. A great set for beginners and professionals alike!
5. Whimlets Steel Tip Darts Set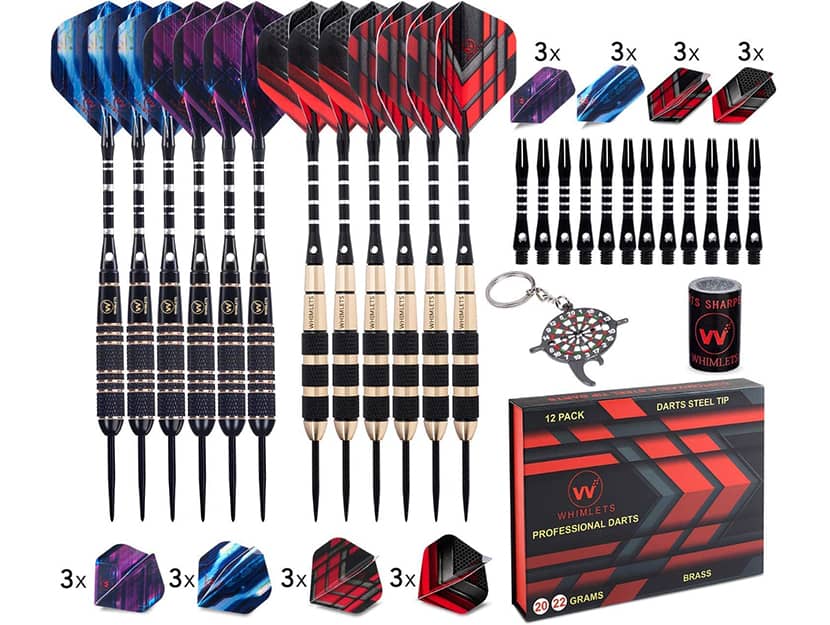 Introducing the steel-tip darts set from Whimlets, which features one of the best dart designs on the market! The 24 included flights feature four different designs ranging from blue to purple to red and black. This dart set includes:
6 20-gram brass barrels
6 22-gram brass barrels
12 35-millimeter aluminum shafts
12 48-millimeter aluminum shafts
12 standard flights
12 slim flights
Dart sharpener
Dart tool
Storage case!
While these darts are great for players of every level, they're designed to exceed the expectations of professionals, and they're truly one of the best sets available. That's why each steel-tip dart is perfectly balanced with three different metals: steel, brass and aluminum. Built-in grip points for steady hand placement allow you to throw the perfect shot! Plus, this set was designed to boost flight speed while reducing dragging and bouncing. Made with true quality while remaining stylish and affordable.
6. IgnatGames Steel Tip Darts Set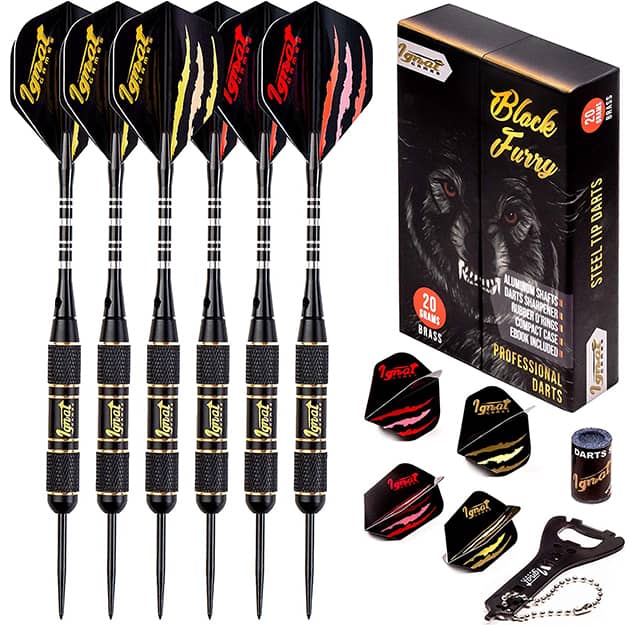 This impressive steel-tip dart set from IgnatGames is wonderful for a beginner or casual player, which is how it made its way onto our guide of the best dart sets. With brass darts barrels, two extra dart flights and unbreakable shafts, these darts are sure to become your new favorites!
Each steel-tip dart has a 20-gram brass barrel, which offers superior grip and control to boost your throwing accuracy. Meanwhile, the unbreakable aluminum shaft is complete with a rubber O-ring to hold everything together and improve the flight path. The poly standard flights are designed to reduce air resistance, and a dart sharpener is included to keep your darts just like new. Plus, the included case has a highly-engineered design that features a magnetic closure and protection against impact, dust, sun and moisture. Step up your skills with some of the best steel tip darts available for purchase.
7. Fat Cat Bulletz 90% Tungsten Steel Tip Darts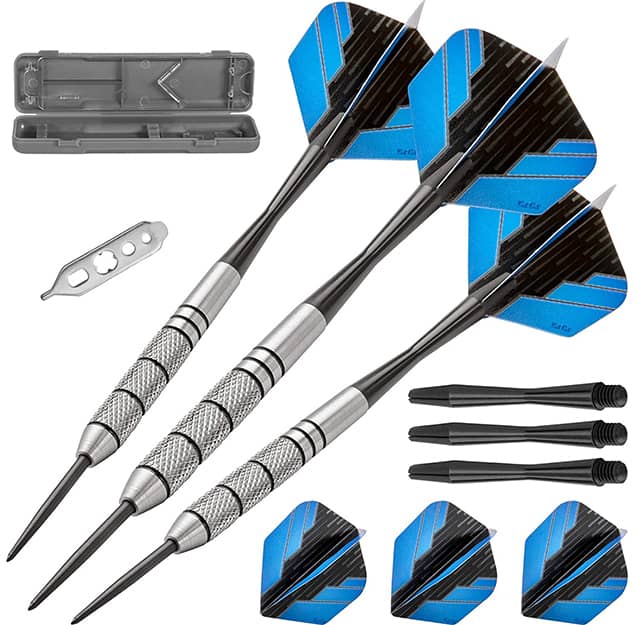 Add some flair to your darts game with Fat Cat Bulletz 90% Tungsten Steel Tip Darts. With detailed graphics that are prominently displayed, these darts not only look good but also throw well and aren't prone to bounce-outs. With their quality construction, efficient design and premium materials, you're sure to appreciate the power and control these darts add to your existing skills.
The Fat Cat Bulletz 90% Tungsten Steel Tip Darts set features 90% tungsten and 10% nickel construction for exceptional balance and styling. These darts made the menu because they are great for casual to intermediate-level dart players, and they feature an efficient design and construction. Each dart barrel features knurled bands, deep grooves and rings to encourage consistent hand placement. The lightweight, convex nylon shafts fit the barrel tightly for improved stability, and the quality flights increase speed while decreasing drag.
8. Vopa Professional 17 Grams Soft Tip Darts Set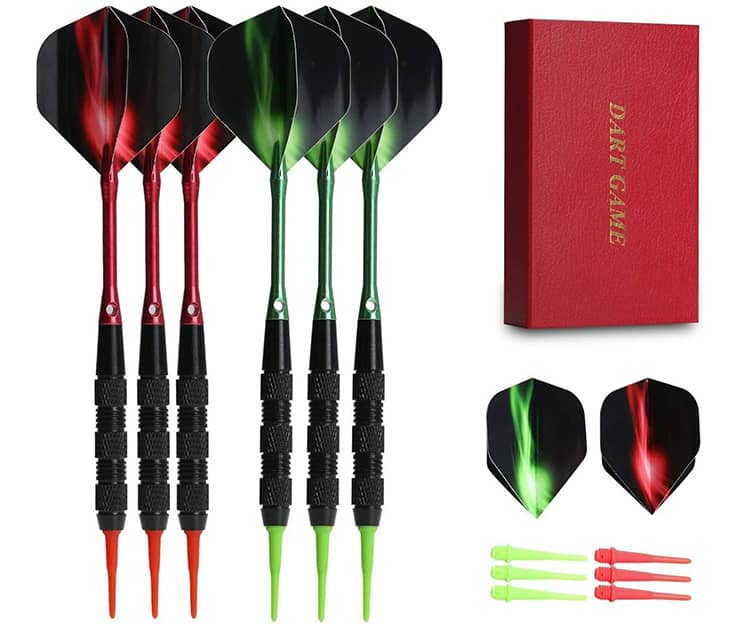 This set of six 17-gram soft-tip darts is perfect for any electronic dartboard like these. Whether you're a beginner or a pro, you'll enjoy this affordable yet high-quality set. It comes with two styles of flights, 12 soft-tip points, and six lightweight aluminum shafts, all in a convenient case with magnetic closure.
When your darts don't fly in the direction you throw them, you have a problem. Luckily, you won't run into that issue with these Vopa Professional darts! Each soft-tip dart is engineered for maximum accuracy and targeting, so you'll be able to hit the bullseye with ease. The comfortable medium-weight darts have spinning shafts as well. Plus, each brass barrel is strategically knurled for the ideal grip. This set of darts features "Vopa Grip," which is made up of hundreds of tiny cuts on each barrel to provide a comfortable and confident finger placement.
9. Centaur 6 Pack Steel Tip Darts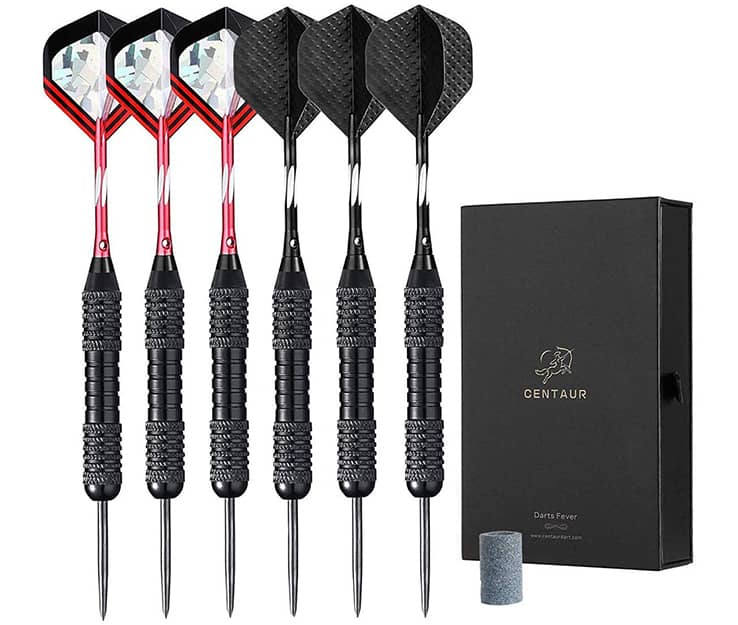 This six-pack of quality darts contains two sets of three darts, complete with a carrying case. An affordable choice designed for darts players of all levels, these darts feature beautifully-crafted construction and high-quality materials. The set comes with six steel darts, six aluminum dart shafts, six poly dart flights, a dart sharpener and a case.
Each dart shaft on this Centaur six-pack is constructed from 2BA aluminum. This is a huge step up from the PVC shafts you'll see on low-quality darts! Aluminum is a rigid, durable material that will bend before it breaks. This means that any hard hits won't result in a broken dart shaft; instead, you'll be able to straighten the dart back out and continue playing! In addition, these Centaur darts come with six flights in two different styles. One is a textured black poly pro flight, while the other features a red and black outline around a holographic center. Both flights pair perfectly with the black shafts, and nylon O-rings keep everything in place. The barrel material is nickel-plated steel, which provides great balance.
10. Viper Super Bee Soft Tip Darts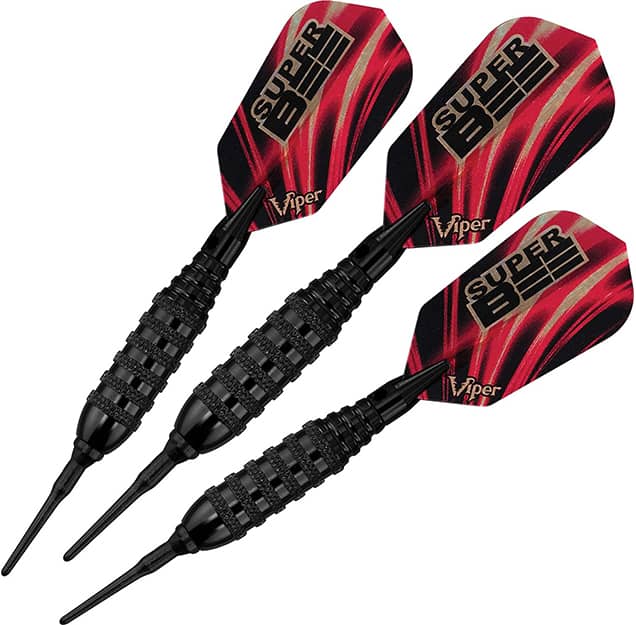 This set of three soft-tip darts is extremely affordable and comes with many great features. From multiple material choices to well-engineered dart construction, this set has it all. Read on to find out why the Viper Super Bee Soft Tip Darts made it onto our guide of the best darts on the market!
This dart set was created with an aerodynamic design for smooth throws and enhanced accuracy. This aerodynamic build allows air to glide across the dart's surface for increased speed and decreased drag. The glitter flights sparkle and shine as the darts fly through the air for an eye-catching visual experience. Plus, these soft-tip darts are available in three different materials: brass, black coated brass and nickel silver-plated variations. Each has quite a striking look! Each soft-tip dart has a high-speed slim glitter flight, an aluminum locking hole shaft, a non-slip barrel with six knurled bands and reinforced 2BA Tufflex tips.
How To Choose The Best Darts For You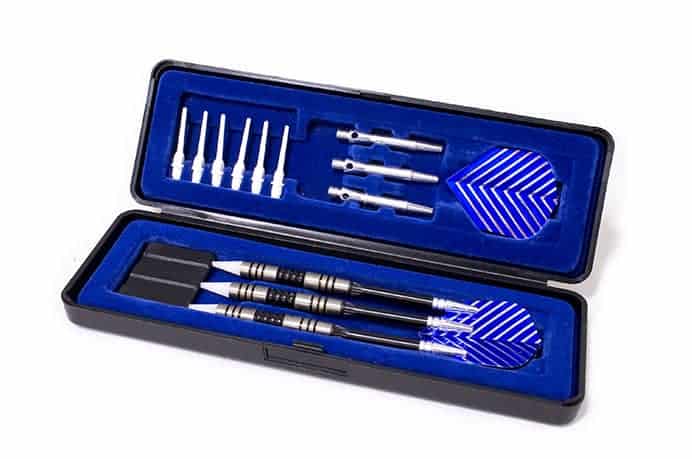 As a beginner, nearly any high-quality dart will be sufficient. However, if you're a professional, you'll definitely need to be more picky regarding your dart selection. Professionals will want to find a dart that corresponds to their grip and throwing style. Beginners and casual players, on the other hand, should prioritize durability and quality of barrel material.
Darts can damage your walls if you miss the target, so make sure you read our guide on protecting your walls.
Weight also plays a big part in what type of darts will be best for you. Heavier darts take less effort to throw, while lighter darts are often more accurate. Heavier darts are best for players with a relaxed throwing style. However, those who prefer to throw more aggressively are likely to prefer lighter darts.
The heaviest weight allowed in the official darts rules is 50 grams, but the average dart weighs around 20 grams.
Tungsten is typically the best material for dart construction, thanks to its lightweight strength, and you'll find both steel-tip and soft-tip darts made of tungsten. Steel-tip darts are intended for use with a bristle board, and they have metal points. Soft-tip darts, on the other hand, can be used with bristle dartboards but are better suited to electronic or plastic boards.
The object of Cricket is to have more points than the opposing team after the bullseye and numbers 15 through 20 have been closed out. To play, players take turns throwing darts at the board with the goal of hitting the bullseye and numbers 15 through 20. To "close out" the bullseye or a number, a player must hit it three times. When a player has closed out a number, they rack up points each additional time they hit that number until the other player has also closed it out.
Around the World, also known as Around the Clock, is a simple darts game with the objective of hitting each number in order from one to 20. Throwing three darts per turn, each player aims to hit all the numbers in numerological order to win. Around The World is a quick and simple game that often takes around 15 minutes to play.
Around The World can also be played by yourself, and an experienced player can complete the game in just two minutes!
To play Killer, players first throw a dart with their non-dominant hand in order to determine their number. Each player starts with three lives, and they lose a life each time someone hits double their number. A player becomes a Killer once they hit the double of their number, and Killers can take lives from other players. The last player with lives remaining is the winner.
Frequently Asked Questions
When it comes to the best darts, our first Editor's Choice product is the Bottelsen Hammer Head Steel Tip dart set. It includes three darts and features true quality with 90% tungsten barrels and a hefty 27-gram weight, making it a great choice for professional dart players. Our second Editor's Choice item is more budget friendly. The Viper Astro 80% Tungsten Soft Tip Darts with Storage/Travel Case are our Second Editor's Choice, with their diamond-cut aluminum shafts and 80% tungsten construction.