If you want to improve your hockey skills, there is one thing you need: more time on the ice. But driving all the way to the rink for ice skating practice is time consuming and expensive. On top of that, public rinks can be crowded and are not always open.
A synthetic ice rink is a fantastic way to get ice time from your own home! But with so many products and not much clarity on what the differences are, it can be difficult to choose. Luckily, we have done the research for you and put together a list of the 8 best synthetic ice products currently on the market. As long as you know what you want it for (check out the buyer's guide at the end of this article for tips), you are sure to find the right product for you!
1. SKATE ANYTIME – 20 Panel – Synthetic Ice For Hockey – Starter Kit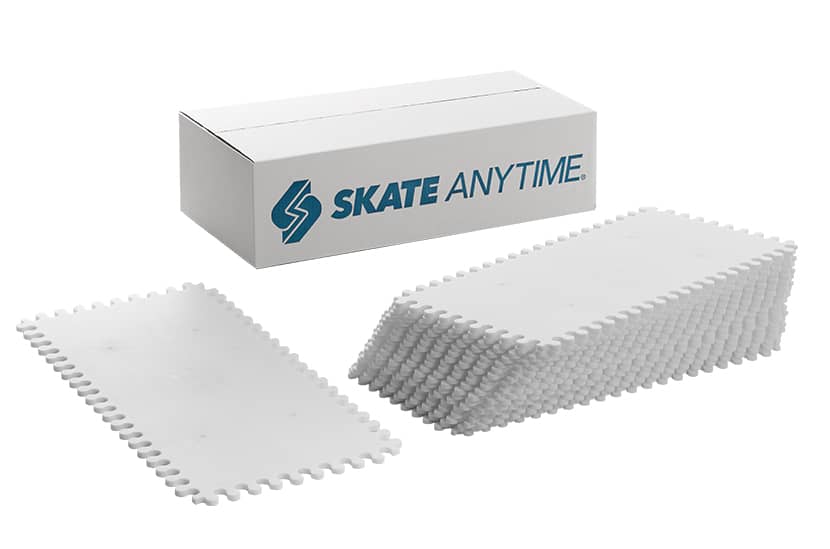 Editor's Choice #1: Skate Anytime provides the best synthetic ice tiles we have found. You can set them up almost anywhere, they feel great to skate on and they will last you for years. On top of that, they are lightweight and customizable – and the interlocking system is sturdy and second to none.
One of the great things about the Skate Anytime synthetic ice tiles is their versatility. They are thick enough that they work on any flat, hard surface, and you can set up your ice rink in any shape for the space you have. Plus, you can always order more if you want to expand your rink. The interlocking system of this rink works wonderfully. It is easy to put together, but once the panels are all connected, they will hold. When gliding along, you won't notice that it is not one smooth rink.
Skate Anytime offers a 5 year warranty on their product, so you know it is good quality. You can even park your car on the rink! It also feels super sturdy, but it won't blunt your skates as quickly as most synthetic ice. Plus, it provides the perfect balance between friction and glide. And while many synthetic ice products claim to get smoother with use, these tiles genuinely do!
2. HockeyShot Synthetic Ice Revolution Tiles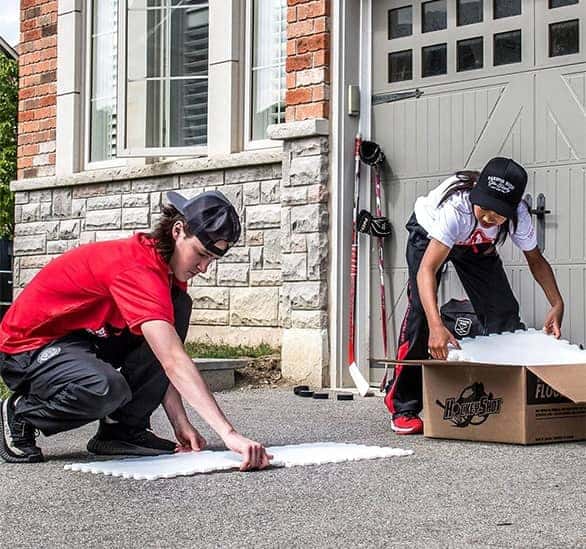 Editor's Choice #2: Hockeyshot's Ice Revolution tiles take second place because of their durability, quality and fantastic skating feel with a balance of friction and smoothness – for hockey and figure skaters alike. The only reason they lose the top spot is because Skate Anytime's tiles are a little more gentle on your blades.
Incredibly Durable & Balanced Feel
HockeyShot's Ice Revolution tiles are highly durable. So much so that you can park your car on them – no need to ever move them from the garage! It's also totally fine to leave your rink outside all day as the tiles are UV protected. According to HockeyShot, their tiles provide the best friction coefficient on the market, better even than frozen ice. While we think the Skate Anytime tiles are just as good, the HockeyShot tiles do provide a fantastic balance of friction and smoothness.
You can set up this synthetic ice rink in your garage, driveway, basement or deck. The thickness of the tiles means the surface does not have to be perfectly flat, though flatter is better. Plus, this ice works just as well for figure skaters as for hockey players! They are also self-lubricating (no slip agent necessary), though some customers found that they blunted their blades a little more quickly than expected.
3. Extreme Glide Synthetic Ice Panels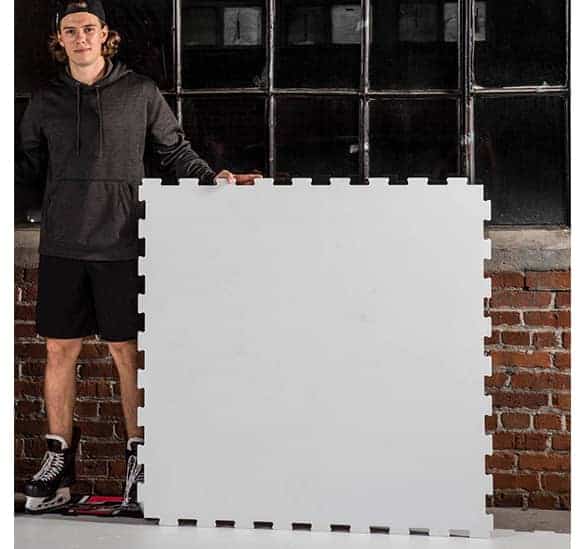 Strong & Durable Large Panels
Also by HockeyShot, these ice panels are extremely heavy-duty. You can choose to get them in a ½ inch or ⅜ inch thickness (1cm or 1.3cm). The ½ inch panels are double sided and should last around 7 years per side – that means a whopping 14 years of use! The biggest difference between the Ice Revolution and the Extreme Glide tiles is the size – these panels are very large at 4'x4' or 4'x8'. Although you might have to plan your space more carefully and the rink is not very portable, this does mean fewer connections and thus fewer points of weakness.
As the name suggests, with an Extreme Glide Synthetic ice rink you will find an incredibly smooth and slippery surface. There is still slightly more friction than genuine ice, but the feel is very close to the real thing, making this rink ideal for both figure skaters and hockey players. And they are UV protected, so perfect for outdoor or indoor use.
4. Better Hockey Extreme Dryland Flooring Tiles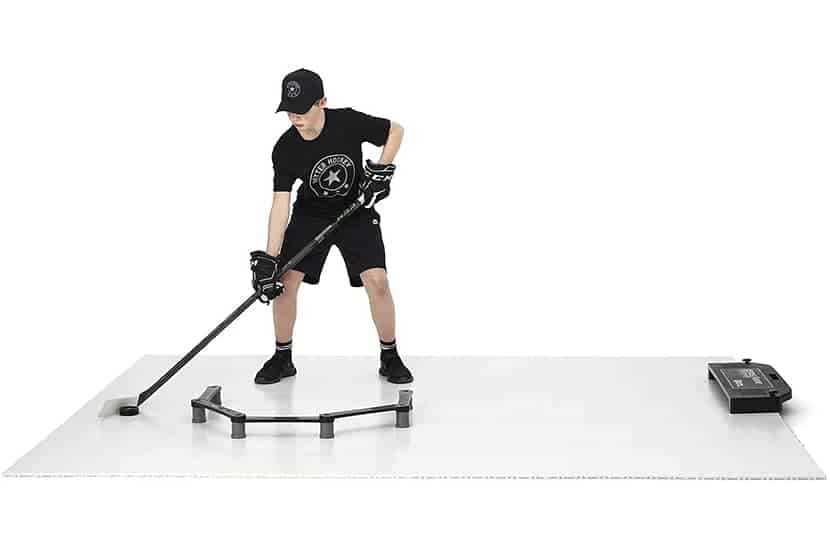 If you don't have the space for a full rink, no worries! You can still practice your shooting and puck handling skills with these flooring tiles. In fact, a non-skateable synthetic ice rink is probably better for stickhandling practice as they tend to be more slippery. The Extreme Dryland flooring tiles are indeed amazingly slick, mimicking the feel of frozen ice. This artificial rink is endorsed by over 100 NHL players, which tells you something about the quality! It is therefore ideal for serious training, but at the same time it is just as great for having fun with kids.
This rink is great quality and highly durable. You can park your car on it, although the manufacturers note that this may damage the smooth feel. It is also UV protected and weatherproof, so you can set it up anywhere. On top of that, the interlocking system is strong but quick to put together and take apart. While you cannot use skates on this rink, why not try some sock skating?
5. HockeyShot Allstar Dryland Flooring Tiles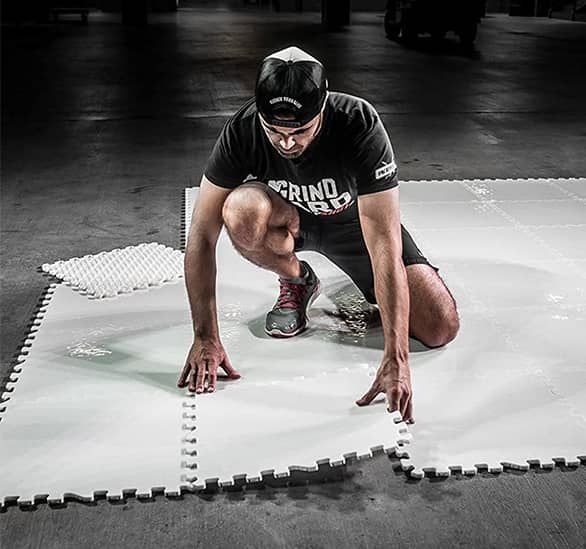 Another product by HockeyShot, these synthetic ice sheets are designed for shooting, passing and puck handling practice, but not ice skating. With less friction than their Revolution tiles, these provide an incredibly slick puck handling experience. Their new and improved design also makes scratches less visible. This rink is also extremely durable – you can keep it in your garage and park your car on it no problem.
What is great about these tiles is their flexibility. Even if your surface is not perfectly flat, it is not a problem as they can accommodate uneven terrain. HockeyShot's Dryland tiles are UV resistant as well as weatherproof – you can use them for  outdoor or indoor training, any time of year! You won't be saving much money though, so you may want to cut your losses and go for the tiles designed for skating. But if you want the best small rink for puck handling practice, this is the product for you.
6. Better Hockey Portable Roll-Up Shooting Pad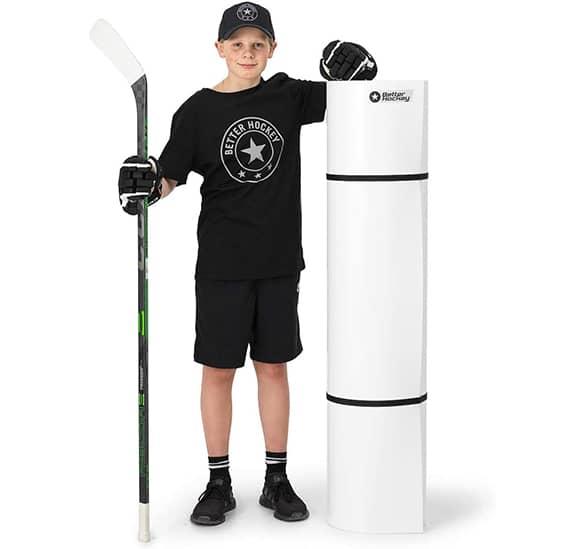 This is another great choice for those with limited space or players who want to practice stickhandling. It is small enough to set up in any spare room or basement, and once you're done, simply roll it up again! You can also use it outdoors year-round, as it is UV-resistant and weatherproof. This shooting pad is thick enough to create a smooth surface, but thin enough to roll up and store without wasting space. It is also super portable, as it is lightweight and includes straps for ease of carrying.
This small rink for shooting is incredibly smooth and slippery, mimicking the feel of frozen ice. However, unlike many products used for ice skating, it may lose its slipperiness over time. But with good maintenance and cleaning, it should last for several years. It is not quite as tough as thicker products – one customer reported that their pad arrived wrinkled. Luckily, Better Hockey will replace any product that does not arrive in mint condition.
7. Snipers Edge Skateable Synthetic Ice Hockey Tiles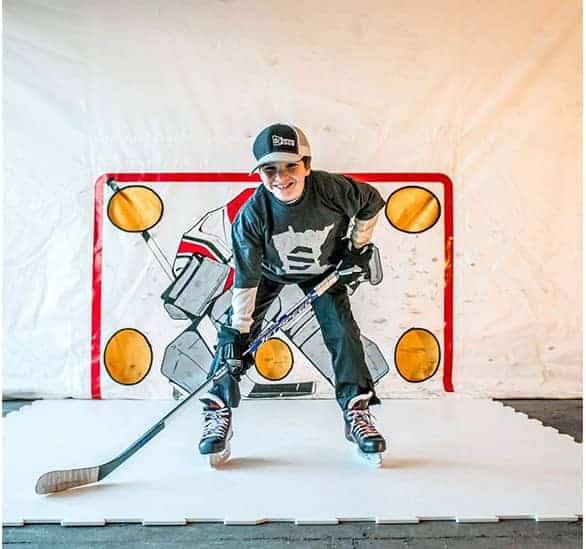 One thing we love about Snipers Edge synthetic tiles is that not only can they be used indoor or outdoor, but in any kind of weather! These skateable tiles are UV protected, as well as waterproof. As long as you set it up on a hard, flat surface, you can get skating anytime. When it comes to durability, this plastic ice is incredibly tough. It is also double-sided, which doubles the lifespan. It is not quite as durable as the products at the top of this list, but on the flipside it is very lightweight. The 2'x4' tiles are also small enough to transport easily.
Great For Skating Practice
This rink does not feel as close to frozen ice as the products listed above – the effort required to propel yourself is quite high. However, this makes it great for practicing difficult skating moves before moving on to the real thing. It works well for both figure skaters and shooters, though the friction makes it not so ideal for goalies. It also requires more frequent blade sharpening than some products.
8. Hockey Revolution 15-pack Dryland Flooring Tiles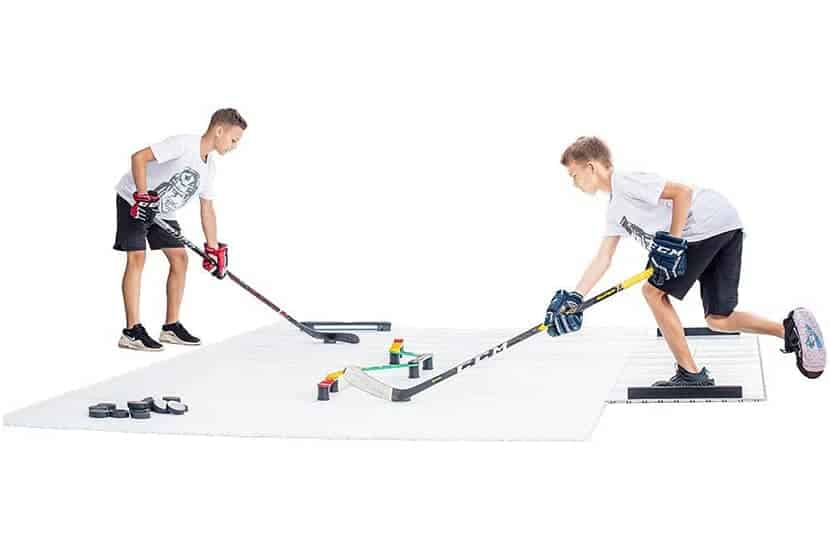 The advantage of choosing artificial ice not designed for ice skating is that it is usually more slippery, allowing your puck to glide over it smoothly. Hockey Revolution's Dryland flooring tiles are no different and are thus perfect for practicing shooting, puck handling and passing. It may get scuff marks over time, but this does not affect performance. This plastic ice is not as durable as some of the products above – you shouldn't park your car on it! But for the price, the durability is good.
You can set up this small rink wherever you have a flat surface, indoors or outdoors. Most customers also found their rink to be highly weatherproof. At 17.6 square feet (1.6 square meters), this 15 pack also creates a rink large enough for two players to practice together, but still small enough that you can set it up almost anywhere. Plus, the small size of these tiles makes them super easy to pack away and transport.
We have put together everything you need to know before choosing your own synthetic ice rink.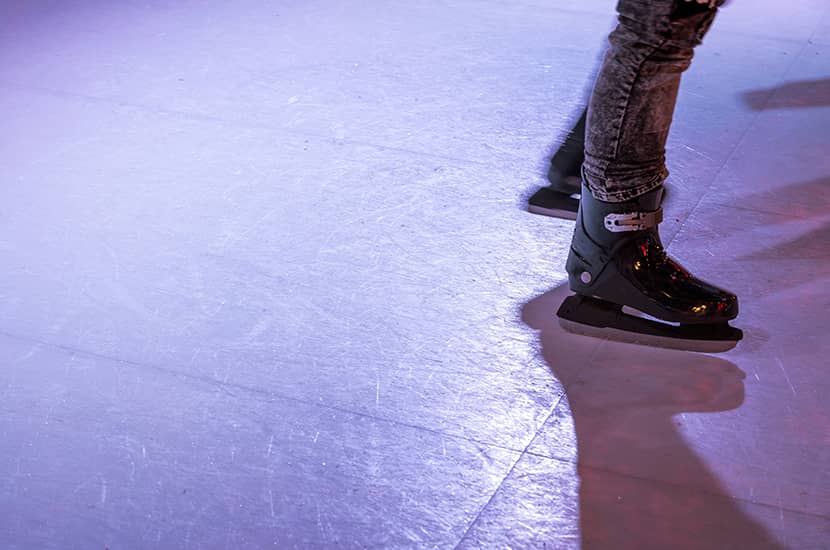 How To Choose Synthetic Ice
Here's what you should consider when deciding which synthetic ice for hockey to buy.
What Are You Using It For?
Is it mostly for recreation and backyard tournaments with friends? Do you have a kid or teen who needs more opportunities for hockey practice off-season? Or do you mostly want to develop your puck handling and shooting skills? If it is the latter, you might not need something you can actually skate on, which will allow you to save money and space. If it's for casual use, you probably don't need the best quality synthetic ice surface money can buy, but you may want it to be big enough for multiple players. If you need it for serious training, quality and a more genuine feel is likely to be more important. We also reviewed best hockey equipment to get right now. Check out what the best Hockey Rebounders are.
Whether you decide to set up your rink in your driveway, garage or basement, you need to make sure you have the space to use it safely. That means not only making sure it will fit, but also that there is space around it so that kids won't knock over valuables or get poked in the eye with tree branches. You'll also need to think about where you will store the rink when not in use, and whether you want to be able to transport it easily.
Lastly, it is always important to think about your budget. How important is the quality of the rink and how much are you willing to spend on it? You should also think about whether quality or quantity is more important to you. You could spend the same amount of money and get more of a lower quality product, or fewer tiles that are higher quality.
In the end, your decision of what to buy will always be a balancing act between budget and quality.
Setting Up Your Synthetic Ice
As long as you have the space, you can set up your rink outdoors or indoors, in your yard, basement, driveway, garage or deck. The most important thing is that you have a flat, hard surface to set up your rink – concrete, asphalt or plywood all work well. Some synthetic ice tiles are thicker or more flexible than others, so can accommodate slightly uneven surfaces.
When setting up your rink, follow the manufacturer's instructions – don't try to wing it as you may end up damaging the interlocking system. Most synthetic rinks are made by connecting a number of interlocking panels like puzzle pieces. This is one area where you can't skimp on quality – it is crucial that the interlocking system is tight and strong, and seamless enough that you can't tell it isn't just one large piece when gliding over it.
How To Take Care Of Your Synthetic Ice
Most synthetic ice is self-lubricating, so will not need any resurfacing over time. In fact, it usually gets better with time! Where a little maintenance is necessary is when it comes to cleaning. It's important to make sure that the surface is clean before a skating session, and to clean the ice shavings off the surface when you are done.
Cleaning the plastic shavings is especially important if your ice rink is outdoors – you don't want them blowing away with the wind.
You can use pretty much any method you prefer to clean up the shavings – a vacuum, a microfiber towel or simply sweep them up with a broom. Like any surface, your ice rink might occasionally require a mopping to get rid of dirt that accumulates. You might consider pressure washing it every once in a while, but this might not be necessary.
Frequently Asked Questions
After lots of research, our pick for the best synthetic ice is Skate Anytime's synthetic ice rink. It ticks all the boxes: durable, versatile, great feel for ice skating and hockey playing, and becomes smoother with use. However, if you are looking for something more affordable, portable, or a rink specifically to practice puck handling, there is something for you too. Get ice time anytime with one of these fantastic products!