Jenga originated in an African village, traveled to a London tech company, and is now played all over the world. Giant Jenga games are great party fun indoors or out, with family or friends, or even as a team-building exercise. You can play competitively, use it as a motor skills teaching tool, or enjoy your own variations and bonus rules with this timeless game.
We have listed what we think are the best giant Jenga sets and why — look for features like storage cases and the ability to customize. Read on to decide which one would be best for you, and have fun!
1. Jenga® GIANT™ JS7 Hardwood Game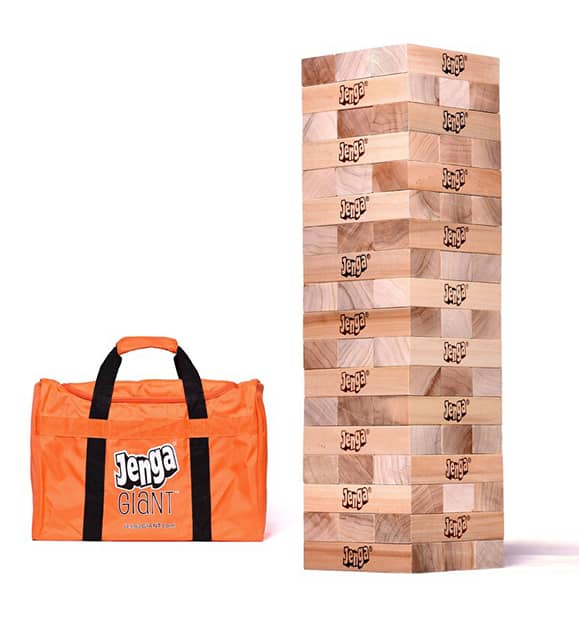 Editor's Choice #1: This authentic, supersize Jenga® GIANT™ JS7 Premium Hardwood Game is made to the highest standards and proudly boasts Jenga logos on every piece. The blocks are polished for the perfect finish and the set is sized just right to play wherever you want. You and your family and friends will all love it!
Jenga lovers will love nothing more than this Jenga® GIANT™ JS7 Premium Hardwood Game set. It's made with pride by the folks at Jenga so you know it's the best of the best. The set of 54 blocks comes with a bright orange nylon logoed storage bag/carrying case. The giant tower starts off around two feet tall and can grow to over 5 feet with super stacking skill. The high-quality blocks are made of solid hardwood and feature the Jenga name and logo on each block. They can be used indoors or outdoors, but they are not weather-resistant so if they are used outdoors, they should be wiped down before they are put away.
Each of the giant JS7 hardwood game blocks measures 7.125″ x 2.375″ x 1.375″, which is over 14 times the size of a classic Jenga block. The set weighs in at just under 25 pounds total, so you know that it is strong and hefty. The polished hardwood has just the right amount of slickness to make the game challenging, and each block is precisely crafted and finished. The yard games giant Jenga set can be played on the ground or on a low table. It's just the right size for a giant Jenga tower anywhere you want it!
2. GoSports Toppling Tower Giant Games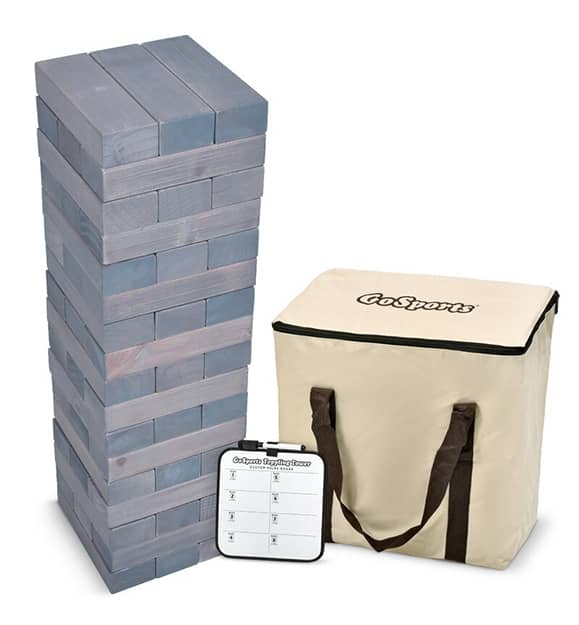 Editor's Choice #2: The GoSports Toppling Tower Giant Games set features hand-sanded stained pine blocks that are reminiscent of well-weathered barns. Play the classic block tower game or create your own special rules – these can be either family-friendly or not! This set is a great addition to any basement or patio toy collection.
This Toppling Tower Giant Games set of giant Jenga blocks comes in your choice of brown or gray stain; both finishes are inspired by the look of vintage barns. The solid pine blocks are kiln-dried for durability and hand-sanded for a smooth, even finish. The blocks are level and will stack nicely. Each block measures 7.75″ x 2.5″ x 1.5″ and the complete set weighs in at 30 pounds. The tower will reach over 5 feet tall when all blocks are in play. You will get 54 blocks and an attractive, sturdy carrying case with a zipper and handles. This GoSports Giant Games set can go anywhere with you, such as family gatherings, tailgate parties, team-building events and other festivities.
A unique feature of this giant Jenga set is that some of the blocks have numbers printed on the bottom. You can use these numbers to create special party rules that correspond to the numbers, where any player who draws a numbered block has to pay a penalty. Feel free to be as goofy or silly as you want with these rules! You'll get a dry-erase board to keep track of your own special booster pack additions to this classic party game. This is a great way to make the game extra memorable for your family and friends!
3. Jenga® GIANT™ Premium Hardwood Game
Enjoy an extra helping of the authentic, classic Jenga game. This official Jenga set is manufactured to meet standards for the best precision play. The hardwood game blocks are sanded and polished for a smooth finish, and they have the Jenga name and logo burned into them so you'll know that you've got the real thing. You get 54 blocks to build with, and each block measures 6″ x 2″ x 1″, with The complete set weighing in at 17 pounds. The party game tower starts out around 18″ tall and can stack to three feet high or even higher, depending on the skill of the players.
This is an official giant Jenga game so you know you're getting the best of the best. The blocks are solid wood and nicely finished so they are perfectly smooth and feel good in your hands. They are well balanced and fit together perfectly. You'll be proud to have this hardwood game set on display at any party, picnic, or giant family games Jenga event. The blocks arrive packed into a sturdy designer carton that can also be used for storage and transport. They are the perfect size to play yard games on the ground or inside on a table, like at a birthday party. The tumbling tower is a great addition to any type of group events.
4. Splinter Woodworking Tumble Tower Giant Games Set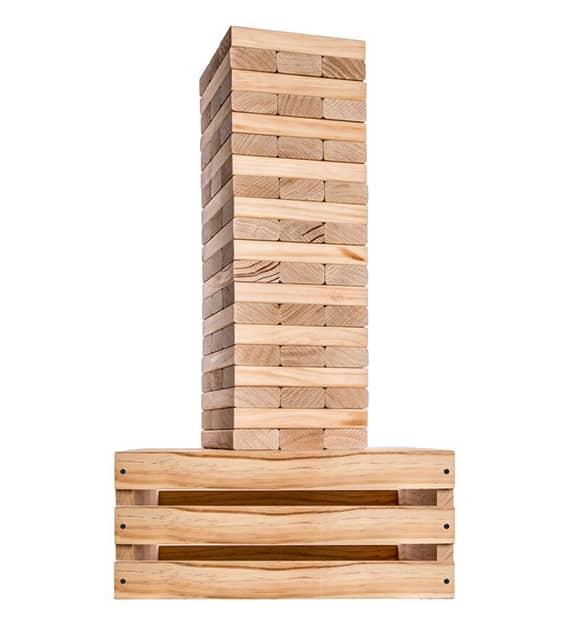 Beautiful Blocks And A Box
The Splinter Woodworking Co. (don't worry — they aren't really splintery despite the company name!) Tumble Tower Giant Games Set comes with 60 kiln-dried New Zealand pine blocks and a uniquely-designed crate that can be used as a platform when you're playing, and a storage crate with cutouts to carry it easily when you're done. The New Zealand wooden blocks are smoothly sanded and have very few knots so they offer a wonderful unfinished surface that you can personalize with stain, paint, or another method of your choice. 60 chalkboard labels are included for true customization. The tower can grow to over 5 feet tall, including the box table.
From the dual-purpose box to the included labels, every detail of this giant Jenga set has been thoroughly thought out. The timber blocks are guaranteed not to warp, split, or crack, and they have been sustainably-sourced so you can feel extra-good about this purchase. The wooden blocks are CPSIA-compliant and NHPA-approved. You get the 60 blocks, the great crate, chalkboard labels, a rule book and a score keeper. You can make it uniquely your own and you can use the crate to take it with you to parties, picnics, beaches, barbecues and anywhere else you want to go. Because the blocks come unfinished, you can seal or varnish them if you want to play giant Jenga games outdoors.
5. Yard Games US Tumbling Timbers Giant Stacking Game Pieces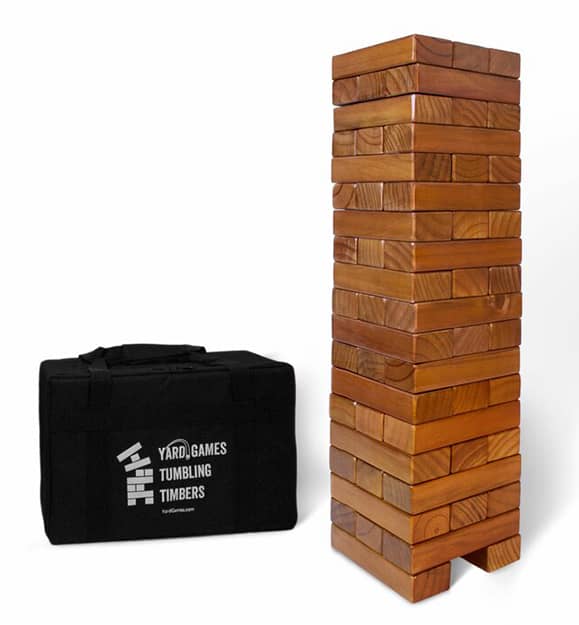 This Yard Games Giant Tumbling Timbers set boasts 56 solid pine blocks, all individually precision-cut, beautifully sanded and hand-finished. The stain highlights the natural grain of the wood and the deep, rich tone looks gorgeous indoors or out. The giant Jenga tower starts out at 2.5 and can climb up over 4 feet high as you stack the blocks. You can play on the floor, on the ground, or on a playing table. The set comes complete with an attractive black carrying case with handles that makes it easy to store or transport the blocks to play Jenga games anywhere you like.
Each block measures 7.5″ x 2.5″ x 1.5″ and the total weight is just under 25 pounds; the Jenga blocks look and feel substantial in your hands and stack over 4 feet tall very nicely. They are finished with just the right amount of gloss and slide. The pine blocks are treated to be weather-resistant so they're great to play the tower game indoors, outdoors, or anywhere else you please. The manufacturer, Yard Games, is so confident in the high quality of this giant Tumbling Timbers set that it comes with a lifetime warranty. Feel free to play hard without any worry! It's super fun to take this set to picnics, barbecues, or tailgate parties!
6. Festival Depot Topple Tower Giant Games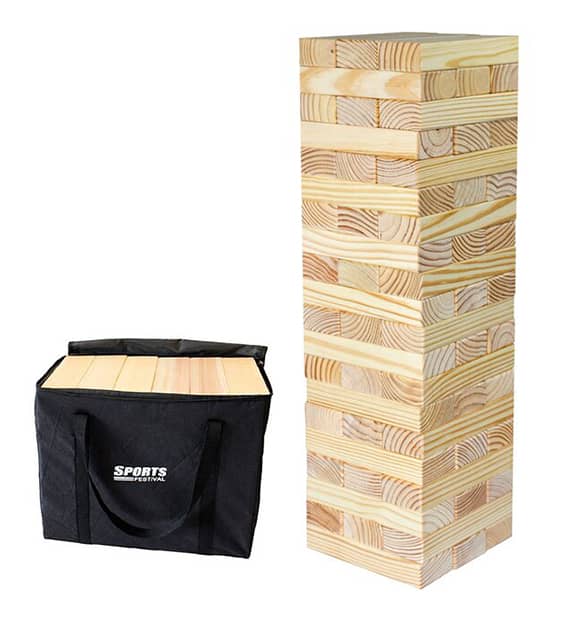 This excellent giant Jenga set comes with everything you need to get started with this tower game — this includes 60 blocks, a handsome black poly storage bag with a zipper and handles, and a rulebook to settle any disputes. The tower starts off at 2 feet tall and can grow to 5.5 feet or even taller, depending on how careful and precise you are. The natural wood blocks are solid and sturdy; the set weighs in at a substantial 25 pounds. This may also be one of the prettiest giant Jenga sets out there. The blocks are crafted of solid pine wood and finished to highlight the dramatic, natural growth ring patterns.
This set is suitable for play indoors, outdoors, or anywhere else you want! The smooth wooden blocks are treated to be resistant to weather, water, heat, mildew and UV rays, which means that they will only improve with a bit of weathering and patina. The blocks stack and store nicely and neatly in the provided carrying case. You can take them with you on picnics, to tailgate parties, or to barbecues and bonfires. They're also a lot of fun at the beach and you don't have to worry if they get wet. It's a great set for yard games or any other festivities with family or friends. Players of all ages will appreciate this nicely constructed set. Each block measures 7″ x 2.25″ x 1.125″.
Whether you want to play with friends or family, whether indoors or outdoors, there are a lot of great sets out there and we'll help you decide which is the right one for you!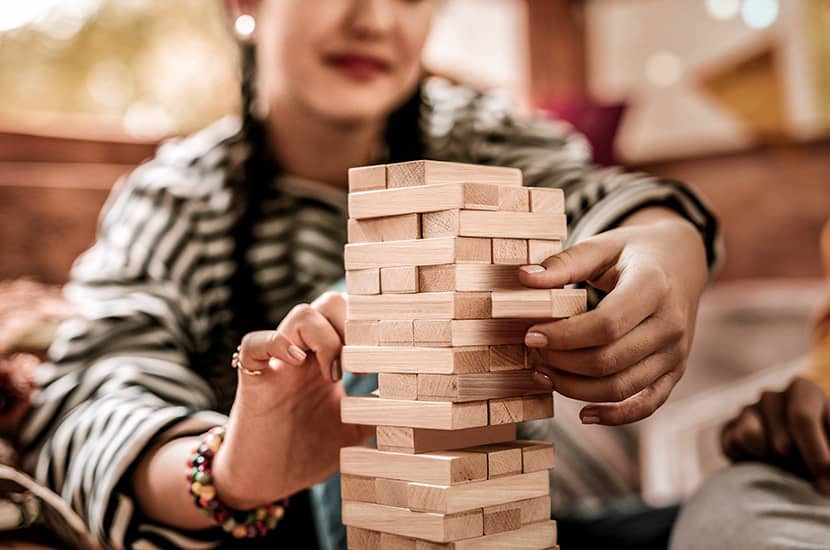 People have been playing with bricks and blocks for millennia, but Jenga as we know it was introduced in Harrod's Department Store in London in 1982 and at the London Toy Fair in 1983. Leslie Scott had played the tower game with her family growing up in Ghana; the family even had blocks custom-cut at a sawmill.
Scott was employed as an internal game designer at Intel and part of her job was to help employees learn new skills. The "game with bricks" was a perennial favorite. Scott trademarked the game as Jenga, derived from the Swahili kujenga (to build), and had sets manufactured by the Camphill Village Trust.
Robert Grebler acquired worldwide rights to Jenga games in 1985. Rights to the game then  passed through Pokonobe Associates, Irwin Toy, Schaper and finally to Hasbro, where it was sold under the Milton Bradley flag. Grebler may also hold the record for the tallest tower ever documented: he erected a tower of 40⅔ levels in 1985 with one of Leslie Scott's original sets.
Today, Jenga is enjoyed by players of all ages around the world in many different ways including themed sets, tournaments, team-building events, online games, console games, mobile apps and much more.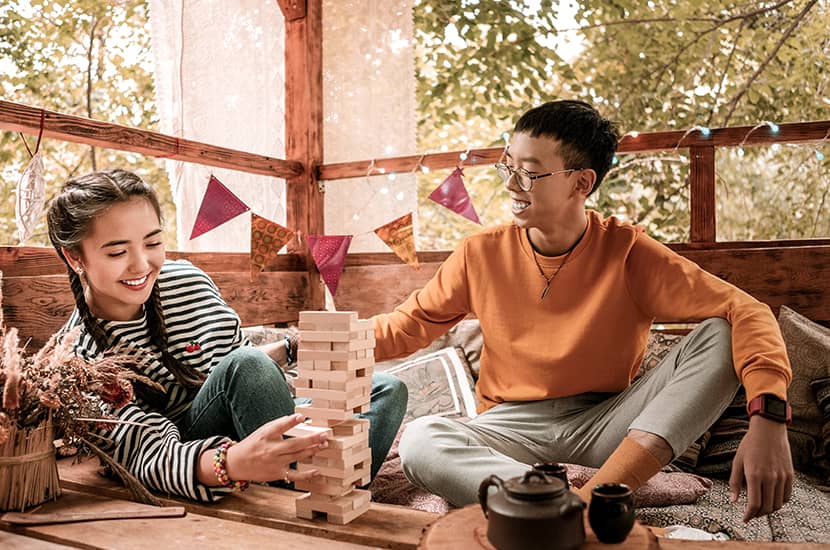 The classic beloved Jenga game is built around a set of 54 wooden blocks. Play starts with a tower of blocks stacked in levels of three, aligned along their long sides and placed at right angles to the previous level. The first player then carefully removes one block from any level of the tower and places it on the top level.
Players can use either hand but make sure that only one hand can touch the tower at a time. Players are allowed to tap blocks to determine the best one to remove, but any blocks that are moved but not played need to be replaced. The player's turn is over after ten seconds or when the next player touches the tower, whichever comes first. 
The game ends when the tower topples totally or if any block other than the block in play falls from the tower. The winner is the person who was not touching the tower or block when it fell.
The "easiest" blocks are generally the blocks in the middle — either the center block in the layer of three parallel blocks or blocks in the middle of the top of the game stacks. Removing these middle blocks is less likely to upset the balance of the tower. It's usually easier to remove these blocks by pushing rather than pulling; you can tap the blocks lightly to find a loose one.
Tips For Playing Giant Jenga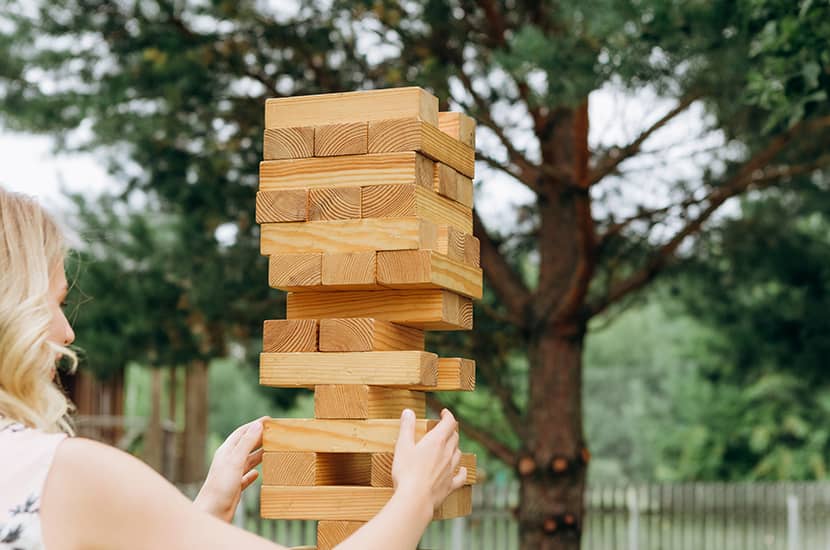 Giant Jenga is played much the same way as the classic tabletop game but just as with all board games, there are some nuances to the larger games. Of course, dexterity and strategy reign supreme in the Jenga world. You want to play your piece while making it difficult for your opponent to play their piece without toppling the tower.
Jenga blocks are made from wood and since wood is a natural, organic material, even the best made blocks will exhibit slight differences in density and balance. Use this to your advantage by tapping and testing the blocks in the tower to determine which ones can be removed the most easily.
Common sense — which is not always as common as it should be! — suggests that you should position yourself so that you can use your dominant hand. Your dominant hand tends to be steadier and stronger, which means that you can remove and place your block more smoothly.
Remember to play to the center whenever possible. It's easier and safer to remove the center block of a line of three; when there is no center block available, you may be able to shift both side blocks towards the middle of the tower, which will allow you to maintain the center of gravity as you remove your block.
There are many different ways to make both tabletop or giant Jenga sets uniquely your own. Some variations include:
Roll a six-sided die when it's your turn. The number showing is the number of blocks that you need to remove and place during your turn. You may choose to have looser time limits when you play this way.
Build the tower with the center blocks missing, so only two blocks per level. On their turns, players have to insert the blocks in the center position using only one hand. Once the giant tower is complete, play as you would normally — but it will be much more difficult because the tower will likely be fairly unstable.
You can print numbers on the bottom of some of the blocks and make a chart of silly rules for each number. If a player draws a numbered block, they have to do whatever corresponds to that number: sing a song, miss a turn, or do five jumping jacks. If all players are adults, you can include challenges like finishing a beer or kissing the person next to you.
This is obviously another variation that is best suited for adult players! Use a whip to remove the Jenga blocks. You then place the block using one hand as usual.
You can use paint, stain, decals, stickers, or write-on labels to customize your Jenga blocks. Make your set your own with your favorite themes or variations on the board game.
We've shown you what we think are the best giant Jenga games out there but if none of them quite tickle your fancy, it could be a great family project to make your own!
You'll need either new or recycled 2'x4′ boards — about six eight-foot boards or the equivalent. 
First, make an 18″x18″ crate using 2'x4′ boards and a plywood base.
Then, precision cut the 2'x4′ boards into 10.5″ blocks.
Smooth and sand them, and finish as desired.
If you've used recycled wood, you may want to preserve the weathered look if you can.
If you want to make a storage crate that also serves as a game platform, you'll also need some plywood and another six-foot 2'x'4′.
Frequently Asked Questions
The best giant Jenga sets are a great addition to birthday parties or any other event. We think that the Jenga® GIANT™ JS7 Hardwood Game and the GoSports Toppling Tower Giant Games set and are probably the best ones on the market today, although the Yard Games Giant Tumbling Timbers, the Jenga® GIANT™ Premium, the Splinter Woodworking Tumble Tower Giant Games Set and the Festival Depot Topple Tower Giant Games set are excellent as well.