Do you love the game of air hockey, but just don't have the space or budget for a full sized table? Well, you're in luck! We've rounded up a collection of the eight best table top air hockey tables on the market. Whether you'd prefer classic arcade style play or a more innovative variation of air hockey, you're sure to find some great options below. With features like manual and electronic scoring systems, high output air blower motors and so much more, read on to find the best mini air hockey table for you!
1. Mainstreet Classics 35 Inch Table Top Hockey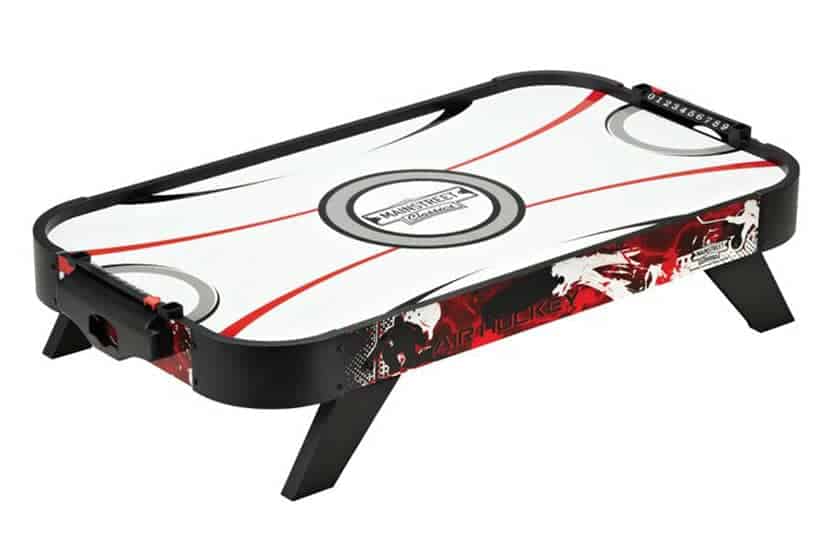 Editor's Choice #1: This striking red and black table is a wonderful addition to any game room. Of course, at less than three feet in length, you can also set it up on your kitchen table or any other level surface! One of the best air hockey tables for children and adults alike, this air hockey table from Mainstreet features a real air blower motor for a truly arcade style gameplay experience.
Authentic Arcade Style Gameplay
If you're looking for mini air hockey tables that retain the experience of full-sized tables whilst being smaller in size, this 35 inch table top air hockey game table from Mainstreet is a great choice! It uses a real air blower motor that plugs in with the included cord, and you can really feel the air flow on the rink! Plus, it features traditional dual end puck returns. Use the included pucks and pushers to jump into the game as soon as you finish assembly!
This mini table top game is quick and easy to assemble–just attach the four legs and two goal boxes, and your 35 inch tabletop air hockey game is ready to go! And even though this mini table is almost three feet long, it's still portable and easy to store at only 11 pounds. Simply pick it up and store it away until you're ready to play again!
2. GoSports 17.5 Inch Table Top Hockey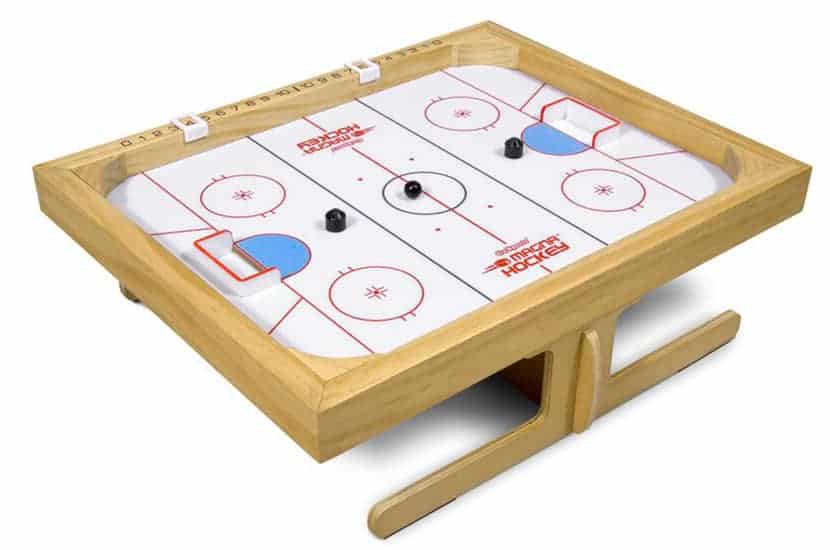 Editor's Choice #2: This truly mini tabletop air hockey game provides high-speed gameplay and excitement – and small enough to fit on your coffee table! A highly-rated mini air hockey game table at an affordable price, you'll love the high-quality, durable wood construction. This GoSports model is one of the best small air hockey tables!
Magnetized Playing Surface
Experience the game of air hockey in a new and innovative way with this GoSports table, featuring a magnetized playing surface rather than the traditional air blower motor. Players magnetically control this best mini air hockey game from below the table, eliminating the need for batteries and cords. And it's easy to keep track of the score with the built-in manual scoring system on the side of the table! Play anywhere, anytime with this air hockey game table – one of our best choice products.
High-Quality Wooden Construction
Like many of the air hockey games on this list, this best product is made for years of fun! Constructed from sturdy wooden materials, this mini air hockey table from GoSports is a great choice if you're looking for the best air hockey tables that will last. In addition, the table is lightweight and portable at only 5.5 pounds. It's easy to transport and store because it's so compact! At only 17.5 inches long, this is the smallest mini table top game in our table of contents.
3. Airzone Play 40 Inch Table Top Hockey
You'll love the fast-paced and exciting gameplay this small air hockey table provides! Not only is this mini table top air hockey game fully functional, but the dynamic blue graphics make it an aesthetically appealing addition to any room. Stainless steel legs and a medium-density fiberboard tabletop ensure durable and long-lasting construction.
Along with this mini air hockey table from Air Zone, you'll receive two pucks, two pushers and two on-goal manual scorekeepers. These, along with the high-gloss medium density fiberboard playing surface, make for great playability. In addition, the table uses a 110 volt air blower motor to hover the puck. Finally, the stainless steel legs with levelers mean you'll always be able to play, even on an uneven surface.
Not only is the playing surface of this 40 inch tabletop Air Zone model one of the best when it comes to mini hockey tables, it also features rounded ABS corners. ABS is a type of engineered plastic known for being lightweight yet strong. Plus, the slip-resistant table legs mean less damage to any surface on top of which the game is set up.
4. Playcraft 40 Inch Table Top Hockey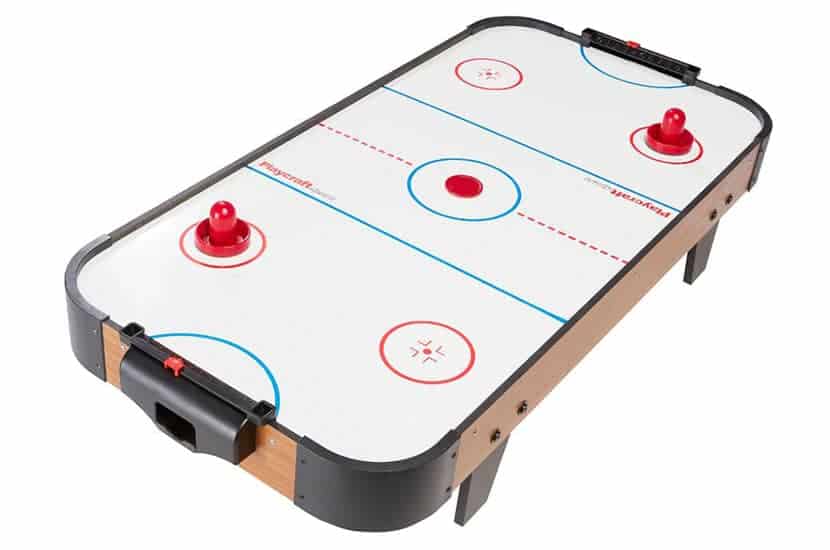 With the look of classic air hockey tables but much more compact, this mini air hockey table from Playcraft Sport is just over three feet in length. It's the perfect size to set up on the floor in the living room or on the kitchen table, as well as to store away when not in use. The entire family is sure to enjoy hours of fun thanks to this mini air hockey table!
Unlike many mini air hockey tables, this Playcraft Sport 40 inch table is simple and easy to assemble. If you want to avoid the hassle of putting the table together, this mini table is a good choice for you! Simply attach the four legs and goal returns and you're ready to play, avoiding the stress that you might run into with other table top hockey tables.
In search of classic air hockey tables, but in a miniature size? You'll love the classic design and red and blue graphics on this mini air hockey table! This electric-powered mini air hockey table plugs into a standard outlet and comes with a set of two pucks and two strikers. This model from Playcraft Sport is a great hockey table for kids as well as adults. Set it up on the floor or a table for hours of fun!
5. Hey! Play! 22 Inch Table Top Hockey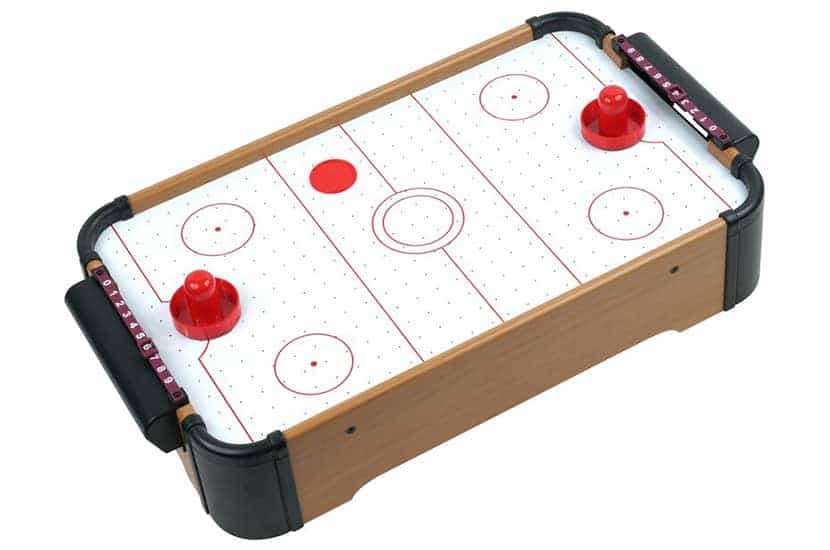 Compared to full sized air hockey tables, this 22" tabletop model from Hey! Play! will easily fit into your space. This battery powered table is a great way to play air hockey while maintaining a low price tag. It provides tons of fun for a price that won't break the bank!
At less than two feet in length, this air hockey table is truly miniature! It's a great choice for those who don't have a lot of extra space to play and store their table. At this size, you can set up the game on a coffee table or nearly any other flat surface! Weighing in at only 6.4 pounds, you'll also love how easy it is to move and transport this air hockey table.
This table might be small, but it's one of the best for kids as well as grown-ups! It uses an air motor to hover the puck, just like standard sized air hockey tables. Plus, the easy puck returns and attached scorekeeper give this tabletop air hockey table an arcade style feel, making it a fun competition for parents and kids. This best air hockey table is battery powered rather than needing to be plugged in, so you won't have to worry about setting it up near an outlet!
6. Hathaway 40 Inch Table Top Hockey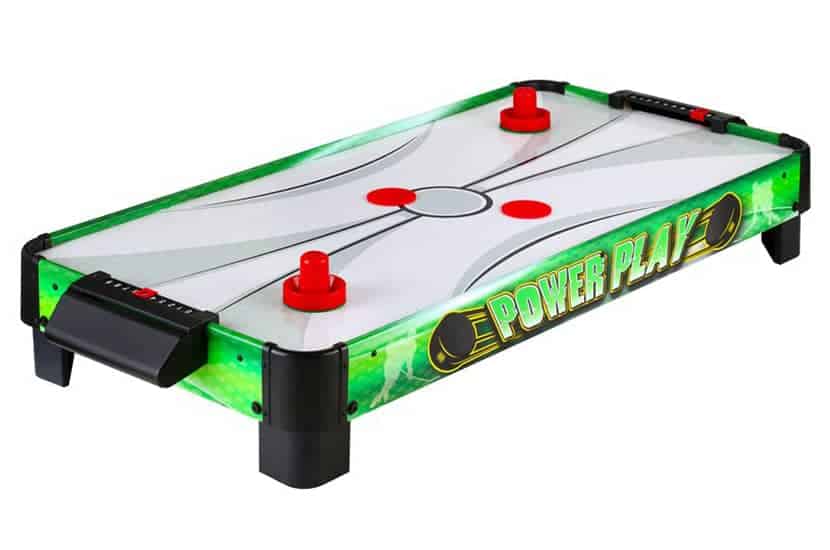 Designed for portability, quick setup and storage, this table from Hathaway Games is one of the best! It delivers the authentic experience of playing air hockey with its air blower system, but on a much smaller scale. The size of this tabletop air hockey table makes it perfect for growing kids or anyone that wants to enjoy air hockey sports without committing to a full sized table.
What sets this small air hockey table apart from the other hockey tables is its perma-sealed high output electric air blower system. As Hathaway Games explains, the puck "literally floats on a cushion of air!" This means no dead spots on the table where the puck will get stuck. This is an electric model, and it comes with a cord rather than needing batteries. You'll appreciate the quality of this air blower system and the ease of gameplay it provides.
This table from Hathaway Games is meant to withstand more than your usual wear and tear. It comes with L-shaped legs that are complete with skid-resistant non-marking pads–say goodbye to scratches and damage to your tables and floors! Plus, the medium density fiberboard construction is much stronger and more durable than other materials such as plastic and particleboard. The two included weighted strikers make this product even more high-quality.
7. Hathaway Games Le Mans Table Top Hockey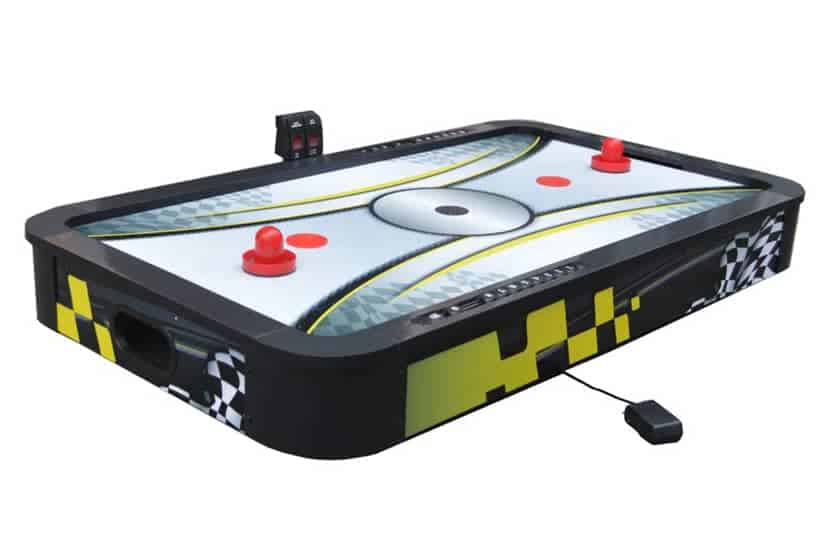 This Le Mans table from Hathaway Games truly delivers! Not only does it have a manual scoring system, but it also features an LED electronic scoring system. The built-to-last construction is sure to provide years of enjoyment and friendly competition for the entire family!
Strong And Durable Construction
If you're looking for a table built to withstand intense sports play, the Hathaway Games Le Mans air hockey table is perfect for you! It's constructed from engineered wood promising strength and durability. The playing surface is poly-sealed to offer slick and high-speed play while resisting scratches. Plus, the included pucks and strikers are chip-resistant, so you don't have to worry about them getting damaged during a particularly intense game!
This Le Mans mini air hockey table has two different scoring systems for you to use: a manual abacus-style system located on each side of the table and a high-tech electronic scoring system that does all of the work for you! Your score will be displayed on an LED screen as you play, making the game even more exciting and fun. Gameplay becomes even more quick and competitive when you don't have to worry about keeping track of the score yourself!
8. HX40 Classic Electric Air Hockey Tabletop Game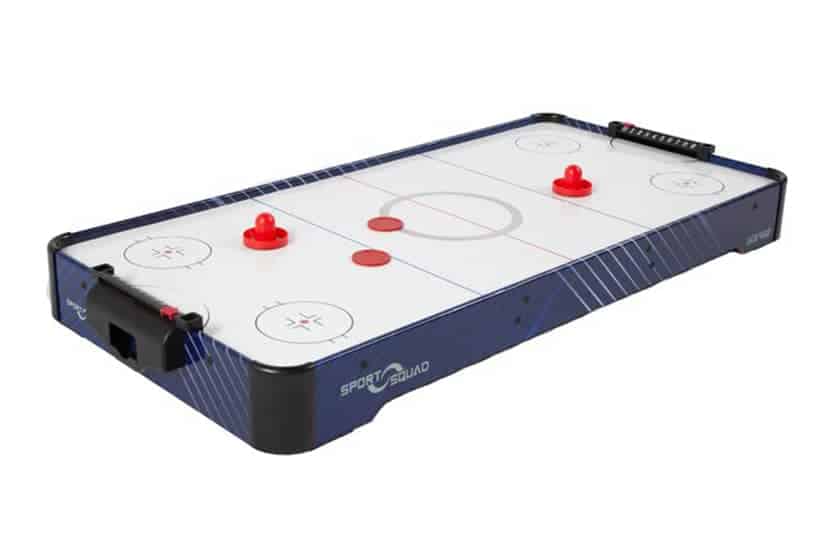 This 40 inch table top air hockey game stands out from other hockey tables with its powerful fan and quality construction. This is a perfect hockey table for kids and even the average adult. It will be the best mini addition to your game room–or to any room where you have a flat surface to set up this mini table!
The Sport Squad HX40 is electric-powered, using a high output fan powered by an AC-12V motor. An included adapter allows you to plug in the table for smooth, continuous air flow that will make the puck slide across the playing surface with ease! Despite being powerful enough to provide frictionless gameplay, the fan remains quiet enough that it won't become a distraction during the game.
This Sport Squad best mini air hockey table is made of medium density fiberboard for a table that's high-quality and durable. Non-marking rubber pads on the bottom of the air hockey table protect any surface you place it on. Scuffs and scratches are nothing to worry about with this table top game! Plus, assembly takes only five minutes, allowing you to avoid the hassle of construction and move on to the game!
What To Look For When Buying A Mini Air Hockey Table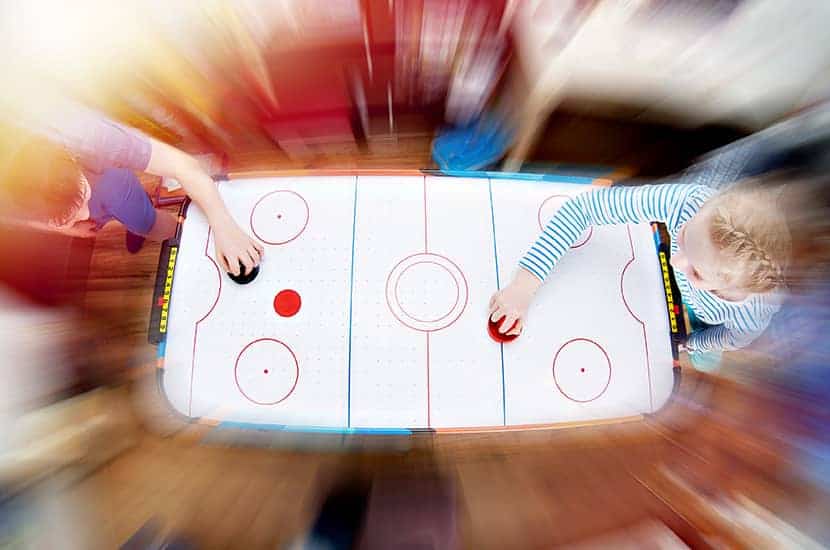 The most important aspects to keep in mind when choosing the best mini air hockey table for you are size, quality of construction, portability and ease of storage, and additional features.
You'll definitely want to measure both where you plan to put the table and where you'll be storing it! Also take into account the people who will be using the table. For children, you can typically select a smaller size than you would for adults. If you prefer a full sized version, check out our best air hockey tables review next. Alternatively, you may instead be interested in our table hockey game reviews.
Check the materials used to construct the mini air hockey table and the quality of the blower motor. You'll also want to know whether the playing surface has a coating to protect it. Look at the way the joints are put together to be sure that they'll hold over time, and remember to check whether or not the legs are adjustable.
Warning: Small parts can be a choking hazard for young children.
Portability And Ease Of Storage
Will you be moving your new mini air hockey table from one room to another, or in and out of storage? If so, portability and ease of storage are important components to remember while making your decision.
Many of the best mini air hockey tables feature manual scoring systems, but some have electronic ones as well. Some hockey tables even feature speakers so that you can play music while enjoying the game!
How To Clean A Mini Air Hockey Table
There are six main steps to cleaning mini air hockey tables:
Vacuum the surface of the table.
Use a damp cloth to scrub the tabletop.
With the blower on, use a toothpick or other small item to remove dust and debris from each hole.
Use a small amount of furniture wax to polish the surface of the table–but don't go overboard, or the surface will become too slippery for gameplay.
Clean the blower motor using a vacuum. On some tabletop air hockey tables, you may need to unscrew a couple of bolts to access the blower.
Look over the pucks and strikers to check for the problem of wear and tear. They may just need a quick wipedown with a damp cloth, or if they've accumulated a lot of damage over time, you might want to replace them.
Frequently Asked Questions
Our best mini air hockey table is the GoSports 17.5″ Table Top Hockey Table. The magnetic tabletop, rather than a fan motor, makes this air hockey model unique. Its new spin on the classic game we all know and love is sure to provide hours of fun for you and your family! Following closely is the Mainstreet Classics 35" Table Top Hockey With Manual Scoreboard – the best air hockey table for classic gameplay in a smaller and more compact size.