So you've been working on your pool game for a while now and you want to buy a new cue so you can play pool to your best potential. Sure, you can use the cues that come with your pool table, but these are often cheap and low-quality. Finding the perfect pool cues that will actually improve your game requires some research. Thankfully, we have done the research for you by reviewing the top 10 tried and tested best pool cues on the market today. All you have to do is read our buyer's guide to understand what you want from your cues, and then choose the best pool cue for your needs. Happy potting!
1. Lucasi Hybrid LHC97 Natural Birds-Eye Maple Pool Cue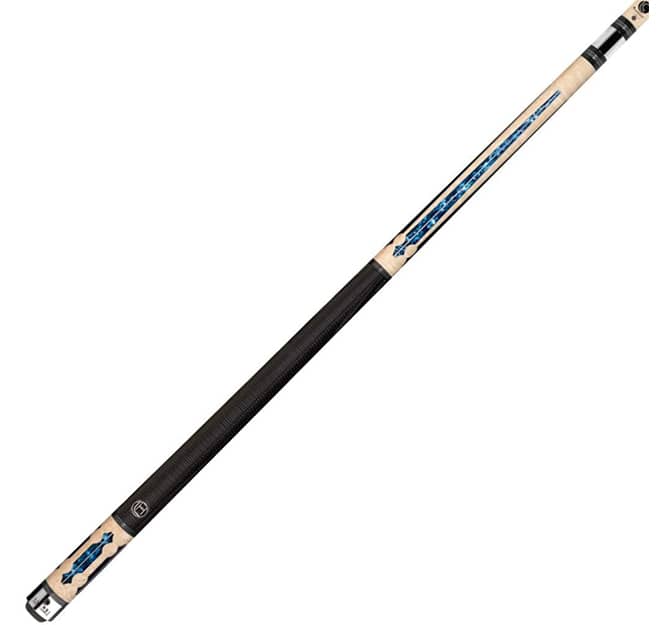 Editor's Choice #1: If you say there aren't any perfect pool cues out there, I'll counter with this one. Out of all the pool cues we reviewed, this one will improve your game the most. Plus, you will look like a boss and have an excellent cue that will last you for life.
With its attention to detail and high-tech design, the Lucasi Hybrid LHC97 pool cue is consistently praised for improving the performance of anyone who plays. It has multiple features to decrease deflection, such as its zero Flex-Point ferrule with lightweight polymer construction, and a hybrid leather wrap with built-in shock absorbing memory foam technology. The 10-layer soft leather tip also provides excellent spin.
You may think such a high-tech cue is too advanced for beginners, but rest assured – this pool cue is great for all levels! Many other reviewers reported markedly improved performance when using this cue. As well as the features above, this is due to the sweet spot being extended throughout the whole shaft, a four-piece butt construction that improves stability and a wrap that provides traction and stability.
We don't have the space to say everything that makes this such a great pool cue. But on top of the performance aspects, this cue has a lifetime warranty, including warping. Plus, you can play in style – with its blue velvet inlays, stainless steel rings and sleek finish, this cue is exquisite. As a bonus, you can choose whatever weight suits you from 18-21oz (510-595g), in half oz (14g) increments.
2. Players Technology Series HXT15 Two-Piece Pool Cue
Editor's choice #2: This cue proves that you don't need to pay a fortune to get a well-made, low deflection pool cue that feels great to play with. It may not be as high-spec as the Lucasi Hybrid, but it is still one of the best pool cues out there – durable, lightweight and stylish at an amazing price point.
Among pool cue brands, Players cues have a reputation for quality, and the Technology Series HXT15 is no different. This pool stick proves that you don't need to break the bank to get high quality cues, and performs much better than other cues in this price range. Similar to the Lucasi Hybrid, its low deflection can be mostly attributed to its lightweight polymer ferrule. You won't be getting quite the same accuracy, but it is still one of the best pool cues out there.
Very impressively, this pool cue boasts a lifetime guarantee, including warping. It features a soft tip which allows for increased spin. Its Irish Linen grip does not provide the most traction, but you can always replace it if you want to. This level of quality at this price point is almost unheard of.
Most reviewers agree that this pool cue feels fantastic to play with, with great balance and a smooth hit. Its two-piece Sneaky Pete design makes it easy to carry around and it comes in a variety of weights so you can choose what works best for you. Its striking walnut-stained Bird's Eye maple construction with stainless steel collar will up the class in your game room. If you want a high-performance cue for an affordable price, this is the perfect cue for you.
3. Lucasi Custom Mystic Black and Curly Maple Pool Cue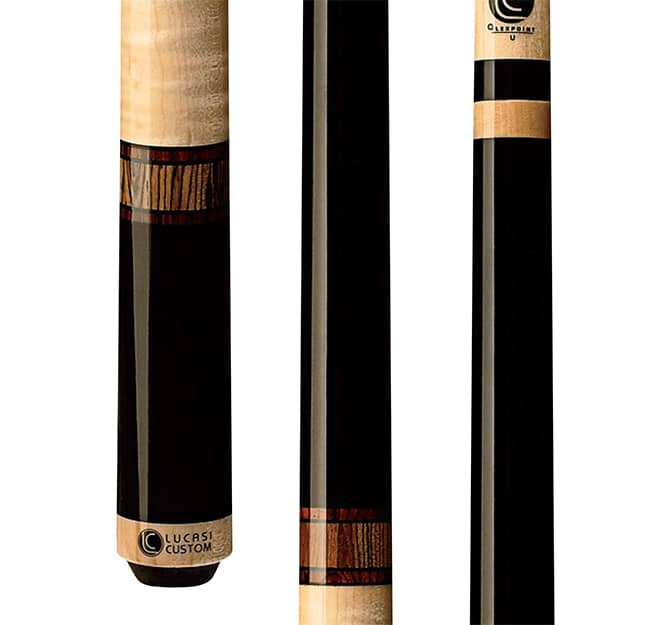 If you want to enjoy some of the amazing features of Lucasi cues but don't have the budget for the Hybrid, the Mystic is a great pool cue. Like the Hybrid, this cue features a lightweight polymer ferrule to minimize deflection. It also has an extended taper design which makes the cue less stiff, decreasing deflection even further.
One thing to note is that this pool cue does not come with its own grip, so you will have to buy that separately if you would like one. Its Tiger Everest tip is comparable to a soft tip in terms of control, but with enhanced power and durability. Like the Hybrid, this cue also features a 4-piece butt construction for increased stability and durability.
Made from exotic curly maple and cocobolo wood, this pool cue is a thing of beauty. It also comes in several weight increments so you can choose what suits you best. Its tip size is pretty standard at 12.75mm, but you can get it upgraded to 11.75mm if you like cues with a narrow shaft. Although it isn't quite as high-tech as the Hybrid, this is still one of the best pool sticks on the market.
4. Lucasi Custom Birds-Eye Maple Sneaky Pete Pool Cue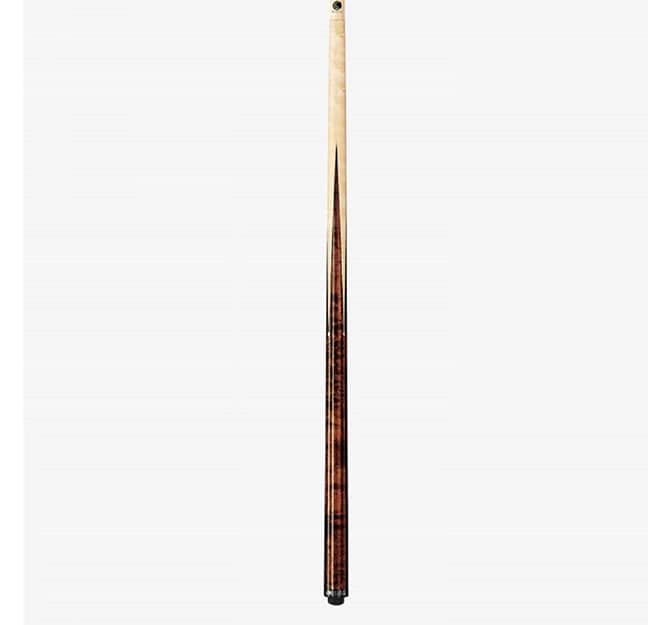 Depending on what you look for in your pool cues, you might choose the Sneaky Pete cue over the Mystic, as each has certain features the other doesn't. However, they both feature a low deflection shaft, with Zero Flex-Point polymer core ferrule. The Sneaky Pete shaft's solid core also minimizes deflection for a clean and crisp hit. Like the Mystic, it features a Tiger Everest tip, which provides both ball control and durability.
Like the Hybrid, the Sneaky Pete cue also has a lifetime warranty, meaning this cue will last you through thick and thin, without cracking or warping. This cue is also a great choice if you travel a lot to play pool tournaments or at pool halls, as it has a two-piece design that fits together very precisely.
Like all Lucasi cues, the Sneaky Pete features an adjustable weight system from 18-21oz, so you can choose the weight that suits you best. Unfortunately, this cue does not come with a wrap, so you will have to buy that separately if you need one for grip. If you like design simplicity, the Sneaky Pete is a great choice, with its classic yet beautiful Birds-Eye maple construction.
5. Cuetec Prestige Series 58 Inch 2-Piece Canadian Maple Billiard/Pool Cue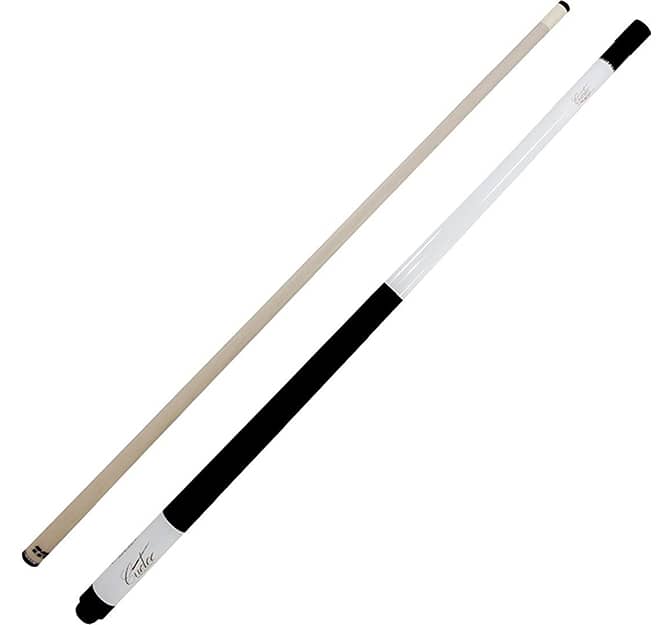 Don't be fooled by the simple look of this pool cue – the Cuetec Prestige series of cues is designed for pros with lots of features to enhance performance. The very long pro taper shaft and polycarbonate ferrule makes for a smooth, powerful shot. This cue also features a Tiger Everest tip of multiple layers, which provides an excellent balance between control and spin, and power and durability.
Another great feature of this cue stick is its adjustable weight system. This allows you to add or remove weight bolts to achieve your desired weight. The grip on this pool cue is made from Veltex, a nylon polyester composite material that provides great grip and has a moisture-wicking effect – perfect for those who sweat a bit.
The Cuetec Tru-Glide finish on this cue provides a silky feeling when you make your shot. It also prevents the cue from warping or becoming dry. This is an impressively durable and high-performance cue for such a price. If you like simple-looking cues that perform well, this is a great choice for a new cue.
6. Viper Desperado 58 Inch 2-Piece Billiard/Pool Cue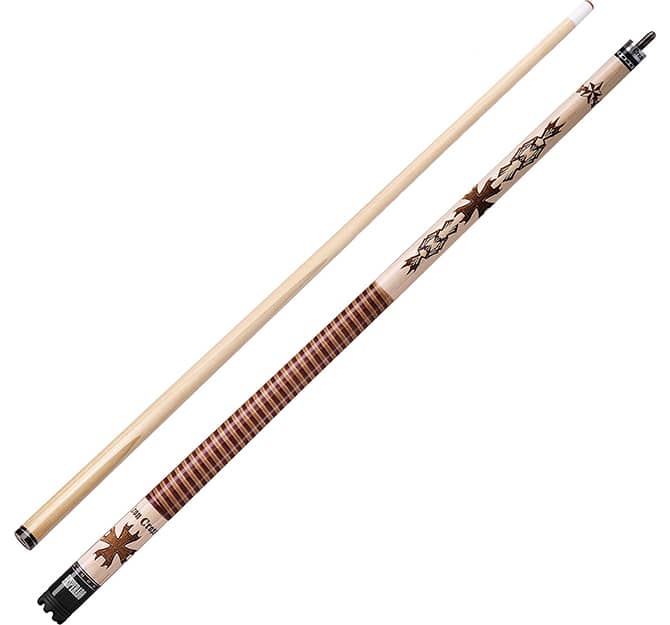 Let's be honest – what you really want to know when buying a new cue is whether it feels comfortable and hits well. The Viper Desperado delivers that – reviewers have consistently praised this cue for its comfortable feel and smooth shots. Its pro taper shaft makes for a smooth glide. The 13mm Le Pro leather tip provides enhanced accuracy for beginner to intermediate players.
This pool cue is constructed from high quality hard rock maple and includes a lifetime manufacturer limited warranty. You may need to replace the tip occasionally, but this cue will last you many years. The intricate inlays of Onyx in the design also show you the amount of craftsmanship that went into this cue.
Viper pool cues come with a number of awesome additions. One of these is its detachable scuffer that clips on to the end of the cue. It has a fantastic 100% genuine leather wrap that provides great traction and shock absorption. This cue is also a two-piece with lightweight stainless steel joint, so its surface is smooth and consistent. Plus, you can choose your weight from 18-21oz.
7. McDermott G201 G-Series Pool Cue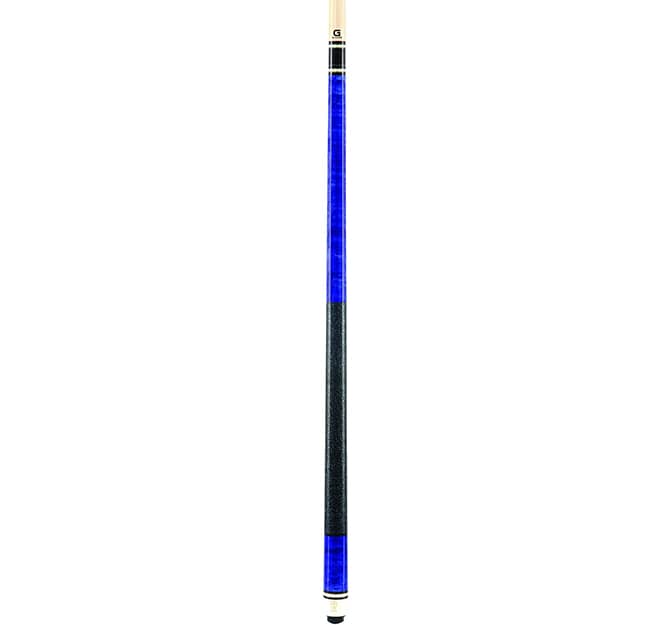 This McDermott cue has a classic maple shaft with a carbon fiber core in the first 7 inches (18cm). This core stabilizes the impact area of the shaft, making for a better hit with less vibration and deflection. This is definitely one of the most well-designed pool sticks you can buy.
Highly Durable + Good Spin
It's always encouraging when a product has a lifetime warranty – you can expect this pool stick to last you many years, without warping. It has a 10-layer Japanese pigskin soft leather tip, which prevents oxidation and provides decent spin. It has an Irish Linen wrap which is not everyone's preference, but you can always replace this.
The McDermott G201 is sold as a 19oz cue, but you can add or remove weight bolts to adjust it to 18, 20 or 21oz. This means you can play around with different weights even after you have bought the cue. This particular cue is perfect for those who like a little color, with its Pacific Blue stain and black and white accents, and there are lots of other color options among the G-Series cues. This is one of the best pool cue sticks out there, especially for those transitioning from beginner to intermediate.
8. Viking Valhalla Pool Cue 58 Inch Billiards Stick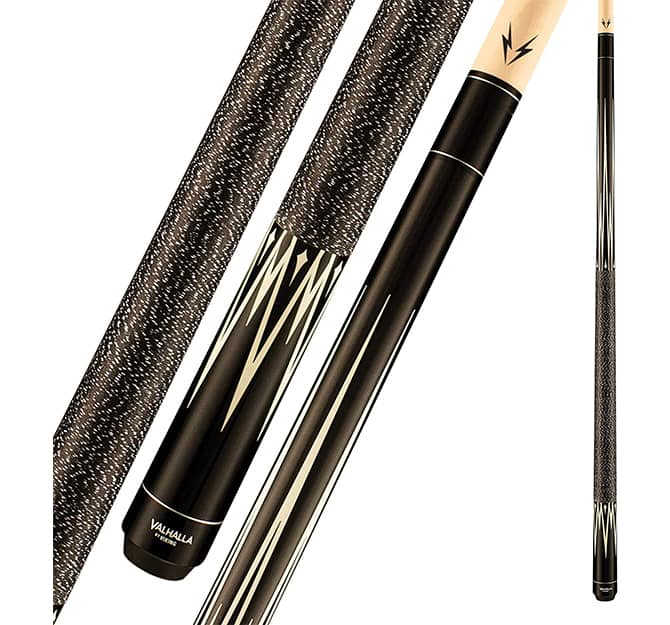 The Viking Valhalla is one of the best pool cues for beginners, as it provides stability, power, and ease of accuracy. The cue's tip is 13mm which makes it easier to hit accurately, and its 19oz weight is the best weight to start with. Plus, it is a two-piece cue so you can bring it wherever you want to practice. One downside is that it does not come with its own wrap.
Like most Viking cues, this cue features a pro taper shaft with high impact resin ferrule that helps absorb shock. It features a premium leather medium tip, which means it is durable but still provides decent control. Unlike a few cues on this list, this is not ideal for intricate skill shots, but it will enhance your performance if you are new to the game.
Viking cues are renowned for their quality construction when compared with other pool cue brands. The Ultra-Violet urethane finish on the hard rock maple shaft makes for a smooth glide and protects the shaft from dings and scratches. In fact, this cue has a lifetime warranty, which includes warping. The stainless steel joint threading also provides a secure, long-lasting lock.
9. Viper Sinister 58 Inch 2-Piece Billiard/Pool Cue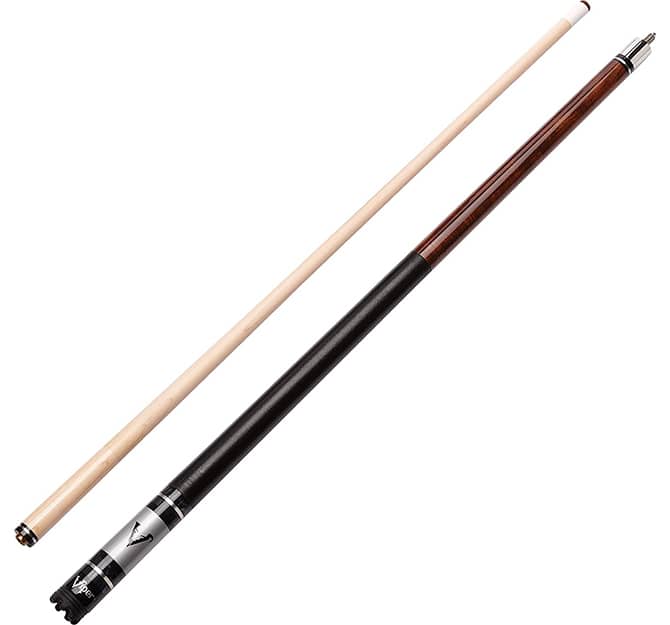 Good Balance And Smooth Hit
One of the more affordable cues, the Viper Sinister has a lot in common with the Viper Desperado, minus some of the specialized features. However, it still has a tapered shaft and 13mm Le Pro leather tip for a smooth glide and enhanced control. Like the Desperado, this cue feels good in your hands when you play.
Quality Construction Pool Stick
This is one of the cheaper cues on this list, but it is one of the top cues at its price range. Constructed from quality hard rock maple and coated with nine different layers of varnish, this is a well-made pool stick that should last a while without warping.
Great Additional Features
Like the Viper Desperado, the Sinister  comes with a removable scuffer. Its two pieces fit together with a lightweight and smooth stainless steel joint. And like all Viper cues, you can add weight bolts to your liking. The Viper Sinister features an Irish Linen wrap. It may not have all the fancy design features of high end pool cues and is not quite as durable as the Desperado, but it is still one of the best pool cues you can buy.
10. CUESOUL House Bar Pool Cue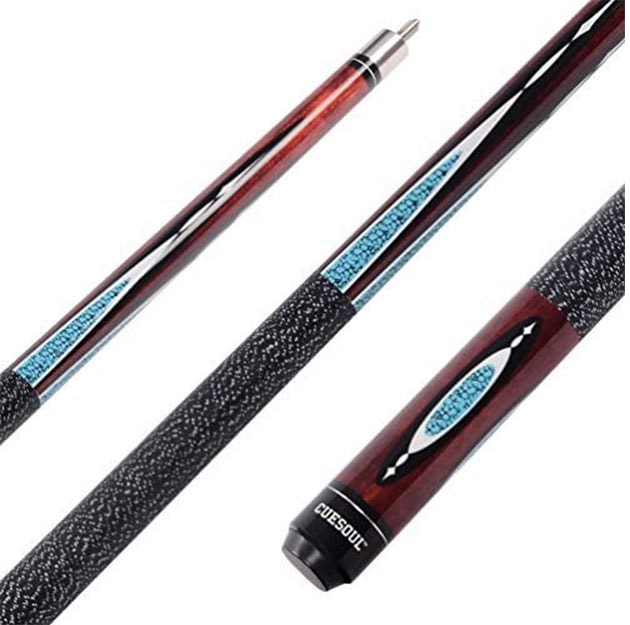 For casual players looking for some basic but decent pool sticks, these cues are a good option. They won't match up to the high end pool cue brands at the top of this list, but they are a cut above other cues in this price range. The pool cue shafts are made entirely of maple and the pieces fit together smoothly. You'll find you can make a smooth shot with these cues.
For those looking to get the most bang for their buck, this product is a great deal. Included in the price is not one but two pool cues, as well as a billiard cue glove, a cue clean towel and a joint protector. The cues have linen thread wraps which provide decent grip. With this package, you can have everything you need to play pool wherever you go!
One thing users have consistently said about this product is that the case is fantastic. It fits both pool cues with extra pockets for the other goodies and has an adjustable shoulder strap. It is durable and looks great. These are not the best pool cues in the world, but they are great for casual players or newbies buying their first cues.
How To Choose The Best Pool Cue For You
Now you've been shown a list of fantastic pool cues, but how do you know which one is best for you? Here are a few things to consider.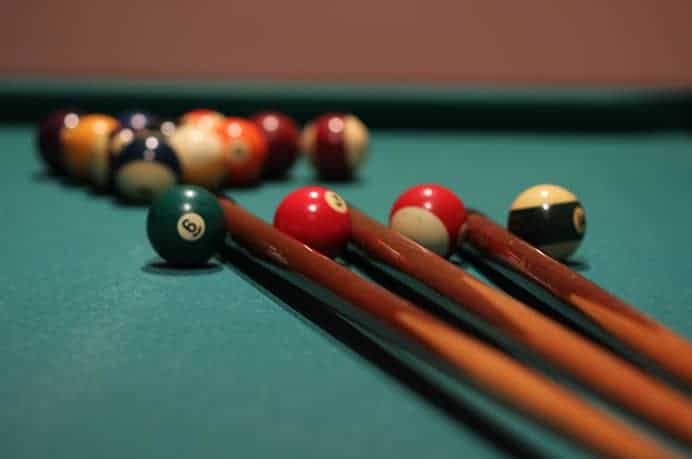 Hopefully you have seen from this article that there are decent pool cues in every price range. The flipside is that the more you pay for a high end pool cue, the better construction and more specialized features you can expect. So it's up to you to decide how much you are willing to invest.
Much of the advanced design of the high end pool cues will be lost on a beginner. As you gain experience, you will be better able to enjoy the advantages of high end pool cues, which can allow you to make more precise and intricate skill shots.
As you get more experienced, your choice becomes more to do with your own preference than anything else. Once you've got the hang of your own cue, start experimenting with different cues. Eventually, you might start to build up an arsenal of pool cues to play with.
From the above, you know the variables that affect how you should choose your cues. But what are the actual differences that these variables affect?
When it comes to tip type, the main choice is between a soft tip or a hard tip. Hard tips tend to be stronger and more durable, but a soft tip will allow you to feel the cue ball better which makes for more accuracy and spin. You also need to choose between cues with soft or screw-on tips.
Pool cues generally weigh between 17 and 21oz (480-595g). Cues on the heavier side may be better for novice pool players, as these have more power and allow you to generate spin more easily. Lighter cues are better for precision shots as well as hitting soft shots.
As you gain experience, experiment with cues of different weights to see what works best for you.
Maple wood is still the most popular material in cue making, because it is durable and provides a good hit feel, but it is not too expensive. Some high end pool cues use more exotic woods to make a more unique and beautiful cue.
If you aren't attached to the traditional wooden cue, you might choose a fiberglass cue for its durability, though some argue that these cues sacrifice on performance.
Whether you choose a one-piece or a two-piece pool stick mostly depends on where you want to use it. If you have your own pool table at home, like these, and you don't plan on taking your cue stick elsewhere, a one-piece cue works well. However, two-piece cues are more portable so are ideal if you play in pool halls or do competitions.
In cue making, the standard cue length is 57-58 inches (145-147cm). These work well for anyone between 5 feet 8 inches and 6 foot 5 inches (173-196cm). For children and shorter players, you can go for a cue length of between 48-52 inches (122-132cm).  For people over 6'5, some cues come in an extra long 61 inch (155cm) cue size.
A good thing to note: your pool cue should not have a shape longer than you!
When choosing a pool cue, you can either go for a standard or a low-deflection shaft. Standard shafts are exactly what they sound like – standard! A low-deflection shaft reduces the amount of deflection or skirt that occurs after striking the cue ball. They do this by being more flexible to reduce vibration, and sometimes through being made intentionally thinner and lighter at the end and tip.
Low deflection shafts require more advanced design, and so tend to be pricier than standard shaft cues.
Many pool cues have a wrapping around the handle to improve grip. If you have a pool cue without wrapping, you can add this yourself. Some people like rubber grips as they provide maximum traction. This wrap type is good for people who sweat a lot. Leather wraps are the most popular as they offer a good level of grip and precision. Irish linen is also fairly popular, but a linen wrap will not provide as much grip as leather.
If you pick a pool cue just for its specs, you might end up with something you don't like the look of and for some people, this can damage their performance. Luckily, pool cues come in lots of different colors and designs, so you should be able to find something to fit your unique style.
If you play a lot away from home, such as in pool halls and competitions, or even at friends' houses, you might want a cue that comes with its own case. In addition to quality construction, look for cases with a soft lining to protect your cues from scratches. Some cases even have padded sections for extra cue parts.
Playing Pool – What You Need To Know
Professional pool players make it look easy, so the techniques of how to become a skillful player can seem like a mystery. But there are a few tips you can implement right now to master the basics.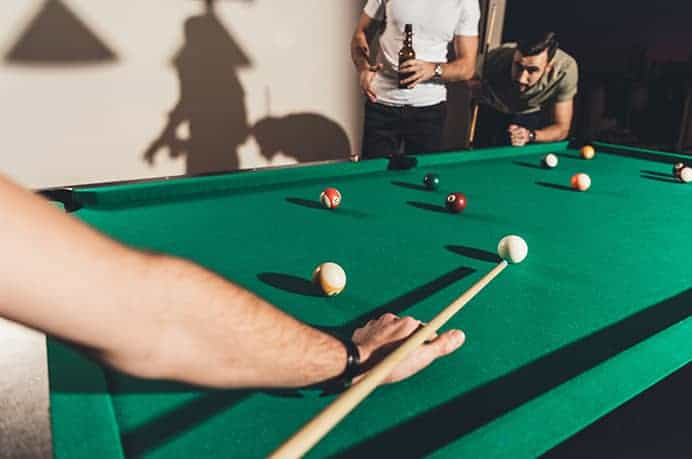 1. Developing A Good Stance
A good stance is the foundation of a good pool shot, so this is something to master early on. First, make sure you are standing firm with good balance. Next, identify the shot line, or imaginary line you want your ball to travel. Place your dominant foot forward, towards that line. Place your non-dominant foot some distance behind, and bend your knees slightly. Lean over so your chin is a few inches above your cue stick so you can see the path your ball needs to go.
Once you have the stance down, the next thing is to get good aim. When figuring out the point to aim for, imagine a line going through the ball you want to hit and the place you want it to end up. Then, imagine a line from the center of your cue ball to the ball you want to hit. The point where these two lines intersect is your point of contact, ie. the spot you want to aim for.
Although you can buy mechanical bridges, the usual method is to use your non-dominant hand to stabilize your pool cue stick. It's up to you whether you go for a "closed bridge" with your fingers together, or an "open bridge" with your fingers splayed out. Either way, push up your thumb against your index finger to make a "V", and place the cue where the two fingers meet. The heel of your palm should be on the table.
Find a position in which your hand feels stable and your cue can move along it without resistance.
The stroke that most of the pros use is known as the "pendulum stroke". Your elbow acts as a hinge and your hanging forearm as a pendulum. Only your forearm should be moving and not your shoulder or chest. Make sure your grip is firm but relaxed. Once you feel like your warm-up strokes are steady and smooth, go for the ball – but make sure you are accelerating through your cue rather than jabbing. Learn how to hold a pool stick like a pro here.
5. Cue Chalk On Your Cue Table
If you spend a lot of time in your game room, you may begin to face the issue of pool cue chalk – it can make a beautiful pool table look ratty very easily! Follow these instructions to learn how to clean chalk off your pool table. Click here to read the top pool table maintenance tips.
Professionals And Their Best Pool Cues
When it gets to the pro level, different pool players favor different types of cues. But there are a few things that pros in particular look for in their pool cues.
We mentioned this before, and most pro level pool cues are low-deflection. This type of cue increases accuracy and performance no matter your skill level. However, these cues are designed with sophisticated technology, so they tend to be on the pricey side.
The diameter of standard pool cue tips is around 0.5 inches or 13mm. This size allows for a decent amount of spin while still being forgiving when you are making a straight shot. However, many pros go for tips that are 12mm or even narrower because they provide more ball spin. The trade-off is a smaller sweet spot that requires more precision to get the desired shot. But for the pros, this is totally manageable!
Different Cues For Different Shots On The Cue Ball
The real professionals don't only have one cue in their arsenal, but different ones that perform better at different types of shots. For example, many have designated breaking or jumping cues that are optimized to perform those actions or hit billiard balls in particular ways.
Frequently Asked Questions
After reviewing multiple pool cues, we believe that the best pool cue is the Lucasi Hybrid. This cue will improve your accuracy seemingly miraculously. Lucasi is one of the top pool cue brands, and you'll notice that 3 of our top 4 best pool cues are Lucasi cues. The Players Technology Series HXT15 is also one of the most perfect pool cues you can buy, but is much more budget-friendly. Whichever of these 10 great pool cues you choose, we hope you spend many happy hours by the pool table.