Welcome to the wonderful world of pickleball! Part ping-pong, part badminton, part tennis and all fun, it's a great way to get outside with your friends and family. Pickleball is suitable for players of all ages, genders and skill levels. All you need to get started is a pickleball set, which generally includes paddles, balls and a net. We have evaluated the best pickleball sets and we're going to explain the pros and cons (such as wood or graphite paddles) to help you decide which one will find a home in your backyard! Read on and pick your favorite from these pickleball sets.
1. Hathaway Games Deluxe Pickleball Game Set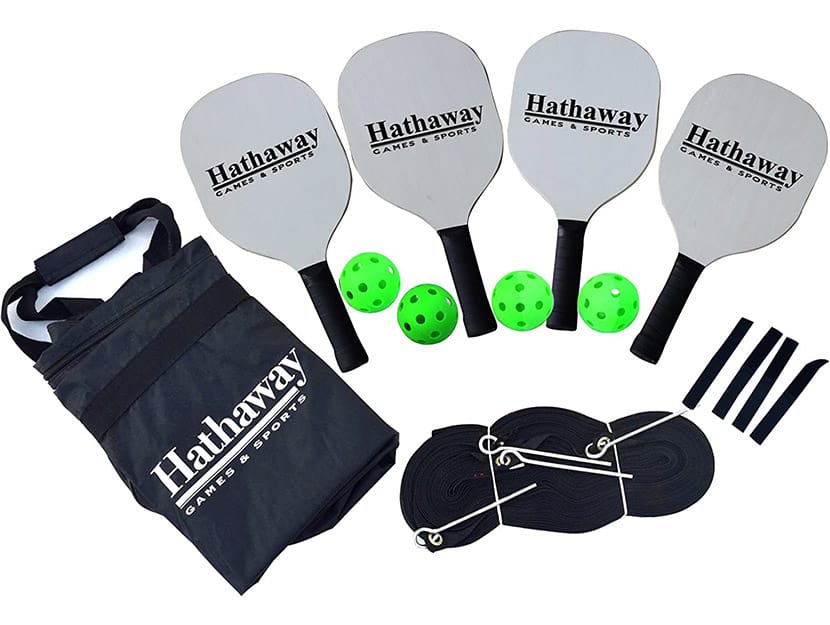 Editor's Choice #1: This set comes complete with a net, paddles, balls and instructions. It is a very high-quality set and the center net support makes it perfectly playable whenever and wherever you want to. Many people like the classic look and feel of wooden paddles and the lacquer finish adds a stylish, modern touch to this classic lawn game.
This deluxe pickleball kit comes with a net and poles, boundary markings, four paddles, four balls, an owner's manual/rulebook and a carry case/storage bag to house it all. The net is 20′ long and attaches to the poles with velcro. It's very stable once you've set it up. The boundary markers are pre-measured to align with the center poles and you can anchor them to the ground as well. This pickleball net takes a little longer to set up than some others but you'll definitely enjoy the benefits. It feels solid and you'll appreciate feeling like you're playing on a real court, unlike some of the flimsier pickle ball sets out there.
The four paddles are made of lacquered wood for a solid feel and good control and they have logos laminated on them. The handles feature an attractive black padded grip so they feel nice in your hands and you can play for hours. The pickleballs are green plastic balls for good visibility and they have air holes for that characteristic pickleball play. Since this is an outdoor game, your pickleball equipment is finished to be resistant to weather, water, heat, mildew and UV rays. This is a full-size game suitable for all ages. It's super fun whether you're looking to play casually with friends and family or you're a serious, competitive player.
2. A11N Sports Premium Pickleball Paddle Ball Set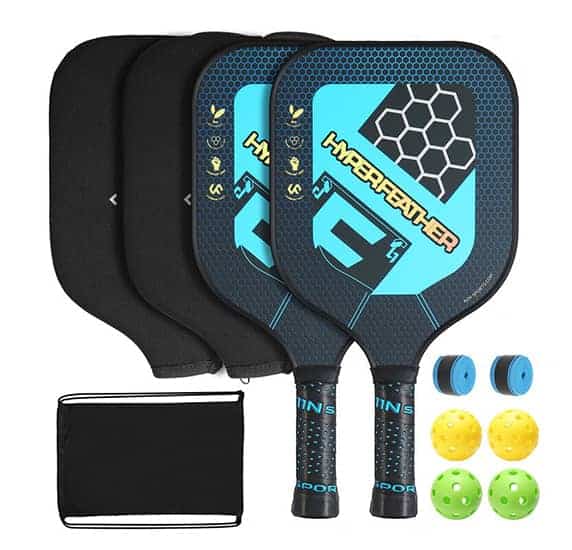 Editor's Choice #2: This equipment has been approved by the USAPA for use in tournaments and other competitions, so you know that it is excellent quality! The lightweight graphite paddles feature a huge sweet spot for the best play and you also get indoor balls, outdoor balls and a nice selection of bonus accessories.
The graphite paddles in this premium pickleball set have been approved by the USA Pickleball Association for tournament play — they're just that good! But the qualities that make them suitable for serious, competitive play also make them accessible and easy to use even if you're just learning the game. They are lightweight but strong, have a comfortable grip size and texture and give you great control over your play. So whether you're training for a tournament or looking to learn a little more about this brand of racket sports, this pickleball paddle set is one that you'll want to look at very carefully. It's an excellent option no matter where you are in your game.
The tournament-grade pickleball paddle is manufactured with a honeycomb polymer core and a durable, smooth graphite surface emblazoned with a "Hyperfeather" logo. At eight ounces, it's light enough to swing easily and connect softly and quietly. The slim, upgraded edge guard gives you a large sweet spot and protects the paddle if it should hit the ground. The medium grip size is 4.25″ x 4.9″ with a sweat-absorbent cushion to reduce slipperiness and pressure.
These pickleball bundles come with:
Two paddles, two indoor pickleballs
Two outdoor pickleballs
Two neoprene paddle covers
Two overgrips
Drawstring carry bag.
This is a professional-quality set of paddles and balls, but even people who are new to the game will benefit from it.
3. Verus Sports Complete Pickleball Set
This complete pickleball set comes with everything you need for four players to enjoy a great game for all ages! You'll get a 21′ net with two bases, four wooden pickleball paddles, three balls and a rule book/instruction manual. This lets you set it up in your backyard, at the beach, at a park or pretty much anywhere else you want! If you're careful, you can even pack everything back in the box it came in for easy storage and transport. Whether you're looking to play singles or doubles, these four hardwood paddles, three balls and pickleball net make up one of the most convenient pickleball equipment sets on the market.
The full-size net comes with two bases that are thoughtfully designed to be used just about anywhere. You can fill them with water or sand to make them heavy and sturdy, then empty them so they are light and portable when you are done. The paddles are made of wood with an attractive green pickleball graphic on each paddle and they have loops so that you can hang them up easily. The balls are white plastic with air holes and will fly straight once you hit them. The set is resistant to weather and heat, which makes it perfect for outdoor play. Enjoy racket sports with your family and friends when you treat yourself to this bundle of paddles and balls.
4. Franklin Sports Quikset Pickleball Starter Set

Pickleball, Quick and Easy
This complete set is pretty much ready to go right out of the box. The 12.3′ x 3′ Quikset net can be put up in minutes without any need for tools or anything else other than a reasonably level patch of ground. It can be taken down again just as easily, which is great because no matter how much you love pickleball, you may want or need to use your yard for other purposes! You also get two deluxe paddles (which make your game way better than the cheap, flimsy pickleball paddles at Walmart!) and an A-grade pickleball ball. This is one of the easiest pickleball equipment sets to put up and take down, so if you're looking to get a game going at a moment's notice, this is what you want.
While this is a great backyard game to share with friends and family, it's also a very high-quality set suitable for serious players. The ball is A-grade with carefully engineered air vents so it will play true. The paddles are solid plastic with padded handles for a comfortable grip, a raised center for added stability and air holes to reduce resistance when you swing. The paddles and balls come in a handsome yellow and black design theme and the yellow ball is highly visible under most weather and light conditions. This set has everything you need to set up and play right away and it is suitable for newbies or more competitive players.
5. Niupipo Fiberglass Pickleball Paddle & Ball Set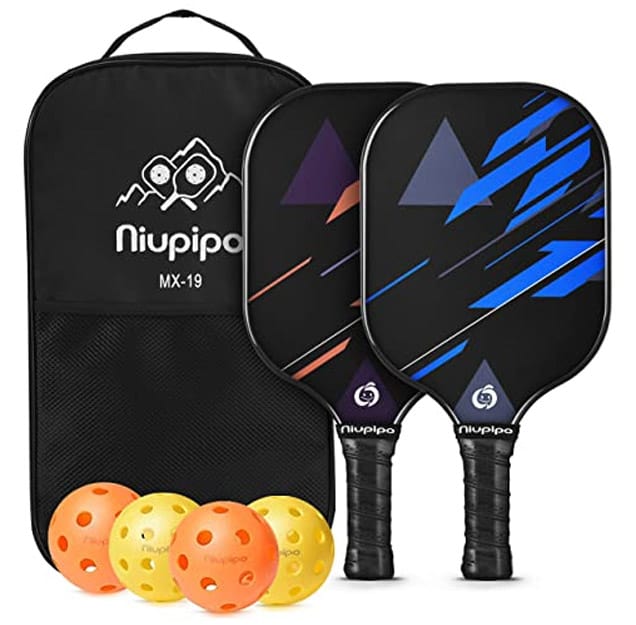 This fiberglass pickleball paddle from Niupipo pickleball set has passed USAPA testing and can be used for tournament play. And with a fiberglass face and honeycomb polymer core, it provides performance fit for the pros! This construction makes for a lightweight yet powerful paddle, with barely any noise. Of course, this does mean it lacks the classic "pop" that you may be looking for. Although this set isn't the best of the best, it's a high quality and affordable option perfect for those looking to get into tournament play.
Gentle On The Joints And Hands
Because it is so lightweight, you can play for hours on end with this paddle without getting fatigue in your wrist or elbow. Customers also consistently loved the grip on the handle that doesn't get slippery or sticky and the narrow edge guard which leaves a wide surface area on the paddle. Plus, the set comes with 4 balls and a cool carrying case that fits everything perfectly.
6. 360 Athletics 6 Piece Junior Pickle Bat Set
This is the perfect set of pickleball paddles if you're looking to get your kids (and their friends) involved in the game. You'll get six lightweight but solid paddles in red, orange, yellow, green, blue and purple. Everybody can choose their favorite and you'll be ready for singles, doubles, practice or more! They'll also look great in your backyard or on your porch. Maybe showing off your colorful pickleball equipment will get some of your neighbors interested in the game! The paddles are great for outdoors play as they have been tested for extreme temperatures, sunlight, water and more. They come with a thirty-day warranty so you can be assured of their quality.
Paddles For Smaller Hands
This set is thoughtfully designed for newer, younger and/or smaller players. It's a great introduction to the game of pickleball. The paddles are light in weight (all six paddles together weigh less than three pounds) but have an excellent textured grip. In addition, each paddle has a safety tether that players can wear around their wrists to keep control of the paddle. The loop also lets you hang up the paddles easily. The pickleball paddles are made of unbreakable ABS plastic with one-piece construction so they will be sturdy and durable, with air holes so that you have less resistance in your swing. They measure 15″ long without the loop. You'll have a lot of fun learning the game and displaying your rainbow-hued pickleball paddles.
How To Choose The Right Pickleball Set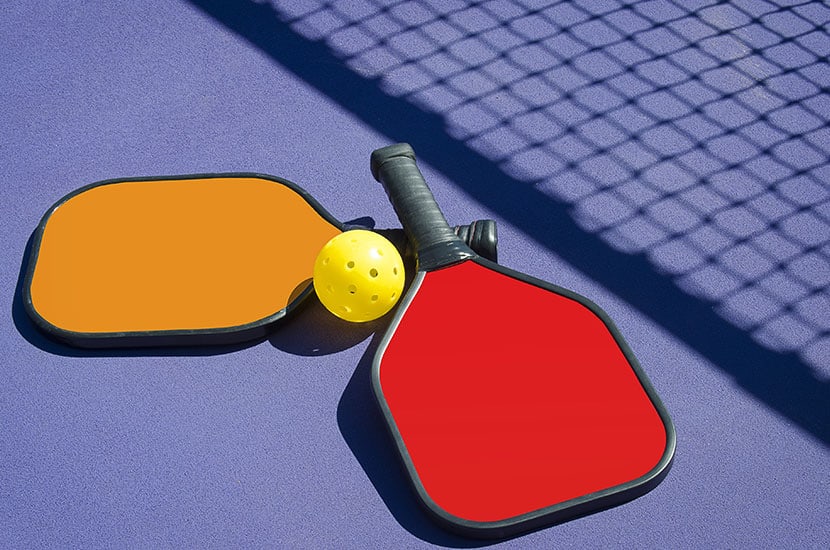 Pickleball is a great racket sport game suitable for people of all ages, genders and skill levels. But while everyone can play, they may have different criteria for picking the best pickleball sets, paddles and balls. Read on to learn more.
Material: The most classic pickleball paddles are made of wood and there are plenty of people who also prefer the look of a natural or lacquered wood paddle. But time marches on and technology advances, so paddles made with a polymer core and graphite surfaces for responsiveness are very popular today.
Weight: Pickleballs are light – you don't need a super heavy paddle weight to put them in play. Still, some people do prefer a satisfyingly solid-feeling wood pickleball paddle. Many others appreciate the lightness of a polymer core graphite paddle or other synthetic materials, though, especially when it's hot out or they plan on playing for a long time.
Grip: You'll definitely want a paddle grip size that feels comfortable in your hand. A bit of high-quality cushioning also feels good to most people and can help reduce stress on hand and arm muscles. And if the grip also absorbs sweat from your hands, that's even better!
Shape: The larger the sweet spot, the better your game! You'll want to look for the paddles with the most playing surface. A slender edge guard can help maximize the sweet spot and also help protect the paddle if it gets dropped or banged.
IFP And USAPA Specifications: The International Federation of Paddleball and the USA Pickleball Association require that paddles be made of "relatively rigid, non-compressible material" and meet the deflection test of five thousandths of an inch or less at a test weight of three kilograms or ten thousandths of an inch or less at a test weight of five kilograms. They maintain a list of approved paddles and balls.
Remember, if you don't like the pickleball paddle that comes in your set, you can buy them separately. For help choosing, check out our best pickleball paddle reviews.
If you don't have room to play pickleball or want to practice, a tetherball set is a great option. Read our best tetherball set reviews next!
Pickleball is a comparatively new racket sport, brought into being at the home of Congressman Joel Pritchard. It can be played as a singles or doubles sport. Pickleball is played on a court that is similar to a doubles badminton court or a tennis court with a net that is 20′ long and stands 34″ to 36″ high. A game starts with an underarm serve to the opposing side's service court and continues with rallies until one side commits a fault. Games go to 11, 15, 21 or any other predetermined score. Para-Pickleball (adaptive pickleball, wheelchair pickleball) was officially recognized by the International Federation of Pickleball in 2016. Learn how to play Pickleball like a pro here.
Frequently Asked Questions
We think that, depending on what you are specifically looking for, the best pickleball set is either the Hathaway Games Deluxe Pickleball Game Set or the A11N Sports Premium Pickleball Paddle Ball Set. The Verus Sports set features classic wood paddles and everything else you need to play, while the A11N Sports set is a tournament-quality set of graphite paddles and some excellent items to improve your game.