Board games are a great way to keep your kids occupied on a rainy day, and help them learn all kinds of cognitive, social, and sensorimotor skills. But as any parent who has suffered through Candyland a thousand times knows, it's not easy to find fun games for 4 year olds that adults can enjoy playing too. But never fear! This list includes some of the best board games for 4 year olds on the market, and they are all either fun for adults too or easy enough for kids to play unsupervised. Whether you are looking for cooperative games, competitive games, educational games, or simply fun board games for preschoolers, you are sure to find something here.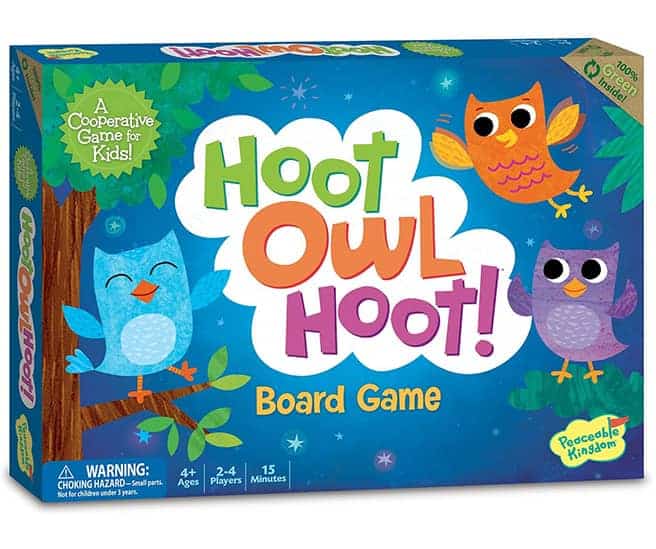 Editor's Choice #1: This matching game may seem simple, but it is a hit with 4 year olds and adults alike. Hoot Owl Hoot teaches cooperation, problem solving and pattern recognition, and is easily customized to your child's level. Plus, this one is even simple enough for little ones to play by themselves!
At 4, it can be difficult to deal with defeat. That's why many preschool board games are cooperative games that teach the value of teamwork. In Hoot Owl Hoot, players work together to get all the owls back to the nest before sunrise. But that doesn't mean you always win! Parents also love that this game is customizable – you can make it easier or harder to suit your kids' level.
It's not an overtly educational board game, but Hoot Owl Hoot is great for skills like creative problem solving and strategizing. It also teaches social skills like taking turns and following instructions. Plus, the game helps kids learn pattern recognition as it is all about matching color cards and spaces to gather the owls back to the nest.
Board games that 4 year olds can play without assistance are few and far between! This game requires no reading, and is simple enough that kids can play by themselves. But if you do want to join, the good news is that it's pretty fun for adults too! Plus, each game only lasts 15 minutes so it doesn't require a big time commitment.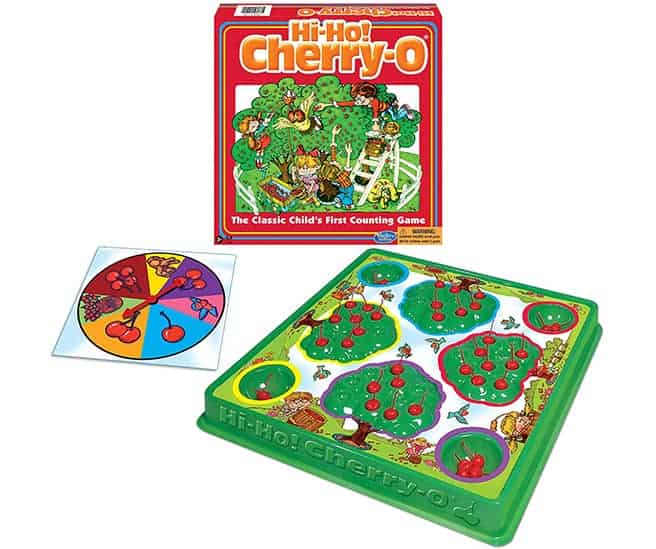 Editor's Choice #2: Our second editor's choice is the old classic beginner game, Hi-Ho! Cherry-O. Parents love that it is based on chance so that anyone can win, it helps improve hand eye coordination and kids find it endlessly engaging. It also ticks the box of a game kids can play by themselves!
Chances are, you remember Hi-Ho! Cherry-O from your childhood! First released in the 1960s, this classic game has truly stood the test of time. It is so much fun, simple enough for kids to play independently, and great for mixed-age children because it's all based on chance so the little ones can win too.
This game uses a 3 dimensional game board and physical cherries that slot into the trees on the board. It is also well-made and sturdy. Spin a wheel to determine how many cherries you can pick, or whether a bird, dog or spilt bucket has resulted in lost cherries! The tactile nature of this board game is great for sensorimotor coordination and dexterity, and it also makes it more exciting!
This board game is all about numbers and counting, but the numbers are represented with pictures of cherries, rather than with symbols. This makes it a perfect game for preschool age children who are learning to count but don't know numerals yet. However, note that the small cherries are choking hazards, so make sure to supervise kids younger than 4.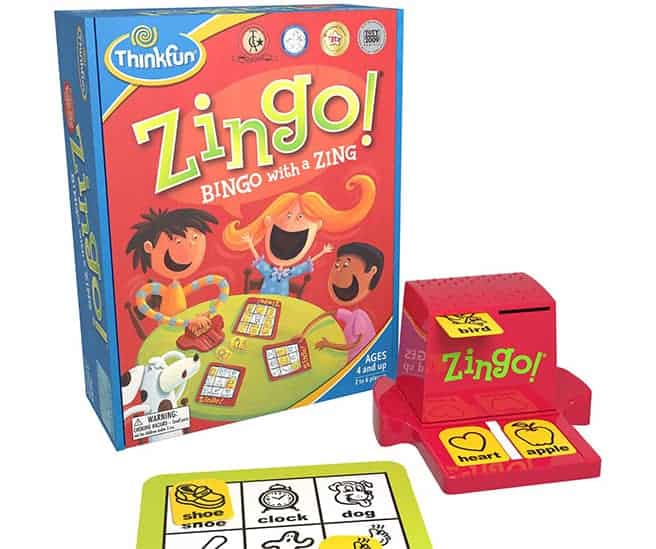 Great For Early Readers And Pre-Readers
If you have children of different ages, particularly pre-readers and early readers, Zingo is the perfect game. It works just like Bingo, except that instead of numbers, there are cards with pictures and words. Younger kids can just match the pictures, and those learning to read will gain practice reading the words. It's a win-win!
Compared to classic bingo, this matching game has some extra twists that make it so much fun. In order to find matches, you wait for cards to be produced by the "Zinger". This adds a competitive speed element – whoever shouts out a match first gets to add the card to their board. Not only does this get kids excited, but it also means they are honing fine motor skills through feeding cards through the Zinger, and gaining confidence with their words. Parents of kids with speech difficulties especially love this card game!
Another reason parents love this card game is its quality – the cards are sturdy, the "Zinger" mechanism works well and the visuals won't fade for a long time. One small quibble is that there are only 24 different words in the game, which can get repetitive after a while.
4. The Sneaky, Snacky Squirrel Game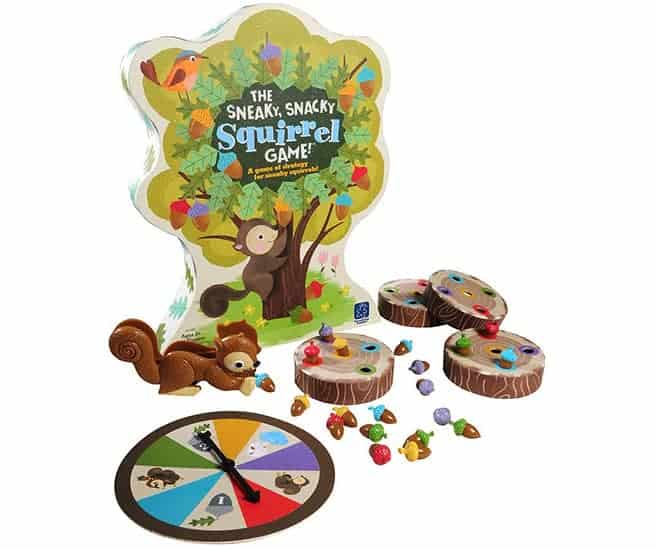 The Sneaky, Snacky Squirrel Game is a color matching game that is easy to understand and quick to play. It will teach little kids about colors, animal facts and some strategic thinking. This is a great game for aiding learning and cognitive development in a fun way, that even the youngest kids will enjoy playing!
Improves Fine Motor Skills
This board game helps with developing sensorimotor skills and coordination. Basic gameplay involves spinning the spinner, then using the squirrel pincher to pick up acorns to put in your log. The pincher has a squishy, tactile feel, and adds a challenge beyond just picking up acorns with your fingers. There's also the sneaky element when you get to steal someone else's acorn!
Great For Very Young Kids
This game is super fun for very young kids, but can get repetitive for adults. Luckily for you, after playing a couple of times, you can let the kids play by themselves. It requires no reading, is simple and easy to understand, and little kids love it. The artwork is adorable and the game is sturdy and good quality too! Just beware of children 3 and under around the acorn game pieces, as they are choking hazards.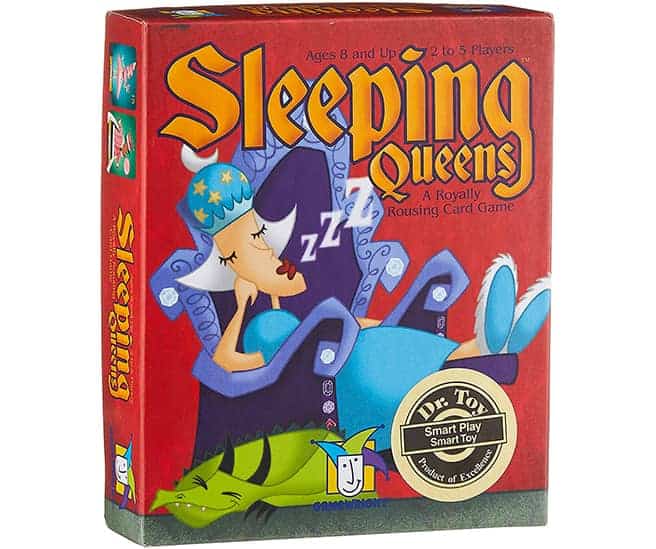 Teaches Math And Imagination
One of the few card games on this list, Sleeping Queens is full of imaginative characters, and loved by kids and parents alike. It's all about waking up the snoring queens while protecting them from dangers. This game is sure to stimulate your kids' imaginations, and gets in a lot of sneaky math practice! This is mostly simple addition, but younger kids may need a little help.
This card game never takes more than about 20 minutes to play, so it's not too long for preschoolers' (and tired parents') attention spans. 4 year olds will need help at first, but after some practice they may be able to play by themselves.
Sleeping Queens is simple enough for 4 year olds to get the hang of, but has enough elements to entertain older kids and adults. This super fun game was invented by a child, a fact that may inspire kids to invent their own games! One drawback pointed out by a parent is that the characters that perform actions are only male. The queens only sleep and are woken up, which may not be a message you want to pass on. Of course, you can always come up with your own backstory as to why the queens are so sleepy!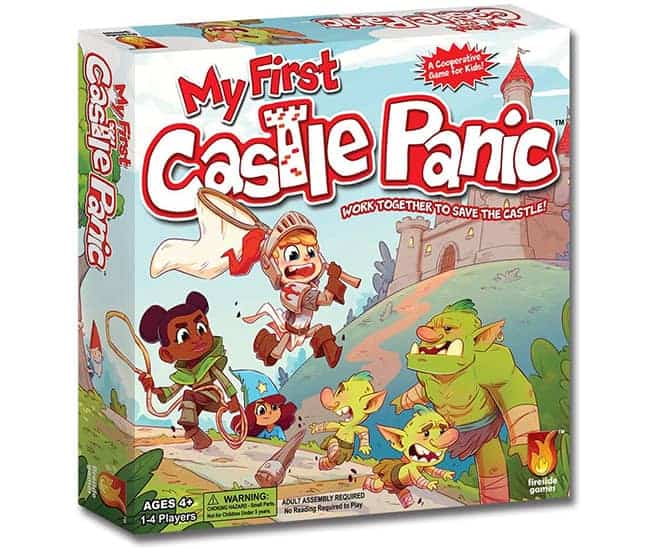 If you are a board game enthusiast, My First Castle Panic is a great way to introduce your kids to this world. Like the original game, it's all about working together to defend the castle against monsters. This simplified version also teaches young children color matching and shape recognition. Despite being a cooperative game, you don't always win against the monsters! This makes this a great game for preschoolers, as it teaches them teamwork but also that it's okay to lose sometimes.
This board game requires no reading and is highly intuitive, though the instructions can be slightly confusing. Once they get the hang of it, they can certainly play without adult assistance. However, it is exciting enough for older children to enjoy too, making it a great way to spend family time (though older children may find it too easy after a few games).
Although not an overtly educational board game, My First Castle Panic encourages kids to use basic strategy to defeat the monsters. The more kids play, the better they will get, which creates a sense of real accomplishment. On top of that, the game is well made and the 3D castle and dungeon box is a lovely touch!
7. Richard Scarry's Busytown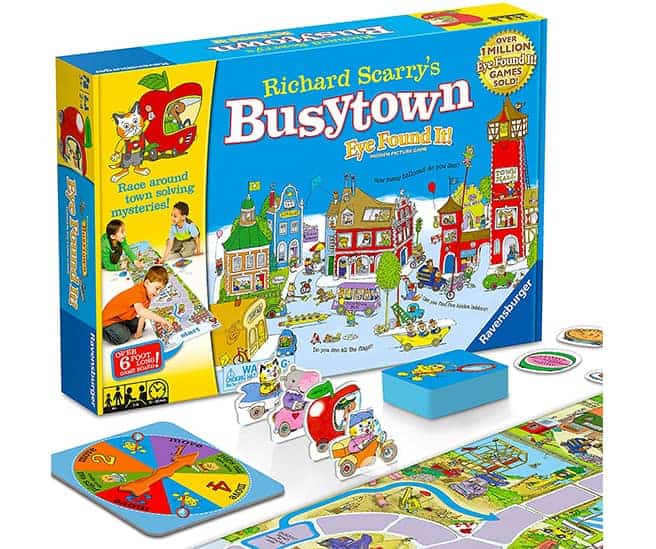 Many kids and adults have fallen in love with Richard Scarry's characters over the years, and now your children can immerse themselves in his world! As a cooperative game, Busytown encourages teamwork. The game involves many elements, but probably the central part is searching for items on the board, "Where's Waldo" style. At the end of the turn, everyone moves based on the number of items that were found.
With a game board spanning 6 feet long (1.83m), this is a truly immersive game! Jam-packed with activities, pictures and characters, there is more to discover every time you play. And because the game has so many elements, it won't bore adults! The downside of this is that it will take a 4 year old a while to get the hang of the rules.
This board game does a great job of incorporating elements of both competitive and cooperative play. It also helps kids practice object identification and attention to detail. As kids begin to learn where some of the items are, they will find themselves doing better each time. This provides a great sense of accomplishment, but after a while your kids may have memorized too many items for the game to be as exciting as it once was.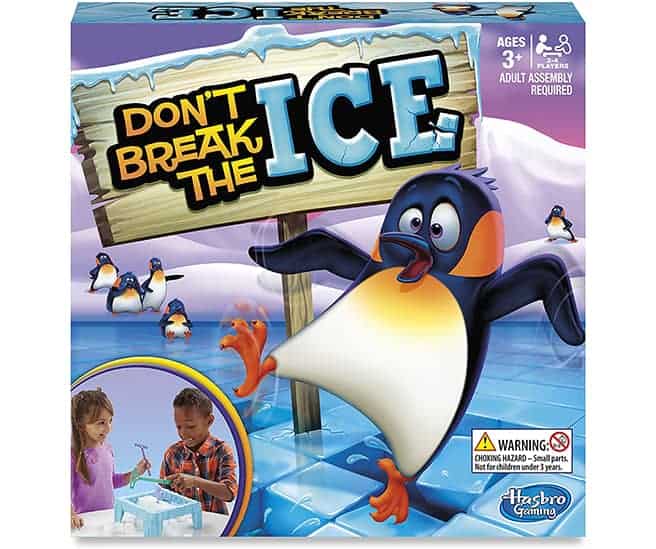 If you want a game your kids can play without adult assistance, Don't Break The Ice is a great choice. It is not a board game as such, but more of a Jenga-style dexterity game. As such, there is no reading, and once they get the hang of the simple rules, 4 year olds can play by themselves. But it's also enjoyable enough for adults, and your larger hands will make it surprisingly challenging!
This is a fantastically tactile game for kids that helps with dexterity and hand-eye coordination. Game play involves tapping ice blocks out from a structure one by one. But watch out! If Philip the Penguin falls, the game ends and you lose! If that gets too easy, you can always add other objects and see if you can keep them afloat too.
This game is simple enough for 4 year olds and even younger to play, with no choking hazards or other dangers. At the same time, it's exciting and challenging enough for older children and adults, making it a fun game for the whole family. Expect some chaos and shouting but lots of excitement!
If you think your child is ready to start learning reading and counting, this is the perfect first board game for that. The Ladybug Game teaches basic math, letters and science facts about bugs. At the same time, the graphics make it easy to understand even for little kids, and no reading is necessary to play.
This game is designed for adults and kids of all ages to play together. It's a little too complicated for 4 year olds to play by themselves, but it's a wonderful game for family bonding time. And if you have kids of multiple ages, this game is complex enough to keep those above preschool age entertained too! Some have found it to be too difficult for very young kids, but you can adjust the rules to make it easier.
It's not essential for playing, but parents are encouraged to read the background story to their kids to really suck them into the world of the Ladybug Game. The sweet story and fun, bright graphics will keep your little ones immersed. Another plus is that this game was also invented by a first grader. Tell your kids this to inspire them to be creative and dream big too!
10. Pete The Cat The Missing Cupcakes Game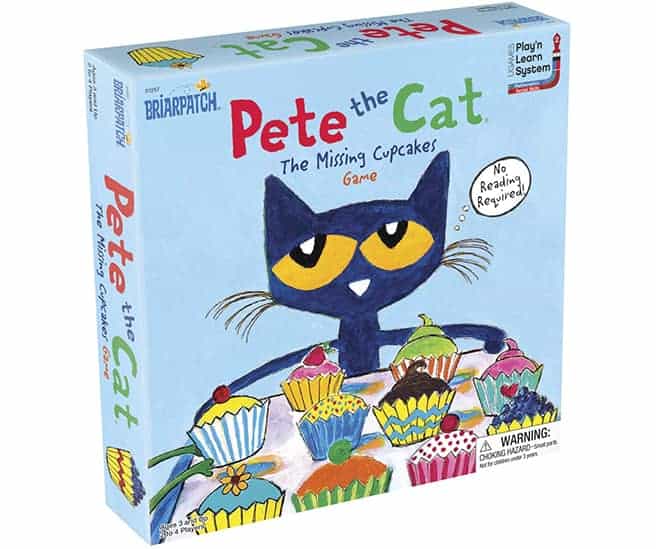 If your 4 year old loves Pete the Cat, this cooperative game is likely to be a big hit. It's all about working together to get the missing cupcakes back from the grumpy toad, so everyone is encouraged to work as a team. This makes it a great choice for family game nights as all the activities create a wonderful bonding time.
This board game involves so many more activities than the basic moves involved in most board games. Many turns involve doing an action to get cupcakes, such as singing a song, naming foods and animals, and acting out a word. For kids who struggle to sit down and focus, this game will keep them busy!
This interactive game requires no reading, and is super easy to understand and play, even for toddlers. Most 4 year olds will love it, but it is possible that in a year or so it will become too easy. On the flipside, it's great for practicing word, color and number recognition, and 4 year olds won't need much assistance. The tactile, 3D nature of it is great, though some parents have found that the game pieces break quite easily.
Why buying a board game is beneficial for your little ones.
The Benefits Of Playing Board Games With Your Kids
Find the right game, and your child will be entertained for hours. But it's not just about fun – there are so many benefits to playing board games with your kids!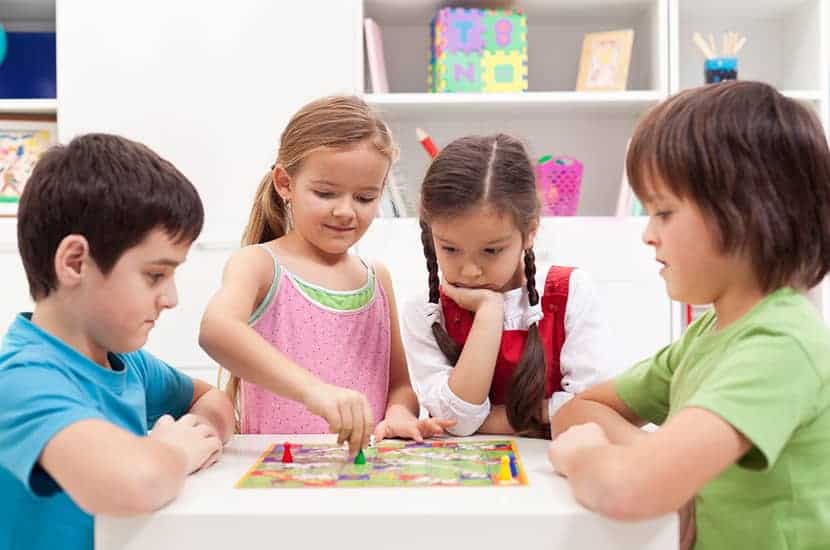 In the years before formal schooling, kids learn best through play. Preschool board games offer the perfect opportunity to boost your child's learning naturally through interactive play. Board games help with sensorimotor skills, cognitive skills, social skills and emotional development. Most board games for kids also practice basic math skills, and teach young kids pattern recognition or even their ABCs.
Any time you spend with your kids will help strengthen your bond. But board games in particular require a lot of teamwork and communication. They also involve sitting close together and focusing on the same thing, which increases the sense of belonging.
It may seem simple, but playing family board games can create lasting memories for your kids. When they are older, they may not remember one specific family game night, but they will think of the time spent together fondly. I know I always smile when I see a game I used to play with my family!
Frequently Asked Questions
After researching many of the best board games for 4 year olds available, Hoot Owl Hoot comes out on top. This game seems to provide the magical combination of simplicity and challenge as well as fun and learning that both parents and kids love. But of course, you know your little one best – we recommend investigating all the games on this list to find the perfect choice for your family!