STEM refers to science, technology, engineering and math. But whether or not your child becomes a scientist or engineer, playing with STEM toys is a fantastic way to develop their curiosity and cognitive abilities.
Not only do they hone problem solving skills, creativity, spatial awareness, STEM toys teach kids that learning is exciting. This basis is great for preparing your little one for grade school, and will serve them later in life too!
Out of the thousands of STEM toys for 4 year olds out there, finding the good ones is a challenge. Luckily, we have put together a list of 8 of the best STEM toys for 4 year olds currently available. Whether you are after a programmable robot, engineering toy or AR experience, you can find the best toys for your child here!
1. Magna-Tiles 100-Piece Clear Colors Set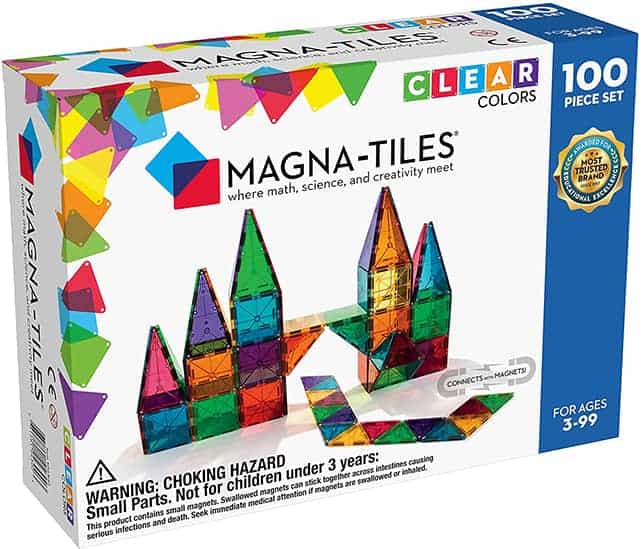 Editor's Choice #1: Magna Tiles is certainly one of the best STEM toys for 4 year olds you can buy. Younger and older children alike will be fascinated by these tiles. They are a fantastic way to enhance creativity, math and engineering abilities. To top it all, they are virtually indestructible, easy to tidy up and beautiful too!
Magnetic tiles are one of the most enduring kinds of STEM toys, and Magna Tiles are still the best you can buy. These simple geometric shapes can combine to make endless different shapes and structures. The sky's the limit! This versatility is what makes Magna Tiles such a great buy. Young kids can easily make simple shapes, while older children can design highly complex structures.
Magna Tiles are the cream of the crop when it comes to building kits. They are safe, durable and well made. The magnets are strong enough so that they stick together well, but not so strong that kids will get pinched fingers. The tiles are double-sealed with metal rivets, making them virtually indestructible! The transparent colors are also beautiful when light shines through them.
Fuses Math And Creativity
What we love about Magna Tiles is the way they merge math and engineering skills with creativity. They allow your child's imagination to run wild, but teach them geometry, balance and problem solving skills at the same time. Plus, they are great for improving hand eye coordination. Last but not least, parents love how easy these tiles are to pack away! Magna Tiles vs Picasso Tiles: which is better? Click here to find out.
2. Orboot Earth By PlayShifu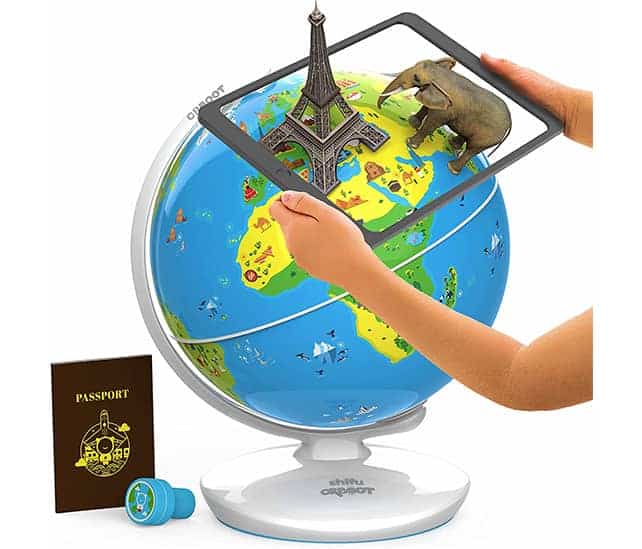 Editor's Choice #2: If your child is interested in other countries, Orboot Earth makes a great gift. Much more than just a globe, it is an interactive AR learning experience that incorporates facts, activities, puzzles and more! This is one of the most original and best STEM toys for 4 year olds out there.
Orboot Earth takes your child's obsession with screens and turns it into an interactive learning opportunity. Rather than simply watching videos on the tablet, get them to interact with a physical globe, learn about different countries and complete fun games and puzzles. With interesting facts about nature, culture, inventions and monuments, soon your child will be teaching you!
The borderless Orboot Earth globe comes with a passport and fun stickers. Download the companion app and let kids hover the screen over the globe to access all kinds of facts and activities. This immersive, augmented reality experience teaches children to value the natural world and to respect different cultures. One criticism is that the globe is not 100% thorough in terms of areas – some regions and countries are not represented.
Lots Of Learning Activities
The companion Orboot Earth app is easy to use and includes activities appropriate for a wide range of ages. In fact, many home-school parents love Orboot Earth as it can be used for learning activities within a geography curriculum. As a bonus, all the info and activities from the app are downloadable, so no need to connect to WiFi!
3. MindWare KEVA Brainbuilders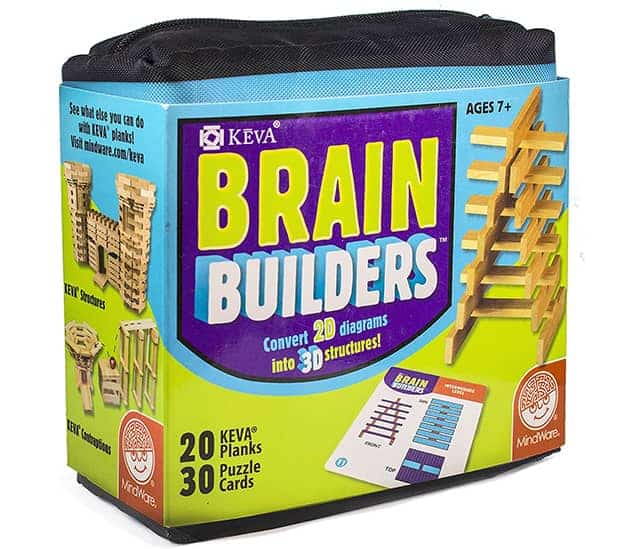 Building blocks are great STEM toys because of their versatility, hands on nature and focus on both creativity and problem solving. But by age 4, kids may be bored of basic building blocks. With these Brainbuilders, kids can follow instruction cards to create all kinds of structures. These cards provide a schematic image of the challenge on one side with the photograph solution on the other. However, your child can just as easily practice their creative skills by making up their own designs!
Following the instruction cards forces kids to engage with spatial reasoning. These blocks are a real IQ builder and wonderful for developing engineering, math and problem solving skills. They are also great for developing your child's fine motor skills. Plus, the size of the blocks and their nifty travel case makes these a fantastic option for bringing on holiday.
The varying levels on the challenge cards allows kids to start off relatively easy and attempt increasingly more challenging structures. If everything comes tumbling down, just try again! Of course, free and creative play will always be available too. However, some reviewers found that the planks were a bit too flimsy and thus struggled to support the larger structures.
4. Learning Resources Code & Go Robot Mouse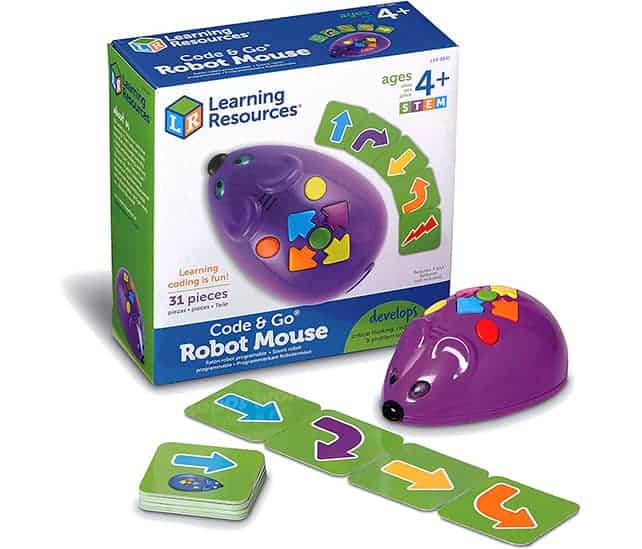 Great For Cognitive Development
The Code & Go Robot Mouse allows kids to program Jack the robot mouse to go any direction they please. Unlike a remote controlled toy, this programming toy requires children to plan the route ahead of time. This makes it fantastic for developing STEM abilities like spatial awareness, math and problem solving skills.
The reviewers are unanimous – children love this robot mouse! Give your child a course they must program Jack to do, and they will be totally absorbed. This is one of the best STEM toys for 4 year olds because of its versatility. Start off with simple routes and gradually up the complexity. There are lots of challenge cards included, but you can also make your own courses!
The buttons on the mouse's back are large and easy for little fingers to press, and the challenge cards require no reading. If you like, you can buy the activity set to make obstacle courses for your mouse. Or you can just create your courses with lined up pencils or by drawing on large sheets of paper! Some parents found that the mouse broke or began to veer off a straight line over time, but these seem to be rare cases.
5. Kids First Automobile Engineer Kit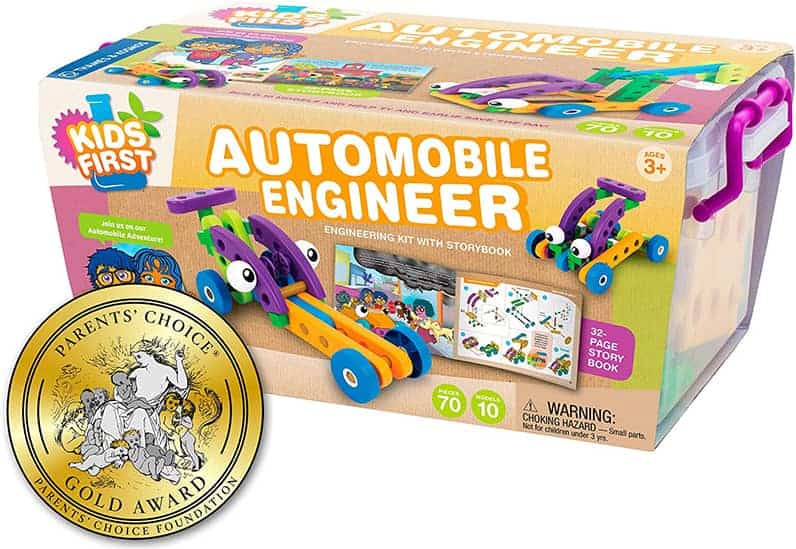 With this Automobile Engineer Kit, your child can make their very own toy car from scratch. Kids can follow instructions or use their imagination to create their own designs, and they will have a toy car to play with once they are done! However, the main focus is on the building aspect – once assembled, the vehicles won't hold together for long.
Engineering And Creativity
This engineering kit is great for both STEM skills and creativity. It helps children learn engineering, geometry, spatial awareness and problem solving skills in a hands on way. At the same time, it stokes kids' imagination and creative thinking. 4 year olds will probably need some help putting their car together, as some of the pieces are quite hard to connect. But once they have some practice, you can easily let kids work on their cars without adult supervision.
Fantastic Story And Characters
The vehicles you create with this kit are not just cars – they are adorable characters! A lovely touch is that all the assembly instructions come in the form of a story, adding another element of magic and a way to stimulate your child's imagination. This is really one of the best toys you can buy for 4 year olds!
6. GeoSafari Jr. Kidnoculars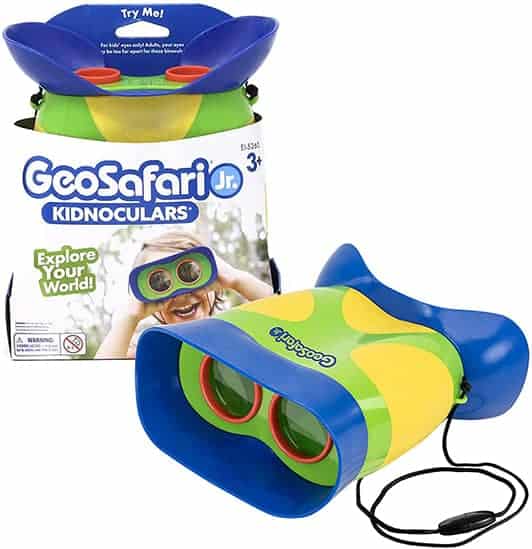 Great Introduction To Binoculars
These Kidnoculars from GeoSafari are great for introducing binoculars in a fun, child-friendly way. You may not want to let your preschool-age child handle your expensive binoculars, but these are truly kid-proof! They are also focus free and feature large, rubber-lined eyepieces. Magnification is 2x, which is not very much but enough to fascinate children. The strap includes a safety snap in case of snags, so they are totally safe. They are also super lightweight for comfortable carrying.
The reason these Kidnoculars are one of the best STEM toys for 4 year olds is because they encourage curiosity about the world around us. Children will be amazed that they can see far away things as if they were close up! We also love that these encourage outdoor play and exploration, and show that learning goes beyond sitting at a desk.
These Kidnoculars are designed to survive any number of falls, bumps and scrapes. No batteries required, you can take these to the park, the beach or on camping trips to amp up the fun! Some parents found it annoying that the strap's safety snap broke apart too easily, but this is a small price to pay for peace of mind. These are a great gift for any budding bird enthusiast!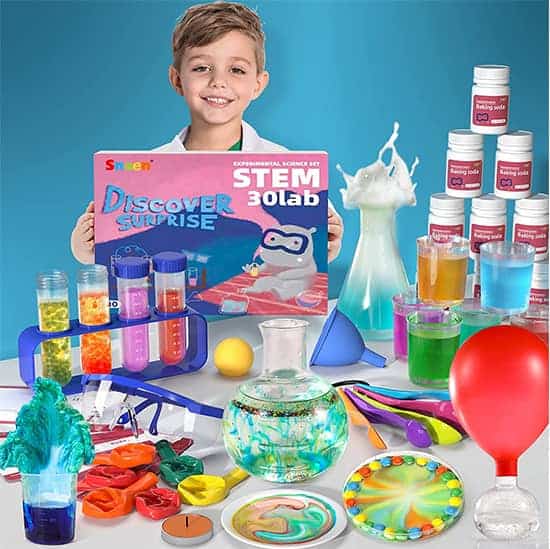 Loads Of Spectacular Experiments
This science kit comes with practically everything you need to make 30 spectacular experiments! All you'll need to add is a little vinegar, oil and water. Plus, most of the ingredients are household items which can be easily replaced. From making volcanic eruptions to blowing out a flame from far away, there is so much to fascinate the budding scientist!
It is easy for kids to pick up from adults the idea that science is boring and difficult. This kit will stop any such ideas in their tracks! Some reviewers have criticized the fact that there is little scientific information and the experiments are presented like magic. But this kit hones all sorts of STEM skills. From learning math through measuring, developing fine motor skills and encouraging curiosity, it is a fantastic way to get children interested in real life science.
This science kit from SNAEN is neatly packaged and well organized. All of the "chemical materials" are kept in easy to seal bottles, and are non-toxic. The biggest danger is mess! For that reason, this toy definitely requires adult supervision. Some of the instructions are slightly confusing, but there are few STEM toys that will get kids as excited about science!
8. CozyBomB Monkey Balance Counting Toy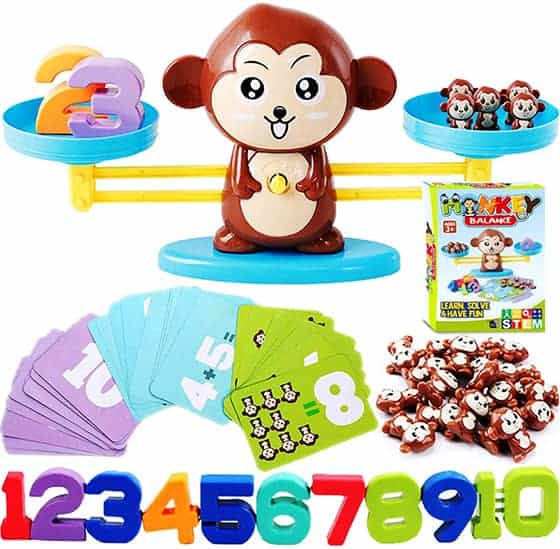 Great Introduction To Math
This Monkey Balance toy from CozyBomB is a fantastic way to encourage STEM learning in young children. The fun characters and tactile scale are highly absorbing – children will have no idea they are learning! In addition to teaching math and number recognition, this game helps kids learn about balance and can improve memory skills and spatial processing.
If you are doing home school or simply want to get your child school-ready, this is a wonderful teaching tool. It is a fantastic way to introduce kids to numbers and simple addition sums in a hands-on way. One criticism is that although there are equation cards, the number on the back of these is simply a number and does not represent the answer, which can be confusing.
This is a great buy for fast developing brains because there are multiple different levels and possible games to play. At first, your child can just match the number of monkeys with the large number pieces, and later can start attempting the sums. No reading is required, so children can follow the instructions all by themselves! Unfortunately, one or two parents experienced a number token breaking which exposed the metal bearings inside, though this is very rare.
With lots of variety to choose from, we have put together these helpful tips for selecting STEM toys for your young learners.
How To Choose The Right STEM Toys For 4 Year Olds
Keep these factors in mind when choosing STEM toys for 4 year olds.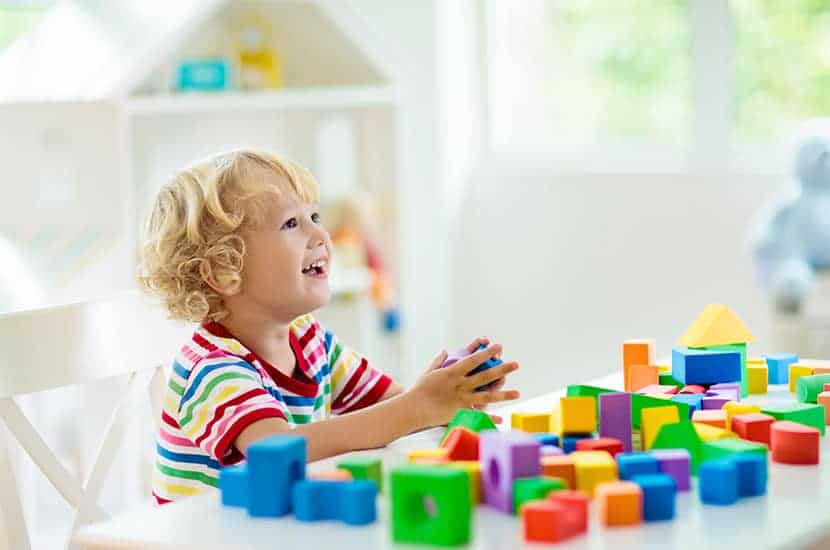 STEM toys come in many different varieties.
Things like binoculars, science kits and robot toys that encourage children to be curious about the world around them.
At 4, your child is beginning to be ready for more targeted learning toys. Math toys that teach counting and simple calculations are popular.
STEM toys vary based on age quite significantly. A STEM toy that is great for a 2 year old  or a 3 year old may be very boring for a 4 year old. However, different 4 year olds can be at very different stages of development, so it is important to think about your own child's abilities.
You should also think about the staying power of a particular toy. If a product is intended for ages 2-4, your child may not remain interested for very long.
Toys that can grow with kids offer the best value for money.
At age 4, kids are usually able to be a bit more careful with their toys. However, if you want the toy to last long, it is important to choose something well made.
If your 4 year old likes board games, read our review of Best Board Games For 4 Year Olds. At age 4, kids are usually able to be a bit more careful with their toys. However, if you want the toy to last long, it is important to choose something well made.
If you're on a budget, quality over quantity is a good motto – one high quality toy is more valuable than two cheaply made toys.
The Benefits Of STEM Toys
STEM toys are beneficial for kids in a myriad of ways.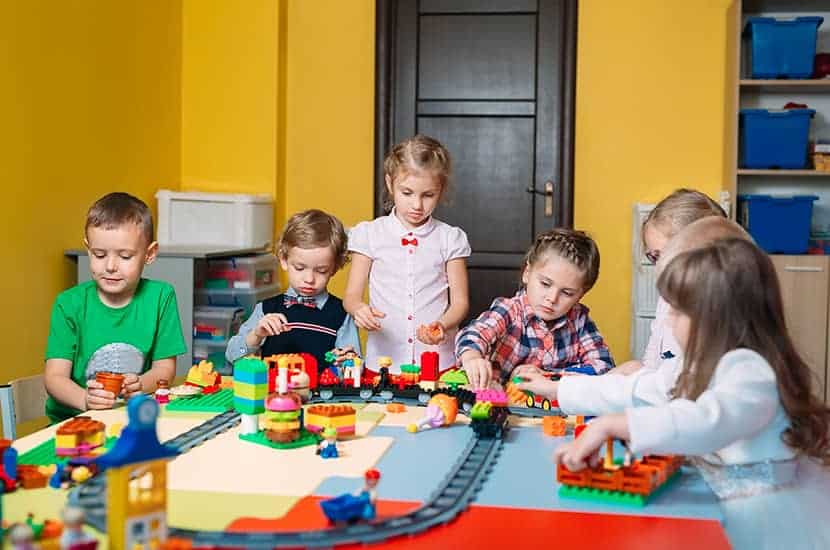 STEM toys help kids learn about cause and effect, and how to solve problems. They teach spatial reasoning, as well as creative and logical thinking. They stimulate your child's natural curiosity and inventiveness, and spur on their cognitive development.
Not only do STEM toys stimulate the mind, but they often involve manipulating objects with hands. This makes them great for developing fine motor skills and hand eye coordination.
STEM toys help prepare children for grade school. They introduce them to concepts they will likely encounter there, like letters and numbers. By improving dexterity, they also get kids ready to grip pencils. Last but not least, they get little ones used to focusing on one thing for an extended period of time.
Learning, particularly STEM concepts, is often assumed to be both boring and difficult. STEM toys combat this by associating STEM concepts with play and discovery, which will in turn make kids excited about learning and school.
Especially if you struggled with STEM subjects at school, it is easy for kids to pick up on your attitudes.
Frequently Asked Questions
In conclusion, the best of all the STEM toys for 4 year olds we reviewed is the Magna Tiles magnetic tile set. When considering quality, versatility, educational value and "wow" factor, Magna Tiles is simply unbeatable.
But the other toys on our list are still some of the best STEM toys out there. Whichever one you choose, it is sure to hone your child's creative skills, problem solving abilities and much more!