It's never too early to start introducing kids to STEM (Science, Technology, Engineering and Math) concepts. At age 2, your toddler is probably developing fast and is eager to learn new ideas and explore the world around them.
STEM toys for 2 year olds offer a great opportunity for little ones to learn through play and develop the building blocks for science, technology, engineering and math abilities. In fact, toddlers are drawn to STEM toys because they actually engage their minds as opposed to battery-operated toys that do all the work for them.
If you're at a loss as to what counts as a STEM toy and which are the best toys for toddlers, never fear! We have compiled a list of the 8 best STEM toys for 2 year olds your toddler won't want to stop playing with!
1. LEGO DUPLO Classic Deluxe Brick Box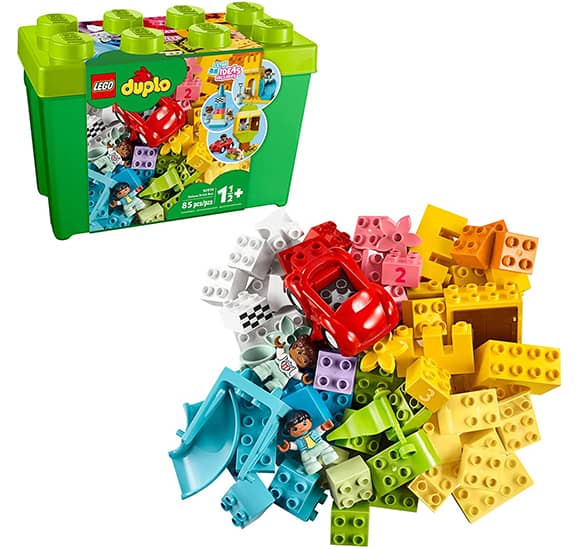 Editor's Choice #1: While other toys come and go, Lego and Duplo still reign supreme. This Deluxe box offers the quality and versatility you have come to expect, with bricks the perfect size for small hands. These blocks are fantastic STEM toys for 2 year olds and will be loved for years to come!
There is a reason Lego and Duplo have stood the test of time. Whether playing solo or with others, these colorful blocks are endlessly absorbing for kids. The Duplo blocks are large enough for little hands, with no pieces small enough to be swallowed. The deluxe brick box also includes 3 figures and other unique pieces. This is sure to become one of your child's favorite toys!
Not only are Duplo bricks fun, but they teach a whole host of STEM skills. While arranging the blocks, kids learn spatial reasoning, problem solving and basic math skills. This toy is also fantastic for developing fine motor skills, as well as creativity and imagination. Plus, it provides the quality people have come to expect from Lego (as well as the pain when stepping on a stray piece!)
The best thing about Duplo blocks is that they offer room for kids to grow and improve. Duplo blocks can be put together in so many different ways – as your child develops, they will build ever more complex structures. And you can always add to your collection with other Duplo sets!
2. PicassoTiles 60 Piece Set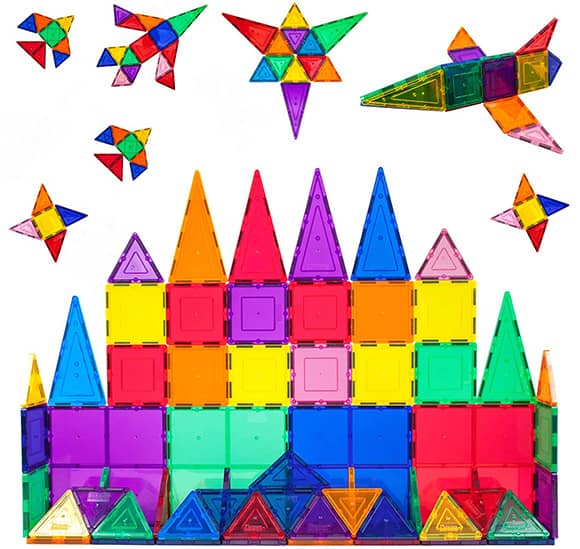 Editor's Choice #2: Picasso Tiles is another building toy that is not your basic wooden blocks! A more affordable option, these beautiful magnetic tiles allow for limitless creativity and development over time for your little one. They encourage your toddler to explore through play and could well become one of their favorite toys!
Picasso Tiles are another great building toy, but with a twist. They consist of flat tiles that link together with magnets, meaning the options for ways to put them together are endless! They can be used to make 2D and 3D shapes, simple structures or truly imaginative creations. Playing with these gorgeous shapes will foster both science and imagination at the same time, and keep your little ones occupied for ages!
Like Duplo, these tiles foster all the STEM skills you can think of: spatial awareness, problem solving, math and even the science of magnetism! Playing with these tiles will also help improve hand eye coordination and dexterity, and will encourage kids to explore the world of shapes and colors in new ways. You can even make stained glass patterns on the windows!
Picasso tiles connect easily and are simple enough for two year olds or even younger to enjoy. But as kids get older, they can make increasingly complex constructions. It is likely that your child will be enjoying this toy in new ways throughout preschool and even elementary school, when they can follow instructions to make intricate constructions!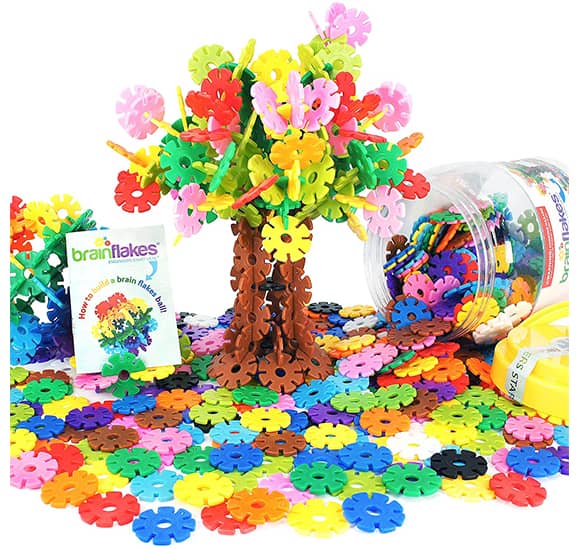 Wooden blocks and geometric tiles are fantastic STEM toys for two year olds, but building can go beyond squares and cubes. Brain Flakes are small circular plastic disks that can interlock in a myriad of ways! They can be used to build all kinds of structures with curves and twists rather than just straight lines. This provides endless opportunities for creativity that children can focus on for hours!
This fun toy introduces kids to STEM concepts like engineering, spatial reasoning and math. It shows a new side to geometry and building beyond blocks, and it helps with fine motor skills too. The pieces are quite small though, so it's not advised to allow toddlers to play by themselves as they may swallow them. But playing together provides a great opportunity to bond through STEM! You can find more toys that teach kids spatial reasoning here. 
While you should supervise your 2 year old playing with Brain Flakes, the good news is that this toy has fantastic staying power, and can be enjoyed throughout preschool and elementary school! As they grow, they will learn to put the pieces together in new ways, and when they are older they can follow instructions to create intricate designs.
4. HABA Kullerbu Windmill Playset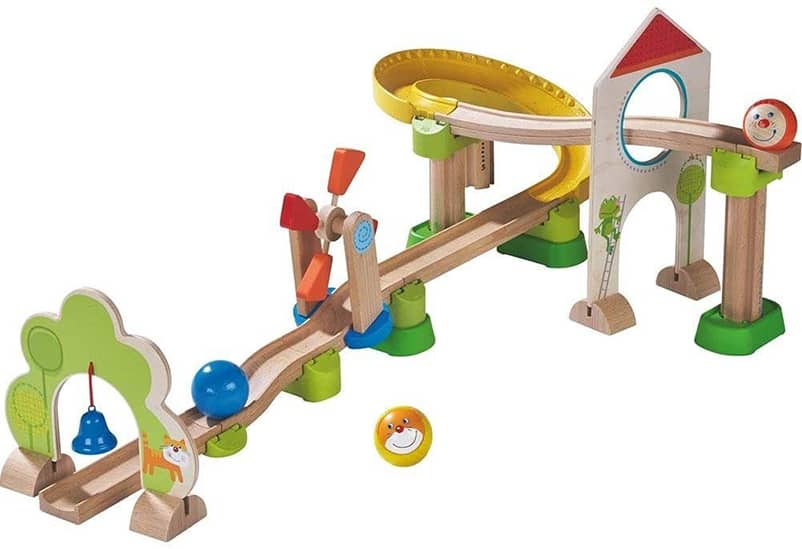 This Windmill playset from HABA can absorb kids as young as 2 up to age 8 and beyond. The clever click system means the pieces snap together easily, and even the youngest children can build it with some help. As your child gets older, they will need less and less assistance until they can do it all by themselves! And you can even add to your Kullerbu collection with more pieces for inventive designs.
Teaches Mechanics and Building
As your toddler builds and plays with this set, they will learn all kinds of STEM concepts like mechanics, technology, and cause and effect. The tracks include different textures and forms so you can watch how the ball moves differently across them. And there is no single correct way to build it!
This playset is made up of wooden and plastic pieces with cute designs. In addition to the tracks, the set includes a turning windmill and a real ringing bell! All the pieces are well made and will last for years. HABA makes some of the best toys for toddlers and this playset is no exception. Some parents have found that the pieces come apart easily, but if you use it on flat ground you shouldn't have trouble.
5. Goobi Juniors 40 Piece Construction Set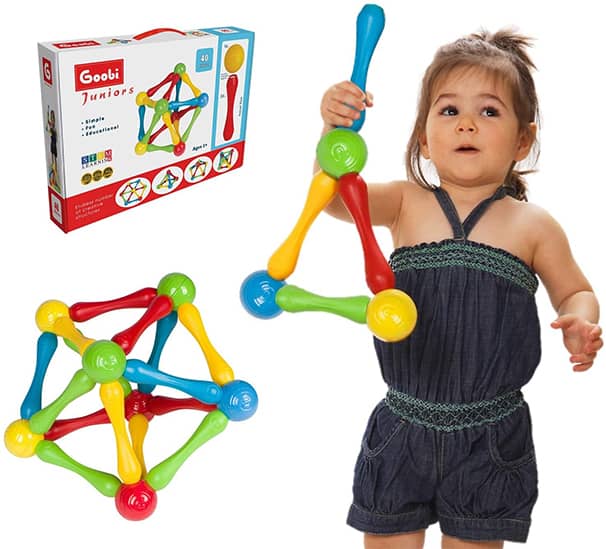 Encourages Experimentation
Goobi Juniors is another great building toy that thinks beyond simple blocks. It consists of intuitively shaped rods with magnets on each end, and iron balls that stick to the magnets. From a young age, children can experiment with putting these together in all kinds of ways and seeing what happens. This STEM toy is a great way for tiny tots to explore the world of shapes and magnetism and provides hours of fun!
Toys that foster both creativity and STEM abilities are winners in my book. As they play with this construction set, toddlers learn concepts like cause and effect, spatial reasoning, problem solving skills and more. At the same time, it offers opportunities to go wherever their imaginative mind takes them. Plus, this toy also improves kids' gross and fine motor abilities!
As opposed to the classic Goobis, these are large enough for little hands and there are no small pieces to choke on. This makes them a safe toy for the little ones to play all by themselves! The pieces are also highly durable and will survive a lot of abuse. One drawback is that the magnets are not as strong as they could be, meaning that more complex structures are liable to collapse.
6. Boon Pipes Building Toddler Bath Tub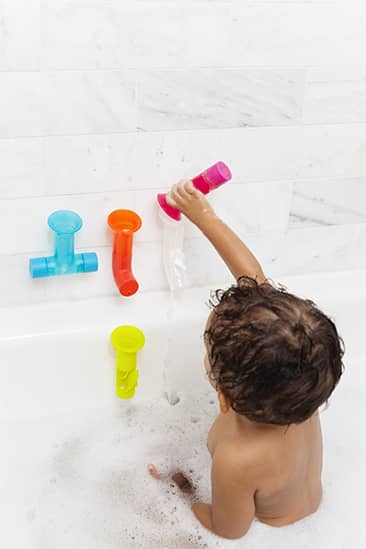 If you have to cajole your toddler into bath time every day, this is the perfect toy for you! These building pipes stick to the bath or wall with suction cups, so they don't create clutter. Toddlers can use the pipes to scoop and pour water, they can watch the water gush through the transparent walls, and put the pipes together to make chains. You may struggle to get your toddler out of the bath once they have this fun toy!
There is more to STEM for toddlers than building blocks and math. These building pipes encourage spatial reasoning just as much as building blocks do, and they teach cause and effect and basic technology too. They are also great for developing hand eye coordination and problem solving skills.
Parents love that this toy is made from safe, BPA free plastic and contains no small parts that toddlers could swallow or hurt themselves on. The construction is durable and they will work for a long time. Unfortunately, some have found that they develop mold over time if kept in the bathroom. It is possible to clean them with bleach, but as they are pipes they contain some hard to reach areas.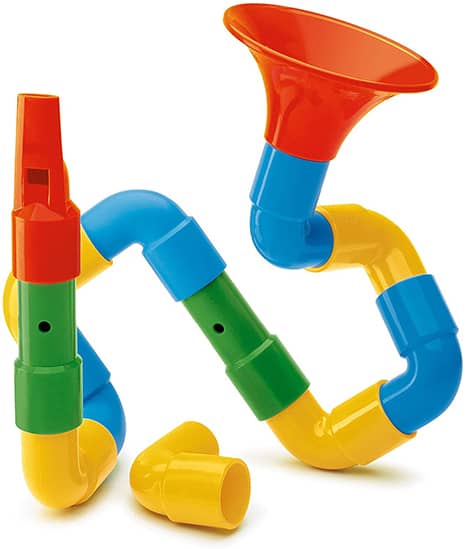 Of all the STEM toys for 2 year olds we reviewed, this is the only one that doubles as a musical instrument! At first glance, the Quercetti Saxoflute is another building toy, this time in the shape of pipes. This is great on its own, but with the added trumpet and mouthpiece, whatever construction you make becomes a wind instrument! Some of the pipes even have small holes that can be covered to play different notes, like a flute or recorder.
Whatever piece you add to your Saxoflute gives it a different sound. Not only does this encourage experimental play, but it also teaches children about cause and effect. For a 2 year old, you will probably need to provide some assistance, but this also provides great opportunities to explore the world of sound together.
This seemingly simple toy can be played with in so many different ways. It doesn't have to make an instrument – it could be used to build pipes and interlocking shapes, and also as a long tube to speak through like a telephone! There are so many possibilities with this versatile STEM toy. One downside is that, like any instrument type toy, it can be annoying for adults – this is definitely not a toy for quiet time!
8. HABA Town Maze Magnetic Puzzle Game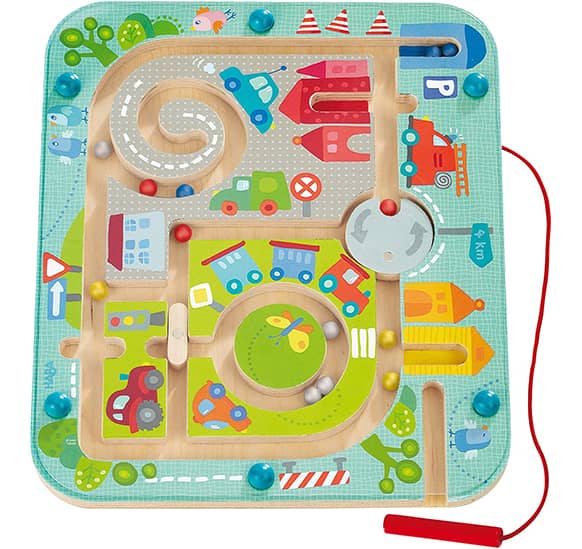 Fosters Strategic Thinking
This magnetic puzzle game helps develop so many different abilities. The aim is to get the colored balls in the correspondingly colored houses, providing lots of opportunities to practice counting and colors. At 2, your child will probably just experiment with the different ways the magnets can move around the board, but they are sure to improve over time! From the start, the game fosters strategic thinking and attention to detail.
Many have touted this as a good toy for road trips, with good reason. It is highly compact and includes no separate parts that can get lost. The magnetic pen is attached by a string, and the balls will never fall out. It also has the power to hold even the most hyperactive kids' attention! Some parents have experienced the plywood backing coming off, but this seems to be a rare occurrence.
The ability to grip a pen is an important skill for later in life. This game thus develops fine motor skills and helps children become school-ready. A small number of people found that it was hard for their toddler to keep the pen vertical, but this may just mean they aren't quite ready for this toy yet.
The importance of STEM toys and how to figure out what to add to your collection!
What Is STEM And Why Is It Important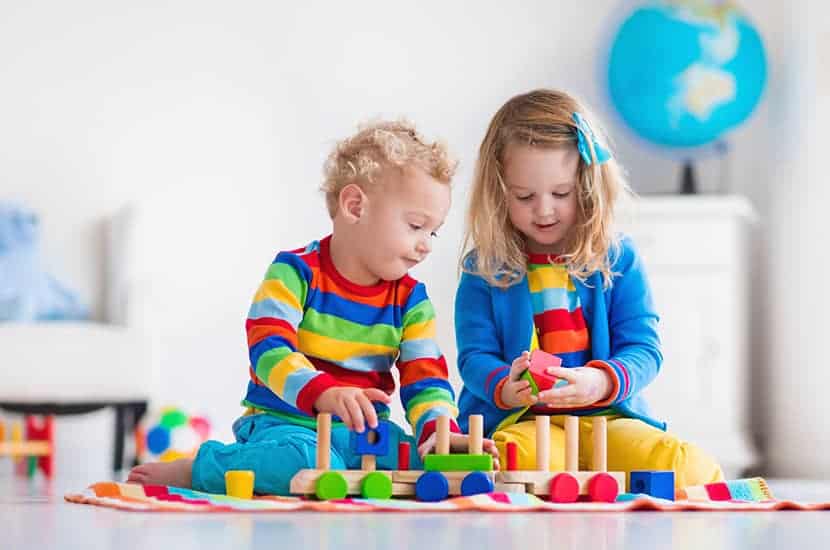 STEM stands for Science, Technology, Engineering and Math. Those may sound far too advanced for a 2 year old, but the building blocks are things like understanding cause and effect, spatial awareness, numeracy and problem solving. Read our reviews of the STEM Toys for 4 Year Olds if you have older children as well. If your 2 year old likes other types of activities, make sure to check out our post about Educational Board Games Reviews. These are all things children can start to develop from age 2! But why are they important in the first place? 
Cognitive development: STEM toys and activities help kids develop logical reasoning, problem solving and critical thinking. These are all abilities that will prove valuable throughout your child's life.
Fine motor skills: STEM toys for toddlers tend to involve a lot of maneuvering objects and putting them together, which helps improve dexterity and hand eye coordination.
Creative thinking: Many prefer the acronym STEAM to STEM, as it includes A for Art. Not only do art and STEM both involve spatial reasoning, but imaginative thinking is key to problem solving and an inquisitive mind.
Make learning fun: Fostering enjoyment in STEM activities means kids are more likely to associate learning and topics like science, technology and math with fun and discovery.
Children are also more likely to stick with a toy if it offers opportunities for improvement over time!
What To Consider When Buying STEM Toys For 2 Year Olds
It's important to keep a few things in mind when considering what STEM toy to buy for a 2 year old.
Age ranges are often more related to safety standards than what kids enjoy. Keep in mind your child's unique characteristics: Will they find the toy fun? Are they likely to break it? Are there parts they could choke on? You can use the age limit as a guide but trust your parental judgment too!
Toddlers can be little balls of destruction. Any toy for a 2 year old needs to be able to survive being knocked off a table, manipulated in all kinds of ways and even thrown across a room!
Avoid flimsy toys with finicky parts, and stick to simple designs and durable materials.
Two year olds develop at an alarming rate. A toy they love now may be considered boring in just a few months. The best STEM toys for 2 year olds are those that can be played in different ways, with varying levels of complexity. For example, with many building blocks toys, toddlers can start with simple shapes and colors, and gradually make more complex structures!
Frequently Asked Questions
STEM toys offer a great opportunity to learn about the world through play. Hopefully this list of the best STEM toys for 2 year olds has given you some new ideas for the next toy to add to your toddler's collection. Our top pick is the Lego Duplo Classic Deluxe Brick Box because its quality, open-endedness and toddler approval is impossible to beat! But whichever one you choose, it's sure to become one of your child's favorite toys.