Perhaps you've already set up a home arcade with air hockey, foosball and pool–but now you want to add the best basketball arcade game to the room. Or maybe you have space for one game, and you've settled on basketball. In this handy buying guide, we've gone through all of the top products to showcase the eight that really stood out from the rest. After reading, you'll be fully prepared to pick the perfect arcade game!
2 Player EZ Fold Basketball Game with Polycarbonate Backboard and Larger LED Scoring
Read Full Review
1. Pop-A-Shot Home Dual Shot-Best Overall Basketball Arcade Game
Editor's Choice #1: In search of the ultimate indoor basketball arcade game? Look no further! This amazing model from Pop-A-Shot truly delivers on both quality and playability. With a variety of music and sound effects, the ability to use batteries or plug the game into an AC outlet, and the option to fold it up to save space, you just can't beat this basketball arcade game from Pop-A-Shot.
You're sure to appreciate the sturdiness provided by the 1.5-inch powder-coated steel frame. The powder coated steel resists dust and chipping. Plus, the backboard is constructed from durable MDF, or medium-density fiberboard, which is often used for various types of game tables thanks to its strength. The heavy-duty nylon canvas ball ramp is built to last as well. Knowing how aggressive basketball arcade games can get, you definitely want to look for a model that can withstand more than your average wear and tear. This model from Pop-A-Shot definitely fits the bill.
Proprietary Scoring System
One of the main complaints that comes with basketball arcade games is that they don't always catch every point. This inevitably leads to arguments between players and frustration with the game. That's why Pop-A-Shot developed their proprietary scoring system with an infrared optical sensor that is nearly 100% accurate. The large electronic scoreboard features three digits rather than the typical two for those players that just can't stop scoring.
Of course, with two hoops, you can have a classic dual shot basketball competition and see who can make the most baskets. But this model features a total of 16 games, so you and your friends can enjoy a classic showdown or a variety of skills challenges. The great thing about the dual shot model from Pop-A-Shot is that it allows for multiplayer games, so everyone can join in on the fun.
2. Triumph Play Maker Double Shootout Basketball Game-Best Budget-Friendly Basketball Arcade Game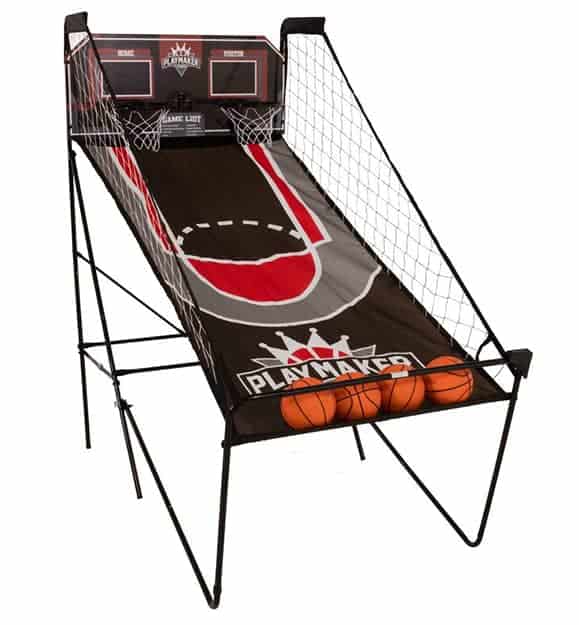 Editor's Choice #2: Indoor basketball arcade games are great fun, but they're also a pretty large investment. If you're not ready to shell out hundreds or even thousands of dollars for a high-quality basketball game, you'll want to consider the Triumph Play Maker as the ideal game for you. Not only is it much more affordable than some of the other arcade basketball games on this list, but it has great features and multiple game options.
Quick Connect Frame Construction
If you're someone that truly dreads the assembly process, you'll love that this Triumph arcade basketball game comes mostly pre-assembled. In fact, it takes less than five minutes to take the Triumph playmaker from the box to game-ready. Tools are only needed to tighten up the hardware, rather than being needed for general assembly. Since many basketball arcade games take hours to assemble, the fact that the Triumph Play Maker comes pre-assembled is a huge advantage!
Choose from eight different modes that will put you and your friends into head-to-head competition. Enjoy classic game play, or put your skills to the test with various challenges and game modes. You can rely on the combination LED score system/time clock to keep track of the action. And the build quality only adds to this game's list of great features.
Easy take control of the action by using the convenient control panel located at the base of the basketball arcade game. You can select different game modes and control the clock by using four simple buttons. This dual shot game is definitely one of the top basketball arcades, both from a quality perspective and a price point perspective.
3. Hathaway Games Deluxe Shot Pro Electronic Basketball Game-Best Frame Construction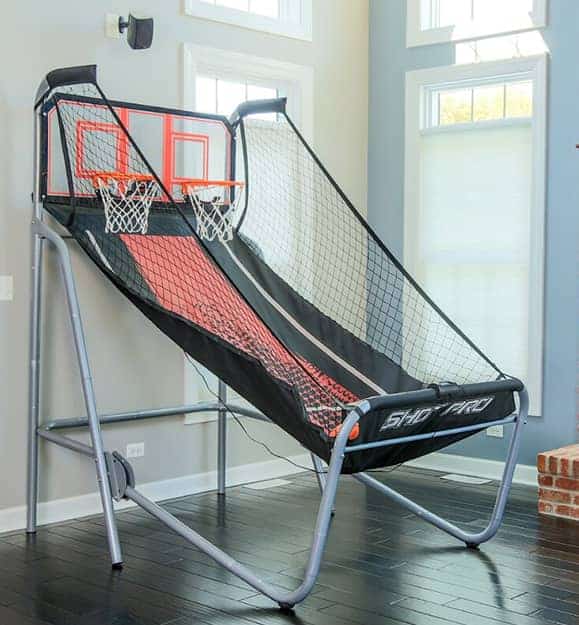 This high-quality model from Hathaway Games has truly earned its way onto our list of the best indoor basketball arcade games thanks to its quality of construction and design. Hathaway Games is well-known for its impressive gaming products, so it's no surprise that this dual shot electronic basketball arcade game is a fan favorite.
When purchasing a dual shot basketball arcade game, quality of construction is one of the top things to look for. A flimsy frame will quickly become annoying as you begin to play and realize that the game can't hold up to competitive gameplay. The Hathaway Games Deluxe Shot Pro has a clear acrylic backboard complete with colorful line graphics. Acrylic is ten times stronger than glass, so a few rubber basketballs aren't going to damage it. This model's frame is made from 1.75-inch rigid steel supports that ensure the game will stay in place as you play.
Another important characteristic of basketball games is whether or not they are able to fold up when not in use. This is a very convenient feature because indoor basketball arcade games are often too large and heavy to move in and out of storage. Being able to fold up into a more compact size adds a lot of value to basketball arcade games.
With your purchase of this indoor basketball arcade from Hathaway Games, you'll also receive seven rubber basketballs, a ball pump and an AC adapter. You'll be set up with everything you need to play the included eight game options. Plus, this model comes with the option of using three AA batteries or plugging the game into an AC outlet.
4. Pop-A-Shot Home Single Shot-Best Single Shot Electronic Basketball Arcade Game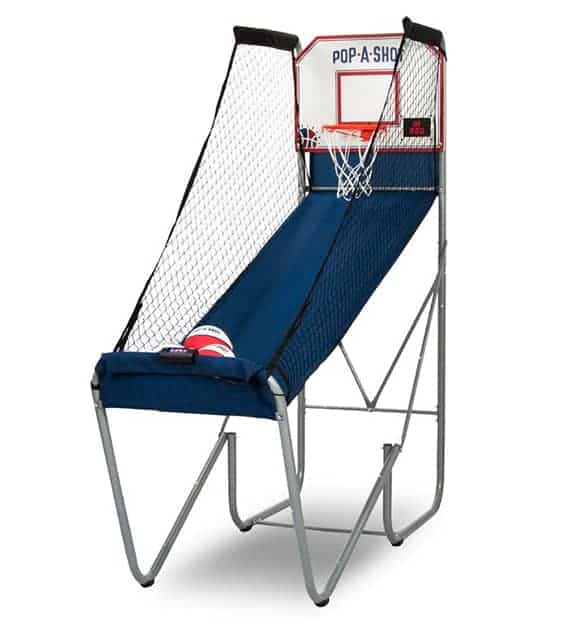 Are you a serious arcade basketball player looking to improve your game? This model from Pop-A-Shot is ideal for those who prefer playing by themselves and perfecting their skills. Of all the top basketball arcade games, this model is the best single shot option. And with additional features like multiple music options and six one-player games, you're sure to succeed in your quest to improve and become the best.
One notable feature of this model is that it has extra-long arms that hold up the side netting, which were added in order to contain more shots. This way, you won't constantly be chasing after balls that bounce out of the game's automatic ball return. Plus, this indoor basketball game has a large three-digit scoreboard to keep track of progress as well as ultra-accurate scoring.
Easy-Access Control Panel
The control panel for this game is located at the base of the ball return. It contains four push buttons, which allows you to select a game from the six that are available, choose from three different music options and control the time clock. The control panel makes it easy to enjoy the game, with the product's full menu of games and music right at your fingertips.
High-Quality Construction
Pop-A-Shot is known for standing out among other indoor basketball arcade games. This model features steel tubing that is 1.5 inches in diameter for maximum strength, and the frame folds up to save space and open up the room when the game is not in use. The hoop's rim is 12 inches in diameter, with a thickness of ⅜ of an inch, plus a heavy-duty nylon net that can withstand shot after shot.
5. Lifetime Indoor Double Shot Arcade Basketball System-Best Folding Frame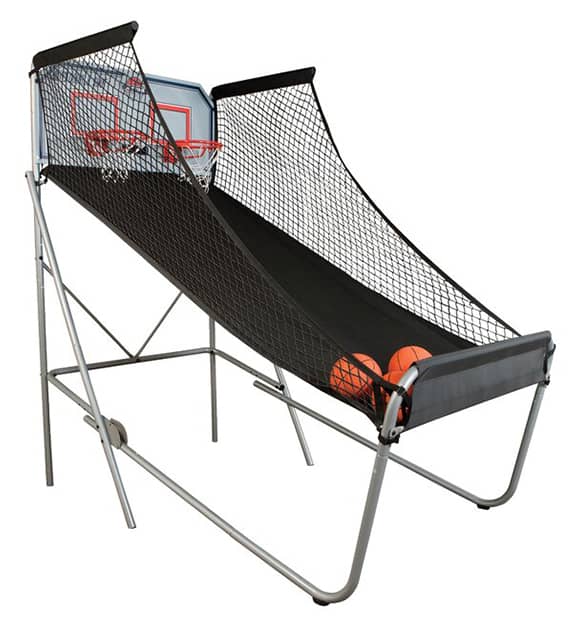 Three audio options, a premium-quality steel frame, a height adjustment feature and scoring sensors make this model from Lifetime a great addition to your home. The two hoops plus an electronic scoreboard with infrared sensors provide hours of fun for multiple players. And those are just a few of the awesome features on this product's menu!
Authentic Arcade Experience
With buzzers and multiple audio options, this dual shot arcade system from Lifetime gives you an authentic arcade experience. The premium-quality steel makes it one of the best arcade basketball games in terms of stability and durability as well. In addition, you'll love the height adjustment feature, which allows the height to vary from 82 inches all the way up to 90 inches, depending on your ceiling height.
The Lifetime Double Shot features a convenient and compact folding design, which really comes in handy! Basketball arcades are very large, and even if you make sure to measure before your new basketball system arrives, you'll probably still be surprised by its size. Thankfully, this double shot deluxe system saves space in your living room or anywhere else in your home you'd like to set up the game. When folded, this dual shot game only sticks out 41 inches from the wall, rather than 90–less than half of its original size!
One of the main gripes that comes with an electronic scoreboard is that it doesn't manage to catch every single point, which can be especially frustrating if you're in fierce competition with a friend or family member. Luckily, Lifetime has solved that problem with this model by including infrared sensors that make sure to register each and every shot.
6. Atomic Jumpball Deluxe Double Shootout 6 Piece Basketball Game Set-Best Shootout Challenge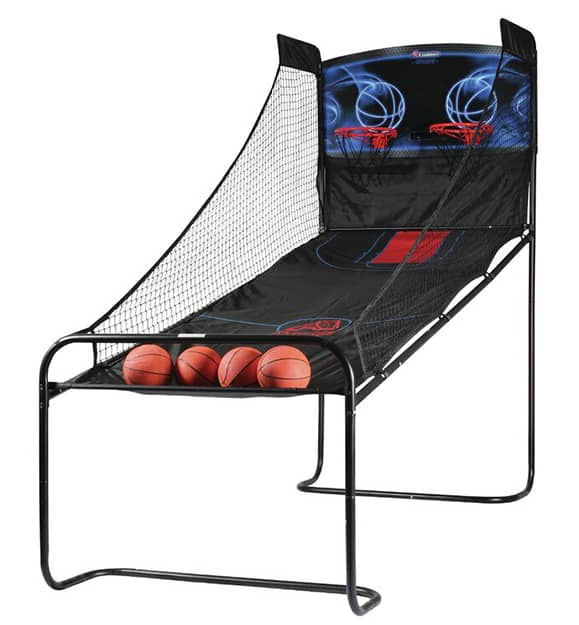 Enjoy a classic shootout challenge with friends, family and anyone else who's willing to compete! This model from Atomic Games is lightweight and easy to move as needed, and it has scoring sensors and an LED scoreboard to keep track of the action. Designed specifically for home use, you can rest assured that this basketball game will keep the entire family occupied for hours on end!
The Atomic Games Deluxe Double Shootout game set is built with a durable steel frame with 1.25-inch tubing. Nylon netting along the sides of the unit keeps any stray balls from flying across the room. This model weighs in at only 45 pounds, which makes it easy to move if you need to vacuum the area, transfer it to another room or put it into storage.
This unit from Atomic Games features a classic two-player shootout challenge for nonstop competition and entertainment. Each of the two hoops is paired with scoring sensors that catch every shot. The set comes with four rubber basketballs and an air pump, so you won't have to make any additional purchases for accessories. Just assemble and get straight to the game!
It's easy to tell who's ahead by looking at the convenient lighted scoreboard located between the hoops. The LED display keeps track of each player's score as well as the time for the game. The bright blue, red and black graphics add to the ambience, creating a true competitive arcade feel as you play.
7. 2 Player EZ Fold Basketball Game with Polycarbonate Backboard and Larger LED Scoring-Best Space-Saving Game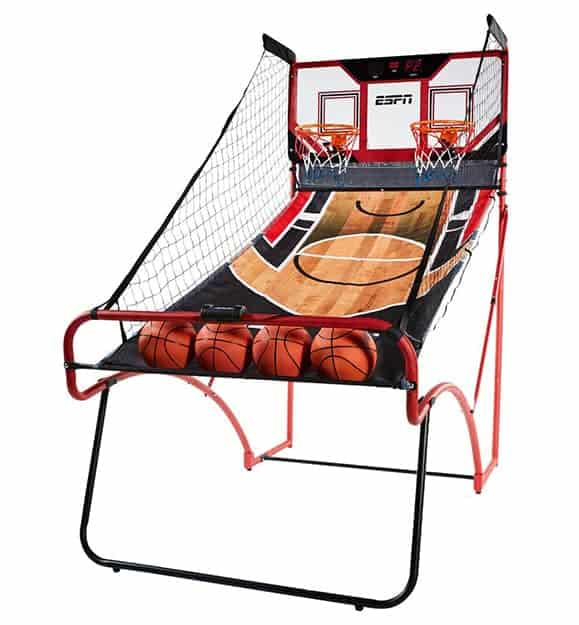 Introducing the ESPN EZ Fold, an undeniably cool basketball arcade game that will make a great addition to your home! From its strong and sturdy frame to its ESPN-themed special features, it's clear to see why this model ended up on our list of the best basketball arcade games. If you're a big sports fan in general, you're likely to also be a fan of this game.
This model from ESPN is sure to catch your eye as soon as you walk into the room! Thanks to its bright and dynamic graphics, it's even easier to get into the competitive spirit and shoot some hoops in the comfort of your own home.
You can enjoy eight different game options:
Beat the Time Clock
3 Point Beat the Clock
Battle Back
Horse
Check Point
Around the World
Left and Right Shoot
One to One
And the ESPN audio options and sound effects just make the entire experience that much cooler!
If you're looking to save space, this ESPN EZ Fold model is perfect. It takes up 30% less space than similar games, folding up to just 23 inches! The frame is made up of 1.25-inch steel tubing for strength and durability, while the backboard is constructed from sturdy polycarbonate. Steel rims and heavy-duty nylon nets complete this model's frame and construction.
ESPN had safety in mind when designing this basketball arcade game. It has a locking system located at the bottom of the frame that ensures not only your safety, but also the continuation of the game! You'll no longer have to worry about the entire game tipping over or folding in on itself thanks to its specially designed construction.
8. Lancaster Gaming Basketball Arcade Game-Best Multi-Game System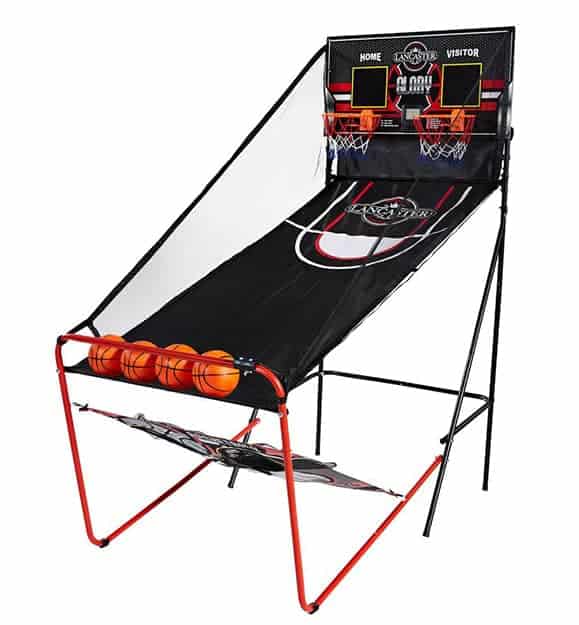 Play this three-in-one game by yourself or with a friend! This fun and convenient setup makes it easy for you to shoot some hoops, throw a football or practice your pitching. Sound and light effects make the experience even more fun and exciting. Get ready for hours upon hours of entertainment with this convertible gaming unit!
Finding it difficult to choose between your top game options? Now you don't have to! This model from Lancaster Gaming features three different sports in one: basketball, football and baseball. You'll no longer have to hope for good weather to enjoy your favorite games! Whether you're looking to perfect your curveball, your spiral or your free throws, you're all set with this three-in-one game!
Easily switch from one game to another by simply folding up the front bar on this game's convertible frame. The side netting for the basketball game conveniently folds up when in position for football and baseball, and levers on the dual hoops serve as scoring sensors for accurate scorekeeping. The entire frame is ultra-lightweight, weighing in at just 13.2 pounds! It'll be easier than ever before to move the entire unit in and out of storage as needed.
Once you've assembled the frame, you're ready to play! This Lancaster Games model is complete with four basketballs, two footballs, two baseballs and an air pump–everything you need to enjoy this convertible three-in-one gaming unit. Even on rainy days, you'll be able to enjoy your favorite sports and work on your skills. Eight different modes means you'll never run out of activities and ways to improve your game.
What To Look For When Buying A Basketball Arcade Game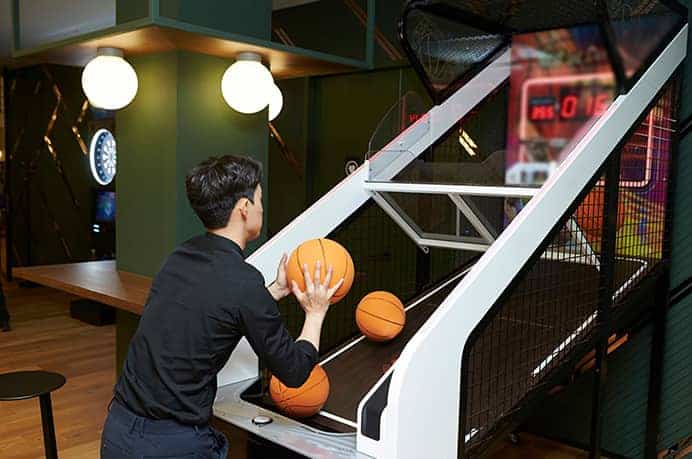 Whenever you buy something as large as an arcade game, it's very important to measure the space you have available as well as your open storage space. For basketball arcade games specifically, you'll want to know the height of your ceiling.
Some models feature adjustable height, while others do not, so be sure to read the product descriptions closely!
Another thing to keep in mind is the game options that are included. Some of the products on our list of the best basketball arcade games simply feature a shootout challenge. Others have up to 10 gaming options. One is even a convertible gaming unit that allows you to play three different sports! Be sure to figure out which games you're looking for before you settle on one model or another.
Of course, you'll also need to consider whether you'd like a single basket or dual baskets. If you're more interested in practicing your skills on your own, or if you have a limited budget, a single basket might be the right choice for you. But if you want to compete with friends and family, a dual shot basketball arcade game is definitely the better option.
Finally, you'll need to think about ease of storage. Many of the gaming units included in our buying guide feature frames that fold up to be more compact. However, not all of the models fold, so keep an eye out for this feature if it's important to you to maximize your space!
Construction And Material
You'll want to look for a model with a steel frame rather than a plastic one, since steel is much stronger and more durable. In addition, solid wood provides more stability than manufactured wood when it comes to backboards. Polycarbonate backboards are also a good choice since they are engineered for high impact resistance.
One of the most frustrating problems to have with a basketball arcade game is when it doesn't keep score correctly. Without scoring sensors, it's possible that the game will miss some of the shots and fail to record them, perhaps changing the outcome of the game.
Competitive players that are looking for a gaming system that has accurate scoring should ensure that the model they choose has infrared sensors.
Frequently Asked Questions
Based on our research, the best indoor basketball arcade game is the Pop-A-Shot Home Dual Shot. It features a proprietary scoring system, ten different game options, a powder-coated steel frame and the ability to adjust its height so it can fit in rooms with lower ceilings.
You play electronic basketball by shooting baskets into the hoop. In a shootout challenge, you and another player will compete to see who can make the most baskets during a set period of time. In order to make more baskets, be sure to watch your foot, hand and arm positions.
Basketball arcade game best practice rules are to stand in front of the game rather than to the side near the basket, to respect the other players and to simply play fair. Cheating the system by fooling the infrared sensors is not allowed while playing basketball arcade games, and is not very sporting!
We found that the best basketball arcade game on the market is the Pop-A-Shot Home Dual Shot. It features a large game selection and heavy-duty construction with powder-coated steel tubing. Our second Editor's Choice pick is the Triumph Play Maker Double Shootout Basketball Game. With easy assembly, multiple game modes, and a price that won't break the bank, it's easy to see why this model was included in our buying guide!